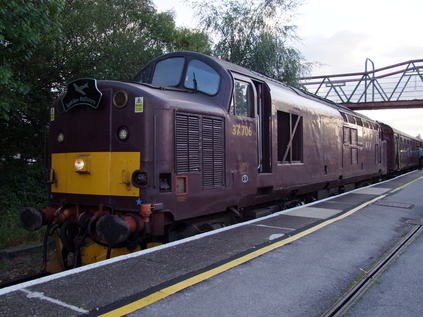 Posted in Railways on Saturday 22nd October 2011 at 11:57pm
---
Watford is a very odd place...arriving yesterday to the most chaotic hotel check-in I've ever experienced, I realised that this 'central' hotel is in a centre which has moved. The almost rural setting, in a site hemmed in by two arms of railway, a distributor road and the course of the diverted River Colne is mere metres from the High Street, but could be a world away. Having spent a somewhat uneasy night anticipating a complicated early journey, I shuffled down to the station - the first customer through the ticket gates in fact. This accommodation was a late choice, and was based on a Euston start and finish. In the event I had to get to Paddington - and for an earlier start that planned by an hour or so. Given my pathological escalator fear and the inevitable Circle Line engineering this mean getting the first Overground train into Euston, a bit of a slog made easier by good music and people watching, then heading over to catch a 205. In the event, we arrived on time and I dashed across the concourse and out onto Euston Road making a +3 connection which got me to Paddington nice and early, and in time for a relaxing breakfast and lots of coffee to prepare for the long day ahead. Chatted with some friends, and then noted when boarding that I was seated with some others I'd not seen for a while. It was going to be a pleasant day.
The route ran much as planned out of Paddington, with the sun rising to reveal a bright wintry morning as we sped west. Having spotted some signalling problems at Basingstoke online earlier, I wondered what the effect would be - and in an extended stop at Reading it was mooted that progressing via Westbury might be the answer, but in the event we went via the booked route, using an unusual crossover to pass a freight just outside Basingstoke station. Here things sped up a little and we headed towards Eastleigh where food supplies were taken on board, before continuing via various loops and goods lines to Southamtpon and beyond. Having passed through a sunny and rather busy Poole, we began to curve away from the line through the disused platform at Hamworthy Station, taking the sharply curved track towards the Quay. Despite a number of crossings we pressed on as far as the line was physically available, with our coach drawing level with the former station platform. A quick reversal took us back onto the mainline, with some frustratingly slow running behind stopping trains which compounded the slight delay we were carrying. However, we made up a little time as we sped back to Winchester to reverse in the Baltic Siding which is used exclusively for ECS moves and may never have seen a passenger train before it seems. On arrival at Eastleigh we headed over the connection into the works, travelling right to the end of the line inside the complex, alongside rakes of stored Class 313s. I think everyone onboard was impressed with this result - and it was odd to be in here on a train, after wandering around the site at the open day a couple of years back.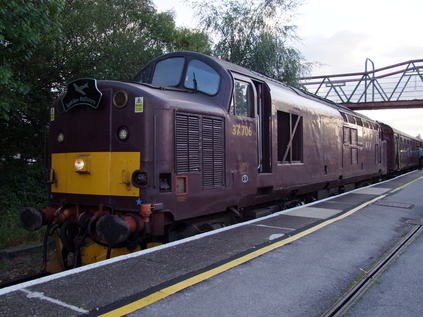 We reversed again into Eastleigh station, before heading out in the Portsmouth direction. A little after the long and rather forlorn brick building of the works, we curved sharply right onto the Depot Reception line which makes a huge loop around the back of the works, through a carriage washer and into a fan of sidings which once held EWS's stored locomotive assets before they were sold, scrapped or shipped off to Toton. Today there was just one largely derelict Class 58, lots of Riviera stock and a couple of their Class 47s around. We pushed on through the sidings, finally exiting in the narrow angle of lines between the mainline to Southampton and the Works entrance. Back into the station with much rejoicing at some excellent track completed - and the first time in many years a train had passed through the works and the depot here. Next we headed for Portsmouth Harbour - disappointingly being denied access to Fratton depot's through lines by a Local Manager despite permissions being in place. A minor loss really, but it did enable us to arrive a little earlier than expected, and thus depart from the Harbour on time, clawing back our delay. For those heading directly back to London this was a bonus, though for any of us staying on for the second part of the trip, this meant that we'd have to sit in Staines Loop for a much longer wait. Swings and roundabouts I suppose. The run into London via Aldershot was slow and dark, and I amused myself by watching the world through people's windows as we scudded through the suburbs - always an interesting trip.
Said some hurried goodbyes to companions at Waterloo, before we headed off again taking a slightly different route to Staines, where we sat in the Up Loop for a while. Whiled away the time chatting to one of the organisers about railtour politics, future trips and matters of interest, before we began our slow traversal of West London in order to gain the slow lines on the WCML which was operating as a two-track railway by now due to engineering possessions overnight. As we passed my hotel in Watford, glowing warmly purple in the now chilly night, I felt the lurch over to the right which meant we were taking the very rare connection to the St.Albans Abbey platform at Watford Junction. Indeed, the unit which is usually locked onto the branch sat in the yard as we crept past and headed onto this elusive bit of track. A brief step onto the dark, cold platform at the end of the line to savour the triumph of finally getting here, before boarding again for the short hop back to Watford Junction where a slightly early arrival meant I comfortably made the last train back to the High Street and didn't have to make the trek on a painfully wonky ankle which I'd developed.
In comparison to the similar Buffer Puffer trip a couple of weeks back, this trip delivered almost all of what it planned to. Some elements fell out early on - not least the now near impossible East Putney curve - but there was lots of interesting track, a friendly atmosphere on board and a real sense of the organisers wanting things to work out - and doing their homework to ensure it did. Strangely, in a time when everyone predicted the rare track tour would die off in favour of top notch lunch trains and excursions, there is a fair bit of competition to get to new places, onto private lines and further along odd branches. Long may this continue, providing people really do try to deliver what they advertise. Spitfire definitely did today.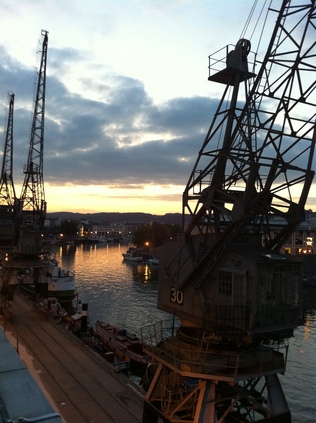 Posted in Railways on Saturday 15th October 2011 at 11:17pm
---
It feels like a while since I've done much railway related rambling. Almost a week in Glasgow necessitated a long journey of course, but I was pretty preoccupied with the trip at hand, and didn't really make the most of the long runs - especially the one heading back, which CrossCountry's lateness and a Replacement Bus connection managed to turn into a nightmare. Once again this weekend, I've not gone far - but I have entered uncharted waters, and I've even managed to cover some track I didn't know existed in the process!
The occasion is the Branch Line Society's AGM, which this year is being staged in Bristol. With it come a range of weird and wonderful events based around the lesser known and often more minority railway interests, starting yesterday morning with a tour of Brunel's Old Station. This took in the train shed, now a large event venue, before allowing exploration of the former museum area and access to the board room - which I'd once visited for a meeting many years back. It was rather sad to see the museum being catalogued for storage, but perhaps inevitable given the charge for entry and the decline in fortures of the site. We then wandered out for a good poke around the exterior, including the arch under which carriages travelled and the remains of a water trough for horses. Then we headed over to Bristol & Exeter House - now being progressively refurbished as offices for primarily new media outfits. The entrance was impressive and vast, and we ascended the stairs to the top with the insight of someone who once worked for BR here to guide us. Perhaps the most interesting location was the 'cellar' - in fact at ground level, but below the height of the ramp into the station. An impressive and imposing building which was far better executed than the B&E's wooden 'cowshed' station which stood nearby!
Today was even more interesting, with a tour of the current station. Starting in the ticket office and learning how the GW, Midland and B&E shared the facilities, we then explored the offices and refreshment rooms before descending into the goods tunnel below the station. I sense we were kept in fairly innocuous areas of the underground complex, but it was still incredibly interesting - especially the little-known air raid shelter, the hand-wound cart incline to serve a lift to the bar, and the lenghts of track set up to teach maintenance in low light wartime conditions. We then headed into the arch which usually allows access to rail replacement bus services and walked under the subway into wine cellars and other interesting vaults before climbing a steep, tightly curved staircase and emerging from a fairly discreet "Emergency Exit" door on Platform 7. An intriguing tour and I'm sure we touched on only a fraction of what is under Temple Meads station.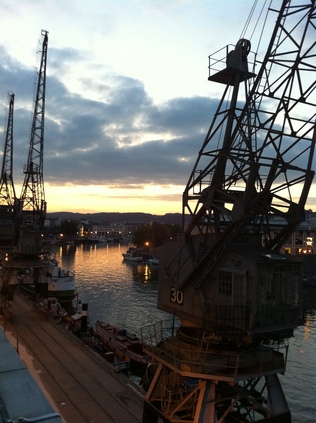 Before I headed over to the M Shed museum where the AGM was taking place, had a quick visit to Bristol Panel Signal Box, where we were allowed to chat with the staff, watch the panel being operated and ask questions. Seeing my home area being worked was fascinating, and a few long pondered questions about local signalling were answered. Really interesting, hospitable people too. A quick walk across town to the much refurbished former Industrial Museum and up to the second floor event suite, with excellent views across the City. After the business of the meeting and a short break, reconvened and had an excellent slide show on local stations by Mike Oakley, who coincidentally wrote the very "Railways In Avon" book which spurred me to visit more local railways right at the start of my interest many years ago. Watched the sun set over the city before wandering back to Temple Meads for a late train back, contemplating what was just a few feet below my feet.
The aspects of the weekend which I attended went remarkably well, and the meeting itself had plenty of interest too. Hopefully, next week will see a return to the rarer bits of the network - and not just more talk about them!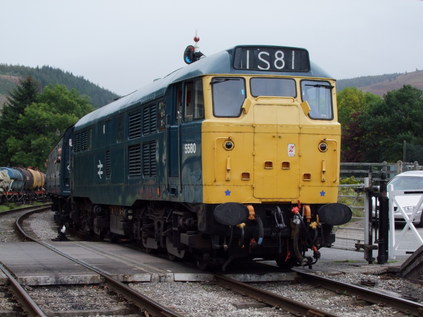 Posted in Railways on Saturday 24th September 2011 at 10:42pm
---
There are a whole range of preserved railways I used to consider impossible targets. The idea of integrating infrequent rail and bus services, and spending the entire visit worrying about getting back on time used to paralyse and attempt to go in the first place, unless of course they decided to put on a bus service of their own - which Barrow Hill and The Churnet Valley Railway both should claim some credit here for doing this admirably and reliably, which is of course a whole other challenge! One of these targets written off as impossible for many years was the Llangollen Railway - a very sparse service between Shrewsbury and Wrexham, meeting a two-hourly bus was just not going to get me there. But with a diesel day announced for today and knowing the service was much better these days I decided to have a look at my options.
And the good news is, it's incredibly simple and quick to get to Llangollen by public transport now. A quick, early morning run up to Wolverhampton via CrossCountry where I switched to the Arriva Trains service to Holyhead, taking me all the way to Ruabon. Out into the yard near the attractive station building which is no longer in railway use, and yards away was a bus stop, with a digital "next bus" display on the flag. Every 15 minutes, a service runs from Wrexham to Llangollen, with some heading out further to serve the villages along the valley. Bang on time it arrived. I settled in for the short run through rather stunning countryside to Llangollen, with the bus delivering me to a stop beside the river, just feet from the Town Centre station site. The station itself bears some exploration - snugly squeezed into a site beside the River Dee, the additional arch of the Mediaeval Town Bridge which brought the line in from Ruabon is now stopped up. The station is long and curving, with attractive stone walls along its approach and some fine buildings. Both platforms remain in use, with a very substantial footbridge linking them, and a sizeable refreshment room near the foot. Purchased a ticket and made a dash over the bridge to catch the DMU service up the valley. I'd made some very rough plans to ensure I travelled with most of the locos out today, but I wasn't entirely confident of the crossing points, so my first run was as far as Glyndyfrdwy, where I took some pictures as the trains crossed, then explored the site with its manually operated crossing. The valley was peaceful, and despite a few spots of rain it was pleasant to just sit and relaxed in the station. Access across the platform was via the crossing, as the footbridge awaits restoration, currently having no flooring. Took the next train up the valley to the current terminus at Carrog - another substantial station with an excellent little cafe - and watch the process of running around and attaching locos while the DMU left once again on the intensive service.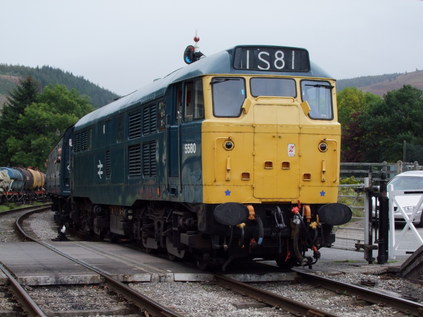 Figuring that it will of course be necessary to revisit once the railway manages to complete it's extension to Corwen, I spent a very happy couple of hours shuttling back and forth to Glyndyfrdwy and taking pictures of the crossing trains, before settling on a Class 37 hauled run back down to Llangollen. Enjoyed the splendid views over the river near the Chainbridge Hotel with its curious modern architecture alongside an older building. The bridge itself is currently unsafe I was sad to see. On arrival, wandered over the bridge towards town. The weather had brightened and Llangollen was busy with trippers and locals. I shopped a little before heading for the bus stop and back to Ruabon, arriving a little earlier than planned which allowed some wandering there too. I then retraced my steps home via a change at Wolverhampton onto a surprisingly quiet Voyager heading for Bristol.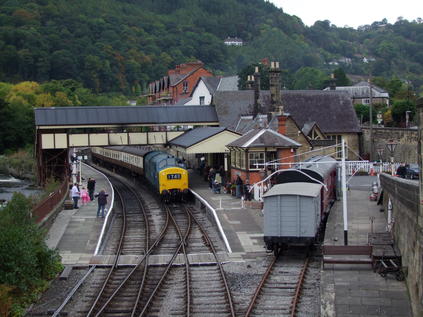 Today was just the easy day out I needed, and I was incredibly impressed with how well the transport worked. So, its now clear that a day trip to Llangollen is entirely possible. Ironically, having visited the town, I can't help but feel an overnight stay might be needed to fully appreciate this fine little railway and indeed the town itself. The Dee Valley is a curious spot, full of mysteries and oddities. It's almost no wonder they didn't like to make it too easy to get here in the past perhaps...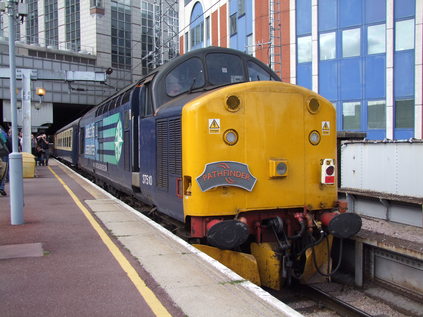 Posted in Railways on Saturday 17th September 2011 at 9:47pm
---
Today was always going to be a little odd. Finding myself ensconced in a curious little Premier Inn just outside Kenton Station, I wondered exactly how much of the booked route we'd actually manage today? Over the last week, the trip had been subject to all kinds of alterations - timings which had included the elusive East Putney section had appeared, and then been superseded by new plans which featured virtually none of the planned route. There was a sense of disarray, and that perhaps someone at Pathfinder had dropped the ball on this one? In any case, headed over rather early to the station to get the Overground as far as Watford. This allowed time to get coffee, run an errand to pick up newspapers for some Crewe-joiners who had been on board since 5am, and to drink coffee and chat on the platform. It soon became apparent though that something was up. Firstly, nothing came south trhough Watford Junction for quite a while. Next our train was announced as delayed due to "additional safety checks". Finally I got a call from the train, it seemed that pressure in a single-bore tunnel near Berkhamstead had pushed the windscreen of 37510 into the cab striking the driver. A pretty serious and sobering situation all round.
We waited, watching as 66232 sped north from Wembley to rescue the train, which was just a few minutes away from us by the time it limped into Berkhamstead. We even joked that if you had to have a failure, this was probably one of the better locations of the network in terms of depot access or alternative locos. However it took a long time to get moving, and then we went only as far as Wembley Yard. It had been planned to effect a run around here to have the locos in top and tail mode in any case, and doing so meant that the damaged end of 37510 was tucked against the stock for the rest of the day. Finally we were off, almost two hours late but assured that we would be doing almost all of the route as planned. However, the tour booklet which was quickly issued contained an amendment sheet - we wouldn't be doing quite the route which had been published at all.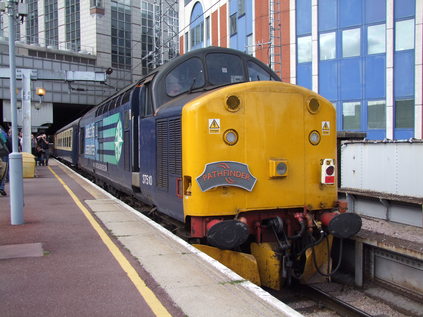 So, there followed a series disappointments - some the unfortunate consequences of late running, but many others the results of odd decisions on the train or by signallers. After a trundle around North London and a reversal at Hornsey we proceeded to Barking, and passed through East Ham depot on one of the roads beside the very much locked down EMU Depot. This was about the limit of new track in the event, as we then headed into Fenchurch Street for a break. While I recognise the Crewe contingent had been on the train for a while at this point, I was surprised that the break was of the planned length more or less. When we set off again via Gas Factory to Bow Junction, then towards Stratford, it became apparent that a means of reducing delays was to omit track here - with Orient Way Sidings once again off the list, Temple Mills Loop was also removed and we sailed through completing a circle around the Channelsea Junction area before once again joining the North London line to head for Acton Wells and the link onto the Southern. There followed a rather dull spin out to Aldershot - rare track for a loco perhaps, but given the purpose of these tours it felt like much had been sacrificed already and that this part was the less interesting section where time could have been saved. The highlight though, was a storming high speed run back into London along the South West mainline. The high point of a very odd, irritating day indeed.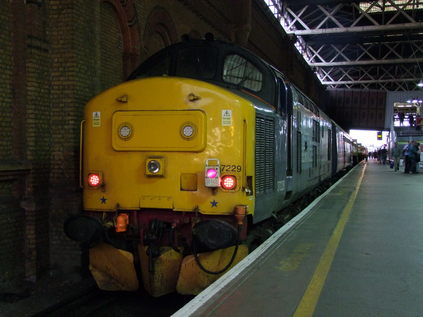 Back at London Bridge we took yet another full length break. Got some pictures and wandered around the station, much opened up by the changes to the gateline in the terminal platforms. The one consolation now was the spin around Selhurst depot to come - not new track for me, but interesting and diverting. However, just as we left it was announced that it wasn't going to happen. A defeated sounding Pathfinder employee explained that the whole visit was predicated on "someone knowing someone who was going to keep the place open" or something similarly intangible. Well, as we were still around an hour late despite the speedy run earlier and partly because of maintaining the breaks, "someone" had gone home. We reversed at East Croydon before taking the route back through to North London. The atmosphere on board was sombre - some making the best of having done new loco-hauled track, others trying hard not to blame the operator and feeling worried about the driver injured earlier - who it later transpired was fine, thankfully. But as I waited to disembark at Watford Junction a steward chirped "Had a good day?". I raised an eyebrow and he responded "Yes, but that poor driver - we did our best". I agreed to an extent, but pointed out a fair bit of the route had fallen out before the trip even turned a wheel. "Ah yes!" he exclaimed "But if you come on the next Buffer Puffer maybe we'll do Orient Way at last!".
I left the train feeling pretty angry. Would Pathfinder treat its dining customers on Easter Landcruises like this? Are rail enthusiasts expected to waive their consumer rights on the basis of the win-some-lose-some nature of tours? I think we treat it a bit like fishing - sometimes you get a bite, other times you don't - and mostly, this is part of the fun. However, when it starts to feel like trips are consistently advertised big, but deliver little it stops being fun. Thanks to that steward, and a set of circumstances which though unfortunate, were handled pretty poorly, I've lost confidence entirely in a company I've supported for years. Not a good day.