Posted in Railways on Sunday 14th August 2011 at 2:27pm
---
Regular readers, should any remain now the music stuff has headed elsewhere, may recall the 'Lost Weekend' series. Occasions when planned trips didn't happen but advance fares and hotel bookings had to be used. In fairness, I've had some fairly interesting trips in the past off the back of these happenings, and I've rarely let things get me down after the initial frustration of cancellations. This one was however a bit different - the plan had been a Crewe-Fort William trip with the Deltic on Wednesday and a Preston-Edinburgh run with Class 50s on Saturday. Two interesting and much looked-forwarded to trips which were annoyingly cancelled only a matter of a couple of weeks before they were due to run, ostensibly down to a lack of available stock from WCRC. With the politics out of the way, and the difficult realisation that booking on the re-runs would be difficult given how much I'd invested in this week, I turned to working out what to do now. Having thought that returning home between Wednesday and Saturday wasn't necessary I'd committed to a whole week away.
One target had been obvious from my first base of Crewe - a dash up to Glasgow on the 05:57. So, Wednesday morning saw me bleary eyed and troubled having watched a night of unbelievable rioting occuring in London and beginning to kick-off around the country. Scotland, from the perspective of Twitter and Facebook friends, seemed unaffected - indeed there was a degree of curiosity and amusement about what was happening here - until the news broke about the Sony Distribution Depot being destroyed, and many small record labels stock with it. The trip was gloomy and tense, and the skies dark to match the mood. It had been raining non-stop in Glasgow for days and was supposed to be this way all week, with warnings all over the place about floods. I stepped off the train at Central, feeling a hint of the old enthusiasm right away, but then saw the rain and dashed for the coffee shop. I skipped from shop to shop all day, watching Glasgow getting drenched. I've been soaked through here many, many times - but this was a little too much for even the seasoned locals, with street-corner smokers staying indoors. I wasn't sorry to head back onto my train for a thoughtful dash home. I felt rough, felt like I'd missed an opportunity to be in my favourite city because of the rain and a lack of planning, and was thinking grimly of the week ahead...
Thursday would have been a very sleepy day in the original plan, as the Fort William trip was due back at around 00:30 had it run. Instead, I had another restless night in front of 24 hour news and still managed to be up earlier than I needed to. The main trip today was the relative short relocation to Preston for the rest of the week. Decided to head into Manchester and to use the time to cover one of the Northern Rail Class 180 diagrams. Breakfast and then into Piccadilly for coffee and lounging about watching people. A tram across town revealed some evidence of damage from rioting, but it didn't seem to be keeping people away from the shops. On this evidence a thought I'd had about returning here later in the week didn't seem so bad. At Victoria, I waited time for the service to Blackpool North, deciding to take it all the way to the coast. As booked, a 180 turned up and I settled in for the run, picking the same coach as the loudest and most abusive family I've ever come across - and that's in years of being associated with Children's Social Care. Considered reporting them somehow, but realised that this bunch were actually taking their kids to the seaside so couldn't in fact be all bad despite appearances. Put away my prejudices in order to entertain the usual ones at Blackpool. Didn't even exit the ticket gates this time, waiting for the 180's run back to Preston without facing the grim-visaged Northern staff at the ticket line. At Preston I quickly found the hotel and checked in, heading straight out to find food. Realised oddly that I remembered a lot of the walk from looking carefully at the pavement on my last very slippery and icy December visit to the city! Realised too that Preston practically closes down at 5:30pm. Eventually found a Tesco Metro and during my shop mentioned how surprised I was that one of Britain's newest cities was shut up so early. The young lady gave a nervous chuckle before speaking - and I realised later that most locals do the same before talking about their town. Still, a brand new Premier Inn meant a comfortable night ahead.
Friday dawned a little clearer, and I enjoyed a late start by visiting Starbucks and watching Preston wake up. Down to the station for one of the first off-peak stopping trains to Manchester - a pretty rickety Class 142, full of OAPs who I understand get some sort of concession on rail services in Lancashire? Once into Manchester, descended to the Tram Stop and waited the first service out to the short MediaCity UK extension. I'd tried to do this once before during it's uncertain first days of operation, but today managed to get to the terminus among the smart new BBC offices and the growing knot of businesses in the area. Couldn't manage the Eccles-bound side of the triangle in off-peak service though, so returned to Cornbrook and waited what seemed like ages for a tram to St.Werburgh's Road - the stub of what will be the Airport line eventually. Noted the former rail alignment heading off into the distance beyond the stop, and reasoned that it's a damn good thing that this light rail scheme has prevailed here over guided busways and cycle routes. Look forward to returning to cover the rest of the line when it's built. With new track covered for the first time in a while, headed back to Victoria to take the Class 180 back to Preston again. A short day out, but at least I'd managed to find a productive purpose to what could have been a very dull day. Headed out to see some bands later, which was an experience in itself. Preston is a strange city...
I'd desperately tried to book a variety of things to fill my week, but given I had only a matter of days to sort things out as decent fares were disappearing fast, things had been a little hit and miss. I'd thought of a trip to Edinburgh - but completely forgot that the festival was on, and both accommodation and tickets were at a premium. So, I'd ended up booking a second dash up to Glasgow today - managing to stick around for a bit longer too. I'd thought about heading for Edinburgh once I got there, but having practically written off my trip earlier in the week I decided to stick around the city a bit. The early run up began irritatingly as the Train Manager refused to open the rear set where my reservation was at Preston. Given a crowd of other folks with seats there pestering him, he did so at Lancaster necessitating a dash back down to the unit. Ended up in a nice, empty coach as a result though - and enjoyed the trip immensely. With the weather comparatively fine, had a wander around the city and visited the record shops. Explored some places around the river which I'd not visited for years too, noting how they'd changed - and the passive provision for a future light rail scheme. A day in Glasgow is always a bit unrewarding though now - I want to be around for music in the evening, or have the chance to wander further afield. Felt this acutely today, having felt like I'd wasted a week - and certainly one of my days up here. So, rather miserably set off back to Preston, despite an amusing journey were a drunken Celtic fan bet me I couldn't correctly guess which side the platform would be at each station!
Posted in Railways on Saturday 6th August 2011 at 10:53pm
---
After my comment about the 'feast or famine' nature of the railtour market last week, things took a turn for the absurd. A total of three tours cancelled or redated, with the attendant costs of non-refundable accommodation and travel has left me seriously out of pocket, and unable to do the tours when they are rescheduled. This leaves me for the first time in years with nothing booked with my tour operator of choice at all - a strange feeling and one that left me thinking that perhaps it was all getting too expensive and complicated now anyway? In the midst of this, trying to reorganise things for a now pointless week away and to book things ahead of time, it was a relief to remember I had the second week of my 'drags' to distract me. So, today would repeat an oft-rehearsed trip to the North Wales coast. In the old days, this just wasn't possible in a day - but now it's pretty comfortably so. Having said that, I was of course on the first train of the day once again. A change at Bristol and onto a very lightly loaded Crosscountry service heading north, the odd chap who competes for my seat successfully avoided. A swift change at Stafford and into Crewe early enough to enjoy a coffee in the weak sunshine at the platform end.
It's hard to say how long this loco-hauled service will continue now Virgin have an additional Pendolino at their disposal. A vestige of the old system of swapping locos for the Coast, it was comforting to see Arriva-liveried 57315 trundling into Platform 12 to await the service from London. Noted that this loco had hauled me to Holyhead once before when Arriva were short of units. That day, in packed and overheating Mk.2 stock seemed an awful long time ago as 390023 crawled into Platform 12 to attach to the loco. I found a seat in a surprisingly busy First Class carriage and settled in for the ride.
The coast didn't disappoint, and despite reports of torrential rain and flooding elsewhere in the UK, I saw only a few spots of rain before things brightened and warmed up considerably. Having elected to head back on the loco-hauled service too, I had a little longer in Holyhead than I've had for years, so I decided to retrace my steps from years back out to Newry Beach. Found it much the same as ever, the rocks I'd perched on to read my Sunday paper busy with trippers on what seemed a surprisingly busy summer day for the town. Certainly an improvment on the windswept chill I've encountered here on my last few trips. Took some pictures of the beach and the ships before tracing the road around by the port and back to Town. It was good to be back in some ways - remembering what a haven of peace this had been back in the mid-nineties - when I could have a decent train ride, a cheap B&B and a weekend of solitude here.
Snapped out of my reverie to head back to the station. Another quiet and relaxing ride back, with the sun still strong over the seashore. There is more exploring to be done around here I'm sure, despite the rail routes having been mostly covered - save for the extensive narrow-gauge network in North Wales. Heading into my 'lost week' I hope I can find other moments of calm and quiet like this on my travels.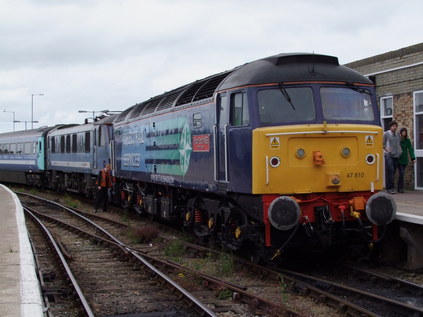 Posted in Railways on Saturday 30th July 2011 at 10:46pm
---
Over the years, I've noticed that railtours seem to come in waves - there will be years where there are endless opportunities and you're kicking yourself for having to choose between them, then there are years where long weeks seem to go by without much of interest. So far, this summer seems to indicate that this year will be the latter. So while there are interesting things ahead, I'm once again making my own railway entertainment for a few weeks. This is no small feat - advance tickets aren't always easy to come by at this time of year, when living in the south west has it's premium costs. But, wanting to do something at least purposeful with my time, I decided to try to travel on some of the few remaining loco-hauled services. This week, repeating a trip from last summer in fact, was Great Yarmouth.
As ever, once I'd changed to the Paddington train at Weston-super-Mare, I had a fairly leisurely ride up to London. The weather was looking reasonable despite dire warnings, and I was feeling pleasantly relaxed with an interesting trip ahead. I'd assumed that the Circle Line would be out of action - and sure enough it was, so I wandered out to the usual bus stop to get whatever turned up heading for Liverpool Street. The ongoing works on the sub-surface lines seem to coincide strangely with my the weeks I travel to London, but nowadays I'm happy enough on the buses anyway. The first suitable service to turn up was a No.23. Decided to go for it, and ended up having a few fraught moments as we crawled along roadwork strewn Oxford Street and into the West End. Crossrail works were getting in the way everywhere, and red lights seemed to pop up everywhere. Despite having left plenty of time, I began to wonder if it would be long enough? Once past Ludgate Circus and into the city however, the roads emptied and things speeded up. Into the station in good time to buy provisions and wait by the gate for the train to be announced.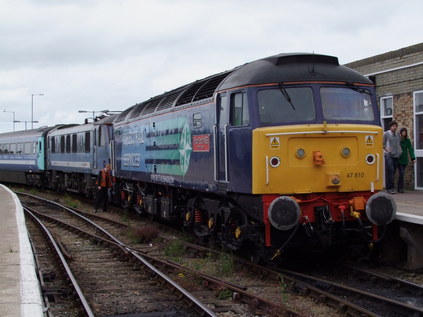 Last year's trip was a little before the start of the summer holidays, and the difference was clear - the train was much busier today with loads of ill-governed children running around in First Class. Headphones in, I managed to block out the noise and relax as we sped by the Olympic Park, with Anish Kapoor's sculpture beginning to take shape. Soon out into open countryside and dozing a little in the warming morning. At Norwich, watched the scramble for photographs as 47810 shunted onto the train. Resolved to get mine at the terminus, as it was getting busy out there and I didn't want to lose my seat. Settled in for the run over the flat, empty route via Reedham and into Great Yarmouth. Time for some pictures here, and a snack from the buffet bar which has now moved from it's caravan into the old newspaper stall. Then out into the sunshine to wait for the trip back to Norwich, and then London.
Decided on a 205 bus back to Paddington, and again time wasn't on my side as I'd arranged to meet an old friend at the station. Need not have worried as the tube works tangled her up too, so I was able to stumble around looking for the relocated bus stop - due to yet more roadworks near Liverpool Street - without too much concern. The day had turned bright and hot here, and waiting on London Wall, watching the world go by was a very pleasant way to pass a few minutes. The bus journey, one of my favourites, was entertaining as ever and delivered me to my appointment in good time.
So, today felt like a relaxing, low key and successful way to spend a Saturday. A new engine, old friends and a chance to get out into the sunshine and discard the frustrations of a working week. The railtour scene might be a little stagnant and frustrating now, but these trips more than compensate.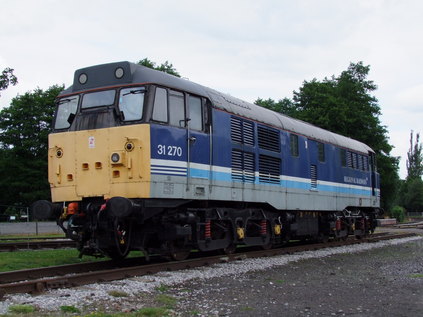 Posted in Railways on Saturday 23rd July 2011 at 10:25pm
---
A lot has changed since I last did this trip in 2008. The roof at Derby Station is finished, leaving a brighter and slightly breezier concourse - and of course, at last, Peak Rail is reconnected to the national network at Matlock. With the first trains running a couple of weeks back, and the timetable now regularly serving the main station rather than the slightly remote Riverside terminus, I decided it was time to explore the line at last. Set out early, in no small part due to the need to get cheap tickets. I'd left booking this trip rather late, and thus instead of the through train at 07:30 I went for a change at Birmingham from the familiar 07:00. This meant time to breakfast and surprisingly a more leisurely start to the day in some ways. I'd also learned that there was to be a fairly large demonstration in Derby today about the decision to overlook Bombardier in favour of Siemens to build Thameslink units. I have mixed feelings about this one - and I didn't really want to crash into the demo, but happily the 08:49 unit from Birmingham was quiet, despite the presence of the strange chap who I often end up competing for a seat with! He'd been on the train to Bristol - and I confess my heart sank at the possibility of a confrontation. However, the 07:00 was facing the other way so he didn't bother me at all. He then popped up on this train, disappearing into the crowds at Derby. I wonder where he went? I, however, headed for the 09:50 to Matlock. This was a single car Class 153 a few weeks back I recalled, and it was again today. Decided to flag it if I couldn't get a seat, but did in fact manage to squeeze into a spot. A slightly tight, uncomfortable journey up the branch followed.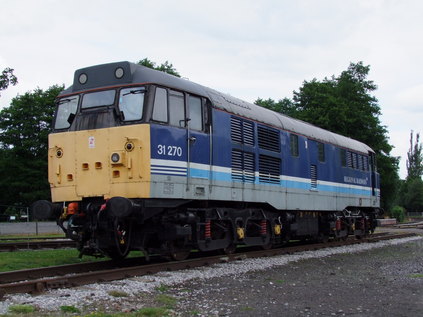 At Matlock, did a little shopping in Sainsbury's before heading on to the Peak Rail platform. It seems that I was a little unkind in my assessment three years back, as the supermarket has helped immeasurably in the effort to restore the missing link. Had an early lunch on the platform, hearing that the 11:44 departure for Rowsley South was a little late as "Penyghent" wouldn't start and they'd "...had to get the 31 out". Happy with the substitution I waited with the growing crowd, with 68013 finally steaming in about ten minutes late, with 31270 rumbling away at the Rowsley end of the train. Found a seat, bought a ticket and enjoyed the slow trundle towards the Peak District, wishing that the line still went through to Buxton - or even as far as Bakewell which would afford visitors to Chatsworth with an alternative. Maybe one day. In any case, I enjoyed the rare Class 31 haulage to the terminus before hopping off to get some photographs.
Noting the variety of diesels in varying states of repair in the yard, I opted to stay for a later departure. In the event, the decision was taken to swap a slightly poorly 31270 with 08016, so I got some pictures of the change over, before wandering around the site a little in the sunshine and enjoying a coffee. Finally, the train arrived and the small steam engine took us down the branch again to Matlock, with the Class 08 giving a little assistance too. An interesting little railway, with plenty going on despite it's short length of track. Noted a red-faced huffing steam enthusiast getting upset about not being allowed off the platform end at Matlock too. A ridiculous performance and a rather obvious restriction, given it's Network Rail property down there!
My journey home was leisurely, with breaks for coffee, people-watching and enjoying the sunshine at Derby and Birmingham. Spotted a few banner-carrying protesters, heading quietly and calmly home at Derby and someone being asked to remove a placard from a train window - not because of any dispute as such but because as the Guard put it "...my boss will kill me!". I have a few weeks of these self-organised wanders planned before my next railtour epics, whilst the summer is sometimes busy and a bit fraught, some planning ahead makes for quiet, pleasant trips. Just like this one.