Posted in Railways on Saturday 28th July 2012 at 10:07pm
---
I woke up this morning feeling like I had a hangover. I'd not imbibed a single drop of alcohol last night, and had settled down early to watch the circus around the Olympic Opening Ceremony. Perhaps it was the overload of images, provoked emotions and confusing messages which gave me the headache? This morning there were messages suggesting I "probably wasn't such a cynic now, eh?". I checked. I certainly was - though Danny Boyle's gently subversive take on a Britain stuck somewhere in the mid-2000s was oddly inspiring. I fell asleep somewhere during the parade of nations, and caught up guiltily with the rest this morning before setting off. Today then, was about escape. About going in the opposite direction to the Games, and about heeding that long-drummed in advice to travel differently. On that basis I'd headed north - not without it's risks as the football matches were scattered all over the country, but from initial indications reasonably quiet. Certainly, aside from the bonkers 'seat stealing' bloke, the first train was a little busier than usual due to being just two coaches, but 1M21 was mostly empty. I settled in for a lazy spin to Birmingham, hoping to shift my fuzzy head on the way.
With not long to change at New Street, I prioritised. Straight to the coffee shop then down to the Nottingham train. Again rather quiet, as I managed to find my way accidentally to my booked seat. Again the trip was hazy and sleepy, but I was beginning to feel human again. The sun had risen unexpectedly given the forecast and any hope of snoozing was dashed by a local with a gratingly noisy West Midlands accent who sat a few seats away, moaning at his dad mournfully about energy drinks. We reversed at Derby, where I'll be again next week on very different business indeed. Even here things didn't really get too busy, so I dared to hope the next journey might be OK too. After a passing of the Railway Technical Centre which is always interesting, we made the slow creep around Trent Junction before accelerating towards Nottingham. The station is in something of a transformative stage, and is due to close entirely at some point for this purpose. But for now it's cordoned off, temporary toilets and hardboard hoardings on the platforms. Amongst this, things function pretty normally - the Skegness unit was as ever two coaches for a huge crowd. This didn't bode well. However, a good deal before due time, a pairing of a 156 and 158 arrived on our platform. Plumped for the 158 because of the aircon and found a seat at the back of the unit. Amazingly, as we departed Nottingham, there were just two of us in the back coach. Granted, the front unit was busier - but this was rather surprising given previous experience on these services. The plan was to stay on all the way to Liverpool - something I'd not done for about six years on the way back from an All-Line Rover trip. After a scud along the Erewash Valley we reversed at Sheffield. Still the unit was pretty quiet, as we did the fast run over the Pennines through remarkable summer scenery. West of the hills things weren't quite so summery, but after a pause at Stockport we pressed on for Manchester. The expected crowds once again failed to materialise and we departed for the last leg of the trip to Liverpool with just a group of boisterous lads sitting nearby.
Arrival at Lime Street was dogged with difficulties - getting off the train was hard enough as I became entangled with my seat, then had to negotiate the bottleneck on the barrier-controlled section of the station. As I wandered towards the exit the standard "Be careful in today's wet weather" announcement could be heard. I sniggered at how they'd got mixed up - until I realised that the loud noise in the background was the station roof being pelted with heavy rain. A huge summer storm swept across the city, the now opened out glass front of the station providing a panoramic view of people dashing for cover. Nearby, a hen party dressed in flimsy costumes looked worried. I was almost as ill-prepared without a coat. Decided to get some lunch and see how things worked out. In the end, I managed to make a dash between showers to my usual coffee haunt in Bold Street, and then back to the station getting a little damp in the process. This circuit of the city always feels strangely therapeutic for some reason. Hopped onto the late-arriving stock for the 15:34 back to Birmingham. Once out of Liverpool the skies cleared and it was a pleasant, slightly busier trip down to the Midlands, retracing last weeks steps to some extent.
Switching to the usual routine home after another break to watch the world go by on the concourse, I wondered at how quiet the network was today. Were people really keeping away as they'd been told to? Or were they just busy watching sport at home? Today's trip really didn't take me anywhere new - but it was a long, relaxing spin around the network, and especially to parts and services I don't often see these days. It was a world away from the events which still occupied my mind in Stratford, but it had also stilled my odd urge to head for London at the worst possible time.

Posted in Railways on Saturday 21st July 2012 at 10:07pm
---
Lately, I seem to have given up a lot of things. This is a habit I have, of undertaking a huge mental tidying up. Sometimes - just like in a physically frenzied cleaning session - you throw away things you never really meant to. In the heat of this confusing, angry summer I'd managed to do just that. Letting a few doubts and externally fuelled fears get under my skin, I'd parked my music blog indefinitely. Quietly, calmly and without undue drama though - which is not the usual style around here. But already, less than a week into the situation, I was feeling bored, purposeless and dull. The only thing I was finding motivation to write about was the impending Olympics - and given vast areas of my brain to range freely around, this was in danger of becoming an obsession. The great fear was that in a few weeks time it would be gone, and the legacy was a longer term project. Granted it would deliver it's own losses and controversies - but I needed to fill my mind up. In the long term for sure, but initially - just this weekend jaunt. I'd set out when planning for this sparse summer, to do a West Midlands Day Ranger today. I'd booked the tickets to Birmingham and back, and left it at that. There was a point towards the end of the week when I scrabbled for cheap tickets to London - desperate to get to the area with no clear purpose. But sense and financial constraints prevailed and I found myself on the train to Birmingham, only a vague plan and free to listen to music for a change. It was going to be a quiet sort of day...
On arriving and booking my ranger I decided to stick to the usual plan to start with. Off to Crewe on the 09:01 - a bustling but not packed train which took an hour to scud through misty Staffordshire and Cheshire. Lots to see around Crewe's depots, having not been here for a while - and it's also apparent that I'm well out of touch with the changes in the locomotive fleets. Congestion delayed our arrival which meant a pleasantly short wait for the 10:33 - a Euston-bound train. Luckily, given that it took nearly three hours to navigate the slow lines, it wasn't a viable option because I could still have easily changed my plans. Tweets and blog posts tumbled in, resistance to the excesses of Olympics was suddenly everywhere. Adidas had backed out of their tax exemption too. The sun was shining. Things felt possible. The train began to fill, and I decided to use the time and weather to do something I'd tried to do on these trips before - the crab-wise crossing of Warwickshire, which was a mess of bad connections and infrequent trips. So, off at Nuneaton. Last week a friend had mentioned that the Boris announcements were here too, and he was right. Dire warnings to "get ahead of the games" and the voice of the Mayor, strangely out of place up here. The reason became clear on the next leg - a rattling 153 to Coventry, which passed by the Ricoh Stadium. One of the football venues, this will in fact see use in anger before the main park, with the matches beginning next week. It was festooned with pink and maroon, and surrounded by Police officers. A pang of regret for not being stalking around the marshes today passed.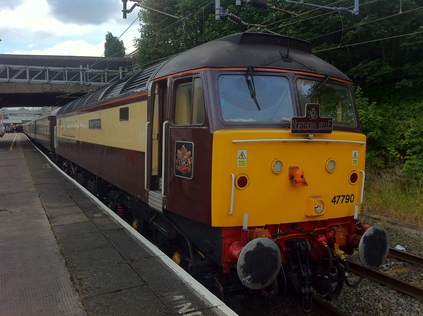 At Coventry I had a wait of about 45 minutes for one of the Crosscountry services which used the Kenilworth line to get to Leamington Spa. These used to be scarce trains, operated by Class 47s heading for Reading or Paddington, but now they're hourly with many going on to the South Coast. Minutes after arrival, a charter was announced and the Northern Belle slipped quietly in, the stewards waving to assembled enthusiasts. I managed an embarassed nod in return, before capturing both the locos for posterity. Time for coffee in the sunshine, watching a father and his enthusiastic daughter photographing trains. Managed a seat on the busy Voyager too, which was a surprise. I've always rather liked Royal Leamington Spa's station with its original Great Western features and broad views over the bridge towards the town. Having visited a couple of times in recent months, it was nice to have a little longer to spend here. It was busy, served by frequent trains and felt strangely comfortable. My own train was the 14:17 to Stratford-upon-Avon, one of a number of services which provide a practically all-stops Marylebone to Leamington service, before curving away through Hatton to the Warwickshire terminus. I'd last done this line in 2007, on the "Bard'n'Birch" railtour which suffered for following a week after one of the best tours I've ever done. On that occasion, due to signalling positions we got sort of wedged on the branch. No such problems this time, and we were soon arriving in the fine little station at Stratford-upon-Avon. A world away from the other Stratford which had been dominating my thoughts! Time for a coffee, and to watch life at this rather sparsely served end of the line. Contemplated the tracks curving away on what used to be the route to Cheltenham and thought how useful that could be nowadays. Eventually onto a cool, clean new Class 172 for the slow stop-start trip into Birmingham. A lucky signalling check at Tyseley meant a good look at the depot there, before hopping off at Moor Street. Having spent a little time here last visit, I decided to do the same and found a bench, dug out my book and watched life around the station.
The route home was strange - first the complicated roadworks outside Moor Street station, with an army of Hi-vis clad workmen employed to ask passers by if they are "aware the traffic now comes from that way?". At New Street, realised I'd a little less time than I thought, but still enough to shop and get coffee while I jotted my thoughts and watched the evening post-shopping, pre-clubbing lull appear. As ever, back on 1V65 to a surprisingly busy Bristol, with us just squeezing onto Platform 1. The Class 50 hauled charter was a little late, and my HST arrived just as it did, obscured by full platforms. Over the next fifteen minutes the train filled up - almost completely. I'd not given a second thought to the Harbour Festival, but these folks clearly had. It had been a slow, surprisingly relaxing day on the rails - which had almost taken my mind of other things.
Posted in Railways on Saturday 7th July 2012 at 10:02pm
---
Despite regular gripes that there isn't much going on this summer, I have found myself with a number of fairly purposeful trips in recent times - and have a bunch of others planned. I'm not sure if this is just that opportunities I'd maybe normally have missed due to being off on a railtour have been seized or whether I'm finding ways of compensating for a working life pretty much devoid of purpose in recent times, but it's good to be able to get out, meet people and do things I'd maybe not normally choose to. That includes going to Barnsley... I'd passed through the town a number of times, but hadn't visited since April 2005, when I stopped off due to missing a connection at Meadowhall and wanting a run on a recently introduced Meridian, which then served the station. That time, I recall managing to upset a local to the point of rudeness, and still to this day didn't know quite how or why. So, today's trip promised to be an interesting reappraisal of somewhere which had left a poor impression.
The other complication was that Britain had been warned not to travel. It had rained, quite a bit in fact, and the drought of the early spring had become a deluge. The rail network had survived remarkably well - with a few common spots flooded and some landslips here and there, but mostly it was open for business. My first train was on time, and allowed welcome caffeine before the usual train to Birmingham. I'd split my ticket here to save money - but it turned out to be a blessing in some ways. The 09:03, which had originated down south and which I could have picked up at Bristol half-an-hour later, was cancelled. It had looked dubious earlier, and anyone heading north and already at the station had been ushered onto the 07:00. Conditions around Torbay were poor and services weren't getting out of the area as yet. Got my ticket stamped, had another coffee and headed for the 09:30. Oddly, found my usual seat free and despite being busy, had a fairly quiet and pleasant journey north - arriving only a few minutes later at Sheffield due to the quicker journey time on this service. A quick change onto a waiting Northern unit for Leeds, and I arrived in Barnsley only 11 minutes after I'd planned to. Typically, the friend I was meeting had some serious bus delays - so my triumph was short-lived, but this did allow an exploration of the station area. This has changed hugely since my last visit - with the large area between the town and the railway filled by a space-age, oddly Mediterranean styled building of terraces and mezzanines. It was light - the windows working like an unwelcome greenhouse in the surprising sunshine up here - and the facilities were excellent. This was not the functional, workmanlike Barnsley Interchange I recalled.
I was momentarily reminded of the rudeness from last time when I stood aside to let a buggy-pusher pass and the old folks behind me didn't agree with my chivalry. The decided I was "ignorant" but this was swiftly tempered by the jolly sparring of the couple in the excellent independent coffee shop, which reminded me of the pair who run the shop in Father Ted. Finally the bus arrived and we were out into Barnsley. The illusion created by the Interchange fell apart almost instantly, with the surrounding streets still rather drab and largely populated by closed shops and discount stores. A pedestrian walkway led through to The Civic, the main destination today. This is a rather fine Arts Centre building, spacious, including lots of different venue and exhibition spaces, and even fairly pleasant to look at. Entering via the rear, we ascended to the 28 degrees exhibition and spent a fine hour in the company of some surprising and intricate art and design work. Heading back out into the now rather warm afternoon, I had the rare pleasure of a tour of Barnsley from a near-native. This involved the markets - which rivalled most other town's efforts to be fair, and many poundshops and charity shops, one which had the unenviable accolade of being the only place I know to sell second-hand toilet seats. Finally, back to the Interchange for the journey down to Sheffield for a brief meeting.
I was surprised to find the Sheffield to Birmingham train reasonably quiet too, perhaps due to the rain - but this might be one worth using in future if it's as calm as this on a normal day. The run south was a little delayed, but very relaxing and pleasant. I'd had a fine day wandering and chatting to people - which bucked the usually rather solitary nature of these trips. I'd decided to break the trip south again at Birmingham which meant time for coffee and reflection, and the usual trains home which I rather look forward to these days. It had been an unusual day for me, but a memorable and pleasant one.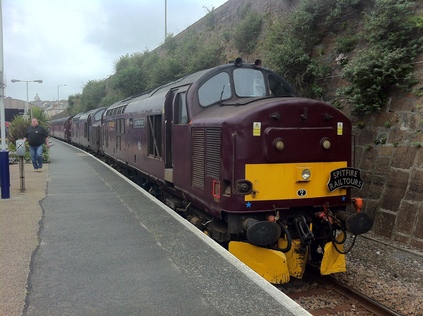 Posted in Railways on Saturday 23rd June 2012 at 10:57pm
---
This jaunt has now become something of an annual pilgrimage to the far south west, usually involving a mixed band of locals and northerners, and always involving quite a bit of real ale. It was also of special significance this time around because Spitfire have not run a tour since February, and I've not been able to make one since November 2011. The reasons are mired in commercial intrigue and unfairness, but suffice to say it's not about the will or the drive - it's to do with the economics and legalities. So, I was looking forward to this opportunity to catch up with a lot of people I now see very rarely. I was though, believe it or not, less into the idea of being royally drunk once again. After a week off work, and facing a return on Monday to what could be a rather tricky situation involving a 'transfer' to Bristol, I needed this time to count. Nevertheless, we assembled - the usual band - for the first train out to Bristol. With the Taunton stop off, this was the only sensible way to the trip - but it did allow for breakfast, newspaper purchasing and a chat with some of the local spotter folks not travelling today, before the familiar pair of West Coast Railway Company Class 37s curved into Platform 6. It was time to head south...
The journey was relatively uneventful - decent company, civilised drinks and lots of catching up. Just like the previous recent tour to Cornwall, the times left us very much ahead by Exeter, and we had an unexpected half-hour break in Plymouth which allowed for a photo stop and an opportunity to get coffee. Back on board, and over the Royal Albert Bridge - currently shrouded for repairs - and into Cornwall. The train sadly wasn't particularly full given some uncertainty about the traction - or indeed whether it would run given the loss of it's 'sister' trip from Eastleigh. But here we began to set down for the various usual options - Eden Project, Lost Gardens of Heligan, Bodmin and Wenford Railway etc. I'd even toyed with a trip to Lands End myself to avoid drunkenness, but hadn't seen this through!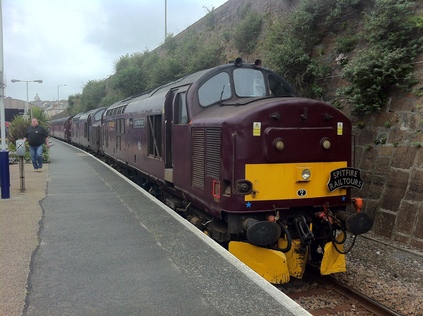 On arrival the usual pub circuit was reversed, heading along the harbourfront first, and working up the hill via the Dock, the Admiral Benbow and The Turks Head. In retrospect this didn't work well, arriving at those tiny pubs during the lunchtime and before the Mazey Day Parade meant busy, crowded and frustrating experiences. After a few pints, cut loose and wandered through the busy main street, grabbing a bit to eat and enjoying the atmosphere. The rain held off and whilst the traditional blazing sunshine wasn't around today, it was warm and dry at least. I headed back to the station for pictures and a pleasant chat with Spitfire folks while we awaited departure.
The return was the usual, sleepy affair with lots of well fed and watered passengers on board. I admit to snoozing myself, but woke for the assault on the Devon Banks and the fast run through Taunton and Exeter which saw us reclaim most of the time lost due to following a stopping train out of Cornwall. Having chased the rain north, it was gloomy at Bristol as I watched the train head north for Birgminham and headed over to catch the usual train home. It had been a relaxing end to a week of successful and varied travel - and the continuation of a tradition which we thought may have ended too.