Posted in SHOFT on Tuesday 29th March 2011 at 7:03am
---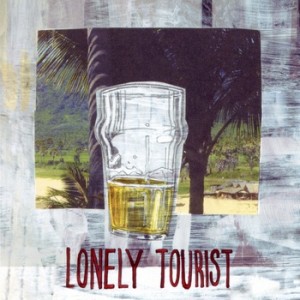 Regular readers of this blog - should such creatures exist - will remember that I stumbled across Lonely Tourist as a support act at a recent Bristol show. Despite his assurance that we could get the album free online, I paid real cash to the man himself for a CD that night. It was as much a show of allegiance as a purchase - accosting the poor chap seconds after he left the stage and gruffly demanding one of his CDs. He was of course more than happy to oblige me, and perhaps more encouragingly the steady stream of people which followed.
And it's perhaps fitting I purchased this record on the sticky floor of The Cooler rather than slumped in front of the computer here in relative comfort, as much of this record focuses on the trials and tribulations of a gigging musician trying to quietly carve a niche in a bloated market. From the outset, Lonely Tourist squarely marks his lyrical territory on "Patron Saint Procrastinate" - a stirring, uplifting melody which carries a defeated but defiant vocal detailing just how little he's done that day, but how much is planned for tomorrow. We've all been there - and this very blog is nothing if not testament to the very same patron saint. As swells of organ join mid-song, Lonely Tourist's half-spoken vocals soar and the song becomes an anthem in celebration of procrastination. It's hard not to sing along, proud of our own non-achievements.
This is followed swiftly by "Watch For The Sharks", which leans more towards the live Lonely Tourist sound - a deftly strummed guitar weaving around a lyric which describes the on-the-road experiences of a musician trying to make it against the odds. This recurring theme doesn't get tired because we're all secretly voyeuristic about what happens when the musician leaves the stage - perhaps exactly why the whole 'X Factor' phenomenon is so inexplicably popular. Lonely Tourist's take on musicianship is wry, amusing and perhaps a little downtrodden, reminding me somewhat of James Yorkston's reflections in his recent book "It's Lovely To Be Here". The realisation captured in the refrain "I'm up in four hours time..." familiar to anyone who has ever tried to combine a day job with a musical career.
Title track "Sir, I Am A Good Man" takes a new turn though, a cowboy lament which is more wild west than than West Country - a keening steel guitar creating a dark mood as Lonely Tourist relates episodes from the life of "...a man things just happen to". Its an expansive, moody piece which shows a breadth of songwriting craft by taking things away from the dark, damp club and out into the dry unforgiving desert. It's not long before we're back on more familiar territory however, with the regret-tinged "Beatclub Chancer" where a stray glockenspiel tempers the forlorn lyrics. This track forms a relatively upbeat companion piece to the following "Too Old For Clubbing", ushered in by a sweep of feedback which echoes away behind a delicately picked guitar and some of Lonely Tourist's most understated and sensitively delivered vocals on the record. Later, "Delighted" returns to Lonely Tourist's preoccupation with the business of making music, and uses a sprightly melody to ably articulate the difficulty in dealing with others' success - summing up with the observation that "bitterness gets you nowhere/that's where it got me". It's a tale familiar to anyone who has supped quietly at the bar after the soundcheck and before the support band, and perhaps it's a little self-concious - but there is a heavy and for some I suspect indigestible dose of reality here.
It would be wrong to dismiss Lonely Tourist as a one-trick pony, writing introspectively about the musician's art - but it's unsurprisingly a preoccupation at this point in a career which can only progress. This record is clever, funny and eminently listenable. It reflects highs and lows - and some of the lows are fairly gloomy, but the sense of humour which Lonely Tourist injects into even his most grim self-deprecation lifts things - you're always with him, never against him. I urge you to buy this music, and seek out a gig when he's in your town. To have a talent like this practically on my doorstep is something of a revelation.
"Sir, I Am A Good Man" can be downloaded from Lonely Tourist's Bandcamp. You don't have to pay, but you certainly should.

Lonely Tourist - Patron Saint Procrastinate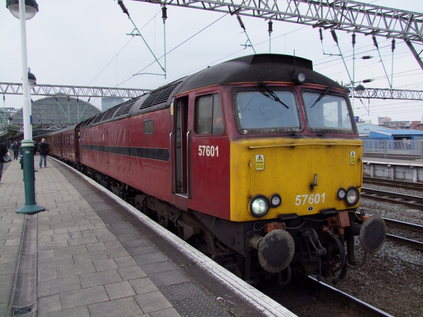 Posted in Railways on Saturday 26th March 2011 at 11:59pm
---
Despite its reputation as a rather gloomy, windswept locale, Holyhead has always been a special place in my railway geography. Early dashes along the coast with Class 37s, then later weekend escapes with a Class 47 hauling me back to Crewe. Yes, the locals changed over to Welsh TV when you ordered in the pubs, and the weather does swing from cold to positively baltic - but even so there is something special about getting to the end of the line, so to speak. On that basis this tour was always going to appeal to me - starting locally, a dash up to the North West to drop of the normals for shopping in Manchester or exploring in Chester, then along the coast for an hour at Holyhead. The novelty of being able to catch the first train from Highbridge to reach the start of a tour was today's initial excitement - would the train run, given that the railtour stock had been prevented from getting to Taunton by engineering? In fact, the timing was uncharacteristically impeccable and I found myself passing the tour stock at Bleadon, heading down to Highbridge loop to reverse - not more than a few feet from my front door in fact. Met some local folks - some rather unexpectedly - and chatted until the train arrived for our 06:42 getaway. Despite the presence once again of the dreaded "Green Knight" in the rake, most of the stock was pretty good. My coach was warm - rather warmer than I'd usually like - but it was a cool morning, and I could slip the window open a little. Settled in for the run up to Bristol and Worcester.
After rejoining the main line at Stoke Works, we took the Camp Hill route before passing through Birmingham New Street non-stop - not even a crew change here, unusually as we headed north to Soho for a detour around Bescot. Rejoining at Bushbury, we made good progress along the West Coast Main Line as far as Basford Hall Junction where we slowed to a crawl. As booked, the train swung left and began to skirt the western edge of the vast yard. A train full of enthusiasts craned their necks and leaned out of windows as we made a slow progress around the huge fan of sidings. At Sorting Sidings North we began to descend into the 'Muck Hole' to pass under the station area, the mournful rakes of Class 56s returned from duties overseas and now redundant above us at the Diesel Depot. Resurfacing on the Manchester lines, we had a rather stop-start run into the city for our first set down. The plan had been to use the 'ghost train' route to access Victoria, but a points problem at Heaton Norris had led to the junction being temporarily plain lined to keep services running until a repair could be effected. So, instead we ran into the main train shed at Piccadilly for a reversal. A loco hauled train is now a fairly unusual sight here, and we attracted a fair bit of attention!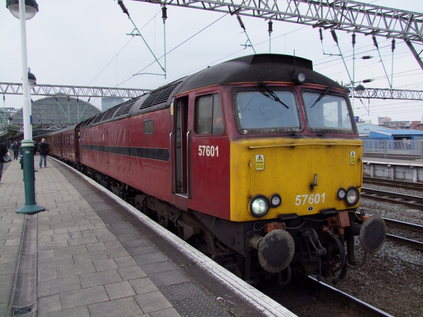 With 57601 now leading, the run along the coast lost a little of it's glamour. It was becoming very hot and stuffy in my coach, but the older folks across the bay didn't appear to mind this at all - and when I opened the window wider they pointedly cupped their hands and blew into them, and put on their coats. I dozed along the rather dull slow run via Mouldsworth to Chester before deciding to get some air at a droplight for the run through Rhyl and Abergele. Remarkably, despite a gloomy start to the day down south, the sun appeared to be coming out on the coast. Despite the 37s being on the wrong end of the train for my liking, the run was superb. Seeing the landmarks along the run again, including the rusting hulk of the Duke of Lancaster moored alongside the line was fantastic - and I was reminded why I loved this trip so much. Scenic in the sense of some classic journeys it probably isn't - but then over the years runs like the Settle and Carlisle have lost some of their glamour for me too. However, this one never seems to tire - and as we curved under Conwy Castle, I noted a good few lenses poking out of the windows too! It was particularly good to see a new generation of enthusiasts discovering the line and the classic loco-hauled trip along it. However, this also meant them discovering the delights of Holyhead - and on arrival in really unprecedented sunshine, they scattered to the bridge for that special shot over the fan of sidings, now empty except for the stock of a UK Railtours excursion to the Welsh Highland Railway. Got some shots myself before wandering around the station to see what had changed in the past year or so. In answer, not much - the facilities remain concentrated on the ferry terminal with the tiny buffet now closed and a larger facility providing refreshments. The sweeping steel bridge directly into the town centre seems to be a blessing, and a steady trickle of passengers made the walk in order to secure provisions or seek out the few pubs still open and recommended. I elected to find a spot in the sunshine, get a decent coffee and watch the activity around the station before heading back to the train for the return run.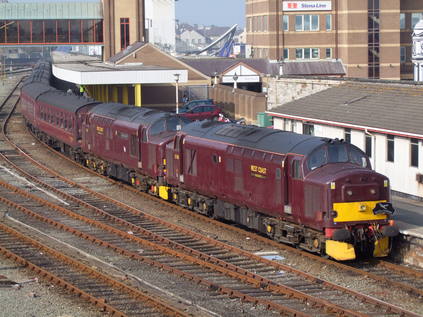 With the 37s leading, things were a little more exciting on the way back. Once up to speed and scudding across Holy Island, my neighbours once again asked for the window to be closed. This was frustrating as even from the back of the train, the noise the pair of engines up front was making was impressive. The afternoon remained bright and warm and with Summertime about to officially commence tonight, the daylight lingered fairly late meaning that we still had a little light as we left Chester and headed for Warrington. However, just as I was becoming impatient with the heat in the coach, the "Green Knight" saved me. As ever, the light and heat in there had failed, and with a full train Spitfire were doing their level best to relocate the passengers somewhere warm and bright. Sought out the organiser and offered my seat - initially thinking I'd end up with a whole bay in the "Green Knight" - not ideal, but without anyone else around possibly tolerable. Instead I was invited down into the staff BSK, where I found a comfortably warm but not sweltering bolt-hole in a fantastic old Mk I First Class compartment. Settled in for the run back via Manchester Victoria and derelict Denton, still open in this direction at least. Pleasant conversation and decent food too most of the way back which made the time pass incredibly quickly. All went well until we ground to a halt just after leaving Worcester. A points failure at Abbotswood Junction seemed to be taxing local Network Rail resources to the limit, and there we sat for some time. In my warm, dark compartment I was quiet happy to pass the time pondering things - what time would we get back, and would they have locked up Weston station by then? Just how would about 150 passengers climb over the fairly robust and rather fierce looking picket fence which now surrounds the station. Finally underway, and with a bit of a chase on the locos performed impeccably. We had to be out of Bristol around midnight, and with a possession closing the line behind us too it had all the hallmarks of a classic movie chase. After a spirited run south we made Bristol a little after midnight and made short work of the last leg to Weston. The delay wasn't ideal, but the resulting high speed run was entertaining. Another fantastic day out with Spitfire folks, with a classic route and fine traction.

Posted in SHOFT on Friday 25th March 2011 at 11:03pm
---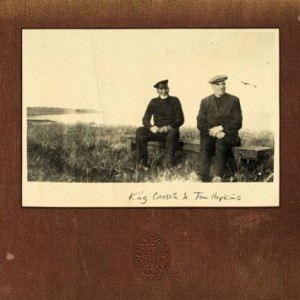 I was in a desperate hurry, and didn't really have time to stop - but I couldn't resist swiftly transferring the newly arrived CD to my iPod before heading out. I'll confess a brief wince regarding King Creosote's professed dislike of "stolen, compressed tunes" but I'd been waiting for this for a long time - and I couldn't chance not taking the first opportunity to hear it. So, it's out into the warm and misty spring evening with a vague hint of wood smoke - but despite the tinkle of tea cups and cafe chatter I can hear, I'm a long way from the East Neuk haven immortalised in "First Watch", tramping through a post-industrial Somerset backwater in terminal decay. The smoke is probably the hotel burning down again. That this record has the ability to transport the listener is simply beyond doubt.
What is immediately striking about "Diamond Mine" is the sympathy and space which Jon Hopkins affords these songs. His touch is deft, considered and builds gently - assembling sounds off-camera which sweep through the compositions, sometimes leaving little more than an echo. The tracks don't so much end, as melt into each other - with a continuous summery haze of warm noise, or the crack of twigs underfoot. As much a journey as a record, Hopkins works to enhance the simple instrumentation rather than complicate things, using occasional dashes of harmonium or banjo - nothing which would be out of place on any King Creosote record perhaps, but arranged to create a particular mood - a sense maybe of rural East Fife which betrays this record's origins, and it's slow, seven year progress towards release.
It's a strange shock to hear a Bits of Strange song appearing brazenly in public, in the form of a wistful take on "Bats In The Attic" - still an uneasy catalogue of the signs of aging, but here sounding resigned and full of quiet regret rather than defiant. It cements the notion though, that those elusive songs are equally deserving of a wider audience and deserve a life on record - though perhaps to capture them would be to halt their evolution? In any case, this version is beautifully done with a sparse piano marking the melody while a distant crackle of static weaves in and out, King Creosote duetting with Lisa Lindley-Jones as gentle percussion punctuates the mix. Soon, "Bubble" arrives with an appropriate analogue popping and crackling, as King Creosote's forlorn falsetto spins a beautiful and gentle lament over the sparse electronics and muted piano. The lyrics are personal, often bittersweet, and always deeply affecting - King Creosote at his finest. Once again Lisa Lindley-Jones' vocals add a fine counterpoint, keeping the song from descending too deeply into melancholy as Hopkins wash of electronica ebbs and flows like the tide - the sounds of the Firth of Forth never seeming far from these pieces.
Things take an almost orchestral turn on "Your Own Spell", setting out with a spacious, piano backing before being joined by a shimmer of unashamedly Caledonian fiddle which eventually builds against a backdrop of apparently blustering winds, before twisting around its own echoes and forming a crescendo of strings - the pained implications in the line "arriving late in church/your dress is soaked" illustrating a classic King Creosote trick by elevating the tiniest of everyday observations to a pivotal event. The sense of a snatched photograph or hastily scribbled postcard, rather than an over-executed set-piece portrait. The record closes, far too soon, with "Your Young Voice" - a simple repeated, heartbreaking refrain of "It's your young voice that's keeping me holding on/to my dull life...". King Creosote's voice soaring above a gently plucked guitar, before the piano takes the song to it's quiet, near-broken ending amidst the crackle of burning logs or maybe the creaking of a boat - or perhaps with sinister implications, both?
Retracing my steps later, the night is still warm and smoky and I'm still listening to "Diamond Mine" - wondering at its understated, genuine beauty - and pondering how on earth I'm going to write anything sensible about it while avoiding hyperbole? This music is calm on the surface, with strong emotional undercurrents. It's also apparently capable of travel in both time and space. And with the laws of physics left as broken as my vow not to wax excessively lyrical, I commend "Diamond Mine" to you. You won't regret it.

King Creosote & Jon Hopkins - Bats In The Attic

Posted in SHOFT on Sunday 20th March 2011 at 10:03pm
---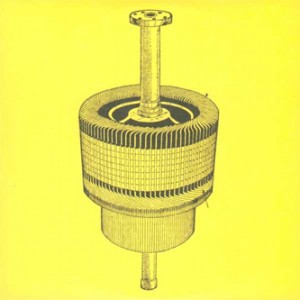 I sometimes wonder why any of us, bloggers or journalists alike, feel we have the right to expound on music. After all, it's art isn't it? There's no right or wrong way to go about this stuff. But then there is something about being the consumer here, and of demanding a level of quality which suits. Of course if it were that simple, we'd be writing dispassionate pieces for Which? magazine, stressing that this disc is reasonably good value because it clocks in at 41 minutes. FOUND have intrigued me for a while now, because of the explicit and unashamed artistry explored in their work. Indeed, it's impossible to read about them now without the baggage of Scottish Arts Council funding and their various, wonderfully outlandish projects being unearthed. But what is exciting about "Factorycraft" is how it bypasses all of this mythology, all of the confusing detail which made me wonder if FOUND were a band I could relate to? It's just a ridiculously good record. I could probably end this here, but - because we never do err on the side of brevity in the blog world - I won't of course.
So, for the uninitiated FOUND are three gentlemen from Edinburgh who got together at art school. Via a couple of confusing but brilliant albums, an ongoing dalliance with Fence which like all that label's dealings is never quite over, and the ambitious effort of releasing a ton of free stuff over the last year, they come to "Factorycraft". The title is no accident, and from the beautifully designed sleeve to the lyrics of recent single "Machine Age Dancing" the hum of industry and the absurd depersonalisation of automation and mass-production is never far from the foreground. Proceedings open with an old favourite in "Anti-Climb Paint", but it's been refreshed and reworked with slashing guitars and a choppier rhythm. However its howl of sexual frustration remains intact and as potent as ever. It's followed by the curiously titled "I'll Wake With A Seismic Head No More" which bleeps and shudders into life, before performing the musical equivalent of a tightly executed three-point turn into an anthemic rock chorus. Rarely do FOUND's songs remain in any niche or genre for long. The structures are complex - with a curious but insistent internal logic which is perhaps the biggest development since their earlier efforts.
"Blackette" slinks in behind a cartoon bassline, a deft touch of electronic rhythm preceding a simple, sing-along love song to particle physics - and somewhere around this point I realise that this is consistently brilliant stuff. Every song a polished gem of FOUND-style oddness, with a clever lyric and an unexpected turn towards the anthemic, before a shuddering time-shift into another genre entirely . On the previous FOUND records, there were plenty of strong songs of course, but their tendency to collapse in on themselves or to disappear far too soon into a fog of white-noise or bleeping was ever present. With this renewed focus, my personal album highlight arrives in "Lowlandness". It's a fantastic title for starters, but this disconcertingly wobbly ballad drenched in big guitars and burbling electronics resolves into a proper pop song in time for the frankly superb chorus. The lyrics displaying a touch of wry humour into the bargain. On "Every Hour That Passes" this reaches an Arab Strap-eque level of embittered introspection with "its a safe prediction you're sick of me, because I make you sick predictably". Another trademark FOUND focus shift, and the band are chanting "we're just not getting on" like a woozy punk chorus line. The wordplay and dark humour behind the lyrics is a constant delight too on "Factorycraft".
The album ends with "Blendbetter" - a bridge between the past and the future for FOUND, swooping in with a dizzy jangle and a menacing electronic drone. It stutters and bleeps into being with a dark undercurrent, as a tale of everyday romantic ineptitude spins out into a drawn out wash of note-bending noise. And then it explodes...fuzzily and messily with a cry of "...now nothing can hold me back". As frustrated and unresolved as it is triumphant, the track fades as it entered. Breathtakingly good, and hopelessly addictive.
Pigeonholing music is a curious thing. We all know it's wrong and lazy, but we all do it. Even the most eloquent of bloggers can't avoid the occasional genre tagging incident, and it's an easy way of marketing music - just look at how many bands describe themselves in terms of others for instance. So what happens when a band like FOUND defy easy categorisation by switching their reference points sometimes two or three times per song? One approach is to pin down one aspect of the band and amplify it - thus my advance knowledge of their art-school pedigree and their multimedia antics. Another is to invent a genre just for them, and so we have the curious but pretty odd concept of "glitch pop". However, I'm going to attempt to take the third path here and try to let the songs speak for themselves. It feels unseemly to be bandying abount end-of-the-year superlatives just yet. However, at first spin it becomes evident that there is something very special at work here.

FOUND - Lowlandness