Posted in Railways on Saturday 19th March 2011 at 12:41pm
---
It's the second week of my brief run of self-arranged outings. I've grown to look forward to these, as while the round of railtours and Premier Inn's is usually entertaining, there is something of a back-to-basics challenge in the out-and-back-in-a-day trip to somewhere fairly distant. These trips stopped scoring me new track on a regular basis years ago, but they've allowed me to undertake a rolling programme of revisiting bits of the UK I'd otherwise likely not see, spotting the changes and being incredibly nosy. Today's trip repeated one which felt rather recent - but when I checked actually dated back to January 2006, when I used an equally bad pun on the town of Brigg as a title. The plan was to head north and take the Saturdays-only service via Gainsborough Central to Barnetby. I'd mentioned this a couple of weeks back to some friends who were also thinking about doing this on one of the good value "go anywhere on Northern Rail for ten quid" tickets which local papers had been advertising. So, after meeting some locals heading for a Pathfinder-hosted stagger around the Heart of Wales (not again, thanks!) I changed for the 07:30 at Bristol and enjoyed a quiet and pretty uneventful journey north to Sheffield.
The day was clearing and getting warm, which was good. However the trains seemed to have their heating set to 'bleak midwinter' mode, which wasn't so good. I'd also dressed for the 05:30 sea-mist cold I encountered outside my front door, not the oddly balmy north. Dozed quite a bit, and decided to strike out into Sheffield in search of a coffee shop I'd haunted before. Found it and watched people coming and going until the sun went behind the clouds, and I headed back to the station. Shopped a bit and wandered onto the platform for the 12:00 a bit early. Heard my name shouted from a distance and spied Eric and company heading onto the platform. True to his word, he was heading for Barnetby via the unusual route. Had a pleasant chat on the platform before piling onto the single-car unit for the long slow journey via Worksop and onto the rarely used line. The time flew by chatting with this decent group of gents out for the track, and we were soon arriving at Barnetby where they intended to spend some time with their cameras.
I however had to press on, so after viewing one passing freight and some further conversation I headed off on the 14:11 to Lincoln, travelling via Market Rasen - covered on a busy train during an All-Line Rover some years back. Today was much quieter, but the sun was back out and I was sleepy and hungry. Tried to rectify both on the journey, but soon enough I arrived at Lincoln in bright afternoon sunshine. Since heading out of the ticket gates would have caused a confrontation with the less than polite gateline staff, explored the cafe. It had been refurbished further since my last visit and had far less places to sit. Found a bite to eat and a reasonable coffee and wandered out into the sun, watching the surprisingly busy station at work. Next hop was onto a busy but still remarkably smartly turned out EMT class 158. Settled in for a very drowsy and warm ride to Nottingham - a flat, featureless route anyway. Contented myself with music, and an effort to spot remains of the Great Central Railway as we approached the city. Nottingham was basking in sunshine, and I decided to sit out my short wait on Platform 6, enjoying the warmth and noting how much happier it seemed to make people. Rather too soon the Birmingham-bound unit arrived and I boarded early to make sure of a seat with suitable legroom. Another fairly snoozy ride back to Birmingham where I found things in disarray due to a fire near the Wolverhampton line. Lots of cancellations and frustration - but mercifully not affecting my journey back. Headed for my specially booked Voyager seat and was forced - perhaps against my better judgement - to turf a very attractive young woman out of it. She tutted and wandered off down the carriage, but soon wandered back and harrumphed down in the seat in front, delivering me a withering glance as she did so. I managed a smile I hoped was soothing and pacifying, but I suspect was just gappy and tired.
My circle completed, I had a fairly quiet run back to Bristol where signal failures were delaying things, but only a little in my case. Mr Spinks alighted from his tour to join the same train back with tales of Llandrindod chip shops, and at last the train wasn't too warm. It had been a hot, sunny and successful day. Next week it's back to the charters...

Posted in SHOFT on Tuesday 15th March 2011 at 7:03am
---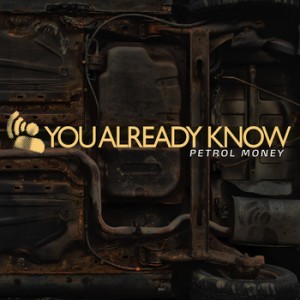 It must be difficult following a frankly stunning debut. I recall back in the 1990s when I still pored over the music press in the hope of hearing about new things, there was a running joke in the NME about the 'difficult second album'. It's hard to know whether it was meant to be difficult for the artist or the listener? Perhaps though it's both - with expectations raised by a sterling debut, bearing down weightily on artists who now have a reputation and a recognised niche to occupy. The best bands seem to shatter the box on the way out, taking our preconceptions with them. Others choose to make their chosen bit of the musical world their own little palace. Both routes are fine - but it's pretty hard to live in both worlds at the same time.
But You Already Know seem to be doing just that on this new album, a follow up to 2009's "Stop Whispering". That debut was uncommonly fine - a mixture of light and dark, punishing solid riffs alongside moments of near-epic grandeur. It was, for a little while in the post Christmas lull of early 2010, pretty much all I would listen to. Instrumental music has it's place - and anyone who tells you it's dull or boring is clearly more interested in the cult of personality around the singer than the song itself. However, there are some bits of this record - particularly early on - which are just a little dull and almost a bit YAK-by-numbers. The album starts with a clear statement of what to expect with the solid, thunderous "Let's Fuck". It thuds relentlessly along with a dangerously non-ironic 'metal' solo squealing away in the background. When this surfaced as a single back in late 2010 it was a fun cobweb-destroying romp, but in the context of an album with a fair bit of this kind of material up front, it's a little less convincing.
Happily, by the time we reach "Amber Lamps", YAK are back on form, and the album improves exponentially from here in. The bludgeoning, hard-edged rhythm section remains but is tempered by a more melodic, soaring element which takes these songs beyond the grime and grunt of the early part of the album and into a more interesting dimension. YAK seem to have settled on a sort of metallic take on post-rock which is eminently listenable and emotionally engaging - which is never easy for entirely instrumental music like this. The latter part of this record manages this by having an undercurrent of soaring melodies which temper the storm which the band are capable of creating.
"The Gush" represents a return to the thrash and burn of the first part of the record, but is followed by the initially menacing but ultimately gorgeous "Meatshield". Here YAK slow the pace and quell the urge to rush for the end of the song long enough to produce a contemplative, almost gentle post rock hymn which explodes with satisfying fury - and keeps exploding until it reaches a swooning anthemic conclusion. This inventive and more restrained technique is maintained through "Into and Over You" which stacks up around a martial drumbeat, building towards a searing ending. The album returns to it's roots for the closing "Business Class" which combines a filthy, funk-metal bassline with a roar of guitars. It's difficult not to love this closing riot of noise, just because it breaks all the rules and demonstrates the playful ambivalence to genre and stereotype which YAK have developed.
Despite my whines and gripes about the early part of this record I find myself coming back to this collection of songs in different ways - the first few songs perfect after frustrating days in the office, and the latter part of the album for brilliant cold morning commutes. I'm wondering perhaps if it's all in the sequencing of the tracks? This is something which is hard to get right - and in the post-CD age where people have the freedom to rearrange things easily, it's sometimes perhaps not given the attention it needs. In any case, this is a noisy beast of a record with a sense of humour alongside it's epic and serious moments.

You Already Know - Into And Over You

Posted in SHOFT on Sunday 13th March 2011 at 11:03pm
---
I received an email a few days back suggesting that I was neglecting my local music scene in favour of events much further away. It wasn't that polite, but you get the picture. I replied as I have before, that when things locally began to move away from the years of dull pub rock and tribute bands which seem to stifle any kind of genuine creative spirit I'd happily cover them. I also suggested that when promoters here realised that local support for national touring bands was a means of exposing talent to new audiences, that too would be a positive thing. So at first, tonight looked like a 'told you so' moment - yes Admiral Fallow have trodden the southbound path from Glasgow - but we had local support acts didn't we?
Well, kind of.... Lonely Tourist is an expat-Glaswegian now based in Bristol. He takes the stage cutting a rather slight and nervous figure in a check shirt, and with a near apologetic introduction. It's just him and an acoustic guitar slung high on his chest, and the audience don't seem greatly interested in the bar at the back of the room - welcome to Bristol. Then however, he starts to play - the rapid, cowboy-style strum of the busker. His voices soars above the chatter and things get interesting. A gradual drift begins, and by the end of his closing number there are plenty of people watching and listening. Whatever this is, it's probably not folk music of either the new or old variety. Lonely Tourist offers a sort of edgy, acoustic pop with wonderfully self-deprecating lyrics which dodge bitterness in favour of humour. His patter - which he assures us he "left at home" - is muted, restricted to plugging his newly released CD. Recent single "Patron Saint Procrastinate" - on record a sparkling almost country-pop gem - is delivered as a sparse high-speed strum, with Lonely Tourist's voice by far the most important instrument - clear and melodious when he sings, gruff and impenetrable when he speaks between songs. I caught the lyrics of "Delighted" - a tale of skirting the edge of the music industry and watching people become successful - and thought back to my email. I suppose Lonely Tourist is technically local now? I don't think he'll be on the edge of things for long with songs this strong. One to watch for sure, and his debut album can be obtained from Bandcamp.
Port Erin however, were an odd choice to throw into tonight's mix. A three-piece from Wiltshire, who listen to a lot of classic rock music I'm sure. Technically, all three of them showed enormous skill as musicians - with a special word for the sinuous and fluid bass. However, I'm not sure what it added up to? The songs, often perhaps a little over-long, moved from crashing, angry grunge-fests to oddly unnerving Dire Straits play reggae numbers. It was all just confusing, and sandwiched between tonight's other acts it just felt strangely out of place. Like all support bands, they'd brought along their cheerleaders who lounged laconically around the venue during the other bands, but leapt up to support their heroes. It's probably a good thing they did, because I fear quite a few of the rest of the audience just didn't get Port Erin. I stress that this band isn't bad - far from it, they are technically proficient, the vocalist has an engaging falsetto and the drummer is a tiny ball of thunderous energy. But it felt like they'd just discovered Dad's record collection. In another situation, perhaps things would have been different?
At last I get to see Admiral Fallow! Having been elsewhere - annoyingly north of the border I think - for both their previous Bristol shows, I felt like I had some catching up to do tonight. Having been an early adopter of their frankly amazing "Boots Met My Face" album last year, it was fantastic to see it being released more widely - even if this tour to support it had been somewhat dwarfed in significance by their invitation to SXSW. In fact, tonight's performance was the last date before the band jetted off to Texas to join a host of other Scottish musicians. Taking the stage to music which sounded suspiciously like incidental music from Highlander the band opened with the gentle "Delivered". This was the first time the entire band, including the drummer had played in Bristol - and the sound was full and rich - credit indeed to their soundman who had coaxed a surprising depth out of the sometimes rather acoustically dull box of The Cooler. With the audience spellbound, there was no pause at all as the band errupted into "These Barren Years". There was dancing. Not me of course - never. But, in a move seen rarely with cool, Bristolian audiences, there was visible movement at the front of the venue! The set was formed from much of the triumphant album, but a couple of new compositions featured too - they were notable for feeling a little tougher and angrier, with the lyrics interestingly moving from the reminiscence and introspection of "Boots Met My Face" to a wider view of the world. Notably Louis Abbott and Sarah Hayes seemed to take a somewhat more balanced share of the vocals. A set highlight though was "Four Bulbs" - here, the instruments were laid down and the microphones switched off. The band formed a choir around Louis and his acoustic guitar and delivered the song note-perfect, it's aching beauty intact even here in a slightly grimy Bristol nightclub. The audience responded rapturously inspiring a storming, triumphant "Squealing Pigs" before the band left the stage. The encore consisted of a solo Louis covering Elbow's "Switching Off" - the influence clear in this gentle, affecting delivery - before a final and life-affirming romp through "Old Balloons", the song which probably persuaded me here in the first place.
Encouragingly, the Bristol audience already knew Admiral Fallow were destined for big things - the support slot with Frightened Rabbit likely having confirmed this was something special. They left the stage, almost directly heading to the USA with the genuine warmth of the often tricky Bristol audience ringing in their ears. It had been a special night for a couple of very special bands. And it was sort of local, I suppose...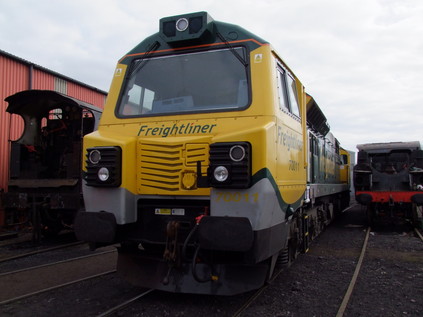 Posted in Railways on Saturday 12th March 2011 at 10:33pm
---
With a couple of weeks break between a flurry of tours and other jaunts, I'd been looking around for things to do for the next couple of weeks when this event popped up in my inbox. Essentially, this was a local charity event in aid of the Emmie Dixon Home in Crewe, which is a charity I found particularly easy to support given family circumstances. Working with Freightliner, the Heritage Centre would open it's doors and put on a bit of a show - the bonus came in the form of bus tours to Basford Hall Yard. However, it became clear long before the day that it was going to be a huge challenge to get onto one of these trips, as they couldn't start until 12:30 and would be restricted in numbers. In any case, set off early, coincidentally meeting up with some veterans of a previous, much bigger event in Crewe along the way. A fairly gentle trip followed, with the weather changing from threatening clouds to fairly warm greyness along the way. On arrival noted a greater than usual number of spotters on the platform ends, and a steady trickle of punters leaving the station for the walk down to the Heritage Centre. It was going to be a busy morning. A swift visit to Tesco for Mr Spinks to attempt some shoe shopping in case of being successful in an attempt to get on a yard tour, and then into the already impressive and steadily growing queue for entry.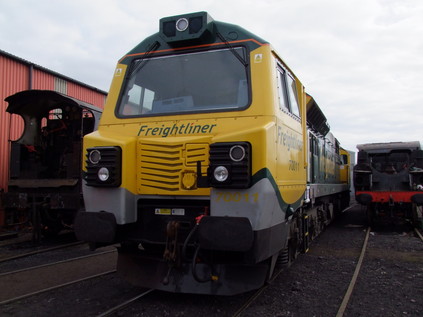 It was pretty clear from the outset that not all these people would make it to Basford Hall, and after a wander around the site we joined the queue in the hall for tickets. They'd started selling nearly an hour early, as the exhibitors and traders weren't happy about the growing line of people blocking their stands and getting in the way of business. The polite but increasingly anxious snake of people stretched twice the length of the hall, doubling back on itself and out of the door. Gave up, just before the tours finally sold out - with at least a further hundred folks in front of us. There would be other opportunities to get around the yard, and it seemed like a fairly quiet day there anyway. Instead, made a dash for the line at the burger van before that grew longer too. In the process, bumped into the irrepressible Eric and his merry band, veterans of many a Spitfire tour. Exchanged news and plans, and noted I'd probably be bumping into him a lot over the coming weeks - though he confirmed he had no plans for Anstruther in May!
After a further wander around the Heritage Centre site, set off for the station and a unit to Manchester taking in the Airport branch. It was my first visit since the additional platform had been opened, and it was an interesting jaunt despite getting unpleasantly warm on the train. Time in Manchester to visit Ian Allen's bookshop and to get a decent coffee at last, before heading back on a much swifter Pendolino, listening in to what seemed like a fairly complicated but clear-cut attempt at Fare Evasion unfolding nearby!
After a little while chatting lazily about what we'd missed during our absence from Crewe - quite a bit surprisingly as Basford Hall had all but emptied it's contents anyway - we boarded the unit homeward. While today hadn't gone entirely as planned it had been a sociable and interesting easy trip out. The charity in question must have made a huge amount of cash, and even the usually acerbic WNXX forums didn't seem to be too whiny about the sell-out tours given the cause. Rather like the tales of teenagers parties being mobbed after appearing on their social networking pages, this was a local event which went accidentally national - and raised a ton of money in the process!