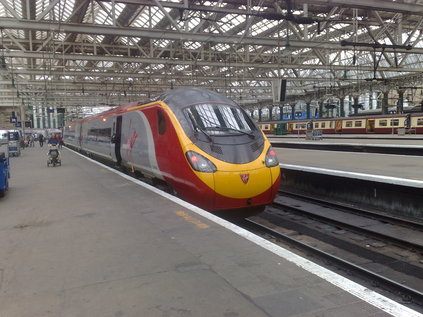 Posted in Railways on Saturday 30th August 2008 at 10:04pm
---
Woke early feeling passable but not great. Literally seconds between leaving my room and finding myself on the platform at Crewe station, clasping much needed coffee and wondering how today would pan out. The plans for this week had changed such a lot over the past few months, and this most recent change was really making the best of a bad lot. In my still fairly fragile state and given the impending end of my time off, would I make the best of my trip?
First though, it was a pleasant early morning dash up the West Coast to Glasgow. I'm not sure if it was the strong painkillers causing undue paranoia, but another passenger boarded at Crewe and selected a seat practically opposite me in an otherwise empty carriage. Everytime I looked up he was looking back at me. I couldn't settle and buried my head in my laptop. As a portly fellow, I'm fairly used to being an object of curiosity and even ridicule, but this guy was just lazily, rather boringly staring. Not sorry when he got off at Carlisle. Eyes not quick enough to sight much of the mass of locomotives on Kingmoor depot, so concentrated on the scenery and the building thrill as I approached the Clyde which has never quite gone away however often I visit. After what seemed like an interminably long wait in Eglinton Street tunnel we finally crawled into platform 2 in surprisingly bright weather given the damp conditions all the way from Crewe.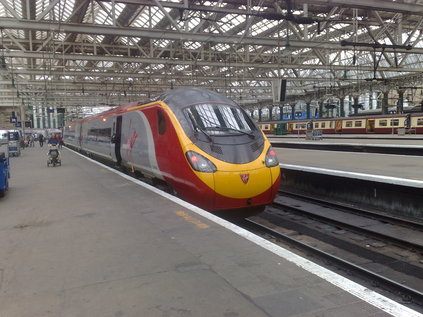 Given the need to wait to check into accommodation and ditch my bag, decided on a quick walk over to Queen Street and a trip to Alloa. Passing the station last week, the Branch Line Society side of my personality noted that the station at Alloa was on a little spur, and that technically I'd not visited the station. So, onto a fairly quiet 170478 and soon climbing up the bank and into the northern suburbs for the journey to Stirling and Alloa. Spent the unit's layover shopping despite still having little appetite. If nothing else, Alloa station is superbly handy for an apparently vast Asda store. Spotted the crew of the unit doing much the same as I at this convenient lunch stop. The train was more heavily loaded on the return, and we were soon away again, via Stirling and into Queen Street with some time to settle down for a coffee in a much loved old haunt before heading for the hotel.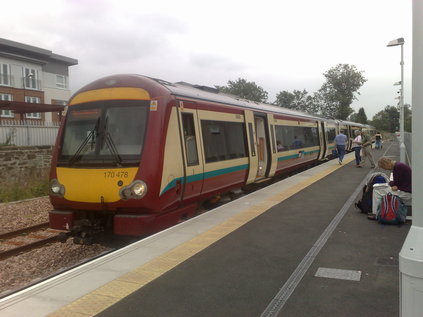 I'd had some vague thoughts about how to spend the afternoon - many of them carried over from the visit in February during which I didn't get to explore much of my personal vision of the city. I spent some time playing with the bus timetables, but eventually figured that I had my walking boots on, mercifully dry weather and for a change, no need to be on a train heading anywhere. So I set out, firstly via backstreets to George Square, then via George Street and some minor diversions to Townhead. Here the empty void of the former High Street goods yard stretched along Duke Street, and I pushed on east into Dennistoun in the shadow of the vast Drygate development, currently propped up by what appeared to be a metal exoskeleton. I wondered how I'd know when I got where I was going? There aren't really any resources readily available for mythologising underground watercourses but the derelict bulk of the vast Great Eastern Hotel was looming and I knew what I was looking for was nearby.
Suddenly, a change in the air - a slightly pungent hit of decay, possibly sewage? I glanced nervously over a low wall to my right and once my eyes had adjusted to the mass of foliage, I spotted the water running beneath me. I had finally found the last vestige of the Molendinar Burn, trickling purposefully by the hotel on its journey under Glasgow. Thrilled and re-energised by finding what I was looking for, I struck out north onto John Knox Street pausing to turn and take pictures of the hotel. It was far too spontaneous to get out the camera - and probably not entirely wise for reasons of personal security, so I made do with the fairly good camera on my 'phone. Strangely though, the flat silver light of a Glasgow sky seemed to leak into the pictures. I continued walking beside Drygate, noting that the ominous blocks had no fancy names - but were simply Drygate I, II and III.
At the top of the hill I dived into the open gate of The Necropolis. It was years since I'd walked in here, and it was pleasantly cool and quiet after the endless traffic of Duke Street. Walked a short way to the end of the Bridge of Sighs, pausing for a few pictures before heading over the bridge and into the Cathedral Burial Yard. Here among ancient mossy tombs I spent a little longer gathering my racing thoughts. Again it could have been the painkillers, but I felt oddly exhilarated to be back here wandering these streets. Outside, beside the museum, a bunch of kilted wedding guests had popped out for a crafty fag and were now being bullied into posing for photographs by a group of Spanish tourists. Slunk by, hoping I wasn't mistaken for more local colour. Press on down High Street, heading for Glasgow Cross.
Somewhere here in Trongate my energy failed me, I was in a cold sweat, dizzy and felt desperately hungry despite having no appetite. I summoned up the energy and courage to step into The 13th Note and nursed a pint whilst reading about local bands. A show caught my eye happening on Great Western Road, but I felt old, uncultured and still a bit sick, so I dismissed it and headed back to the hotel via a bookshop. My eastern perambulation complete for now.
Somewhere though, curiosity got the better of me once again and I found myself striking out in the evening, attempting to get a bus but giving up and starting the long walk to The Captains Rest. Along Sauciehall Street, mostly closed for the evening but still busy. Somewhere nearby fire engines rushed to an unseen event. I climbed the hill, then descended to negotiate the mess of crossings which lead over the Motorway and onto Woodlands Road. Many of the tiny cafes and businesses are now larger concerns or residential conversions but a couple of pubs and cafes survive, no doubt on the university trade. Turned north at the next junction, and found myself just where I hoped to be. However, drenched in sweat and feeling queasy, I just couldn't do it. Much as the bands sounded great, I felt old and irrelevant. I also realised that I'd probably need to leave early. I agonised a bit before deciding that perhaps tonight just wasn't the night before slinking away to catch a welcome bus back to Union Street.
Any concern I'd waste my day here was unfounded - and despite these 'lost weekends' surfacing when there's little going on, I felt like I'd recaptured the city how it's always felt to me. Tired out from walking, I headed for a welcome bed.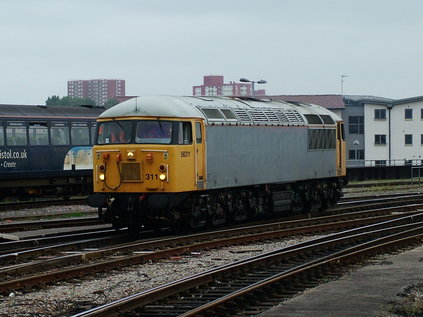 Posted in Railways on Wednesday 27th August 2008 at 2:16pm
---
There have been numerous trials of new freight services around this part of the world in recent months, with little more being heard once the excitement of the initial working and the novelty of sighting new engines locally has passed by. This however appears to be a firm contract - Fastline, owners of numerous reconditions Class 56s and more recently of their own small fleet of Class 66s, will be running coal trains from Portbury docks to points north. This week, driver training runs have been taking place each morning and I finally recovered enough from the lack of sleep over the weekend to pop up to Temple Meads to have a look today.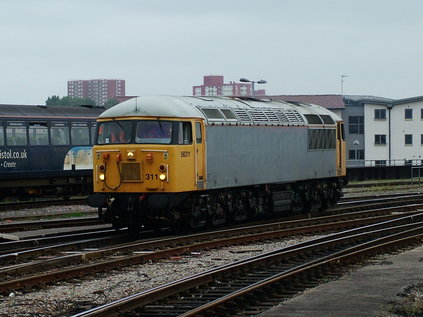 It's good to see new traffic in a difficult time. Perhaps, given the economic situation coupled with pressure to move goods with less environmental impact, this is a good time to be a freight operator?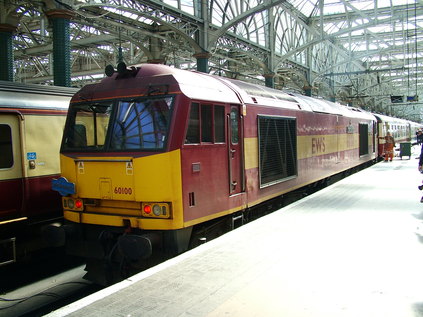 Posted in Railways on Monday 25th August 2008 at 11:59pm
---
In the event, I didn't manage to stay awake long at all. Despite the excitement and festivities going on around me, and the superbly noisy engines in the otherwise quiet early hours, a couple of nights with little sleep soon caught up with me and I dozed fitfully along Chat Moss, and snoozed entirely through the departure from Manchester Victoria and what I'm assured was a cacophonous ascent of Miles Platting! Woke in earnest at Milford Junction and enjoyed the surreal and very early arrival at York into an almost silent, eerie station. Our engines didn't even manage to disturb an amorous couple who clearly didn't know that a few hundred, mostly male spectators had just arrived from the south west! Lots of time to explore and attempt a variety of shots of the engines in the lights of the trainshed. Quite a bit of stock stabled too. Caught up with folks in other parts of the train, and discussed progress so far. Felt sleepy and stumbled back on board well before time to await departure, after which I was soon asleep again, waking briefly at Newcastle as we slowed to pass through the station - arriving at the same time as the stock of the first London-bound train of the day.
My next recollection is somewhere on the coast - the North Sea scudding by to the east, and Scottish placenames on the signposts of the A1 to our west. Orientated myself a little better at Oxwellmains, and once I'd established I was completely awake set about readying myself for the day ahead. We slowed near Drem, pulling into the loop - no surprise as we were a little early and this was the start of the morning peak as it wasn't a Bank Holiday north of the border. However we seemed to sit for a long time. A very long time. Soon our early had become very late, and there was no information forthcoming. Eventually on the move again, about an hour behind schedule arriving at our final pick-up at Wallyford. All was now revealed - the paperwork for the line into Millerhill Yard for our next loco change was missing and Network Rail wouldn't let us in. It was assumed that the Freight Line Authority for Alloa was OK but we'd clearly have missed our path. At this stage Deanside was also questionable. With the whole tour looking a bit shaky, we were being routed into Edinburgh Waverley on the mainline with out current motive power, where hopefully more information would become available. There were unashamed expressions of anger on the train - towards Pathfinder, perhaps more deservedly towards Network Rail, even towards fellow passengers who'd been quick to say 'told you so'. A rather miserable train arrived at Waverley, with staff keen to kick us out as soon as possible.
Except they couldn't. Someone noticed the headlight on 37417 was out. It had probably been out all night, at least since York. Without it, the loco was a failure. Some mucking about with the other loco and the lamp at the rear of 417 produced three lights with totally different fittings! They needed the platform desperately, so only one thing to do...proceed via Haymarket Central and the Edinburgh Suburban Lines to Millerhill Yard! So, a brief trundle at 20mph along the first new track for me, and we were soon in a place where we technically weren't allowed to be! The 37s were swiftly removed and the new engine, 60100 'Pride of Action' placed on the rear to retrace our steps to Haymarket. As we passed the shed at Millerhill a fitter could already be seen working on the offending headlight. The missed bit of track was minor, but annoying - but a small bonus in getting both sides of the triangular junction at Haymarket I suppose. Good to be moving at speed again, as we passed over the Forth Bridge and resumed the booked route. A quick spin around most of the Fife Circle, with a good few photographers in evidence as we approached Dunfermline and the eastern end of the day's main target - the recently reopened connection to Stirling via Kincardine and Alloa. Despite now fairly horrible conditions, there were still plenty of spectators as we progressed westward, coming alongside the Firth of Forth once again, and passing the huge Longannet Power Station site. A brief curve inland, and to our left on a short spur from the line was the new Alloa station, beside the town's vast Asda supermarket. Against all the odds we'd achieved the goal from which the tour took it's name!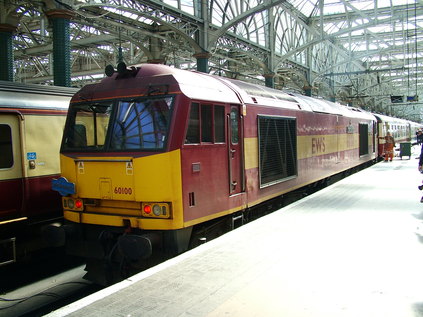 No stopping here though, and we were soon back on the coast at Cambus. With the Wallace memorial towering over us we curved into Stirling station, the new line completed and a few sighs of relief from the Quail-marking crowd on board! Now, in rather unexpected sunshine, we were heading for Glasgow via a much simplified route which missed out the originally promised City Union lines and opted for a suburban spin through Coatbridge, Rutherglen and then the classic arrival over the Clyde into Central Station. The break here had been cut short by keeping the same departure time. About 45 minutes then in my favourite city, just time to get a drink and a newspaper, and to have a look around the place before watching the 37s return to the front of the train for our short trip to Deanside. The weather was actually startlingly good up here, and we set off again in bright sunshine, with the added bonus of a requested route via the Smithy Lye through siding (which had also been covered in part on the Routes and Branches tour which the SRPS ran yesterday I understand). At Cardonald, turned north and covered almost all of the surprisingly long branch belonging to Deanside Transit and serving the container depot. Since we ended up on the perimeter fence of the Shieldhall shopping complex, amazed SPT hadn't thrown together a station and run a shuttle service! A swift run around here, and with 37422 now leading we set off back to Shields Junction, then via the Burma Road to Larkfield Junction, and onto the West Coast Mainline. With almost all of the planned unusual track covered and a couple of bonuses, we were finally heading homeward.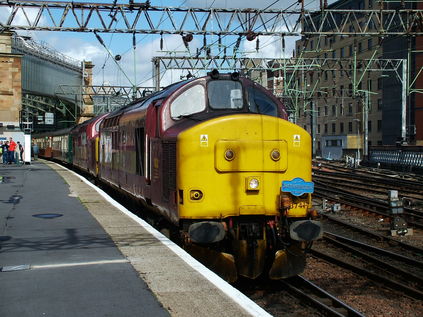 Some fine running saw us consistently early, and meant a wait in the loop at Beattock before arriving at Carlisle with just one loco powering. This meant an impressively noisy climb into the station from a signal check just outside too! A fairly long break here due to an early arrival, and things were looking good for beating the rather late 01:30 target for Bristol. With 92002 on the front we continued to fly along, except when we ended up catching a local and skipping signal to signal through Lancashire. At Crewe our final loco change saw the impressive 92 depart in favour of 66187 which was to lead us all the way home. Our driver was evidently keen on an early finish too, as he coaxed a fair turn of speed out of the loco, despite a bit of a lull around Northfield when a Cross City Line train went ahead of us at Kings Norton. Despite this setback, made good progress and avoided the long fester which was timetabled at Bristol Parkway. Arrived in a quiet Temple Meads with just a few stragglers for the 01:34 to Cardiff or camped out for the next morning's early trains. I suspect they'd have been ejected shortly after our arrival, as would a good few cranks who didn't have hotels or onward transport prepared. Trudged wearily off the station and met my lift home. Sadly couldn't help out others due to not having enough seats.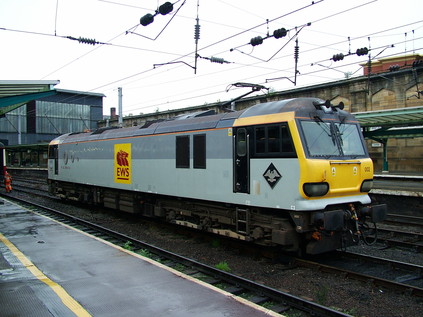 So, a long, initially frustrating and overall pretty successful couple of days. A tremendous amount of mileage, some very unusual new track and a few interesting locomotives too. The stay in Glasgow was brief, moreso when I think of my original plan to work a longer trip around the SRPS jaunt - but in the end I'm glad I did this tour. Now there's just a small matter of that spur to Alloa station.....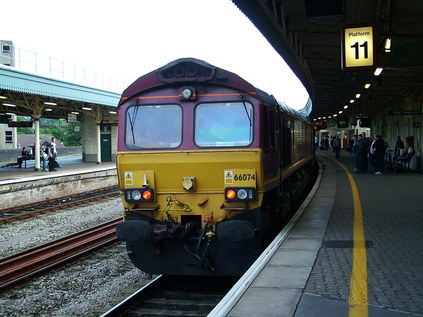 Posted in Railways on Sunday 24th August 2008 at 11:59pm
---
It was a strange sensation, waking lazily on a Sunday morning after a little too much beer at yesterday's festival, and knowing that later that afternoon I'd be heading off on a railtour. It meant much of the day was spent in fairly aimless tidying, time-wasting and anticipation. Finally headed off on the 17:37 to Temple Meads, where a few other locals had already boarded down the line. Grabbed a coffee at Bristol in the hope it would keep me awake, and followed the tell-tale cart of the Real Ale supplier to the platform in preparation for arrival of the tour stock. In perhaps the first indication that this would be an eventful couple of days, the stock arrived and stopped short at the 'St. Andrews Cross' indicator with many of the coaches trailing off the platform. Soon rectified, and 66174 ran around to lead us off into the night. Boarded, found my seat for the next day or so, and tried to settle in despite the novelty of the situation.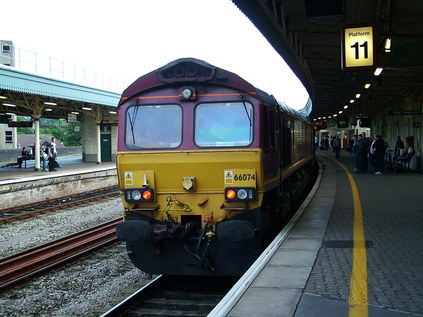 The first part of the route was a fairly routine slog up to Crewe with a slight deviation via Worcester, presumably to path the train correctly. Disappointingly, the gloom descended early and by Shrub Hill it was black out of the windows. We continued with our pick-ups, eventually arriving at Crewe a little early. This first locomotive change had been the subject of more debate and pages of blather on the internet than was strictly healthy. The original Fastline Class 56 (and indeed it's Hanson replacement) had long since fallen by the wayside and now a pair of 37s was booked. If rumours were to be believed even these were in jeopardy, with the dwindling fleet in various states of repair seemingly scattered all over the place. An absolute joy then to scramble out of the train to stretch already tired legs at Crewe to hear 37417 and 37422 rumbling away in the platform. Particularly good to see the recently reinstated 422 as I'd last been hauled by this as long ago as 2003 on a typically damp run to Rhymney. Watched the engine change and attempted pictures but gave up given the crowds and the dark - given the amount of food, drink and other kit I'd needed to pack to make a couple of days on a train less uncomfortable a tripod would have been a cumbersome luxury.
Back on board for the overnight leg of our trip, wondering how long I'd manage to stay awake...