Posted in SHOFT on Tuesday 30th May 2006 at 11:59pm
---
There have been a few times that I've almost not seen The Wedding Present in Bristol. The one that most immediately springs to mind is the overheating Volkswagen Golf expiring in The Centre on the way to The Fleece. Tonight, once again, it was almost not to be. Arrived early - the ticket said 7:00pm, and the doors opened on time, but regulars here obviously knew that this was wildly optimistic and almost no-one else turned up until a little before 8:00pm. Beer selection impossible - not even a keg bitter in sight. Figured that in a Carling sponsored venue, their offering would at least be cheap. Not so. At over three quid a pint, this is the most expensive beer I've ever been practically forced to buy! Around my second sip I remembered why I drink real ale and not this odd artificial concoction. Consoled myself that the music would start soon...
And then the lights went out...
Builders working nearby had severed a power cable, leaving us with only emergency lighting. The promoter kept us updated but it was clearly out of his hands. We just had to wait. If the power came back on by nine thirty, The Wedding Present would play. If not, it was a refund or a rescheduled date. The power was off for around 40 minutes by my reckoning, but it seemed to drag on forever. Calculated train times for an early departure. Soon they began to remove the support band's equipment from the stage - shame, I'd been looking forward to seeing Scarling. A little after 9:15pm the venue hummed back into life, and the lights came up. The stage was suddenly busy with people setting up for The Wedding Present, and bang on time David and Terry walked on stage to sing Shivers over the curious wurlitzer backing track.
And so the evening began in earnest. This is perhaps the most energetic I've seen David in ages. Every time the band is reinvented around him he seems to draw energy from the young incomers in an almost vampiric manner! When I last saw them, back in February 2005 the band soared majestically through new material and old songs alike. This time, it was noisy and tight - the sound, and a fair few of the song choices, coming straight from the Albini era of 1990-1991. From my perspective, they hadn't sounded better since the last time I saw them in this very venue - which I think was in 1992, when it was known as the Bristol Studio with its strange chicken-in-a-basket catering and alarmingly vibrating upper balcony!
The hits kept coming - a thunderous Dalliance, triumphant returns for old favourites Everyone Thinks He Looks Daft and You Should Always Keep In Touch With Your Friends, and a searing and chaotic Courduroy. Throughout, David was relaxed and talkative - taking mock offence at a fan's failure to remember his football team of choice with an exasperated "I know this man's face better than my Dad's but he forgets I support Man Utd!". Perhaps the most incredible trio of songs was saved for the end - an acerbic take on Brassneck, straight into a full-length version of Take Me (which was cruelly cut short here in 1992!) and then a majestic Octopussy - the strange track which closed 'Seamonsters' signalling with a storm of noise the end of that particular era of The Wedding Present.
I read that this might be the last tour for the reinvented Wedding Present for a while. If they're back, I'll be back. After all, there haven't been any other stormy love affairs which have lasted half my life!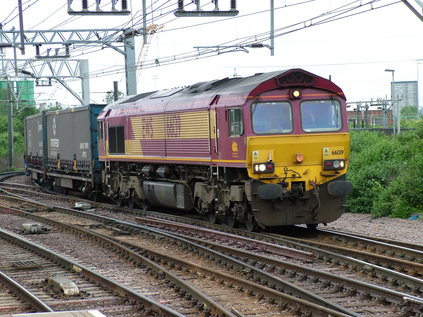 Posted in Railways on Saturday 27th May 2006 at 9:00pm
---
Up and out a little earlier than usual today, with road transport provided as far as Weston by a friend to pick up the first train of the day - the 0630 to London Paddington. There wasn't really a plan beyond heading for Stratford and seeing what developed. It was never going to be exceptionally busy with freight on a Saturday, but today was a chance to explore a bit for future reference at a station I normally zip through at high speed! The weather wasn't promising as we boarded at Weston, and deteriorated still further as we sped towards London. A fairly uneventful couple of hours later we arrived at Paddington, and took the Circle Line to Liverpool Street. There is an excellent service from here into Stratford so we didn't rush and watched the arrivals. Lots of variety and quite a few unfamiliar electric units around in a mixed bag of liveries. Photography in Central London stations is now virtually impossible, so we boarded the 09:34 Southend Victoria service for the short ride to Stratford.
It was still overcast on arriving, but dry and fairly warm once out of the breeze, so we set up camp on Platform 10 nearest to the junctions with the freight lines. This paid off soon after our arrival with a pair of EWS Class 66s passing on Transfesa trains between Dagenham and the Channel Tunnel.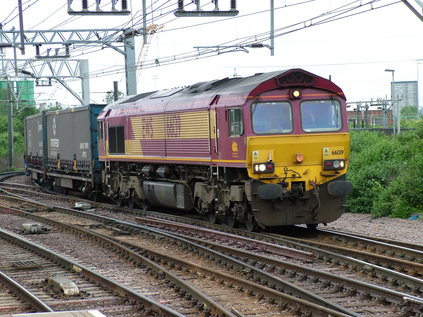 The passing trains settled into a pattern now of ONE stoppers and longer distance units, with the occasional Intercity service in the hands of a Class 90. These services are now using refurbished Mk 3 coaching stock, and externally look fantastic. Hard to see if much has changed inside since I last travelled on this line.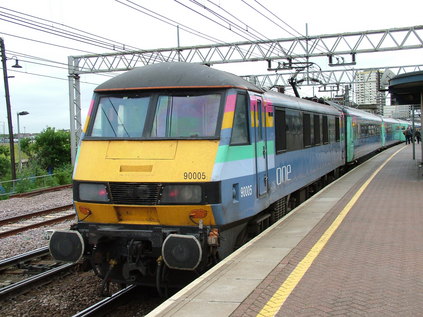 Decided to move on, but waited a while on the advice of a fellow enthusiast and just caught 66578 on a Freightliner working before heading downstairs into the impressive new station buildings to the North London Line. My companion on this trip had done very little travelling in this part of the world, so with the rain setting in for the day, and Stratford rather quiet decided to head for Willesden Junction. The train became very busy after West Hampstead - mainly with Twickenham bound Leicester fans changing for Richmond. Off at Willesden Junction, and along the well-trodden route to the Metal Bridge. Noted immediately that all was not well, and soon realised that the southern end of the WCML was closed for engineering works today, with only a shuttle service to Hemel Hempstead in operation. Spend a little while checking what was on the shed, before heading back to the station.
The original plan had been to travel back to Euston from here, but with that not an option decided to take a few steps back to West Hampstead and then the former-Thameslink service to Kings Cross. By now, the rain was fairly heavy and clearly not going away, so a whistle-stop tour of North London terminii for my colleague seemed like a good idea. After a wet wait at West Hampstead, surfaced on Pentonville Road and dashed over to Kings Cross. A quiet afternoon here too, with Virgin staff deployed to redirect travellers to Scotland displaced from Euston onto GNER services. A short trip from here, via the Suburban Platforms to St. Pancras. Again quiet, with more long-suffering Virgin types this time dealing with East Midlands travellers. In fact, the only place we didn't seem to be besieged by Virgin staff was at their own station, Euston. A quick walk along Euston Road in the rain brought us to the quiet terminus. A fair few bits and bobs stabled in the platforms but nothing moving at all due to the blockade. The next leg was to travel by Underground to Baker Street, for the short walk to Marylebone. Today the usually rather quiet station was packed with travellers looking for alternative routes to Birmingham. This remains a pleasant little station to visit, and I made a mental note to include a refresher trip along this line next time I plan a Rover.
Just a short tube ride from Baker Street to Paddington, then a chance to dry off and relax with a pint before catching the 16:30 all the way back to Weston. On the way home, we heard the shocking news concerning a murder occuring on a Virgin service near Oxenholme. It's far to early to speculate on what happened, but it sounds from early reports that staff on the train did an amazing job of handling an impossible situation and keeping passengers safe. Sobering stuff, not least for the staff on our train who were visibly troubled by the news.
So, all in all a busy and active day, which was actually a lot of fun despite not being hugely productive in some ways. Next time, all the Southern terminii perhaps?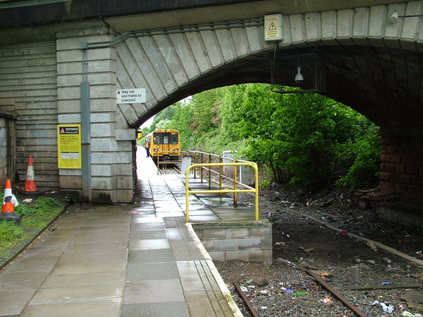 Posted in Railways on Saturday 20th May 2006 at 10:32pm
---
Returning to work this week has been, at best, turbulent. Lots seems to be happening, but there may yet be casualties and that's never pleasant. Felt the need to be elsewhere, and was drawn as ever by the West Coast which seems to offer easy opportunities for long trips - especially now 1S42 is going as far as Glasgow again! The only limit was spending a sensible amount of money. A refund from Wessex Water helped in that respect, so settled on an expedition to cover some of the commuter lines in Merseyside which I've not yet explored. Somewhere along the way I figured out a route which would take me on a circular tour via Wigan! Out on the trustworthy combination of 2M02 to Weston, then 1S42. Settled into the Quiet Coach, had breakfast, and relaxed. The train remained fairly quiet as far as Birmingham, and even then Coach F was an oasis of calm on an otherwise busy Voyager! Nothing much of railway interest south of Crewe, so worked on the laptop a little and lazily window-gazed. Good to be out and about again, after feeling rather restless last week.
Noted 33025 at Crewe with curious 'Minimodal' branding on otherwise shabby ex-DRS livery. Missed much of what was at Warrington by complete accident. After a quick and trouble-free run, it was time to alight at Wigan North Western. Not long allowed for the change so dashed out of the station, slipping and skidding my way under the rather leaky underpass, over to Wallgate and practically straight onto an unrefurbished 142 heading for Southport. The train was fairly well loaded due to the cancellation of the previous service thirty minutes previously. New track from here for me - a slow but pleasant journey through the Lancashire countryside with frequent stops. The stations were fairly well used, considering it was Saturday lunchtime. The only slight irritation was a bunch of students from Manchester - while half of them seemed happy to just read or look out of the window, the others seemed to think that the train needed a display of their puerile and cruel humour. This, folks, is the future of our nation. I'm not usually one of the 'this country is going to the dogs' brigade - but I'm sure we'll be lacking decent comedians in a few years time.
Arrived at the impressively proportioned Southport station exactly on time. I counted six platforms in use, roughly half of which serve the line to Wigan, and the other half the electrified Merseyrail lines to Liverpool. The length of the station, its impressive size and its overall roof are testament to it's former importance as a holiday destination. I'm told that it's still well-used in the Summer months, but a damp Saturday in May is perhaps not the best time to visit. I'd decided to press on southwards from here quite soon, so only stayed long enough to have a quick poke around the station and to buy a ticket to Kirby.
A little sunshine appeared as I boarded the recently refurbished Class 507 unit. We were soon off, heading along the coast towards Liverpool. Through the golf courses around Birkdale and by the former Hall Road depot. Lots of stops and an impressive number of passengers using the service. Should, technically have changed in the opean air at Sandhills but decided to cover a little extra track by heading underground into Moorfields. I've never used the deep-level lines under Liverpool, due to the ever-present fear of escalators. Reasoned that a cross-platform interchange would be possible, and also decided to check for stairs for any future trips. Found both were fine, so now I can travel safe in the knowledge that at least one Liverpool underground station is accessible for me! The station at Moorfields is something of a relic of British Rail circa 1980 - lots of beige plastic and tiling. Almost comforting to see in fact! Changed onto another 507 and headed back out into the open for the short trip to Kirby.
Kirby and Ormskirk stations have always fascinated me. On the map the route is broken indicating that there is a service from Liverpool, and one from the other direction - but that nothing runs through. Having read more, I understood that there was a physical barrier in the form of buffer stops at both stations. It's always seemed an odd, inflexible arrangement that has more to do with cost-cutting and penny-pinching than technical problems in terms of electrification. Arrived, and bought my ticket for onward travel. Marvelled at the apparent pointlessness of the arrangement at the station.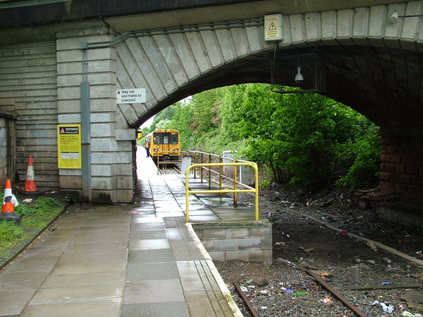 Here, a fairly frequent service from Liverpool funnels into an only hourly service to Wigan Wallgate. Timed my trip so I'd only have a wait of around fifteen minutes or so. Onto another refurbished 142 which again stopped at all stations. Very little business however, and I can only think that if this was a through service from Liverpool it would be more attractive to passengers. Entertained all the way back to Wigan by three potential pop-stars with strong local accents who auditioned and preened their way to our destination. Secretly decided they could form a girl band called 'The Sisters of Mersey'! When asked by a fellow passenger if they were 'wannabes' the most vocal (and least tuneful) of the group announced "I'm not a wannabe - I'm, um.. actually IT!". Coming to a TV screen near you soon, no doubt.
Back at Wigan in fairly good weather, so explored for a while. Seems a nice enough little town with a busy centre. Found a bite to eat and while returning to the station noted a sign pointing to 'Wigan Pier'. Followed it, and found myself in what was a fairly dull retail park. Not sure what I was expecting, but returned to the station rather than hang around. My homeward bound Voyager arrived a little late, and waited at Wigan to take on water - lots of 'steam train' quips in our coach. Soon enough on our way again, but we didn't manage to make up the lost minutes and I arrived at Bristol a little too late for the 17:55 stopped. Only a short wait for the 18:15 HST however. A low-key but interesting day in Merseyside - and lots of track left to do up there too. Good to get out again, with my week away feeling like a distant memory!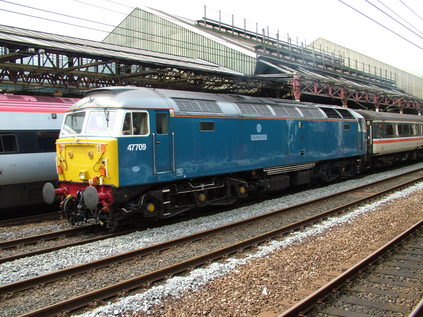 Posted in Railways on Sunday 14th May 2006 at 8:03pm
---
The last day of a rover is never easy. In the past I've tried a few tactics - erring on the side of caution and coming home on day six in order to use the last day as a bonus, or planning some elaborate route which has gone belly up at the first hurdle because it's Sunday and the network is in engineering related chaos! I was determined that this time, neither of those things would happen. Awoke later than planned which frustratingly meant that I missed the one chance of eating the breakfast I'd paid for this week. Still, a good sleep was no bad thing. Marvelled at the excellent room I'd got - a spacious corner room with views over two aspects of Nottingham. It was a misty and damp morning out there, but the view was still impressive. Packed and prepared to check out. The plan was to take the first train of the day to Liverpool. Only a short stretch of new track between Warrington Central and Allerton, but new track nonetheless. This service would take me up to Sheffield, throught the Hope Valley, into my near regular haunt at Manchester Picadilly and finally into Liverpool just after lunch. Hoped that this would be a rare chance to enjoy this Central route without being wedged solid into a two-car unit. Despite being Sunday though, it was still a busy train.
The trip started very well, with an unexpected journey to Attenborough Junction and thence via Toton Centre towards Sheffield. Didn't have my wits about me, or the correct angle to achieve much at Toton - but good to maintain the traditions of a rare East Midlands curve on the last day of a trip! From here, some very slack timings with exceptionally early arrivals at most of our stops - most notably Stockport where there was time for most of the passengers to walk over to the Quicksnack and back with minutes to spare before we set off. Finally descended on Liverpool in time to see the city preparing for its Victory parade. Realised with a mix of embarassement and horror that I had no idea what had been happening in the real world for the last week - and certainly had no idea of who had won the FA Cup!
After a reasonably long wander around Lime Street and attempts to settle my toothache, I boarded a Pendolino for the short trip down to Crewe. A pleasant enough ride and some nice staff made the journey go very quickly. Only a short wait planned at Crewe, before a swift change onto the near-legendary 1V61 meaning an uninteruppted journey back to Bristol. Noted the train slip back by a few minutes, so had a wander around the station. Surprised by the sudden and speedy passing of 47709 and 47712 on a rake of empty stock, presumably from one of yesterday's footex specials.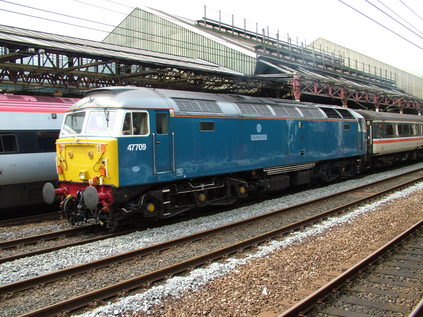 The next few minutes were some of the most active in terms of railway observation of my whole holiday, with 66231 propelling a rake of wagons into one of the far platforms, shortly before 67021 cruised quietly into platform 1 with more empty stock, and stopped - and causing my train to be switched onto platform 5. Once the Voyager arrived, settled in to my First Class seat and rested. Soon awakened from my dozing by a young lad travelling alone and put on board by his doting and worried grandad at Crewe. He was going to Tiverton and seemed genuinely disappointed I was not travelling all the way. Spoke quite a bit about railways, and his particular interest in computer simulations of model railways. Tinkered with some of the games on my laptop for a bit and chatted about forthcoming steam workings in the South West, and soon enough we were rounding the curve at Stoke Gifford.
So, finally out onto a cold, damp platform at Temple Meads one week and over 3000 miles later I was almost back where I started. The stopper to Highbridge was jammed with passengers as far as Weston and I was glad to get off on home turf. I confess that the first destination was my local, to catch up on gossip and examine the recently completed refurbishments. It's always good to come home, and it was particularly comforting to come home to my new place after my first week away from it, since is so much more welcoming than my old flat. But I still can't wait for the next trip...