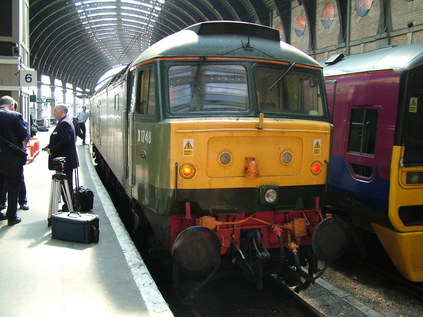 Posted in Railways on Tuesday 9th May 2006 at 10:10pm
---
An incredibly early start. The idea was that last night I would have discovered how long it took to walk to the end of the long pier where Stranraer station sits beside the Stena Line ferry terminal. Given my aching foot, the early morning and my pessimistic view of my own walking speed, arrived early. No sign of anywhere open to get breakfast or coffee on the way. Thought about the Ferry Terminal, but not sure I'd have gained access without a boarding card. Arrived in the strange 1970s trainshed to find 156457 waiting to form the 07:09 service to Glasgow via Kilmarnock. Said good morning to the station staff, just opening up for the day, then boarded and found a seat for the twisting route to Ayr.
Once the sun had risen above the hills, and the haze had lifted a little, began to notice the wonderful scenery in this part of Scotland. I suppose I grew up with a strange notion that Britain was always most impressive at it's extremes - and while doubtless Cornwall and the Highlands are stunning, its always a joy to find a breathtaking scene through the gap between hills - and this journey was packed with such moments. A strange bunch of fellow travellers too - ferry passengers, office workers from Girvan and Maybole heading for jobs in Ayr, staff from Prestwick International Airport. A fairly busy train, and a good-natured bunch. People-watched and eavesdropped my way to Ayr. Here I had a swift, cross-platform change planned which would achieve an earlier arrival at Glasgow Central, and also take in more new track. Sorry I didn't have longer to get a coffee at Ayr, but the EMU was waiting. I remember a trip on one of these when I flew to Glasgow a few years back, that time just as far as Paisley Gilmour Street. Quick and surprisingly busy run into Central.
These trips always take in a visit to Glasgow. I will never tire of the arrival, over the Clyde and into the glass-roofed trainshed with its curving wooden buildings on the concourse. The shortest of visits this time however, just time to buy breakfast and slip out of the station and onto Renfield Street for a coffee from my favourite place. It's just one of number of chain coffee shops in the area, but I have fond memories of sitting here reading or writing whilst the world moved by the window. I'm either a creature of habit, or a sentimental idiot. Not sure which. Back to the station and on to a ScotRail 156 heading for Edinburgh Waverley going the long way around via Shotts. More new track, and a surprisingly rural jaunt once out of the Glasgow suburbs. We joined the route from Carstairs at Midcalder Junction, and arrived on time at Waverley. Not long to wait here, so straight to Platform 11 to a waiting GNER 'Mallard' set. My first experience on these refurbished Mark IV coaches - such a huge improvement on the tired and threadbare look the sets had exhibited over the past couple of years. Logged on to the Wireless Internet service and settled in for a high speed run down the East Coast Mainline to York in blazing sunshine.
Arrived at York and found much needed coffee. The day seemed to be getting hotter, and I was beginning to feel sleepy after my early start. As we waited for the slightly delayed Scarborough service, heard a tell-tale engine note and turned to see 47815 Great Western arriving in the bay. Got some swift and probably not fantastic shots before getting aboard my penultimate train of the day.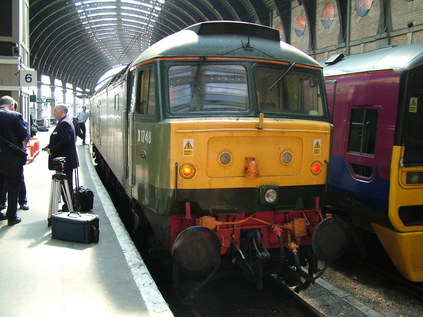 I last did the run to Scarborough in 1998 or thereabouts. Not much has changed, the same impressively capacious station with a rather imposing clock tower, and a familiar run down towards the town centre. Got no further than the Wetherspoons pub today! These places in the daytime are a strange mix of bedraggled alcoholics and mysterious and bewildered loners. Today I witnessed a curious foreign woman being serenaded by a gruff Yorkshireman who then furtively passed on his tips on wooing to a crowd of clearly unconvinced Polish guys in flash jewellery and leather jackets. Also, a man fittingly entitled 'Dumpy' when asked to leave by his friend, accidentally forgot to leave his empty pint glass on the table, and walked out of the pub holding it. I later almost fell over him on the way back to the station, sitting on the ground still clutching the empty glass. In the midst of all of this, a strange and angelic barmaid with an impressive array of tattoos not out-of-place on a Suicide Girl looked on with a mix of grim determination and happy resignation. It was time to leave Scarborough!
Last train of the day was a wander down the coast to Hull. Another bit of new track, linking up with the circle of the Hull suburbs we covered on the Humber Haulier tour. A pleasant run through Filey and Bridlington with occasional glimpses of the sea beyond the hills. Always good to arrive at Paragon Station - a proper railway station with a high roof, an impressive if dilapidated tiled entrance hall and iron railings at the platform ends. Checked into my hotel, right outside the station and once its Victorian extension belonging to the North Eastern Railway. Pleased to note my room is above the station, and while I can't see the tracks I can hear the announcements clearly from my room!

Posted in Railways on Tuesday 9th May 2006 at 12:33pm
---
I'm writing this on one of GNER's refurbished sets whilst racing along the East Coast Mainline, somewhere north of Berwick. There is a lovely hazy view out across the North Sea on my left, and a constant string of coal trains heading north on my right. The whole Wifi thing seems to work reasonably well so far, and is fun to play with - if a touch expensive.

Posted in Railways on Monday 8th May 2006 at 10:00pm
---
It all started out so well! A drizzly and miserable scene at Highbridge station this morning. Out on my normal morning commuter train, which was strange. It became incredibly busy once we left Weston, reminding me why I was so happy to stop commuting to Bristol a few years back. Arrived at Temple Meads in plenty of time to get coffee, before the timely arrival of the 0928 Glasgow service. Found a seat in the quiet coach and watched in disbelief as the entire train filled up around me! A little slack running up Filton bank and a long wait outside Parkway left us around twelve minutes down - but by Cheltenham we were gaining ground, and were easily back on time on departure from Birmingham. More overcrowding, with a constant traffic of complaining people trying to find reserved seats in completely wrong carriages, and generally moaning loudly to everyone and anyone except the Train Manager. Finally settled into the journey around Warrington, with some weak sunshine breaking through and some patches of blue sky above.
First heard rumblings of trouble from a Freightliner driver travelling north 'on the cushions'. He exchanged words with the Train Manager about something which he'd heard was "twelve o'clock" but was now "not until four o'clock". The meaning of this cryptic exchange soon became clear - over-running engineering works at Gretna meant nothing was moving between Carlisle and Lockerbie. The final stretch of the journey into Carlisle was spent trying to get information, and enjoying stunning scenery in bright sunshine. The Virgin staff knew nothing of the ScotRail service to Stranraer or indeed of what arrangements had been made for their own transfer, so it was down to chance.
Citadel station was in chaos when I alighted. Our arrival, soon followed by a service from London meant a huge queue of passengers heading for coaches to Lockerbie, for onward connections into Glasgow. Joined a much smaller queue for a service to Dumfries, where we too would meet an onward train. Made my now customary call home from Carlisle and settled in for a hot and uncomfortable bus ride to Dumfries. On arrival found an SPT 156 waiting. Followed instructions and hopped aboard, but it soon became clear that they'd not thought of people trying to make it to Stranraer for the ferry. After some explaining to the guard - who didn't think a 90-minute wait unreasonable at first - ScotRail agreed to provide taxis from Kilmarnock.
After some slapstick high-jinks as a fellow passenger tried to insert his bike into a Skoda taxi, on our way West and South along the A77. Despite missing a stretch of new track between Kilmarnock and Ayr, the journey was amazing. The road hugs the seashore through rugged terrain, with a misty of view of distant Ailsa Craig out to sea. The driver pointed out interesting locations as we passed, including the caves where Scotland's last cannibals lay in ambush beside the road. Finally arrived in Stranraer - only a little later than planned, and not on a train - but happy to have completed the first day's travel despite the problems.
Checked in to the excellent Lakeview Guest House, and wandered out into the town. A strange, deserted feel. Gangs of teenagers roamed with nothing to do, lines of them sitting on the harbour walls, dangling their legs over Loch Ryan. The local pubs were singularly sinister and unwelcoming, and there appeared to be no real beer in Stranraer. Found a curry house and enjoyed perhaps the worst service I've ever received in a restaurant. The waiter seemed put out that I wanted a table, and didn't really want to take my order at all. In fact, he appeared not to care less if people paid, as a couple of early diners left after an almost free meal! The food was, it has to be said, pretty good and the portions were truly immense. The waiter looked amazed that I hadn't finished the mounds of food he brought to me, so perhaps the locals have impressive appetites? Walked off my meal with a stroll back to the Lakeview. A strange little town - rather like Holyhead, it lives and dies by the seaport - but just now it feels like it might go either way!