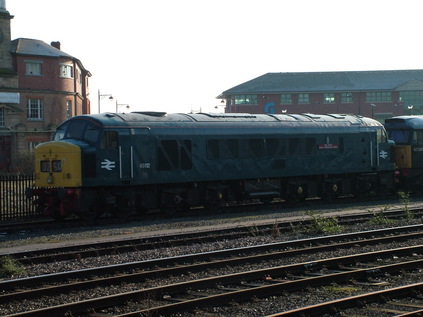 Posted in Railways on Saturday 28th January 2006 at 10:30pm
---
Decided to pop out for a pint today. Sounds reasonable enough I suppose, but perhaps it's important to point out that the pint would need to be purchased in Nottingham. Having wandered into my local one evening this week and found the London Pride uncharacteristically off, I tried a pint of Hardy and Hanson's Olde Trip and enjoyed it very much. This sparked a bit of Googling, which led me to what is claimed is England's oldest inn – Ye Olde Trip to Jerusalem, nestling in the rock on which Nottingham Castle is built. Naturally it's claims are disputed, by approximately twenty other establishments. Decided a visit must be paid at some point soon. As the week drew on, and eventually the Olde Trip ran out at my local, decided to make the pilgrimage sooner than planned.
So, found myself on the 06:33 once again heading for the customary change at Weston. The usual quiet run up to Birmingham, with time to decide whether to go for an early arrival at Derby on a replacement bus, or a later slow trip via Wichnor Junction. Took the latter, ending up just a couple of minutes too late for a quick Nottingham connection. Wandered around a bit, and got a shot of 45112 which has been sitting here for a while. Absolutely freezing at Derby, despite the bright sunshine.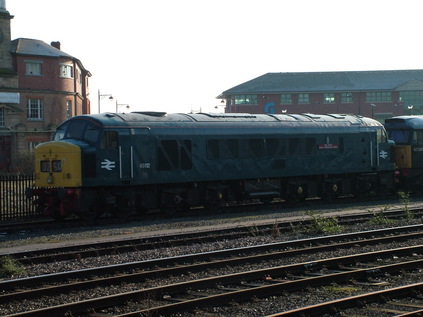 Apart from high speed changes of train, haven't been at Nottingham for quite a while. Quite a bit has changed, including the new NET tram system, which sweeps over the city on what was once the Great Central alignment and terminates beside the Midland station. Out of the side exit this time, and along Canal Street towards the castle. Turning into Castle Street, spotted the inn right away, at the foot of the great stone outcrop. Inside, the Trip is a dark and warm maze of caverns and passages, with rooms cut out of the rock. In fact, it's very easy to believe its stories once inside. I arrived and took a seat near the bar for people-watching purposes. It soon got busy, but I noted a lot of people were literally just passing through. Groups of Japanese tourists wandered in, passed by, stopped to take pictures of each other by the fireplace, and left right away. Its easy to see why the staff are a little slow to serve you here – they're never sure if you're a customer or a sightseer. What was perhaps more disturbing was how those of us actually partaking of a drink became a living exhibition in ourselves - "look at these alcoholic Englishmen – its only just lunchtime and they're already sinking pints of ale". Despite being unsettled by this, I stayed for a second pint and purchased some souvenirs before leaving.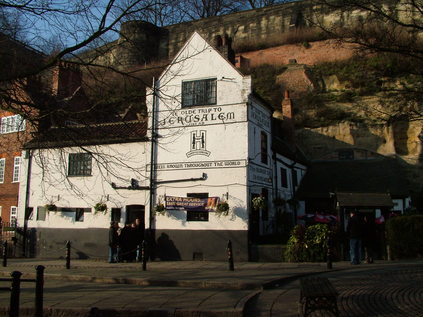 Back to the impressive bulk of Nottingham station, and the chill which has dogged me for much of the week started to take its toll. Felt grouchy and cold, and couldn't wait to get on a train back to Derby. This meant an even longer, colder wait there however, and I felt thoroughly dejected by the time my train for Weston arrived a few minutes late. Soon settled into the warm first class carriage however, and enjoyed a snooze on the journey back which again took in Lichfield. Ground to a halt outside Aston due to congestion and crowd control problems at the station following a football match. Lost quite a bit of time here, and played catch up for much of the way home. Found my connection waiting patiently for us to pass at Weston, and trundled home just a few minutes late after all. A strangely quiet day on the rails, but an interesting visit with some fine beer!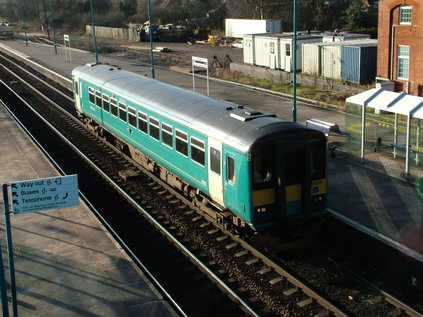 Posted in Railways on Saturday 21st January 2006 at 10:02pm
---
The desperate dash through January continues, with more mileage accrued. Customary start to proceedings – off at 06:33 in the dark, with a change at Weston for 1M42. Breakfasted around Yate Middle, a little later than planned. The weather developed into a cold, bright morning with daylight finally breaking somewhere around Cheltenham. As we passed Stoke Works the Malvern Hills emerged from the mist in the middle distance, and I couldn't help but feel pleased I'd opted for this odd programme of trips to kick off the year. The Malverns have always had a strange effect on me – and I can't help but think of how I could see them every day from the raised plateau of playing fields behind my first primary school. They stirred something primeval in me even back then, as I distinctly remember getting into hot water for forming a small cult who would sort of worship the hills then run around making silly noises at playtime. Not a great move in a Church of England school I suppose. Into Birmingham via Camp Hill once again, with enough time to get coffee before the empty stock of the Newcastle service arrived at the platform.
A carriage to myself as far as Derby, when a group of real ale enthusiasts got on, and chattered excitedly about their planned day. Almost wish I could have joined them as a wander around Sheffield's hostelries would have been welcome in the winter sunshine. Resisted however, and on arriving at Sheffield decided to explore the much refurbished station. To put it bluntly, it used to be a dark, filthy hole of a place with outdated customer information systems, nasty little corners where odd people could lurk unseen, and a general feeling of claustrophobia. How different now – a bright new footbridge over light, clean platforms with clear screens. The concourse is open and airy with plenty of shops and facilities, but a bit of a scramble for the solitary working ticket machine. Queued at the ticket windows instead to rebook for Barnetby, before heading out to watch activity in the busy station.
A little before time, 153315 trundled into platform 1B and three of us boarded the Cleethorpes train. In fact, five boarded but a couple realised that a Transpennine service across the platform would get them to Barnetby and beyond much quicker. The guard seemed to guess that I was some sort of crank from the outset, and didn't even advise me of the faster service! So it was me, a couple of passengers for Worksop, and from Gainsborough Central onwards, a pair of curious spotter types with their bicycles. The train didn't really get a great deal busier throughout the journey but what can you expect of a service which runs infrequently on a Saturday only? An interesting bit of new track, with some curious little places along the way, including the very attractive station building – now a dwelling – at Kirton Lindsey. But Brigg had been selected as the nominal goal of the day, and nothing prepared me for how desolate it was going to be. A couple of crumbling platforms, a rusting footbridge and an exit onto the back of a small industrial estate. I stuck to the original plan, and pressed onward for Barnetby.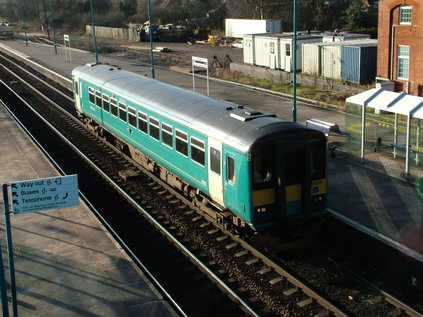 I'd been concerned about this connection – twelve minutes off a slow, regional limited service onto a Transpennine train into Sheffield the quick way. As it happened, we ran to time all the way, and entered Barnetby station a little early in fact. Time to attempt a snap of 153315 basking in the sunshine, and to watch several passing freights – even in the short time I was there!
Just about on time, the strange hybrid liveried 158750 arrived – half old style Regional Railways Express and half First Transpennine. Things ran slowly but smoothly from here. The line between Scunthorpe and Doncaster seems prone to delays and slowness in my experience. As ever, we crawled throw Crowle and didn't really get going until a little before Doncaster where we were held again for a London-bound GNER service to pass into the station. From here, a further sluggish drag along the dull bit of line through Conisborough and into Sheffield, completing the circle for me. More people watching at the station until the 15:53 arrived a little early, and a smooth and uneventful journey back into Weston for my connection home.

Posted in Railways on Saturday 14th January 2006 at 9:57pm
---
With another complete month of weekend closures down here looming, January has become a time to get out and explore as much as possible before frustration and replacement bus bashing become the order of the day. Accordingly, I've been living on thetrainline.com awaiting availability of cheap tickets. This week it was a case of going back to the North West, since feeling pretty awful last week meant I didn't take advantage of the chance to do much in terms of new track. So, nothing complicated planned for this week - a swift run up to Wigan, over to Manchester for a circuit around Rochdale, and back via Stoke-on-Trent. Lots of miles for not too much money.
Out on 2M02 as is now customary. Slight delay at Weston waiting for 1M42 - previously the Glasgow train, now cut back to Birmingham for some reason. Not a problem, as I had an hour at New Street and we made good time throughout. Slightly concerned regarding the hot food provision made by Virgin on this service with only four bacon rolls put on board at Bristol, but managed to get one of them for breakfast by a whisker. A dull wait at New Street followed, highlight being a fruitless search around WH Smiths for a blue highlighter pen! Remarkably the coffee stall had run out of coffee - a theme seemed to be developing for the day! The Preston bound Pendolino arrived early, and was not particularly heavily loaded. Found a prime seat, but soon realised I was across the carriage from a fare-dodger who disappeared into the toilet for extended periods whenever the Train Manager appeared to be near by. Tipped off the TM on his next trip through, and was met with a noncommital 'that doesn't surprise me'. Mentally composed an email to Virgin claiming free travel to Crewe since the TM sanctioned it for this passenger!
Off at the rather bleak and windswept Wigan North Western, and a short trek up the street to the imposing frontage of Wallgate station. Descended to platform level and found a busy 142 awaiting departure for Victoria. It was a little earlier than planned, but with a tip off on connections from the guard, decided to wing it. Slight diversion from my planned route, as we went via Westhoughton and Bolton missing quite a bit of the track I was trying to cover, but it was new track nonetheless. Over the bridge at Victoria and onto one of the few remaining 155s for the short trip to Rochdale.
With a little over thirty minutes, wandered out of the station. Pretty uninspiring place in many ways, but found refreshment nonetheless, and headed back to catch a service back to Victoria via Oldham. Strangely, the informative and helpful guard from the Wigan service popped his head out of the 150 waiting to depart and tried to persuade me to go back the way I came because it was quicker. Declined, and completed my circuit the long way around. Back at Victoria, explored a bit more. I remember first coming here a good few years back just to visit, and marvelling at the tiled map of the Lancashire & Yorkshire Railway on the wall. Noticed that Victoria seems to have become a meeting place for young goths. Not a problem as such, and they seem a pretty placid bunch. Just curious why it should be so?
Caught the tram to Piccadilly and had a good long browse in the Ian Allen Bookshop. Realised there was quite an important football match going on soon after arriving at the station, mainly due to heavy police presence. Kept a low profile until departure on the 15:17 Pendolino for Birmingham. Quick platform swap at New Street for the 17:12 back to Weston. Much confusion as the service disappeared from the screens moments before its apparently 'On Time' arrival. Platform staff just as confused as passengers. It was finally called for the adjacent platform and left only a couple of minutes down. We made up time by Cheltenham and Gloucester, and ran smoothly as far as Temple Meads. Slowed to a crawl moments after leaving and stopped on a red at Bedminster. Police were attending a preceeding service at Parson Street. Realised this was my connection from Weston, but thought little more of it. Heard from our TM that BTP had called for reinforcements to deal with football fans, and that things weren't moving until they arrived. Finally got underway about 28 late, but running on the tail of the Wessex unit lost us more time. Lots of people getting hot under the collar about connections into Cornwall. Bailed at Weston to find more drunken goons on the platform awaiting the unit, now around 45 late. It finally appeared, with a visibly shaken Wessex guard and a couple of BTP officers aboard.
Strange to think that a Manchester local derby can happen without incident, but an unremarkable match in Bristol can cause so much trouble.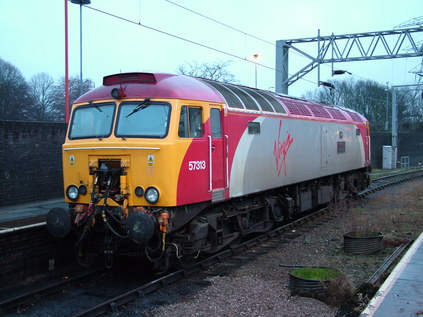 Posted in Railways on Saturday 7th January 2006 at 8:19pm
---
Having picked up a stomach bug somewhere during the week and needing to retire hurt from work yesterday lunchtime, today's trip was uncertain right up to this morning. Crawled out of bed a little after five, feeling acceptable but not really tip top. Put that down to the unsociable hour and set out for the station in cold but dry conditions. The plan was simple enough - up the West Coast Main Line to Warrington, over to Manchester and then to Liverpool for a Pendolino trip most of the way home. The way back was to be in First Class simply because that's the only reduced rate ticket I could get hold of.
Changed for the 07:02 off Weston and secured a warm seat in the Quiet Coach. Purchased refreshments and felt much better. Managed to doze a little between Bristol and Birmingham, having slept badly. The day started dingy and got wetter and darker as we progressed northwards. Just about light enough to spot a number of DRS 37s at Basford Hall and a clutch of four 60s at Crewe station. On time at Warrington, where 92037 was stabled. Arriva connecting service astonished me by being on time for the short run via Newton-le-Willows into Piccadilly.
Feeling a little grim now, so didn't stray far from the station. Grabbed some reading matter so I could just sit quietly somewhere for a bit. Heavy police presence meant that 'lurking' around the station was discouraged it seems. Rebooked and headed for a Liverpool train, which would give me more time to wander around there. Central's fast service was 22 down so settled for 150228 on a Northern Trains stopper. This unit had frankly seen better days. The 3+2 seating and livery did give me a brief and unpleasant recollection of how Wessex's 150s used to look. Some blessings to count I suppose!
Lime Street station hasn't changed much since I last visited. It's still a strange mix of busy local station and important mainline terminus. Not quite sure which it is, but acceptable at both. Stomach feeling much worse now, so attempted to walk it off by venturing into the city. Lots of the work on refreshing the centre of Liverpool was still ongoing when I last visited. In fairness, some of it still isn't finished - but the European Capital of Culture 2008 status seems to be moving things along. Despite feeling really awful, managed to detect the strange note of optimism which always strikes me here. Didn't wander far from Lime Street as I was concerned I wouldn't make it back! Ended up watching football and scrolling BBC news on a huge screen in the city centre - including a memorable story about a radio chat show caller who died on air. Strange the things which grab you when you're nursing a bellyache in a drizzly Merseyside shopping centre! Headed back to the station, and found a strange little second-hand book shop on the approach. It was incredibly cold inside, with the proprietor and his friend in huge anoraks and gloves, huddled around an electric heater and nursing mugs of tea. Browsed for a while before settling on an interesting volume entitled London in the Country - The Growth of Suburbia. I'm sure there were more treasures to be had, but I didn't feel up to the hunt.
Back to the station with a bit of time to kill before the 15:03 Pendolino, so got some tea and read for awhile. Being warm seemed to help a bit, so I boarded the train as soon as it was available. The concept of First Class being at the front in London is fine, except it means that at Lime Street its stuck out of the end of the recently refurbished roof, in the mouth of a damp tunnel and most of the way to Edge Hill. Got damp, but boarded safely. Alone in the front carriage of 390001, warm, comfortable and feeling a lot better. Smooth ride back to Stafford in the deepening gloom with only a slightly exaggerated tilt around Weaver Junction to stir up my stomach troubles!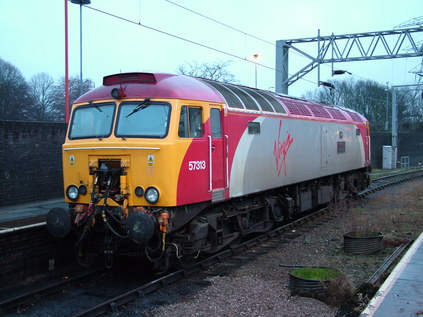 Took my only photograph of the day at Stafford in failing light. Quick change onto the following Pendolino which was heading for New Street. Again, only a couple of people in the carriage. Managed to doze off on the seemingly endless stretch between Wolverhampton and New Street. On arrival a quick hop over to the Plymouth-bound Voyager which took me right back to Weston. First Class on the Voyager was a little busier but still comfortable and restful. Over the bridge at Weston and onto the 19:15 for home. Arrived feeling sleepy and pretty grim, but glad I'd done the trip despite my concerns. Time for some much earned sleep...