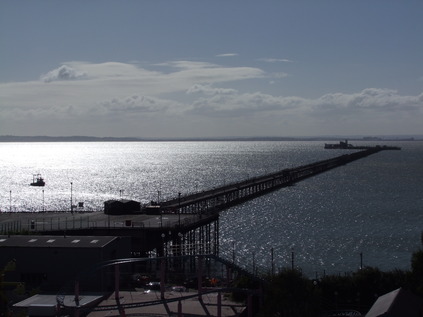 Posted in Railways on Saturday 25th September 2010 at 9:58pm
---
It feels like I'm rarely at home on weekends these days...certainly, this summer has seen me disappearing off on numerous Friday afternoons, and not reappearing until sometime on Sunday with huge mileages under my ever expanding belt. This has all been at a cost - a financial one of course, but to some extent a personal one too. I've sort of lost touch with my local area - not entirely a bad thing given how frustrating it can be - and I've neglected friendships closer to home perhaps? In any case, today it was back to the usual pattern. Up early and out on the first train from Highbridge. My first thought was for how dark it was. Doing early starts on railtours meant I'd lost touch with how late the sun is rising as winter approaches. Made the switch onto the first London train at Weston, and settled in to listen to the week's podcasts and doze my way east into the rising sun. The buffet was inexplicably closed for much of the journey, so deferred breakfast until later. The sky was amazing as the day shaped up into a clear, cold one as I sped along. Sometimes, in the rush to do more exotic trips, these simpler pleasures are forgotten.
The pressure was off today too. I'd decided to re-enact a journey I'd taken many years back and to visit Southend using both routes to the seaside town. I calculated I'd done this sometime in 1998 or 1999, but couldn't remember for sure. My only hazy recollection was of a strange outdoor 'escalator to nowhere' near Southend Victoria station. I've visited since, the last time most memorably when on Pathfinder's overnight Buffer Puffer 7.0 when a quick turnaround and and 04:20 departure meant this wasn't an ideal photostop. The rapidly developing H1N1 virus I was about to suffer from probably made it a less than ideal time to call on the place too!
Firstly though, I had to negotiate London. With the Circle Line out, I resorted to the buses once more. However, the No.15 had disappeared - despite it's presence on the TfL website, the route has been divided up into two, far less useful parts. After a pointless walk around Paddington looking for a non-existent bus stop, I settled on a 23 which I'd abandon in The City. Enjoyed the unexpected spin through the West End, a trip which oddly I'd been talking about only yesterday in fact. The day had stayed cold and bright, and it was a pleasure to watch Oxford Street and Trafalgar Square waking up slowly. After a spin along The Strand, and up Ludgate Hill, I hopped off at the Bank. I decided to do the next bit instinctively on foot. My wanderings in the City have been sparse lately, but my feet seemed to remember the way unprompted, along King William Street and then a little diversion into Eastcheap and Rood Lane to reach Fenchurch Street. Rather wonderful to be tramping around the City again, and I thoroughly enjoyed walking to the station. Remarkably, despite dallying over my transfer, I arrived in good time to get the breakfast I'd missed, and catch the train I'd planned to take. So, onto the 10:00 to Southend Central, and a quiet and bright spin along the long stretches of viaduct, curving tightly through Limehouse and heading out of the city. It's hard to be pessimistic about the East End in weather like this, so I settled back to enjoy progress as we passed from urban sprawl to Essex countryside strangely suddenly, somewhere around Upminster.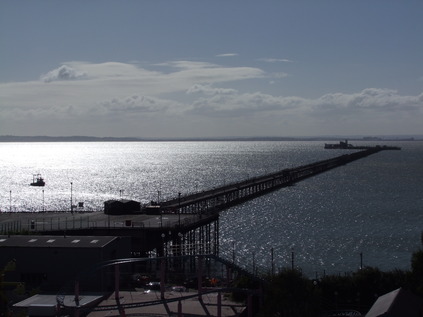 Arrival at Southend Central sort of crept up on me, as I'd settled into watching the views and listening to the locals. Once off the train we were shepherded swiftly out of the station by a security guard, through an entrance on the Down side which I genuinely don't recall from previous visits. My first instinct was to head for the sea, and I noticed that the sun had started to warm things a little too. There were still crowds walking along the High Street to the seafront although it was in disarray, with some fairly heavy-duty roadworks in evidence. These must have blighted the tail end of the season too, to be this far advanced. Marvelling at this bad planning, I stepped out onto the deck around the lift down to beach level, and enjoyed a remarkable view over the Thames Estuary. Took some photographs before heading back into town for a much needed coffee. As I walked and during my time in the coffee shop, I noted that Essex was at war - with Essex itself no less. Everywhere I went there seemed to be conflict - couples disagreed loudly - about coffee, cars, where to stow pushchairs, the size of coffee cups - anything in fact. The keening esturine voices, raised in dismay, began to grate as they sliced through the chatter and background noise. The rudeness was remarkable, cold and strangely cruel. I can't say I liked this place or these people greatly. There were exceptions of course, but there seemed to be a strange local pride in assuming a blockheaded indifference to others. At the risk of hate mail here, I'll of course note that everywhere has it's strange characters - but these people were everywhere it seemed. I slunk away to Victoria Station with a brief, and I hope reassuring grin to the barista who had prepared my coffee - not local, and looking quietly terrified of the customers.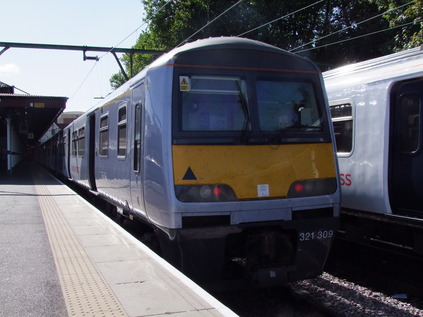 Finding Victoria wasn't so easy...I headed up to the Shopping Centre I knew surrounded it - and found it grown obscenely large in the last decade. After trying to work my way around the megalith and discovering odd and colourfully un-British buildings in the process, I gave in and walked through the centre finally detecting the torturous route to the station via a bridge over a dual carriageway. At the end of it, I took a staircase down, and realised that I was arriving at the foot of the very 'escalator to nowhere' which I remembered from my first visit! Resisted the urge to take a picture of it, now connected to the new centre and with a fine rain-shelter over it. Instead, headed into the station to find my seat on the train back to Liverpool Street, completing the circle.
The journey back was uneventful, but seemed much quicker than my run this way years back, which coloured my view of the Great Eastern lines for some time to come. In fact it all went pretty quickly, in part due to how much I've grown to enjoy a run into Liverpool Street these days. Once arrived though, I had to figure out what to do with the rest of my day. Over yet another coffee, but in the company of a far less aggressive bunch of fellow drinkers, I hatched a plan. I would head back out to Stratford and finally tackle the Jubilee Line Extension! This bit of the Tube network had now been open for around a decade, and for a number of reasons I hadn't done it - partly because it always seemed to be closed for engineering works, and also because it sort of fell into the three or four year gap where I travelled much less. I'd figured out that I could avoid escalators pretty easily - in fact it was the first deep-level line to be designed as fully accessible. So there really was no excuse for neglecting the newest bit of Tube railway we had. One I'd indeed watched the development of, but strangely had never used. Things started badly, with the train held in the platform for ages at Stratford, and the back carriage filling rapidly with people making a dash for an apparently "soon to depart" train. We were soon off, but were held at almost every station by the Controller. The new signalling system was in use today, and it wasn't coping well. Too many westbound trains meant sluggish running and attempts to reverse trains to rebalance capacity along the route. As we waited once again, this time to enter Waterloo, the driver who'd kept us informed all the way said "I can see the lights of the next train in the platform not more than half a train in front. I've been a train driver for a long time, and I've never seen anything like this!". I was unconcerned about time, so I sat back and let the line pass by slowly. Ironically we then sped up, and the driver was forced to apologise again - this time for the very short station dwell times, with platform-edge doors snapping shut after only six seconds!
With the line only running to West Hampsted today, decided to bail at Finchley Road where I knew I had a number of travel options. I elected to travel on a No.113 to Baker Street, then wander over in the pleasant evening sunshine to pick up a 205 to Paddington. Even this wasn't easy, as the bus stop was closed for works. Finally got on board a busy bus, stopped a domestic between a couple who weren't sure if the driver had stopped for a wheelchair used, and generally people-watched my way west into the sunset. London had been in pieces today, everything seemed impermanent, half-finished, dug up - from the Olympic Stadium to Marylebone Bus Stop people seemed to be remaking the place. I'm not sure I approve of all of it - but it's hard to go unscathed by a visit to London. Had a quiet, reflective trip home reading and listening to music while I watched the sun sink into a golden western sky.

Posted in SHOFT on Tuesday 21st September 2010 at 11:09pm
---
Its almost four years since I was in The Thekla - that time it was for Arab Strap's farewell tour. Tonight was different. It was about something beginning afresh. A lot has changed in four years too, and after a perplexing day at the office and a comfortingly irreverent post-work conversation, I found myself daydreaming through the train ride to Bristol. After all it was something I used to do daily, and in the current work turmoil, I almost felt nostalgic for. Tonight was about looking back too - with The Vaselines together again after twenty years. A second album complete - and the novelty of being able to get it on iTunes almost instantly wasn't lost. After all, this is one of the most confusingly and oft-reissued bands, with their slim but near flawless canon of material being made available in various collected forms, seemingly at once. My own introduction to The Vaselines came in the form of the Seminal Twang 7" of "Dying for It". This amazing label managed to turn up fifteen gems of eclectic, weird pop music during 1991-92 and introduced me to such fantastic gems as Half Japanese howling through "Turn Your Life Around" and Velvet Crush with their soaring power pop on "Ash and Earth". The Vaselines contribution was a scorching, punky blast of blues with boy/girl sing-song vocals. I loved it instantly, and played it relentlessly, at least until the "All The Stuff and More" compilation finally arrived. Then of course, Kurt Cobain posthumously championed The Vaselines, and suddenly everyone knew their songs. They just didn't know that they were their songs.
So tonight, drifting across town without too much thought, I stumbled across a sign advertising a "Minge Fest". Half tempted to investigate, I pressed on and found a small but motley crowd developing outside the Thekla as the sun dipped behind the houses on Redcliff. I was much relieved not to be the oldest here, and there were some who could clearly have been veterans of the Vaseline's last performance in Bristol during November 1987. However, there was a surprisingly young bias to the crowd - too young to be accounted for by the Nirvana effect. Some of this contingent had clearly come to see the first support act Parrington Jackson - a professional enough bunch trying hard, and clearly with tons of support from family and friends. I'm not sure if it was because they were pitched against such mighty opposition, or because they squeezed a hurried set into a short slot, but their singer's elegant frontman act just failed to fly tonight. They had fun though, and for tonight at least had a sense of local heroes about their post-performance schmoozing. There were also a disproportionate amount of flat caps in evidence. Don't tell me we're heading down that road again?
Next up were Haight Ashbury from Glasgow, who are travelling with The Vaselines on this UK tour. I confess to a little pre-judgement of their set, and perhaps a disappointment that some other unsigned Glasgow acts hadn't made the cut. However, tonight showed that this curious three piece can make a racket live. The sound is hard to pin down - a guitar and bass make a swampy, bluesy racket while a single drum beats time, rather like the opening bars of "Be My Baby" by The Ronnettes. Over this, two sweetly harmonising Wilson Pickett style vocalists tell disturbing tales, sometimes veering into a controlled howl of rage - without breaking harmony. If it sounds strange it's because it is. The whole sixties dressing up thing and the name just get in the way of a really interesting band who are going to be worth following as they develop and change.
Barely time to replenish my drink, as the early curfew meant the stage was prepared for the main event. Right on cue, looking relaxed and genuinely pleased to be here, Eugene and Frances took the stage. Now this was quite a moment for me - quite apart from not ever imagining I'd see The Vaselines, here they were ripping into an opening "Oliver Twisted" which sounded like it had been written last week, not last century. Early in the set, it was revealed that the Bristol show in 1987 was in fact the very first the band had played, and to celebrate this twenty-year long circular journey, a little wine had been enjoyed. This seemed to have put the duo in a frisky mood, and good-natured but utterly filthy banter punctuated the set throughout. It was interesting to note too, how seamlessly the majority of the new material worked into the older stuff - and there was a certain irony in hearing "The Day I Was a Horse" crashing into "I Hate The 80s" - the very decade of it's birth of course. The simpler, perhaps less charitable view would be that The Vaselines write simple songs which haven't really changed much. However, I think it's more to do with how out-of-time they seemed then, with their frantic bluesy riffing and old-fashioned punk sensibilities. Nowadays, all of that stuff is entirely acceptable. So, the remarkably good "Mouth to Mouth" and "Whitechapel" earned their place alongside "Molly's Lips" and "Jesus Doesn't Want Me For A Sunbeam". During the latter, a young audience member confided in her friend that this was "a rip-off of a Nirvana song". Several old hacks and I exchanged glances, but I was the only one drunk enough to take issue. I made myself look foolish perhaps, but felt vindicated. For me, the high point of the night was the completion of my own circle - hearing "Dying For It" - as urgent, vital and raucous as on that now very warped 7" single - itself now near twenty years old.
The Vaselines left the stage bang on their curfew, and I was left to ponder the curious hole in the timetable which left me waiting until the 23:35 train to get home. It was a pleasant enough night to stroll and to watch the station closing down with much needed coffee in hand. On reflection, I'm a strange presence at these occasions, reserved as they are for the younger, hipper crowd - but then, as I realised tonight, I felt that way twenty years ago too! Age hasn't wearied The Vaselines, and just for a bit, it didn't bother me either.

Posted in Railways on Saturday 11th September 2010 at 10:09pm
---
I was surprised and impressed by Doncaster yesterday - once I'd negotiated the strange Frenchgate centre which now dominates one whole side of the town at least. The streets were laid out with an international market, and there was quite a buzz around. I realised later that this was St.Leger Festival week - a race meeting, cunningly turned into a bigger cultural event. Nonetheless, there were plenty of happy faces and well-turned out people wandering about which can't be bad for business. Doncaster at 04:30 however was a different proposition, and negotiating the same street was a complicated slalom around delivery vans and bored security guards who were determined to stop passage, with absolutely no authority at all. Not sorry to get to the station, which was still locked up on arrival. Watched the usual crowd of faces assemble, as ever feeling a little reassured that I'd ended up in the right place at the right time!
Once onto the station, it was only a matter of minutes before 47760 arrived with the stock. The plan had been to squash all the passengers travelling down to London into the first three coaches - but since plenty of stewards had turned up for the start, we were able to head straight for our allocated seats for the day. The concept of running the positioning move to London as a passenger train was an enlightened one - more miles for the money, and a chance to sample an uninterrupted dash down the East Coast Main Line early in the morning. There was a fair turn out too, meaning this otherwise empty train made a little money for Spitfire too! We set off almost exactly on time, and headed out of Doncaster via the complex alternative routes around the station. The exact route is hard to pin down as it was dark, but I'm fairly certain the flyover didn't figure, sadly. From here, it was a fairly sleepy run down to London, with the sun rising somewhere around Peterborough. Caught up with the usual bunch and wondered if we'd managed to respect the 10:30 beer curfew imposed by the loco owning group? After a storming run down, there was a chance to get a picture of the 47 on the blocks and a decent coffee before getting back on board for the main event.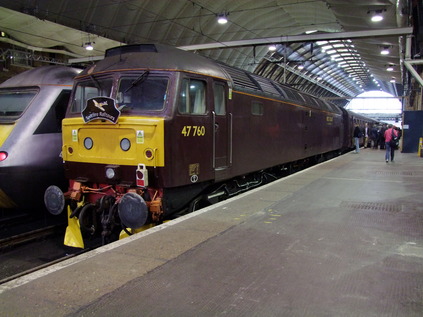 Now this is where it began to get really interesting. After a storming start, and a thunderous passage of the tunnels outside Kings Cross, we were soon speeding through the suburbs. The Deltic was doing what it was designed for - sustained periods of high-speed running on a fast route. With the countryside flashing past and the Napier engines singing at the front of the train, settled in to enjoying the day. The weather was mostly fine as we dashed north - with just one or two showers. Plenty of beer and a chance to catch up with friends also made for an excellent trip. Once again the veterans of Coach K managed to alienate another passenger seated with us - although I'm not quite sure how as he only lasted about ten minutes this time...seems my record is getting steadily worse! After pick-ups at Potters Bar and Peterborough, it was a none stop run to York where we deposited some day trippers and picked up some cranks for the journey to Newcastle. Again, some fine running along the flat, fairly featureless line here. Arrival over the Tyne was as ever quite an event, and there were plenty of photographers out to see us. So many in fact, that the platform end turned into a bit of a scrum. Abandoned hope of a picture at this point and wandered into town.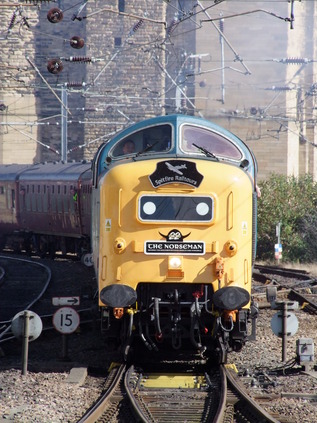 Only a short break, and with Newcastle City Centre full of home fans, as ever on these trips it seems, this made getting provisions for the way home a challenge. A series of text messages ensured beer supplies were sorted, so back to the station to get a shot of the stock arriving in the now very bright and sunny afternoon. Back on board for a prompt departure, and a run via the coast. This line struck me as a far more interesting route than the ECML when I last covered it and it didn't disappoint today with coastal views, tall ships and plenty of people out to see us pass. Back to York for a pick-up, where some fairly inattentive station staff seemed oblivious to a number of 'normals' boarding. Some of them had a very interesting trip back today no doubt! Another fantastic ride south, with a few periods of one-engine running which were, we were informed, for driver familiarisation purposes. It didn't affect the trip for me, and we stayed just a little late from some slow running around the coast. There were some moments of very high speed too, for balance! With lunch served in Premier Class we also got to sample the roast lamb, which was excellent and soaked up some of the beer. Got thinking as we sped south, what a civilised way to travel this is!
Arrival at the 'Cross was a little late, which meant a tight turnaround. Soon we were off with 47760 back in charge, for the return positioning working to Doncaster. We were chasing a possession here, with the lines due to close around 20 minutes after our booked arrival, and us running about 20 late! This seemed to spur the driver on, and after a few slacks south of Peterborough it was a decent run at high speed for the rest of the way. Arrived only a few minutes down, and stumbled onto the platform about sixteen hours after I'd left, having done well over 850 miles on the ECML today! Today's trip was a textbook railtour - interesting traction, varied routes, something for normals and cranks alike - and this was reflected in an almost entirely full train. A grand day out, andjust as a fancy dress party spilled noisily and colourfully out of a bar and onto the street.

Posted in SHOFT on Tuesday 7th September 2010 at 7:03am
---
Since my efforts to regularly blog about the music which is capturing my imagination has run into real life - and found work, and unusually a number of other creative exploits blocking the way - I've decided to try to capture more sporadic thoughts. One that has cropped up recently is the thorny issue of learning about other's musical tastes - especially at the beginning of a relationship, when I often find music takes on a disproportionate importance. The extreme lack of commonality described in Kid Canaveral's "Smash Hits" is of course fairly unlikely - you wouldn't generally find yourself having much in common with someone with wildly opposing tastes, but there is always that risk - to the ego if nothing else - that your dearly held gems are not appreciated by your significant other. That the time and attention you've lavished on collecting, understanding and appreciating these significant pieces of music is seen as time wasted on a harmless, if geeky, hobby. The word itself conjures images of garden sheds with suburban housewives reassuring each other that "it's fine, he's out there playing his music".
Like all of the cultural preening and positioning which goes on in these formative early days of a relationship, there was, at least when I was younger, an etiquette of sorts - and the mix tape was the ultimate expression of your musical feelings. This carefully filled C90 cassette was sweated over, the selection designed to express everything which your inarticulate teenage tongue just couldn't seem to speak aloud and to do so in ways which just wouldn't have worked well in your clumsy inexperienced voice. Perhaps now, seeking the same effect I'd be moved to think about B.S Johnson's words on originality: Certainly I feel it has all been said The short fear is that even saying it in my own way is equally pointless
I confess to spending serious amounts of spare time on sequencing these tapes - carefully ensuring they mixed the key point of my musical interest with sufficient hooks to ensure that the intended recipient couldn't help but be ensnared by my remarkable and eclectic taste. And the odd thing is, sometimes it worked! Naturally there were failures - there was a period during which I was roundly accused of "musical fascism" and I'd be lying if I denied the existence of a counter-compilation of 1990s 'baggy' music entitled "Fuck Off Mike Newman". Even then, back in far less certain times, I thought that one was a compliment. The mix tape doesn't always - indeed very rarely gets the girl.