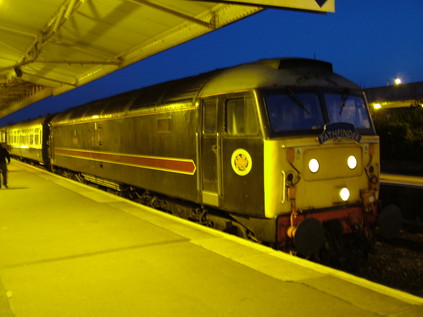 Posted in Railways on Saturday 29th April 2006 at 11:41pm
---
Despite today's entertainment starting fairly locally, I got up at the unreasonable hour of 3:30am. Packed my bag and set off for Taunton in time to find the stock already in Platform 2 and incredibly warm. Set about turning off the heating in Coach F before anyone else boarded. Following yesterdays problems with the brace of Class 33s which should have been hauling our tour throughout the day, we had FM Rail's trusty 47703 'Hermes' on the front, at least until Birmingham where the pair of Cromptons were to meet us, all being well. Spent some time wandering around, getting some shaky and low quality pictures of 47703 in the half-light and preparing for the day ahead.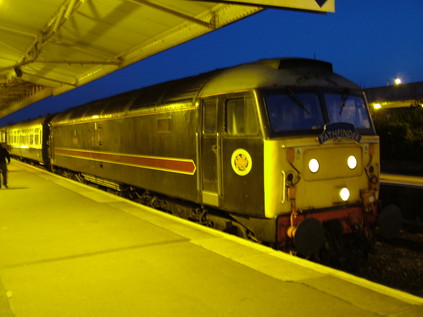 Pretty soon after 05:35 it was confirmed we had a problem in the form of a missing staff member. Eventually we learned that a drunken driver had crashed in the guard's car whilst he was heading for the station from his home just a short distance away. The need to file Police reports etc. delayed things. We finally set off at a little after 06:10, and once disentagled from the path of the 05:40 Exeter-Bristol stopper at Uphill Junction, made fair progress.
At Birmingham, the promised locomotive swap happened, and despite delaying us a little more there were some happier enthusiasts on board. We were soon heading out towards Wolverhampton in what promised to be a bright morning. Little make-up time was included in the itinerary, since much of the Cambrian line is single track, and placement at passing loops is critical. By the time we reached Abbey Foregate the sun was out, we were pressing ahead with no news of cancellation or shortening of the tour, and the real ale was going down extremely well!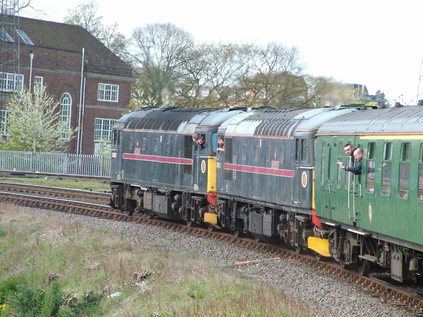 At Sutton Bridge Junction we headed west, and for me, on to new track. Through the suburbs of Shrewsbury and past a number of closed stations to Welshpool, where a need to divert the railway around a road scheme has left the track separated from its impressive Victorian buildings, whilst today's punters make do with an island platform and a bus shelter. From Welshpool, into increasingly rugged terrain with far less sign of habitation. A few crossings of the fledgling River Severn, finally turning north and seeing it for the last time at Caersws. Next stop was Machynlleth - a place I've wanted to visit for as long as I've known it existed! The pure unpronouncability of the name alone is reason enough, but it's just become one of those 'one day I'll get there' locations. Today I did, as here we swapped one of our doubled-headed locos onto the back of the train to distribute the weight fairly on the refurbished but still fragile Barmouth Bridge. A fine little station here, and signs of a pleasant town. No time to explore however, as the swap was conducted in incredibly quick time meaning we were only a few minutes down on departure.
The remainder of our journey took place in blazing sunshine over breathtaking scenery. Out onto the marshes around the Dyfi estuary and through the isolated station at Dovey Junction which has no road or foot access! Turning north we took a trecherous course along a ledge carved into the cliffs, curving high above Penhelig and Aberdyfi, and plunging into a deep cutting through the rocks. We skirted the seashore for the remainder of the journey, below the cliffs at Friog and swinging a little inland at Fairbourne, which was packed with trippers and tourists enjoying the weather. Here, the incredible span of the timber built Barmouth Bridge appeared, striding out across the Mawddach estuary towards Barmouth.
We crawled slowly over the structure, to the surprise and to some extent concern of passing walkers!
I didn't really know what to expect of Barmouth - indeed, I'd originally tried to plan an onward journey to Pwllheli at the line's end, but been stalled by poor connections. In the event, it turned out to be a pleasant little seaside town, nestled under the rocky cliffs which border Snowdonia to the north and east. Lots to do for families, plenty of small shops and little streets to explore, and a fair number of busy eateries and pubs. Found one - 'The Last Inn' - and settled down for refreshment. Not long to explore the town, but long enough to realise that they were doing something right here which my own local area could learn lessons from. All too soon it was time to leave.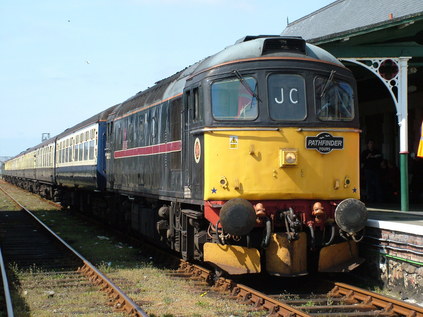 The route back was a direct reverse of the outward trip (except for leaving Birmingham via Camp Hill). Once over the bridge at Barmouth the driver coaxed the locomotives into some fine performances, regularly arriving early at crossing points. This meant a couple of long waits for delayed local services at Machynlleth and Welshpool. From Machynlleth we were double-headed once again, all the way back to Taunton. A chance to see a spectacular sunset over the shadows of the distant Malvern Hills as we thundered back towards home. Finally arrived, tired but happy at 22:37 - just a little earlier than booked. Another excellent day out with Pathfinder, despite the early problems.

Posted in Updates on Saturday 22nd April 2006 at 8:52pm
---
For me, a lazy sort of day - up late and not out onto the railway station until after 9am! Our party soon began to assemble, and a neat total of eight meant two GroupSave tickets - half price travel in effect. To my slight dismay, a lone class 150 rolled into sight at almost exactly 09:25. Not a comfortable journey, but unusually in my terms this was more about the destination!
Arrived in Newton Abbot a little before 11:00 after a quiet and event-free journey. First part of the plan was to head into town for breakfast at a Wetherspoon's pub. Excellent value for money, and a much needed preparation for the day ahead. Only one of our party succumbed to the lure of a local ale at this early stage - not me I hasten to add! Once fed, it was a short walk back through town to Tucker's Maltings. The Maltings is a huge 19th century building on several levels, but the beer festival takes place on the ground floor where on a working day the soaked grain is left to begin germination. The long, dark low room was packed from end to end with casks of beer - nearly 250 in all, almost all from the South West of England. Once issued with a glass, it was down to the difficult task of choosing where to start.
Our group finally found a small haven in the corner of the SIBA marquee, and set out our picnic. From here, we'd wander into the building at regular intervals, each of us returning with some new find. Prize for strangest must go to Stonehenge's Sign of Spring - a green beer, brewed to emulate a Danish custom of colouring food and drink green to celebrate the onset of spring! It tasted rather good, despite it's appearance. My own pleasant surprise were the Bristol Beer Factory beers - something on my doorstep which I've been curious about for a while.
As the day wore on, the weather improved until it was quite bright outside. A spirited game of football was being played alongside the Maltings, with the teams wondering why they had so many spectators no doubt. Inside, there was entertainment from a singer who doubled as a stand-up act. Overall a really well organised day.
Far too soon, but probably just in time to prevent severe inebriation, we headed back to the station for the train back - another class 150, all shacks this time! I had an enjoyable and sociable day - and I'm really pleased to have been invited. The title, by the way, comes courtesy of Rocking Rod and the Strychnines.

Posted in Railways on Saturday 8th April 2006 at 10:24pm
---
Years ago, an old schoolfriend and I devised the Five Cities Tour. The plan was to devise a route from our quite poorly served local station to five cathedral cities, drink a pint of beer in each and get home within a day. In reality it was nothing more than a way of gathering mileage on the railways for me, but the addition of the element of challenge and the beer validated it and tried to make it appeal to female student friends. It didn't, and it never happened.
Fast forward then to this weekend - the plans was to gather lots and lots of mileage with no excuses, explanations or targets. I'd been lucky enough to find some really cheap fares which enabled a trip to London, then Sheffield and then home, going First Class all the way, for about 35 quid! This of course necessitated an early start, and I found myself once again on 2M02 leaving Highbridge a little late. Met some friends on board, and chatted as we lost more and more time running on one engine into Bristol. They planned to spend some time watching events at Temple Meads, then head off to the fireworks in celebration of Brunel's birthday at around 21:00. Said goodbye and dashed for the luckily, also slightly delayed 07:30 to London. Settled into my seat and enjoyed an easy trip through pleasantly sunny southern counties. Having totally forgotten Brunel's anniverary, thought a fitting tribute was to travel this line today, including Box Tunnel which he allegedly aligned so the sun would shine directly through it on his birthday. I can't be sure if it worked, but it was a beautiful day for it! Just outside Swindon we braked hard and slowed to an emergency stop, having hit an 'inanimate object' on the line. We were soon on our way again, but spent much of the rest of the trip looped onto the slow line. On leaving the train at Paddington, noted a lot of worried looking fitters poking torches down beside the platform.
Found the Circle Line out of action between Paddington and Kings Cross St. Pancras, so used a generous allowance of time to travel to Blackfriars and then via First Capital Connect (formerly Thameslink) under Clerkenwell and eventually to Kings Cross. Got to St. Pancras Interim Station in plenty of time to explore a bit and get some lunch. I'd hoped for a Meridian from here, just to sample the First Class facilities. Instead, got a tired-looking but reliable HST set. Some pretty irritating people on board which I almost let ruin my journey, but otherwise a fine run up the Midland Mainline. For me, this is still strange territory. I don't use the line much, and I never really get my bearings on it. Consequently, didn't pay nearly enough attention to my journey, and soon enough we were heading for our first stop at Leicester. From here, the highlight has to be the crawl past the Railway Technical Centre and Etches Park as we waited for a platform at Derby. If I'd had the presence of mind, and not dozed my way from Leicester onwards, I might have managed to stick a camera out of the window!
Still in high sun, completed the journey into Sheffield. Had a wander on the station, and then left for the city centre, with Good Beer Guide related plans. However, the city was in the grip of a football match - and I use the term carefully. The masses of Police were barring entry to pubs, and it seems some streets were out of bounds entirely. After feeling frustrated, I figured it was for my protection really - and I headed off in another direction. I strayed into a strange, rather run-down quarter of the city. Lots of Victorian civic and commercial architecture, and market stalls everywhere. Oddly, lots and lots of amusement arcades too. The people here seemed utterly and refreshingly oblivious to the football match elsewhere in town. A sudden shower of heavy rain drove me into a strange, rather ancient looking Thwaites pub beside the new Transport Interchange, called The Old Queen's Head. Lots of beams and low ceilings, in what is apparently the oldest commercial building in Sheffield. Not inspired however by a pint of Lancaster Bomber which was curiously cold and tasteless - whatever Freddie Flintoff might say!
Back to a damp station for a cup of tea and more wandering, before catching the uneventful but rather busy 15:53 from Sheffield as far as Weston-super-Mare. All the way back, the bad weather seemed to be chasing us, but I arrived home in fairly strong sunshine. A lot of miles, a lot of relaxing and not paying attention, but no new track or other excitement. Sometimes, it's nice to have a weekend like this.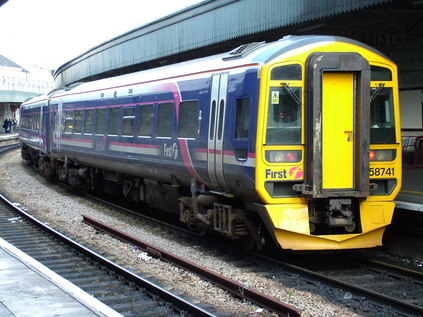 Posted in Railways on Monday 3rd April 2006 at 4:49pm
---
A day off work, fine weather and a bit of an event to attend. After a lazy start to the day, headed for Bristol on the 09:21. Noted a couple of fellow employees joining at Weston who appeared to be heading for the same event. Arrived with time to spare, which I spent drinking coffee and wandering around the station - something I haven't done for quite a while. Just after 11:00, went to platform 6 to register for my name badge, and enjoyed the hospitality on offer. Noted another First celebrity across the station, in ScotRail liveried 158741 which was heading for Brighton!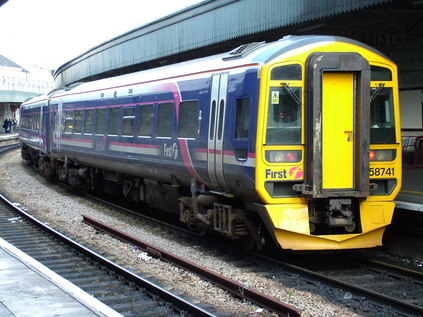 Highlight of the day was of course the newly reliveried HST set working from Paddington to Penzance. After a short speech and a fanfare, the set purred into the platform with MTU enginged 43004 and 43009 in charge. A brief speech from Alison Forster, MD of First Great Western and we were on board and heading for Weston. Lots happening once we set off, with magicians and a barbershop quartet on board! Plenty to eat and drink too.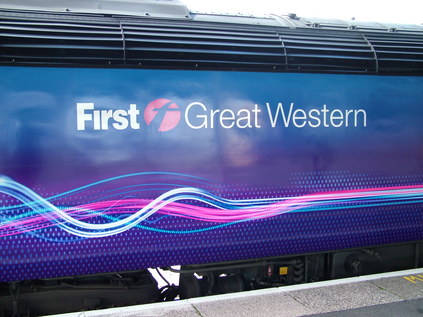 Other stations en route seemed to have joined in, and at Weston we had a welcoming committee of most of the station staff including the manager.
An enjoyable morning and a good show by First. Would have stayed on longer, but I suspect that it might have become quite crowded later in the journey. Noted later that the first weekday of the franchise had been plagued with short formations and cancellations. First have lots to do - if they throw as much effort into fixing these issues as they did into today's celebrations, we should see some changes soon enough.