Posted in Railways on Saturday 19th December 2009 at 10:58pm
---
Once again, having spent a week tackling cancellations and dealing with work related turbulence, I was looking forward to an escape. The bitterly cold weather was threatening snow in the coming days, and I was pleased to wake to what seemed to be a clear morning. However, I hadn't reckoned with the hardiness of the local villains who had been at work all night stealing copper signalling cable in Bridgwater! Real-time running information has it's limitations, and one of these is that until anything of passenger relevance is actually running, everything looks fairly benign on the timing front. Somewhere, between heading from my home in the rather smug certainty I'd soon be onboard a rather warmer unit and arriving at the glisteningly icy platform, things had gone very wrong. Very wrong indeed!
I won't dwell on describing the long, dark and cold wait for the 05:48 - suffice to say that for much of the time there was no information at all, and had it not been that I was travelling on a bunch of pre-booked fares which wouldn't get a refund out of this situation, I'd possibly have called it a day before it began. Spirits were (actually falsely) buoyed by the sight of 66177 slipping through on a slow move china clay working, kicking up a dust of frost as it passed. Eventually the train showed up on the web with a mere 15 minutes wait until it arrived. Toughed out this last freezing few minutes and was grateful to stumble onto the same unit I'd got home last night from the work's Christmas party! My confidence was soon restored by the guard's reassuring belief that I'd comfortably get the 07:30 to Birmingham, and that they already had a list of likely suspects for the theft which had occurred - some of which would be familiar to the locals. My confidence however, was misplaced and we ground to a halt at Uphill Junction with a signal and points failure up ahead. Here we stayed for what seemed like a very long time indeed, before gingerly creeping into Weston in near daylight. The 07:30 was behind us, but even the 08:00 which went straight to Wolverhampton (my first port of call - and a veteran of freezing December disappointments!) was looking unlikely too. Eventually we arrived at Temple Meads at 08:00 exactly, around 90 minutes late. Noted the 08:00 was announced delayed at the platform by "around 10 minutes" and made my way to the platform. Thought about queueing for coffee and food, but noticed that puffing up the stairs behind me was a harassed looking gent in CrossCountry Trains uniform who had been on the delayed 07:30. Quickly dashed aboard the waiting train and found a seat as he hopped on board and closed the doors for departure. I was, after a fashion, back on track.
I spent the journey northwards recovering the feeling in my chilled bones, and dozing after a fairly short night's sleep and too much to drink last evening. A slightly painful head had become a nagging ache due to the tribulations of the morning, and I managed to doze this away as we headed through the Midlands. The original plan had been to head for the Wolverhampton to Holyhead train direct to Chester, but this was now out of the question. Instead, planned to get the following Class 350 as far as Crewe and see what cropped up from there. With everything apparently a few minutes late due to snowy conditions on the southern WCML, had time to get coffee at Wolverhampton, but noted no breakfast available. Contented myself with a warm seat and a surprising change in the weather with bright winter sun descending once we were north of Stafford. Arrived at Crewe with time to grab the camera and get some swift shots of 86614 and 66588 manoeuvring in the bays at the south end of the station. I never fail to find something interesting here, somehow.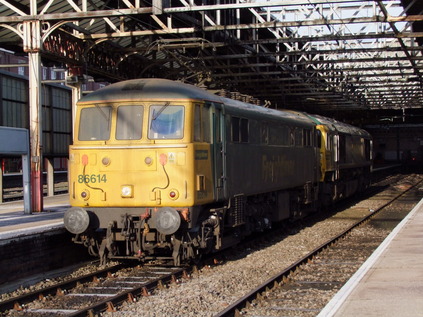 With the next Chester bound unit due in around twenty minutes, decided instead to head for platform 12, where a heavily delayed Pendolino was due to have 57311 attached for it's journey to Holyhead. As this would run only a few minutes behind the unit, I'd still make Chester in time for my next leg of the journey - albeit with no time at all in the city. Decided that this was a winning plan, and enjoyed the sight of luggage-burdened customers trying to board the "one carriage" 57311 while it waited for the arrival of the Pendolino. With the problems down south, 390027 was very busy on arrival, and I opted for a space in the vestibule of the front carriage where I could hear the 57 clearly as it was backed onto the train. A swift run followed, with a quick flypast of Crewe Electric before dashing out into the Cheshire scenery. Soon into Chester and a chance for a quick picture prior to departure. Also, finally found my breakfast in the excellent little cafe here. Stood beside the bay platform waiting for my next train to arrive, enjoying a good coffee and an excellent breakfast roll - my earlier troubles all but forgotten!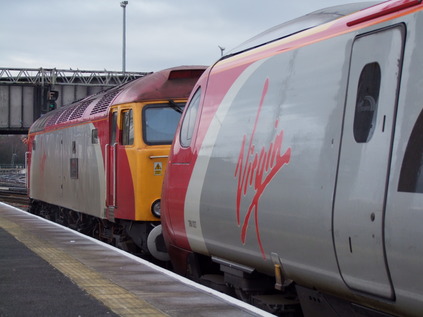 The next service was perhaps the main reason for the jaunt. Since Virgin began running two-hourly through trains from Chester to Euston I'd been intrigued to try the service. Having managed to get a fairly priced First Class single, I found my seat and settled in for the ride. As we headed back to Crewe, noticed threatening purple-black snow clouds gathering towards Manchester. Happy to turn south again, and head into the sunshine. Despite being a rather throw-away plan to occupy an otherwise quiet Saturday, this leg of the trip proved to be one of the more memorable jaunts of the year. As we headed into deep snow in Northamptonshire, the sun lit up the white landscape. Even the Train Manager came to sit and enjoy the views and chat as we sped south, any earlier problems seemingly now resolved. Almost sorry to find myself in the suburbs at Wembley, nearly at journey's end. With a few hours to kill in London, and not wishing to cover too much ground I might want to visit in January, I decided to take advantage of the fine weather and hop on a bus. Selected a Hackney-bound 253, travelling in a huge arc around North London, before dropping down through Clapton into Hackney. Here, headed for the North London Line narrowly missing a very crowded train and waiting in the cold for another which was equally wedged with shoppers. Watched the sun sinking in a red haze over London as the train began to empty a little after Highbury and Islington. Disembarked at Willesden Junction, having spotted 378005 waiting outside the station to form the next Clapham Junction train. Soon on board the very quiet unit and heading for my customary route back to Paddington via West Brompton. However, rather suddenly I realised that the next stop was Shepherds Bush and that the huge crowd outside was travelling home from the Westfield Shopping centre. Any attempt to remain near the doors failed and the huge crowd meant staying on at West Brompton and travelling back with the same unit from Clapham Junction! Amazed at the sheer number of passengers who managed to jam themselves into the train, and rather relieved to get off an also very busy working back to Willesden at the right stop.
A swift but equally cosy District Line train brought me back to Paddington and a chance to get a welcome coffee and stock up for the journey back. Noted with some surprise that the problems from earlier were still causing delays on the routes from Bristol, but that the 19:00 was seemingly due to head directly back to Highbridge as planned. I've come to enjoy quiet runs back on this rather sleepy train, which despite it's late arrival always seems to complete the journey. Today, that was particularly welcome!
Posted in SHOFT on Friday 19th December 2003 at 10:56pm
---
I feel like I'm a teenager again. Simple, primal, perfect music. Guitar, drums and singing. To say any more would make it more complicated than it needs to be.
Posted in Updates on Tuesday 19th December 2000 at 12:00am
---
The more I use Evolution, the more obsessive I'm becoming about it! Spent much of the past couple of days messing with a variety of forms of Interprocess Communication to rewrite bits of Gtkdial, finally settled on a non-blocking FIFO which I'm currently struggling with...Why do people only mention possible Christmas presents a few shopping days before the event?