Posted in Railways on Sunday 22nd April 2012 at 9:48pm
---
Today was both a bit of a desperate dash and an experiment. Back from the amazing weekend in St.Andrews, and having been out to the Minehead Rally with the youngsters yesterday, I felt the need to get out on the railway. As a perk for being a season ticket holder, First Great Western had provide a pair of codes to get free tickets anywhere on their network, and the obvious choice was a run up to London. I had misgivings - it was a Sunday and I didn't know quite how loadings were, and the tickets had to be standard class. I reasoned I could always upgrade via Weekend First if the issue arose. But at what felt like an absurdly late hour I found myself waiting for the train to Bristol - I'd figured out a couple of possible connections, but ended up going for the shorter wait. Mostly because I felt a strange almost guilty feeling for travelling up so late in the day. I also realised that it was the London Marathon today, and getting to London before that began to dissemble was probably wise for any onward travel.
The trip wasn't too bad - but I appreciated afresh why I booked First Class whenever I could for this trip. On arrival I decided to head directly to Liverpool Street with one object in mind - Record Store Day. Yes, it was yesterday - but given I was inhaling dust and gravel on a rally course, I hadn't been able to take part. However, I reasoned that there might be some things still in stock, and with a list in hand for others I made for Rough Trade East via back alleys and streets, cutting through the rear of the former Truman's Brewery and finding a plaza of arty types contemplating slogans and graffiti. I paused to watch someone taking a picture - of someone else taking a picture of a "neighbourhood watch" sign. Only here I figured and pressed on. Rough Trade was still insanely busy. I witnessed a man stack Beatles box sets up to his chin and then subsequently get told "one of each per customer". He got mildly agitated and had to be ticked off. I carefully selected the items I'd been asked to find, along with my own pet purchase - the deluxe edition of James Yorkston's 2002 album "Moving Up Country". My CD of this is long since lost, and I'd resisted re-purchasing mostly out of spite to myself for letting that happen. However, even in it's shrink wrap this was a clearly lovely item - and so worth the wait. I paid, realising I now had the always traumatic burden of carrying a bag of fragile vinyl around London all day.
I was glad to get out of the melee in Rough Trade and headed back to Liverpool Street for coffee and air-conditioning. With a few hours left to kill, I figured I'd hit the rail network - and particularly Thameslink which was this weekend running across London for the first time in a couple of years as far as I could remember. From Liverpool Street I took the Metropolitan Line as far as Farringdon. Stepping through onto the Thameslink platforms I was shocked at the space now revealed by stopping up the former Moorgate route junction. The brickwork had been cleaned and revealed a bright concourse. Information screens were discreet but usefully detailed, the platform's curious snaking profile obvious looking back through the bridge portal. I didn't get to look at the upper concourse as my train arrived - but I must return at some point. Despite my reservations about the closure of the short branch to Moorgate, I was pretty impressed. I headed south next on one of the services terminating short at Elephant and Castle. This meant passing non-stop through City Thameslink which doesn't open on Sundays, and through the new platforms at Blackfriars. The work here was substantially complete too - but hoardings and scaffolding remained. I realised this was technically new track as the through platforms had swapped sides since my last pass through the station. The terminal platforms, now west of the station were also near finished. The roof couldn't be seen properly, but we stopped substantially over the new bridge, between the two entrances. I recalled poking around under the bridge just a few weeks ago. I had no intention of lingering at Elephant, having explored the area enough a while back, and revisited on the bus recently too. So, back onto the next service north to St. Pancras Thameslink platform - another station I'd never really used due to the long period of works. This was different - a vast concrete cavern with grey and silver features. I picked my way out avoiding escalators and congratulated myself with further coffee.
I'd decided on the 17:03 back to Bristol in order to connect with a sensible train home given the patchy Sunday service, which seems to perk up a little in the evening for some reason after a very sparse patch in the afternoon. The train home was full of Marathon types. I felt guilty and useless amongst these dedicated people who'd made the run today. My own achievements stopped at getting the bag of records home safely. It was a strange day out, but a pleasant one in the circumstances.
Posted in Highbridge on Tuesday 22nd April 2008 at 11:24pm
---
The debate about the regeneration of Highbridge turned ugly tonight. Over the weekend, a series of small fires have occurred around the town, most notably including a minor incident in the abandoned and boarded-up Highbridge Hotel. The same hotel which is Grade II listed in part, and currently owned by Mead Realisations - a group of businesses that specialise in redeveloping 'difficult' sites. Since the pub closed in early 2008, security on the site has been poor, and this once proud building, parts of which have survived since the 18th century, has slipped quickly into decline.
Tonight, after lazily listening to more fire appliances screaming by and sparked by a message from my sister, I looked out of the window to see smoke and flames in the sky. A quick look at the internet indicated that a fire had taken hold of the hotel. Like many others I was drawn out of my house to watch the building disintegrate before our eyes. I thought it would be crass to take my camera - but plenty didn't. My 'phone had to suffice to document events.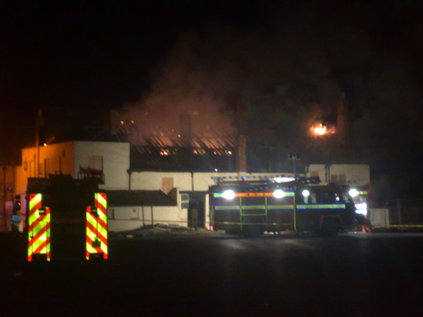 There was a strange, almost dangerous and semi-criminal taint to the atmosphere. Much of the town seemed to be lining the fence, groups of children playing chicken with the Police Officer put on crowd control duty - sprinting across the former market grounds to the line of tape and back as she lunged for them. Next to me a young boy said quite simply "this is the most exciting day ever!". Older folk reminisced about the pub, and about its decline - both before and after closure. Someone called the former landlord "Its OK, your 'book early for Christmas sign' isn't burning!". With the railway bridge closed again and the police turning cars back at the roundabout, the road began to fill with cars - mostly those of locals down to get a picture or watch the action.
Strangely, the Market was the centre of Highbridge once again tonight. People passed the time, bemoaning 'kids' or adding to the conspiracy theory about planning consent, listing and conditions. Only a full hour after the drama began did someone - a kindly soul - say "I hope there was no-one in there". Names of potential pyromaniacs were tendered. People reminisced about Jewson's burning many years ago. It was like the Carnival had finally come to Highbridge. I took a brief and very poor quality video, and again cursed my sensitivity at not bringing a better camera. It's curious to note the general level of excitement and banter among the watchers.
Whilst the conspiracy theories may well be unfounded, there are questions for the developer to answer about the security of the site and protection of the public. Since the Police were keeping us away, its hard to know if a salvagable facade remains. I left as the fire had died to embers, but it continued to retain the power to regenerate in a way the Town has never managed - springing up, bright and hot again in some new corner. The roof, collapsing under the jets of water, no longer containing the flames. The firemen trying to break skylights by throwing bricks and cheering each other's efforts on!
Whatever happens, one of the oldest buildings and perhaps part of the very core of the town is gone, and both the fabric and genus loci of Highbridge has changed again forever. Strangely though, the fire seems to have stirred some sense of belonging and place once again, and the reaction is threatening to turn against the 'developer'. Perhaps another chapter is already beginning?
Posted in Updates on Saturday 22nd April 2006 at 8:52pm
---
For me, a lazy sort of day - up late and not out onto the railway station until after 9am! Our party soon began to assemble, and a neat total of eight meant two GroupSave tickets - half price travel in effect. To my slight dismay, a lone class 150 rolled into sight at almost exactly 09:25. Not a comfortable journey, but unusually in my terms this was more about the destination!
Arrived in Newton Abbot a little before 11:00 after a quiet and event-free journey. First part of the plan was to head into town for breakfast at a Wetherspoon's pub. Excellent value for money, and a much needed preparation for the day ahead. Only one of our party succumbed to the lure of a local ale at this early stage - not me I hasten to add! Once fed, it was a short walk back through town to Tucker's Maltings. The Maltings is a huge 19th century building on several levels, but the beer festival takes place on the ground floor where on a working day the soaked grain is left to begin germination. The long, dark low room was packed from end to end with casks of beer - nearly 250 in all, almost all from the South West of England. Once issued with a glass, it was down to the difficult task of choosing where to start.
Our group finally found a small haven in the corner of the SIBA marquee, and set out our picnic. From here, we'd wander into the building at regular intervals, each of us returning with some new find. Prize for strangest must go to Stonehenge's Sign of Spring - a green beer, brewed to emulate a Danish custom of colouring food and drink green to celebrate the onset of spring! It tasted rather good, despite it's appearance. My own pleasant surprise were the Bristol Beer Factory beers - something on my doorstep which I've been curious about for a while.
As the day wore on, the weather improved until it was quite bright outside. A spirited game of football was being played alongside the Maltings, with the teams wondering why they had so many spectators no doubt. Inside, there was entertainment from a singer who doubled as a stand-up act. Overall a really well organised day.
Far too soon, but probably just in time to prevent severe inebriation, we headed back to the station for the train back - another class 150, all shacks this time! I had an enjoyable and sociable day - and I'm really pleased to have been invited. The title, by the way, comes courtesy of Rocking Rod and the Strychnines.
Posted in Updates on Sunday 22nd April 2001 at 12:00am
---
The laptop is delivered, and despite a painless install of RedHat 7.1, I just cannot get X working properly. Cooking goes reasonably well, and despite the looming horror of tomorrow and the stress of cooking for other people, I manage to have a really good time! Further attempts to get X going just frustrate me further in my insomnia.