Posted in SHOFT on Tuesday 22nd May 2012 at 11:05pm
---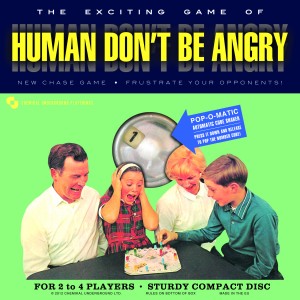 There are days when, even as someone who seems to be a source of technical support for everyone around me, technology defeats me. Today it was even more annoyingly totally out of my control, as vandals destroyed vital bits of the railway system turning travelling into a slow, hot and frustrating experience. Listening to the ill-informed griping, watching harassed staff being abused by idiots in suits, and looking at the faces of woe around me in the carriage, it was amusing to think of the name of tonight's headline act. There were a lot of angry humans around me today. As ever, pickings on a Tuesday night in Bristol were slim, and I pondered why bands who'd made the long trek down south always seemed to end up here on this quietest of days? Competing with the Olympic Torch Relay hadn't helped either, with Bristolians treating the arrival of that dim flicker of competitive spirit as an opportunity to get drunk in the sunshine. In some ways, who can blame them? It's probably the most they'll get from the London-centric circus that comes to town this summer. But I digress, and any drift into discussing that Grand Plan will get ugly.
The modestly filled upstairs room at The Louisiana quietened respectfully for Martin John Henry who took to the stage with just his acoustic guitar and a little bank of electrickery. Thinking back to his self-confessed nerves at Homegame a year or so back, it was actually really remarkable to see how his confidence and his songs had transformed in that time. Opening with "A Love Economy" from De Rosa's "Prevention" album, the set progressed through a number of songs from last year's superb but somewhat unsung solo debut "The Other Half of Everything" beginning with the fragile but affecting "Breathing Space". Using the electronics sparingly, and drafting in Human Don't Be Angry guitarist Paul Mellon, Henry was able to flesh out these largely acoustic takes on the songs into truly lovely, enthralling pieces in their own right. An edgily menacing "Only Colour" leads into another De Rosa track in the shape of "Pest" and suddenly it's clear just how many wonderful songs Henry has at his disposal, and how great it would be if he just kept playing. However, all too aware that his support slot was coming to an end, Martin delivered a plaintive take on "I Love Map" before closing with a re-worked Christmas song "Under The Stars", rejected from a BBC compilation "because I sing 'piss' in the second line". It turns out to be a spirited, rollicking winter tune with a leery edge of implied violence - fantastic stuff indeed and a lost to the prudes at our national broadcaster, who's recent decisions on the regional "Introducing..." shows indicates just how narrow their vision really is. Henry's set tonight exuded confidence in the performance and the material, sounded amazing as things seem to at The Louisiana's nowadays, and won him plenty of interest from a modestly sized but curious audience.
In contrast to Martin John Henry who I appear to have inadvertently stalked around Scotland for a while, I was a late-comer to Malcolm Middleton's most recent project, as I was to his other solo work. The ending of Arab Strap was just about the final straw for my musical frustration those years ago, and seeing them - coincidentally supported by Martin's recently reformed band De Rosa - at The Thekla on their final tour was one of the last gigs I went to for a very long time indeed. In the intervening years, Middleton's solo output has resulted in a collection of funny, painful and wry observations on relationships, the human condition and often by extension the identity crisis of the modern Scotsman. Despite only marginal exposure to this until recently, it was a bit of a surprise to first hear Human Don't Be Angry in all it's sprawling, post-progressive-rock glory. Tonight, it's hard to believe that the four musicians on stage are going to be able to recreate some of the delicate, multi-layered work on the recently released album, but rather amazingly they manage it perfectly. Middleton, joined by Henry on bass, the aforementioned Mellon on guitar and a live drummer, is a quiet and humble figure on stage who makes it all look annoyingly easy as the band meander into a wayward, opening instrumental which may have been loosely based on "After The Pleasuredome" from the recent album, on the back of their "Chariots of Fire" intro music. With a minimum of audience interaction, it's on to "The Missing Plutonium", where the urgent distorted throb of bass provided by Henry is filthily compelling, carrying the slight melody whilst Middleton and Mellon spin guitar magic around him. "First Person Singular, Present Tense" sees Middleton take, almost reluctantly to the microphone uttering the mantra of "looking for the person..." repeatedly with an air of increasing menace. This is about as vocal as he gets during my time in the venue, and on the eponymous "Human Don't Be Angry Theme" he elects to leave the vocals to disembodied electronics which echo oddly and unsettlingly around the small venue. Throughout these pieces, the influence - both in terms of sound and composition - of label-mates Mogwai looms large, with open, spacious arrangements. In Middleton's case though, these spaces are an opportunity to weave wonderfully dark webs of guitar work which take things spinning into other dimensions entirely. Somewhere during one of the pauses in the magic tonight Middleton introduces his new band to the audience and a voice from the crowd tells him "You're loud", adding after a brief pause "but GOOD loud!". I could probably have left the review at that, because his assessment is just about perfect.
With the railway still struggling back to normality after it's difficult day, I had to slip away a little early - something I utterly hate doing. But leaving the Louisiana with the sprawling, weird and epic racket of Human Don't Be Angry echoing around the street outdoors was a fitting exit.

Posted in SHOFT on Sunday 22nd May 2011 at 2:05pm
---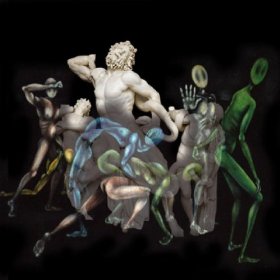 One of the most engaging things about being involved in the grassroots of music is hearing things emerge as part-formed ideas, changing and growing over time to become fully-fledged parts of a band's repertoire. This isn't limited to the fringes of the music scene either - as artists from Bob Dylan to King Creosote appear to delight in reinventing their back catalogue repeatedly and radically. However, geography and time mean I often seem to miss out on witnessing this process of development which has always been for me one of the most exciting aspects of nurturing a liking for a new band. In the case of Edinburgh's White Heath though, the process has been pretty evident from the earliest stages - and I've been lucky enough to have something of a window into it. On hearing just one or two early tracks I knew I had to see this band play live to understand quite what was going on, and I was lucky enough to cross paths with them in Glasgow last October. Thinking back to that performance, I was first struck not by the complexity of their music or their eclectic mix of instrumentation, but by the fact they were capable of making a wonderfully loud but carefully harnessed noise - which hadn't been fully apparent from what I'd been able to hear so far. This record seems to capture that dynamic much more successfully than any previous recordings have managed. It's notable that "Take No Thought For Tomorrow" has been produced and released by Electric Honey Records via it's well-documented relationship with Stow College, and I've detected a tendency to be mildly but fashionably scornful of this set-up recently. Whatever opinions might be expressed about the personnel involved or the way the process works, it's hard to deny that they've generally backed the right horses over the last decade or so. What this also seems to have done though, is to afford the band space and time to play around with these songs without the pressure which a traditional studio or label set-up would place on them both financially and in terms of time constraints. Thus some of these songs, which have been kicking around for a long while both in White Heath's live set and on the very hard to track down "Sea Wall EP", have grown and changed considerably over time before reaching a final recorded form here.
As "Maker" opens with a static-shrouded hotel lounge style solo piano, it's apparent that this is a going to be an unusual journey. Soon, alongside a sweep of strings, Sean Watson's breathy and urgent voice joins with his curious Middle Eastern influenced modulations. This voice is a key part of the band's sound - unusual, sometimes harsh and often oddly affecting. The vocalist's pivotal role is developed over a number of songs familiar from earlier recordings including "Election Day" which is pretty much where I first crossed paths with White Heath. Reworked subtly here, with a grittier edge than previously, the bass pulses beneath scrapes of violin while the vocals are in the foreground vying for attention with dabs of brass. Things escalate to a point of near hysteria with a cry of "you push me over the edge...", and suddenly just the voice is left, with an aching and stark statement: "i'm destined for disenchantment". The initial single from the album, "GG" (available as a free download here) is a bit of an outlier - a concise, grunge-pop anthem which soars into an almost irritatingly catchy chorus. It's a reminder that underneath all of the serious musicianship and classical influences which White Heath offer, there is a playful pop edge. As the guitar grinds back into action for the final blast and cheesy synth sounds dance around the vocals, it's impossible not to get caught up in this song's exuberance. I can imagine people who come to the band through this being genuinely troubled by its lack of similarity to the rest of the record - but the clues are there, mostly in the ability to wind infectious melodies around sometimes jarring, near-cacophonous sounds, bringing them into some sort of order.
The record hinges on the monumental "Leviathan", initially a slow-building ballad built around a delicate piano melody which provides Watson's vocals with the space to veer from a whisper to a pained, impassioned howl. Then it feels like the calm before the storm as he repeatedly but hardly reassuringly croons "when you wake, all of this will be gone" while a menacing undercurrent becomes apparent growing into what, for a less imaginative outfit, would likely be the hackneyed and much over-played 'epic' ending. But here the explosion never quite happens - that would be far too easy and much too obvious - the power in this work is in it's restraint, the sense of something huge and thunderous only barely controlled. However, it's also repeatedly made clear that White Heath are capable of writing rather fine pop music, notably on two less familiar tunes - firstly "Sunday In Fragments" - where simple ringing guitar notes and tumbling piano melodies usher in the closest thing this record has to a sing-along chorus. Perhaps unsurprisingly things don't stay quiet for long, as a tumult of brass and strings arrive to remind us that this isn't supposed to be easy listening. Also worthy of mention in this respect is "Past The Satellites, Into The Fray" with it's shuffling beat and soaring vocals, leading up to a euphoric and triumphant conclusion somehow delivered via a tangled mass of strings, punchy brass and strange half-intelligible chattering voices.
This album captures perfectly the the sense that White Heath are only just in control of the juggernaut of sound they're driving. The seamless, but often sudden shifts from melody to discord and from claustrophobia to wide-open vistas are White Heath's trademarks. The songs are rooted in rock and pop, but aspire to a range of ethnic and classical influences which few bands would ever dare to attempt this early in a career. But despite this unashamed experimentalism "Take No Thought For Tomorrow" certainly never becomes self-indulgent or ponderous - saved from pomposity by the band's amazing ability to generate huge walls of noise. This a dizzying, sometimes uncomfortable journey - but it's also documents the work of a surprising and genuinely original band. Put simply, it deserves your attention.
"Take No Thought For Tomorrow" is released on 6th June, via Amazon and iTunes among other outlets. The album will be launched at an Electric Honey Showcase at Glasgow's Oran Mor on 4th June.

White Heath - Election Day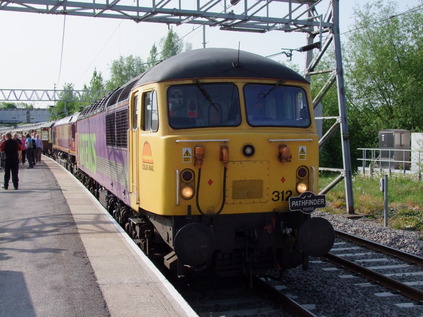 Posted in Railways on Saturday 22nd May 2010 at 11:58pm
---
Making the short walk over the bridge to Temple Meads this morning, I pondered on how different it would have been if this trip had taken place as planned in December. Thinking back to the day in question it didn't really get light at all - and the icy winds howling in from the west would have made Carlisle a very chilly pace to be. Today however, was already promising to be very warm indeed. With a hazy sun already up, we strolled around the platform waiting to figure out where the stock would arrive. Eventually, a distinctive engine note was heard over the waiting Voyager, and we decanted to platform 5 where 66148 was heading the train. On board, windows open and soon settled in for the long journey north. As we gathered passengers at various stops, it became clear that the centre bays of our coach had been reserved for cranks, whilst most of the train seemed to be full of normal folk on a pleasant day out. Across the bay, a desperate move involving fast cars and Blackpool footexes was developing - and sure enough, with 66148 underlined, two of our number left the train at Cam and Dursley to dash north! Sat tight for the frequent service of coffee and a decent breakfast. Soon found ourselves ascending the Lickey and slowing to a near-crawl - no surprise as the train was impressively formed of 13 coaches which bucked the recent trend of shorter charter sets no doubt due to lower bookings. A brief stop at Birmingham New Street then into the suburbs again, with the train drawing into the goods loop at Bescot Yard to change locos.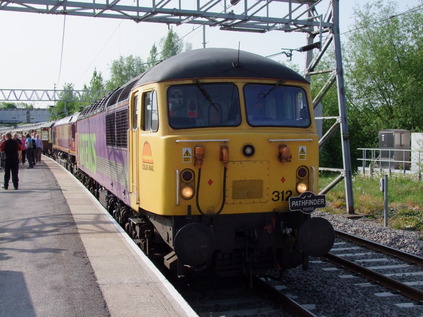 After rumours of 56311 or both of the Hanson machines being turned out, it was a little disappointing to see just 56312 "Artemis" arriving in all it's purple and green glory! Still, a 56 on a passenger train is never a bad thing, even if the 66 appeared to be staying on, tucked inside the train too. Soon off again, in the now pretty intense head, and heading back to the WCML via Bushbury Junction. A break at Stafford allowed a leg-stretch, and enabled the duo who had leapt at Cam and Dursley to rejoin the train, their move having turned out to be unworkable. Back on board, and finally the Grid on the front was able to stretch it's legs a little as we set off for Crewe - our final pick up. More quick running got us close to Preston, with our train taking the usually freight-only connection at Farrington Junction to gain the line to Blackburn and Clitheroe. I hadn't been this way for some years - but recalled running this tour route once before with D1015 at the helm. Climbing steadily, we traversed the section of non-passenger line to Hellifield, before passing on to the Settle and Carlisle line proper - for most of the passengers on board, the highlight of the day. From here until well after Ribblehead, the vestibules were full of people bickering over droplights in order to get a look at the viaduct. Gave up trying to explain I wanted a quick photograph, and settled for enjoying the amazing scenery from the window instead. The day was hotter than expected, and even the cooler mountain air wasn't making the train feel any less warm inside. A brief stop at Appleby to unload passengers for an Ullswater cruise turned into a longer stop - and a catalogue of injuries, disabled access disasters and staff left behind! As we finally curved towards Carlisle station at London Road Junction we noted Duchess of Sutherland waiting on the curve to Upperby. Lots of gasps from the assembled normals at the presence of a steam train - one or two seemed to think it had all been planned for them, and would be taking us home!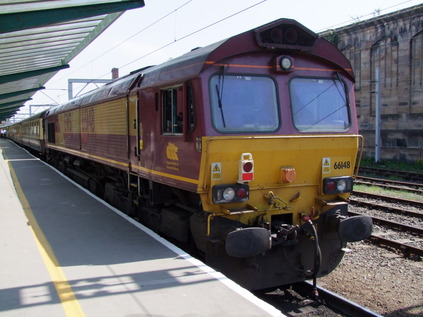 A quick dash out into a very busy, very hot Carlisle to shop. People seemed to be really enjoying the weather here, and the Cathedral Green was packed with people lounging in the sunshine, while others raided the stores for ice-cream and drinks. Back to the station to find 47245 had just hauled the steam service back into the platform. Snapped the 47 in battle-stained West Coast livery before finding a much needed decent coffee and crossing over the bridge made famous by Homebase for a shot of 6233 steaming gently among the crowds. However, the presence of two charters and the usual service trains seemed to be causing problems, as our stock rolled back in from Kingmoor with only minutes to spare, and we ended up leaving around 17 minutes down. The return run was via Shap and, for me, a route just a special and scenic as the one we used to get here. Frequent trips to the droplight to enjoy the cool air and the speedy running south followed, with a call at Penrith to collect those who'd opted for a boat trip. While briefly looped at Tebay, the next plan involving our intrepid neighbours was discussed. With one of them already en route to Stafford to retrieve the car, the plan was to meet at Warrington where we were booked an Operational Stop, and then to head to Preston for the returning footexes. A word in an ear at Control had been secured, and it all seemed to be going to plan. However, things soon unravelled as Control declined to be helpful with the positioning of the engines and in any case, we shot through Warrington at around 80mph with no operational stop at all! The plan was duly recalculated to account for any change in our loco at Bescot later...these people, though clearly desperate, are utterly indefatigable! In the meantime, I assumed my position at the window for a flying view of Carnforth, Hest Bank and Lancaster station - a favourite stretch of line for me that harks back to the earliest days of my obsession with rail travel, and never disappoints.
After an unexpected diversion via Wolverhampton and Crane Street Junction, we were soon back at Bescot as the sun started to go down. With the 56 detached and our original loco ready to head south we waited for a clear line before heading into Birmingham again, and down the Lickey under an amazing sunset. Despite some minor delays on the return, we rolled into the deeply inconvenient Platform 15 at Temple Meads just seven minutes later than planned, and 589 miles later. A fine trip, which despite breaking no new ground, seemed to be appreciated by everyone on board whatever their disposition. As I've tried to tell Pathfinder it is possible to 'mix the markets' and still have a successful day.

Posted in London on Saturday 22nd May 2004 at 10:08pm
---
Woke to the promise of another sunny day. Out on the 0640, changing at Reading for economy's sake once again. Some delays on approaching London Paddington, and further frustration since the Circle was out of use once again - I have an incredible aptitude in selecting just such weekends it seems.

Set out across the City from Farringdon, and hopped on a Kent bound service at Cannon Street just as far as London Bridge. Out of the station, and along Druid Street in search of the remains of St. John Horsleydown. The short walk through deteriorating neighbourhoods ended abruptly as passing under the railway, I saw the telltale ashlar blocks and strange vents and portals of a Hawksmoor church. From the midst of the remains rises the red brick of London City Mission, the whole thing being set in a busy little park beside a small housing estate. Passed a few moments, then off again via Tooley Street to London Bridge.

Next, to Greenwich. From the station into the High Street, then a long and rather hot walk before once again accidentally stumbling upon St. Alfege. Again, a buidling on an impressive scale with particularly curious stairs at each side, a small passage running into each raised stair area. Rather incongrous lantern on the tower (tacked on in 1730 by John James it seems). Very much a working church, with a pleasant and welcoming groundsman and vicar in attendance.

Onto the DLR here, and a quick high-level glimpse of St. Anne Limehouse and St. George In The East. Alighted at Shadwell, and made the swap onto the East London Line, then the (incredibly crowded) Hammersmith & City to get to Liverpool Street. From here, a strange crabwise crawl through the oddly bleak hinterlands of the City to Commercial Street, haunted by occasional glimpses of Christ Church, Spitalfields. This time, the hoardings were down, but the work continues. Couldn't access the grounds, but managed to get some pictures of the massive forbidding spire.

Back on the hoof now across Finsbury Square and Bunhill Fields, and then via familiar old Whitecross Street to St. Luke, Old Street. Now the home of the LSO this small and rather plain Hawksmooor church still has a mighty presence. The grounds too, were slightly populous - with students writing postcards home, a merry group of singing drunks, and a colony of roadies unloading musical gear for the Orchestra - all under the shadow of the rather unnerving obelisk.

The purposeful part of my wanderings done for the day, struck out for Smithfield and a well-deserved pint or two of ESB. A hot, tiring but rewarding day of trekking. Another gallery will follow at some point...