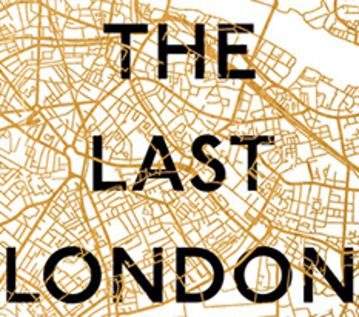 Posted in Reading on Thursday 28th September 2017 at 9:09pm
---
The destruction of London is an unsettlingly familiar trope. There is something which seems to deeply satisfy authors and readers alike in the toppling of seemingly infallible towers or a surging tide along the sinuous Thames. While it's title is similarly apocalyptic The Last London doesn't describe a literal ending - but suggests a city which has reached its final condition. It is an ending though in another sense - the final work in a cycle of of semi-fictional novels and essays which have tumbled out of Hackney since 1975. Taken together these books form a remarkable cultural catalogue which documents the sometimes jarring changes which have wracked the city as it shudders into the 21st Century. London often feels briskly futuristic on its face, but in truth it always lags behind. Things change disarmingly slowly in a city of this impossible size and complexity, and it takes a sharp jolt to propel London forward. Sinclair posits the 2012 Olympiad as the moment things change. The moment which London enters its final phase. The moment at which he starts to step away from the city, their paths forking in distinctly different directions. The Last London draws the themes which have emerged in his work since 2012 to a spectacularly written conclusion.
It also marks a distinct shift in Sinclair's writing style which brings his exasperation to the fore, electrifying and spiking his prose and rendering it curiously similar to some of his earliest poetic works on London. I've seen commentators bridle at this frustration and irascibility - but I think in a literary career which has spanned well over forty years and countless revolutions in the experience of navigating London, Sinclair has earned a hearing. The irritations which he catalogues as he moves around the rapidly evolving city are individually innocuous but collectively deafening. The flow of digital information along unmediated channels challenges the well-walked paths and mysterious connections which Sinclair has meticulously mapped and remapped. These old ways are clogged with cyclists who have no time to avoid pedestrians now. The sense that devices demand maintenance and drain agency from the people moving around the city's boroughs seems a minor inconvenience to the rest of us until we're facing down a crowd coming the wrong way, heads down, minds elsewhere. It's easy to dismiss the exasperated tone which some passages in the book take as the snarls of a man aging at a different rate to the city - but almost all of them have rung true at some point, even to a relative technophile like me.
The Last London begins in Hackney with a sage-like silent man on a bench in Haggerston Park, and slowly expands to the limits of the London which Sinclair has written himself into, and now out of. The journeys this time though are partially an act of erasure - undoing his London Oveground circuit by reversing its direction, revisiting the docks and dereliction of Downriver after the passing of 'The Witch' and finally venturing into the stage-managed artificiality of the Queen Elizabeth Olympic Park left behind by the Grand Project. By the time the circuit is completed, the mysterious presence has gone from the park. Things are changing again, London is being remade in the image of Beijing or Bahrain. Legacy and Inclusivity - once the bywords of the Olympic city - are now virtual concepts which rarely make the leap into reality from the computer generated vistas which wrap new developments.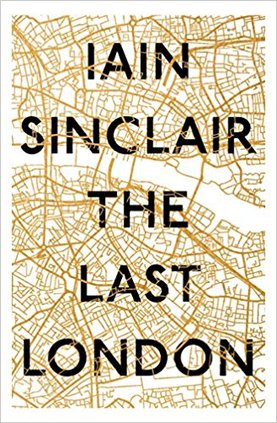 As the book approaches its conclusion, Sinclair is on the hoof again in pursuit of the next London, if indeed it exists. His walk from Gospel Oak to Barking in the company of (literally) ghostwritten friends who have gone, charts the path of the partially-electrified railway which will eventually spark life into the provisional community rising from the sedge and mud at Barking Riverside. There is a point on the journey where his narrative splinters - the narrator is no longer the walker as he pushes over boundaries and into sectors of the suburbs which are outside his experience. It's strange, and liberating as a long-time reader of Sinclair, to feel the author's raw response to the strangeness of this hinterland. He crosses the North Circular into Barking and recognises the kind of territory he used to occupy pushed out here to the margins, and soon to be pushed back further. He is spun back to Hackney in relief - that he has left Barking, or that places like Barking still exist?
The series of walks which are described in the final chapters of The Last London have another function - they detail those who will continue to walk and record. John Rogers, Andrew Kötting, Effie Paleologou - in words, film and images they have already long since taken up Sinclair's mantle. They walk beside him, and they'll carry on walking into their own Londons and beyond. Their work is generously referenced, openly admired. Their activism and vigour a match for the demands of the last London - their variations on Sinclair's themes spinning off into new territory, new media, new technology, but always anchored into a shared past. Thinking of the influence of Sinclair's now extensive body of London writing, I wince a little on reading my own over-egged thoughts here and see an homage to Sinclair in every description of a decommissioned facility or deleted franchise. The companions on these final walks are commended to us by Sinclair, not least for his appreciation of their ability to navigate the city in its current situation. They are doing what he can't now, receiving messages which are incompatible with his self-confessed duncephone. The book closes with a final pilgrimage - an account of the march from Waltham Abbey to St Leonards on Sea which morphed into Kötting's Edith Walks film - once again piercing the skin of the M25, out into the fractious hinterlands where 'Vote Leave' signs line the lanes. Out of the city, out of the UK, out of Europe. The uncertainty of the future weighs heavily on Sinclair, and he almost pines for the easier times under Thatcher when the needle on the national moral compass was inverted rather than spinning erratically. A time when satire didn't turn eagerly into newsprint with each dumb tweet from Donald Trump. It's down to these new walkers to make sense of the next London in a post-factual, digitally altered world. It would be a gloomy way to pass out of the city if it wasn't written with such vigour and precision - Sinclair is playfully pithy to the bitter end of his walk, enjoying the freedom perhaps of looking back on London?
The Last London is as ever an erudite, complex work which will have readers reaching for references and chasing down works by Sinclair's kindred spirits. It's not an easy read, but it rewards time and effort to untangle the threads of myth and modernism which wind around his map of the city, reaching out to his coastal redoubt. While it refers deeply into Sinclair's history of writing on London, it stands alone as a guidebook to future cities which exist everywhere and nowhere. Perhaps it also sounds a call to the next generation of pavement botherers, mythmakers and diviners of this ancient, ever-changing city. If they turn in an account half as vital and detailed as this, there is an interesting future in the written city.
You can read, and hear, a discussion between Iain Sinclair and John Rogers about The Last London at The Lost Byway.

Posted in SHOFT on Wednesday 28th September 2011 at 10:09pm
---
One of the side-effects of the computer catastrophe here has been the inability to buy music. Given that times are tight, and it's difficult to squeeze another notch on the belt, this isn't all bad - but it did delay my access to two eagerly awaited releases.
King Creosote & Jon Hopkins - Honest Words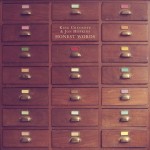 And as if to tease me for my reliance on soulless, compressed digital products,
King Creosote & Jon Hopkins
's "Honest Words" slides in against a backdrop of tape hiss. Almost immediately,
King Creosote
's voice ascends into gorgeous, clear high notes while
Hopkins
provides a dramatic backing based around a sonorous, doom-laden organ which eventually dissolves into a twinkle of shattered electronics. The lyric is intriguing as once again
Kenny Anderson
elects to demolish the 'fourth wall' and bring the listener in on the songwriting craft. Listening to him singing about the process and the pain of writing is a little voyeuristic, a distant ache in the third person. As the song ends, the cycle begins again as the backing fades leaving
Kenny
rewriting his own ending.
Supporting this King Creosote tradition of revisiting and reworking songs in new situations and contexts, the next two tracks take the rewriting process of "Honest Words" as a model. "Aurora Boring Alias" originated on the "Love + Hate = Hate" collaboration with HMS Ginafore and here is supported by a surprisingly gentle, almost absent touch of atmospherics from Jon Hopkins. Just a music box piano tinkling and the subtlest of drones shimmer in the background whilst Kenny floors me once again with one of those lyrics which grasp a mood and hold it up for inspection as he intones "a magnet at my very core pulls me northwards". With eyes turned skyward the song agains becomes self-referential with the revealingly honest claim that 'I'm aware it's me that I describe in code'. Finally a reworking of a recent reworking features in "Bats In The Attic (Unravelled)". I've never quite shaken off my love of this "Bits of Strange" song in any of it's forms, but here it becomes a gentle but powerfully phrased construction. A bit of regret, a little bitterness, some bile even. The simple melody here is reduced to a background shimmer and a quiet clanking rhythm drives the song onwards. Stripped back to this degree, King Creosote's voice is revealed even more than usual as a delight. My only sorrow is at the loss of the line about "Fife council" before song echoes away, fittingly into nothing.
The critical acclaim which "Diamond Mine" has enjoyed seems to have caught this unlikely duo completely unawares, but this brief addendum to their slight but affecting and already much loved canon continues the story. I hope there is more, because I genuinely don't think I'll ever tire of listening to them.

King Creosote & John Hopkins - Honest Words
"Honest Words" is available from Amazon, iTunes and local record stores near you.
Mogwai - Earth Division EP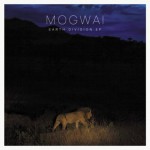 Coming surprisingly soon after the superbly titled "Hardcore Will Never Die But You Will" album earlier this year, I had something of a sense of dread about this EP. Often these rapid follow-up releases are nothing better than studio-floor salvages, and I didn't want that to happen to a band which has been part of my musical landscape for more years than I cared to remember. I need not have worried, because "Earth Division" is a work made entirely on it's own terms. "Get To France" opens, with poise and tension which would ideally grace the opening titles of a movie. An insistent piano refrain echoing with noirish portent. If this is the opening scene, then the closing credits could easily be delivered over the wistful and delicate "Hound of Winter". It's rare a
Mogwai
track features vocals in the traditional sense, but here they are just that - and allied to a surprisingly gentle folk melody complete with harmonica and accordion. The lightest wash of strings fade in and out of the track, occasionally delivering the kind of life-affirming lifts in mood which I've always associated with the band, even at their most uncompromising and impenetrable.
And that is perhaps where "Drunk and Crazy" comes in...never has a song been more appropriately named as a shuddering low fidelity rhythm stutters in behind distorted guitars and a sheen of white noise which suddenly, almost clumsily gives way to an unexpected and beautiful string quartet mid-track. A stark piano accompaniment picks out the melody which just about survives from the opening section, and eventually the two halves of the track are reunited in a jagged but epic closing section. This is uplifting, wide-screen brilliance which builds on the more varied textures of the recent album by reuniting them with Mogwai's sense of the dramatic and absurdly epic which were less in evidence on "Hardcore...". Finally, the sombre "Does This Always Happen?" strips the instrumentation back to strings and piano, with a delicate and considered weave of guitar and bass slinking in mid-track. The insistent melody, the atmospheric strings, the spacious and dignified ending signify the new Mogwai. No need for explosions or hackneyed post-rock loud/quiet cliches. This is the sound of a band confident in it's own skin. Experimental and inventive, but utterly, compellingly beautiful.

Mogwai - Does This Always Happen?
You can purchase the "Earth Division EP" from Amazon or iTunes.

Posted in Updates on Sunday 28th September 2003 at 10:19pm
---
Long and very pleasant walk this morning, visiting curious Commonwealth War Graves, then along Bristol Road Lower, exploring parts of Weston only previously seen by car. Dodged two sets of churchgoers successfully on Baytree Road, and headed back via Milton Road. Realised on the way that the unconfirmed rumour of a further attempted assault in Weston was true, and found my way blocked by the Police and a camera crew! Things have been very strange here lately.

We've branched Gaia for an alpha release. It now does everything initially planned, and we've ironed out all the major bugs. We're just some useable question data away from the release now - not bad progress, since I note the CVS server was set up on 30th August!

Posted in Updates on Saturday 28th September 2002 at 12:00am
---
Lancashire Woman bitten by Rabid Bat - Chris Morris couldn't write them weirder. Feel like a teenager today. Visited, explained eBay, fixed a dodgy floppy drive, talked. Told I was smiling a lot. Tonight, walking home I could smell the winter.