Posted in SHOFT on Wednesday 4th April 2012 at 10:04pm
---
I continue to blunder through a strange period of having very little spare time to sit and think - and ultimately, therefore to write very much. But in this frustratingly busy period, I've found myself saved by a constant trickle of music in the form of singles. Whilst in previous singles columns I've looked for themes to link the releases I've chosen to consider, this time it's more about a contrast - simplicity versus complexity perhaps? Or even professional recording versus good old fashioned DIY releases. Either way, what these two releases do have in common is both a fairly unique approach to music and recording, and also the sense of a great project completed.
TishyTash - Shells EP
For most of my life, I've lived near the sea. I don't take nearly enough advantage of this, and usually end up complaining about the tourists and the traffic rather than celebrating the fact that just yards from my door is the opportunity to wander along a beach which is deserted for half of the year. This debut EP from
TishyTash
is steeped in a longing for the coast, and the frustration of being trapped inland. However
Natasha Taylor
takes her own, circuitous route to the shore. Opening with "Toddler Based Drugs", the formula for this gem of a record is made plain. An unorthodox guitar picking technique creates a shimmer of echoing, lingering notes while
Taylor
's heartfelt vocals carve out a counter melody. This isn't easy listening in some ways - exploring themes of lazily prescribed medication and living on the very edge of frustration. The gentlest hint of violin drifts in - and not just any violin, but a sixty year old vintage model dusted off for the occasion - and strangely you can hear the creaks and aches of it's age in its sometimes eerie and incongruous groans.
"Shells" tumbles in with a brighter melody which contrasts with the rumble of wind and tide which can be heard in the distance. The lyrical territory explored here seems to be obsession - collections are counted, catalogued and stored away for future reference. The vocal here is a little more raw and ungoverned, as TishyTash stretches to find notes to express the yearning for the seaside. The approach is pretty unique, sometimes almost discordant, and it takes a listen or two to fully appreciate what's going on here, but when it clicks into place this is all rather beautiful. Finally the record closes with "The Thomas Song", introduced by one of Taylor's friends ranting about the pointlessness of social networking, and railing at modern culture in general. Meanwhile, TishyTash appears to be singing a love song to a favourite duvet, which is perhaps not such a strange proposition in some ways. As that venerable violin groans into life once again, themes of ageing and passing wisdom between generations are explored.
In a world of singer-songwriters which is sometimes deadly serious and dutifully dull, TishyTash is all about the delight in creating something, sharing it with friends new and old, and most importantly in doing it all your own way. That, in itself, is worthy of your attention.

TishyTash - Toddler Based Drugs You can buy digital and physical copies of the "Shells EP" from the TishyTash Bandcamp. More information on TishyTash can be found at her website.
White Heath - In A Glasshouse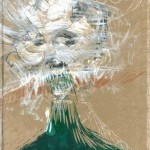 I'm painfully aware how behind the pack I am with this one, and whilst some of this is down to my usual procrastination and failure to thrive as a blogger, its also because I'm almost daunted by the scope and ambition encapsulated in this singular and somewhat epic piece of music.
White Heath
have always refused to be constrained by the modern rock band format, and have taken cues from their classical and literary influences rather than what's happening in the NME. Thus "In A Glasshouse" slips quietly into motion with delicate piano and a welcome focus on
Sean Watson
's vocals. They are perhaps a little more direct and foregrounded than on much of the material on last year's "Take No Thought For Tomorrow" album, where the grim portents and domestic melodramas were often buried under layers of wonderful noise. Lyrically this is hard to pin down, with a sense of winter chill and growing menace during the quieter opening section. Overall though, it's the stuff of dreams and nightmares - a sometimes confusing swirl of sounds and ideas which resolves into moments of genuine beauty and dazzling orchestration. Here, things begin to build gradually but implacably - with strings joining first bringing with them a few luxurious minutes of gentle harmony before urgent stabs of trombone usher in a change. Suddenly
White Heath
have mutated before our ears...
The second section of "In A Glasshouse" is pure, unabashed and unadulterated rock and roll. A stuttering, shuddering beat and sheets of razor sharp guitar underpin things, while a relentless guitar solo slinks between the beats. There are flashes of proper, old-fashioned heavy metal among squalls of punk rock noise while Watson's voice changes too, shifting from it's contemplative register to a rasping, metallic scream - sometimes within the space of a single phrase. Then for a strange, pensive moment there are just handclaps, urgent gasps of breath and sparse piano chords before the vocals arrive again to close the mammoth eight minute track in a quietly reflective, rather sombre mood. I'm not really sure what's just happened - but it feels like it could be very, very significant.

White Heath - In A Glasshouse
"In A Glasshouse" is part of a curious and intriguing multimedia project with Edinburgh-based artist Emily Hair. You can discover more - and download the track - at the website. I confess I explored the rather fine artworks and scraps of wonderful music without really finding out what was happening, but it is certainly worth your while spending a little time in this slightly dizzy and fantastically unhinged digital world.

Posted in Railways on Saturday 4th April 2009 at 9:04pm
---
Due to the frenzied mileage gathering start to my year alongside a fairly busy schedule of railtours, I've not made it to a couple of interesting diesel galas in the first months of the year. But with the line closed between here and Bristol, getting anywhere was going to be an interesting experience. Decided to stay local, and finally pay a visit to the Gloucestershire & Warwickshire Railway after many years of promising to do so and never quite making it. Set out on the 07:20 bus to Bristol, which stuck to timings and arrived at Temple Meads bang on time in promisingly bright sunshine. A quick dash through the arches to platform 11, an unusual place for a Crosscountry service to depart from, no doubt due to the route via Westbury with a reversal here. Found a seat, despite the service being busy due to an earlier cancellation. A short ride up to Cheltenham, where I stumbled out of the station right into the correct bus stop. A short wait, almost feeling uncomfortably warm for the first time this year, for the bus. I'm not sure why I'd always imagined it would be hard to get to the G&WR - as the bus from the station travels direct to the Racecourse Park and Ride, where a short walk over the hill brought me to Cheltenham Racecourse station. It was easy to slip back into Diesel Gala mode - 47105 was just arriving to run around the train. So, with camera out, I was prepared for a day hopping up and down what promised to be an interesting line.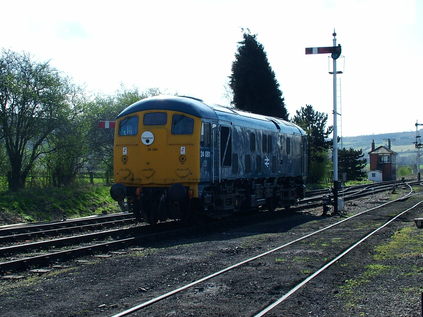 Decided to take the first train all the way to Toddington to see the whole line, and to give me an idea of how to select trains for the rest of the day. Passed D8163 at Winchcombe and didn't see much more of this loco given the diagrams - it always seems there is one I don't manage to get to see at these events. Oddly, it's been a Class 20 on more than one occasion too. As we headed into Toddington spotted 24081 stabled outside, with 37324 (also known as 099) outside the station. 37215 was waiting to drop onto our train after a short turn around and a chance to wander about the station site. Took 37215 the short distance back to Winchcombe where a quick platform change allowed me to head back to Toddington with 31162. Time for some pictures here, including a couple of engines on static display including 92203 'Black Prince' and 47376. Good to see increasing crowds at this end of the line too, with lots of families in evidence - something some railways claim doesn't happen at diesel events. Jacket off now, time for refreshments before enjoying a noisy trip with 24081 all the way back to the Racecourse.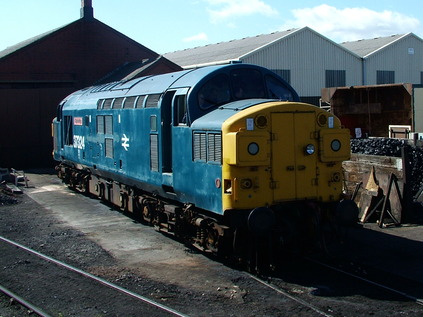 Deciding to maximise my chances to travel behind each loco, I decided to do a series of moves to Winchcombe and back. This meant heading back with 31162, and making a fairly quick dash over the bridge for a slightly delayed 37324 back to the Racecourse. The amazing weather provided wonderful views from the railway with the Malvern Hills in clear sight, along with Tewkesbury Abbey shining golden in the foreground. Another swift change of ends for 37215 back to Winchcombe, and an opportunity to watch 47105 arriving. A last trip down to the Racecourse fittingly with the first engine of the day.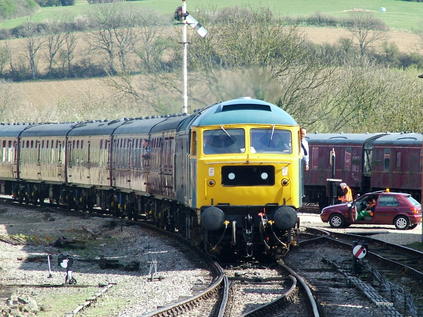 Made the short walk and bus ride back to Cheltenham Spa feeling content with my day out but slightly apprehensive about the Rail Replacement Bus home. Then I made a silly train choice, deciding to hop aboard a late-running Weymouth stopper instead of waiting for the following Crosscountry service. I'd had some fleeting notion that it would be much quieter - which is probably true - but of course a (none too rushed) reversal at Gloucester made it even later than planned into Temple Meads, while the Crosscountry train zipped by on the mainline! Resigned myself to the fact I'd be getting a later bus home, as we rolled into Temple Meads almost exactly when the bus should be leaving. Decided to head for the arches anyway to see if the next Weston bus was any use to me. As it happened, a driver running out of hours and a vehicle swap had delayed the Taunton service, so I made the bus as planned and was soon heading home only a few minutes later than planned. Glad to have finally visited this fine railway, and to have managed to get out and about despite the blockade. The first Gala or Open Day of the season makes it feel like Spring too. A few more of my never very artistic pictures are here.

Posted in Updates on Thursday 4th April 2002 at 12:00am
---
Half way through the bank holiday shortened first week at my new job. Its been a bewildering couple of days, partly because the tail-end of the stupid cold I've had is making me feel fuzzy and disconnected - not ideal conditions for appearing efficient and attentive. It's also made me rather subdued and quiet, which hasn't helped with socialising myself into the team. Today however, the fug cleared enough for me to realise I've picked up quite a bit of the basics, and to make a couple of 'friends'. I'm enjoying going to work for the first time in a very long time. Flexible working hours help too, meaning I can start early and use the precious first few hours, when I'm at my most lucid. Otherwise, its been a worrying and difficult week in some ways, and the diversion of the new job has been more than welcome.

Posted in Updates on Wednesday 4th April 2001 at 12:00am
---
Much running around and generally trying to get things in order before GUADEC. Principia packages of most of GNOME are done, and one or two more troublesome components will have to wait. Took Pix to her temporary holiday home. A return to winning form in the Brit Quiz.