Posted in Railways on Saturday 16th October 2010 at 10:36pm
---
There was a strange sense of a calm before the storm today. It's October, and this usually spells trouble in some sense or other - and next week I'm heading off to Glasgow. So this weekend felt a little demob-happy and distracted, what with not thinking about work next week despite plenty of reasons to have my head somewhere near the place. A couple of weeks back I'd planned a jaunt out to the East Coast to cover the diversions via Lincoln and the Joint Great Eastern and Great Northern route. I'd not thought too much about this, and given the mess of confusing information flying around about how these would work, I'd taken a bit of a leap on a service which was booked to avoid Newark and Grantham entirely, though others had suggested that only Grand Central and Hull Trains were making the trip I wanted. First though, I needed to head north on the first train of the day. There was a pleasing nip of winter in the dark morning air as I headed for the station. Time at Temple Meads for breakfast and coffee, and a rather longer wait than usual to catch the 07:30 which would take me all the way to Sheffield. As we headed north into Gloucestershire, the sun appeared and I had a wonderfully lazy, rather sleepy trip north listening to music and watching the country slide by.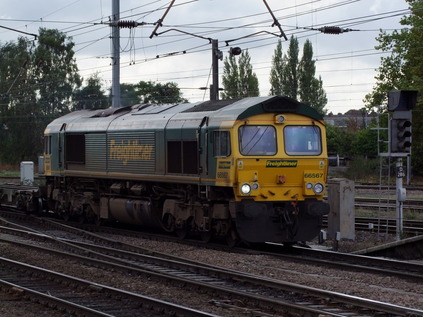 At Sheffield, I had a number of options in getting to Doncaster - and plenty of time to do it. However, once I'd managed to find a cup of coffee at the variety of busy outlets on the station, I opted for the next Northern service. The clouds had closed in a bit, but it was still a decent day outside - despite evidence of earlier rain. In Doncaster, with a couple of hours to spare I decided to head into town, using my new-found knowledge to get to a shop. Plagued by crowds of fairly annoying Saturday lunch-time shoppers today, which of course I'd not met last time out. Found myself trying to decide what a native of Doncaster should be called, and plumped for the completely made up 'doncasteroids'. Back to the station to watch trains - with a fair selection of freight passing, along with some light engine manoeuvres relating to the electric services which would need to be dragged south via the diversion. Interestingly, the four locos which operate the First Great Western diagrams had moved up overnight - so I saw some familiar engines trundling about. Around now, the heavens opened and the clouds which had been threatening trouble for a while delivered a brief but heavy storm. Sheltering on the platform, I still wasn't clear at this point what would happen with the 12:54 to Kings Cross. As it turned out, it was operated by a HST, so no drag necessary for us. However, the important part was the route it took of course. Once on board, found a seat rather too near to a group of Japanese men trying to 'drink' yoghurt from a pot loudly and unsuccessfully. Headphones on to block out the noises, I settled in for the long trip south.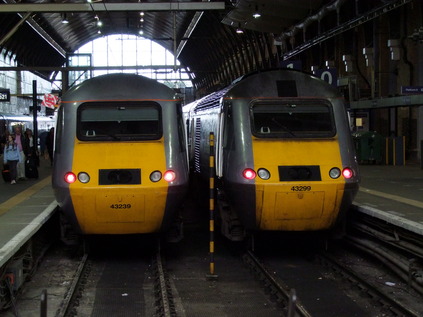 We passed the various yards at Doncaster before taking the short chord onto the Lincoln lines at Bessacarr Junction. The journey from here was rather flat and a little dull - but there was some novelty in covering this track on a busy express service rather than the usual local train. As we headed south, the weather improved again and we passed Gainsborough Lea Road in sunshine. Outside Lincoln, we slewed onto the goods lines and passed through the middle road of the station. There was a sizeable crowd out to see the diversions, and at West Holmes Junction the next Class 67 hauled service could be seen waiting to follow us. The train was able to stretch its legs a little here, and we continued at some speed until we began to slow for Sleaford. Now here was the whole point of the trip if I'm honest. If all went to plan, we'd avoid Sleaford station and the strange 's' shaped curves which link this line to the east-west Skegness route. The Sleaford avoider, now only available in the up direction, has been one of those bare red lines in my atlas for years. As we crept forward and the curve to the station slid out to the west of us, I realised that we were actually going to use the avoiding line. Really only the briefest section of line - but new track nonetheless. Settled back into my seat for the rest of the trip to Kings Cross feeling pretty pleased I'd taken a chance on this given how it had worked out.
Once at the 'Cross, I celebrated with a decent coffee before making a slow trip across town to Paddington for the 19:00 - and a much less eventful trip back than on my last use of this train. It had been a successful day, with mostly decent weather and plenty of opportunity to relax and regroup for the week ahead. Annoyingly, I think my nascent cold is getting worse - at possibly the worst possible time. Having said that, I'll be in Glasgow - and right now and escape seems very worthwhile indeed.
Posted in Updates on Thursday 16th October 2003 at 9:18pm
---
Extremely busy week. Seem to have been dodging around catching up with things at work, out of the office lots, and today at two rather tricky appeal hearings, which went well - but not without a lot of work. Restless day otherwise. Interview tomorrow. Nervous despite all reassurances. Further appeal for Monday means I need to keep my wits about me. Pleasant telephone conversation this evening restores some faith.
Posted in Updates on Wednesday 16th October 2002 at 12:00am
---
Last day of work before customary birthday holidays. Strangely quiet. My worries that colleagues would not understand my reticence on this matter was unfounded, and I confess that I had a very nice day - lots of presents, cards and good wishes. I'm almost sorry I'm not having my birthday on a work day - and anyone who ever worked with me knows what a huge U-turn that is! Later, chilly, bored and lonely. Phoned people. Everywhere out there, little disasters are occurring which make my miserablism look very silly indeed. Decided to drink too much instead. Typical October day.