Posted in SHOFT on Monday 20th June 2011 at 10:06pm
---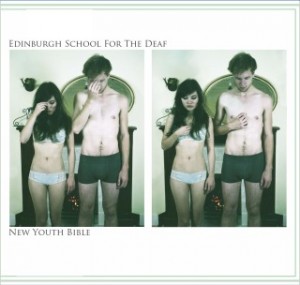 Having returned to attempts to express myself about music after a very long break, I'm sometimes alarmed how easy it is to slip into old, tired cliches with surprisingly little effort. It's particularly worrying because I don't really read much mainstream music critique these days, and certainly the days of waiting feverishly to see who the NME were beknighting are long since passed. However, one enduring and much misunderstood term which I've always desperately wanted to see realigned is that of 'pop music'. Somewhere between the excitement of the sixties and the moribund present day it's come to mean "disposable and universally saleable" rather than carrying any of it's former sense of accessibility or ingenuity. Whilst 2011 has borne all kinds of musical riches to date, it's yet to produce a fantastic pop record - the kind of record which hooks its barbs instantly into the skin and refuses to let go, which merits end-to-end listens on infinite repeat, and which delivers snatches of tunes which wedge themselves into your brain to rear up unannounced later. Whilst it might not be an immediately obvious place to start the search, strangely this album might just be what I've been looking for. Over the next 37 minutes or so, pop is pulled apart, carefully examined and put back together in a slightly off-kilter, but always frighteningly clever and disturbingly noisy way.
Somehow emerging from Ashley and Grant Campbell's previous band St Jude's Infirmary, Edinburgh School for the Deaf appear to have gone through a stage of being known as Deserters Deserve Death before settling into their current incarnation. This band delights in two distinctive and varied voices in Ashley Campbell and Kieran Naughton alongside the ability to select from both a broad, colourful palette of styles and an awe-inspiring, thunderous racket when required. It's also pretty clear that Edinburgh School for the Deaf don't care too much for being restricted by modern genre politics and are happy to play with the idea that being loud, messy and noisy can sit happily alongside more delicate, literary and considered work. So it's with a squall of distant feedback and a fanfare of overdriven guitar that "Of Scottish Blood And Sympathies" is unceremoniously announced. Things soon resolve into a gentle strum, with Ashley's voice delivering strange, devotional lyrics. Then things simply erupt - martial drums and guitar so loud it seeps into every corner of the mix. Clocking in at a little over seven minutes, this is hardly the snappy punk blast I'd been led to expect - but as layers of guitar add a strangely shoegazey texture to things, it just gets bigger and bigger. It's a strangely fitting opening chapter to a record full of surprises, and not nearly as easily pigeonholed as perhaps you'd expect. There's more of this gloriously hazy, discordant noise on "Eleven Kinds of Loneliness" but this time it's coupled to a gorgeous sweep of a pop melody with swooning, breathy vocals. It's short, almost to the point of incompleteness in a sense - but I can instantly forgive this as it collapses into the storm of "Thirteen Holy Crowns". A relentless distorted and driving bassline is slung beneath a serrated guitar melody and Kieron's eerie baritone vocals. I can only apologise in advance for describing the combined effect as Joy Division providing the theme tune for a Gerry Anderson TV show while Black Sabbath jam next door. The result is blistering, ear-splitting and very, very effective indeed. In fact I'm going to pop the track down below, and I'd urge you to listen before you castigate me for that painful description!
Once again Edinburgh School for the Deaf manage a chameleon-like change of skin for "All Hands Lost" which introduces a warped country-pop element to proceedings. Whilst I bang on endlessly about avoiding comparisons I've done incredibly badly so far - so I'll unashamedly express my sheer joy at hearing the wonderful and long-forgotten Renderers buried in here. Ashley's voice mutates once again, behind an explosion of distorted guitars. Not the first time, the off-kilter noisy pop music of New Zealand springs to mind when listening to "New Youth Bible", and "Lonely Hearts Beat As One" revisits this territory later albeit with a more abrasive, fuzzed-up edge. "Love is Terminal" stutters into life like Beat Happening with a heartbeat of primal drums, but ultimately owes more to New York than Olympia. It's infectious and captivating - and it's nearly impossible not to howl along with this urgent, punky mid-album squall. And who couldn't love a song which pauses it's relentless rant to announce "chorus!"? Stepping down a gear in the sonic stakes but edging up the social satire dangerously, "My Name Is Scotland And I'm An Alcoholic" introduces a discordant violin and a quietly intoned spoken-word over a gently strummed acoustic guitar, but even this most delicate of openings builds eventually into a wall of noise. After this curious interlude, huge Motown drums and spluttering, angry guitars herald a return to the mission of de-constructing pop music song by heartbreaking song. "The Memory of Wounds" has a menacing hint of Joan Jett and The Blackhearts meeting The Jesus and Mary Chain, as the ever-versatile Ashley becomes a coolly disinterested rock goddess for the duration of this number. Closing track "." - and yes, that's just a dot between those quotes - is a closely observed study in guitar, glockenspiel and violin. A fragile melody supports an aching, melodramatic lyric and in any other circumstances, closing an album like "New Youth Bible" in such an understated way might not work. But, perhaps unsurprisingly now, Edinburgh School for the Deaf pull it off amazingly well.
Sometimes, its all too easy to throw around terms like 'pop music' without the tiniest hint of irony - and I'm very much guilty of that at times. But I'm also sure that my idea of pop music is somewhat distant from the unchallenging, underwear-flinging variety favoured by the over-excited hordes of hormonal Take That fans I encountered on the train last week heading for the stadia of southern England. So perhaps when I speak of pop I'm talking about immediacy, brevity and an ear for melodies which embed themselves into your memory the second you hear them? Sometimes Edinburgh School for the Deaf are all of these things. Sometimes they staunchly refuse be any of them at all. But "New Youth Bible" is a succinct, targeted blast of a record which establishes them as one of the most exciting bands I've heard in a long while. It's also an intelligent, broad and ambitious listen delivered entirely on the band's own terms. However, I maintain it's easy to forget there is a brilliant pop record somewhere in here, which is sometimes hidden behind the walls of feedback and beautifully impenetrable noise you'll crash through while exploring. The journey is definitely worth the effort.
"New Youth Bible" is out now on Bubblegum Records.

Edinburgh School for the Deaf - Thirteen Holy Crowns
Posted in Railways on Sunday 20th June 2010 at 11:51pm
---
Another very civilised start meant time for a leisurely stroll down to the station, enjoying a decent coffee and watching Inverness slowly waking up on a sleepy Sunday morning. The day was already warm, but with overcast skies - particularly to the north where we were headed. Arrived at the station to find the stock already in the platform, and took the opportunity for another snap of these workhorse locomotives as they waited to head up into the far north. Today's trip was, on paper, fairly simple - a run up to Wick, a reverse to Thurso and back to Inverness. A long haul, curving back and forth through the Highlands, with a late return to civilisation.
We set off by retracing yesterday's steps over Clacknaharry Swing Bridge and through Muir of Ord to Dingwall, before taking the far north line and turning east to follow the shore of the Cromary Firth. Swinging north again, we hugged the coast once more following the narrow band of settlements which crowd along the coastline here, through Tain and around the end of the Dornoch Firth, before taking a great loop inland and back out towards the coast. Almost doubling back on ourselves, we again found the east coast at Golspie and stayed alongside the North Sea as far as Helmsdale. Here, at the foot of the Highland Mountains, we paused. Took the opportunity to cross to the other side of the track and take some shots from the lane alongside the Network Rail yard. The wind was whipping in from the sea, and a few spots of rain had begun to fall. Great black and grey crowds rolled overhead and the sense of being somewhere very remote and far from home came over me suddenly. The village of Helmsdale is a little way from the station, so I didn't get to see the monument to those who emigrated during the Highland Clearances. Once back on board after some fine, atmospheric photographs had been taken, I accidentally initiated a bit of a discussion on the clearances too. Interestingly, as we headed inland into increasingly bleak terrain, a hush descended on the train which had been a very sociable affair until then - hopefully not as an effect of my historical ramblings.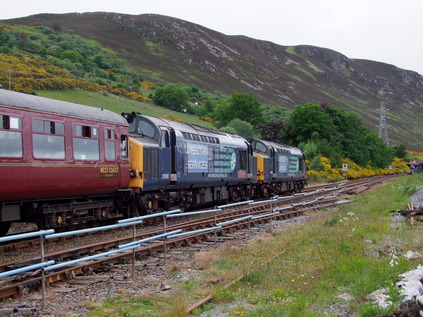 With the barren Highland countryside slipping by, I thoughtfully sipped hot coffee and wondered where the strong June sunshine had gone. People seemed to be staring out, almost transfixed by the emptiness, broken only by the battered snow fences. The small settlement of Halkirk, devoid of a service since the 1960 cull of stations on the Far North Line, slipped by and we were soon arriving at Georgemas Junction. Nominally serving Halkirk, and for many years the point where trains split to form separate Wick and Thurso portions, the station is in a grim, empty situation with a small building maintained for the use of rail workers. Here our locomotives were separated and ran around to top and tail the train on the next sections of route, and this allowed some time for the passengers to scatter down into the expanse of waste ground to get some fine pictures - my own less skilled efforts will no doubt appear below too. Noted the felled container gantry, a vestige of a short-lived project to bring supermarket produce north from Inverness. By now a steady drizzle was falling and black clouds were tumbling over the hills will alarming speed. In just a shirt, having recklessly left my coat back in Inverness I could feel a keen wind whipping by. Despite the chance to stretch my legs and exercise my camera, I wasn't sorry to get back onto the train and press on with the short journey towards Wick.
Having visited Wick before, I made a familiar wander into town, via the local supermarket and newsagent. As a wet Sunday afternoon headed towards evening, the town was quiet and empty. Straggling groups of passengers from our train could be seen wandering around this slate grey outpost, grateful to be on terra firma after the long trek north, but just slightly bewildered by how quiet the town was. After making a 'phone call home I headed back to the station where the leading loco was noisily filling the small wooden trainshed with diesel fumes. Time for some pictures before getting back on board to await the returning passengers and head off once again. Passing through Georgemas Junction once more, we headed along the line to Thurso - the most northerly station in the British Isles, and somewhere which I'd not really explored on my last trip here. The line swung into town beside the river, and the town looked sizeable - perhaps a little bigger than Wick. Once out of the station after a few symbolic shots of our loco on the buffer stops at what is truly the end of the line, I walked into the town. With no real plan, I found myself heading down the main street and onto the short stretch of sea front. There on the shore I could see the North Sea crashing on the nearby rocks, and despite the gloom and threatening clouds there were good views of the ferry port at Scrabster and the distant shadow of Dunnet Head, the most northerly point of the mainland. A father and son who'd travelled up sat nearby on a bench, silently contemplating the end of the line with me, and I couldn't help but call to mind the Frightened Rabbit song Swim Until You Can't See Land and wonder if it was written nearby? Turning back towards Britain I noticed that the sea front here was different to the usual resorts which proudly face out towards the ocean. The view here was of back gardens, washing lines and quiet, closed windows. Thurso faces inwards, huddled against the cold and the dark seas. A walk through the town confirmed how quiet and empty the place was - though it's probably unfair to judge anywhere on a Sunday. There was, for example a little buzz of life around the Cooperative Food store, where I had a pleasant talk with the cashier about the longest day of the year. She parted with a pleasant "see you again" but I supposed there is no likelihood or reason I would? I realised the strange atmosphere of these northern climes and the symbolism of the journey all the way to the end of the line was getting to me. I bought local beer and headed back to the station through the deserted town, just as a fancy dress party spilled noisily and colourfully out of a bar and onto the street.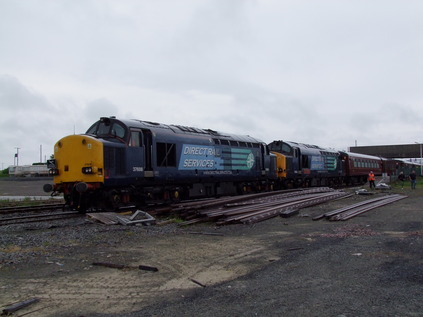 After another journey back to Georgemas Junction and a further run around and complicated shunting manoeuvre we were soon underway again with the locos double-heading southwards. It was interesting to note people gradually regaining their exuberance as we returned slowly to civilisation once again. Despite being a fairly rational creature, I strongly believe that place and space has a surprisingly marked effect on us, and there is something crushing and quietening about the journey to the Far North. Perhaps I think too much about such things, but today was as much of an experiment as I'm ever likely to be able to perform to prove my theories. As we repeated the traversal of the Rose Street Curve and propelled into the platform at Inveness on time and at a little before 23:00 still in a fair amount of daylight, I recalled that I last made it to the network's most northerly extremities back in 2006. On that occasion
not everthying went to plan
but I note I recorded a day of 'mixed fortunes and lasting impressions'. Today's excursion amplified those impressions - a fine day of interesting travels and complicated thoughts, and a fitting end to the time in the Highlands.
Posted in Updates on Wednesday 20th June 2001 at 12:00am
---
A really bloody irritating day. Woke up way to early after not enough sleep. Tried to do useful things but couldn't make arm comfortable. Read lots during the day, but this was equally uncomfortable. Cheered up by one of my favourite movies ("Witness for the Prosecution") being on TV. Perhaps I just can't get used to normality after the drama of the past few months?
Posted in Updates on Tuesday 20th June 2000 at 12:00am
---
I'm back after a frustrating weekend which saw my hard drive pack up entirely. Firstly, I'm amazed how much of the configuration process of this box I've remembered, and a lot of the problems I've had have been with tidying up after well-meaning "make it easy" installation tools etc! Anyway - all should be back to normal now...