Posted in Railways on Saturday 20th August 2011 at 10:51pm
---
I'm beginning to see how this strange hobby of mine goes in cycles. Last week saw me needing to turn lost days and cancelled trips into something of a coherent journey. It didn't work hugely well, and there were times when the need to be somewhere else without purpose made me pretty miserable. But this week, I'm back to the idea of being somewhere else without purpose for fun. When travelling, and the experiences and thoughts it throws up are the backdrop to pretty much everything I do, perhaps I should just embrace these periods of strangely dull eventlessness, and enjoy the strange opportunities they engender?
Take this week for an example. A trip without a destination as such - setting off early, a pleasant wait at Temple Meads for a train to Salisbury. The route less travelled onto the Southern as it's usually so busy, but pleasantly bearable at 07:23 on a Summer Saturday. A quick switch at Salisbury onto a London-bound unit, and again the route less travelled via Andover to Waterloo. I doze, listen and read - it's bright and sunny out, and it's nice just to be going in a direction I don't often travel nowadays. Once, when it was the cheapest way to get to London I used it a lot, and accepted the shorter day I'd get in the capital. Even today, oddly, the first class fare was cheaper than the standard. Zooming through Woking and the suburbs reminded me of a railtour to come, and got me pondering where to head on arrival.
On getting to Waterloo I made something of an error and headed for the bus far too early. I should have hung around the busy station a little longer. Instead, hoped onto a Euston bound service - but thought better of it at Tavistock Square and alighted to get coffee in the same spot I'd visited a week or two back. Quiet, and frequented by Spanish tourists who tumbled out of the cheap and cheerful hotels around the area, this was an odd, high-windowed spot where people watching was confined to indoors. Wrote and thought a bit, getting myself a little down in the process. Was this strange pointless dash what I was now confined to? Would the next few weeks be just as oddly lacking in direction? Decided to stroll into the area I've grown to love around Judd Street and up to the Euston Road. Could happily have gone further, but decided that it was time to visit the station. Shopped a bit, finding a new convenience store into the bargain, then headed down to the platform to see the London Midland service to Crewe arriving.
These slow services on the West Coast have intrigued me for years. In Silverlink days they were split into two separate services at Northampton, with few travelling through to Birmingham directly. Now there is a more interesting pattern, with units being uncoupled and heading for Birmingham, while the rest of the train heads along the Trent Valley, calling at smaller stops before taking in Stafford, Stoke and the loop back to Crewe via Alsager. The new, fairly nippy Class 350s are comfortable enough - but begin to get a little hard on the back after a couple of hours. Nevertheless, had a lazy run along the coast, seeing scenery I miss from a Pendolino porthole. Arrived at Stafford to find it quiet, but heavily Policed - later realising this was due to the Weston Park arm of the double-venued V Festival. Did something I've never done before, but which these less focused trips facilitate, and wandered into Stafford. Greeted by a beautifully well-kept public park surrounding the canal with an ornate bridge, then a walk between impressive civic buildings, a church and overhanging black-and-white town houses into the pedestrian area. Little there to distinguish it from other places, but a pleasantly busy town nonetheless. Wandered a little and thought about stopping for coffee, but I only had an hour - so the station seemed a better bet. Arrived to find the coffee machine broken, so ended up nursing a hot, weak cup of tea and listening in to the Police chatting about the festival.
The train home arrived on time and surprisingly quiet. Found my seat and settled in for the journey home, early than usual. The clouds closed in a little which created some spectacular sunset scenes as we headed into the golden glow over the West Country. On reflection, it had been an interesting and relaxing day. Isn't that, after all, what it's all about?
Posted in Railways on Sunday 20th August 2006 at 10:15am
---
Finally did something I've considered doing for years - wandered down my road, through the site cleared for our new Asda, and onto Springfield Road foot crossing. I've watched people taking pictures of the Torbay Express here, when I've been up on the bridge by the station for the past couple of years and always wondered how accessible the location was.
Because no one ever seems to tire of steam pictures, and because it turned out rather well, here's yet another shot of 6024 thundering past Highbridge, taken from Springfield road. I wonder whether this shot will be possible when the new supermarket is built?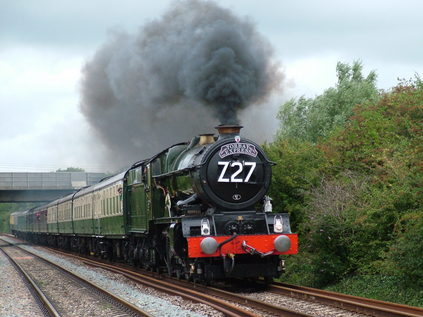 Posted in Updates on Saturday 20th August 2005 at 12:41am
---
It's been a turbulent week, and frustratingly I can't share the most important developments yet - especially since I know I've recently gained new readers. Suffice to say I'm having a small private celebration here with a drop of Laphroig and some music.
I hope that in the coming week I can share a little more about what's coming up - new challenges, some of them seemingly impossibly tricky. Most of all, I've finally proved to myself that I'm capable of moving ahead, which has been a long time coming.
Posted in Railways on Friday 20th August 2004 at 9:14pm
---
Since it was no longer necessary to attend court today, I took advantage of the remaining day of a rover ticket for some of the usual Friday fun! Out on the 1134 from Weston which was unusually held at Parson Street Junction. Didn't spot any obvious activity on the Portbury branch to warrant this. On arrival at Temple Meads, spotted 31452 and 31106 on the up through, waiting to head out south, and back into Platform 15. Finally got a better picture of 31106, showing its lack of headcode box - hence the 'skinhead' appellation.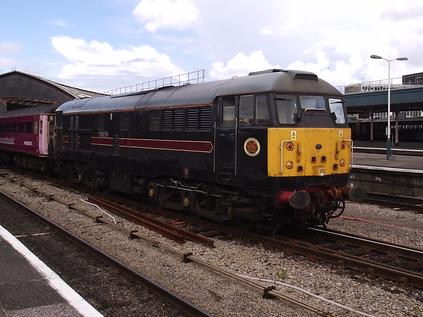 Left Bristol on time, and made good progress in rather wet conditions. About two minutes down at Salisbury. Had thought about a wander around the cathedral, but given the weather decided to press on to Southampton. Decided to head back on the Wessex Cardiff/Penzance service which splits at Westbury. Hugely crowded, and some confusion about which part of the train people should be in - despite very clear announcements. From Westbury, stayed aboard 158865 for Taunton.
Long cold wait at Taunton for the 1756 back to Weston. Lots of platform switching going on to accomodate late running Virgin and Great Western services. During all this 66052 arrived with 6V70. My record of trying to get pictures of freight workings is pretty appalling, but this one was moving just about slowly enough to catch it.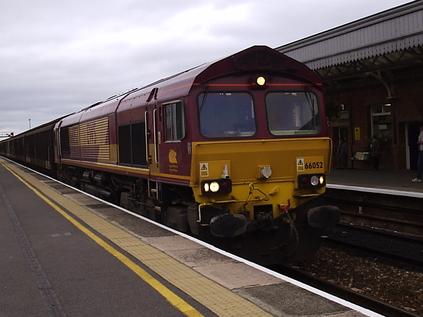 Back to Weston on a heavily loaded 143611, which mercifully didn't pull its normal trick of failing when I'm anywhere near it!