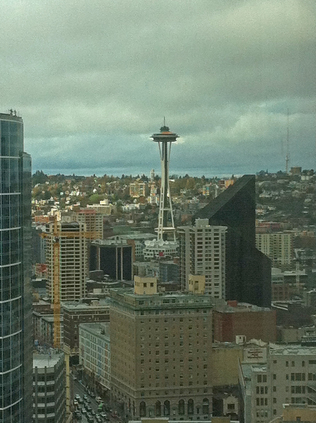 Posted in Updates on Tuesday 23rd October 2012 at 3:10pm
---
Lots of things have been changing over the past few weeks. Subtle at first, then strange and rapid - I've found myself plunged into a very different world. At first it felt tenuous, unlikely and fragile - but now, after a 10,000 mile round trip and a magical weekend, it's all making a reassuring but still incredible kind of sense to me. Lazy, hot walks along Olympic waterways have solidified thinking which seemed hazy and indistinct at first, and a damp morning pacing the grounds of Birmingham Cathedral cast the die. Things have changed beyond belief.
Somewhere during the last twenty-four hours, between leaving SeaTac and departing from Schipol, I realised that life was suddenly moving much faster. After a long period of treading water in a comfortably pleasant way - maybe even years of it - I was being challenged. There's every likelihood that up to now, I'd have let the opportunity pass by like many others. But this time, I know I can't. This is far, far too important...

Posted in SHOFT on Saturday 23rd October 2010 at 11:23pm
---
Even in my youth I don't think I managed to go to four gigs in a row. This thought dawned on me today, as I lingered over a coffee and felt like I was properly on holiday for the first time in years! However, if there has been one aim this week, it's been to capture as much of the energy, diversity and quality as I possibly can from the complex and confusing music scene here. I've been an admirer from afar from more years than I care to remember, but of course way back in the 1990s it was near impossible to be exposed to the diversity of music which the internet and decent connections allows now. So, despite my advancing years and dwindling stamina, I'm pretty excited about music again.
So, tonight was Pivo Pivo's 10th Birthday celebration. This cellar venue near Central Station has hosted an incredible range of talented folks over the past few years, and it's hard to believe that it's a decade since the venue opened. Tonight started gently though with widely-tipped singer-songwriter Alex Cornish. There's no doubt that he's a talented guy with an ear for a radio friendly tune - which his recent BBC Radio 2 session is testament to. But for me it's all just a little too easy, and lacks an edge. A Dire Straits cover is a step too far, and appears to be done with no sense of irony. It's interesting to compare this to the young acoustic acts who played at the 13th Note a couple of days back - and to realise that they really want to be heard. Having said that, Alex closed his set with a song which featured a rather fine violin loop. I'm a sucker for violins, but I can't forgive 'Brothers In Arms' even for that.It just wasn't for me.
Next up was Andrew Jones performing without a band tonight, but for the first time with a female co-vocalist. She was nervous it was plain to see, but her crystal clear and pure voice worked beautifully alongside Andrew. Whilst not a million miles from Alex Cornish, the sense of purpose and self-belief was much more evident, and we got a witty and charming set, the highlight of which was 'It Happened Another Way' - a cautionary tale of bookshop literary romance which I'm sure many will relate to, the current writer included!
And so to White Heath. I've tried and failed to describe this band before - and I'm not sure I'll succeed now. They shamble on stage, a collection of rather slight, somewhat geeky young men of the sort you'd expect to ply Oasis covers at a sixth-form disco. And then all hell breaks loose... Eschewing a traditional rhythm section, trombone and a single bass drum are used to startling effect. Over this piano, guitar and violin are laid, building an epic - almost filmic - sound, which occasionally hints at eastern and oriental influences. As a second song, without pause the band roar into 'Election Day' from their debut EP, the vocals turning into a pained, plaintive howl while the trombone tries to take the song into Eastern Europe or the Middle East. '7:38am' and 'Leviathan' follow with Sean Watson promising "some pop music next". We're not disappointed, as the band romp through the comparatively sunny 'GG' before returning to their apocalyptic roar with 'Blue'. The crowd can't respond favourably enough, and the band are clearly touched by the response. Now signed to the legendary Electric Honey imprint (who have previously championed Belle and Sebastian, Snow Patrol and Biffo Clyro among others) critical acclaim and widespread exposure can't be far off for this remarkable and truly original band. I'm so pleased I was able to see them.
As I stumbled back to my adopted home for the week via a guilty visit to the Blue Lagoon, I reflected that I'd been somewhat spoiled for music this week. However, all being well, the run of fine Scottish music won't stop just yet with Kid Canaveral due a visit to home turf next week! It's been a varied, enjoyable and tiring week - and I only wish it could continue!

Posted in Railways on Saturday 23rd October 2004 at 8:10pm
---
A damp, dark morning. Since my itinerary for last week had not included Wales at all, I decided to repeat my trip of almost a year ago, and head for Rhymney. I could, at least, be assured of some Class 37 haulage up the valley and the chance to wander around Cardiff Central for a bit.

Quick change at Bristol, onto a rather busy Cardiff-bound 158. Bang on time, and rather loudly, 37402 arrived. I'd wanted a ride behind 'Bont Y Bermo' for a while, so I settled in for a very wet climb up to Rhymney.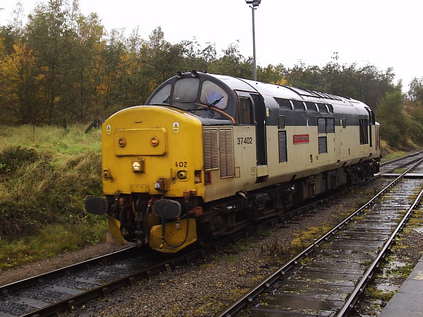 37402 'Bont Y Bermo' at Rhymney
Braved the rain on arrival and hopped out for a photograph of the locomotive as it ran around. As expected, the journey back to Cardiff was much busier. Passed by 37422 and 37425 on the way down. A rather extended stop at Queen Street for a unexpected attempt at changing crew, and back to an ever wetter Cardiff.
Onto the 1300 back as far as Bristol. This also hung around for a while at Cardiff - seemingly down to fitters attention to a jammed window in the drivers cab. On arriving at Bristol, wandered around a little. Very gloomy and quiet. Watched the Weymouth 31's leave, and chatted to a fellow enthusiast for a while.
Not sure if it was the after effects of last week, or the wet weather, but a rather quiet and subdued day.

Posted in Computers on Thursday 23rd October 2003 at 8:15pm
---
The new GtkFileChooser landed in CVS. Tried it out. So far it seems pretty solid, and a huge improvement. No doubt it won't be quite what some people want, but it appears to be scalable, extensible and flexible - three major improvements on the old model!