Posted in Highbridge on Sunday 27th January 2008 at 4:01pm
---
Friends and regular readers will know that politics (at least in it's door-knocking and rosette-wearing form) hardly gets a mention around here, despite my long held interest. But I've had a few messages from friends concerned about my apparent political about-face, and more particularly about me ending my troubled relationship with the Labour party. I've always admired people who could stick with a football team, however poorly they were doing. The dogged, rather wonderfully British ability to plod headlong into adversity is always good to see in action. However, things have been going from bad to worse for my chosen party for a while now, both locally and nationally - and there has to be a point in politics where the emotional attachment to a romanticised, golden past gives way to a wish to actually do something useful to prevent your area from entering a terminal decline.
I don't know how this little plan will pan out quite yet. I've spoken with a few people locally, and I think for now I'll concentrate on my concerns regarding transport and development control here in Highbridge. In both I can claim some real local knowledge, and an understanding I think of what people here really feel is wrong. I certainly don't plan to make this page some sort of 'local politics' blog, because that sort of thing seems to exist elsewhere in a rather different form. But from time to time, I might post about how Highbridge is changing from my point of view. My site has always described me as a mixture of Victorian high Tory and half-hearted Marxism. As far as social justice, sustainability and responsible administration are concerned, the balance sometimes has to shift.

Posted in Updates on Saturday 27th January 2007 at 10:42pm
---
Caught the train up to Redditch after work yesterday in order to be here for the Redditch & Bromsgrove CAMRA Beer Festival, at an old family stomping ground - the Bridley Moor and Batchley Social Club. Spent much of the morning persuading my uncle and cousin who were to accompany me that getting there for early doors would be a good idea! Finally convinced them and we were the first paying customer, soon followed by a huge crowd which I think surprised and impressed them both. A total of 43 beers on offer, with eight ciders and perrys too meant lots of choice. My cousin was lured by the promise of Harwich Charter Ale at 10% ABV, taking the plunge early! Local brewery Wetheroak had brewed an ale specially for the festival - Rubeo Fosetto (apparently Redditch in latin?) which was interesting but not a favourite.
I think both my relatives are now convinced of the merits of the beer festival, and after a steady day of tasting and discussing things took a turn for the strange. My uncle decided he could only sample beers from the lower reaches of the alphabet because the gruff Scotsman with military connections at the top of the bar was scaring him! A couple of the excellent filled rolls supplied by the Club were in order, and we set off for more tasting. A surprising number of locals appeared, interested in what caused the cancellation of the Bingo last night - but I was really pleased to see lots of people coming in by bus or train from more distant parts of the Midlands, particularly since by accident of venue availability this festival was competing with another in Burton-on-Trent.
After meeting some decent folks, talking like idiots and in total tasting or sampling 29 of the 43 beers on offer, we left in the early evening. Some opinions had definitely changed - my cousin in now a fully paid up CAMRA member and there are plans afoot for Tuckers Maltings in April. A very civillised way to spend the day!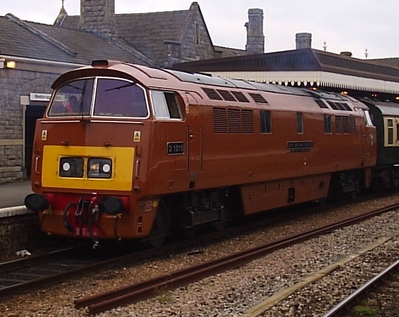 Posted in Railways on Thursday 27th January 2005 at 10:40pm
---
Slipped out of work this morning to watch the first visit of a 'Western' to Weston in something like twenty-eight years! Quite a crowd in evidence on arrival. Wandered over to Platform 1 and waited for a terminating unit to arrive. D1015 arrived just a few minutes later, after what had been a troubled journey from Gloucester.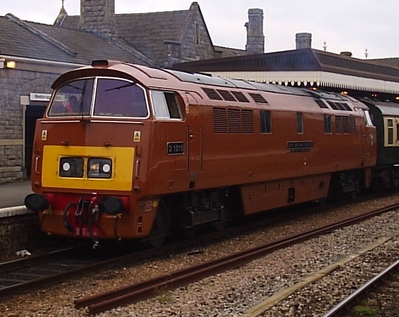 More trouble here too - with a planned 1109 start slipping to 11:39 due to a recurring TPWS fault which dogged the train for the rest of its journey.
Back to the station a little before 2200 to see the return trip. Things ran a lot more smoothly this time. Absolutely thunderous start from Weston - which even managed to drown out the Police helicopter which was hovering ominously over my house!

Posted in Updates on Monday 27th January 2003 at 12:00am
---
Heard that my application to rent had been approved. Much relief - for about 30 seconds before total panic sets in. Began packing in earnest. Work insanely busy with Secondary School Allocations. Learning lots, but feel I'm not proving my worth.