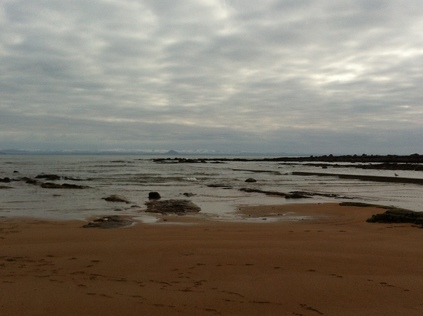 Posted in Travel on Wednesday 10th April 2013 at 11:39pm
---
Way back in early January, around the time that Fence Records usually announce their annual event, things were moving pretty fast around here. As we perused the invite - as ever lacking much in the way of hard information on who might actually be playing - we decided we'd head for Scotland. It was something to aim for - something which stretched out beyond the immediate pangs of separation and the stress of dealing with immigration. I booked the usual spot at The Waterfront, and fired off my payment for two tickets. Then the whirlwind of February and March arrived, and I almost completely forgot about Gnomegame. It felt distant, a long way off, but every so often when things got a little tough or challenging I'd think about Anstruther harbour. It seemed like a noble and fitting way to end a difficult chapter.
So, we found ourselves setting out on a freezing March morning with a flurry of snow gracing our departure from Bristol Temple Meads. Our first leg was an easy introduction - a spin up to Birmingham to overnight, take in some of the significant places for us, and then press on refreshed in the morning for the long trek up to Fife. It wasn't an easy journey, dogged by illness and with a strange gloom over proceedings, we made it to the building site which is New Street Station and found somewhere to eat. Feeling better we made our way to the Premier Inn. Birmingham wasn't altogether different to the previous visit last October where I'd made some very significant phone calls. Realising I hadn't been back since was something of a shock - I'd passed through the city almost weekly at some points over the past five years. I felt oddly groundless, and rather unreal. We stalked the depressing chain restaurant landscape, finding surprisingly good views across the city. It was a strange night to be here.
Setting off early in better spirits and with renewed vigour, we took an early train which wound along the West Coast, taking in sights familiar to me, but excitingly new to others. From the industrial Midlands, through green Cheshire, dark Lancashire and to the open vistas of lakeland mountains, it all appeared to be basking in sunshine we'd not seen for weeks. As we slowed for Carlisle I sent my traditional check-in text home, and we marked the passing into Scotland with coffee. Bearing right at Carstairs, I watched the awestruck response to the bulk of Edinburgh Castle appearing above - and in the fresh sighting I managed to renew my own view of it too. Waverley was busy and chaotic as ever. We settled in for coffee and talked about the trip so far. There was no doubt it was a little overwhelming, maybe too much - but there was excitement and new sights ahead. So, we pressed on over the Forth and into the Kingdom of Fife.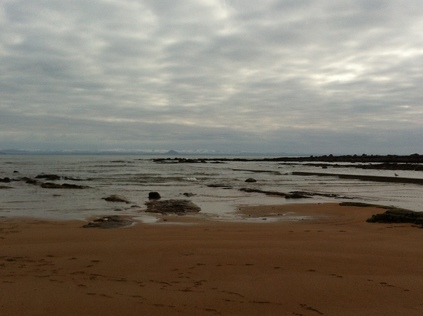 We arrived at Anstruther in something of a traffic jam. The village gets pretty busy in the summer months I know, but this was unseasonal. Finally off the bus - and with another bus still squeezing by ours - we headed for The Waterfront where we'd been assigned a huge room at the top of The Old Bakehouse. Well worth the climb up stairs, and just as comfortable as I remembered it. After checking in at the Town Hall we headed out to the Harbour for ice cream and locally caught fish and chips. The sky was a typical tumble of clouds and patches of blue - it was, in short a perfect Anster evening. We reluctantly made our way back to the hotel - but only because it was time to head for Legends nightclub. Gnomegame was underway...
The weekend becomes a blur of activity here - that first hot, sweaty Legends evening of the mighty Book Group and Cancel The Astronauts, followed by a morning bus ride in wonderful weather out to Pittenweem for churchyard exploration, then to St.Andrews. Picking around the ruins of the Cathedral, eating bridies from Fisher and Donaldson, and exploring the little town all over again was just wonderful - and this long planned trip, although fraught with little worries and issues, was turning out to be pretty special indeed. As dusk began to creep through the tiny streets, we headed for the Town Hall for Saturday night's musical entertainment. The absolute highlights were Randolph's Leap in chaotic but wonderful full-band mode, followed by a shockingly fantastic set by Kid Canaveral. I hadn't seen them for quite a while, and the new material which had been edging around their set for some time has solidified into their new record - and into perfect live performances. We left a little early, a few songs into The Pictish Trail's set with The Massacre Cave backing him. It was a glorious night to walk along the harbour back to the comfort of the Waterfront.
Sunday dawned clear but blustery, and we managed breakfast and coffee before wandering down to the Waid Academy Rugby Club for a very special recruiting event courtesy of the Anstruther Improvements Association and the mysterious Alter-Ego Trading Company. The ulterior motive was to get to see Gummi Bako, Lidh and finally King Creosote in a tiny, intimate - and incredibly hot - venue. A little more of the strange story of his departure from his own label was revealed, along with a rambling, not even nearly true account of how he broke his ankle. We skipped a little music after this wonderful afternoon session, with me resurfacing for Malcolm Middleton at the Town Hall, and both of us making it right to the front for a spellbinding, energetic performance from James Yorkston. We shuffled out happy, cut price F&D fudgies in hand, it had been quite a weekend.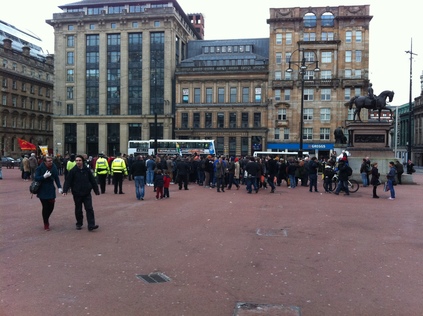 Leaving Anstruther is always tough for me, and I think it had made quite an impression on both of us. After another fantastic breakfast and a final coffee by the harbour, we packed up and hopped onto the bus back to Kirkcaldy, then the train to Edinburgh. During the trip we began to get inklings that Margaret Thatcher was either very unwell or had died - but the one place I thought might be first with the news wasn't updating! The destination was Glasgow - my first visit since last October's strange rediscovery mission, and an interesting experiment. I'd had some shockingly bad times when I'd advised or accompanied friends here before. My odd love for the place doesn't seem to translate well at all. First we had to undertake a little admin, which involved a visit to the Yeeha Internet Cafe. Up three floors in a tall, city centre tenement building, this wasn't an easy ask with a heavy suitcase - but they were helpful and we got our business done swiftly. Once checked in at the new Premier Inn and rested, we wandered out for a walk to George Square. Any doubts we might have had about Lady Thatcher evaporated - there was a George Square Thatcher Death Party in full swing - as predicted by Mogwai. It was odd to watch this rather empty, desperate attempt to celebrate stumbling from dodgy folk song to bagpipe serenade. Having lived through the Thatcher era, having suffered from the cuts and the social stratification it created, it was strangely unsatisfying to see this. A bunch of people - most young enough to have never seen the lady emerge from No.10 themselves - dancing because of the death of an old, sick woman. We lingered, watched the police arrive and intersperse themselves within the crowd, listened to a Liverpudlian folk singer destroying the Beatles' "Maggie Mae" in the name of Socialism, then we wandered off. It was an odd introduction to the city.
After a fine sleep in the new hotel, we headed out for breakfast, and then onto the City Tour Bus. It was a mild, bright morning - ideal for the spin around the sights - but the clear weather also had the odd effect of rendering the more open sites in Glasgow strangely bleak and empty. For me, this was the city I loved and one of it's quirks was on show, but it was interesting to note how it jarred with other sensibilities. We headed back for a decent Italian meal courtesy of Dino Ferrari.
Our last day in Glasgow culminated in something of a surprise - we'd managed to get last minute tickets to see King Creosote again at the Oran Mor. After a jaunty introductory set by Gummi Bako, Kenny took to the stage with Captain Geeko The Dead Aviator, and they played through a long, relaxed set which might just have been the finest I've ever seen him. Drawing on all eras of his output, including some new songs from the benefit CD he has produced for the Scottish Fisheries Museum Boat Club, he seemed happy and content to keep playing. The audience was warm and welcoming, and we were rewarded by another even more absurd take on how he broke his ankle and "sacked himself from his own record company". I realised during the set just what a privilege it had been to get to see this in such a tiny place last weekend.
With King Creosote's last notes still echoing in our ears, we headed back to the city on the bus. It had been a curious trip - with moments of absolute contentment, minor difficulties and lots of memorable moments. Having planned this back in January, while heading for a sad and difficult parting, it was interesting to compare how things were right now. This trip to Scotland was a reward for our persistence and doggedness - and it was a fitting one too.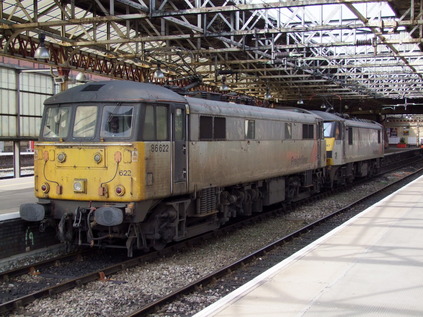 Posted in Railways on Saturday 10th April 2010 at 10:02pm
---
Last week I speculated on how today's trip could all go wrong if 1M21 didn't perform. Its always been a reliable, useful train in the past and despite it's unplanned meander via Bescot last week, it generally delivers. Then again, so main things which normally work out didn't today! It was always going to be a bit of a shaky start - after stumbling back to the station about five hours after arriving home from the ASIWYFA show in Bristol. Still, resolved to have a relaxing ride up to Manchester for starters and maybe sleep a little too. The unit to Bristol gave cause for concern at one point - after a long stand at Uphill Junction the guard asked if anyone was headed for Weston. So it seemed they were planning to use the mainline - which would have probably mopped up any lateness. In the event, the broken down train which was blocking the platform was restarted and we continued our journey about 10 late. No big problem, and still plenty of time to get breakfast and settle into my seat on the 07:00. The day was shaping up to be warm and sunny, and the train was on time. I had a niggling doubt about getting across Piccadilly to the far-flung platform 14 in time, but that wasn't yet a big worry.
Then it all went wrong... As we cruised up the Lickey, the guard announced we'd be terminating at Birmingham as there were no staff for the onward service to Manchester. Everyone going that way should use the 08:57 service. So, with plans in tatters I made a quick dash for the Customer Reception at New Street - they were sure to help I thought, with only a two-hourly service from Manchester to Carlisle I was hoping they'd pass me on a Virgin service northwards which would get the day back on track. However, I was met with utter confusion:
XC Person: Why would you go that way?
Me: Well - it was cheaper and the connections were easier from my home station.
XC Person: But why?
Me: ...explained the route in a bit more detail.
XC Person: But it's not our fault you can't get a direct train from Manchester to Carlisle!
Me: Indeed not, but it is your fault I can't get to Manchester as booked.
There was plenty more - and then another XC person, who barely stopped short of accusing me of some sort of terrible fraud in trying to get a cheap ticket on a Virgin service! I pointed out that the whole situation stemmed from Crosscountry terminating their train in fact. He retracted his rather strange view, but stressed how they had to be so careful with these Advance Purchase tickets, and that I really shouldn't expect to be able to travel a different way using them. Again I pointed out, trying to stay calm, that in fact I'd tried to travel on exactly the trains my tickets were valid for but that his company had failed to operate the trains as advertised. He changed tack a bit, and suggested I travel two hours later - I pointed out a couple of issues - firstly, I had advance purchase tickets going home too and I'd not then make the trains I was booked on. "Hmm" he said "I can't really stamp those for travel on a different service". OK, and even if you could - there won't be a connection to my home station two hours later as I'll miss the last train. "Not our job to get you home in those circumstance Sir". I reassured him I didn't think it was and clarified the position - he'd stamp my tickets and I could get to Manchester on a later train. Then I could hope that Transpennine Express would let me travel on the next Carlisle service in two hours. However, I'd then miss my return trains and not get home. So I could either not travel and wait until the 17:06 Manchester-Bristol train as he wouldn't stamp my homeward tickets, or shell out for a new Birmingham-Carlisle or Birmingham-Bristol single.
XC Person: um, well, yes. That's it really. But you could write in and they might give you a refund.
There is a lot of oddness here. Firstly, Virgin have never had any qualms about doing the opposite if things go wrong - they seem to focus on getting people to their destination first and the politics later. Yes, my tickets were routed unusually, but it's the advance fares culture which Crosscountry participate so willingly in which pushes people into choosing these combinations. It was a valid, reasonable and perfectly achievable route without the delays - where does the passengers charter suggest that choosing to travel on a cheaper ticket gets the company out of having to provide a service? Finally, there is the fact that for years I've told people not to worry about inter-TOC politics - they'll get you home. Now I can't say that with any sort of certainty. It was a dark day indeed for the railway.
And not a bright one for me, despite the sunshine. With trespassers lurking at Birmingham International, the 08:57 rumbled in 37 minutes late. Still in wonderful weather, snoozed and seethed my way to Manchester. No hope of an onward journey to Carlisle as planned now, so contented myself with people-watching and coffee in the station. Brooded on things, money, railways, work stuff. Decided I needed to keep moving to stave off the gloom so headed out to Crewe on a packed Pendolino. It was getting hot, and the first hints of hayfever seemed to be appearing. Crewe was quiet - unusually so, but eventually some light engine moves produced some interest in the form of a parade of electric locos reversing in the bay platforms.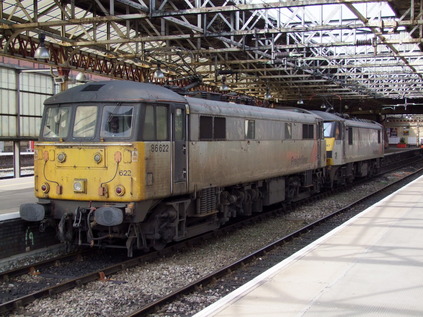 Decided to head back to Piccadilly after a further wander around Crewe, and watching a strange modelling session where a dreadlocked girl stood at the end of the platform and her goth boyfriend took pictures of her looking like some sort of cyberpunk gricer. Admittedly she was a lot easier on the eye than the usual platform-end vegetation at Crewe! Another, somewhat quieter, Pendolino took me back to Manchester. Snoozed a bit on the way - the late night catching up with me and reminding me that despite feeling like a teenager thanks to the music, I definitely wasn't one anymore. Settled for a very un-rock'n'roll coffee and watched some more people, including a would-be barrister with an impressive, booming voice who unfortunately resembled a fairly bedraggled tramp. Wandered out to find my seat on 1V65 and settled in for a carefree and pleasant journey homewards. This time everything worked as planned, but it didn't make up for the irritation and dismay I felt, which to my shame I characteristically managed to take out on entirely the wrong people.
Things don't always go to plan on the railway - sometimes too, it's no-one's fault at all. I've learned to be fairly stoic and relaxed in such situations. When things go wrong like today though, I get irritated - embarrassed that those who travel less often will form their opinion based on how things went wrong, but also on how hard people worked to put them right. I've normally got my own back up plan too - so I don't trouble the staff when they're needed by others. But on this one occasion where it just wasn't going to work out without their intervention, they left me high and dry. It might seem like a cancelled train and a cancelled day trip (which plenty would see as pointless anyway) but its actually a very sad outcome in a number of ways. Let's hope next week's railtour will restore the balance a bit...

Posted in SHOFT on Sunday 10th April 2005 at 8:02pm
---
Got back to a pile of email this afternoon - a week is a long time on the Ubuntu mailing lists it seems, and I'm too lazy to switch off delivery while I'm away. But buried within all the messages was this press release from the Delgados:


The Delgados, influential figures in Glasgow's independent music scene for over 10 years, have announced that they are to amicably disband. The reason has been put down to the departure of their bass player Stewart Henderson who informed the band in the New Year that he did not wish to make another album. The Delgados have always been known as uniquely collaborative songwriters and as such, it was decided that the band could not continue without all of its original members.
Sad news - glad I got to
see them perform
on the last tour, despite it being a turbulent and strange night for me. I'll miss the Delgados, but I can't wait to see what Emma and Alun come up with next.

Posted in Railways on Saturday 10th April 2004 at 11:59pm
---
Diversion day. I'd been looking forward to this for some time. The freight-only line between Hallen Marsh Junction and Filton is rare. I'd always wanted a journey down here, so near to home but so impossible to travel! So, what was to most of the travelling public an inconvenience was to me a very welcome diversion indeed.

Set out early - counting on busy trains later, with fellow cranks making up some of the numbers. Got the 0850 to Newport, and spent a very pleasant journey chatting to a gentleman interested in the diversion, on his way to the Gwilli Railway in West Wales. Weather was nowhere near as clement as yesterday, and a sinister mist hung over the grain elevators and petrol tanks of Avonmouth. Interesting to see the countryside between Hallen and Filton from a new angle, passing Filton airfield, and the site of a regrettable railway-sleeper theft incident of some years back!

From Newport to Cheltenham, and an abortive attempt to buy provisions at a convenience store where debit cards were inconveniently unnacceptable today! Cheltenham to Bristol via the small part of line between Stoke Gifford and Filton West Junction was uneventful if rather jammed, and very slow. Apparently, the Voyagers were not permitted to cross on the curves of the line, and we were held awaiting a pilotman for part of the journey.

Another trip out to Parkway in the hope of getting a diverted Great Western via Gloucester, but nothing doing - so back to Temple Meads in a friendly Voyager buffet car, with an interesting talk comparing various stock - including some input from a Midland Mainline steward who is concerned he'll be too tall for the new 'Meridian' units! Time for one last round trip to Newport, just to ensure I got to travel everything in both directions. This is an indication of how sadly obsessive I am becoming. On the final return leg, finally caught sight of Concorde in its resting place, hard by the top of the embankment.

So, long awaited diversions thoroughly bashed. Despite being exhausted, I'm looking at the Great Western diversions tomorrow - which would keep Monday free for the local Birthday/Going Away celebrations.

I am convinced I'm utterly bonkers these days. In particular, my co-workers are wondering what has sparked this sudden need to travel by train. Only a select few of them of course being aware of my hobby going back a good few years!