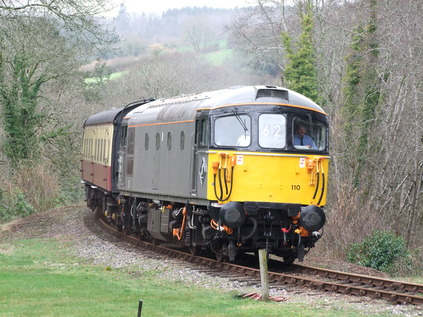 Posted in Railways on Saturday 27th March 2010 at 9:18pm
---
As the season starts in earnest, so events start to clash - and there was a fair choice of things happening in the West today. With a sizeable Diesel Gala occurring at the Gloucestershire and Warwickshire, and a Steam Event at the West Somerset the humble home-fleet only gala at the Bodmin and Wenford Railway might not have got quite the crowd it hoped for. For me though, a chance to potter down to Cornwall for the first time this year along with a chance to sample 33110 for the first time seemed like a sensible option. Set off on the convenient 06:01 which took me directly from home to Bodmin, stopping almost everywhere. The day seemed to promise some decent weather and it was good to be heading along the seawall and through Devon and Cornwall again. There will hopefully be a number of visits in the course of the next few months with more inspiring choices of traction too! Arrived at Bodmin Parkway with a little under an hour until the first train. Took advantage of the time to visit the Signal Box Cafe for breakfast and plenty of coffee before heading over the bridge to watch 33110 arrive around the curve. The loco didn't sound in the best shape, but made an impressive racket once we got going up the bank towards Bodmin General!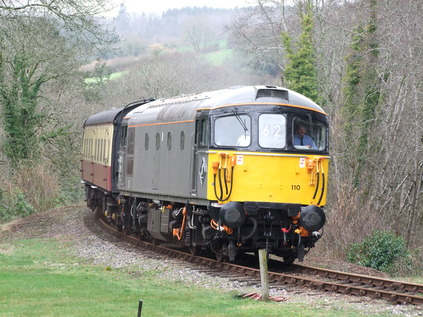 With 37142 out of action at present it was left to 33110 along with 50042 and 47306 to ensure things ran smoothly. Sticking closely to time for most of the day, we soon got into the rhythm of the loco swaps, with double-headed journey's to Parkway interspersed with top and tailed trips out to the railway's current extremity at Boscarne Junction. The buffet car was stocked with some decent local beers too, which made for a very pleasant and relaxing day out enjoying the scenery and the event. No mad dashes to change trains or difficult choices of which turns to cover today! Took a brief break around lunchtime to wander out to the Beacon Road overbridge in search of possible photographic opportunities. Despite negotiating one of the most complicated footbridges I've ever seen, which seemed to wind its way around a fine old iron road bridge, no real views over the line to Bodmin Parkway. Back to the station in time for the next spin out to Boscarne Junction.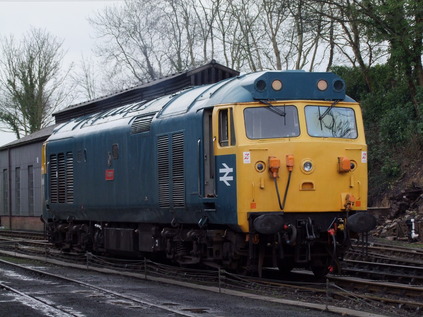 With a final couple of runs complete, we decided the 17:10 arrival for a 17:12 train homewards was a little optimistic, and elected to wait time at Parkway. Our hunch proved correct, and it was pleasant to wait in the improving weather for the HST back to Taunton. The train home was fairly busy, and I'll confess that several bottles of Tribute and an early start meant a rather sleepy ride back. A frustratingly long wait for a connection at Taunton, with a station buffet which couldn't seem to decide if it was open or not - just when coffee would have been very helpful! Overall, another fine day out at Bodmin. It would be fantastic to get some guest locos along sometime to work on the impressive banks and curves of this fine little railway which seems to spend a lot of time ensuring the small resident diesel fleet earns its keep.

Posted in Highbridge on Tuesday 27th March 2007 at 11:08pm
---
Spring has come to Highbridge. As I walked to my parents home last evening, it was possible to detect the curious smell of drying pavements, which reminds me of past springtimes here in Somerset. Highbridge on a warm Monday evening is a confusion of smells - the competing and always tempting fumes of the two fish and chip shops mingle, as passing wagons from the cattle market discharge the damp sweet smell of dung. It's warm, quiet and calm here, despite being the busiest night for the emergency services for a long time. Of course, the market will soon be gone - and another purposeless plot will fall into the hands of the developers.
The surprise closure-by-stealth of the railway bridge on Market Street has brought a strange calm to the streets. Church Street still throbs with bursts of traffic, squeezing it's way around the diversion near the war memorial, but things are a little quieter and a little less hectic - a bus calls at the makeshift stop near the church and the town grinds to a halt. I'm face to face with boggle-eyed cows staring out of the slit window of their stranded market wagon.
It strikes me that on almost every day since October I've been leaving town in the dark and arriving home after sunset. Seeing Highbridge in the daylight again has reminded me why I live here, and how much more there is to discover.

Posted in Railways on Saturday 27th March 2004 at 7:26pm
---
Dithered a great deal about what to do this weekend. Funds are pretty tight, and since I have a busy week coming up, I thought about flagging the weekend - but that would have been the second one in a row. Can't say my heart was in today. Checked mail before heading out and noticed that the Oxted-Uckfield branch was being worked by a pair of Class 205 DEMUs today. I'd always been intrigued by this little diesel-operated backwater on the otherwise completely electrified South Central network, and I thought I'd missed my chance to get one of these units when South Central got hold of 170s to replace them recently.

For the sake of economy I travelled on multiple CDRs - much to the confusion of a guard at East Grinstead later. Still spent a little more than I could afford however. Arrived at Oxted to find 205028 growling away merrily in the bay. Delightful, unrefurbished wooden interior and no corridor connections between the strangely small carriages. Opened the window wide to get the full effect of the racket going on up front and enjoyed a wander down an attractive and rather quiet branch into Kent and Sussex. I can only speculate that it gets busier on weekday mornings.

Lots of evidence that since Connex lost the franchise, South Central are getting their act together - albeit slowly. Posters proclaiming 'We know we need to clean up our act' and 'Don't be gentle with our slam doors' everywhere. Some of the stations seem to have been recently refurbished (again, to a minimum but acceptable standard). Brief pause in Uckfield - a rather unremarkable looking place.

Couldn't leave the East Grinstead branch undone, so returned to Oxted to find services in some disarray due to earlier failures. This actually worked in my favour, and after a short wander around Oxted - a really attractive and busy little place which I'd like to revisit sometime - I was on a delayed service, which got me to East Grinstead and back to East Croydon much earlier than I'd expected!

Down to Gatwick via the Quarry Lines to get the Thames service to Reading. Noted on arrival that I had a long wait, so when a pair of sparkly new 377s arrived going to Redhill, I hopped on them. Nice, clean and bright interior - smooth ride. Time for the first coffee of the day (!) at Redhill, before heading off to Reading.

Again, a late running service gave me a good connection - British Transport Police were in attendance to remove a couple of non-payers, so I waited with the officers for the slightly delayed service, which got me back to Weston much earlier than I'd expected.

A strange unexpected day of seat-of-your-pants bashing.

Posted in Updates on Tuesday 27th March 2001 at 12:00am
---
Playing with voltron's iThought, a little app that manages your thoughts and notes, and distributes them to various places by way of simple to write modules. Working on a little Perl thing to post them to this very daylog. Forgot in the turmoil of the last few days that the first essay of the year is back - managed 79, not bad I suppose. Went on a surprise cinema trip to Bristol to see Sånger från andra våningen. A really fine film, if somewhat bizarre in places. Recommended.