Posted in Updates on Saturday 22nd August 2015 at 10:08am
---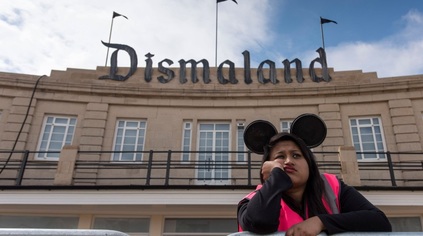 I first visited the Tropicana on a school trip – probably sometime in the late 1980s. I wasn't a swimmer, so joining a small number of sick, limping or otherwise unpopular kids, I skulked around the margins of the site. There was a model railway, a café, and plenty of space to sit and ponder how much more fun the other kids were having in the pool. Even then there was a sense of gloom about the place: beyond the huge fibreglass pineapple that dominated the site – and which gave it perhaps it's only truly 'tropical' credentials – the plaster was already peeling, the colourful murals of palm trees and blue skies flaking under the pressure of a spending crunch. After an interminable day that was perhaps remarkable only because it didn't involve being in school, I was glad to leave the place. It is miraculous that it struggled on as long as it did after this, finally closing its doors in 2000, outdated and outpaced by tastes and time. Left behind – a portent of things to come for Weston-super-Mare perhaps?
However, as the last fifteen years have proved, the Tropicana is privileged space. It occupies a slot in countless thousands of memories. It has figured in the summer holidays of locals and visitors alike – and thus it is recalled in that special way that childhood summers always are. It never rains, the colours are brighter than reality, the days longer, food tastier. These memories have been trampled by the steel toecaps of reality for long enough for the site to be almost mythical, and for a town prone to almost terminal apathy, the public can be easily roused by even a perceived threat to the hallowed quadrant on the sea front. For years though, it has only truly existed on the pages of Council Executive reports and architects drawings. The site has variously sprouted huge hotels, cinemas, towers of housing. Always with those shadowy sketch-people milling around them which proxy for reality in these artist's impressions. Developers have come and gone. Opportunistic local bruisers have tried to make political capital from the ruin, while simultaneously proposing to raid the public coffers. Eventually we reached the point of no return – the Tropicana was to be demolished. It felt like a necessary exorcism. But still it is attached, decaying and prone to infection. Weston's ever-grumbling appendix.
The reaction to Dismaland has been both entirely surprising and utterly predictable. The surprise has largely centred on the miracle that this most scrutinised and picked-over over of sites could be transformed so completely yet so secretly before us in plain sight of the town. Indeed, that the much maligned Council could have allowed – sponsored even – something of this nature has bewildered people. Their normal knee-jerk reactions stopped in mid ascent towards the collective groin of the elected members. The – entirely accurate – story that only four people in the organisation knew the whole truth is equally astounding in the leaky rumour-mill of the Town Hall. But there are more predictable voices at large – many rehearsing the bizarre belief that the Council is stupid enough not to see the double-edged swordplay it indulges in by inviting an event called "Dismaland" onto its prized promenade – indeed onto this most sensitive of local sites. Rolling eyes and folding arms, they tell me that the event will pass in to history with the momentum not seized. That it's all a bit rubbish because they don't get 'art' anyway – and probably wouldn't get tickets if they tried. After all, Weston is a bit crap right? For a few days, this low-pitched drone has surrounded the place, cloaking it in the very miasma of gloom that the curator is trying to foster. If anyone has been gamed, it's these very doubters who are now playing a key part in the set-piece on the sea front.
I've written and talked a lot about the seaside resort problem – and on one of its many levels Dismaland taps right into this. It reminds me of a family I saw tumbling out of an Eastbourne café one Saturday morning a few years ago. As they picked the stringy bacon fronds from their teeth they summed up the issue in a single question: "What the fuck are we going to do until dinnertime?" The disappointing attraction, the underwhelming spectacle and the hours of time killed between cheap food and beer binges are summed up in the premise behind Banksy's installation. The venue is also perfect. Seaside towns are different to 'towns by the sea': they've chosen not to change and have resolutely stayed on rails laid in the late 19th century. The family seaside holiday of guest houses, fish and chips and beach-hogging is the preserve of a now itself nearly mythical working class. Fortunes dwindle, buildings peel, capital retreats – and now these towns regularly appear at the top of child poverty ratings and unemployment figures, suffer disproportionately from addiction and crime and oddly rank highly in their negative responses to immigration despite being some of the most resolutely white parts of the nation. That fear of the incomer, that disparaging view of those who arrive in town – the tendency to bite the hand of the 'grockles' that feed them is burned deep into Weston and it's natives. They are about to suffer the biggest influx of incomers for many, many years – it's going to be entertaining to watch.
The other equally gloomy if somewhat quieter voices are those from neighbouring towns, decrying the desperation which leads a place to accept Dismaland as its defining moment. There is a touch of green around their gills for sure – it's a ludicrously good coup, and a glance at the economic benefits from Banksy's Bristol exhibition a few years back rightly makes them seethe with jealous rage. Their prime concern is the town's brand – how it can recover from this shock to its system without suffering the sting in the tail of the term "dismal"? But they miss a point here – the town simply doesn't have a brand. It's one of those reforgotten resorts which has been at this crossroads for years – Stag venue? Retail centre? Dormitory town? The options are unedifying at best – but this offers an alternative. As the world was griping about the ticketing website failing and the early-invitees smugly sharing their pictures of the site yesterday, the Chief Executive of North Somerset Council was changing tack – pop-up shops in town would be encouraged, creative events and industries promoted. This is tremendously significant – the received wisdom before was that if we wanted to attract big High Street names, it was always better to have an empty shop in town than some scruffy little independent cluttering up the place. The truth is perhaps the opposite: another Poundland or charity shop is a much bigger disincentive, while the major chains watch successful independents like vultures waiting to swoop. Let them do the hard work before we arrive. There is finally a bit of coherence to the vision for the town. It remains to be seen if it plays out as they hope – but I think the textbook regeneration doom-mongers are a little more spooked than they admit.
I've yet to visit Dismaland – but I'm excited to have this opportunity on my doorstep. Quite apart from the playful, irreverent fun of the pieces Banksy has assembled, the sense of event and the sheer oddness of revisiting a childhood haunt transformed completely, there is a more substantial edge to this. The exhibits play into the concerns we should all have about our public spaces – privatisation of access, spiralling security measures, domination by faceless brands and franchises. I'm also excited by the debate that seems to be emerging: the ideas about what local government is for, what public spaces should host, and what kind of vision we should develop for that most difficult of places – a fading seaside resort on a muddy estuarial reach. I hope too that in time, the doubters are at least quieted by the success of this enterprise – but I know they won't be. After all their lemon-sucking cynicism and their desperate clinging to irony are as much part of the show as the crumbling Disney castle silhouette.
Posted in Railways on Saturday 22nd August 2009 at 10:37pm
---
It was still dark when I left the house this morning. Not pitch black, but gloomy enough to remind me that summer is drawing on, and I'll soon be travelling to work in the dark too. Today's forecast was uncertain too - which made me wonder whether the gloom was just cloud cover, with my thoughts naturally turning to a certain cricket match being played today. Today's trip took me eastwards - almost as far as one can go in that direction in fact. Essex and Suffolk are areas which I've neglected in my travels over the years, partly because historically it's not been easy to work the timetable to my advantage. More recently, it's been more about laziness and my preference for points north - and I've found myself heading east usually when there's nothing much doing elsewhere. That's unfair though, because I've almost always had interesting trips this way which have thrown up plenty of surprises. First though, the tried and tested routine of an early ride up to London. The sky brightened as we sped along through Oxfordshire and Berkshire, and as we slowed for arrival at Paddington the NENTA tour to Paignton passed with a flash of sunlight from the pristine 47760. Eager to get to Liverpool Street for a cup of decent coffee, and despite the Bishopsgate entrance being a filthy, cigarette strewn dust-trap, it was hard not to enjoy the warm August morning as the street grew busier.
At this point I realised that Liverpool Street - not usually at it's busiest on a weekend - was exceptionally crowded with younger passengers. Many of them were carrying pop-up tents and rucksacks too. It dawned on me that once again in my railway and work-addled state I'd let a bit of popular culture pass me by - this weekend saw the V festival come to Chelmsford. Wedged myself into a first class compartment on the Clacton service as soon as it was called, but this didn't stop an invasion! A busy but not unpleasant ride out of Liverpool Street followed!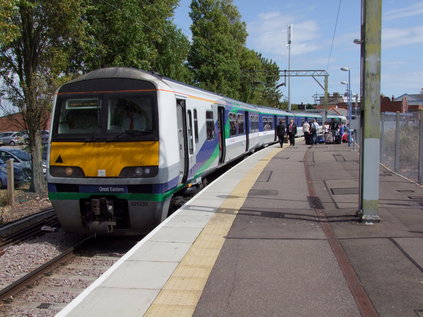 From Colchester onwards, as we took the curve away from the mainline, I was on new ground. The landscape soon changed from rolling countryside to the flat, rivulet-cracked marshes which typify the coast of Essex. As we passed Thorpe-le-Soken, where the Clacton and Walton lines diverge, the coast was visible to the south, with an impressive line of brooding wind turbines stalking out to sea. One of my fellow passengers remarked "how ugly!" as they came into view. After curving through caravan parks, we finally arrived at the impressive seaside terminus. Clacton station has much in common with other seaside termini I've visited, and these stations do somehow retain a bit of a special feeling. Despite the embarrassment of having to face the quizzical looks of the same guard who had just checked my ticket on the inbound train, it was quite fun to queue at the barrier in the old fashioned way to board the working back to Thorpe-le-Soken.
On arrival at Thorpe, a small human drama was unfolding. A multi-buggied Essex mum was wandering up and down the platform with her older offspring and an utterly foul-mouthed older woman pushing a trolley, who I can only assume was her mother. They seemed to want to board the London train I'd just left, but after putting her two older children onboard, they sort of wandered off, with the mother cursing and spitting at staff and showing no signs of boarding. In the general melee, the train left on time with two children on board, but mother and child still swearing at each other on the platform! Cue scenes of panic and lots of shouts of "My f**king babies!". The service was, the older woman claimed, "f**king criminal!". I have to say the station staff, and the guard of the following Colchester service were amazing. They quickly contacted staff on the train to make sure the children were safe, and mother was put in touch with children. A plan was formulated to reunite the family swiftly, and all was sorted in mere minutes. Not good enough for the family though, with the old crone shouting "You should be f**king ashamed of yourselves, I'm going to the f**king papers about this!" before confidentially adding to her pale and clearly distressed daughter "There ought to be some f**king compensation in this for us, love!".
After watching these events unfold under bright sunshine, which perhaps was affecting the usually more reserved British temperament, I boarded the next train down to Walton-on-the-Naze, a station which has seen a fair bit of tinkering with it's name over the years - both gaining and losing the definite article along with it's hyphens over the years. On the way, passed through the recently replaced 'gates' at Frinton. This level crossing was iconic in separating the 'nice' side of town from the 'not so nice', and was instrumental for many decades in completing the separation which the apparently somewhat stuffy folk of Frinton wished to establish from their fringe communities. A dawn raid by Network Rail saw to the replacement of these older gates with a newer model as part of the resignalling around this area. The new gates didn't appear too out of place, and indeed were much older in style than others on the line. Frinton itself appeared tired, the station a graffitied concrete shell. It wasn't entirely clear what they were trying to protect here, and from whom? Onwards to Walton, terminating in a pleasantly leafy station, sadly much reduced from it's earlier importance.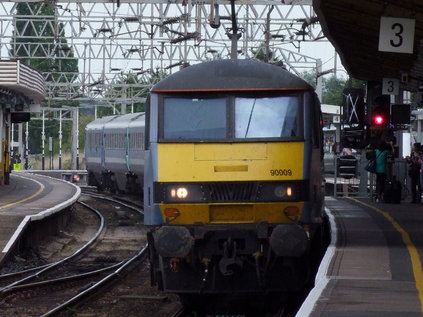 From Walton, I took the stopping service all the way back to Colchester, which allowed me to cover the other two sides of the triangle leading to Colchester Town station. The train was busy but not overcrowded, and we made surprisingly quick progress back up the branch. After a reversal at Colchester Town, we curved back onto the mainline and arrived at one of the bay platforms at Colchester. This station is rather a mess of bays, staggered through platforms and sidings, and there is a woeful lack of useful announcements or passenger information. Had a brief refreshment stop, and then realised that I'd positioned myself at the wrong platform for the service I'd planned to catch back into London! Being in no hurry, flagged the Class 360 in favour of 90009 which followed a few minutes later with an express to Liverpool Street. A much quieter mainline journey this time, with the festival revellers safely in Chelmsford. A fairly quick and efficient switch onto the Circle Line and back to Paddington for the train home.
Since a future railtour promises to cover all of the other mainline track I've not covered in this corner of the country, today was an opportunity to tick off some outlying extremities of the network. What it also showed though was that small seaside termini can be effectively turned into busy rail hubs with a good electrified commuter service. With recent word on wiring up the Great Western, perhaps this is something which local rail campaigners in my part of the world need to push for in terms of our local services too?
Posted in Reading on Monday 22nd August 2005 at 11:01pm
---
Spent some time chatting to a friend I haven't spoken to for some time tonight. Strangely, during my period of near obession with B S Johnson she had selected a couple of quotes found in a Guardian review of Like a Fiery Elephant for a homemade bookmark. I know I'm probably a predictable bandwagon-jumper in some respects but I found it odd, especially as we usually have such different tastes.
Got chatting about bookish matters, and particularly the possibilities of both of us having small things published soon. Thought how strange it would be to see each other's work in print rather than on a computer screen prefixed by the message "What do you think of this then?".
A big stack of books has once again developed following the Literary London conference - including Ford Madox Ford, Patrick Hamilton, Woolf and Sterne. Where the time will come from between reading items on Management Theory, I have no idea.
Posted in Updates on Thursday 22nd August 2002 at 12:00am
---
Cancellation of travels further afield allows me to assist a friend on a short trip to Bristol today. Didn't expect much entertainment from this, in the sense that the trip's purpose was by nature not a happy one. However, it turned into a pleasant day of wandering, eating, shopping and drinking far too much. Happier than I've been for a long time today. Bed early however, feeling drunk and queasy. I clearly am not as young as I used to be.