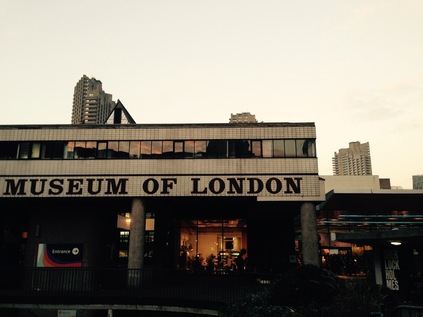 Posted in London on Saturday 29th November 2014 at 11:42pm
---
Aside from a brief walk across the eastern fringe, it's been a while since I wandered in the City. Thinking back, once I'd overcome my earliest misconceptions about London, my first great interest was this odd city-within-a-city, with its unusual traditions, archaic governance and strong sense of tradition. It always seemed particularly odd that this layer of the exposed medieval City existed as a backdrop to the intrigue and misdeeds of ultramodern high finance. The strange stories of Livery Companies, giants and royal subservience found homes in those few buildings which survived the great fire, and the evidence which that - and successive more planned conflagrations - has revealed. So, we'd hastily planned our first trip here in some time to be based around the 'square mile'. Yesterday we'd arrived and made a slow bus journey east through the Black Friday crowds. The unwelcome tradition imported from the US was filling Oxford Street with teeming crowds. Finally we alighted at Blackfriars and navigated a clutch of tight little streets skirting the still-noticeable dip of the Fleet Valley to find our hotel for the night. It was good to be back within the city walls.
Our excursion last evening had taken us along the embankment, west towards Parliament. Rising from the underground at Westminster, we skirted the House at dusk. Lights were beginning to twinkle across the river, the bulging oddity of St.George's Wharf now evident on the skyline. We moved along Millbank, passing the weirdly tired looking Millbank Tower which still symbolises the Blair-era machinery of Spin, with its Rapid Rebuttal Unit. Suddenly, the vista opened out and the startling white hulk of Tate Britain appeared. Nestled between the modern extensions and neighbouring buildings, the gleaming building both figuratively and financially appeared to be made of sugar. Still impressive if looking strangely overdone in this setting, the building continues to play a vital part in the artistic life of the capital. Ascending the steps we found the cafe and waited our turn at the Turner exhibition. Deep inside the building, the halls stretched out into blank eternity, the ethereal canvases swimming into view. It was mildly dizzying at times, the blasts of light and tumbles of salt water leaping from the paintings. In a corner was "Rain Steam and Speed" - our first encounter in the flesh, so to speak. As oddly moving as ever it looked on a page, the turbulence of speed, the rush of landscape and memory, and the indistinct and temporary nature of the train crossing a viaduct all seemed less real and more otherworldy in person. It's hard to imagine how this would have struck an early Victorian, experiencing high speed travel for the first time. We left utterly impressed, and on the way out spotted what appeared to be comedic genius Chris Morris collecting his bags as the gallery closed for the evening. We were late leavers too, hailing a cab back to busy Blackfriars along the stop-start tumble of vehicles heading east along the Thames.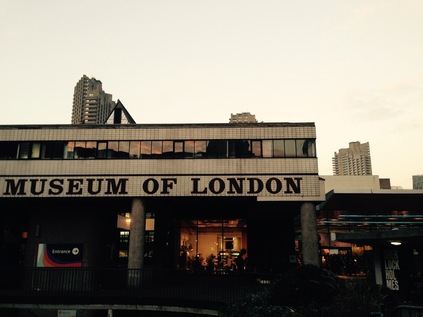 Today was planned at least to be a little less hectic. Setting out moderately early we headed to Bishopsgate by bus, breakfasting in a favourite spot from a while back, but alas finding no black pudding on offer. A leisurely start - followed by a much-earned walk through the City streets. Once we left the gravity of Liverpool Street, it fell immediately quiet. Workmen's hammers could be individually heard in the side-streets, the City as ever a continual churn of renewal and remaking. Streets closed for Crossrail were making our progress crazy and complicated. We zigzagged through Courts and Alleys, delighting in the fact they'd been there for centuries, before entering the Guildhall courtyard. The pale stone building gleamed across the amphitheatre, its modern extensions seeming to fall away from the main event. There was no getting inside today - but a moment in this quiet yard was enough, sandwiched between Guildhall and austere St.Lawrence Jewry with his sinister grid-iron weathercock. This was the centre of the city - and had been for many hundreds of years. It was hard to move on from this spot, but eventually we broke off west along the line of the ancient City Wall. At Wood Street, that edifice surfaces - beneath the victorian bricks, Roman stones mark the outline of a tower and the run of the wall along Aldersgate. We followed, ascending concrete stairs into the Barbican complex and the Museum of London. An overpriced coffee from the new concession, then down to the Sherlock Holmes exhibition. Entering through a bookcase, we were plunged into a gloomy corridor. Flickering excerpts from the Consulting Detective's manifold screen outings played on the walls, drawing us in. The exhibition managed to provide something for every kind of Holmes aficionado... For the literary purists there were manuscript pages and artefacts from Conan Doyle's life - his remarkably tidy handwritten notes set alongside the printed versions, indicating that he barely needed to alter a word! For fans of the filmed appearances there were endless clips and props, not least the overcoat worn by Benedict Cumberbatch in the detective's current masterful outing. Finally, for the topographer there was a wealth of material. Several adventures had been mapped across London, with time-lapse filmed runs through Holmes and Watson's routes through the modern-day city. There were also endless paintings and early photographs of the City as it would have appeared to Conan Doyle while he was writing about Holmes. Of particular note were the remarkable prints by Alvin Langdon Coburn - mysterious, only slightly focused cityscapes with brooding mists. His subjects were often not those which merited most attention either - canal scenes, wet pavements in Leicester Square, unusual views along Fleet Street. I was captivated.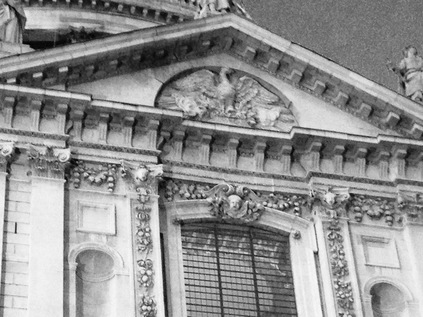 We spent far longer than I'd imagined in the exhibit, and after a brief refreshment stop, decided to look around the Modern London galleries. It was very special to revisit this old haunt in company, and good to see the Lord Mayor's Coach again, shining in the last sun of the day leaking lazily into the museum. We headed out on foot, enjoying the Barbican skyline in the wintery glow before heading south towards St. Paul's Cathedral. It's a great omission, and a source of some embarrassment that I've never set foot in this place despite many hundreds of passings by. Today wasn't to be the exception, as a service had curtailed sightseeing for the day - but we resolved to return. We edged around to the southern face of the building to regard the phoenix carved above the doors with it's 'RESVRGAM' motto. It was time to head back west, on a bus headed through the main shopping areas which was unexpectedly and thankfully diverted around the bulk of the traffic, delivering us early enough to relax and reflect on our trip over a drink at another favourite spot. This had been a hastily planned, purposeful visit which had at last returned me to the very city streets where my true obsession with London had begun. I think it may have won the City a new devotee too.

Posted in SHOFT on Tuesday 29th November 2011 at 5:11pm
---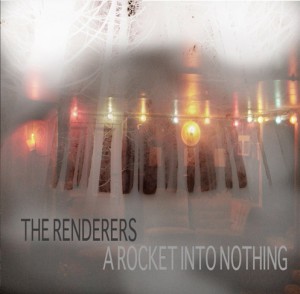 I first heard The Renderers about twenty years ago, which is a fairly terrifying realisation. My first contact with them was via the blissful, chaotic melodrama of the "Million Lights" 7" on Merge Records, which remains one of my all-time favourite singles to this day. Then I discovered a surprisingly straight-faced country pop debut album on Flying Nun called "Trail of Tears" which despite being incredibly enjoyable, rather surprised me in its clean production. A few years later they were back to their uncompromising Dunedin roots with the scorching, harrowingly fuzzed up Americana of "That Dogs Head In The Gutter Gives Off Vibrations" - but throughout these recordings Maryrose Crook's damaged, soulfully ghostly vocals remained the focal point in the storm of noise created by husband Brian. At this point I lose the scent somewhat - bored with music closer to home, I found myself listening to old things more and new things much, much less. Strange, sorry times indeed. Equally the band became a little more remote and harder to pin down, with releases scattered over a host of tiny labels all over the world. However the story has a happier ending than I might be suggesting here. I got to thinking about The Renderers again on hearing the wonderful Edinburgh School for the Deaf album earlier this year, which shares some of that insistently noisy but resolutely tuneful sensibility somehow. Memory pricked, a bit of judicious searching got me to this very recent release, the first Renderers record for a number of years - but one which manages to sound just as fresh and exciting as those first recordings from Port Chalmers did.
So, for the uninitiated, Brian and Maryrose Crook are the core of The Renderers, with a history which links them individually or collectively to a whole host of other notable acts. As the band has developed over the past two decades or so, the line-up has mutated too - in the process involving a cavalcade of some of the finest musicians in New Zealand. A physical move north to Christchurch preceded this release, as did a work-related wander around the globe, but this doesn't seem to have had a major effect on their sound which remains anchored in the noise and melody which they've explored over six albums or so now. "Down River" signals this continuity, ushered in by a shudder of feedback and a rumble of drums before Maryrose takes the song out of the swamps and into the hot, dry desert air. Brian's layering of guitar - both delicate melodies and a sheen of atmospheric noise - gently begins to conjures the mood for the rest of the record. "Shadow and It's Shadow" ups the pace somewhat, a warped sixties garage pop hit heard through damaged speakers with scouring sweeps of noise which mutate into odd, middle-eastern sounding riffs. Maryrose's voice takes on an equally sinister tone to utter the lyric - a curious collision of occult references and spiritual disconnection. The shuffling, insistent noise never quite lets up, the track fading out with Brian still cranking out white noise and screeching from his guitar. It'll probably come as no surprise that there are no obvious big hit singles in evidence, but if there is anything even remotely close here it's "This Shining Life". By far the most accessible entry point for the newcomer, Maryrose's gorgeously cracked vocal accompanies one of Brian's trademark off-kilter solos perfectly. The lyrics drip reflection and regret, and are visited by the cast of itinerant losers, angels and demons which frequently find their way into The Renderers songbook. This isn't so far from the territory covered on earlier work such as the superb "Million Lights", but it's far from a tired formula.
Brian takes the lead vocal on more of the tracks here than perhaps he has in the past, including the drunken swamp-jazz of "Restraint of Beasts" and the remarkable "Assassin", a gorgeously warped ballad which shows incredible restraint in not imploding into noisy chaos right away but working itself up to several false crescendos, each more intense than the last. His vocal, an understated, almost Dylanesque nasal drawl, suits the laconic screed of noise and the building urgency of this longer piece perfectly. "Typhoid Mary" with its churn of feedback and keening guitar solos gets perhaps closer to an anthemic chorus than The Renderers have come since their first, far more traditionally structured album. The chorus here though remains fuzzy, distant and a little off-centre, with a rare vocal duel between the Crooks before returning to the grinding noise. Then the ear-splitting entry of "Vanishing Point" chugs in with thundering bass and speaker-tearing guitar noise and maybe even a hint of distant organ as Brian rattles through an alienated, dystopian rant against an increasingly epic backdrop. The album closes with the clamouring sea shanty of "Hypnotised", which sets up a jangle of acoustic strums behind a backdrop of grumbling amps and chaotic percussion as Maryrose intones the lyric. Then, shards of jagged guitar kick in, before the whole thing fades to an uncharacteristically quiet ending,
In some respects, The Renderers are a simple enough proposition - lots of beautifully ungoverned noise, some exquisitely buried melodies and two distinct, unique voices. But its one of those 'more than the sum of the parts' moments when this all comes together at the right time, and thankfully there are plenty of those moments on "A Rocket Into Nothing". Moments where, when you don't think things can get any noisier or more chaotic, somehow Brian and Maryrose manage to take a song spinning off to new, previously unforeseen heights or stuttering, growling lows. Just now there seem to be a surprising amount of bands from my youth coming back from obscurity with, it's fair to say, some fairly variable results and a few precious memories tarnished along the way. In the midst of this it's good to reconnect with a band that's never really been away and is still capable of producing moving, vital and visceral music.
You can buy "A Rocket Into Nothing" on CD from Ba Da Bing records, or digitally via iTunes or Amazon MP3. Their back catalogue is a little harder to track down, but is worth every effort.

The Renderers - This Shining Life

Posted in Railways on Saturday 29th November 2008 at 9:11pm
---
As I mop up the tiny bits of track left uncovered by just over a decade of travels, I'm often left with long journeys to reach tiny fragments of line. I've never approached this strange quest in any sort of order - travelling where I fancied, letting events and happenings around the country guide my travels rather than any sort of master plan. Constantly revisiting favourite haunts in preference to finishing the job. It's been a luxurious and stately jaunt which I'm happy continues in much the same vein. This leads me to this weekends' trip - a great circuit of central England, venturing out into the uncharted east before retracing old steps to get home.
Left for the station in freezing, billowing fog. Not sorry to get on board and trace a familiar path via a change at Weston and an early arrival at Paddington. The fog barely lifted as I sped east, but there were tiny breaks in the clouds and little hints of sunshine could be seen breaking through. However, despite managing unusually sensible amounts of sleep last night I managed to snooze happily for much of the way, perhaps due to the nice warm carriage in contrast to the chilly scenes outside. A quick transfer to Kings Cross which is now in the midst of it's own transformation following living in the shadow of mighty St. Pancras for a good few years now. Sadly, this meant incredibly long queues at anywhere which sold food or coffee and made for a congested and frustrating experience trying to move around the place. This set a sort of tone for the day. Finally gave up and boarded the pair of Class 365s bound for Cambridge and Kings Lynn. Soon away and flying north through the still foggy suburbs. We branched east at Hitchin before grinding to a halt behind an ailing stopper which limped it's way to Cambridge with us arriving late and getting later as London-bound shoppers mobbed the rear before staff had the opportunity to divide the train. Eventually away again, but having missed our path onto the single line beyond Ely, lost further minutes in approaching Kings Lynn. Knew we arriving from familiar sights beside the line as the branch from Middleton Towers slewed in from the south. Oddly, I'd done not only that branch, but much of the length of the sidings which curve towards the waterside here - but had never arrived into the station. Soon rectified this, drawing into a busy little terminus with an inviting looking buffet and a fair number of stabled units. For today at least, mission accomplished with a brief section of new track - perhaps only 20 chains or so - covered as planned.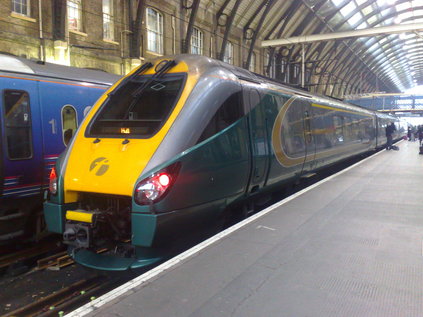 Once again I was defeated by queues here with the buffet looking busy. Late arrival meant no time to stray from the station, so I hoped that the little coffee stall at Ely, often staffed by mysterious eastern european girls, was still open for business. A short trip back down the Fen Line proved it was, and after a quick trip to the nearby Tesco for sustenance. Realised I'd missed a fairly interesting looking GBRf freight service seconds before arriving back into the station, and frustratingly could hear a loco idling in the mist somewhere for much of my stay too! Settled for enjoying a couple of welcome coffees from the aforementioned booth while I awaited the Crosscountry service to Birmingham. I'd worried about this train a bit - I remembered painfully full trains around here, and was convinced that was the order of the day. Despite Crosscountry introducing First Class on the route it seemed impossible to book this prior to the timetable change, and knowing the XC policy on upgrades for Advance ticket holders I didn't even chance it. As it is, found a quiet seat and settled in for a very foggy trip across the fens, retracing a diversion I'd taken in a panic on a Sunday many years back when something went wrong between Lincoln and Nottingham! Not much scenery for inspiration, so enjoyed a late lunch and a good read as I sped through the dreamy landscape. Peterborough stood out as an interesting sight with a fair few locos on shed. The train also managed to avoid being busy for much of the journey, but I was moved briefly across the carriage as I didn't realise I was opposite a wheelchair bay which was needed between Leicester and Nuneaton. Arrived rather more quickly than I expected in a chilly and dark New Street with the diverted train to Bristol due to arrive soon and wait for over twenty minutes before departing. Realised with some regret that the conditions today meant I'd barely taken a picture at all - an increasingly common situation with recent trips heading for the somewhat camera-unfriendly southeast. Consequently, no pictures at all in this entry.
Settled in to my seat for an extended trip home in the dark travelling via Smethwick, Worcester and back onto the mainline at Cheltenham. Despite the timetable showing correct times, a fair few people seemed to get quite excited by the diversion, so I tuned them out and read my way home. As I trundled back to Highbridge on a local unit which I'd needed to force my way onto in competition with a surprising number of punters, I realised I'd managed in excess of 500 miles today in pursuit of a fraction of a mile of track. Despite frustrating crowds, poor weather and feeling a little under par for much of the trip, a decent day out covering bits of the network I rarely visit.

Posted in Railways on Saturday 29th November 2003 at 11:55pm
---
Off on the first train out of Weston once again. Ramsgate plans in tatters, so settle for a day in London. November weather means that its barely light when we reach Paddington. Underground to Temple, then up to Strand and a wander along Fleet Street, looking for the courts and alleys mentioned in William Kent's "Walks in London". Brief look at St. Brides, then coffee on New Bridge Street.

Decided to visit the Museum of London, but took a rambling path north via the remains of Paternoster Square, Amen Court, and a visit to Stationers Hall which appeared to be under preparation for a banquet.

Spent hours in the museum, and frankly could have spent much longer - lots to see. Decided that since the rain had stopped, more wandering was in order. Headed for Guildhall (which was also decked out in flags and a large marquee) via the sites of a string of ruined or disappeared churches. Eventually headed for Smithfield via Pie Corner, and Farringdon for a train back to Paddington.

Nice journey home in First Class. Decided to go out for a drink on getting back, which started out well - but as happens so often when I decide to be sociable, ends in hand-wringing disaster!