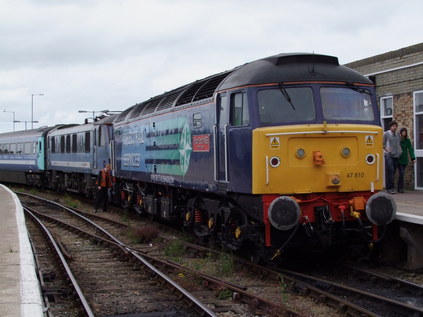 Posted in Railways on Saturday 30th July 2011 at 10:46pm
---
Over the years, I've noticed that railtours seem to come in waves - there will be years where there are endless opportunities and you're kicking yourself for having to choose between them, then there are years where long weeks seem to go by without much of interest. So far, this summer seems to indicate that this year will be the latter. So while there are interesting things ahead, I'm once again making my own railway entertainment for a few weeks. This is no small feat - advance tickets aren't always easy to come by at this time of year, when living in the south west has it's premium costs. But, wanting to do something at least purposeful with my time, I decided to try to travel on some of the few remaining loco-hauled services. This week, repeating a trip from last summer in fact, was Great Yarmouth.
As ever, once I'd changed to the Paddington train at Weston-super-Mare, I had a fairly leisurely ride up to London. The weather was looking reasonable despite dire warnings, and I was feeling pleasantly relaxed with an interesting trip ahead. I'd assumed that the Circle Line would be out of action - and sure enough it was, so I wandered out to the usual bus stop to get whatever turned up heading for Liverpool Street. The ongoing works on the sub-surface lines seem to coincide strangely with my the weeks I travel to London, but nowadays I'm happy enough on the buses anyway. The first suitable service to turn up was a No.23. Decided to go for it, and ended up having a few fraught moments as we crawled along roadwork strewn Oxford Street and into the West End. Crossrail works were getting in the way everywhere, and red lights seemed to pop up everywhere. Despite having left plenty of time, I began to wonder if it would be long enough? Once past Ludgate Circus and into the city however, the roads emptied and things speeded up. Into the station in good time to buy provisions and wait by the gate for the train to be announced.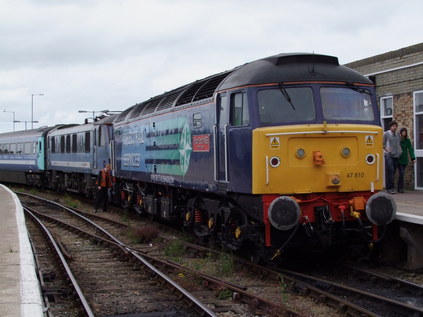 Last year's trip was a little before the start of the summer holidays, and the difference was clear - the train was much busier today with loads of ill-governed children running around in First Class. Headphones in, I managed to block out the noise and relax as we sped by the Olympic Park, with Anish Kapoor's sculpture beginning to take shape. Soon out into open countryside and dozing a little in the warming morning. At Norwich, watched the scramble for photographs as 47810 shunted onto the train. Resolved to get mine at the terminus, as it was getting busy out there and I didn't want to lose my seat. Settled in for the run over the flat, empty route via Reedham and into Great Yarmouth. Time for some pictures here, and a snack from the buffet bar which has now moved from it's caravan into the old newspaper stall. Then out into the sunshine to wait for the trip back to Norwich, and then London.
Decided on a 205 bus back to Paddington, and again time wasn't on my side as I'd arranged to meet an old friend at the station. Need not have worried as the tube works tangled her up too, so I was able to stumble around looking for the relocated bus stop - due to yet more roadworks near Liverpool Street - without too much concern. The day had turned bright and hot here, and waiting on London Wall, watching the world go by was a very pleasant way to pass a few minutes. The bus journey, one of my favourites, was entertaining as ever and delivered me to my appointment in good time.
So, today felt like a relaxing, low key and successful way to spend a Saturday. A new engine, old friends and a chance to get out into the sunshine and discard the frustrations of a working week. The railtour scene might be a little stagnant and frustrating now, but these trips more than compensate.

Posted in Updates on Friday 30th July 2004 at 11:53pm
---
Today started weirdly, with strange but funny transatlantic messages, and an intercontinental conversation which made me chuckle, and started my day much better than I'd hoped. Its a long time since I traded on my English accent to get by. Made me want to visit the New World again, something I've not thought of doing for a very long time indeed. Its also very good to hear that friends are doing OK, and how fantastic it must be to re-establish contact after years. Wish I could find a way to keep the messages too...

Work was strange. More data cleansing in preparation for next year. Confident we'll have a really solid base for the work to begin soon. Can only hope that other coordinating LEAs have spent the time and effort to get things as close to correct as we have. A new employee started too, who lives in my old home town. Reminisced about our old school and teachers, many of whom are still around it seems. Burnham it seems, remains much the same as when I left - a little more run down, a little more depressing. Its almost comforting. I passed through on the bus last week and noted some changes, but reassuringly I think all the reasons I left remain much the same.

Browsed bookshop at lunchtime, since it was pay day - couldn't find a thing. Have a dwindling backlog of reading matter. Perhaps I will address that this weekend...

Posted in Computers on Friday 30th July 2004 at 11:22pm
---
By helping with the arcane syntax of the tar command, I won the honour of testing the BlueVelvet theme for GNOME. However, myself and fellow #lemmings soon noted that gnome-theme-manager did not do anything with the BlueVelvet.tgz file. Some poking around showed it moving it correctly to ~/.themes but not unpacking it, and silently failing to report this to the user.

Soon found myself poking around in the gnome-control-center and ended up supplying a patch which firstly deals with .tgz files correctly, and secondly gives the user a clue when things have gone wrong. Another rather paltry contribution, but slightly amazed to find myself motivated to do such a thing after months of feeling utterly incapable of helping in any way!