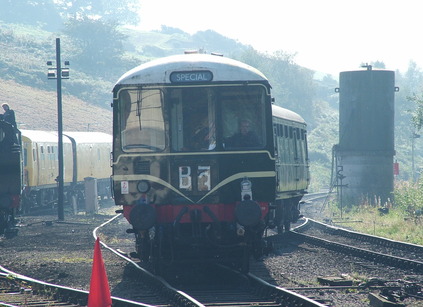 Posted in Railways on Saturday 27th September 2008 at 11:43pm
---
Stepped out into a misty Redditch and made the familiar climb up to the station for an unusually late start. I'd been trying to get today's trip to the Churnet Valley Railway sorted out for weeks, but late confirmation of the bus times and the diversion of Crosscountry services via the Severn Tunnel had made it tricky. Eventually made a late decision to head for the Midlands after work last evening and travel up to Stoke-on-Trent this morning. Noticed on arriving at New Street that there was a little tension in the air. It's not unusual to see a fair number of British Transport Police officers around - especially during the football season - but there were out early, and I managed to get myself stopped and searched before 9am by a rather rude officer who asked me if I was "a bit too old to be spotting trains?". Luckily his colleague, an older and wiser officer, intervened before I said something sarcastic in response. Found my seat and settled in for the short trip up to Stoke in what had become a stunning, bright morning.
Arrived at Stoke to find even more BTP in attendance with vanloads still arriving. The reputation of Chelsea fans was unknown to me, but clearly the locals were worried. Waited for the connecting bus in the sunshine, pleased to spot some familiar faces arriving - many of the Branch Line Society fraternity. This first use of the line to Oakamoor for many years was clearly quite an event, as evidenced by a full heritage bus leaving the stop for the twenty minute ride to Kingsley and Froghall. Some quick market research before we got off indicate that many had travelled quite a way to get here, and that the bus had made it possible to get to an otherwise inaccessible railway for over 50% of the passengers.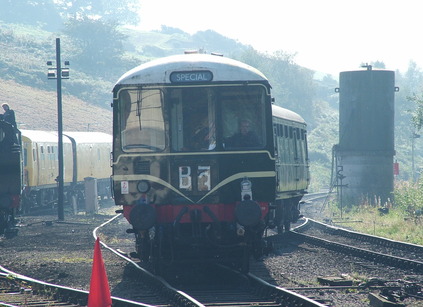 The theme of this 'Scenic Railcar Gala' was really a chance to exercise the resident Class 104 pair, and the visiting 116/118 hybrid from Shackerstone. I've always had a weakness for these first generation DMUs - probably because they operated some of the first trains I ever travelled on between Redditch and Birmingham, or because of fond memories of the Cornish branches in the 1990s when they replaced the Pacer units, deemed unsuitable on the tight curves. The first train arrived promptly, and I travelled the full length of the railway on normal running days, to Leekbrook Junction where the mothballed line from Stoke to Caldon Low crosses the track. A run around here, then back to Cheddleton, the preservation base of the railway. Pleasant to watch operations as a van was attached as a tail load on the DMU, which then set off southwards, leaving us to look around the yard and admire 37075 which was prowling around the area and making frequent trips into the bay platform, where a former Class 104 sandite car was also stabled.
The next train was the smartly turned out blue and grey set from the Battlefield Line. Boarded and set off southwards again to Kingsley and Froghall. This train however carried on to Oakamoor, and we all dutifully produced our supplementary tickets. Such was demand that this entitled the bearer to travel on just one of the trains covering the line, and the DMU left well loaded for the slow crawl onto this line which would be the perfect way to get large groups of people to Alton Towers if only it remained open! Wonderful scenery as we progressed towards Oakamoor and the loop which formerly served sand loading sidings. Some evidence of stored stock here, but we didn't progress far into the loop - in particular, couldn't see any sign of the 37 allegedly stored here. A swift turn around, and back to Kingsley and Froghall. Decided to stay on for another trip up the line since I had lots of time before the bus back to Stoke.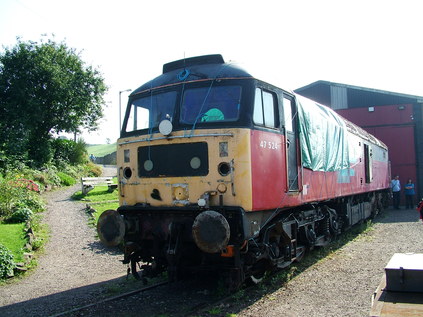 Would have liked a little more opportunity to look around Cheddleton Yard, where 33102 and 25322 were clearly visible but impossible to photograph, and the recently arrived 37s were equally difficult to get a shot of. 47524 however sat outside the toilet block, looking rather forlorn. I understand the sheds may have opened to the public a little later, but the timetable left me with very little room to manoeuvre and I was soon heading back down the valley, passing The Black Lion at Consall and pausing to let the other service pass. Slight concern at a loss of pressure in our unit as we left the station here, but driver and guard seemed happy to proceed, and we made good progress back to Kingsley and Froghall. Time for a cup of coffee before the arrival of 37075 hauling the sandite car, which was then propelled back up the line. A nice touch to a very well organised gala. Sampled the excellent refreshment room and wandered around the attractive station site until it was time to head for the bus.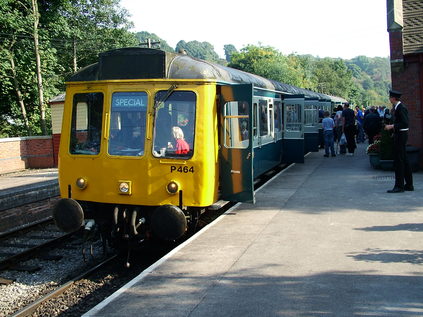 A nice easy bus journey back to Stoke delivered us just before the Chelsea fans arrived. A couple of Euston trains before the 18:04 Voyager, and a Class 67 hauled footex chartered by the club meant very few of them stuck around for my train. More hassle getting into the station, and no hope of any refreshments as everything had closed until the charter left. Immediately after departure, first class was invaded and the journey down to Birmingham was interesting to say the least. A swift change to the Bristol service, and more silliness when a bunch of idiots from Birmingham descended on our coach having been chased out of Standard Class. Having managed to wind up a huge, not particularly friendly Manchester United fan they were met at Newport by the BTP, who then because of misunderstanding where someone was pointing, managed to rope me into it all somehow. My second encounter with the BTP in a day was equally frustrating but at least our chav neighbours moved back down the train. They managed to cause further trouble at Bristol, where they waited for the train back to Weston. Managed to find a quite space in the leading end of 158951 and lurk quietly all the way back. An enjoyable and rewarding day, with a lot of football related frustration. Three matches in close proximity and with some big teams meant trouble was on the cards, but some impressive organisation seemed to keep things quiet.

Posted in Updates on Saturday 27th September 2003 at 10:36pm
---
Its probably not of huge consequence, but as an experiment I've set up an RSS feed of the ten most recent stories on this site.

The link is in a little box to the right, or you can point your preferred RSS aggregator at:

https://mikegtn.net/rss.php

If you find a use for it, let me know!

Lived vicariously today. First, went to the car wash with my sister and mother - I haven't been through one of these automated washers since I was tiny, and the new high tech ones are possibly even scarier than the old fashioned ones! Later, accompanied a friend on a shopping trip for stereo system components. Amazed at both the excellent deals available at Richer Sounds, and at my friend's ability to stay within a budget - something which declines in proportion to the size of the spend where I am concerned!

Posted in Updates on Friday 27th September 2002 at 12:00am
---
Some days are impossibly strange. Started today with some apprehension of a work meeting. It turned out better than expected. Prepared myself for the usual quiet Friday evening. Thought a great deal about justice and freedom today - the result of a long saga, now thankfully ended. My feelings about democracy again take a battering, but all seems to come good in the long run. Summonned to duty by an early call. Met people out and about. Ate far too much (very good) food at the Britannia. A slight interruption from outside is prevented from ruining things by the staff and regulars, which restores my faith in humanity a great deal. Later things take a turn for the incredible - first meeting someone I haven't seen for maybe eight years, which is great. Later, meeting one of the happiest, sweetest and most determined people I ever hope to discover for the first time. Rumours about public dancing are probably highly exaggerated. A truly odd, long, tiring day which I won't forget for a very long time.

Posted in Updates on Thursday 27th September 2001 at 12:00am
---
Moving day. Leaving Russell House again was not as difficult as previously, despite general displeasure with the new location. Moments before we left, the unions stirred and all was once again uncertain. The move itself was reasonably chaotic, badly planned and as ever, incredibly stressful for all concerned. Later in the day, senior managers arrive and claim to be ignorant of the move. Things seem to be coming to a head, and a meeting of all concerned is due tomorrow. Went home and became instantly exhausted. Drank too much wine. Booked a flight to Dublin for Linuxworld and promised to post my printer to Germany!