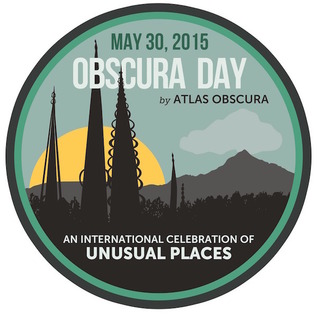 Posted in London on Saturday 30th May 2015 at 7:05am
---
When David Plotz left Slate for a new venture, there was it's fair to say, a little head-scratching. This venture was Atlas Obscura - a guide to the strange, surprising and wonderful places of the world, with the content generated by the locals themselves. We all know these spots - these places we like to show people who visit us, basking in the vicarious delight of finding an interesting place that's just a little off the beaten track. We probably all secretly covet them too, wanting them to not become too well known or widely heard about. Admit it. We've all thought that about a special place. But amongst genuine enthusiasts there is another urge at work - the wish to share knowledge, especially those most obscure or geeky bits of it. That's where Atlas Obscura comes in. From strange monuments to hidden subways, and from secret gardens to lost nuclear bunkers - the world of Atlas Obscura is slightly nerdy but utterly loveable one. One in which you can easily lose many, many hours.
Today was International Obscura Day, and all over the world hundreds of the places documented on the website were opening up in a global celebration of all things hidden and curious. We'd spotted that among them was Tower Hamlets Cemetery Park - formerly one of London's 'magnificent seven' Victorian cemeteries, opened to accept the city's dead who were, in the most literal sense, spilling over from the ancient churchyards. We set out early, taking a relaxing trip to London for the second week in a stretch, and making our way eastwards. Our first call was at Stratford for a little shopping - I think I did pretty well to survive for a couple of hours in Westfield before getting frustrated and irritable with the public. It also became apparent during this part of the day, that recent events had taken their toll on my patience - I felt stretched and downcast as I surveyed the Olympic Park from the restaurant where we ate. But, our planned visit soon piqued my curiosity, and we headed to Mile End. There was time for a brief walk to look at the Regents Canal before we assembled at the Cemetery Park, and near the bridge we discovered a surprisingly well cared for rose garden nestling between the canal and a small modern housing development. The sun was beating down on the city - dry, dusty and busy passing not far from us. But this little oasis of a garden was quiet and pleasant. It was our very own bit of Obscura for a few minutes.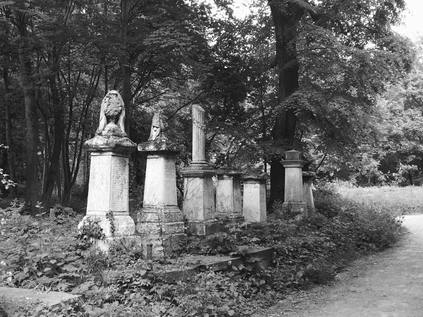 We approached the park via Hamlets Way, a busy confusion of stores and houses with numerous layers of the ever changing East End population tumbling over each other. Once inside the gates, next to the crumbling brick lodge and the more recent Soanes Centre, the peace and tranquillity was evident. We paused on a bench, watching people assemble and looking at some of the nearby grave markers. Despite housing encroaching on the park, it was shielded by tall, old trees which swayed in the breeze. A private and rather wonderful spot. There was no doubt this belonged in the Atlas at all. Soon, our guide Ken arrived and took us into the building where he and two other employees are based. Some quick admin later, and we snaked out into the park once again while Ken explained how the cemetery had come into being, and how after its closure it became threatened by re-development. Development so aggressive in fact, that only a few short years after the final burial, the borough had cleared a swathe of the stones by bulldozer. But the story of the park is a story of a community knowing it has something special on its hands - they organised, protested and persisted - and the site was eventually retained as a park with the Friends of Tower Hamlets Cemetery Park providing management and custodianship. It stands as an early and enduring example of localism which is inspiring, especially when the scale of the undertaking is considered.
Because, this is a huge park! The cemetery, given its location in the East of the city, had to do two things which perhaps set it apart from the rest of the magnificent seven. Firstly, it had to accommodate people from a variety of faiths, sects and beliefs - and therefore unlike others it isn't segregated into sections, but devotes the whole space to the community it serves. It also had to accommodate far more poor folk in 'paupers graves' than other cemeteries. Now, the site is mostly given over to woodland, with venerable trees snaking between mossy, intriguing headstones. The monuments here are a little less ostentatious than Highgate or Kensal Green - columns and urns dominate, among stones of dark purple granite and occasionally welsh slate - but the sheer volume of graves is remarkable. There are, it's said, more people buried here than alive now in Tower Hamlets. Well over a quarter of a million souls found their last rest here before it became a park. As we walk and listen, Ken proudly points out the flora and fauna they have introduced in the managed areas. He is particularly taken with telling us which plants are edible, breaking off leaves and stems and encouraging us to taste and describe. Two young children in the group are far braver than most of the adults, and Ken finds a ready audience - particularly in the young girl who is a budding environmentalist and clearly holds him in high esteem, skipping along behind him beneath the tunnel of brooding old trees. Occasionally the sun bursts between branches and picks out a stone. It's a very special afternoon indeed.
There is also plenty of evidence that the park is still a valued community asset. As we clog the pathways with our straggling group, Ken occasionally reins us in to let a park user pass by. He knows them all it seems, many by name, and has a surprising recall for their lives and routines. Not distracted by this though, he demonstrates how to cure a nettle sting and in the process bursts a lifelong balloon of certainty - dock leaves don't work. Nettles have their own antidote stored in the sticky sap of their stems. He also demonstrates how to eat a nettle successfully - I don't join in, I have an entire boyhood of stored memories of the aching stings they produce and I'm just too clumsy and uncertain to 'grasp the nettle' how Ken does. At the centre of the park is a wide grassy space where the non-denominational chapel once stood, before the Luftwaffe claimed it during the blitz. A fenced off area beside this marks the part of the park which the borough intended to leave as a cemetery when they brought in the bulldozer. It's a tiny, crowded park of the site against the south-western corner of the site. It's amazing to think how this could all have been so different.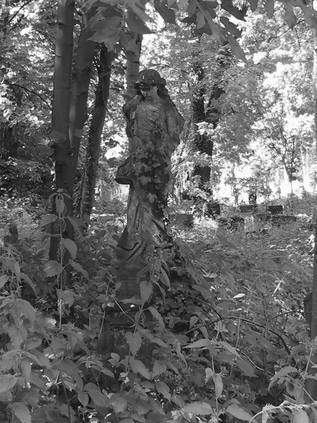 As we navigated the park, coming up against the low brick viaduct carrying the London, Tilbury and Southend Railway out of the city, notable burials were mentioned - not least "White Hat Willis", the owner of the Cutty Sark and Will Crooks, a much-loved local poverty activist and Mayor of Poplar. But more affecting perhaps were the mass of public graves, organised as long trenches and most often unmarked save the odd, tiny stone. A contrast indeed to the line of tall, pointed and distinctive Charterhouse graves, the resting place of Monks from the city who's own burial site had also filled to overflowing. There is one surprisingly new monument too - that for John Buckley VC, hero of the Indian Mutiny, long lost in a mass burial site here but found after diligent work by volunteers. The stone is discreet and secluded, being left to nature in a mark of respect to the local population who probably take a rather different view of Buckley's 'heroism' in strapping mutineers to cannons before firing them.
All too soon, we realise that the planned tour has over-run by over forty minutes, and we make a swift loop back around the circular track used for turning horse-drawn hearses and head for the gates. It feels like there is much more to see here, and a great deal more to know about the place. Ken urges us to stay in touch, to join the Friends if we can. As our group disperses into the warm, summery evening of Mile End, we head for the station and the start of our journey home. While a cemetery in Tower Hamlets might not feel like the most hidden or exciting spot, the tour has met the brief strangely well. I'm not sure how many times I've passed by here, hurrying to some other more exotic spot, scudding by on a train out of Fenchurch Street, or passing mere feet away on a bus. But right here, under our very noses is a place of deep-rooted history, local activism and dedicated conservation. Aware of the burden they carry for managing the past, the Friends of the Cemetery make careful judgements about balancing respect and recreation. They're definitely getting it right so far.

Posted in SHOFT on Wednesday 30th May 2012 at 10:05am
---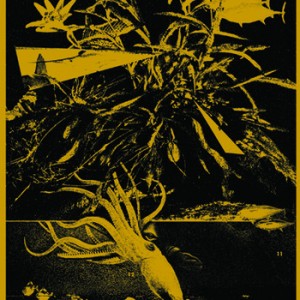 I'll be honest, I've been itching to write about North American War for a long time now, and with this new release they've finally given me the excuse I needed. Since hearing their debut EP - which is still available free from Winning Sperm Party - I've been trying to contrive a reason to feature them here. However, having not managed to make it north of the border to any of their sporadic and often short notice live appearances, it's only now with the release of this 7" single that I get to talk about this intriguing and - for me at least - rather mysterious band. It's going to become painfully clear in the next couple of paragraphs that I know woefully little about them, so readers will have to indulge me and take this at face value - because it's a damn fine record you really ought to hear.
The really unfair thing to do here would be to pull in a few reference points, make some lazy comparisons and leave it at that - and it's inevitable that reviewers with good record collections, long memories or (like me) a few years on the clock will resort to mentions of Sonic Youth. This is no bad thing, because if North American War have picked up the thread from that behemoth of US alternative rock, they've selected that brief moment when they balanced bubblegum pop and experimental guitar destruction almost perfectly. But there is far more to North American War than a set of, albeit very well chosen, influences. Not least in the laconic and brutally disinterested vocals provided by Anna Schneider which set them apart from other bands ploughing similar furrows. She carefully half-speaks the fragmented, paranoid lyrics of "Ivory And" while scratchy, urgent guitars duel for attention. Occasionally, they burst free into a squall of ungoverned white noise. But Anna never breaks her stride, carefully pacing her distant, disconnected utterances. After a brief respite, there is a storm of irrepressible, beautifully discordant guitar noise with at least three distinct melodies vying for dominance at the track's conclusion. These few moments of blissfully tinnitus-inducing racket make me want very badly to see North American War play live as soon as possible.
Meanwhile "Geraniums On A Spit" is a different proposition, opening with a delicate and almost pretty guitar melody and just slightly ominous sounding backing vocals. The vocal drifts between German and English while the bass and drums drive things forward with a little more form and pace this time. The guitars shift between their melodic, slightly off-centre drift and a satisfyingly gruff, edgy note which maintains the tension. It's never as simple as loud/quiet/loud here, with the track collapsing and reforming several times while the vocals are wound up towards the concluding - and oddly sinister refrain of "if you don't come now/I'll never get out of bed again". There are points here where they drift into that dark, uncharted territory inhabited by The Dead C and their New Zealand brethren - where the squalls of noise fuel the imagination into hearing things which aren't really there. It's unsettling, enervating and dangerously addictive stuff. While it's easy, as I hinted, to parcel off North American War in terms of bands who have done similar things historically, in pieces like this they display an acute understanding of songcraft and dynamics which is often absent in some of the more waywardly experimental guitar music out there.
It's a huge relief when a band gets me as excited about music as North American War have managed to over the course of their debut EP and this single. I started this blog to record and relate music I loved, and whilst it might seem because of that policy that there is never a shortage of things for me to get fired up about, it does sometimes spook me that not nearly enough of it is genuinely new and coming up from the grass roots. This record, and the band which made it restores enough of that faith to make me want to keep listening. I get the sense here that this is the start of a very interesting journey for North American War.

North American War - Ivory And
North American War's "Ivory And"/"Geraniums On A Spit" 7" is released today. You can purchase it in a limited, hand-painted sleeve including a digital download from Bandcamp. The debut EP is available as a free download from Winning Sperm Party, or as a cassette featuring additional tracks here on Bandcamp. They can be seen at Doune The Rabbit Hole on August 24th-26th.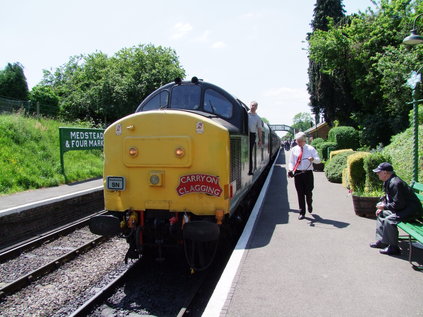 Posted in Railways on Saturday 30th May 2009 at 10:05pm
---
Following some fairly well-documented issues, the Mid-Hants Railways stopped having diesel galas around four years ago. It was encouraging to see then, an announcement that an event would be held this weekend. Having watched a fair amount of commentary on the web over the last few weeks, it was fair to say that some doubted the sincerity and the commitment of the line's management to a diesel based event, given an outspoken preference not to get involved in such things in the past. The lack of involvement of those in the industry who had previous supported the organisation of diesel events was also notable. However, having not been to the line since a brief end-to-end trip in 2006, I was keen to visit and to see how things worked out for myself. In particular, the reported presence of both 56098 and 37905 from Shackerstone were a huge bonus, having been elsewhere during the Battlefield Line's own gala earlier in the year. So, set out on the early train, connecting at Weston into the 06:24 in the time-honoured fashion and travelled as far as Reading, unusually via Filton Bank and Hullavington. A quick leap here onto a Gatwick-bound 166 as far as North Camp where we made the short walk to Ash Vale and a 450 into Alton.
As we arrived it was clear that the Mid-Hants organisation had likely underestimated the patronage. Already, there were queues building for tickets, and notably the glossy and well-produced programme and timetable had been reduced from £5 to a more reasonable £3. Even more surprisingly, the first train off Alton's platform 3 was to be formed of the line's single car Class 122 bubblecar! We crammed in, but others decided to flag this for the following departure. They displayed some foresight in doing so, as on arrival at Medstead & Four Marks our train was declared a failure with an air leak. Off the train with some difficult due to the number of out-of-use doors on the unit, and time for a coffee in the bright sunshine while we awaited 56098 and 33053 which were following.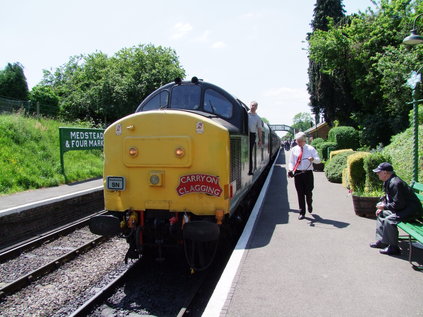 Things seemed to go awry here, and to be honest never really recovered. Our plan had been simple - try to get some haulage behind each of the locomotives on offer, and ensure that we managed to end up on a service using the rare track into the Cattle Dock at Alresford along the way. In the event, just finding trains to run up and down the line on became an exercise in itself. Stayed on the 56 hauled set for a full run back to Alton, then via a solo run with 33053 managed a switch onto the impressively noisy 37905 somewhere along the way. With mounting delays, the timetable and roster were apparently discarded in favour of letting people watch the various demonstration freight trains passing by. Frustratingly, we spent more time on platforms at the admittedly well-kept stations with their very good facilities, than we did on trains. Spotting one of the DMUs lurking outside Ropley station we bailed and soon found ourselves onboard the now working bubblecar once again, which managed the required track into the Cattle Dock. Time for a few pictures of an impressive departure from 37905 too.
Perhaps watching this departure rather than hopping on board wasn't the correct plan however, as it soon became apparent that there was no hope of anything hauled by the two Class 73s from this end of the line now. A long, but not unpleasant wait eating ice-cream and drinking ginger beer followed, before 33053 crept out of the sidings with the stock of the 15:20, delayed by well over an hour. We boarded as a desperate move to get back to Alton, literally not knowing when the next train might arrive if we didn't!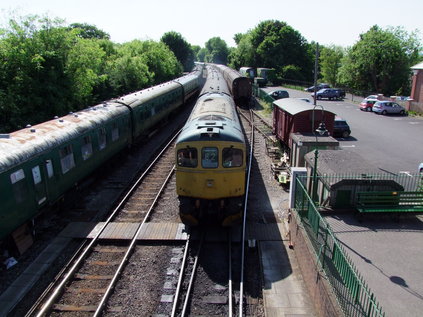 Finally back at Alton to find 73201 arriving suspiciously quickly after us. No hope of a complete round trip now before the close of the event, and a risky change at Medstead didn't feel at all sensible. Instead, flagged the train for a wander into Alton, and eventually the 17:44 train back to Ash Vale which seemed to be conveying mostly expectant-eyed young clubbers heading for Waterloo! Another quick move on foot to North Camp for a relaxing run into Reading. From here, another diverted HST home, this time via the Berks & Hants and Hawkeridge Junction to reach Bristol.
Despite things not going to plan, today was a decent day out - helped of course by some fine guest locomotives, stunning weather and the pleasant surroundings of the Watercress Line. However the organisation, and some of the staff with their clear anti-diesel sentiments, let down the MHR badly. The proliferation of non-passenger workings, the lack of contingencies when failures occurred and the quite oddly constructed timetable made for a frustrating day which just wasn't good value - even when compared to more expensive events elsewhere. It's a 'must try harder' from me for this weekend - but I sincerely hope they do, and that there are future diesel events worth visiting on this otherwise interesting preserved line.

Posted in SHOFT on Tuesday 30th May 2006 at 11:59pm
---
There have been a few times that I've almost not seen The Wedding Present in Bristol. The one that most immediately springs to mind is the overheating Volkswagen Golf expiring in The Centre on the way to The Fleece. Tonight, once again, it was almost not to be. Arrived early - the ticket said 7:00pm, and the doors opened on time, but regulars here obviously knew that this was wildly optimistic and almost no-one else turned up until a little before 8:00pm. Beer selection impossible - not even a keg bitter in sight. Figured that in a Carling sponsored venue, their offering would at least be cheap. Not so. At over three quid a pint, this is the most expensive beer I've ever been practically forced to buy! Around my second sip I remembered why I drink real ale and not this odd artificial concoction. Consoled myself that the music would start soon...
And then the lights went out...
Builders working nearby had severed a power cable, leaving us with only emergency lighting. The promoter kept us updated but it was clearly out of his hands. We just had to wait. If the power came back on by nine thirty, The Wedding Present would play. If not, it was a refund or a rescheduled date. The power was off for around 40 minutes by my reckoning, but it seemed to drag on forever. Calculated train times for an early departure. Soon they began to remove the support band's equipment from the stage - shame, I'd been looking forward to seeing Scarling. A little after 9:15pm the venue hummed back into life, and the lights came up. The stage was suddenly busy with people setting up for The Wedding Present, and bang on time David and Terry walked on stage to sing Shivers over the curious wurlitzer backing track.
And so the evening began in earnest. This is perhaps the most energetic I've seen David in ages. Every time the band is reinvented around him he seems to draw energy from the young incomers in an almost vampiric manner! When I last saw them, back in February 2005 the band soared majestically through new material and old songs alike. This time, it was noisy and tight - the sound, and a fair few of the song choices, coming straight from the Albini era of 1990-1991. From my perspective, they hadn't sounded better since the last time I saw them in this very venue - which I think was in 1992, when it was known as the Bristol Studio with its strange chicken-in-a-basket catering and alarmingly vibrating upper balcony!
The hits kept coming - a thunderous Dalliance, triumphant returns for old favourites Everyone Thinks He Looks Daft and You Should Always Keep In Touch With Your Friends, and a searing and chaotic Courduroy. Throughout, David was relaxed and talkative - taking mock offence at a fan's failure to remember his football team of choice with an exasperated "I know this man's face better than my Dad's but he forgets I support Man Utd!". Perhaps the most incredible trio of songs was saved for the end - an acerbic take on Brassneck, straight into a full-length version of Take Me (which was cruelly cut short here in 1992!) and then a majestic Octopussy - the strange track which closed 'Seamonsters' signalling with a storm of noise the end of that particular era of The Wedding Present.
I read that this might be the last tour for the reinvented Wedding Present for a while. If they're back, I'll be back. After all, there haven't been any other stormy love affairs which have lasted half my life!