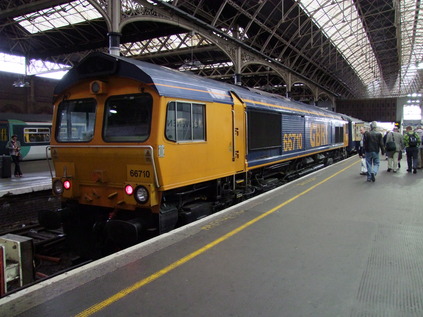 Posted in Railways on Saturday 21st August 2010 at 9:48pm
---
Woke uncharacteristically late for a comparatively leisurely start today. A pleasure to be in London, and to finally have shaken off the attack of the drabs which seemed to have started in Milton Keynes last weekend, and pervaded most of last week in some strange way. The plan was to make my way over to London Bridge fairly early and to get breakfast whilst waiting for the stock of the tour to arrive. Wandered over to Caledonian Road to find the bus stop and hopped onto a No. 17. This took an interesting route through Smithfield and The City before crossing London Bridge and terminating at the station. Interesting to see the city waking up as we passed by, and a somewhat different view of some familiar and much trodden ground. Found coffee and watched some of the usual faces arriving for the trip. Thought I'd managed to stay anonymously normal looking for a while until a shout across the concourse confirmed I'd be recognised...so I gave in and joined the assembly of cranks on the platform, after a pleasant chat with the gateline staff.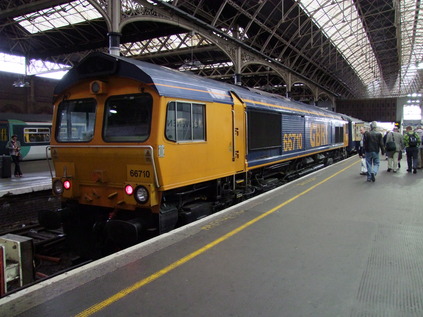 The stock arrived with 66710 leading into the platform. It was unusual to have a railtour starting here, and it of course attracted a somewhat different crowd of folks who perhaps don't make it to some of the stuff which starts in the Midlands and north. I noticed a fair few passengers left it pretty late in arriving, including the fellow occupants of my bay! Got shots of the two locos, as I realised I'd have few chances during the rest of the day, and settled into my seat. This was my first UK Railtour and I was surprised to see the same set of stock used as for one or two of their other trips I'd witnessed. The stock was in fairly good condition by Riviera standards, and whilst I didn't quite have the seat I'd choose with other tour operators, it was comfortable enough. We set off bang on time and started with the circuit to Waterloo, taking in the Linford Street Flyover. Built for Eurostar and now all but abandoned, we screeched our way over the high concrete structure, possibly the first train since last October's Buffer Puffer in fact? A very brief stop at Waterloo, before heading off again and using the equally rare Sheepcote Lane curve (again a means of getting Eurostart stock back to their former North Pole depot) for another reversal at Kensington Olympia - a station I seem to pass through on a weekly basis at present! Now underway in earnest and with 73204 leading, we managed to escape London's gravity with a speedy run out into Kent. The target was Sheerness-on-Sea, the first of the "Nesses" which gave the tour it's title. This involved traversal of the Western Curve at Sittingbourne, one of two bits of track which made this tour essential for me. The curve is used by some early services to get a unit onto the branch, but these are pretty inaccessible. After negotiating the tight turn onto the Isle of Sheppey, we crossed the flat and empty grassland, noting a fair bit of activity in the yard near the station - with a shunter and a pair of DRS Class 37s in evidence. Dashed out into the town briefly during our break here. A busy, but rather tiny place marooned on this forlorn stretch of the Thames Estuary. Time for further photographs before getting back on board for the next leg.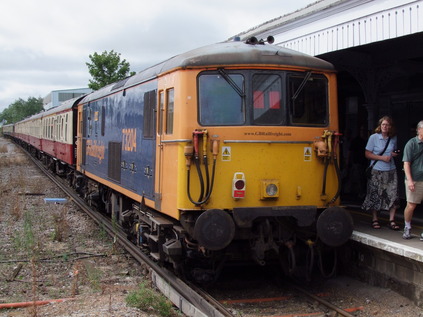 After departure from Sheerness, I braved the buffet queue and tried to stay awake with plenty of coffee. The lazy stroll around the edge of Kent remains an interesting journey in places, but I was beginning to snooze a little. We kept remarkably good time throughout this leg, losing only a couple of minutes outside Dover Priory. This led to the planned leg-stretch here being fairly short. Hopped off for a quick wander before settling back in for the next part of the run. I'd visited the Dungeness branch
before
and while it had been an interesting and rather eerie experience, it had been a long slow drag down the branch. As we approached Ashford, noted we were routed into Sevington Loop. Given that we were roughly on time, this seemed an odd turn of events. Eventually an announcement was made that the local Network Rail manager was querying the permission to head down to Dungeness with a Class 66, despite the class having visited before. This sort of issue has become an increasing problem over the last few year, and has had a huge impact on the type of trip I personally enjoy most. After a short wait, the management conceded and we headed into Ashford for the reversal. We finally got onto the branch around 25 minutes late, with little hope of making up much except for on the turn around. Dungeness was as I remembered it - a flat, rather desolate expanse of gravel and coarse grass. Lydd, the only settlement of note seemed isolated, with its rather forlorn abandoned station. Not sorry to leave this curious spot in some ways today.
A side effect of Network Rail admitting their earlier error was that every effort was made to get our train back on time on the run back towards London. Several Class 1 services were looped as we sped past, making up a fair amount of the time we'd lost in the process. An uninterrupted run from Ashford to Petts Wood Junction gave the Class 66 a chance to stretch it's legs impressively, and we were soon taking the rare curve at Beckenham Junction and heading back into London. We then undertook a fairly torturous circuit to get to our final destination, heading through Clapham Jucntion to Barnes and then into the tangle of lines around Acton. The next piece of line was the second highlight of the day for me - the tight, almost abandoned curve between Neasden Junction and Neasden South. We waited for some time for permission to proceed, and I wondered given our lateness if we might end up diverted elsewhere. But, eventually we crept forward, screeching around the curve and onto the Chiltern line, stopping beyond the signal for our reversal. Mission accomplished for me! The matter of the short run into Marylebone from here should have been straightforward, but the bank at Neasden presented quite a challenge for a Class 73 working on diesel power! The engine howled in protest as it worked up the bank, dropping to around 8mph at one point. Eventually the gradient eased and we picked up speed for the run into the terminus, only around 20 minutes late despite our complicated route in.
Commendably GBRf were to run the ECS back to Woking as a charity additional train, but having calculated the options for getting back into London, I decided that this wasn't a wise move - despite a short sliver of required track I'd missed last November too. Grabbed a snap of 73204 ticking over at the buffers, and headed out into the city. It had been a pleasant and fairly uneventful day, but a successful first jaunt with UK Railtours.