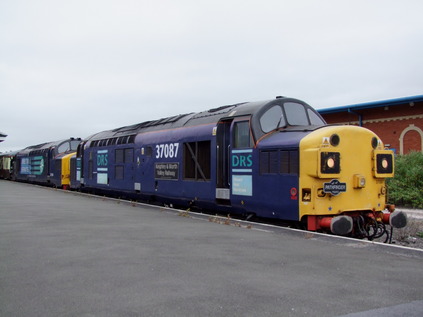 Posted in Railways on Saturday 28th May 2011 at 10:38pm
---
I could have spent a little extra time in bed this morning, but old habits die hard and I found myself heading for the 05:48. This, at least, allowed time for breakfast and coffee before picking up today's tour at Bristol Temple Meads. It's rare I manage to do a tour from here at a reasonable hour, and despite the dubious wisdom of not squeezing out every possible mile given the fairly hefty cost, it felt like a nice, relaxing morning - which after the rather messy and difficult week I'd had, was ideal. A few minutes before time, the tell-tale rumble of an unreconstructed Class 37 could be heard, and the tour rounded the corner into platform 6. Boarded and found myself near some familiar faces. Unfortunately ones who won't tolerate open windows which meant I'd likely have a sleepy and quiet day. In any case, concentrated on the journey ahead - pausing to have a few minutes at a drop-light through Highbridge and Bridgwater where a few familiar faces were in evidence. From here, it was a fairly straightforward dash down through Exeter and over the South Devon Banks to Plymouth for a brief leg-stretch before doing the unusual connection from platform 8 southbound, back onto the mainline.
The first object of today's jaunt was Goonbarrow Junction - the complex of china clay sidings just off the Newquay branch. Given that this wasn't a BLS tour and Pathfinder's history of 'paperwork' issues, most of us expected to reach the Network Rail limit and no further. As we creaked and groaned into the yard of Rocks Dries with the concrete pad white with kaolin, I was surprised to note we were continuing into the sidings. We ended up close to the buffer stops, as physically far as the train could reach. Much impressed we awaited the reversal and the run through St. Blazey yard and down to the stub of the Par Harbour branch. As we came to a halt at the road bridge, pretty much where previous tours have reached in fact, I was again rather shocked to find the driver edging forward once again. Passing the Stop Board which marked the start of Imerys territory, we progressed into the complex, coming to a stand well onto the concrete apron near the loading point. Discussed this rather unexpected outcome with my BLS-member table-mate as I spotted a 'Pearns of Par' van in the docks. The pasties had arrived!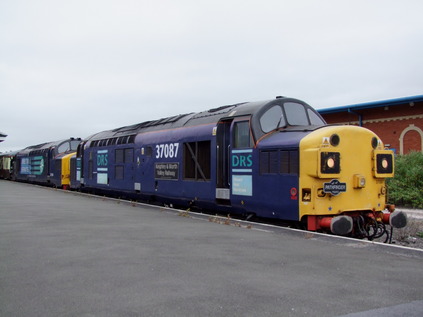 After a very long queue for a very good pasty, I settled back in for the next part of the run. A reversal back into St. Blazey, then back onto the mainline to Lostwithiel where we passed slowly through the station and came to a stand in the Up Goods Loop. Once we'd reversed and crossed over the mainline, we began the descent beside the river towards Fowey. Besides being interesting from a railway perspective, this was a stunning run through fine countryside. A boat flying the Saltire kept pace with us as we wound alongside the river through the pretty and tiny village of Golant, which a spellchecker had rendered as 'coolant' in the tour notes! Noted the crowd of drinkers at the Fisherman's Arms out to cheer us on too. Eventually we came to a halt at Carne Point, beyond which passenger trains are forbidden. Once again, we'd gone as far as possible - which was shaping up to be the order of the day. A swift reversal before we headed back to the mainline at Lostwithiel and gathered pace back towards the Royal Albert Bridge and civilisation.
Another brief stop at Plymouth in drizzle and gloom followed, before we set off as far as Lipson Junction where we curved to the right, passing the back of Laira Depot and heading back towards the city. As the tidy but clearly no longer used Turnchapel branch descended to meet us, we realised that once again we were pressing on to the very end of the network. As the former site of Plymouth Friar, the Southern Railway terminus here, opened out, we halted at the buffer stops just short of an impressively proportioned road overbridge. The city centre was a couple of hundred yards beyond - much more convenient that an arrival at distant North Road station! No time to rue the passing of the station though, as we headed back towards Great Western metals and Mount Gould Junction. Here we took the right hand fork onto the 'Speedway Line'. Installed when Laira became a diesel depot, this line divides the main depot from the sidings, and links back to the mainline at Laira Junction. Once back on the mainline we started from a near stand to assault Hemerdon Bank. A noisy, smoky and very satisfying climb indeed.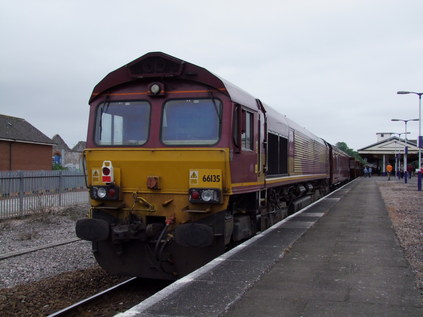 Once back in the Exeter suburbs we slowed near the rather bleak St. Thomas station to reverse again, this time reversing onto the Alphington Road siding, formerly the line to Heathfield and Newton Abbot avoiding the sea wall section. Dense foliage permitted very little view of our surroundings, but I understand we reached the edge of the scrapyard which this tiny stub now serves, and almost got as far as the large Sainsbury's now built near the trackbed. With the 37s now leading for the ride home, we stopped briefly to set down at Exeter St. Davids before passing through Riverside Yard on the Down Goods line. I readied myself to disembark at Taunton, happy that the day had been a huge success and an enjoyable trip.
A quick - but painfully expensive - ticket purchase at Taunton, then on to a waiting hired-in London Midland Class 153. A bunch of locals were complaining that the train hadn't left yet - despite it not being time for another 15 minutes or so - and the otherwise very well refurbished unit had obviously taken a battering down here, being strewn with litter and torn seat covers. I missed my comfortable Mark I FO as I trundled home.

Posted in SHOFT on Thursday 26th May 2011 at 6:05am
---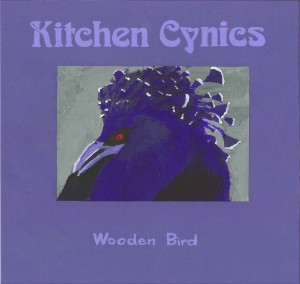 I spend quite a bit of time trying to convince myself - and indeed the small group of people who read this - that this isn't a Scottish music blog. It certainly didn't set out to be - after all there are plenty already, and some of them are very good indeed - and it's only my tastes and habits which have allowed it to become so imbalanced. So, imagine how excited I was to have the opportunity to enthuse about something different, something which had come to me via a circuitous route through uncertain geography. I first heard of the Kitchen Cynics many years ago when I was involved in putting out DIY music myself. A correspondent from North Yorkshire raved about their home recorded sort-of-folk music, already then spanning a good number of cassettes released from around 1988 onwards. Fast forward almost twenty years and a chance email conversation with an old friend from Italy reveals that he is about to release a pretty special vinyl LP by the very same Kitchen Cynics. He is hand painting each and every sleeve - and not just random dabs of paint here, these are tiny masterpieces, lovingly and carefully executed. I knew on hearing the songs and seeing the sleeves that I wanted to write about it here. But remarkably, despite my protestations about the nature of this blog, and despite this release coming to me via a twenty-year journey through time from North Yorkshire to Southern Italy, the Kitchen Cynics are in fact from Aberdeen. As Missed Connections go, this one is a pretty extreme example - and once again I fail to shake off the tag of Scottish hanger-on!
It's fair to say that the Kitchen Cynics - more accurately Alan Davidson - have not been quiet over the time I've been away. The volume of his output is remarkable, with a collection of cassettes, CD-Rs and occasional vinyl releases which feel almost overwhelming. But "Wooden Bird" pretty quickly dispels any concerns about knowing where to start with this dauntingly wide-ranging back catalogue by being almost instantly accessible. While much of the rest of his nation's DIY music scene appears to be debating the contested terms around modern acoustic music, Alan dodges any genre-bound controversy around "new folk", "psyche folk" or "anti folk" by happily peddling good old fashioned tunes in the way he's done it for longer that he probably dares to remember. The record opens with atmospheric, reverberating guitar chimes on "Deep In The Wee Hours" before Davidson's soft and melodious but strangely cracked and broken sounding voice enters. While the phrasings and melodies seem to come directly from the folk tradition, the distorted guitar which weaves in and out of the verses definitely isn't. It's fairly common to see the overused and contested term "psychadelic" applied to Kitchen Cynics output it seems - but this feels a bit lazy, and doesn't do justice to the strangely claustrophobic atmosphere which Davidson creates in these affecting compositions. The brief "Dawn" follows a similar pattern, but treads a more formal and traditional path perhaps, showing that this music is founded on an understanding of the territory, and of the principle that to reconstruct things, you need to truly know them. Again though, with minimal instrumentation the sum becomes much greater than the parts and the interwoven guitar parts echo and skitter around the track. At times, I'm reminded of Gordon Anderson's work as Lone Pigeon - which similarly manages to take an essentially solo performance far beyond it's usually simple possibilities.
Surprisingly, one of the most delicate and successful pieces here is an instrumental descriptively entitled "Improv Early Birds, 26th May". This is a joyous tumble of multi-tracked guitar, building over an undercurrent of birdsong. At first an almost inconsequential interlude, this has all of the tension and sweeping structure of a post-rock anthem, scaled down into a home-recorded woozy folk tune. There is always a possibility that some solo guitar work like that featured here can risk self-indulgence, but as part of a magical soundscape like this it makes perfect sense. Another personal highlight is "Scales" where a sinister multi-tracked vocal is part spoken and part quietly sung over more of the atmospheric reverb-drenched guitar picking. Occasionally here, Davidson's voice soars unexpectedly, and it's difficult not to share what appears to be his ache of frustration as he intones "I'm listening to all of those songs/and a new lot of pinches of salt". The quiet, reflective "Surface Noise" is lyrical but simple, allowing Davidson to describe scenes with an artist's eye over a gentle and rather melancholy backdrop. The songs on this record are often rather short, and appear to expire suddenly, like incomplete but detailed sketches rather than overworked finished paintings - and perhaps this gives a sense of Davidson's creative process - a man with a vast library of ideas, who needs to commit them to record urgently to prevent them from being lost forever. The record closes with "Now Westlin' Winds" which delights in it's Caledonian origins. Stripped bare of the reverb and guitar trickery, this is an unashamed and traditionally delivered take on this Burn's poem as arranged and set to music by Dick Gaughan. The composition is delivered in a broad Aberdonian brogue which draws out the lyrical nuances of the poem neatly. It sounds like Davidson is at home here, allowing his voice to expand to fill the space created by the gently plucked guitar.
Despite rarely straying into territory which is overtly lyrically or sonically challenging, there are still times when this collection of songs becomes a surprisingly personal and almost uncomfortable listen. The strange atmosphere it creates provides little to distract the listener from Davidson's sometimes eerily breathy voice, which is always in the foreground. It's like watching someone performing at close quarters - and being acutely aware of their tiniest movements and intonations. However, over the span of ten outwardly simple but often surprisingly multi-faceted and complex songs, the Kitchen Cynics have managed snare me into expanding my knowledge once again. As a late returner to this remarkable body of work, I've got some catching up to do.
You can buy the very special hand-painted vinyl album online from Almost Halloween Time Records. Luigi also maintains an attempt at a full Kitchen Cynics discography alongside a site documenting much of the 1990s DIY music scene and beyond. A range of Kitchen Cynics music can be downloaded at reasonable prices at The Folk Police, including a low-priced introductory sampler. There's really no excuse not to investigate further.

Kitchen Cynics - Deep In The Wee Hours

Posted in SHOFT on Tuesday 24th May 2011 at 7:05am
---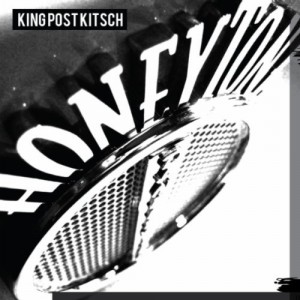 One of the most thrilling things about listening to emerging new music is the sense that you could probably, given the time and the opportunity, do something very similar yourself. There is something liberating and exciting about the way the DIY ethic lowers the barrier to entry. Granted, given this easy access quality control is sometimes an issue too, but that doesn't detract from the sense that this is all about what's possible here and now with the tools at hand. In my case at least sadly, this liberating thought is usually followed by the humbling realisation that I couldn't in fact do this at all because I simply don't have the imagination or the ability. It's an age-old adage of course - it's nothing to do with the equipment you use, and everything about with what you manage to do with it.
Pressed on splendid white vinyl and folded into a beautifully retro black and white poster sleeve contained in one of those polythene bags which all the best 7" singles used to arrive in, this EP is in itself a minor work of art. However, the music is a world away from this conscious sense of good, clean design. Let's be brutally honest - it's filthy and rough, sounding like it was recorded in the room next door with a cheap microphone. In short then, it's pretty fantastic in a way that much of today's squeaky clean output doesn't dare to be. Opening "Don't You Touch My Fucking Honeytone" swaggers in, sounding like something from the long lost 'Pebbles' LPs - all wailing guitar notes and urgent drums in the introduction, before a swirl of distorted organ appears to shore up the closest thing this urgent tirade of a song gets to a chorus. Throw in one of the most fantastic one-string guitar solos committed to record for many a year, and an ending which feels like that heart-stopping moment when you unexpectedly run out of road, and you have this stomping, churning beast of a track. Somewhere along the line the nagging vocals insist "..it's not easy being honest". However, this is pretty primal stuff and probably couldn't be more honest if King Post Kitsch turned up to play it in your living room.
"Penny Red" offers more of the same, but opts for a slower and sleazier take on the same formula. In one of those magic moments, mid-way through the track, we're left with just brittle, distant drums and an oddly unhinged jangling guitar melody before the scratchy rhythm guitar returns. The mood shifts a little with "Alaska" which enters with an organ sound which appears to have drifted in directly from the Beatles back catalogue. A distant, distorted vocal rants in the background while a snippet of film dialogue and strange backwards guitar line arrive. This could so easily be an out-take from "The White Album" - where outright weirdness competed with some concise, clever and rather malevolent pop tunes. This would fit right in alongside the latter. The organ returns to star on "Monomaniac" - a tune rescued from the obscurity of an earlier, online only release - where it dominates proceedings entirely. Almost whispered vocals croon lazily, once again hidden deep in the mix beneath the layers of loud, churning organ. The voice begins dueting with itself on a repeated "Hey how's the weather?" - and I'm oddly conscious that there's something strangely like The Jesus and Mary Chain's slower, blissed-out moments here - which is no bad thing at all.
It's rare I devote this many words to an EP lately, but there is something pretty special about this one - and while I'm sure every reviewer will have their own reference points just like the lazy retrospective name-checks I've adopted, its important to note the originality here. King Post Kitsch have already offered more variety of approaches in a short recording career than many bands manage throughout their working lives. This EP covers a surprising amount of this ground and offers a perfect snapshot of these approaches while raising the stakes for the forthcoming album. As for King Post Kitsch - known almost universally in interviews only as "the mysterious Charlie..." - it's pretty certain he's one of those people whose record collection you'd love to spend a few hours trawling through.
You can buy the rather beautiful vinyl EP, and the forthcoming King Post Kitsch album from Song, By Toad Records. You can also download the EP from iTunes and Amazon - but that's really not in the spirit of this at all, is it? And lets not even get started on Spotify...

Posted in SHOFT on Sunday 22nd May 2011 at 2:05pm
---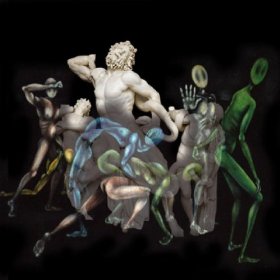 One of the most engaging things about being involved in the grassroots of music is hearing things emerge as part-formed ideas, changing and growing over time to become fully-fledged parts of a band's repertoire. This isn't limited to the fringes of the music scene either - as artists from Bob Dylan to King Creosote appear to delight in reinventing their back catalogue repeatedly and radically. However, geography and time mean I often seem to miss out on witnessing this process of development which has always been for me one of the most exciting aspects of nurturing a liking for a new band. In the case of Edinburgh's White Heath though, the process has been pretty evident from the earliest stages - and I've been lucky enough to have something of a window into it. On hearing just one or two early tracks I knew I had to see this band play live to understand quite what was going on, and I was lucky enough to cross paths with them in Glasgow last October. Thinking back to that performance, I was first struck not by the complexity of their music or their eclectic mix of instrumentation, but by the fact they were capable of making a wonderfully loud but carefully harnessed noise - which hadn't been fully apparent from what I'd been able to hear so far. This record seems to capture that dynamic much more successfully than any previous recordings have managed. It's notable that "Take No Thought For Tomorrow" has been produced and released by Electric Honey Records via it's well-documented relationship with Stow College, and I've detected a tendency to be mildly but fashionably scornful of this set-up recently. Whatever opinions might be expressed about the personnel involved or the way the process works, it's hard to deny that they've generally backed the right horses over the last decade or so. What this also seems to have done though, is to afford the band space and time to play around with these songs without the pressure which a traditional studio or label set-up would place on them both financially and in terms of time constraints. Thus some of these songs, which have been kicking around for a long while both in White Heath's live set and on the very hard to track down "Sea Wall EP", have grown and changed considerably over time before reaching a final recorded form here.
As "Maker" opens with a static-shrouded hotel lounge style solo piano, it's apparent that this is a going to be an unusual journey. Soon, alongside a sweep of strings, Sean Watson's breathy and urgent voice joins with his curious Middle Eastern influenced modulations. This voice is a key part of the band's sound - unusual, sometimes harsh and often oddly affecting. The vocalist's pivotal role is developed over a number of songs familiar from earlier recordings including "Election Day" which is pretty much where I first crossed paths with White Heath. Reworked subtly here, with a grittier edge than previously, the bass pulses beneath scrapes of violin while the vocals are in the foreground vying for attention with dabs of brass. Things escalate to a point of near hysteria with a cry of "you push me over the edge...", and suddenly just the voice is left, with an aching and stark statement: "i'm destined for disenchantment". The initial single from the album, "GG" (available as a free download here) is a bit of an outlier - a concise, grunge-pop anthem which soars into an almost irritatingly catchy chorus. It's a reminder that underneath all of the serious musicianship and classical influences which White Heath offer, there is a playful pop edge. As the guitar grinds back into action for the final blast and cheesy synth sounds dance around the vocals, it's impossible not to get caught up in this song's exuberance. I can imagine people who come to the band through this being genuinely troubled by its lack of similarity to the rest of the record - but the clues are there, mostly in the ability to wind infectious melodies around sometimes jarring, near-cacophonous sounds, bringing them into some sort of order.
The record hinges on the monumental "Leviathan", initially a slow-building ballad built around a delicate piano melody which provides Watson's vocals with the space to veer from a whisper to a pained, impassioned howl. Then it feels like the calm before the storm as he repeatedly but hardly reassuringly croons "when you wake, all of this will be gone" while a menacing undercurrent becomes apparent growing into what, for a less imaginative outfit, would likely be the hackneyed and much over-played 'epic' ending. But here the explosion never quite happens - that would be far too easy and much too obvious - the power in this work is in it's restraint, the sense of something huge and thunderous only barely controlled. However, it's also repeatedly made clear that White Heath are capable of writing rather fine pop music, notably on two less familiar tunes - firstly "Sunday In Fragments" - where simple ringing guitar notes and tumbling piano melodies usher in the closest thing this record has to a sing-along chorus. Perhaps unsurprisingly things don't stay quiet for long, as a tumult of brass and strings arrive to remind us that this isn't supposed to be easy listening. Also worthy of mention in this respect is "Past The Satellites, Into The Fray" with it's shuffling beat and soaring vocals, leading up to a euphoric and triumphant conclusion somehow delivered via a tangled mass of strings, punchy brass and strange half-intelligible chattering voices.
This album captures perfectly the the sense that White Heath are only just in control of the juggernaut of sound they're driving. The seamless, but often sudden shifts from melody to discord and from claustrophobia to wide-open vistas are White Heath's trademarks. The songs are rooted in rock and pop, but aspire to a range of ethnic and classical influences which few bands would ever dare to attempt this early in a career. But despite this unashamed experimentalism "Take No Thought For Tomorrow" certainly never becomes self-indulgent or ponderous - saved from pomposity by the band's amazing ability to generate huge walls of noise. This a dizzying, sometimes uncomfortable journey - but it's also documents the work of a surprising and genuinely original band. Put simply, it deserves your attention.
"Take No Thought For Tomorrow" is released on 6th June, via Amazon and iTunes among other outlets. The album will be launched at an Electric Honey Showcase at Glasgow's Oran Mor on 4th June.

White Heath - Election Day