Posted in SHOFT on Thursday 26th May 2011 at 6:05am
---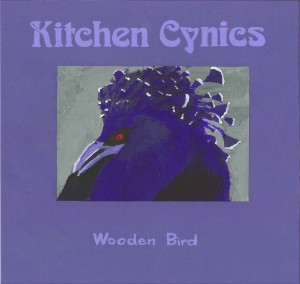 I spend quite a bit of time trying to convince myself - and indeed the small group of people who read this - that this isn't a Scottish music blog. It certainly didn't set out to be - after all there are plenty already, and some of them are very good indeed - and it's only my tastes and habits which have allowed it to become so imbalanced. So, imagine how excited I was to have the opportunity to enthuse about something different, something which had come to me via a circuitous route through uncertain geography. I first heard of the Kitchen Cynics many years ago when I was involved in putting out DIY music myself. A correspondent from North Yorkshire raved about their home recorded sort-of-folk music, already then spanning a good number of cassettes released from around 1988 onwards. Fast forward almost twenty years and a chance email conversation with an old friend from Italy reveals that he is about to release a pretty special vinyl LP by the very same Kitchen Cynics. He is hand painting each and every sleeve - and not just random dabs of paint here, these are tiny masterpieces, lovingly and carefully executed. I knew on hearing the songs and seeing the sleeves that I wanted to write about it here. But remarkably, despite my protestations about the nature of this blog, and despite this release coming to me via a twenty-year journey through time from North Yorkshire to Southern Italy, the Kitchen Cynics are in fact from Aberdeen. As Missed Connections go, this one is a pretty extreme example - and once again I fail to shake off the tag of Scottish hanger-on!
It's fair to say that the Kitchen Cynics - more accurately Alan Davidson - have not been quiet over the time I've been away. The volume of his output is remarkable, with a collection of cassettes, CD-Rs and occasional vinyl releases which feel almost overwhelming. But "Wooden Bird" pretty quickly dispels any concerns about knowing where to start with this dauntingly wide-ranging back catalogue by being almost instantly accessible. While much of the rest of his nation's DIY music scene appears to be debating the contested terms around modern acoustic music, Alan dodges any genre-bound controversy around "new folk", "psyche folk" or "anti folk" by happily peddling good old fashioned tunes in the way he's done it for longer that he probably dares to remember. The record opens with atmospheric, reverberating guitar chimes on "Deep In The Wee Hours" before Davidson's soft and melodious but strangely cracked and broken sounding voice enters. While the phrasings and melodies seem to come directly from the folk tradition, the distorted guitar which weaves in and out of the verses definitely isn't. It's fairly common to see the overused and contested term "psychadelic" applied to Kitchen Cynics output it seems - but this feels a bit lazy, and doesn't do justice to the strangely claustrophobic atmosphere which Davidson creates in these affecting compositions. The brief "Dawn" follows a similar pattern, but treads a more formal and traditional path perhaps, showing that this music is founded on an understanding of the territory, and of the principle that to reconstruct things, you need to truly know them. Again though, with minimal instrumentation the sum becomes much greater than the parts and the interwoven guitar parts echo and skitter around the track. At times, I'm reminded of Gordon Anderson's work as Lone Pigeon - which similarly manages to take an essentially solo performance far beyond it's usually simple possibilities.
Surprisingly, one of the most delicate and successful pieces here is an instrumental descriptively entitled "Improv Early Birds, 26th May". This is a joyous tumble of multi-tracked guitar, building over an undercurrent of birdsong. At first an almost inconsequential interlude, this has all of the tension and sweeping structure of a post-rock anthem, scaled down into a home-recorded woozy folk tune. There is always a possibility that some solo guitar work like that featured here can risk self-indulgence, but as part of a magical soundscape like this it makes perfect sense. Another personal highlight is "Scales" where a sinister multi-tracked vocal is part spoken and part quietly sung over more of the atmospheric reverb-drenched guitar picking. Occasionally here, Davidson's voice soars unexpectedly, and it's difficult not to share what appears to be his ache of frustration as he intones "I'm listening to all of those songs/and a new lot of pinches of salt". The quiet, reflective "Surface Noise" is lyrical but simple, allowing Davidson to describe scenes with an artist's eye over a gentle and rather melancholy backdrop. The songs on this record are often rather short, and appear to expire suddenly, like incomplete but detailed sketches rather than overworked finished paintings - and perhaps this gives a sense of Davidson's creative process - a man with a vast library of ideas, who needs to commit them to record urgently to prevent them from being lost forever. The record closes with "Now Westlin' Winds" which delights in it's Caledonian origins. Stripped bare of the reverb and guitar trickery, this is an unashamed and traditionally delivered take on this Burn's poem as arranged and set to music by Dick Gaughan. The composition is delivered in a broad Aberdonian brogue which draws out the lyrical nuances of the poem neatly. It sounds like Davidson is at home here, allowing his voice to expand to fill the space created by the gently plucked guitar.
Despite rarely straying into territory which is overtly lyrically or sonically challenging, there are still times when this collection of songs becomes a surprisingly personal and almost uncomfortable listen. The strange atmosphere it creates provides little to distract the listener from Davidson's sometimes eerily breathy voice, which is always in the foreground. It's like watching someone performing at close quarters - and being acutely aware of their tiniest movements and intonations. However, over the span of ten outwardly simple but often surprisingly multi-faceted and complex songs, the Kitchen Cynics have managed snare me into expanding my knowledge once again. As a late returner to this remarkable body of work, I've got some catching up to do.
You can buy the very special hand-painted vinyl album online from Almost Halloween Time Records. Luigi also maintains an attempt at a full Kitchen Cynics discography alongside a site documenting much of the 1990s DIY music scene and beyond. A range of Kitchen Cynics music can be downloaded at reasonable prices at The Folk Police, including a low-priced introductory sampler. There's really no excuse not to investigate further.

Kitchen Cynics - Deep In The Wee Hours