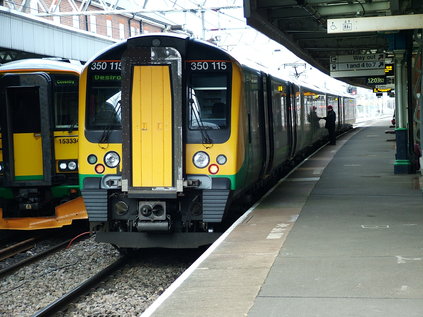 Posted in Railways on Saturday 27th December 2008 at 6:18pm
---
It was probably madness to attempt a journey of any significance on the Saturday between Christmas and New Year. Booking late after a week or two of general disorganisation also meant missing out on cheap first class fares, which was always going to lead to needing to squash into some already busy trains. It was also proving hard to get around the country - there were pockets of engineering almost everywhere I'd planned to head. Nevertheless, a plan was hatched, albeit with a fairly low new track quotient! The plan was to cover the lines affected by the recently completed Trent Valley Four Tracking project (TV4 as it became known). Stopping services had resumed on this stretch of the West Coast Mainline only last week with the new timetable, and I was keen to revisit. Mr Spinks also came along for the ride, braving the freezing Highbridge morning to set off on the 06:20 which was the first train of today's revised service.
Plenty of time to change at Bristol, as the connections with CrossCountry services are sparse early on Saturday mornings. Eventaully, a pair of Voyagers rolled in and once detached, the front unit was announced as our service to Stoke-on-Trent. Glad to get into the warm and enjoy breakfast as we headed north in fine but freezing weather. As we curved away from the Camp Hill line at St Andrews Junction, we passed one of Fastline's new Class 66 coal services heading for Avonmouth - a first sighting for me. Despite being heavily reserved, no major problems with overcrowding, even after a major influx of customers at New Street. Good not to have to change here today, staying in the warm as we headed north for Stoke, passing another newcomer to these shores in the form of 350236 at Wolverhampton. It was turning into an interesting day. Ground to a halt just outside Stafford, seemingly due to reduced capacity in the station as a couple of lines were closed. A late arrival at Stoke followed, but no great problem as we had a fair margin. Time in fact for Mr Spinks to attempt to win the jackpot on a vending machine, to no avail!
Not long to wait for our 350 to Nuneaton, which today was to be the terminus for these services due to engineering work. An original plan had been to cover the 'Blockade Buster' services which were operating to get around these works once again, since they were booked on a slightly different routing near London, but I abandoned this in the face of dire warnings about busy trains and a lack of cheap fares. Soon off, and retracing our steps as via Stone where services have recently resumed after five years following the WCML upgrade. The impressive station building in the angle of the junction with the line to Colwich sporting new London Midland signage. Onwards to Stafford, noting that timings seemed slack with some fairly long waits at stations. Took the Trent Valley lines here, calling at Atherstone, Rugeley and Lichfield on route to Nuneaton. The line was quiet given the closure, which provided plenty of opportunity to look at the work done here - some fairly major engineering in fact, especially with the number of bridges and covered ways for farm access which needed to be extended to span the four tracks. Soon into Nuneaton, always a rather windy station but today very, very cold indeed. Headed straight for the near-legendary tea shop for welcome warm refreshments.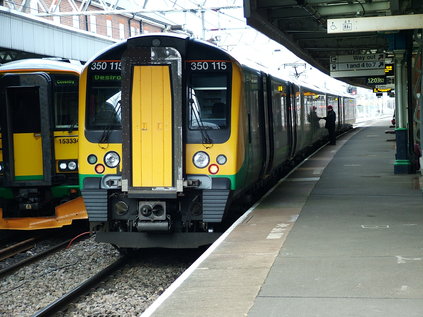 Watched a late-running CrossCountry unit to New Street arrive and depart from the Leicester line platforms very full. This didn't bode well, and indeed our train was also pretty well-loaded on arrival. Skulked in the vestibule for the fairly short journey to avoid scrambling for a seat. Grateful just to be warm, and in any case this provided a much better view of Washwood Heath and Lawley Street - not that much was happening on this very quiet holiday weekend. Stumbled into scenes of confusion at New Street, with 'congestion on the network' being blamed for some very late trains. Watched one of CrossCountry's recently refurbished HST sets arrive on a Plymouth bound service, solidly wedged and with some very tetchy looking people pushing their way on. Must get a ride on one of these sets soon, as they look rather comfortable inside - perhaps not on such a busy weekend though. Our own train, heading for Cardiff arrived soon after, and we enjoyed a quiet and picturesque run along the Severn estuary in wonderfully wintry sunshine. Newport was also busy, and after watching people squeezing angrily into a packed Manchester-bound Class 175 we waited with some trepidation for what First Great Western would provide for the final leg of our trip. In the event, a generous three-car Class 158 arrived, and we had an easy ride directly back to Highbridge.
So, the year ends with a shorter day out than usual, but a productive and pleasant one despite travelling at a time when people are advised it's probably best not to! Good to get out and explore in this otherwise rather miserable bit between Christmas and new year.

Posted in Updates on Thursday 25th December 2008 at 11:27pm
---
Back from a rather quiet, but warm and comforting day with the family. As ever in my Christmas Day posts, I must stress I don't find the time of year easy at all, and my instinct is to avoid much of the festivity. Given the changes which the family has seen over the years though, it's an occasion when I tend to reflect a little too much. The highlight of course was to get to spend the day with my two wonderful nephews, and to remember that last year we were all waiting eagerly for nephew No.2's arrival in March. It seems like a very long time ago now, and he took the day in his stride, his big brother looking after him and making an old uncle very proud!
It's been something of a watershed year for atheists, with positive press attention and genuine engagement with the mainstream. It's always a shame to see the rather foolish 'Mad Atheists banning Christmas' stories floating about, because I think along with a lot of fellow unbelievers, I value this quiet time of the year with my family.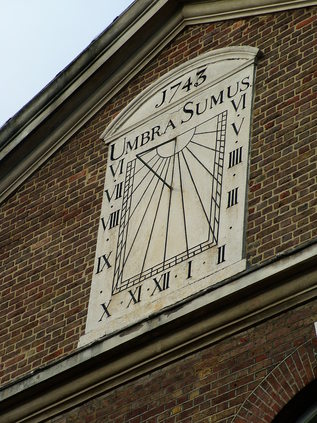 Posted in London on Saturday 20th December 2008 at 11:48pm
---
I have a strange and troubled time with London east of the city. Inspired by Iain Sinclair I've wandered some fairly strange paths, and visited places I'd never dreamed of heading for in search of the curious corners of the city. But more than anywhere, wandering here makes me feel something separate from the City - an outcast, albeit quite often in a sea of other temporary citizens. Here, especially, authenticity is brought into sharp focus. With so much written and spoken about the legends of the territory, from ancient plague-grounds to modern murder myths, its hard not to feel like a tourist. The grim reality is that the Hoxton art student posing his way along the queue at the Beigel Bake, or the carefully designed media type lurking around 93 Feet East is more at home here than I will ever be. For someone who tries hard to read the City unconditionally and walks with a degree of perhaps pathetic reverence, this is a crushing defeat of style over content.
A bit of recent reading though has reassured me that this area is far from out-of-bounds to the outsider, and reminded me that these boundary lands have been contested spaces and seen multitudes of populations share the streets and alleyways over centuries of change and redefinition. So today's walk, tagged onto a trip further east into incongruous rural Essex, was an attempt to reclaim my little bit of Spitalfields and Shoreditch and to walk shoulder to shoulder with everyone else who didn't really belong but had gravitated here for sometimes unfathomable reasons.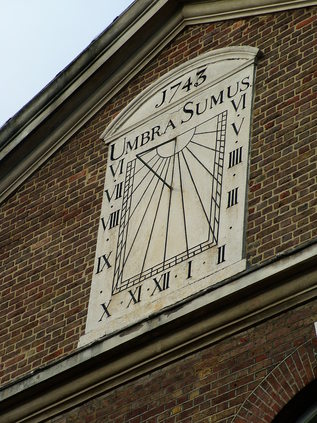 I started at Aldgate Station, turning east into Whitechapel High Street and falling into step with the low pulse of the market and the throb of deep music from passing BMWs with shaded windscreen glass, before swinging left into Osborn Street - ostensibly the southern entrance to Brick Lane. There is a boarded-up, closed-for-business feel here, almost an attempt to turn back the casual tourist - this is not what you thought it was. A friend of mine who I sometimes travel with would call it "
a dump
" for certain. But peering through the cracked hoardings into a deep excavation, the old foundations can be seen. Encouraged northwards, I press on into Banglatown. A bewildering but not unwelcoming combination of scents assault the senses - diesel, curry, hot coffee, bad drains. Quiet, alien sounding music pours from a nearby restaurant - one of hundreds all imploring the passer-by to enter, even at this early hour. Onward, passing the entrance to Flower and Dean Walk, sanitised and erased except for the archway which gave entrance to the model dwellings which replaced the seething rookery a century ago. I try to get a haircut, but I'm refused in a case of embarassed but good-humoured racism by the proprietor - and I respond with equal good humour and a handshake. A little solidarity, and a moment of awareness of how alien we both are here. I press on, Christ Church School with it's tiny Star of David emblem hidden on a downpipe betrays the last great wave to sweep the area - where church became Synagogue, and in turn has become a great Mosque.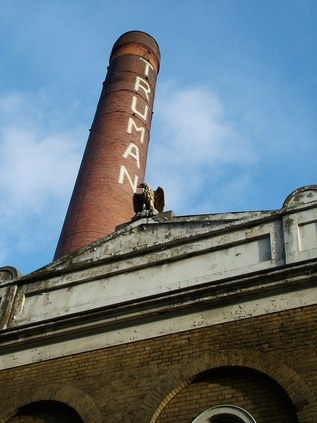 Beyond Fournier Street, with its painstaking heritage treatment measured by balooning property prices, Brick Lane changes. The curry houses dwindle and the former Black Eagle Brewery begins to dominate both sides of the street in a warm glow of yellow brick and shadow. Here in Dray Walk are the painfully hip bars and shops which are perhaps where I am most truly out of place. I slip apologetically into Rough Trade East in the hope of finding a fairly obscure American release I've been looking for. It's hard to understand the store - all space, pastries and sofas - not like the happy clutter of their West End locations. I slip out, negotiating the crowds of in some instances genuinely beautiful people, and regain the main line of the lane. Here, where the railway crossed before the bridge was dismantled, I head into Pedley Street to find the remains of Shoreditch Station. On my previous foray, this is where I bailed out, not fully grasping my bearings. Closed for a year or more, the station is decaying. Beside it, a glimpse over the wall allows sight of the ancient and long abandoned Bishopsgate Station platforms deep below, and which my train into Liverpool Street had passed just a little while before. The cutting in which the East London Line ran now accommodates a sweeping concrete bridge taking the gradually forming extension high over the Great Eastern Lines. I pass under this, through a narrow tunnel in the scaffolding and hoardings which divides the two sections of the lane almost perfectly. Tiny, expensive shops full of intricate, innovative and artistic goods sit comfortably beside the Beigel Bake. Young professional families stroll by, making the most of a cold, bright winter morning. What little of the market is out today straggles along to the Cheshire Street junction before petering out entirely as I turn west into Bethnal Green Road. The sign for Shoreditch Station twisted back on itself, perhaps not accidentally pointing to the vast concrete box bordering Sclater Street which will eventually be part of the new Shoreditch High Street station.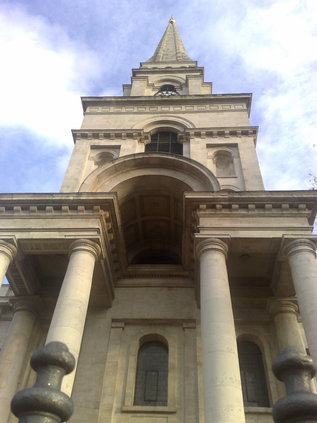 I head into familiar territory, Commerical Street with its grime, traffic and gleefully down-at-heel edge. Self-aware rich kids jostle me on their way into pubs, thankfully devoid of Ripper Tours today. I'm aware that I'm ill - the cold I've been nursing for nearly a week has finally overtaken me. I'm light-headed with hunger but not particularly wanting to eat. I lean against a railing, not realising until I reorient myself that I'm beneath the awesome frontage of Christ Church. A private function prevents entry today. I cross and re-cross the road, looking for inspiration for an ending to the walk. Eventually, after more false starts, I return to Brick Lane via Fournier Street and walk south - this time feeling more at peace with my surroundings. Via a staggered route through the abandoned metal stall frames of Petticoat Lane market I stumble back to Liverpool Street and gulp welcome hot coffee. I've made sense of much I've read during today's walk - and beyond the photographable landmarks which remain, almost everything has changed. I belong here as much or as little as the over-polite restaurant tout, the cheerfully racist barber or the studied self-aware art student.
Perhaps we are all shadows?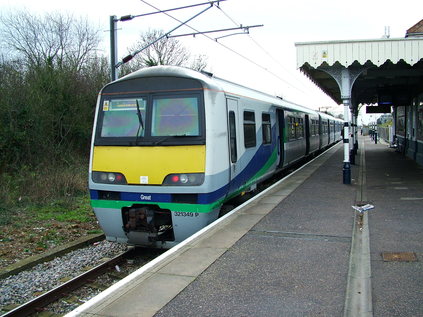 Posted in Railways on Saturday 20th December 2008 at 10:10pm
---
As I approach the end of a year of obsessively covering the odd bits of track I've missed during my previous travels, it's not surprising to note that the big gaps are still in the same places. Whilst South West Wales is now covered along with large parts of East Anglia and most of Scotland, there are still strange areas of emptiness - namely around mid-Wales and the Essex Coast. While the former will surely appear on railtours at times, I realised some time ago I was going to have to chase the other bits on my own initiative. So today's trip had several purposes - firstly to work around the mess of engineering works blocking my path to the North, next to cross another line off the list in Essex, and finally to provide an opportunity to explore the territories I've been reading about recently in more detail. Started the day with the now customary sunrise-chasing trip up to London, arriving early and in surprisingly clear and bright weather. A quick underground move to Liverpool Street and soon on a slightly earlier than planned unit out to Shenfield. I'd forgotten just how poor these Class 321s were inside, and was pleased just to be doing a short hop on the particular example I used to Shenfield. Just outside Stratford we passed the Pathfinder trip to Great Yarmouth arriving from it's circuit around the Capital to pick up the Western from here. Half-wished I'd made the arrangements to do this run, not least because I could have done the elusive Wensum Curve in style! Left the train at Shenfield to await the unit to Southminster which shuttles back and forth all day or so it seems, at least at the weekends. A total failure of the information system meant that the station was relying on good old fashioned shouting of instructions by increasingly surly platform staff, sick of being asked where each train was going again and again, despite their efforts to communicate this! Eventually onto yet another 321 and onto the Southend lines.
As far as Wickham, I'd covered this line - though so long ago and in such innocence of the network that I really didn't remember it. However, realising that there were two ways to get to Southend and that I should do both was probably a very early, formative event of my evolution as a line collector. At Wickham, with the majority of the passengers detrained, we curved away from the double track route to Southend and headed onto a single line travelling over flat marshes punctuated with tufts of grass and streams in deep muddy fissures. The landscape had a real edge of the world quality... this was a long way from the cartoon Essex of dog tracks and white stilettos, and I confess I found the strangely marooned landscape impressive if a little bleak and unsettling.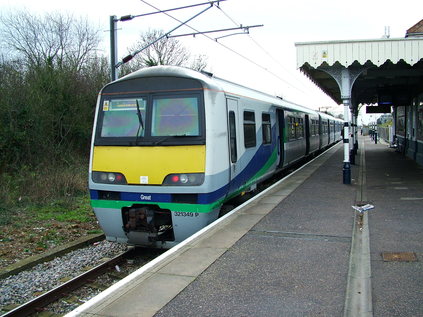 Realised I was the only passenger in my carriage on arrival, but noted a few others detraining at the terminus. The rails just seem to run out here, alongside a fairly substantial building which appeared to be mostly abandoned and boarded up. Found a spot for a photograph, and realised suddenly and unnervingly that I was totally alone and the road was entirely silent. Noticed the driver of the unit which had brought us in heading up the street in the distance, so decided civilisation must be that way. Southminster appeared a pleasant and quiet place, maybe little more than a large village perhaps. Found a local shop and brought provisions, before heading back to the station, again passing a strange terrace of houses apparently made from slats of wood. Noticed a small pub, The Station Arms also constructed in the same way. An impressive list of beers were on offer, and notes were duly taken as this might be one to come back to sometime. Back on board the unit, with a few more companions this time - mainly people heading into Wickham for last minute Christmas shopping.
Settled in for the ride back towards London in bright winter sunshine. Trips like this remind me of why I never tire of travelling around Britain. A change at Shenfield once again, onto a very busy Class 360 heading into Liverpool Street. Another chance to look at the eerily abandoned Olympic site. I was heading into the east of the city this afternoon to take a walk through territory I'd incompletely explored and had been reading about almost obsessively, and that likely belongs in another entry here.