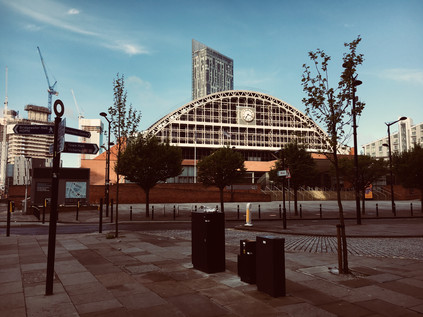 Posted in Travel on Tuesday 15th May 2018 at 5:05pm
---
Despite heading into London by train on a fairly regular basis these days, I'm much less likely to find myself patrolling the network with anything like my former frequency. In particular, trips to points north are far less common and my familiarity with some places where I'd once have popped-up frequently has long since diminished. Some things though, never change - and so my first port of call on arriving at Bristol Temple Meads on the first leg of our journey to Manchester was the Customer Services desk. We'd been sold an empty promise - an 09:41 to Gloucester which simply didn't exist. The Filton Four-Tracking works were clearly going to cause us to have a long and fairly convoluted trip today - but I was surprised that it was going to be quite this tricky. As it happened, Great Western's staff sorted things swiftly by passing us on the 09:45 Crosscountry service to Birmingham New Street which took a long, lazy wander out to Swindon then reversed to amble up the Golden Valley Line via Kemble and Stroud before regaining its regular route at Standish Junction. At New Street of course we were left at the mercy of the Train Manager on the next service north - but a friendly and understanding railwayman let us travel in First Class for our troubles. I lazily dozed as we sped north on a route which I'd not travelled for a good few years. We arrived in Manchester a little late but relaxed and relieved to not have been too troubled by the awkward beginning to our trip. A swift tram ride through the busy city centre, basking in unusual bright sunshine, and we were at our hotel for the next two nights. It was good to be back.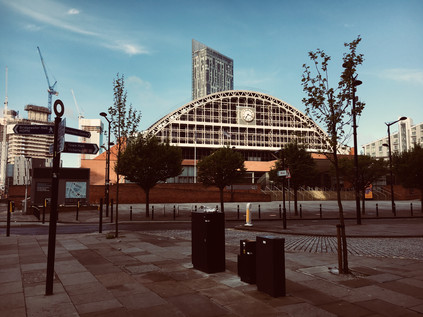 Our last visit to Manchester had been on the hottest day of the summer, in a hotel which decided not to air-condition its upper floors. Predictably it hadn't created positive memories and much of the visit passed in a frustrating haze of heat. This weekend was predicted to be warm too but less intensely so, and we were able to get out and explore the city a little. During our stay I took my customary, early morning strolls and found myself approaching familiar streets from a different angle. All of my previous visits had focused on the narrow, north-south axis between Piccadilly and Victoria. This time I found myself crossing my own path and happening upon corners which I'd passed often but never turned. Manchester now, of course is a much changed city - vibrant, busy and cosmopolitan in comparison to my earliest visits. I negotiated the relatively recent Second City Crossing with some confusion, finding trams where I didn't expect them. Finally, and rather remarkably on the anniversary of the last time I stayed, I happened upon the Merchant's Hotel - a grim reminder that things had changed for me, if not for this forsaken hovel which was remarakbly still in business! On Sunday afternoon we wandered the Northern Quarter's busy market which I confess to finding a little dizzyingly busy, but the walk was rewarded with good coffee - first with indifferent service in Foundation Coffee and then in the much more welcoming Takk. We zig-zagged back to the hotel via Piccadilly Gardens, busy in the bright afternoon.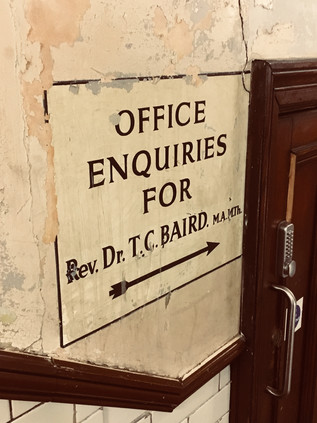 The main event though, and the reason for this trek up north, was the live My Favorite Murder. This has been a frequently heard podcast here for some time, and when tickets were announced earlier in the year, I knew I had to ensure they were secured! A VIP package meant some merchandise, priority entry and seating, and perhaps more nervewracking for both of us, a chance to meet Karen Kilgariff and Georgia Hardstark. I'm not great with celebrity - projecting my own thoughts onto them by imagining that they really just want us to leave them alone - but for others, it was the thrill of meeting people who've become heroes of a sort. Their irreverently funny but touching and sensitive forays into true crime have become a defence against homesickness - a little slice of the saner and calmer America delivered via the airwaves. We ate a swift dinner before heading to the Albert Hall - a former church turned concert hall which appeared to be crumbling from within, paint peeling and fixtures wobbling with little concern for modern health and safety rules. The bright sunshine illuminated the art-nouveau style stained glass from outside, giving the whole place a strange glow. While the performers found their 'daytime' show a little odd at first, the venue couldn't have been more perfect. I surveyed the crowd - predominantly female and a defiant mix of geeky types which it was a delight to be part of. I made conversation with a young gent sat next to me accompanying his girlfriend as a birthday gift. We speculated on the murders which might feature - what might be 'too soon' or 'too local' to land well. We played the reluctantly dragged spouses at first, but soon gave in to the admission we were looking forward to this too.
A couple of hours later we stumbled out into the dark of Peter Street, having met the perfectly delightful pair of presenters for a few short minutes. A little starstruck, still laughing at the show we stopped in for a beer before heading back to the hotel where yet again the ever declining Premier Inn brand let us down on customer service yet again. It wasn't going to spoil the day though - and consoled ourselves in knowing that the final night of our trip was being paid for by my talent for complaining. The next morning after a fine breakfast at Friska, a nearby eatery which appears to have made the leap from Bristol to Manchester, we headed for the station to cross the Pennines to York. On our last trip, a genuinely bizarre performance by the staff of Hotel Indigo had resulted in a full refund, an apology and an offer of dinner, bed and breakfast on the hotel in order that we could experience their normal level of service. The trip from Piccadilly brought back memories of long-ago excursions: craning my neck to see what was lurking on Guide Bridge Yard, secretly wishing I could stop off at the fine Station Buffet at Stalybridge and marvelling at the sudden burst into Yorkshire at the end of Standedge Tunnel. We soon found ourselves approaching York in wonderful sunshine, the station gleaming golden in the afternoon light. It was good to be back in a favourite spot.
After checking in - a much less irritating experience this time I'm glad to say - we headed out to catch up with friends at the York Tap. It was good to meet old friends and new, and to see some happy faces too. All too soon it was time to head back for our complimentary dinner. It was - well, better than last time - but still a long, drawn out and rather odd experience. As the restaurant closed around us while we waited for our dessert we speculated that this would probably have generated a complaint if we were paying. After this, we were a little wary of breakfast - but were greeted by one of the best spreads I've ever enjoyed at a hotel. The service was swift and friendly, and the food was frankly amazing. If we'd booked just the excellent room and this wonderful breakfast we'd probably have happily skipped the weird dinner experience. As we boarded the slightly overheated 10:45 back to Bristol I composed my response to the manager of the hotel. We'd had a much better time and a great welcome - but the restaurant was still strange and slow.
We stepped off the train into the usual mess of afternoon delays at Bristol, but feeling remarkably relaxed after the warm trip home. I've known for a long time that travel is good for me - but I'd underestimated how much I needed to escape on the rails like this. The next months - indeed the next week - will be busy and challenging. It's unusual to think of Manchester as an oasis of calm, but that's certainly what it's been for us this weekend.