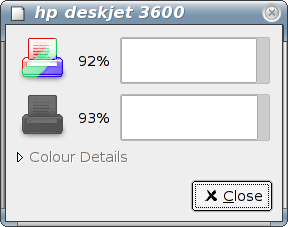 Posted in Computers on Monday 28th June 2004 at 10:45pm
---
With the printer installed, set to work on Inkblot, a GNOME ink level indicator based on libinklevel. I'd started work on this for FuzzyTheBear and his wife, on #lemmings, working blind and by guesswork having sold my printer some weeks previously. Seems that my guesses had been moderately good, since once built it worked reasonably well.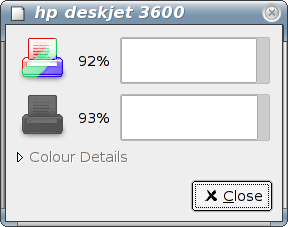 Did a little cleaning up, added support for separate Cyan, Magenta and Yellow reservoirs if present, and made a
tarball
of the progress. Next steps include some device detection and some minimal preferences (its currently hardcoded to look for a USB printer because that's what both Fuzzy and I have!).
Another project to fiddle with intermittently...

Posted in Updates on Sunday 27th June 2004 at 11:41pm
---
I set out to install a printer, and ended up destroying my imap set up!

Don't ask me how. It involved installing a few updates, fiddling around with some configuration files, and amazingly I was on a day-long mission to get mail working again. Finally got things going again about an hour ago - no idea how much has bounced around the net in the meantime, probably nothing important.

Consequently, didn't get much done today. Had planned to read and write a bit, and to get some paper for the printer to test it properly. Also planned to visit my father in hospital. Finally set out on the 1630 bus to Weston General, after a long wait for missing buses and getting drenched on the way to the stop. He is much brighter and feeling better today, which was a relief. Bumped into my mum, also visiting. Left a little earlier than planned due to further bus uncertainty.

Now to try to get webmail working again...

Posted in Railways on Saturday 26th June 2004 at 11:32pm
---
Resolved to go somewhere reasonably distant, following a long and trying week and a few weeks of mainly local wanderings. Had been at a loss however, as to where to go. Spent hours last night playing with times, but found myself hampered by absurdly inflated ticket prices (mainly around Virgin services I note) or the very Filton blockade which provided last weeks points of interest.

Finally settled on a run on South West Trains Reading to Brighton service, travelling via Basingstoke and Winchester to the south coast. Set out on the 0809 - allowing me the luxury of getting up at my usual time, and happily found the staff at Weston able and willing to sell the combination of Cheap Day Returns, which made a quick change at Reading possible. Tried to get breakfast on the train, but the absence of a "Travelling Chef" until after Bristol and the lack of announcements led to just having a coffee. Quick change at Reading with time to purchase refreshments before boarding an SWT 170 on Platform 1. I fully understand that the 170/3 units are newer than Central's but at least SWT seem to clean these. Comfortable trip to Brighton, if a little crowded at times in the 2 car unit. Notice I was travelling with a poet too, and was proud to notice that she took interest and noted down the name of my chosen reading matter.

On arrival, decided that being this close to new track, without a purpose demanded a trip to Lewes via London Road. I've almost always been going somewhere when I'm in Brighton - visiting Russell Hill or heading for the UNISON conference - so I've never had time to scratch the short bit of track between here and Lewes. Grabbed a ticket from the machine and hopped on a 377 waiting on Platform 1. A short but pleasant trip - the views from the viaduct over Brighton being particularly interesting. Interesting to see how Lover's Walk is dominated by 377 EMUs now, in comparison to my last visit some years ago when slammers populated the depot. I must confess I find the 377s both comfortable and quick - and whilst they are soulless plastic, they are pretty good units.

Headed into Brighton. Previous visits have given me a good navigational start on the place, and I was amazed to remember most of my way around the shopping areas. Headed straight for the shops, homing in on HMV where I bought Belle and Sebastian's "Dog on Wheels EP" many years ago (eight maybe?). Commemorated by buying their newly released "Books EP" from the same shop. Also got a USB hub and cable to get the printer going. Back to the station in record time, wishing I had more time to wander in fact, despite crowded streets and low-flying birds!

Spotted a 450 waiting to return to Basingstoke, so changed my vague plan to go via Gatwick and Guildford and decided to take my first trip on a 450. As reported, a pretty basic unit. Some confusion with the computerised announcments too, which announced a station just as we left it! All-in-all, a fine suburban unit akin to the 458s in use between Reading and Waterloo. Doesn't feel nearly comfortable enough for the Portsmouth services they find use on, or indeed this rather long run. Almost relieved to transfer onto a 165 for the run back into Reading!

Long, wet journey back to Weston. Hampered by more trespassers near Parson Street station. New track, new units and a bit of shopping thrown in. Can't complain at all.

Posted in Updates on Thursday 24th June 2004 at 9:28pm
---
Rarely is such a lot of different stuff crammed into one week of my life!

First off, the beginning of Secondary Bulk Appeals for the year. Much dreaded, in fact, by me for hard to explain reasons. I was actually able to relax into them and somewhat recaptured some of the spirit and attitude from last year. Monday was a long and rather intense day. Results were very positive too. There are far fewer appeals this year, for me in effect just next week - which might seen a long one, but traditionally signals the wind down to my (now annual) conference weekend and London trip. This year of course include the Belle & Sebastian show at Somerset House.

Finally got various parts of new mobile phone working correctly, after a long email conversation with O2 during which they seemed to get as confused as I did! So, now I have GPRS access sorted, and have been playing with the Live Departure Boards provided by National Rail. Still getting used to the features of the handset, but I've vowed to learn to use this one properly, rather than accidentally discovering features as I go along. Also managed to get Bluetooth talking to the phone via gnome-phone-manager which is working pretty well.

Visited friends for pizza and TV/VCR/DVD installation assistance yesterday, during which a wonky SCART lead caused a great deal of frustration. All was eventually well, and I'm looking forward to borrowing the "Rising Damp" DVDs!

Today, lots of meetings and confusing running around - found out surprising and frustrating result of a mover appeal earlier in the week which put me off my stride a bit - more concerned that people seem to be deeming these things 'performance' indicators, when this one was a complete surprise. You can't legislate for a panel which decides not entirely unjustly, but perhaps impracticably, to 'give someone a break'.

Heard that my Dad's surgery had gone well this morning, and that he was recovering and comfortable. Much relieved. Reminds me that some people have had a far more difficult few days than I!