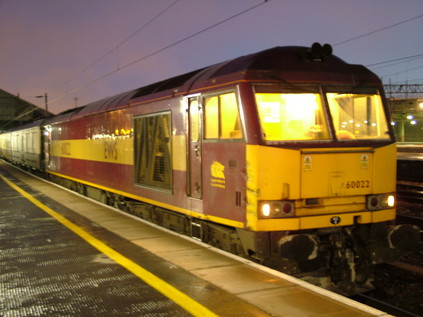 Posted in Railways on Saturday 30th September 2006 at 11:45pm
---
Reluctant got up around 5am and checked out of The Crewe Arms. Over to the station for a very quick breakfast and a chance to look at 60022 which was at the head of the stock for our 0650 departure. Grabbed a shaky snap in the dark, before finding my seat and preparing for the trip. Soon joined by a couple of companions, and we were off on time travelling first to Shrewsbury, then via pick-ups at Birmingham New Street and Nuneaton to Leicester. Despite starting out misty and damp, things began to clear as we approached our first locomotive change at Toton.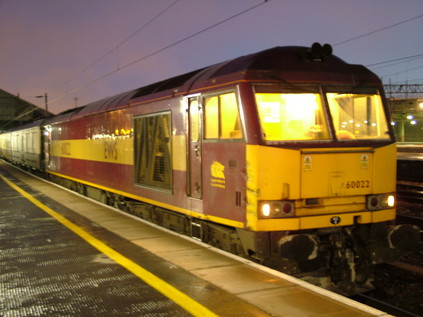 Railtours are often prey to last minute changes and confusion - its part of the fun in some ways. This one was no exception. A little after boarding we learned that due to the derailment at Copmanthorpe earlier in the week, we couldn't get to York. Network Rail's plan was to have us sit on Doncaster Two Way Goods line for ninety minutes and meet the Fastline 56 there. Whilst we waited to hear if any off-train break would be possible, we also learned that we weren't going to be meeting a GBRf 66/7 at Toton due to a lack of availability. After a short wait, and a chance to view the contents of the depot in unusual detail, 60028 was attached to the rear and 60022 headed for the shed. The next stage was a turn across Lincolnshire, taking the rare Lincoln avoider between Boultham Junction and Pyewipe Junction, and heading via Gainsborough to Doncaster. Noted some curious cabbage-like plants growing in the cess at Gainsborough! From here our route was a little altered to account for the problem at York, and we completed a circle via Shafteholme Junction, Knottingley, Hambleton and Temple Hirst, arriving back in Doncaster with 56302 ready to join the train. Not my finest photographic moment.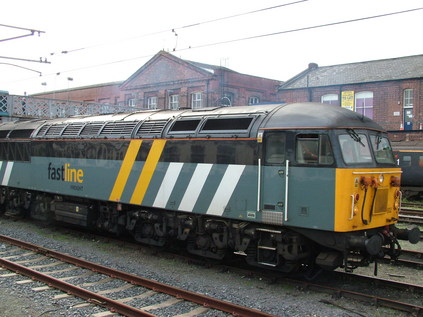 With our celebrity locomotive and headboard attached we set off northward again, branching east towards Scunthorpe. This was an interesting diversion, via the Immingham Tramway, passing the Traction Maintenance Depot and the docks, before heading back towards Gainsborough and Retford. Once onto the the 'tramway' at Ulceby, we made slow progress, giving again ample opportunity to see what was stored. Back onto the mainline at Grimsby Marsh West Junction, and things picked up a little.
There was a further section of rare track today too - after heading south at Worksop onto the Robin Hood Line, we turned west again to Pinxton, rejoining the Erewash Valley Line at Pye Bridge Junction and heading once again for Toton at a snail's pace on the freight lines.
We'd known all day that there were problems with finding a Freightliner driver for the last leg of our trip. However it had been unclear what EWS had in store as a replacement. Soon heard we were to be double-headed by 66043 and 67005. After a sluggish loco change we were running around 20 late and my 2045 connection at New Street was looking shaky.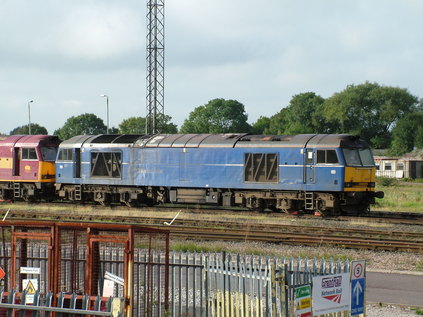 Once past Loughborough and onto the fast lines, we made better progress and started to pick up time. Connection was more or less out of the window however, so started planning for a later arrival in Redditch. Finally bade goodbye to the train and my fellow travellers in the dark at Birmingham. On the way upstairs heard the 20:45 to Kings Norton being called as just arriving. Used the very last of my energy to haul my ridiculous bulk over to platform 12 and collapse into the 'Quiet Section' of a 323. So exhausted neglected to get the numbers for movebook purposes. Made a couple of calls to indicate I was back on time, and changed for the bus at Kings Norton for a quick, sleepy and smooth ride into Redditch.
An entertaining day, despite concerns the buffet would run out of food due to lack of a stop! Sometimes things don't go to plan, but this kind of tour is beset by such difficulties, and will often turn up a gem. The chance to ride behind 56302 on the first railtour for this particular subclass was a real pleasure though. Another happy day which has left me exhausted - fifteen hours without a break being tough, even for a ned like me!

Posted in Updates on Friday 29th September 2006 at 10:02pm
---
For the first time in a couple of days, I'm actually managing to relax and look forward to the weekend's trip. My turbulent couple of days began yesterday. Into work early to try to tidy a few loose ends before heading for London. The plan was to have a leisurely ride up and to head for my lodgings near Victoria Station. The train ride went well, and signs were promising until I realised that my hotel (booked through the usually I understand very reliable lastminute.com) was fairly dreadful. Nice front desk, but appalling rooms. The free wifi hardly made up for it. Spent an uncomfortable night, and checked out as early as possible this morning. Over to Kensington - a place I find unaccountably miserable, and time for coffee once the hotel was located. The conference was surprisingly short, and at 14:38 I found myself heading for the tube station, with a cheap ticket for the 18:08 train. Got to Euston at 15:05, and noticed that the 15:17 Liverpool service was the last on which I could use a Saver ticket. Booked at not inconsiderable expense and made it onto the packed Pendolino - predictably, 390033 'City of Glasgow' which has become my pet class member! Stood the entire way in the non-airconditioned vestibule. Journey flew by however, and soon enough we were heading up the Trent Valley at speed towards Crewe. Checked in at The Crewe Arms and savoured the absolute luxury in comparison to last nights accommodation! Headed out for a bite to eat before planning to turn in early in preparation for the morning.

Posted in Railways on Sunday 17th September 2006 at 7:23pm
---
Today should have been a fairly simple proposition. Up a little later, feet still throbbing from yesterdays walking. Breakfast and check-out of the Waverley Hotel - it's been a pleasant and comfortable base. A little more expensive than usual but my old haunt was becoming less secure and more dangerous by the visit. In fairness, it seems some changes are taking place there so perhaps I'll be back? My train west is booked for a little after midday, so time to write up some notes over coffee before a leisurely walk to Kings Cross St. Pancras underground. Lets face it, my feet couldn't cope with much more than a leisurely pace today.
Arrived at the station, descended through the clean and spacious new booking hall and was about to step onto a train when everything started to go very wrong. The train was terminated and the Circle Line suspended due to signalling problems at Baker Street. Crossed to the other platform and hopped on an eastbound train. Soon heard that this too would terminate short. Knowing there was a fairly large bus terminus at Liverpool Street, hopped off there. Faced a nail-biting wait for a No.23 bus heading west. Once onboard, it was actually a fairly pleasant morning for a ride overground. Through the City, along the Strand and into the West End. Diversions around Piccadilly caused some difficult moments, but soon we were circling Marble Arch and heading onto Edgware Road. Sauntered into Paddington station roughly fifteen minutes before my train, feeling rather pleased with myself for swiftly calculating an alternative route.
I soon noticed however that the 1157 to Paignton was cancelled. As my eye followed the departure screens along, I noticed that my 1207 train to Bristol was also cancelled. In fact, everything going further than Hayes or Heathrow was cancelled. After a confusing couple of minutes, it was announced that due to a fire at a plastics factory near Langley the service west was suspended until further notice. Milled around for a while wondering what plans were likely to be put in place, and how long the service would be out of action. Eventually, it was announced that passengers should head for Waterloo via the Bakerloo Line. Tickets would be accepted on Sout West Trains and the Underground. Decided against the Bakerloo, given the huge crowds streaming into the Underground station. Noted the taxi rank was also overwhelmed. Decided to head for the buses once again, repeating a route I travelled a year or so ago. A short wait for a 436 heading for Vauxhall. Vauxhall with its new bus terminus, well-served mainline station and Underground links is now a fairly useful hub, and only a minute or so after I arrived, a Reading bound pair of Desiros crept into the platform. Squeezed myself on, much to the dismay of the passengers who were already packed tight. Resigned myself to a fairly uncomfortable ride home!
The suburban service to Reading is never fast, but this seemed to take forever. Once off the train, decanted through various crowd-control channels onto the concourse. Noted a late-running Bristol service which I was unlikely to get to in time. Brought some refreshments and returned to find the Bristol train still on the screen. Decided to head for the platform, if only to see what was happening. Found the train sitting with doors open and little sign of activity. Boarded and found a quiet seat in first class. I'd expected the train to be jammed solid, but everything seemed calm. Soon after we set off, via the Berks & Hants and Hawkeridge Junction, for Bristol. The only problem resulting from the delays seemed to be that the buffet staff were stranded at Paddington and the Train Manager was required to operate a makeshift complimentary beverage service.
Overall, I arrived home about two hours late. Given that I spent over an hour on a train from Waterloo to Reading, squeezed in a couple of bus journeys through the West End, and needed a lift from Weston-super-Mare given the terrible Sunday service Highbridge receives, I don't consider this bad at all. I won't be complaining about this one either - there is in all fairness, nothing much First Great Western could have done today!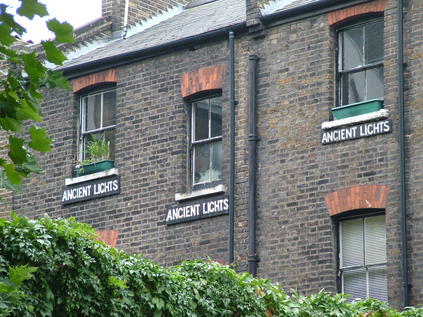 Posted in London on Saturday 16th September 2006 at 9:43pm
---
Up early, a quick but fairly sizable breakfast, and out into the cool clear morning. This is the first time for a long time that I'd been in London purely with the purpose of walking. Being much less fit that before, and having very little energy after the last few weeks, I was a little apprehensive. I hadn't planned a great deal at all, but with books and such loaded into my bag I planned to see where things took me.
The first target was New River Head where Myddleton's artificial watercourse reached its goal, not far from the mythical Penton Mound. Started with a gentle walk along Doughty Street and skirted two sides of Mount Pleasant - one of which I'd not passed along before, a tumbledown street of properties commandeered by the Post Office to store vehicles and trolleys or just simply buldozed for car parking. The street was called Phoenix Place, but was clearly not in any way in the ascendent. Along Exmouth Market, watching the street wake up and the bleary-eyed post-coital couples looking for excuses to part in the coffee shops. Soon found myself on Amwell Street, named for the springs at the other end of the river.
It appeared someone had forgotten to tell Thames Water that they'd be taking part in the event, because nothing much was 'open' at New River Head. Found my way into a small commemorative garden at the rear of the site where a number of other disappointed visitors were milling around. A resident from nearby flats involved herself, and gave a shaky and fairly inaccurate history lecture to all present. Throughout this she referred to the river sneeringly as 'it', like there was some personal grudge. I left to explore the rest of the area, and to attempt entry to the main office. As I dithered on the steps, the same native appeared and urged me to go in. I did, if only to escape this increasingly sinister presence. Directed to the Oak Room, I spent a few moments examining its impressive but somehow incongruous opulence before leaving. As I passed the security desk, the native was leaning over, giving the security guard a good dressing down. I slunk by, and out into the street.
My next location was the Grand Priory Church of the Order of St. John in St John Square. I made good speed through Clerkenwell and arrived just in time for opening. Again, the staff didn't. Waited with an increasing crowd of Open House guide toting people in various degrees of leisurewear. There was much talk of 'doing' this building or 'ticking off' that. The whole event was starting to sour for me. It was now a game of architectural bingo which didn't sit well with my mythologising of the city at all. Almost left, but the doors finally opened, and I'm pleased because otherwise I'd have missed an interesting and calming oasis, with an ancient crypt. Most interesting discovery though was the line of housing declaring 'ancient lights' rights to unimpeded window views which overlooked the cloister.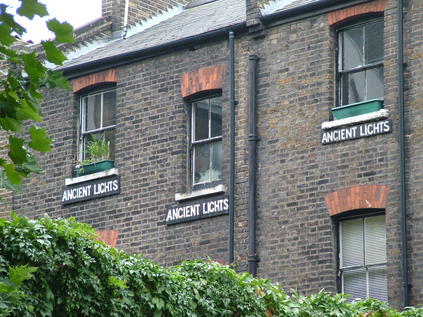 Here I took a coffee break. My plan had been to head south and into the City, checking out whichever churches and Livery Halls crossed my path. I'd likely find myself in some old haunts, but this only added to the fun. However, my little elitist hissy-fit at the Grand Priory Church was still with me. A change of plan was in order. So I set off, via Smithfield and through the gatehouse of St Bartholomew the Great - oldest of the city churches in many respects, dating from 1123 or thereabouts. The interior was quiet, reeking of fresh flowers and the dust of replacement floorboards.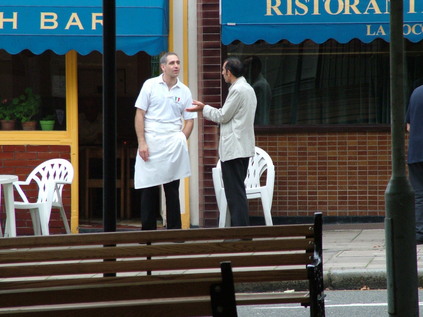 I soon left, passing Betjemans home in Cloth Fair before skirting the City via Aldersgate and London Wall. Admired the ruins of the wall near the museum before pressing on to Liverpool Street. Noted the huge queue for access to the Great Eastern Hotel as in the past two years, and realised that for many Londoners this was just a means of seeing into the corridors of power and wealth. Whether it was a brief glimpse of a top-class hotel, a masonic temple or the Foreign Office, it all led back to the snubbed Cockney entering the sphere of the cultured and refined. I've no doubt there were many wandering the City with a genuine interest in interior design, architecture or history - but I continually bumped into people who seemed more concerned with quantity of visits than quality of buildings. I couldn't continue with any sort of plan now.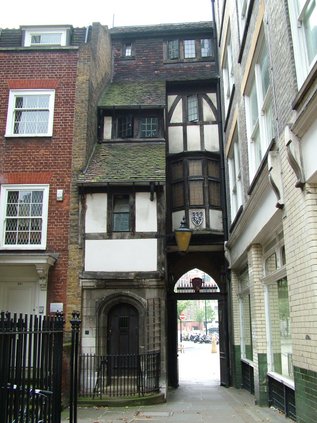 So I didn't. Having taken on board refreshments I struck out east. Over Bishopsgate and along beloved Brushfield Street with Christ Church, Spitalfields towering over more recent monstrosities. I thanked it's cold white stone for still being there, year after year. Now into Fournier Street, and then Princelet Street. No need to join the queue to visit No.19 again, but I paid my respects to Rodinsky, the mysterious walker of London pathways who had lived above. I'm certain his legend still brings these crowds, who are just as disappointed as I that the room is not open. But for me, the starry ceiling of the hidden synagogue was enough to astound and startle. Further east, deeper into Spitalfields. Over Brick Lane and into Greatorex Street. Sudden calm. Happy family groups walking to the market, to pray or just to be out on a fine warm day. The streets radiate heat back at me, and I realise for the first time that my feet hurt.
Rather unexpectedly I'm cast into the roaring tide of Whitechapel Road. Buffetted around the pavement at first, before I find the rhythm of the crowd and dodge my way further east. I'm tempted by Durward Street, just because I'm sure I once read of its association with the Ripper myth - perhaps as the only street not to be renamed after the events? I'm not a great student of the Ripper cases, but the idea of continuity and resistance in the street name not being changed appeals to me. In any case, Durward Street is now a featureless minor road skirting a new housing scheme and with a huge fitness centre along much of it's length. The entire opposite side is taken up by the Underground lines heading into Whitechapel Station. Back in the melee I moved fairly freely between market stalls and street furniture, desperate to cross to examine the rather bland edifice of the Royal London Hospital. Having recently read Iain Sinclair's 'Radon Daughters' I was curious. Clearly it is vast, labyrinthine and disconcertingly old and tumbledown. Its also a hospital, which for me creates its own difficult resonance - I used to suffer a terrible phobia of the places, and only a career on the very fringes of the NHS freed me from it. I don't quite manage to link into Sinclair's more sinister or political views, despite the crowd of Special Brew connoisseurs populating the steps. The site of the mound or of the original White Chapel now hosts a tangle of undergrowth and several portakabins, none of which appear to be in regular use. I swing south again into New Road. More hospital, it's straggling departments and impedimentia reaching far along this rather dull and menacing street.
I'm out on a limb now, geographically and culturally isolated. I continue south knowing that once over the grim crossing of Commercial Road I'll soon find the twin eastward ways of Cable Street and Ratcliff Highway - both have their shameful pasts and billboard mounted futures. On the corner of Commercial Road, an elderly man with his Open House guide is being directed east by a local. I'm pleased to see people heading out here to the forlorn churches and industrial heritage of the east. I head part by instinct and part by compulsion to St George-in-the-East. I've not been here since 2004, despite a walk almost getting me here once. The church stands white and imposing in a deteriorating scene of chaos. Monuments decked in graffiti, where angels have acquired felt-tip genitalia. The entire place teems with litter and drowsy wasps. I make a phonecall from here, because at least it's quiet and isolated. I feel almost comfortable, and its hard to move on when the time comes. Onto the Highway, and a brief detour through singularly unimpressive Swedenborg Gardens - again a misread literary location. I turn north again onto Cable Street and Royal Mint Street, watching the Docklands Light Railway get swallowed by the earth before plunging back into the swell of the City.
At The Monument I once again pause to regroup. My feet are disintegrating and its a fair way back, even by train. I develop a strange urge to complete my proposed St George-in-the-East to St George Bloomsbury walk, which didn't quite make it. So, now hobbling on a blister I strike out - Cornhill, Holborn - passing the more traditional sights as quickly as my legs can now work. Beside me, pensioners dawdle and eye their guidebooks. Soon enough I find myself at the southern end of Southampton Row. Now barely lifting my feet to walk, I make a frenzied skirt of the Museum area. I can't find St George Bloomsbury. More accurate, I know where to find it, but I'd underestimated how hard it would be to get there. Dejected, but still exhilarated from my 'walking off the map' I drag my bleeding stumps home rather than trying to find a disappearing church, coincidentally passing the Swedenborg Society on route. Food, beer and sleep beckon - but a pair of new feet would do nicely. Despite my hunger, thirst and pain I'm secretly very happy with my wander away from the Open Sites. Perhaps the occasion means that prying eyes and CCTV are looking elsewhere, so Open House really does provide me with the freedom to wander the city? In which case, I'll see you next year...