Posted in Railways on Friday 15th September 2006 at 8:57pm
---
I'd booked time off for London Open House months back. Just like everything else these past few weeks I didn't get around to organising things until the last minute. Managed to get a cheap first class fare for the journey up, and booked a slightly more expensive than usual hotel. I could probably realistically have travelled up tomorrow, but I wanted to recapture some of the spirit of my first Open House a couple of years back, where I made a series of epic treks. This time, I planned to use this afternoon for a railway ramble, then walk tomorrow. Sunday would be a chance for a lazy breakfast and the journey west around lunchtime.
A fairly smooth start to proceedings. Dealt with some domestic bits and bobs and set out for the 0945 to Taunton. Changed and had only a brief wait for the 1031 to Paddington. This train calls at Reading and London Paddington only, and originates deep in Cornwall. Fairly busy, even in first. Settle back to read and doze through the journey along the Berks & Hants route. Gave very little thought to how I'd kill the time until check-in at all.
Arrived on time at Paddington, and glanced at the Departure Boards whilst shouldering my pack. Noted the 1255 Chiltern Railways service to Princes Risborough. This train runs once a day on all weekdays except Wednesdays, and this and its balancing inward journey are the only way to cover the short stretch of line from Old Oak Common West to Northolt Junction. I recall being somewhat obsessed with this bit of track, along with the Stalybridge Parliamentary some years back, but I'd never attempted it. Perhaps in fact it was a Friday only working back then? Took the opportunity to grab coffee and food, and to trudge over to the furthest extremities of the mainline station at Paddington. Sure enough, there was a Chiltern class 165/0 ticking away with at best two other passengers onboard. Decided to cover the route as far as High Wycombe - partly to maximise my options for the return, and also to honour the excellent Remapping High Wycombe project.
Once we've swung across the mainline just beyond Old Oak Common depot, the line plunges into a cutting. Soon the Central Line joins on the left, alternating between being a little below or a little above us. The disused Park Royal branch from the Guiness Brewery swings in from the right, and soon we're at Greenford where the Central Line is high above us, along with the single line trailing in from the Great Western Main Line. Beyond this, it's a long straight dash into the suburbs, with a fairly regular procession of southbound units passing us now we've joined the line into Marylebone.
It's a long time since I've passed by High Wycombe station. A strange, staggered layout with an additional longer platform literally bolted on to the down bay. Decide not to stay long. There's a air of menace about the station - mainly due to the Revenue Protection goons who are eying me suspiciously for not leaving the station immediately I'm off the train and scribbling in my notebook. Note a fast London train leaving soon, so I head under the lines and onto the less busy up platform. Soon on a wedged class 168 heading south again, listening to an inane conversation a seat or two back. Its turned out a hot and sticky day, and its nice just to sit in the air-conditioned unit for a while. All too soon we arrive at the always strangely captivating Marylebone station. Wander a bit, but the evening rush is beginning to start, and bits of the station are closed for extension.
Head out of the station and underground at Baker Street for the short hop to Euston Square. Exceptionally lazy of me - its a fairly short walk to Bloomsbury, and I'll still need to walk part of the way. However its partly laziness and partly tradition to arrive this way - passing Senate House, skirting the British Museum and crossing Russell Square. Locate the hotel and check in, before heading out for a brief walk around old haunts, some food and beer. It's good to be back here, and for the first time in weeks I feel relaxed.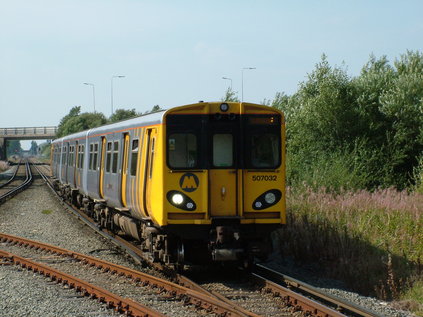 Posted in Railways on Saturday 9th September 2006 at 8:49pm
---
The first week of the school year is over, and hopefully things are settling down into the usual levels of mild background panic. I spent so much time trying to sort out forthcoming trips this week, that once again I neglected this weekend until the last minute. I'm sure that the chaos of last year would have been just the same had I not had things organised well in advance. Having planned to be in London next weekend for Open House resolved not to go that way this weekend, despite some fairly easy snippets of track remaining that way. Instead, decided on a little spin around the remaining Merseyside lines.
Things didn't start well - realised that my mobile phone had failed to charge despite being plugged in all night. This has happened before, but I've always discovered it early enough to rectify things. Since I use this as a clock and regularly access the National Rail Live Departure Boards to aid my journey, this was fairly irritating. Boarded 2M02 and met some familiar faces in the ex-First Class compartment of the Transpennine refugee unit. At Bristol Temple Meads the end of the hired-in HST sets meant that an extra Voyager was stabled in platform 4. Made very certain I was on the right one and settled into the Quiet Coach. My peaceful wait for departure was soon disturbed however, by an individual who I've seen around the station for years. He clearly has some issues, and I recall once seeing him abuse and publicly humiliate a woman who'd stepped onto a train before him - that must have been seven or eight years ago in fact. Today he decided to direct a fair amount of pretty disgusting abuse my way for "sitting in his favourite seat". Tried to be reasonable about things, but ended up having to be fairly unpleasant back to show him I wasn't going to tolerate his abuse. A rather difficult silence reigned as far as Cheltenham Spa where he got off.
I could have changed at Crewe, but decided to get the same 350 from New Street which I'd end up catching anyway. Realised soon afterwards that I was heading into Liverpool on the day of a Liverpool-Everton derby match! Incredibly bad planning, which saw the unit packed at Hartford and overloaded at Runcorn. On reaching Liverpool South Parkway where I intended to change, had no hope of escape and ended up travelling on to Lime Street with the rest of the crowd. Explained my predicament to staff who directed me onto the 11:29 back to Parkway. My schedule was now a little tighter than I'd hoped, but I was back on track. Through the cavernous new station at Liverpool South and over to the new platforms which serve the Northern Line, ending just short of the start of the now abandoned Garston station. Further delays waiting for the service to Liverpool Central.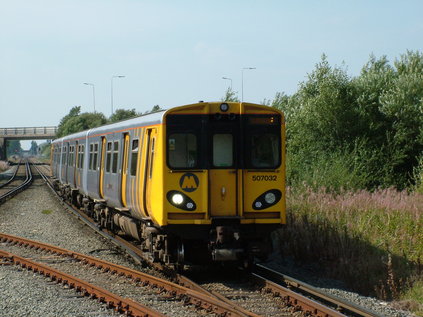 Here my stupid fear of escalators scuppered me once again. Continued to Moorfields on the mistaken understanding I'd have better access to the Wirral Line deep-level platforms here. Took ages to find the lift, and once down at tube level, confused by the train routes and times, and even which way trains traveled around the loop! A short hop back to Lime Street Low Level got me on track, and the next West Kirby service got me back overground with some relief, and having seen nothing at all of Liverpool today. Arrived at Bidston in bright sunshine and sporting an irritating and seemingly fairly persistent headache.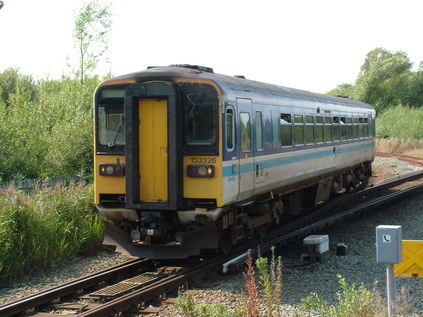 Had a fair bit of time to kill here until the next Wrexham bound service, which I was to take as far as Shotton. Having spotted a Tesco store beside the line, wandered out of the station and braved several lines of traffic to get to the entrance. The approach road was not really pedestrian friendly at all, and I found myself on the 'wrong' side where rough gravel eventually gave way to a steep bank. Had to dash across the road to escape and finally found food and a much needed cool drink. Carefully took the correct route back to the station. Thanks to my exploits, only a short wait now until 153326 rounded the corner to form the train to Shotton. The tiny corner of Bidston I visited today did not inspire me to want to go back.
So, finally got to travel the northern section of the 'Borderlands Line'. A fairly slow plod at first through small towns, travelling mainly beside the M56. Eventually the landscape opened out with the marshes leading down to the Dee estuary close by the line, and views of distant Welsh hills. Passed the depressingly empty Dee Marsh Sidings, and crossed the river to arrive at Shotton. Strolled into the High Street which was just as menacing and grim as my last visit back in April. Found painkillers for my head and used a callbox for the first time in years thanks to my dead battery! On my walk back to the Low Level platforms, 66220 stormed by on the High Level lines just beside me. Attempted a picture but the strong sunlight put me in shadow. Ended up having a nail-biting wait for the delayed service to Chester, with the tight connection for Crewe getting less likely by the second!
Made it to the 1503 to Crewe in seconds, the guard on my last train having decided to come through seconds before arrival at Chester to sell me a ticket very slowly and carefully. Collapsed onto the front of a pair of 153s and barely even surfaced to try to see what was on Crewe Electric depot besides the usual line-up of Class 92s. Time for a coffee at Crewe, and a chance to rest and recuperate from my headache. Wonderful warm but breezy late-summer weather too. The Voyager arrived on time and I enjoyed a sleepy ride back to Birmingham. Helped a fellow passenger get to the platform for the 1712 service which took me all the way back to Weston, arriving a couple of minutes late due to some fairly minor hold-ups on route. When changing to the Highbridge unit I bumped into the very same people I'd be chatting with at the start of the day, thus coming full circle. A day full of obstacles and frustrations - which even if I'd planned all week I could never have worked around.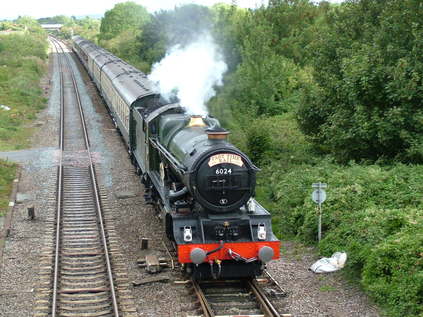 Posted in Railways on Sunday 3rd September 2006 at 10:42pm
---
Back to the station today to see the final down Torbay Express of the season. A fair turnout once again this morning for the King - running with a 'Past Time Rail' headboard rather than the usual 'Torbay Express'. Every week this year we've had the same locomotive, which has made things a little less interesting. Still a highlight of Sunday though to watch this train pass. Having tried lots of different photographic spots this time, settled on the Walrow bridge, and improved on my previous efforts from here.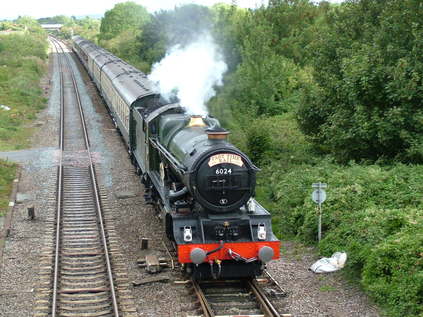 Walked down again this evening to watch the up working. There is still something spine-tingling about hearing the distant whistle and the incredible noise the King makes as it approaches.
As I always say, now Summer is officially over.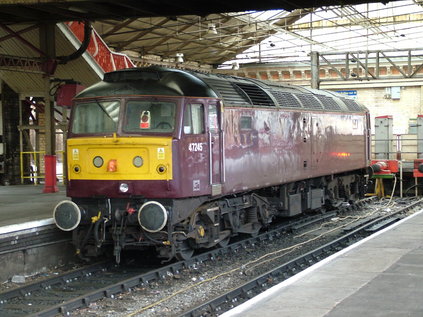 Posted in Railways on Saturday 2nd September 2006 at 10:03pm
---
Once again, it was one of those days where I didn't really know where I was going to end up. I'd tried throughout the week to come up with some sort of plan, but a fairly relentless time at the office combined with sheer laziness at home meant I had nothing planned until late last night. The idea was to mop up a few bits of track in the Manchester area which I'd neglected over the years, which should make for a diverting day out.
So, the usual routine to start with - the first train out, and a chance to compare notes with the locals about today's specials - most of which I won't see of course. A swift change at Bristol Temple Meads onto 1S42. A chance for a little nap and plenty of reading on a fairly quiet service. Possibly the most relaxed I've felt all week in fact. Arrived in Crewe a little early and noted some interest in one of the Salop facing bays. Wandered over to find 47245 which had brought in the stock of a steam tour, presumably from Carforth.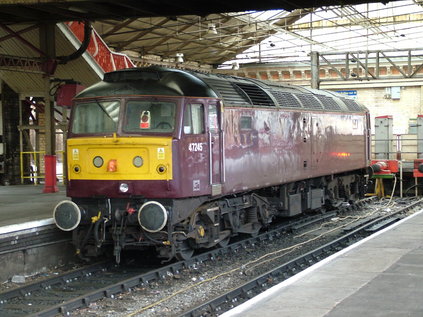 It should have been easy from here.
Arriva
's 10:30 to Wilmslow for an eight minute connection to the airport. Noted the 10:30 late and getting progressively later. Hedged my bets to be ready for a platform change, then much as expected noted the service cancelled. Dashed over to Platform 1 to try to find a seat on the next Northern stopper before a Pendolino full of football fans descended on the train en route to Old Trafford. Soon off, around half and hour behind time but still optimistic. All began to crumble however, when a timetable check indicated a wait of over thirty minutes at Wilmslow for the next Airport unit. Nothing much I could do but board the waiting 323 which was at least some shelter for the rain now pelting down. The sooner the replacement signalling on this strategically important piece of line is fully commissioned, the better.
Arrived at the curious and rather modern airport Station and dashed onto the concourse to rebook for Rose Hill Marple, on the basis it might just be possible. Back onto the platform in time for the 12:27 Windermere train, which got me into Piccadilly, but not quite in time for a Rose Hill train. Toyed with the idea of the line via Hag Fold to Wigan, but that too was a little too long for the time remaining. Even considered the Metrolink to Altrincham, but that wouldn't have left me in a strong position. Decided to go for a wander and a look in the Ian Allan shop instead, and walked squarely into a row of fairly serious looking Welsh BTP officers. The station felt edgy and fairly uncomfortable, but I think that was in part due to the massive Police presence. Slunk back into the station, having narrowly avoided spending money, trying to look as innocent as possible. I've been here so often this year they probably recognise me.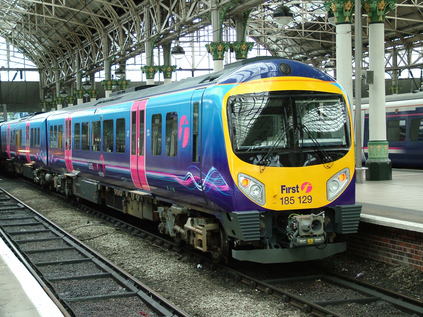 Bought a couple of CDs and decided to park myself at Starbucks where I could relax and get out of the way. Watched a few 185s come and go, and even managed to sneak out and grab a picture of one of them. Having not really managed to salvage much of my plan, boarded the 14:54 a little early for the quick and event free journey back in First Class. After a change at Birmingham, straight through to Weston where there were a fair number of people crossing the bridge for 2G25! Turned out that due to a security alert at Reading, the 18:15 HST had terminated at Bristol, with everyone trying the route I often use here. Aside from the plan falling to pieces early on, a decent enough day in and around Manchester.