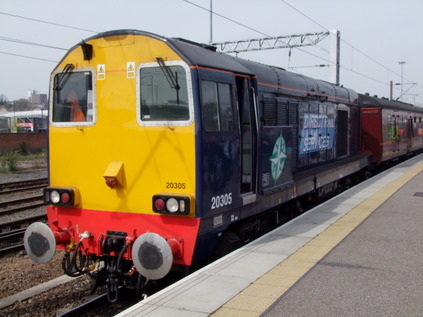 Posted in Railways on Saturday 24th April 2010 at 11:28pm
---
It's always been tricky to get to East Anglia, and that was reflected in today's early start which found me blearily trudging around Crewe station a little before 05:00. No hope of coffee at this time of day either, and with no kitchen car in the already complicated formation of the train, no chance of the customary bacon roll either. However, all miserableness was dispelled when the eerie silence of the station, which had literally only just opened it's doors, was broken by the racket made by 37423 hauling the stock in from the south. A quick check at the other end revealed that 37059 was leading a very tidy looking 20305. Found my seat with the usual configuration of faces scattered around coach K, and settled in for what was sure to be a fine day out. A bit chilly at first with no ETH, but I confess I also had the window wide open to listen to the locos. Once the sun started rise things soon warmed up however. The run out to Norwich should have been fairly standard stuff - down the WCML to Wolverhampton, then Birmingham New Street and out to Leicester. However, the first surprise - and indeed new track - of the day occurred when we took the connection to the Trent Valley lines at Nuneaton Abbey Junction. After calling at platform 5 of the 'old' station we took the recently restored connection to the Leicester lines. From here, the route is something of a stagger - and having the Class 20 in the line up limited our speed somewhat - however, the atmosphere on board was fun and the ale was already flowing, so I settled back to enjoy the sunshine and a line I don't often get to travel on.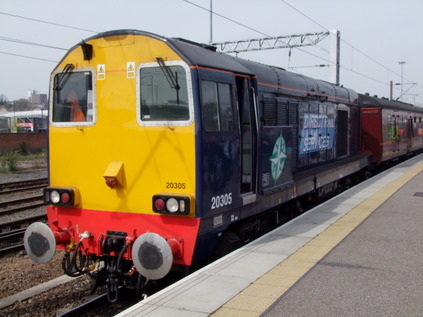 After a burst of activity at Peterborough with a busy series of sheds and sidings, we curved east again and headed for Ely. A brief reversal here saw 37423 take over, hauling a load of eleven coaches and two dead locos with ease - but making an impressive noise as it did so! Out onto the fens, and the long flat and straight stretch of line into Norwich. Here, things got complicated! Firstly, the train was to split - the Class 20 and six coaches would head for Great Yarmouth. Meanwhile, the 37s would top and tail the remaining five coaches, and would head north to Sheringham and the North Norfolk Railway. Spent the hour before this second portion departed getting some much needed coffee and reacquainting myself with Norwich station - since the last visit was so very brief! Soon underway again, passing Crown Point depot then taking the line north to Cromer. I'd done this branch once before on a quiet Sunday of an All Line Rover, but it seemed to slip by much more quickly without the stops. Fantastic weather as we reversed in Cromer, heading for Sheringham and perhaps the highlight of the trip - the traversal of the new 'occasional crossing' between the Network Rail boundary and the North Norfolk Railway. Amazed by the huge crowds at the station and level crossing waiting for us to pass, as we crept slowly through the centre of town and into the NNR's fine old station. A brief pause before we were off again, thundering along the coast towards Holt. On route we passed resident 31207, which the more dedicated among the passengers leapt to do to Weybourne as soon as we arrived at our destination. Contented myself with a wander in the sun and some pictures of the locos.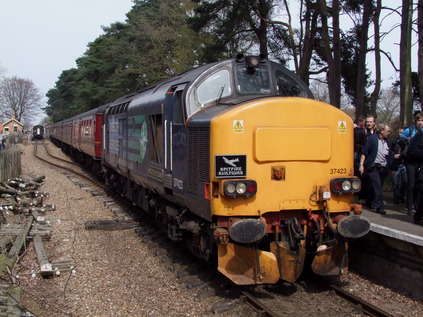 After a brief pause, we headed back to Sheringham and stopped at the platform on the North Norfolk Railway side of the crossing, the original station here. Whilst the stock cleared the station for an incoming steam service, wandered down to the sea front for fish and chips in the sunshine. A surprisingly civilised and traditional turn of events - but it was that kind of day. Contemplated the British seaside holiday for a bit too - before wandering back to the station, with members of the merry band stopping to purchase an unsavoury selection of items including oversize stale whelks, a carrier bag full of rock, and two ice creams. Arrived at the station to see a unit which had previously been declared a failure just leaving somewhat late. We left a little down, and made good progress as far as Cromer where we stopped to await the incoming service. The limited passing opportunities on the branch meant that the earlier failure was snarling things up further down the line, and we finally left about 14 minutes down. Nothing to worry about though, and an another enjoyable, rather sleepy run back to Norwich.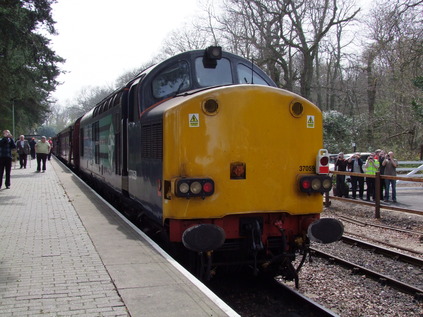 Shopped for beer and supplies whilst the two portions of the train were shunted together again, with the Great Yarmouth portion arriving a little late too, due to brake problems on the coast. The train was soon shunted back into one though, and we set off homeward with 37423 and 37059 leading. The tour still had some track highlights in store though, as we were booked to use the avoiding curve at Ely. This unusual bit of track is signalled westbound only and avoids a reversal in the station. Duly ticked this off, and snoozed my way back to the Midlands, waking just in time to get the connection at Nuneaton in the opposite direction, traversing the crossings north of the station once again to regain the Birmingham lines. New Street itself posed an interesting spectacle too - we'd heard earlier that there had been a power failure both during last evening and this morning, and there were still problems. As we paused to set down passengers, the never particularly bright platforms were bathed in an eerie half-light from the emergency lamps. No displays were working, and people appeared to be wandering aimlessly about like some post-apocalyptic zombie film. Not sad to leave the station and complete our journey to Crewe, arriving a few minutes early, and very sleepy indeed.
Thinking back over my moans and groans earlier in the year about lazy tours which don't cater for the enthusiast, I'm amazed how ambitious this tour was. Trains aren't split and joined like this on the railway in 2010, and doing so was a huge gamble. The possibility of a number of ways of achieving the various trips seemed to work well too, with people reporting coaches arriving on time and the journey being pretty decent as road trips go. It's fantastic to see some risks being taken and some new ground being broken, and it's really good to see Spitfire silencing some of their critics with great itineraries like this one.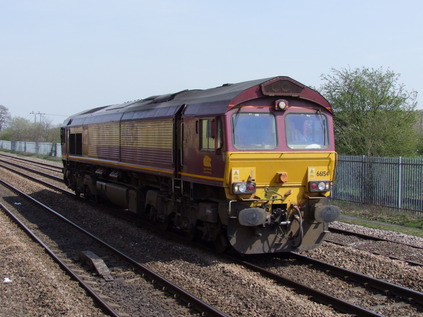 Posted in Railways on Saturday 17th April 2010 at 9:13pm
---
A cursory read back over the past few entries here seem to involve me whining increasingly about cancellations, poor sleep or other trivia. In some respects, this one won't begin any differently - partly because the Comfort Inn had assigned me one of their least comfortable rooms for the weekend on the dreaded fourth floor. In some respects, this wasn't all bad as it kept me away from the other guests. On trying to leave the hotel to get food last night I found myself needing to negotiate a huge group of Germans who had colonised the stairs and reception to hold some sort of presentation to a friend or colleague. Arriving at the top of the last flight of stairs I was confronted by a bearded man in expensive ski-wear who hissed "You will be quiet!" at me. With the stairs clogged with bodies, I turned for the lift - but before I could hit the call button the same man's gloved hand covered it "No!" he commanded. I resigned myself to listening, recalling bits of my schoolboy German. The woman in question thanked a lot of people before I finally got to leave...
This morning presented no such difficulties, and at a relatively sensible hour I wandered over to New Street to prepare for the day ahead. There were a lot of charters running, and it was a struggle to get the information on which platform I needed from the Information Desk. However, later the announcer and displays all updated this - uncharacteristically helpful for this location. Likewise, there were no reports on the tours progress up from Swindon. Again, I could have picked the train up further south - but I liked the fact I could have breakfast and a relatively leisurely start to my day. Eventually, 66154 rumbled in on time. Soon away towards Aston, noting that since descending into New Street's depths, the sun had fully risen above ground and the weather promised to be good. There was a slight bloom of frost on the waste ground as we headed north through Bescot and Portobello Junction, and a pleasant breeze through the windows. I settled back for the ride up to Crewe.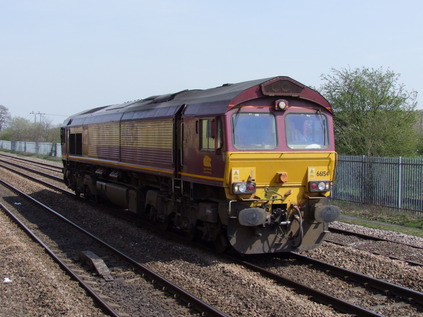 Hopped off quickly at Crewe and made a dash for the front. As ever the crowd had beaten me, and there was quite a crush at the end of Platform 12 to watch 70003 gently backing on to the train. The Class 70 had been waiting for our arrival here, with a small bunch of excited Americans in GE jackets pacing the platform. The 66 needed to stay on too, to prevent any unwanted contact between the rugged front-end of the Class 70 and the vestibule connections on the Mk II coaches. We noted that the multiple working cables were joined despite the 66 being switched off. They were taking no chances with this one it seemed! Soon back on board, and we were off - a gentle departure and onto the WCML - the first passenger working of a Class 70, and a favourite bit of line for me. Sat back and contentedly enjoyed the trip as we passed north through Warrington, Wigan and Preston. Noted a fair number of line-siders out to see us too!
After passing Lancaster, and the ever stunning glimpse of Morecambe Bay at Hest Bank, we headed through the platforms at Carnforth before taking the sharp, right-hand curve onto the Little North Western line. This rarely travelled line is surprisingly scenic, and is so much more pleasant on a proper train in fantastic weather than on a packed Pacer! We passed 6201 'Princess Elizabeth' steaming at Hellifield on a light engine movement from Carnforth, before joining the busy West Yorkshire commuter network at Skipton, where a number of passengers got off to explore the town. Pressing on through Keighley and Saltaire, we finally arrived in Leeds. Lots of activity as people disembarked, boarded for the mini-tour or just milled around trying to get a picture of the celebrity locomotive.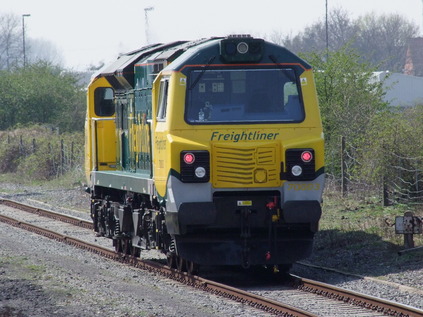 The minitour was of course originally a spin around the Harrogate loop which has been a bit of a bad luck line for tours lately - dropped from last years' Jorvic Growler due to late running, and now not cleared for Class 70 operation. Instead we had a rather less scenic spin out to Hatfield & Stainforth - out via the fairly rare west to south curve at Selby Canal followed by a swift dash down the ECML to Joan Croft Junction. The run around at Hatfield seemed to take forever, but it was pleasant enough to hang out of the window and watch events unfold. Finally coupled up once again we set off, and unexpectedly retraced out steps towards the ECML. Cue a rather surprised announcement from Mr Watts that we were "going the wrong way". It seems in fact that Network Rail had slipped a VSTP re-routing under the radar and we were now heading fairly directly back to Leeds via Hambleton. This meant missing the northern curve at Adwick which was the one other bit of rare track on this. Not a great moment - but possibly not unexpected on what must be one of the most retimed, altered itineraries of recent years.
A break at Leeds for a decent coffee and a wander around the pleasantly cool station. Finally managed to get some shots of the engine with some loon using it as a bench, or in the case of one particularly loyal crank, refusing to let go of the handrail. People even tried to tempt him away with food and money, but still he held on. He obviously really liked Class 70s! They eventually let him have a look around the cab - and I imagine he's probably still in there somewhere! Soon back on board and heading back along the Little North Western towards Carnforth. Quite a delay here waiting to cross back onto the mainline, which left us a little behind all the way to Crewe. Here, no time was wasted in getting the Class 70 off the front, and it was last seen ambling off towards Basford Hall having made a little bit of history today. Off Crewe almost on time, and some more swift running from 66154 to get us back into New Street on time. A tour which almost did everything it was supposed to, and scored that all important "World's first Class 70" tag!
As we trundled back, a Pathfinder person with their new 'customer feedback sheet' occupied the seat across from me and asked me how my day had been and what I wanted from tours. I told him that this was the sensible way forward - drop the normals somewhere nice and whip the cranks off for a spin somewhere unusual. No long wet layovers in Llandrindod, or three hour stops in bone-crackingly cold Buxton. He nodded sage agreement, and said "I think you're right". As he passed down the coach I heard people giving him lists of 66s they needed for haulage or rare crossovers that should be included in a tour shortly. I don't disagree with some of their wants and needs - but thinking back to the young lad gripping hard onto the hand rail of 70003 earlier, if we want these trips to continue we've got to loosen the hold a bit and think about new ways of doing them.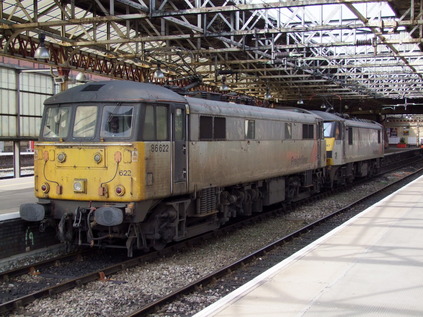 Posted in Railways on Saturday 10th April 2010 at 10:02pm
---
Last week I speculated on how today's trip could all go wrong if 1M21 didn't perform. Its always been a reliable, useful train in the past and despite it's unplanned meander via Bescot last week, it generally delivers. Then again, so main things which normally work out didn't today! It was always going to be a bit of a shaky start - after stumbling back to the station about five hours after arriving home from the ASIWYFA show in Bristol. Still, resolved to have a relaxing ride up to Manchester for starters and maybe sleep a little too. The unit to Bristol gave cause for concern at one point - after a long stand at Uphill Junction the guard asked if anyone was headed for Weston. So it seemed they were planning to use the mainline - which would have probably mopped up any lateness. In the event, the broken down train which was blocking the platform was restarted and we continued our journey about 10 late. No big problem, and still plenty of time to get breakfast and settle into my seat on the 07:00. The day was shaping up to be warm and sunny, and the train was on time. I had a niggling doubt about getting across Piccadilly to the far-flung platform 14 in time, but that wasn't yet a big worry.
Then it all went wrong... As we cruised up the Lickey, the guard announced we'd be terminating at Birmingham as there were no staff for the onward service to Manchester. Everyone going that way should use the 08:57 service. So, with plans in tatters I made a quick dash for the Customer Reception at New Street - they were sure to help I thought, with only a two-hourly service from Manchester to Carlisle I was hoping they'd pass me on a Virgin service northwards which would get the day back on track. However, I was met with utter confusion:
XC Person: Why would you go that way?
Me: Well - it was cheaper and the connections were easier from my home station.
XC Person: But why?
Me: ...explained the route in a bit more detail.
XC Person: But it's not our fault you can't get a direct train from Manchester to Carlisle!
Me: Indeed not, but it is your fault I can't get to Manchester as booked.
There was plenty more - and then another XC person, who barely stopped short of accusing me of some sort of terrible fraud in trying to get a cheap ticket on a Virgin service! I pointed out that the whole situation stemmed from Crosscountry terminating their train in fact. He retracted his rather strange view, but stressed how they had to be so careful with these Advance Purchase tickets, and that I really shouldn't expect to be able to travel a different way using them. Again I pointed out, trying to stay calm, that in fact I'd tried to travel on exactly the trains my tickets were valid for but that his company had failed to operate the trains as advertised. He changed tack a bit, and suggested I travel two hours later - I pointed out a couple of issues - firstly, I had advance purchase tickets going home too and I'd not then make the trains I was booked on. "Hmm" he said "I can't really stamp those for travel on a different service". OK, and even if you could - there won't be a connection to my home station two hours later as I'll miss the last train. "Not our job to get you home in those circumstance Sir". I reassured him I didn't think it was and clarified the position - he'd stamp my tickets and I could get to Manchester on a later train. Then I could hope that Transpennine Express would let me travel on the next Carlisle service in two hours. However, I'd then miss my return trains and not get home. So I could either not travel and wait until the 17:06 Manchester-Bristol train as he wouldn't stamp my homeward tickets, or shell out for a new Birmingham-Carlisle or Birmingham-Bristol single.
XC Person: um, well, yes. That's it really. But you could write in and they might give you a refund.
There is a lot of oddness here. Firstly, Virgin have never had any qualms about doing the opposite if things go wrong - they seem to focus on getting people to their destination first and the politics later. Yes, my tickets were routed unusually, but it's the advance fares culture which Crosscountry participate so willingly in which pushes people into choosing these combinations. It was a valid, reasonable and perfectly achievable route without the delays - where does the passengers charter suggest that choosing to travel on a cheaper ticket gets the company out of having to provide a service? Finally, there is the fact that for years I've told people not to worry about inter-TOC politics - they'll get you home. Now I can't say that with any sort of certainty. It was a dark day indeed for the railway.
And not a bright one for me, despite the sunshine. With trespassers lurking at Birmingham International, the 08:57 rumbled in 37 minutes late. Still in wonderful weather, snoozed and seethed my way to Manchester. No hope of an onward journey to Carlisle as planned now, so contented myself with people-watching and coffee in the station. Brooded on things, money, railways, work stuff. Decided I needed to keep moving to stave off the gloom so headed out to Crewe on a packed Pendolino. It was getting hot, and the first hints of hayfever seemed to be appearing. Crewe was quiet - unusually so, but eventually some light engine moves produced some interest in the form of a parade of electric locos reversing in the bay platforms.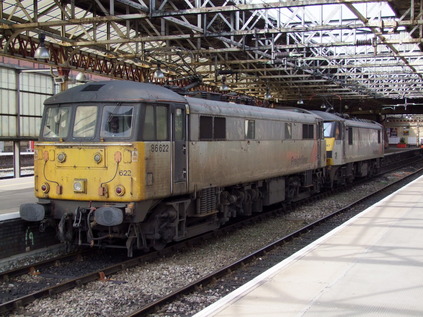 Decided to head back to Piccadilly after a further wander around Crewe, and watching a strange modelling session where a dreadlocked girl stood at the end of the platform and her goth boyfriend took pictures of her looking like some sort of cyberpunk gricer. Admittedly she was a lot easier on the eye than the usual platform-end vegetation at Crewe! Another, somewhat quieter, Pendolino took me back to Manchester. Snoozed a bit on the way - the late night catching up with me and reminding me that despite feeling like a teenager thanks to the music, I definitely wasn't one anymore. Settled for a very un-rock'n'roll coffee and watched some more people, including a would-be barrister with an impressive, booming voice who unfortunately resembled a fairly bedraggled tramp. Wandered out to find my seat on 1V65 and settled in for a carefree and pleasant journey homewards. This time everything worked as planned, but it didn't make up for the irritation and dismay I felt, which to my shame I characteristically managed to take out on entirely the wrong people.
Things don't always go to plan on the railway - sometimes too, it's no-one's fault at all. I've learned to be fairly stoic and relaxed in such situations. When things go wrong like today though, I get irritated - embarrassed that those who travel less often will form their opinion based on how things went wrong, but also on how hard people worked to put them right. I've normally got my own back up plan too - so I don't trouble the staff when they're needed by others. But on this one occasion where it just wasn't going to work out without their intervention, they left me high and dry. It might seem like a cancelled train and a cancelled day trip (which plenty would see as pointless anyway) but its actually a very sad outcome in a number of ways. Let's hope next week's railtour will restore the balance a bit...

Posted in SHOFT on Friday 9th April 2010 at 11:55pm
---
It's a long time since I've sneaked up to Bristol after to work to see music. In part, it's because so little music of any note seems to emanate from the city. Others would tell me differently, but I just see a mess of proficient but fairly uninteresting covers bands playing over and over whilst the rest of the place seems to rumble on in the same drum'n'bass rut it's been in since the late 1990s. It's also partly my own fault of course. I'm getting old, and whilst we kid on we're all John Peel's musical offspring, it's hard to find the time to be as expansive and gloriously indulgent in our tastes as the man himself managed to be. There is, of course, also the pleasure to be had in watching a favourite band develop over time, and when pushed for time and resources it's easy to end up with a small group of bands or a scene to follow relentlessly rather than looking further afield. For me, in recent times, the vibrant and ever-changing scene in my beloved Glasgow has provided endless new opportunities and ear-opening moments - and it's partly though participating from afar in this burgeoning musical network that I even heard of tonight's act. Belfast's And So I Watch You From Afar could easily have slipped past me - tipped hotly in places I'd never be looking (including the likes of Kerrang!) their brand of instrumental genre-busting sonic mayhem doesn't really fit anywhere. It certainly didn't seem to fit into The Cooler - a tiny venue on familiar Park Street, with something of a faded 80's cocktail bar theme in evidence - though it's hard to tell whether this was intentional or just a relic of the venue's past life. Support was from another tipped NI act, LaFaro. I'd heard a lot about them, but lazily knew only one song - the punishing "Tuppeny Nudger" - which grabbed my attention with a collosal drum intro, but lost it with dreary mock-American vocals. Live, LaFaro were a much more engaging prospect with tons of energy and plenty of noise. A forthcoming album will be worth a listen - but only if the low menacing growl of the live vocals hasn't reverted to a not quite Born in the USA transatlatic drawl in the comfort of a studio. The future hit single closed the set to audience appreciation, with a few new fans being won. As the tiny stage was cleared for the main event, there was an air of anticipation in the room which I'd not felt at a show in ages. Perhaps it was the combination of decent (albeit bottled) beer and - rare for me these days - company to chat to while waiting, but I was really enjoying this evening when I'd usually be nervously pacing the venue feeling uncomfortable and out of place by now. Suddenly, and with apparently no effort whatsover, ASIWYFA took to the stage and began to make an incredibly beautiful noise. I love the way this band appears to have no pretensions whatsoever - there is little chat, no vocals to cloud the issue, and on-stage antics are confined to the paroxysms required to coax wonderous riffs from the guitars. The recent "Letters EP" was aired in near entirety - with "S is for Salamander" making an early and absolutely monumental appearance. The sound was far from perfect - but any louder and The Cooler may just have collapsed around us. But ASIWYFA are not all about loud/quiet instrumental cliches - and the intricate, sometimes near orchestral passages of clever drum and guitar interplay sounded just as clear and crystalline live. Add to this the drummer's shirtless performance, and I think some people were definitely converted to the cause! I don't think that ASIWYFA will be playing anywhere near as tiny as The Cooler next time around. The set closed with the staggering "Set Guitars To Kill" - this was always going to be the track which hooked people, with it's provocatively silly title and amazing twists of thunderous racket and intricate melody. The Cooler erupted to it's footstomping intro tonight too, with random outbursts of dancing - never a big feature of Bristol gigs given the reticent audiences here. Out into a strangely warm Park Street night, ears ringing and feeling strangely happy. I had to be up in only a few hours time, and still had a potentially tricky train journey home tonight to face - but I was incredibly glad I'd made the effort to see this band, particularly in such an intimate setting. I've never aspired to write reviews, my early efforts being torturous amalgams of other's voices and styles - but the message here is buy the records and see the band. You won't be disappointed, even if it's just a cynical attempt to view the shirtless drummer!