Posted in Updates on Sunday 29th February 2004 at 6:48pm
---
Irritatingly, I still feel like crap. Got a little more sleep, but I seem to have developed a nasty cough which hurts! In fact, it's so painful that it's awaking my hypochondria, and reminding me of a wonderfully typical Gissing moment:

"Strange how . . . I am possessed with the idea I shall not live much longer. Not a personal thought but is coloured by this conviction. I never look forward more than a year or two at the utmost, it is the habit of my mind, in utter sincerity, to expect no longer tenure of life than that. I don't know how this has come about; perhaps my absolute loneliness has something to do with it. Then I am haunted by the idea that I am consumptive; I never cough without putting a finger to my tongue, to see if there is a sign of blood."
(Diary, June 1888)
Caught the bus to Burnham for the first time in a long while this morning. It still appears 10 minutes late and then races impossibly to make up time! Walked into Highbridge with mum and briefly saw Mr Tim, before heading back to Weston. Took vague mental notes on the journey in the hope of expanding the A370 entry on
SABRE's Roads by 10
project.
Determined to start my holiday week properly tomorrow - planning to spend the evening planning some routes...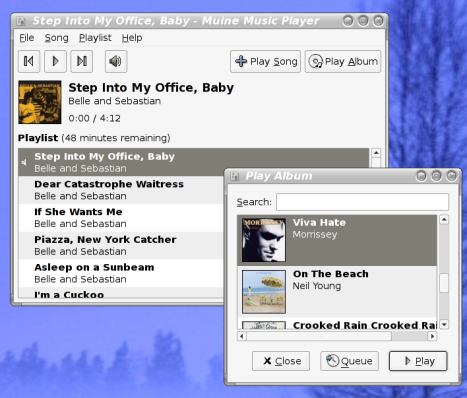 Posted in Computers on Saturday 28th February 2004 at 3:07pm
---
Built GNOME from CVS, as I do less often nowadays. This is 2.5.90, and I have to say its one of those releases where you think "yes - this is great". Lots of tiny annoyances seem to have been ironed out, and things are 'just working'. Recent further improvements to the GTK+ filechooser are welcome too.

I think GNOME 2.6 is going to be one of those releases that I urge non-GNOME people to try out.

I'm also really beginning to wonder how I lived without Muine. I'm a bit conservative when it comes to music players, and whilst I see the value of things like Rhythmbox I really just want a little box which lists all my songs, and lets me play them in the order of my choice. Muine does this in a very simple, rather neat way. The album cover grabbing thing is also nice!

Since the link above is currently out of action, I'll add a little screenshot of my own: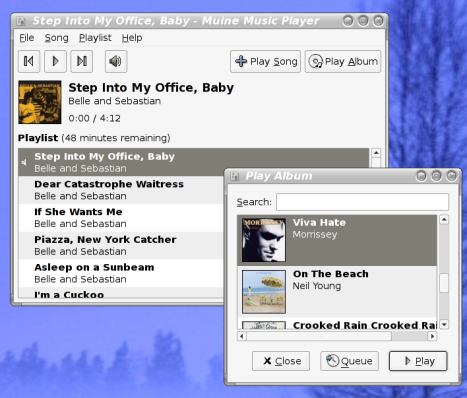 Posted in Updates on Friday 27th February 2004 at 10:14pm
---
Started the week with a couple of appeals, which went well - and I felt more confident and capable than for a very long time. After that, things turned strangely lacklustre and I found myself feeling bitter and irritable. Not sure why, but it all seems to be related to my feelings about Weston nowadays, and some frustrations about how slowly work moves.

Things picked up towards the end of the week, as a major deadline approached. I was pretty much in charge of things, which meant a couple of very early starts and late finishes. Not usually a problem, but I finally succumbed to a cold on Wednesday after watching everyone else sneezing their way through winter. Struggled on, with a head feeling like it was full of clouds and a throat feeling like I'd swallowed nails.

Caught Belle and Sebastian on BBC Radio 2 last evening, which was a pleasant surprise. Tonight, I've pretty much just vegetated - feeling a little better but very tired. I think, with the help of Abe from #lemmings I managed to get this page a bit more palatable for Internet Explorer users too.

I have a week off. I want to get out and about if I can, but funds as ever are a worry. Trying to work out some interesting but reasonably priced travels...

Posted in Railways on Saturday 21st February 2004 at 9:45pm
---
Today was a strange one. I set out for my customary weekend escape, this time intending to seek new track in West Wales. Set out from Weston on the replacement bus service to Temple Meads, and thence to Newport. At this point the full effect of the disruption due to a fatality at Paddington early this morning became clear, with everything going West very heavily delayed. I was unlikely to make any sort of reasonable connection to Milford Haven now, ill-served as it is at the best of times. I pressed on to Cardiff with no clear idea of quite what to do, in a 142 full of unhappy punters who I didn't even have the energy to stare disapprovingly at!

On arrival at Cardiff I'd decided that I'd be giving up and sending for a refund on this one. Decided to try to clear up the few remaining Valley Lines branches on a One Day Ranger. Set out first to get the City Line as far as Radyr, with a thought of 37's to Rhymney later. The guard on the Radyr train asked me if I was going to the 'naming at Merthyr?'. I'd read about this but utterly failed to connect it with today...37417 was being named "Richard Trevithick" in honour of the 200th anniversary of the Penydarren's first run today. Thanked the guard for the tip, and resolved to try to get to Merthyr.

On arriving at Radyr I was one of a small group of photographers and spectators freezing quietly on the platforms. The train was working push-pull with 37406 "The Saltire Society" leading up to Merthyr, and was running as the 11:56 service train. It was reported wedged leaving Cardiff, as it was reduced to three coaches (one full of dignitaries) to fit both 37's onto the short platforms at Merthyr. Hence, it was not calling at stations south of Pontypridd. A few minutes later through the hazy winter sunshine we saw 37406 thundering off the curve. The train stormed through Radyr and disappeared up the valley. Philosophically I accepted I wasn't getting those 37's today, and set about some more Vallery wanderings, with the help of a friendly driver who promised to 'take it slow round the shed' so I could see what was at Canton Depot. Nice people up here!

Arrived back at Queen Street in time to notice that 37417's return run was due in at any time...squeezed into the rear coach and got 0.75 miles behind 37417 into Central! Finished the day with a trip out to Maesteg and then to Penarth, meaning I've finally finished the valleys, with a little history thrown in for good measure!