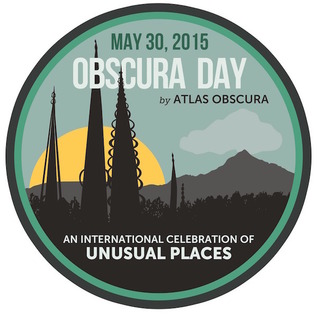 Posted in London on Saturday 30th May 2015 at 7:05am
---
When David Plotz left Slate for a new venture, there was it's fair to say, a little head-scratching. This venture was Atlas Obscura - a guide to the strange, surprising and wonderful places of the world, with the content generated by the locals themselves. We all know these spots - these places we like to show people who visit us, basking in the vicarious delight of finding an interesting place that's just a little off the beaten track. We probably all secretly covet them too, wanting them to not become too well known or widely heard about. Admit it. We've all thought that about a special place. But amongst genuine enthusiasts there is another urge at work - the wish to share knowledge, especially those most obscure or geeky bits of it. That's where Atlas Obscura comes in. From strange monuments to hidden subways, and from secret gardens to lost nuclear bunkers - the world of Atlas Obscura is slightly nerdy but utterly loveable one. One in which you can easily lose many, many hours.
Today was International Obscura Day, and all over the world hundreds of the places documented on the website were opening up in a global celebration of all things hidden and curious. We'd spotted that among them was Tower Hamlets Cemetery Park - formerly one of London's 'magnificent seven' Victorian cemeteries, opened to accept the city's dead who were, in the most literal sense, spilling over from the ancient churchyards. We set out early, taking a relaxing trip to London for the second week in a stretch, and making our way eastwards. Our first call was at Stratford for a little shopping - I think I did pretty well to survive for a couple of hours in Westfield before getting frustrated and irritable with the public. It also became apparent during this part of the day, that recent events had taken their toll on my patience - I felt stretched and downcast as I surveyed the Olympic Park from the restaurant where we ate. But, our planned visit soon piqued my curiosity, and we headed to Mile End. There was time for a brief walk to look at the Regents Canal before we assembled at the Cemetery Park, and near the bridge we discovered a surprisingly well cared for rose garden nestling between the canal and a small modern housing development. The sun was beating down on the city - dry, dusty and busy passing not far from us. But this little oasis of a garden was quiet and pleasant. It was our very own bit of Obscura for a few minutes.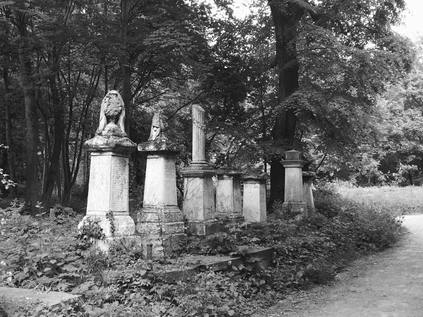 We approached the park via Hamlets Way, a busy confusion of stores and houses with numerous layers of the ever changing East End population tumbling over each other. Once inside the gates, next to the crumbling brick lodge and the more recent Soanes Centre, the peace and tranquillity was evident. We paused on a bench, watching people assemble and looking at some of the nearby grave markers. Despite housing encroaching on the park, it was shielded by tall, old trees which swayed in the breeze. A private and rather wonderful spot. There was no doubt this belonged in the Atlas at all. Soon, our guide Ken arrived and took us into the building where he and two other employees are based. Some quick admin later, and we snaked out into the park once again while Ken explained how the cemetery had come into being, and how after its closure it became threatened by re-development. Development so aggressive in fact, that only a few short years after the final burial, the borough had cleared a swathe of the stones by bulldozer. But the story of the park is a story of a community knowing it has something special on its hands - they organised, protested and persisted - and the site was eventually retained as a park with the Friends of Tower Hamlets Cemetery Park providing management and custodianship. It stands as an early and enduring example of localism which is inspiring, especially when the scale of the undertaking is considered.
Because, this is a huge park! The cemetery, given its location in the East of the city, had to do two things which perhaps set it apart from the rest of the magnificent seven. Firstly, it had to accommodate people from a variety of faiths, sects and beliefs - and therefore unlike others it isn't segregated into sections, but devotes the whole space to the community it serves. It also had to accommodate far more poor folk in 'paupers graves' than other cemeteries. Now, the site is mostly given over to woodland, with venerable trees snaking between mossy, intriguing headstones. The monuments here are a little less ostentatious than Highgate or Kensal Green - columns and urns dominate, among stones of dark purple granite and occasionally welsh slate - but the sheer volume of graves is remarkable. There are, it's said, more people buried here than alive now in Tower Hamlets. Well over a quarter of a million souls found their last rest here before it became a park. As we walk and listen, Ken proudly points out the flora and fauna they have introduced in the managed areas. He is particularly taken with telling us which plants are edible, breaking off leaves and stems and encouraging us to taste and describe. Two young children in the group are far braver than most of the adults, and Ken finds a ready audience - particularly in the young girl who is a budding environmentalist and clearly holds him in high esteem, skipping along behind him beneath the tunnel of brooding old trees. Occasionally the sun bursts between branches and picks out a stone. It's a very special afternoon indeed.
There is also plenty of evidence that the park is still a valued community asset. As we clog the pathways with our straggling group, Ken occasionally reins us in to let a park user pass by. He knows them all it seems, many by name, and has a surprising recall for their lives and routines. Not distracted by this though, he demonstrates how to cure a nettle sting and in the process bursts a lifelong balloon of certainty - dock leaves don't work. Nettles have their own antidote stored in the sticky sap of their stems. He also demonstrates how to eat a nettle successfully - I don't join in, I have an entire boyhood of stored memories of the aching stings they produce and I'm just too clumsy and uncertain to 'grasp the nettle' how Ken does. At the centre of the park is a wide grassy space where the non-denominational chapel once stood, before the Luftwaffe claimed it during the blitz. A fenced off area beside this marks the part of the park which the borough intended to leave as a cemetery when they brought in the bulldozer. It's a tiny, crowded park of the site against the south-western corner of the site. It's amazing to think how this could all have been so different.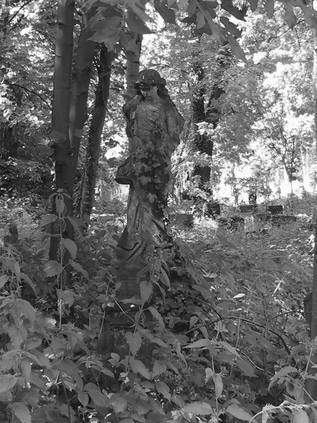 As we navigated the park, coming up against the low brick viaduct carrying the London, Tilbury and Southend Railway out of the city, notable burials were mentioned - not least "White Hat Willis", the owner of the Cutty Sark and Will Crooks, a much-loved local poverty activist and Mayor of Poplar. But more affecting perhaps were the mass of public graves, organised as long trenches and most often unmarked save the odd, tiny stone. A contrast indeed to the line of tall, pointed and distinctive Charterhouse graves, the resting place of Monks from the city who's own burial site had also filled to overflowing. There is one surprisingly new monument too - that for John Buckley VC, hero of the Indian Mutiny, long lost in a mass burial site here but found after diligent work by volunteers. The stone is discreet and secluded, being left to nature in a mark of respect to the local population who probably take a rather different view of Buckley's 'heroism' in strapping mutineers to cannons before firing them.
All too soon, we realise that the planned tour has over-run by over forty minutes, and we make a swift loop back around the circular track used for turning horse-drawn hearses and head for the gates. It feels like there is much more to see here, and a great deal more to know about the place. Ken urges us to stay in touch, to join the Friends if we can. As our group disperses into the warm, summery evening of Mile End, we head for the station and the start of our journey home. While a cemetery in Tower Hamlets might not feel like the most hidden or exciting spot, the tour has met the brief strangely well. I'm not sure how many times I've passed by here, hurrying to some other more exotic spot, scudding by on a train out of Fenchurch Street, or passing mere feet away on a bus. But right here, under our very noses is a place of deep-rooted history, local activism and dedicated conservation. Aware of the burden they carry for managing the past, the Friends of the Cemetery make careful judgements about balancing respect and recreation. They're definitely getting it right so far.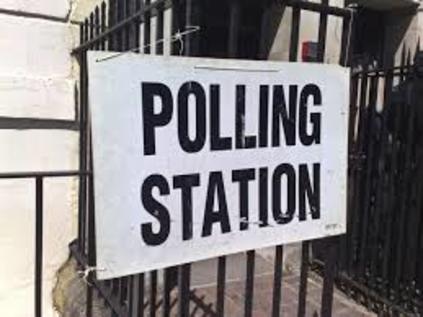 Posted in Updates on Sunday 10th May 2015 at 7:05am
---
Last Thursday, I arrived at a tiny and rather musty church hall at 6:15 am, expecting to have a fairly quiet day. I'd brought a couple of books along - and I was even mildly concerned I'd manage to finish them both. As we tied signs to fences, posted official notices and erected the rather wobbly wooden polling booths we noticed people were already outside, waiting for 7 am to arrive. We let them in, testing out on these first few voters the patter we'd need to use many hundreds of times during the day to explain the multiple ballots. The tide of voters didn't stop from that moment on. It slowed to a trickle a little after the school run but soon picked up as the pensioners strolled over from the nearby Sheltered Dwellings. It calmed a little around lunchtime, but then surged once school finished. During the early evening, we had a constant queue of mostly good-natured people. We also saw a lot of first-time voters, eager but nervous, needing explanation - and terrified of doing it all wrong. Simply put, it was one of the most inspiring days I've spent working in a very long time indeed. Seeing, and later - as I tried to straighten up after almost fifteen hours of sitting over ballot papers and Corresponding Number Lists - feeling democracy in action is a rare and rather special thing to experience.
On the way home, I got the first inkling of an even more surprising outcome via text message. The Exit Poll was wildly different from the previous predictions. Throughout the campaign, the two major parties' lines had bounced along the middle of the graph, mirroring each other's minuscule peaks and tiny troughs almost exactly - but now they'd separated markedly and a Conservative majority seemed possible - almost likely in fact. I sped up my walk home - a late night of amateur psephology ahead, wondering whether we'd get any of those "Portillo" moments when a top-flight politician has to stand, ungainly and stoic, while someone else gets the cheer and the chance to address the audience. I've always loved election night.
The rest is now recent history. And the thing is, I voted Conservative.
I don't need to justify my vote to you - or indeed to anyone - because that's one of the wonderful things about Britain. While there might be numerous flaws in the practicalities of our democracy - and even someone who supports a major party can see that I promise - it is still a functional democracy. We generally tolerate others without too much concern about their political orientation and it's still considered extremely impolite to pursue a discussion of politics that is unwanted. That frustrated me as an idealistically young reform-minded Labour voter of course, and it has been equally frustrating at times as a world-weary Conservative voter trying to stave off Sir Robert Peel's "perpetual vortex of change" while UKIP appeared to be plumbing the utmost depths in their selection processes for candidates. Sometimes you want to shake people, yell at them and ask them what on earth they're thinking. But you don't. We're British, for goodness sake.
Friday dawned with an utterly unexpected outcome. One which of course, I was happy with. Keen to see what the world was saying, I naturally turned to the internet. Now, I'm very cautious about what I post about politics. I have a job that is not restricted, but which is close enough to politics to make it much easier to avoid too much talk about it in public. I also know that many of my friends don't agree with my views on these matters. I made a special exception for mentioning some of the more appalling UKIP gaffes - as I've written before their policies were a fundamental threat to my family life, so I make no apology for pointing out these flaws. I abhor the racism and isolationism that the party engenders and I wanted their unpleasant underbelly exposed so that people could make up their own minds. Generally speaking though, it wouldn't have been easy to discern how I felt about the new government. But a little after lunch, as David Cameron made his way to Buckingham Palace, the temperature on Social Media began to change. People I considered generally reasonable and liked a great deal despite having rather different views began to use some of the ugliest terms to refer to people because of how they'd exercised their vote. Notably, many of these terms played on outdated and archaic notions of mental illness and learning disability - "moron", "retard", "imbecile", "brain dead", "mong" - I could go on, but you no doubt get the picture. The idea that the electorate was somehow mentally unstable became something of a meme during the afternoon. I found it profoundly distressing to see some of my most liberal-minded friends who would normally - and rightly - rise up in anger should someone use those words, posting and sharing intemperate articles which did exactly that. I am passionate about issues around mental health and disability, so I posted my own concerns - in as nonpartisan a way I could - because it felt important to draw a line and remind people they were talking about ten million people who'd had the same right and responsibility in voting that they had and using terms they'd normally reject outright to do so.
The mechanics of disappointment are strange and unpredictable. We've all felt them. I felt them when I voted for the first time in 1992 in very similar circumstances to this, and I remember feeling powerless, sad and frustrated and having little in the way of an outlet for these feelings. Had Facebook and Twitter existed then, I like to think I'd have avoided being quite as vicious - but I'll never know of course. I know that if I had succumbed, I'd feel pretty foolish and embarrassed afterwards though. As Friday wore on, and the realisation dawned on people that this wasn't a dream - good or bad - I noticed a trend to share articles about things the nascent government had "already done." By about 3 pm it seemed that Cameron - despite not having a Cabinet or a Commons to make any policy had cracked down on support for disabled workers, repealed the foxhunting ban and cut the tax rate for his rich cronies. Closer examination of these articles showed publication dates in 2010 or 2011 or turned up consultation documents prepared by the departments of government but not even nearly on the statute books. What this ill-informed trawling did though was to further raise the temperature of debate - and I fear that those very first-time voters who'd shuffled into the Polling Station, nervous but inspired to vote, were being drawn most deeply into the brewing storm. One of the stranger things about Social Media is how it allows people to edit themselves into a bubble of people who think almost exactly the same way as they do themselves. To narrow their experience of alternative narratives to the point it becomes simple to just discard connections that don't match the pattern. Seeing that working in real-time was dizzying and unpleasant.
By Saturday evening, after a pretty awful day visiting a very unwell relative, I was feeling particularly raw-nerved and vulnerable when one of my friends, someone who plays really wonderful music in a band I love very much and who I've written about and travelled miles to see in their native Glasgow, sent me a message. To paraphrase it said "Please delete our songs or throw away the CDs. We don't need the support of Tory Scum like you". Almost simultaneously that same phrase "Tory Scum" was being daubed on the Women in World War II memorial on Whitehall. There was also a growing Twitter campaign suggesting that people should use violence against "all Tories and their supporters" wherever they found them. Disappointment had taken an ugly twist. That powerlessness and frustration which I'd struggled to articulate or dispose of in 1992 were finding its outlet in the ugliest and sad of ways. I felt a mixture of fear and revulsion, but I felt the urge mostly to explain to people that even though they now knew how I'd voted, I wasn't any different to the person who'd blogged about their music, traded stupid puns by email or shared a photograph of a misspelt sign. I wanted to tell them that the world wasn't ending - it was just changing - and most of all it was everyone's opportunity and responsibility to remake it and influence the change.
I opened the browser intending to write just that, but I read another message from another musical contact who told me his small hand-to-mouth independent label didn't need the money or support of a "fat fascist wanker." There were others too, but I decided not to read them. I deactivated my account and went to sleep.
So what is this? Special pleading from me? A whine that the playground just got too rough? I don't think so. This is an expression of concern from those of us caught in the middle-ground. Those of us who thought long and hard about how to vote, and did so on the basis of that consideration. We didn't necessarily indulge in the public mudslinging of the extremes on either side so you didn't know our minds, but now our hands are declared we've somehow become the target of the anger. Are we really the stupid, sleepwalking wider electorate who can't be trusted to do the right thing? Let me just remind you that the people suggesting this are liberals, supporters of community and inclusion, those who believe on any normal day that people together are much more powerful than people divided. They may even recall that I share those views despite thinking rather differently about economics. Yet they divide and demonise in the very way that they claim to abhor. Watching this disbelief and disappointment play out has been truly worrying - but there have been some notable exceptions. People who - although they felt confused and hurt - have advocated calm and kindness in the days ahead. I'm thankful for some of those voices today. I also want to reject the idea that I'm against people showing passion for their political views. I am absolutely not. If you want to hear a passionate plea for Welfare Reform because the current complex and divisive system is the very root of the demonization of the poor and disabled, give me a call - I will happily indulge you. At length. Probably for too long. I don't reject passion or want to crush anti-establishment views and actions. I don't want to erase those white-hot moments of rising hope or anger - they're an essential and fundamental part of being human. What I truly want is for people to realise that when you advocate a political view you speak both to and for the polis - that wider body of citizens. You can never hope to speak for them all outside a totalitarian state, but to vilify them or turn them into your enemies is a poor strategy in the long-term if a change in society is what you truly seek.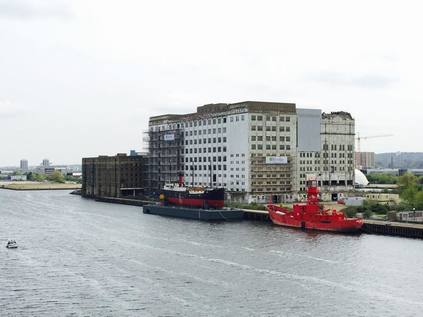 Posted in London on Saturday 2nd May 2015 at 11:05pm
---
I should disclose in advance that I'm writing this late. Very late indeed, perhaps as it's almost eleven months since this walk took place. In many ways, these months have been some of the most transformative of my entire adult life - and it's perhaps no surprise that events unfolding over the months were easier to write about than the strange days of May 2015. On 14th May, a few busy, confusing days after this walk my father died just over a year after my mother's sudden passing. It's not been my custom to write much about life at home - in fact, even huge events have only been alluded to indirectly. But this closed a chapter, and finally led to another opening. This walk, taken as a respite during a complicated time of running between home, work and hospital, was incredibly important. A fascinating route which took me into territory I'd only imagined walking - and possibly the last time I ever sent my father a message from the road, a tradition we'd followed for many years. These walks have become terribly important since May 2015, and remain so - but rarely would they represent such a strange calm time before a tumult of change. My recollections of the route are below, for completeness if nothing else.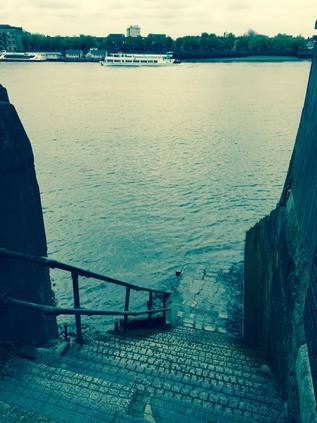 It's rare to find myself at Tower Hill these days. Indeed, it's only ever been an occasionally convenient spot for me. But today I'm going to start my walk from here, and I'm heading east - out of the city and into the dark areas of the map which used to seem so impossibly distant, so other. Of course, nowadays much of the stretch of territory along the A11 is far from alien, and slowly my knowledge of the rest of the east fills the map with light and colour - but there are areas I've never walked - maybe never dared. Areas which I've crossed and re-crossed by rail or bus, occasionally stepping off for the briefest moment to change trains or reorient myself. Today I'm walking into the unknown east, and it feels like a welcome challenge after the claustrophobic worry of the past weeks. My path leads me away from Tower Bridge, dropping beside it towards the river front and stumbling across a coffee shop stationed in the foot of the huge concrete hotel. There's something of a food festival gearing up here - street food vans are opening, fake grass is laid across the promenade like an oversize billiard table. I don't linger long, there's a walk to be done and I've only really guessed at how long it might take me to complete what feels like an ambitious route. I snap a shot back towards the bridge as I turn and head into the east, briefly along the waterfront before I'm forced inland by the discontinuous path. I pick my way around St. Katherine's Dock, dodging joggers and cyclists setting out in full lycra from the luxury apartments, and find my way onto Wapping High Street. This isn't new territory - this dark chasm of converted warehouses and river glimpses is somewhere I've touched on before - but today I walk the length of it, stopping at St. John's Churchyard and also heading to Wapping Old Stairs - the ancient hanging dock. Today it's a narrow alley which smells mildly of stale beer and disinfectant. The Thames laps ponderously against the slick steps below. It's hard to imagine this as an especially dark place. Back on the High Street, I pass the station and head between buildings to New Crane Steps. I took a picture here of a quiet, almost idyllic Thames beach years back, and I try to get the same view today. The beach is quiet and cool, and it's tempting to stay here, but I've an urge to walk on.
Crossing the bascule bridge at the end of Shadwell Basin presents me with a choice - head for The Highway, or stay with the river? The day is about water - so I take a footpath leading into the King Edward VII Memorial Park and skirt the huge rotunda which ventilates the Rotherhithe Tunnel below. Back on the river, I see signs of protest - the gardens will be used as a building area for the Thames Tideway Tunnel, which will steal a section of rare green space in this part of the city, and will disrupt the river path. I edge around the barriers and obstructions already in place, and find myself in the shadow of Free Trade Wharf. This huge claw of a building climbs like a ziggurat and refuses to be photographed from close by. It is perpetually in its own shadow, and only those viewing from across the river can see it's full extent. The path is preserved at least, curving gently along the shore until I'm again forced to head inland and onto Narrow Street. I duck into Spert Street to gain a view of the Limehouse Link tunnel portal, the road delving under the basin to provide an unimpeded route onto the Isle of Dogs. I have a choice here: I could strike out along the surface describing roughly the same course to cross the top of the island, repeating a section of walk I'd completed recently, or to bend my own arbitrary rules and take to the DLR to reposition myself. Today is really two walks - neither quite long enough but together almost too ambitious? I'll take the train this time.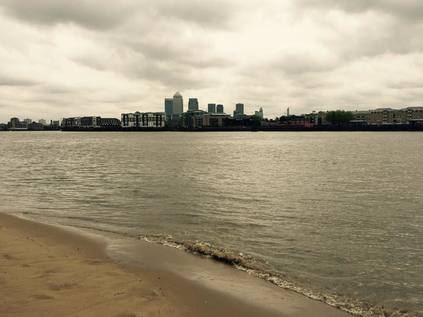 The short DLR ride from Limehouse to Canning Town is interesting, as I'm beginning to know this territory better and can understand its complex geography from the elevation of the viaduct. Arriving at the multi-level metal and concrete confusion of Canning Town station I purchase supplies and seek out the fairly basic facilities before starting the second part of my walk. Beside the station Bow Creek slinks towards the Thames, and I'm able to confirm the rotunda offering exit from the station onto the Creek is definitely closed at present. Soon after leaving the station, I discover that Silvertown Way is a divided place - the eastern edge is being redeveloped with flats and hotels spilling north from the Royal Docks, while the western side is blighted by railways, a narrow tongue of industrial land broadening into the triangular Crossrail worksite nestled under the Lower Lea Crossing. I'd walked this way in reverse before - descending from the viaduct to head for the station. But now, instead I took the broken and cluttered road which runs alongside the bridge: Peto Street. Largely giving access only to the businesses which use the arches as their home, this dusty route is rarely walked it seems. Consulting my older map, I realise that this was once a more important road - but the coming of the graceful Silvertown Way viaduct before the Second World War bridged the chasm which the railway still represents today. Following the curve of the street under a dirty bridge I find myself hemmed in by the walls of Victoria Dock Road. Flanked by railways and the back of a housing development, I miss a chance to cross a footbridge to Tidal Basin Road and I'm forced to walk this way until Royal Victoria DLR station offers a means of crossing the rails. I descend into a surprisingly busy scene. This part of the docks has seen much development: the Emirates Airline Cable Car station touches down near The Crystal - a self-referencing permanent exhibition to sustainable development. Along the dock edge a run of apartments with associated restaurants have appeared. There are people enjoying the warm but brooding afternoon, wandering between cable car and ice cream vans, uncertain of what this is all really for. Across the silver sheet of the dock a low-rise development is flanked by a line of black cranes, preserved for posterity. It's hard to imagine the dock during its working life - or even afterwards when it was an empty wasteland, a focus for the Thatcherite project. Now it's part dormitory, part tourist attraction. A theme park of city living. I pause for a while and eat lunch on a bench, watching a grandma and her charges enjoying ice cream near the docks. It's a strange spot, that's for sure.
Setting off again, I edge along the dockside, the vast ExCeL centre providing an ominous white boundary. The area is deserted once I'm away from the restaurants and attractions, the exhibition centre is silent and the glass-fronted hotels which dot the area seem inert and reflect my image back at me. Across the dock, Millennium Mills glowers at the redevelopment. Crumbling but stately, this remnant of the old life of the area isn't yet a memorial to the old docks, but it is at least preserved. Beside it, a grain silo is also listed, and the water reflects their curious industrial appearance at me as I walked far enough to get a picture of the Mill. It's hard to ignore this rather beautiful and imposing edifice as I walk back towards the Royal Albert Bridge which allows me to cross the docks here, and I stop and check over my shoulder several times. Once I've climbed the numerous flights of metal stairs to the bridge - complete with graffiti urging the LDDC to fix the lifts - the view is even more majestic. A wheel of prosperity - the City, the Island, the new dockside developments - and then the Mill, and beyond it the shimmering stacks of Tate and Lyle at Silvertown. A small jet pushes down towards London City Airport, the dock water rippling sympathetically. This place is curiously compelling. South of the dock, residential buildings have filled the void left by industry in West Silvertown, with various strata of redevelopment surrounding a few streets of older housing stock. I pick my way eventually onto Mill Road, just such an older street which emerges onto North Woolwich Road near the Fire Station. Ahead of me, beyond the viaduct carrying the DLR, is the tell-tale blue fence of a developer - this is Royal Wharf: "A new riverside village for London". I turn east again, passing the gates of the doomed London Pleasure Gardens, a failed Olympic cash-in which was bound never to work. The public weren't ready to accept the edgeland charms of Pontoon Dock, and the vast canvas of open space was just a dusty, derelict carpark to revellers leaving events at ExCeL. No amount of commissioned art, projected images or expensive bar concessions could change that. Some areas just can't be dusted off - the asbestos is always buried just beneath the surface. Walking across the street and through Thames Barrier Park, it's clear how this area has developed in geometrically-arranged zones as industries have fallen. Hemmed in by residential blocks which have replaced industry, this sliver of green has hardly taken. Despite being well-tended, carefully planted and scrupulously tidy, it feels out of synchronisation with the crumbling and reforming world of dust around it. At the end of the park, the line of the garden is taken up by the barrier - the gleaming silvery hoods extending out into the grey waves. Seen this close it feels like a mysterious craft has landed. The urge is to cross, but that is forbidden. I turn back to the street and notice the forlorn Graving Dock Tavern and George's Diner - shuttered, no longer needed. Not the right kind of café for the aspirations of the area. Around them, the industry which supplied them with trade is gone, concrete footprints are impromptu car parks for vehicles which have fallen off all official registers. The ghost of West Silvertown - or the aspirational footprint of Pontoon Dock depending on your viewpoint - ends at a roundabout. The DLR flies overhead in search of the airport, and the road ahead appears to go where I'm heading - but only if the Crossrail works have preserved the old footbridge over the North London Railway alignment which they now occupy. I'm too footsore to chance a retreat, so I turn north and skirt the edge of a Travelodge car park to get to Connaught Road.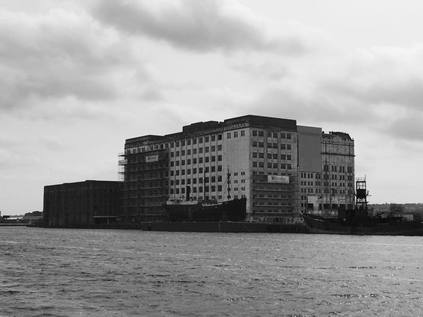 For the first time here, the smell of Tate and Lyle's sugar works fully hits me. A thick, sickly coating of the throat which it seems impossible to shift. Somehow more of the farmyard than the sugarbowl. Overhead, the ominous factory implores me to "Save British Sugar" - but it's unclear whether I should be conserving stocks or bailing-out the industry. Down here on the dusty road through North Woolwich I'm caught up against the signature blue hoardings of the Crossrail works. I recall my first visit here, travelling the railway between Albert Road and Factory Road for one last time, marvelling at how broken and otherworldly Silvertown felt. Now I'm here, walking the road which I described as a 'frontier town' on a lazy Saturday afternoon. Nothing appears to be open for business, and noting that I'm starting to flag, I take a seat on a curiously sited bench near the back wall of one of the housing schemes which line the thin isthmus of land between dock and factory. I realise I'm a bit of a curiosity to the locals - the old weatherbitten men off to one of the few pubs still open, or the pram-pushing Bengali women who hurry past me suspiciously. The taint of the factory hangs heavy, and has the same effect as a sugar-induced coma. The area sleeps, insensible to its gradual decline. Resisting the syrupy air, I'm reluctantly on my feet again. I push on seemingly passing an endless stream of closed pubs - the conical tower of the Tate Institute, the footprint and exposed cellars of a once proud but now unidentified pub gone since my last visit, the Henley Arms hanging on by a thread. Beside the road warnings appear for ferry contraband - and I realise that I'm coming to the junction I briefly scouted on foot nearly a decade ago. A new development of apartments and stores runs along the south of the road, few signs of anything open of course. North of the road, the Royal Standard Hotel looks menacingly half-open. Cans and stripshows - no draught beer. Stocked by illicit cross-channel beer runs and staffed by no-one with license. The fenced-off rear doors form a strange little litter-trap, but were once a sort of terrace it seems. I can imagine sitting out here in busier times watching ferry traffic. But now it's quiet. I eye the passing buses with interest, wondering if this is a good place to quit, but decide it probably isn't. So with a last effort of will I cross the street and enter Royal Victoria Gardens. It's calm and cool, and I can get to the river briefly here, the towers of Thamesmead West stepping across the view. The path doesn't hold out long, and despite apparently being available through the Galleons Point development, is gated and locked. Instead I head along the fine brick terrace of Barge House Road and onto the graceful rise of the Sir Steve Redgrave Bridge. Stopping as I cross, a chance to look back across the territory - the hills of Kent are green and dark behind the silver strip of river, Tate and Lyle dominates the skyline like an alien presence, meanwhile the airport runway sweeps along the dockside with the wind howling in from the sea. The docks are a strange place, contested and unquiet despite their disuse.
As I picked my way carefully to Cyprus Station, avoiding the knots of students wandering around the University campus I reflected on my walk. It had been long and tough on the feet, but I'd made so much sense of this area by walking it at last. Endless crossings by DLR and excursions by rail had hinted at its nature, but couldn't reveal how strangely compelling it is. The history of this place, the strangely isolated nature of its community and the sorry tale of development which excludes those here longest haunted my journey home. It's fair to say I'll be walking more in this zone - in the parts of the East I used to think of as beyond the pale.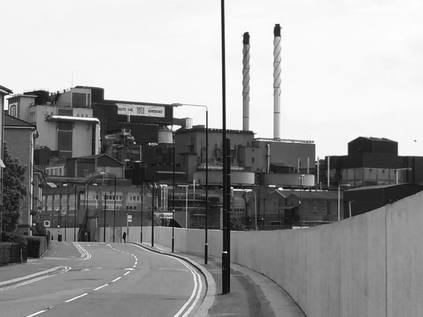 For David John Newman 03/07/1945 - 14/05/2015 and Antoinette Jean Newman 09/11/1949 - 18/04/2014. Never forgotten.
A gallery of images from the walk is here. You can read more about the many pubs in this area which are no longer around here.