Posted in Packages on Monday 8th October 2007 at 10:54pm
---
Once again, a patch arrives from the ether which reminds me people are still using Inkblot. I'm always pleased to hear from people who've made something I wrote years back do what they need it to now, and I was delighted to receive an email from Stian Jordet which ports a fix for trayicons on transparent panels to Inkblot, meaning it won't look weird on newer, eye-candy intensive setups! Seriously, this is the kind of work which prevents a fairly old piece of code from getting stale and falling out of use. Keep the patches coming.
Unfortunately, no time for screenshots this time - but I'd be happy to see pictures of the application in action. Instead, here are the important bits: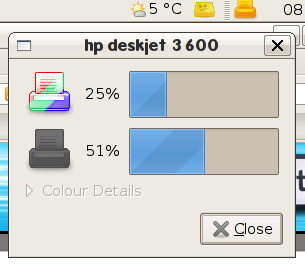 Posted in Packages on Saturday 17th March 2007 at 4:47pm
---
There's been a little flurry of interest in Inkblot lately. Firstly, Thierry Merle has been hacking away at getting this tiny but useful little application to work with the most recent versions of libinklevel. This is fantastic news as it means that Canon printers are now supported too. Publishing a new version recently also led to some new translations arriving.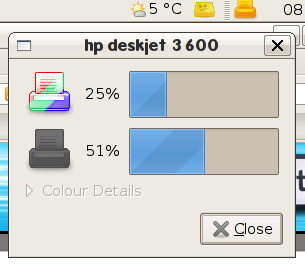 With this in mind I'm proud to announce the release of Inkblot 0.99.8. This version requires the latest stable libinklevel 0.7.0 along with all the usual GNOME platform components:
So, reports of Inkblot's demise are premature. I'll continue to maintain the package, nominally at least, whilst things progress towards 1.0.0. Before that we have to handle the case of multiple printers - and I have every confidence in Thierry! Those who have requested this becomes part of GNOME's own printer tools are advised to ask the maintainers of these components - I'd be more than happy to see that happen sometime.

Posted in Packages on Sunday 14th August 2005 at 10:29pm
---
gnome-pkgview is a tool for inspecting the versions of GNOME libraries installed on your system. The information is often useful when submitting bug reports or diagnosing system problems.
Version 1.0.7 (Portsoken) finally detects Ubuntu installations and adds Kinyarwanda, Icelandic and Canadian English translations.
I've said before that there are intended to be no more 1.0.x releases, and now I hope to look at some of the feature requests I've received over the past year or so. It has of course not happened yet. Apologies. Life is complicated!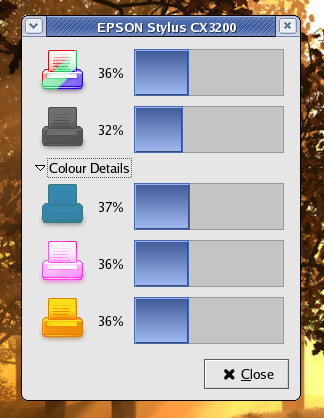 Posted in Packages on Sunday 4th July 2004 at 10:30pm
---
Finally finished the various additions to Inkblot, a GNOME printer ink level tool, based on libinklevel.

Inkblot lives in the notification area and gives a 'traffic-light' indication of overall ink level status. Clicking the icon gives more detail in the form of a dialog, and this can be expanded if your printer supports reporting on each colour reservoir. Inkblot should detect your printer automatically.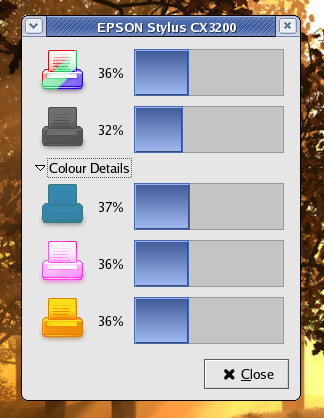 Right now, I only have a tarball of the release - attempts to make the necessary packages of libinklevel will follow. You can download Inkblot here: