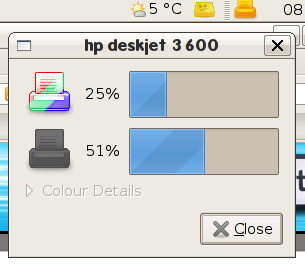 Posted in Packages on Saturday 17th March 2007 at 4:47pm
---
There's been a little flurry of interest in Inkblot lately. Firstly, Thierry Merle has been hacking away at getting this tiny but useful little application to work with the most recent versions of libinklevel. This is fantastic news as it means that Canon printers are now supported too. Publishing a new version recently also led to some new translations arriving.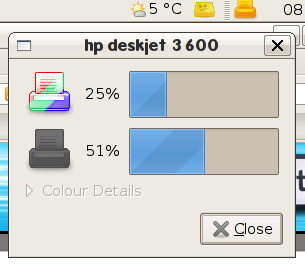 With this in mind I'm proud to announce the release of Inkblot 0.99.8. This version requires the latest stable libinklevel 0.7.0 along with all the usual GNOME platform components:
So, reports of Inkblot's demise are premature. I'll continue to maintain the package, nominally at least, whilst things progress towards 1.0.0. Before that we have to handle the case of multiple printers - and I have every confidence in Thierry! Those who have requested this becomes part of GNOME's own printer tools are advised to ask the maintainers of these components - I'd be more than happy to see that happen sometime.
Lost::MikeGTN
I've had a home on the web for more years than I care to remember, and a few kind souls persuade me it's worth persisting with keeping it updated. This current incarnation of the site is centred around the blog posts which began back in 1999 as 'the daylog' and continued through my travels and tribulations during the following years.
I don't get out and about nearly as much these days, but I do try to record significant events and trips for posterity. You may also have arrived here by following the trail to my former music blog Songs Heard On Fast Trains. That content is preserved here too.
Navigate Lost::MikeGTN Find articles by category
Search Lost::MikeGTN
Other Places...