Posted in Railways on Saturday 17th February 2007 at 11:02pm
---
I'd completely forgotten this tour in the preparation for last weeks jaunt. A couple of weeks ago I checked my calendar and noted that in fact this was on the 17th February and not March as I'd for some reason been convinced. With a difficult transport situation presently down here this necessitated staying a couple of nights in Bristol which I wasn't looking forward to at all. Dragged myself up here late last evening and checked into the City Inn - a hotel I've walked past many times. Really quite a smart place, if a bit more expensive than I'd have liked. Slept fairly badly last night, having caught a cold from my nephew during the week, and found it a struggle to get to Temple Meads for the 06:26 departure this morning.
However, once under the roof at Temple Meads the unmistakable sound of Class 37s woke me up. 37425 and 37411, fresh out of warm storage at Margam were to head the train. Mercifully, the coffee stand was open and I got a much needed beverage before locating my seat. On walking to the back of the train noted 37422 also hanging around, having brought the stock in from Old Oak Common during the night. Settled in to the almost far too warm coach for our first leg - up to Birmingham New Street, picking up along the way, before heading out to Water Orton and via a bit of PSUL track I've yet to cover, via Whitacre and Kingsbury Junctions. I'm assured that this was in fact the original route of the Birmingham to Derby railway. After Kingsbury Junction we took the branch line towards the former Birch Coppice colliery, now a fairly huge containerised freight depot, where our front loco ran around, meaning the 37s were now operating top and tailed.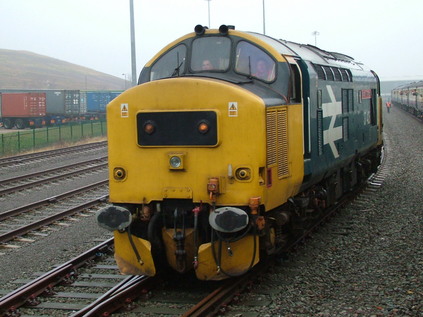 Next, we headed back towards Birmingham, but instead of calling into New Street again, pressed on southwards to Tyseley and then to Stratford-upon-Avon. A chance for an early lunch break here, whilst the stock shunted from platform 1 into platform 2, by virtue of a very strange track layout which prevents trains from arriving in platform 2! Back on board, and around the curve at Bearley Junction towards Hatton. Here our only real farce of the day occurred. Put simply, when this part of the Chiltern Line was resignalled it was assumed that only the usual maximum of four or eight car units would use the line. Our train was stranded on the Down Passenger Loop, trying to cross onto the Up Leamington but the signal allowing us access would not come off as our train measuring thirteen vehicles was still apparently occupying the curve from Hatton West Junction. A Stratford to London unit was also occupying the single line behind us, so a retreat would not help! Eventually, a helpful (and somewhat embarrassed I think!) Network Rail person cranked and clipped the points, and we were soon away.
Once underway again we made excellent time through Banbury towards Oxford, where we reversed and took the line to Bicester Town. I remember coming here soon after resuming my travels in 2004 very clearly, as it was one of the trips which rekindled my interest in covering track. That day I was hugely frustrated that we couldn't pass the level crossing gates and head further along the line. Today, I finally got the chance. With much hooting and the flash of a fair number of cameras, our train passed over the crossing and made it's way to Claydon. Another reversal, and onto the last stub of the old Great Central still in service to Quainton Road - now occupied by the Buckinghamshire Railway Centre. Struck by the clean, straight layout and simple but elegant engineering of the line and its various bridges. Arrived at Quainton Road with an hour or so to explore.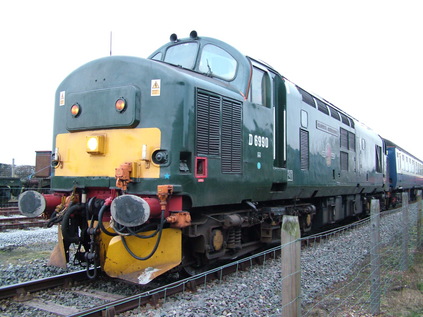 The centre is fairly busy with preservation activity, but is in an incredibly remote location. It feels like when the 'Metroland' effect crept along the branches of the Metropolitan Railway from London they stopped far south of here, despite some local housing being visible along the approach road. Aside from its demonstration line and miniature railway the centre has a neat little cafe, museum and a gift shop from which I purhcased a gift for my nephew before boarding the train for the trip back. Firstly into Aylesbury, from where there is talk of extending the suburban services north towards Quainton Road once again. Here we took the single line via Little Kimble to Princes Risborough. Again, many years since I've been this way - and indeed a long time since a loco-hauled passenger train has been along this route! A reversal at Princes Risborough took us to Banbury where our tail loco, 37411 ran around to double-head the train back to Bristol. Whilst we were waiting in the cold 47853 and 47839 sped through southwards on the return leg of another tour. A long and tiring trek back, with very slack timings meaning we ran early, despite being sent wrong line at Barnwood Junction to let a late running Voyager pass (rather like on the Western Heights tour back in September 2005). Despite arriving at Temple Meads a good while before time, the signaller doggedly held us outside until 22:33.
After last week, this was always going to feel like a low-key affair. In the end though, it was a fine tour covering some very unusual routes in style with a couple of celebrity locomotives. Time to start planning the next trip in earnest...

Posted in Railways on Monday 12th February 2007 at 10:45pm
---
With a heavy heart checked out of my hotel and prepared for my train home. Time for breakfast and a chance to watch the city go by first though, in my old haunt on Renfield Street and via a walk around George Square. All too soon I was on board the 10:10 to Penzance, having for a change been allocated just the right seat on my reservation. A fair morning, with good views over the Clyde in both directions as we started out southwards.
A fairly relaxing and uneventful journey compared to the trip up here last week, with a smooth connection at Bristol which saw me stepping out on home turf bang on time. Forgot I'd tidied the flat extensively before leaving, so felt like an intruder in someone else's home on walking in! Since I arrived early, decided to attend the local CAMRA meeting which for a rare change took place close by at the Royal Artillery just on the outskirts of Highbridge. Lots of the usual faces in attendance meant a fair bit of gossip. Didn't really attend the meeting so much as 'stand nearby' drinking, though it sounds like sensible decisions were made! Also had the chance to sample RCH's Santa Fe and the infamous blend with Double Header known as B5.
Staggered home, and need to sleep very soon! It's been a long day...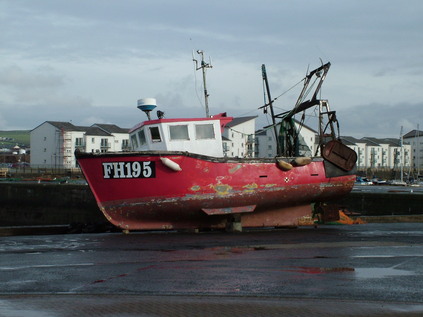 Posted in Railways on Sunday 11th February 2007 at 10:24pm
---
I'm not used to having much of a Sunday transport service, living in the sleepy South West. There were a few bits of track left uncovered over the past couple of days in Glasgow which I hoped to be able to pick up today despite a fair bit of engineering work affecting service - particularly early this morning.
Started out with another run out to Newton, in daylight this time. The object of this run was to cover the line from Cathcart North to East Junctions and position myself for a run over the remainder of the Hamilton Circle to Motherwell. Despite being a damp morning, there was a promise of sunshine lurking behind the clouds, and it was good to be out with an objective in mind. Arrived at Newton, realising just how bleak the surroundings of the station are. The unit crossed over to the wrong line prior to arrival rather than using the reversing siding beyond the station, and this meant a wet trudge down the deep subway to regain the platform for the Motherwell train. With the shelter being occupied by an amorous couple, wasn't sorry to see a warm and dry 334019 arrive.
Arrived at Motherwell, and realised what a substantial station it is, with a complicated building with lots of stairs to negotiate to get from one side to the other! Realised that my terminating unit would now form an onward train to Bellshill and then back to Glasgow. Noted that bailing here meant missing the crossovers back onto the mainline, but I had a plan to follow. Firstly, this meant retracing my steps to Newton and changing again to head back to Cathcart East, covering the dive-under to Cathcart North and thus completing my exploration of this little complex of lines. Realised the extent of the closure at Glasgow Central when we arrived back into the station, with only platforms 8 to 13 in obvious use. Predictably, we arrived on 11A which meant a long walk into the station.
On passing the end of Platform 12, noted a few Pathfinder staff boarding the unit there, and out of pure curiosity checked where it was headed. Amazed to find it was the 11:15 to Ardrossan Harbour which I'd assumed was going to be a bus like earlier trains via Paisley. Quickly boarded and settled in for the ride. A sudden burst of sunshine at Shields Junction made for a really pleasant run out to the coast, and a chance to cover the short branch from Holm Junction to lines end at the harbour. With a few minutes to spare, wandered into the Ferry Terminal for a coffee and took some photographs.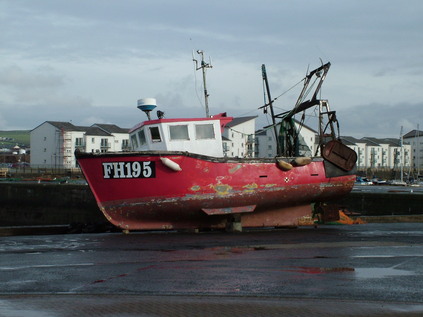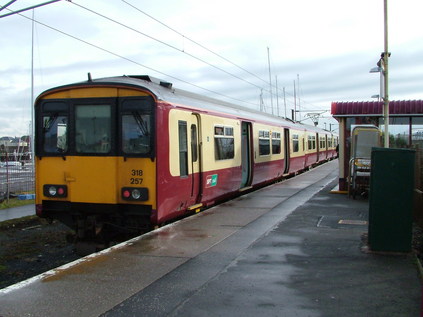 The train back to Central was fairly busy, and it was interesting to see First Group staff north of the border not selling discounted tickets where there were staffed stations - but then the PTE clearly invests in staffing and ticketing facilities, which makes this an easier proposition for the guards. On arrival back in Glasgow I had one last mission - to finally catch a train from the Low Level station. Again, I've always avoided this because of the escalator concerns, but I noted a lift from platform 12 down to the station, and with this and the judicious use of some convenient stairs, I got down into the dark tunnel in time for a train to Garscadden. I only needed to do the tiny stretch of track between Hyndland East and West Junctions which the tour had avoided yesterday. I should probably in fact have pressed onto Dalmuir to cover the whole line in both directions, but I was eager to get off the train and into the city!
I realise that much of what I've written about this trip has focused on the railways. This isn't of course the whole picture by any means. I've loved visiting Glasgow now for years, and despite the need to make early starts each evening has been spent visiting old haunts and in my favourite spots. There is always something new to discover here, and having not often stayed more than a night in recent years I wanted to get out west to see how things had changed. So, hopped on a bus outside the station using my Daytripper ticket and headed along Bath Street and Sauciehall Street towards Kelvin Hall and over the river. A right turn by the Western Infirmary and off at a stop somewhere in the maelstrom of traffic which is Byres Road - even on a Sunday. Fantastic to be back, and amazed how much was open today. Browsed the excellent Oxfam Bookshop, finding an aposite quote from John Clare which will eventually adorn the header of this site. Time for a coffee, though not from the interestingly converted 'tardis' on Great Western Road!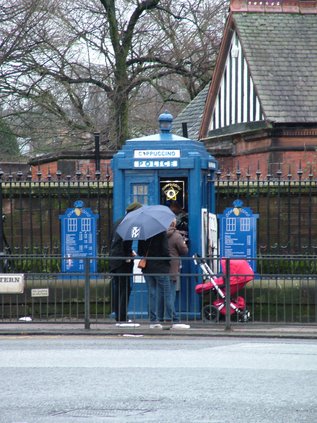 Strolled around Ruthven Lane and Ashton Lane too, remembering previous visits and some very good times had hereabouts. Spent quite a bit of time wandering in a fugue before catching a bus which took me a different route back to the city, via Great Western Road, Cowcaddens and Garnethill. Time for more coffee and a chance for the first time to watch the world go by, which is always a pleasant prospect here. After popping back to the hotel, out again and time to visit more old haunts, including the Horseshoe Bar before popping into The 13th Note for the last pint of my visit.
Back home tomorrow, and it's always a bit of a wrench leaving Glasgow. I've never quite managed to explain it to anyone. Still, I have 400 miles or so of rail travel to look forward too, and since the mileage has been a little lean this year so far, that's a bonus!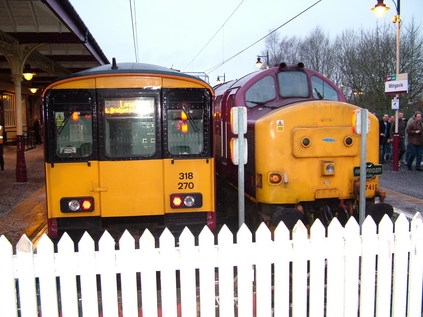 Posted in Railways on Saturday 10th February 2007 at 10:54pm
---
As far as this trip was concerned, today was the main event. A pair of Class 37s visiting a bunch of suburban Glasgow termini and covering a fair bit of 'red' track in the Baker at the same time. I couldn't think of a better way to explore one of my favourite cities, and booked this tour within seconds of it appearing on Pathfinder's site. And so I found myself on the concourse at Central Station far too early once again. Got coffee and breakfast and noted a fair few familiar faces among the crowds, many like me having made the journey northwards. The crowd seemed fairly evenly divided between the Branch Line Society crowd and the usual 37 bashing faces. With a foot in each camp I was in good company! The stock arrived with 37406 at the buffers, meaning 37410 was to lead us out of Central. Found my seat and settled in for the day's entertainment. Chatted with a few regulars as we waited for departure - which was bang on time. An announcement about being promptly back on board to ensure we kept our tight paths between First Scotrail services gave the first hint of a slight resentment for enthusiasts which we were to experience from the local operator during the day! Once out of Central, we took the mainline to the rather mournful industrial wasteland of Rutherglen, using the rare west to north curve to double back on ourselves and head through Central Low Level to the first terminus of the day at the attractive little town of Milngavie.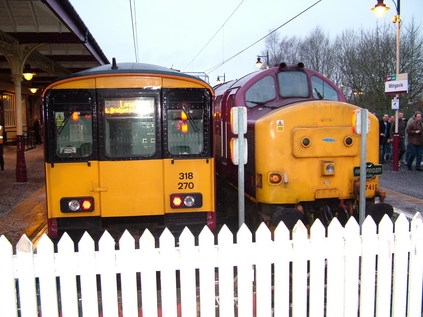 Off a little early with 37406 leading via the rare Hyndland West curve to gain the Yoker line and head for Helensburgh Central. There was some confusion on board due to this line being entirely missing from the Baker Atlas, although it appears correctly in the 4th Edition Quail map. Surprise celebrity visitor at Dumbarton Central was 37248 which had worked up from Bristol on route to Fort William. A brief stop allowed some brave souls to head to the end of the platform in freezing conditions to get a shot. Back on board, and some nice quick running along the Firth of Clyde to Helensburgh, and what we didn't realise would be the only practical and sensible refreshment stop of the day!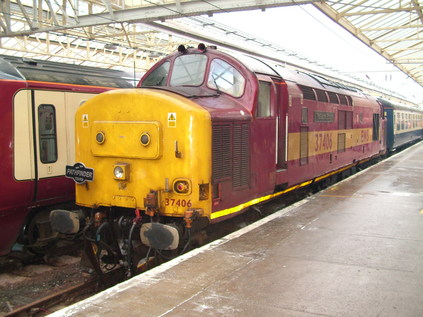 With 37410 once again in the lead, we headed back towards civilisation via Dalmuir and the Singer line, joining the Northern Suburban Line at Knightswood North Junction and taking the North to West curve at Cowlairs to arrive earlier than planned at Springburn for our reversal via the Cowlairs Chord. Here we learned that First Scotrail were less than pleased at our impending arrival at Queen Street. With additional services and crowd control in place due to the rugby match at Murrayfield, they felt less than able to cope with a trainful of enthusiasts descending on the concourse. For some, this meant no lunch as they'd planned to descend on the concessions at the station or the shops nearby. We were warned of dire consequences for anyone who dared to pass the barrier, and I've yet to hear if anyone did brave the lift down to Low Level and up the stairs route! Lots of conspiracy theories flying around too about our containment - some plausible, some not so. The only certainty was that we needed to be out of Queen Street pretty much on the button, which we happily were. The noise of 37410 thundering up the bank out of Queen Street station was memorable, and I'd love to find some footage from the many video cameras which were recording our ascent.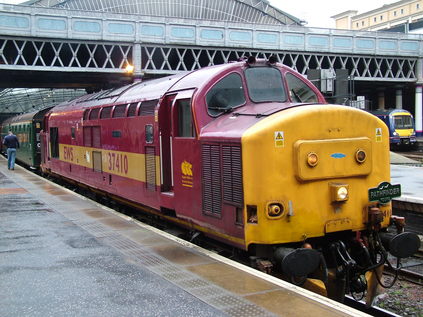 Having reversed again at Eastfield Passenger Loop, 37406 led us as we retraced our steps via Springburn and then on to High Street Junction where we took the City Union Line across the eastern edge of the city. I'd often looked across at this line from my vantage point in The 13th Note, as it is carried high on arches still advertising Poll Tax protests and Militant meetings, across the bottom of King Street before crossing the river into the Gorbals. Quite something to finally be traversing this bit of track which has featured in my personal views of Glasgow for so long. Once under the tangle of lines south of the Clyde we rejoined the route to Paisley Gilmour Street at Shields Junction and headed for the coast at Gourock where I braved the high winds for a quick photograph. Others made a mercy dash to local chip shops, and some only just made it back in time. Glad I managed to pack lunch in advance last night!
Once again in the warm of our train, we set off eastwards, retracing our steps to Shields Junction, but then swinging south at the end of the loop, under the main lines to Terminus Junction using the so-called 'Burma Road'. I need to do a little research as to why this strange little link of track received this unusual name. Once we'd surfaced at Muirhouse South, we made good time via Busby Junction to East Kilbride. A very quick turnaround here, but some still tried for the picture from what seemed a very good vantage point. I didn't want to rely on my ability to make it to the end of the train and back in time, so contented myself with a leg stretch in the gloom and chill. Soon back on board and retracing our steps once again, this time taking the Larkfield Curve to join the West Coast Mainline for a quick dash down to Lanark via Wishaw. There were concerns about our timings on this stretch as 37406 seemed to be performing poorly. Arrived around 8 minutes down, having slightly delayed an Argyle Line service. No major problems though, apart from a shorter than expected reversal. Soon on our way and making good time with 37410 back on the front. Again over familiar ground back to Shields Junction with a diversion via Mossend and Whifflet via more unusual track, then via Paisley Gilmour Street and this time taking the southern fork at Weymss Bay Junction, making the steep climb away from Bogston. Arrived only a couple of minutes down at a very wet and windy Weymss Bay, where rumour had it that a 'tired and emotional' passenger was removed from the train following a disagreement with a steward. Not a night to be stuck out here on the coast!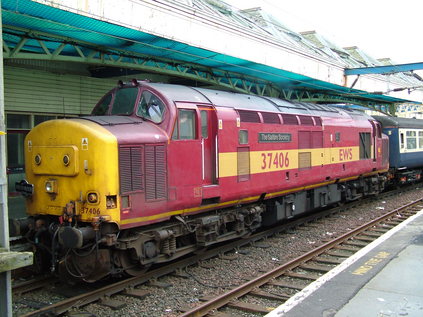 So, onto our final leg - returning to Shields and taking the line to Muirhouse Central Junction for an anti-clockwise spin around the Cathcart Circle before presenting ourselves outside Glasgow Central two minutes early! It wasn't to be however, and we were held awaiting platform 1 until we were in fact two minutes late. Arrival meant a rush for photographs, which seemed to rile the Network Rail staff on duty. The BTP escorted at least one apparently innocent gent away as he was 'preventing people from doing their job'. I don't think there was any serious concern, beyond some staff who'd had a long day meeting some enthusiastic and exhilarated railtour customers! Despite this inauspicious ending, I think this is perhaps one of my favourite tours yet, with the combination of a place that fascinates me, lots of rare track and some fine traction. Stuck around at Central for a little while, keeping well away from the action and just watching and listening, before heading for the hotel and a much needed night of sleep!