Posted in Railways on Saturday 17th February 2007 at 11:02pm
---
I'd completely forgotten this tour in the preparation for last weeks jaunt. A couple of weeks ago I checked my calendar and noted that in fact this was on the 17th February and not March as I'd for some reason been convinced. With a difficult transport situation presently down here this necessitated staying a couple of nights in Bristol which I wasn't looking forward to at all. Dragged myself up here late last evening and checked into the City Inn - a hotel I've walked past many times. Really quite a smart place, if a bit more expensive than I'd have liked. Slept fairly badly last night, having caught a cold from my nephew during the week, and found it a struggle to get to Temple Meads for the 06:26 departure this morning.
However, once under the roof at Temple Meads the unmistakable sound of Class 37s woke me up. 37425 and 37411, fresh out of warm storage at Margam were to head the train. Mercifully, the coffee stand was open and I got a much needed beverage before locating my seat. On walking to the back of the train noted 37422 also hanging around, having brought the stock in from Old Oak Common during the night. Settled in to the almost far too warm coach for our first leg - up to Birmingham New Street, picking up along the way, before heading out to Water Orton and via a bit of PSUL track I've yet to cover, via Whitacre and Kingsbury Junctions. I'm assured that this was in fact the original route of the Birmingham to Derby railway. After Kingsbury Junction we took the branch line towards the former Birch Coppice colliery, now a fairly huge containerised freight depot, where our front loco ran around, meaning the 37s were now operating top and tailed.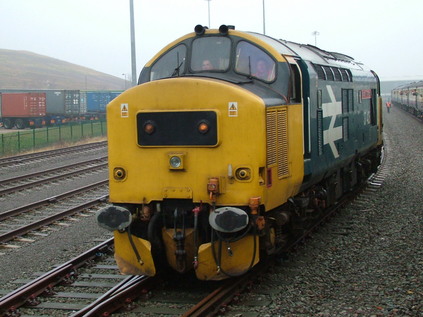 Next, we headed back towards Birmingham, but instead of calling into New Street again, pressed on southwards to Tyseley and then to Stratford-upon-Avon. A chance for an early lunch break here, whilst the stock shunted from platform 1 into platform 2, by virtue of a very strange track layout which prevents trains from arriving in platform 2! Back on board, and around the curve at Bearley Junction towards Hatton. Here our only real farce of the day occurred. Put simply, when this part of the Chiltern Line was resignalled it was assumed that only the usual maximum of four or eight car units would use the line. Our train was stranded on the Down Passenger Loop, trying to cross onto the Up Leamington but the signal allowing us access would not come off as our train measuring thirteen vehicles was still apparently occupying the curve from Hatton West Junction. A Stratford to London unit was also occupying the single line behind us, so a retreat would not help! Eventually, a helpful (and somewhat embarrassed I think!) Network Rail person cranked and clipped the points, and we were soon away.
Once underway again we made excellent time through Banbury towards Oxford, where we reversed and took the line to Bicester Town. I remember coming here soon after resuming my travels in 2004 very clearly, as it was one of the trips which rekindled my interest in covering track. That day I was hugely frustrated that we couldn't pass the level crossing gates and head further along the line. Today, I finally got the chance. With much hooting and the flash of a fair number of cameras, our train passed over the crossing and made it's way to Claydon. Another reversal, and onto the last stub of the old Great Central still in service to Quainton Road - now occupied by the Buckinghamshire Railway Centre. Struck by the clean, straight layout and simple but elegant engineering of the line and its various bridges. Arrived at Quainton Road with an hour or so to explore.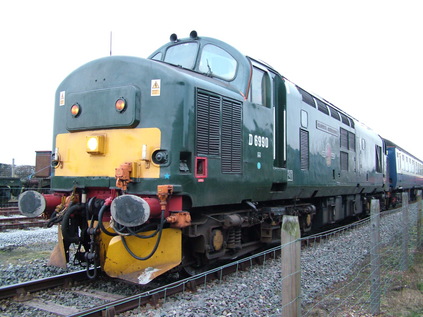 The centre is fairly busy with preservation activity, but is in an incredibly remote location. It feels like when the 'Metroland' effect crept along the branches of the Metropolitan Railway from London they stopped far south of here, despite some local housing being visible along the approach road. Aside from its demonstration line and miniature railway the centre has a neat little cafe, museum and a gift shop from which I purhcased a gift for my nephew before boarding the train for the trip back. Firstly into Aylesbury, from where there is talk of extending the suburban services north towards Quainton Road once again. Here we took the single line via Little Kimble to Princes Risborough. Again, many years since I've been this way - and indeed a long time since a loco-hauled passenger train has been along this route! A reversal at Princes Risborough took us to Banbury where our tail loco, 37411 ran around to double-head the train back to Bristol. Whilst we were waiting in the cold 47853 and 47839 sped through southwards on the return leg of another tour. A long and tiring trek back, with very slack timings meaning we ran early, despite being sent wrong line at Barnwood Junction to let a late running Voyager pass (rather like on the Western Heights tour back in September 2005). Despite arriving at Temple Meads a good while before time, the signaller doggedly held us outside until 22:33.
After last week, this was always going to feel like a low-key affair. In the end though, it was a fine tour covering some very unusual routes in style with a couple of celebrity locomotives. Time to start planning the next trip in earnest...