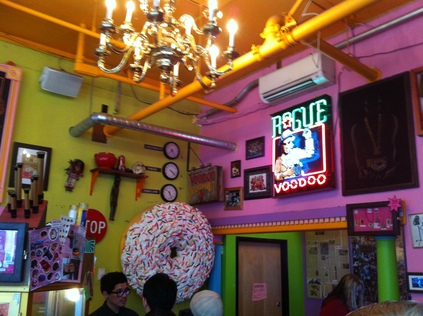 Posted in Updates on Saturday 24th November 2012 at 10:47pm
---
From the second we checked into the remarkable Ace Hotel, it was clear that Portland was just a little different. I'd absorbed the back-story previously - a generation of hippies who clung to the counter-culture had moved here, it stayed young and hip, and now it's a jungle of ironic facial hair, unashamed liberalism and democracy. Some of that is real, some of it is mild mocking by a national that doesn't always seem to get this place, but isn't prepared to entirely write it off as some den of Communism - at least only in the most right-wing of circles anyway. Because, it turns out, it's in fact very, very hard not to love Portland. The city core is old - largely un-reconstructed, squat low-rise brick buildings which hark back to the early 20th century and which face each other across wide streets where the car isn't quite king any more. A couple of modern, but largely quite confusing Streetcar lines shuffle across downtown - but don't seem to head anywhere too useful as such. It's an incredibly comfortable city to sink into and become part of very quickly, when one can walk comfortably and pause aimlessly without appearing too strange or alien. For me, this is a very good thing indeed.
From our temporary home on Stark Street, Powell's World of Books is not far away. A city-block sized store across four floors and several crazily confusing sub-divided areas, this is a truly remarkable place. With used and new books filed alongside each other, there is a wonderfully Portland-like sense of being offered a fair deal here. The selection of books, the range of subjects and the surprising depth of the range is astonishing. We set out with a basket which increasingly filled - not just with books but with smart, well-chosen arty cards and suchlike. Eventually, after several hours here we paused and common sense descended. We had to weed out our purchases carefully. We found a spot and showed immense restraint in selecting a few choice things to purchase. Oddly, here in this mecca of books, it didn't feel painful to have to surrender a title or two - being surrounded by books you could never hope to purchase seemed to assist in that.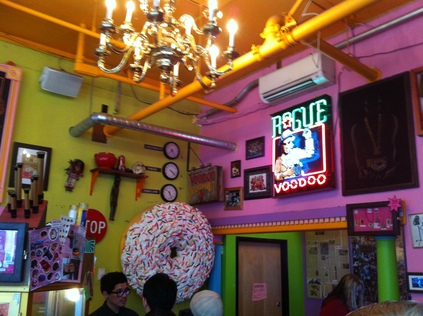 The remainder of this short visit seemed to involve lots of food and beer - both of which Portland is pretty good at supplying. But a special place will always be reserved for Voodoo Donuts. We'd talked about this place and it was an essential visit. Forget the antics of Heston Blumenthal - this place has been making giant donuts for years, and has dabbled in the absurd by including pepto-bismol fillings and crushed aspirin for the badly-hungover. With the rain blown away by a Pacific wind, it was a bracing but perfect walk down Burnside towards Voodoo. We'd been warned off walking this way at night - and while it was fair to say this was a colourful neighbourhood of adult cinemas and empty lots, it felt no worse - and far less menacing - than many cities I've passed through. Finally we found Voodoo by virtue of it's line - even this early on a weekend morning there was a queue around the block for this local institution. The gaudy pink building with it's Alice-in-Wonderland like diorama of giant donuts and paraphenalia was hot, dizzying and smelled strongly of melting sugar and hot dough. Our purchases in hand we slipped over to the adjacent coffee stand which was doing equally brisk business with the sugar-sodden masses. The return walk was via the outdoor market and Chinatown, the iconic ironwork of the bridges in the background. The older buildings in this neighbourhood had achieved state protection - perhaps a rarer status here than at home, but welcome. It seems that here, redevelopment is at least a little bit more sensitive than elsewhere in the US.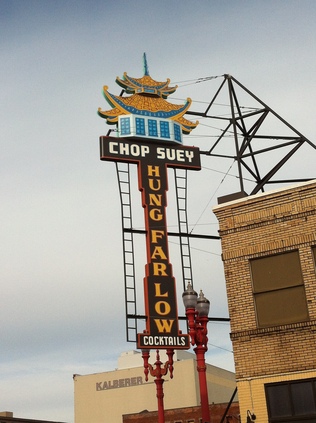 One last trip before we left the Ace, and indeed Portland, was to the line of tiny boutique stores along the street adjacent. Among these was Tender Loving Empire - a record label, distributor of local artists' work, and generally surprisingly packed with strange and wonderful items. The store was busy, bustling with people - and not just hipsters. We browsed the music - listened to Loch Lomond which completed a circle right back to Song, By Toad in Edinburgh, my blogging exploits and Scottish links. In fact we almost missed the train back to Seattle in our leisurely browsing. But finally after a haphazard cab ride to Union Station we settled into the seats and watched the Columbia River slip by as we began the journey north. For me, it was the beginning of a longer journey home too in some ways - and with the novelty of just $14 between us, we celebrated with overpriced beer and watched darkness fall on the Pacific North West. The couple of days we spent in Portland were an eye-opening, intriguing rush through a city that I'm certain I want to revisit.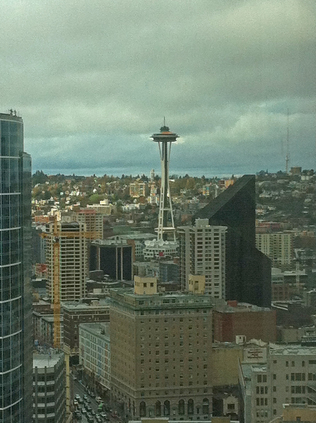 Posted in Updates on Thursday 22nd November 2012 at 11:26pm
---
It's fair to say that this site hasn't had much in the way of regular updates for a while. There are some valid, and happily very positive real life reasons for that - which are hinted at strongly in recent entries of course. But the simple truth is that a change in financial priorities has meant I've travelled far less in recent months. This leads me to consider why I've spent the last eight years on an obsessive mission to conquer the railways of the United Kingdom, and if this was really just diversionary activity? I'm thinking not - because, finding myself here on a surprisingly clear winters afternoon in the Pacific North West I'm almost childishly excited to be boarding Amtrak's Cascades service from Seattle to Portland. Again, it's also fair to say that there are lots of reasons aside from the rail trip to be enthusiastic about this journey. Not least its very impossibility just a few short weeks ago. Having crossed the Atlantic twice in quick succession, I find myself oddly, and almost disconcertingly comfortable here in Washington. The pace of city life in Seattle is a gentle ramping up from my norms rather than the dramatic shock which my early visits to the US entailed. Setting out yesterday morning on foot I didn't feel edged out of the city like non-vehicular traffic can so often be here, instead I took a tentative walk on the shining sidewalks of Pike Street, crossing the interstate and heading down into the city just emerging after a bout of rain. Puget Sound shimmered in the middle distance, beyond the landmark sign for the market. For a while I inhabited that wholly liminal position of being neither native nor tourist. I was here, unusually in my travels, with a purpose and an intent - but I was still exploring and discovering the city. On the corner near City Target, I encountered a yelling mob - which was no more than an over-enthusiastic conversation lifted direct from a Jerry Springer universe. But it demonstrated the tight zoning of the compact core of Seattle - this corner feels mildly menacing, a little edgier than the cross-streets which intersect. But it's at the heart of the retail area which bustles with European style energy. I press on to my target in the business district - the heights of an office tower which affords me unparalleled views over the cityscape. It's hard not to love this place for many reasons - and it's hard to leave for many more.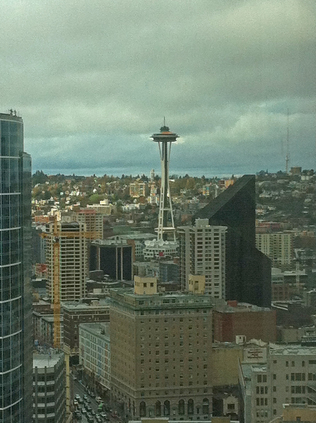 The train to Portland is a new experience - fusing the frustration of air travel with the familiarity of railways. We check in and get assigned a seat, then wait in the booking hall which only hints at the grand opulence of the under-reconstruction King Street Station. When called we shuffle out to the train - a strikingly modern Talgo set hauled by an EMD locomotive which yings just like their products do here in the UK. It's a comforting sound in some ways, and reminds me I'm about to hit the rails for the first time in this vast continent. Sure, I've done light rail systems all over the place, but this is my first intercity journey. It's a strange sensation at first to be travelling on the 'wrong' side of the formation - but I'm soon distracted by the novelty of double-height containers in stockyards, endlessly long trains of soy bean hoppers, and more immediately the luxury of settling into my seat in company - something which has almost never been a feature of my travels. Certainly, it's never been like this - and I don't want the journey to end. The route turns west to call at Tacoma, then hugs the coastline of the Sound under the Tacoma Narrows Bridge - veteran of science documentaries about harmonics, the iconic image of it swinging and bucking now replaced with a sense of awe at its fragile grace in the half-light. As we approach Olympia we retire to the Dining Car to sip beer and look at the water shimmering under the silver sky. Rakes of evergreens march up the hillsides away from the tracks, as we turn south again and head inland.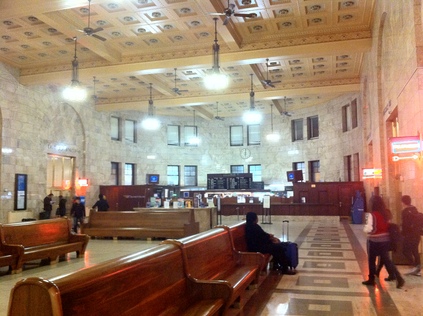 Between here and the Columbia river is something of a haze of warm, comfortable travel in rare company. It seems all too soon that we're clattering over the gridirons and bridges which dominate the northern flank of Portland, passing into previously uncharted Oregon in the process. It's early evening - a little before six - but it's dark and the city twinkles invitingly beyond the illuminated tower of Union Station. Crossing the tracks to enter the building, we're the last passengers to leave because we've been taking photographs. The grand hall of the station is a surprise - a marbled palace of generous proportions, with remarkable similarities to some of the stations back at home. We head out into the chilly, dark evening and line up for a cab to the almost painfully hip but cleverly decorated Ace Hotel - and what will be my first ever Thanksgiving. I can't help but think our way of celebrating, a long way from everything which is usually associated with this resolutely un-British occasion, will be far from traditional. As we shudder our stop-start progress through the traffic lights of Burnside and Stark, and catch the first sight of the exterior of the old hotel I recall reading that it was once The Clyde. I'm never far from Glasgow, even when I'm truly a long way off. I can't help but hope that we get to cross the other Clyde very, very soon indeed.