Posted in Updates on Monday 26th December 2005 at 7:16pm
---
I recall writing about the rather humbling realisation last year that the festive season was important, if only for the sense of belonging to a family. The past year has tested everyone one in my family beyond expectation, but despite even the most recent setbacks, we all turned out for what was perhaps the strangest Christmas Day on record for us. We overcame some of the practical problems, and managed to involve my father who was uncomfortably nursing his injured foot elsewhere in the house. Once again, my nephew stole the show and kept everyone on their toes. Perhaps the most rewarding time was a half-hour spent sitting on the kitchen floor playing with magnetic numbers on the freezer, with him repeating the numbers after me before sweeping them onto the floor. Surreally, he pronounced the 'equals' sign as 'eagles' which appealed to my sense of humour and ended with us both giggling uncontrollably.
Despite mostly living so close to each other, we're not often together for more than a few minutes at a time. Thinking back over the past year, and looking forward with a degree of trepidation, I'll confess there were moments when I could barely control my emotions this Christmas. Channelled some of this excess of energy into an endeavour my mother has long wished to undertake - the tracing of the family tree. So, spent much of today knee deep in Census records and mananged to trace a couple of the branches back to the 1850s, with the help of my grandmother's unfailing memory. I sense this project will start to involve and obsess us increasingly - and I'm already feeling a pull towards a small village in Worcestershire which seems to hold the key to my origins. Once again I'm substituting topography for spirituality.
I suspect that as a result of this entry I'll be asked once again if I'm a 'convert to Christmas'. Well, I'm not - there has been no Dickensian visitation here to cause a turnaround. I'm more convinced, in fact, than ever about my atheism. But a holiday when no-one has anywhere else to be but here is always going to be a good thing in my book.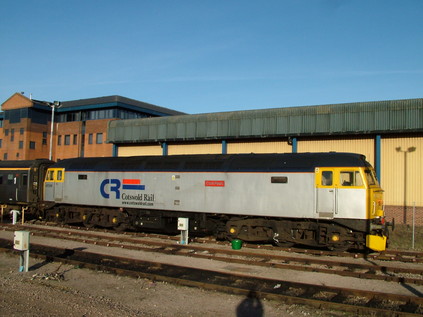 Posted in Railways on Saturday 17th December 2005 at 7:30pm
---
It was meant to be simple. I needed to buy a final Christmas present. Thinking about a town with an easy to navigate shopping area which might not be too impossibly crowded, Gloucester seemed like a possibility. I've always found it easy to get around quickly there, and whilst no doubt it would be busy - it might just be a little less daunting than Bristol or Birmingham. So, set off on the 09:37 from Highbridge. I'd noted that everything from Bristol to the Midlands was diverted via Newport, so I expected a first journey via Lydney on a Voyager.
After a dash over to Platform 3 at Temple Meads, I was surprised to see a Voyager apparently coming from Plymouth arriving empty from the London end of the station. Got on board and settled into a free seat in the quiet coach. Heard something arriving behind us on Platform 4. Thought little of it. Then all hell broke loose! It seems the five-carriage set behind us had been declared a failure, and we were on the replacement stock. So, for starters we had five carriages of people squishing into four. To complicate matters a member of staff had said people should take up their reserved seats from the previous set on the replacement - but there were no reservations showing. Actual physical violence ensued! Things got even uglier when the reservations finally appeared and some people still steadfastly refused to move. I was threatened by one angry, foul-tempered old fool, despite being in a pair of seats which now had a scrolling 'This seat is not reserved' legend above them! The visibly distressed young woman seated beside me and I both decided to bail at Newport to get the next Central Trains service. I know these things are frustrating, but the atmosphere on this train was unpleasant, volatile and generally just plain stupid.
After a cup of tea and a cold wait in the winter sun at Newport, had a nice run along the Severn in a quieter and far safer 170. Arrived in Gloucester later than planned, but in one piece, to find Cotswold's 47316 'Cam Peak' stabled near the station. Wandered into town, found a suitable gift surprisingly quickly, and made it back to the station in time for the next down Voyager which I hoped would be doubled-up and quieter. No such luck - a stuffed 220 left without me. More tea, and a chance to photograph the 47.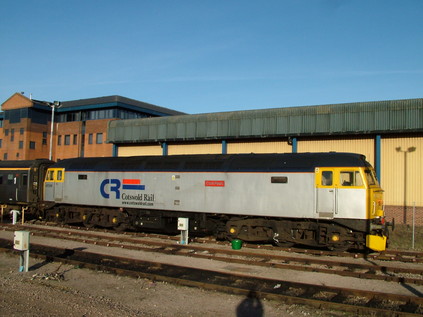 A busy hour at Gloucester saw three passing freights and a bunch of passenger workings. The weather stayed amazingly clear and the sunshine started to warm the bones a little. Spotted a very unusual sight in the distance beyond the level crossing, and headed for the footbridge to watch 20905 and 20096 approaching from Cheltenham, having taken some stock to Long Marston I understand. Both locomotives were in immaculate condition, and even the driver couldn't resist taking a picture himself before leaving. Tricky to get a good shot due to the shadows cast by signal gantries in the low Winter sun. Good to see this pair of locos in such fine condition however.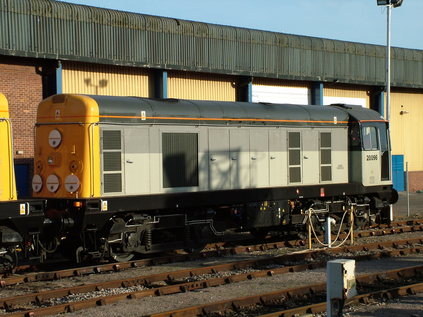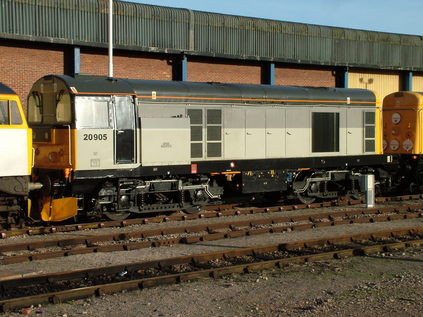 The 14:10 Voyager was happily a pair, and was a little quieter at least until Newport where things got busier. Quick running to Bristol where I had time for coffee before catching the 16:25 back home. Noted the incoming working from Severn Beach was late and getting later. After a growing crowd of us had switched to Platform 4 and a further 25 minute wait, 158859 trundled in decked in Christmas decorations and with Santa onboard - its destination indicator reading 'Special'. We waited a few more minutes for the 'elves' to clear things up before leaving. A surprisingly interesting day, considering I only set out to go shopping.

Posted in Railways on Tuesday 13th December 2005 at 10:14pm
---
Just as I was preparing to leave the house to catch my train to work this morning, the BBC announced that First Group was the winner of the Greater Western Franchise. In one sense, this couldn't have come at a more opportune time - Wessex Trains, under the corporate umbrella of National Express Group - have had an apalling winter. The main problem seemingly a lack of serviceable stock. Since Wales & West dissolved into its constituent parts Wessex has suffered its main maintenance depot being on someone elses turf, managed by someone elses staff. This can't have been easy, but in the past six months, any pretence at providing an effective, timely service using clean rolling stock has been all but abandoned. Standards have slipped - trains are dirty and late, information isn't provided, the 'all new' winter timetable is strange mix of unneccessary new services and illogical withdrawals of well used trains.
I feel somewhat sorry for Wessex staff - or at least some of them. There are some fine people working on trains and in stations for Wessex who are truly embarassed that things aren't going well, and try hard to fix them. But there are too many platform staff who hide from view when something goes wrong, managers who will deny they ever received your letter, or on-train staff who can't care less if anyone has a ticket to make Wessex appear like they really don't want to be running a franchise. And now they won't be.
First Group have their share of detractors, and a nation of bus drivers have their own grisly tales to tell about working for First over the past couple of decades. However, First Great Western have always managed to convey a positive image as far as I can see - attentive, reliable and interested in developing the timetable and growing the business. The Adelante is the acceptable face of modern multiple units - superior to Virgin's Voyager, and schemes like Swindon's fourth platform make sense and get the job done. Their successful bid comes with some sweeteners too - the Night Riviera sleeper will be retained, HSTs will be life-extended pending the HST2 project, and the half-hourly Cardiff service reprieved. None of this would have happened if National Express were in charge, because this kind of improvement to services has never been part of their agenda for the south west, which remains a quiet backwater for tourists to visit for a few months each summer - as evidenced by the advertising liveries I see on my daily commute to Weston-super-Mare!
So, would Highbridge & Burnham still have an evening commuter service if First had been here all along? I like to think so, and I hope that from April we begin to see some of the changes which many other parts of the UK have seen since 1996, but have passed the South West by.
Posted in Railways on Saturday 10th December 2005 at 10:49pm
---
After a turbulent and worrying week on the home front, I hoped for a relaxing trip today on Past Time's 'Chester Flyer' tour. However, the original plan had been for me to bring my parents up to see the city and for Christmas Shopping. Events conspired against this, and I couldn't help but feel disappointed leaving for Weston this morning on the 07:03.
Only a short wait at Weston for, as predicted some time ago, royal locomotive 67005 to arrive hauling a rake of newly maroon painted ex-Anglia Mk2 coaches. Settled into my seat for the run up to Bristol, where I hoped a couple of last minute substitute travellers would arrive. They soon appeared on platform 3 with supplies of decent coffee, and we set off on time in dry but frosty weather for South Wales. In particular, the stretch along the Marches north of Abergavenny was misty and quite beautiful to behold this morning. Found myself wishing my parents could be here to see it. On departure from Shrewsbury, we headed north to Gobowen and Wrexham, track which I haven't visited for a decade or so.
We arrived a few minutes early into Chester, and plunged into crowds of shoppers. My plans having been scuppered I let the others lead me, since one of them had once lived here some years ago. Had a pleasant walk by the catherdral then along the walls, seeing parts of the city which I'd likely never have got to on my own. After rejecting a few extremely busy pubs for lunch, settled on The Cross Keys in the south of the town and enjoyed an excellent meal in a very comfortable spot.
To walk off the food, headed for the river noting extrememly tame squirrels and some landmarks from the TV show Hollyoaks along the way - much to the evident delight of one of our party. Turned back towards the shopping areas, and again onto the walls which took us right into the center of the city, and beneath the famous clock above Eastgate. Also noted from the heights of the city wall that the pub I'd visited back in April, and had hoped to head for today with the folks, was misspelled as 'Marlbororough Arms' according to its sign.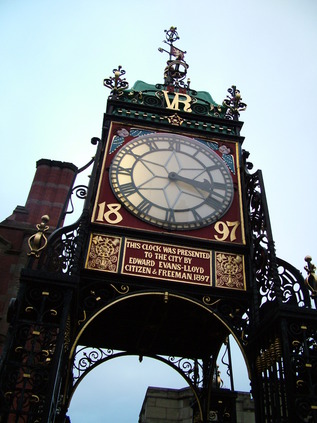 It was near impossible to move around the town without being squashed, trampled or buffetted around by the crowds. Noted one brave litter collector stooping to pick up rubbish and being stepped on by mindless shoppers bent on retail fulfillment! Met up with the rest of our party who had bravely ventured into the busy department stores in The Rows and headed back to the station for an uneventful journey back to Bristol, reversing the outward route. Off Bristol nearly 20 minutes early, which didn't help due to a couple of 'strategic cancellations' from Wessex, which meant a taxi back to Highbridge.
I can't help feeling disappointed that today didn't turn out as planned, but I think I managed to make the best of it, and to enjoy the journey and the unusual walk around a city I now know a little better.