Posted in Railways on Saturday 10th December 2005 at 10:49pm
---
After a turbulent and worrying week on the home front, I hoped for a relaxing trip today on Past Time's 'Chester Flyer' tour. However, the original plan had been for me to bring my parents up to see the city and for Christmas Shopping. Events conspired against this, and I couldn't help but feel disappointed leaving for Weston this morning on the 07:03.
Only a short wait at Weston for, as predicted some time ago, royal locomotive 67005 to arrive hauling a rake of newly maroon painted ex-Anglia Mk2 coaches. Settled into my seat for the run up to Bristol, where I hoped a couple of last minute substitute travellers would arrive. They soon appeared on platform 3 with supplies of decent coffee, and we set off on time in dry but frosty weather for South Wales. In particular, the stretch along the Marches north of Abergavenny was misty and quite beautiful to behold this morning. Found myself wishing my parents could be here to see it. On departure from Shrewsbury, we headed north to Gobowen and Wrexham, track which I haven't visited for a decade or so.
We arrived a few minutes early into Chester, and plunged into crowds of shoppers. My plans having been scuppered I let the others lead me, since one of them had once lived here some years ago. Had a pleasant walk by the catherdral then along the walls, seeing parts of the city which I'd likely never have got to on my own. After rejecting a few extremely busy pubs for lunch, settled on The Cross Keys in the south of the town and enjoyed an excellent meal in a very comfortable spot.
To walk off the food, headed for the river noting extrememly tame squirrels and some landmarks from the TV show Hollyoaks along the way - much to the evident delight of one of our party. Turned back towards the shopping areas, and again onto the walls which took us right into the center of the city, and beneath the famous clock above Eastgate. Also noted from the heights of the city wall that the pub I'd visited back in April, and had hoped to head for today with the folks, was misspelled as 'Marlbororough Arms' according to its sign.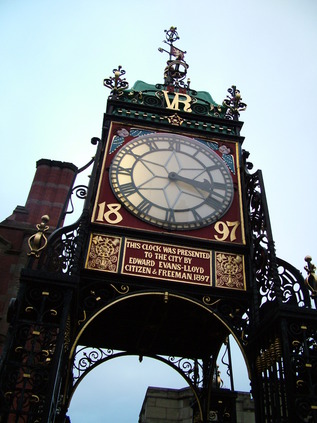 It was near impossible to move around the town without being squashed, trampled or buffetted around by the crowds. Noted one brave litter collector stooping to pick up rubbish and being stepped on by mindless shoppers bent on retail fulfillment! Met up with the rest of our party who had bravely ventured into the busy department stores in The Rows and headed back to the station for an uneventful journey back to Bristol, reversing the outward route. Off Bristol nearly 20 minutes early, which didn't help due to a couple of 'strategic cancellations' from Wessex, which meant a taxi back to Highbridge.
I can't help feeling disappointed that today didn't turn out as planned, but I think I managed to make the best of it, and to enjoy the journey and the unusual walk around a city I now know a little better.