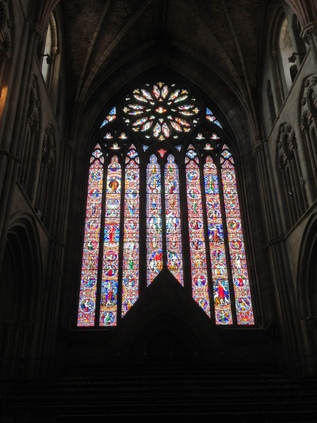 Posted in Travel on Sunday 15th September 2013 at 9:39pm
---
Wedged into a tiny train, far too small for the surprising amount of Sunday travellers, it's easy to be cynical about travelling around the UK by rail. Of course, I've spent a fair portion of my life doing so - but on the series of revisits in company which are now taking place, a little comfort seems far more important. I'm getting older, and wiser perhaps - and I'm very aware of the value of the little disposable income we have just now too. But that's not meant to detract in any way from an almost perfect weekend spent in my home county. Indeed the train up here yesterday was smooth, quick, relatively quiet and direct. Arrival at Foregate Street station recalled earlier visits for me - indeed one of my earliest trips in the 90s was a complicated set of connections to enable me to get here, then to head for Birmingham via the less travelled road to Snow Hill which had just re-opened. That set off a series of track collecting activities which brought together my love of geography and railways in very dangerous ways.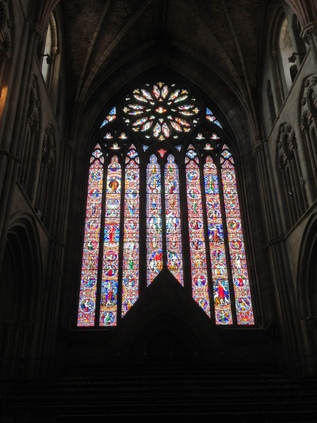 Alighting and heading down to the bustling streets is always a bit of a strange surprise. Railway stations are so often not in city centres, so to be plunged directly into one is both pleasant and strange. We soon met our friends and wandered the city. For me it was recalling how much or indeed, how little had changed since I was last here. For others it was a more novel experience. We stopped into a small pub with sloping timbers and erratic floors and found great food and even better beer. A rainstorm passed over, and we headed out into the city again, working our way towards the impressive Cathedral. It was a good while since I'd been here, and it was a delight to experience it again in newly appreciative company. We spent a good while examining the memorials, marvelling at the statuary and paying respects to Elgar, linked strongly here by music and history - a name introduced to me early at school not far away, but still not dimmed by over-familiarity like some early influences. We decided to walk out to the suburbs to our bed for the night. Out of the Cathedral precinct and down stairs, noting the historic record of flood levels as the stone walls developed a green coating of river weeds. We emerged on a broad lawn beside the Severn - the weather had brightened and the youngsters of Worcester were lounging happily. We set off along the river path - and I felt suddenly and strangely content to be beside water again. After a short walk, not entirely easy with a rolling case in tow, we arrived at the junction of the Worcester and Birmingham Canal with the River. A flight of wide-beam locks raised the water level to Diglis Basin - houseboats and barges moored alongside old industrial buildings, the sun shine now picking out the brass and bright painted designs. We slowed and entered a canalside pub, enjoying the fading evening in good company.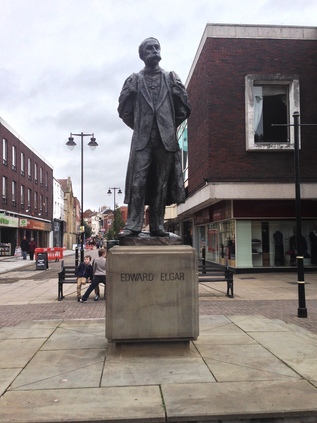 Today was a gloomier, overcast proposition but we set about finding Elgar's statue - and unexpectedly a plaque honouring his enthusiasm for cycling. Next we headed for good coffee and watched the world go by. Worcester is one of those cities which manages to stay resolutely bustling on a Sunday - not unlike Gloucester where I would often find myself heading in the winter. The city centre is blighted by unwise development and curiously bad modern buildings, but enough remains to make it a charming and resolutely English part of the world. Our travels just now are often swiftly arranged and based around limited resources but slowly we are working our way to the spots that I've loved - and some indeed that I've never visited. Long may our wandering continue...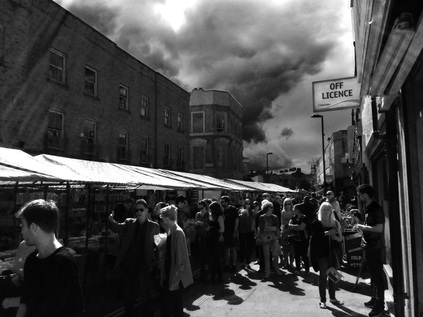 Posted in London on Sunday 8th September 2013 at 10:55pm
---
It has been a little while since we were in London. The fairly regular pattern of monthly visits was broken last month by some special visitors, which whisked us off around the West Country at this time of the month. So, feeling a little restless of foot, I was looking forward to being back in the city. In particular, as the summer has worn on I'm approaching a number of significant anniversaries - many of which centre on, or relate to London trips. There has barely been an entry here in the rather sparsely documented last twelve months which hasn't remarked rather incredulously at how much things have changed - but there is something interesting - if a little inevitable - about reviewing things mentally as the cycles complete and restart. A summer ago, the Olympic Games occupied my mind, the walks were almost frenzied, dogged by security and restriction. I was walking despite the city, rather than because of it. I'll say it again, how different things seem now...
We arrived via a sleepily pleasant trip to Paddington. We didn't have too much in the way of time restrictions, so we hopped on a bus to Liverpool Street which took in the West End. It was a little quieter and cooler than our last bus trip along Oxford Street, so we enjoyed sightseeing, and winced at the chances people took in dashing across the street between buses. Trafalgar Square was busy - as ever - but had a rather lazy weekend feel to it's bustle. Things felt optimistic and open, a world away from the locked-down city through which I was recalling walks. We dipped into the Fleet Valley at Ludgate Circus and climbed towards the white flank of St.Paul's, resolving to stop in soon as we skirted it and headed deeper into the City and our last stop. Liverpool Street station has become a joint favourite spot - busy and open, full of possibility, signifying a place to head out into the unknown but equally a marker on our way home. Today, we headed directly for a suburban train out of there, soon passing under Brick Lane and scurrying across the rooftops of Bethnal Green with the sun bursting irregularly from between ominous clouds. It felt good to be back.
As we descended the stairs into the rather noisome tunnel at Cambridge Heath I could detect disquiet. Why had I brought us to this strange, semi-derelict corner of the city? This didn't ease once we turned onto Mare Street with its mix of kebab shops, overstuffed convenience stores and tumbled together housing. We crossed the canal and turned west into Andrews Road - one of my earliest Hackney Walks took this route, the proud gasholders dominating the skyline while the modernist roofline of Ash Grove Bus Depot sneaks into view between blocks. Neither of these architectural highlights were doing much to ease the sense of being somewhere less than pleasant, but the first hints of hipster Hackney saved me - as a pop-up shop outside an industrial unit yielded treasures... 1950s 'atomic' themed curtain fabric, heritage boardgames - we chatted a little before heading on beside the canal and turning into the bustle of Broadway Market. I was of course instantly forgiven, the low brick shops flanked a busy street market, several live musicians competed for audience, the smells of bread, coffee, meet and painfully-hip moustache wax filled the Hackney morning air. We dived in...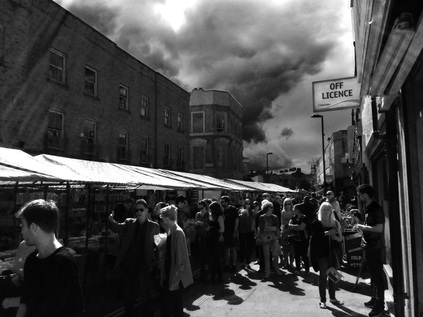 After visiting a fascinating store where a local trader was selling her fabric crafts, we wandered into the market. Almost right away we found ourselves, almost involuntarily, in the line for a coffee stall. The small crew of guys running it weren't hurrying, but the long queue said it all. The facial hair quotient too, spoke volumes - and as the neighbouring music stall played Pink Floyd we shuffled towards our brew. And when we finally got it, it was wonderful. I was transported the 4700 miles or so to Stumptown Coffee and happy mornings watching the Seattle traffic. This was good coffee, perhaps the best I've had in the UK. We pressed on - bread, meet, knitwear, books - the stalls were all just a little better thought-out than the usual fare at markets. The crowds meandered between them, sampling, purchasing, gossiping. Clouds rolled overhead and I though of my picnic plans, already beginning to feel inadequate in picturing my home-baked, rather flat bread in comparison to the shiny, dark crusts on display. Eventually we found our way to London Fields, with a sudden shower passing swiftly enough to let us sit and eat while a toddler with stabilisers, pursued some impossibly cool BMX kids around a cycle track at amazing pace and with a look of serious dedication! Out on the path where we sat, the only cycles were of the vintage, home decorated kind - and we listened to them clattering by while we drank Ginger Beer. The sun edged out - it was time to press on.
After a walk back through the market and a second visit to the coffee stall, we descended to the canal tow path. The sun seemed a little more likely to stay out now, so we started our walk east along the waterside. I recalled my last trek along here, and little had changed on the canal. Barges still doubled for cafes and market stalls, bicycles still careered stupidly along the edge of the path. The crowds seemed a little thinner - perhaps people really had resorted to this easier way of getting around last summer when it was busy? But the path remained well used as we curved south towards Old Ford Lock and crossed into Victoria Park. We found a spot beside the lake and watched the birds scudding into the water to land, routinely shaking their tail-feathers dry. Dogs hesitantly sniffed at the edge of the water, scared of the stately and surprisingly large swans. A brave little lad chased pigeons and occasionally bigger birds around, pursued by an amused parent. It was oddly idyllic - this strange corner of East London a near perfect spot this afternoon.
Our ride arrived and we headed off into Bow, sadly not heading for even more coffee at the Wick this visit. As we headed east to visit with our friends, the remnants of the Olympic Park loomed over the road. It seems strange how much time and effort I've spent walking in this patch of the city, and how there still seems so much uncharted territory. There will be future visits, more coffee, longer stays I hope. But I will always find myself comparing these jaunts to a hot, edgy summer which changed the city and certainly changed me beyond belief.