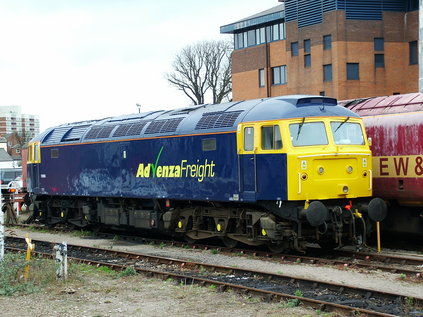 Posted in Railways on Friday 22nd February 2008 at 5:55pm
---
This time of year always brings a few days of unexpected leave as I try to ensure I don't lose too much time off. I've one or two trips and excursions planned for the weeks ahead, but hadn't seriously looked at doing much with these two days. An excursion to Manchester to complete the tram lines was a thought, but Thursday was taken up with family duties, and Friday yielded few cheap travel opportunities. Decided instead to stay local and to finally have a look what was going on with all these locomotive movements at Gloucester.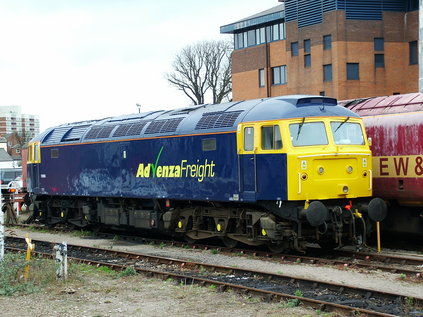 Didn't bank on half term producing so many additional passengers, with standing room only on the 143 into Bristol - suprising outside the peak. A little quieter on the ride up to Gloucester however. Gloucester was, many years ago, one of the first ventures I made outside my Highbridge to Bristol comfort zone. It felt quite liberating to be visiting a strange city remembered partly from childhood road-trips to the South West. However there was little of railway interest around then, save for a few unfamiliar units disappearing down the bank towards the mysterious line to South Wales! Over the past few years, with Cotswold Rail and now Advenza Freight, much has changed and locomotives are a more common sight at Gloucester. There has long been a minor allocation of Class 47s, and today there were representatives of three classes in evidence. Firstly, and the star of the show for me, was 57006 freshly outshopped in Advenza's colours and ready for work. It's good to see this class continuing to find work despite outliving it's usefulness with Freightliner in favour of yet more green 66s!
A more sobering sight however were the pair of rusting 37s laying over en route to what will likely be their final destination. 37704 which recently appeared at Bristol Temple Meads was almost hidden, but 37898 was visible and in a sorry state following it's recent extraction from Margam. 47237 presented a happier aspect, being rebranded from DRS to Advenza and seeing some fairly regular use in move locos and stock around.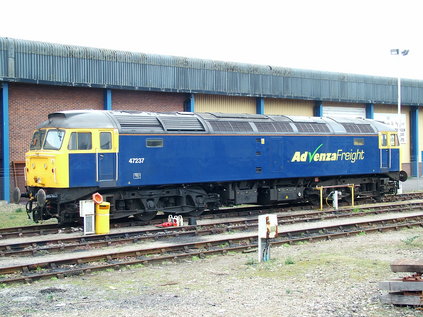 Took an indirect route home, travelling via Lydney to Newport on fully Crosscountry rebranded 170102. Uncomfortably warm on board, and not too unhappy to get out into the rather drizzly cold at Newport only to find the 1415 to Taunton inexplicably delayed with no expected time of departure. Wandered around the new platform 4 before being redirected to the very late running but recently refurbished 158771 which took me all the way home in rather cramped style. A pleasant enough afternoon out on what nearly qualifies as home turf.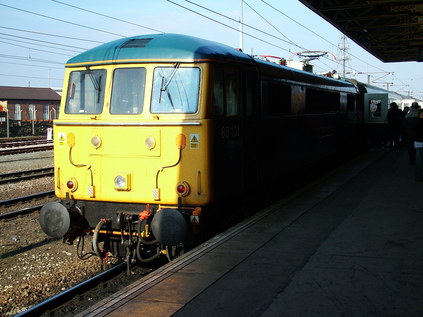 Posted in Railways on Saturday 16th February 2008 at 8:53pm
---
An unintentionally deceptive article today, given we had no intention of going to Hull at all, and in fact got nowhere near it! I'd been thinking of today's trip for a while - certainly since the disaster with the Class 87 Farewell tour cost me a good few miles behind an electric loco. Despite having had 86101 on more traditional territory at the end of last year, something about Hull Trains' audacious plan to hire in the Cargo D rake of blue and grey stock and put the 86 on one end appealed, and I found myself booking a couple of us onto today's train. A very early start today, just like the old days! Walked to the station in freezing conditions and caught the first train of the day as far as Weston. The first real challenge was getting to Kings Cross on time though. With the mainline to Paddington closed, we travelled via the Berks and Hants. As ever on this route, the early morning sun bought the mists down around us, and we sped through agreeable views of hazy Wiltshire countryside. Initially we made good time, but a couple of frustrating checks between Reading and Paddington made for nothing better than an on-time arrival or thereabouts. From there, a dash onto the Circle Line and a frustratingly slow creep around to Kings Cross. We arrived about 12 minutes before departure was due. However, 86101 didn't.
We used the delay well enough, buying breakfast and checking out the rest of the action Kings Cross. A fair few cranks in evidence for the trip and numerous photographers out, annoying the Network Rail staff! It seemed that the DVT on the set had suffered a damaged headlamp, but it was on route and we just had to wait. As soon as the stock arrived we grabbed a seat - a sensible policy in fact as once the train was announced the tide of people pouring on began to cause problems. No reservation tickets meant lots of squabbles, and we found ourselves near to one young mum who was almost hyperventilating with fear at the need to change at Doncaster today and the fact it wasn't a proper 'Hull Train' - their Pioneer units have clearly won some fans. Hull Trains, previously paragons of good service in my experience, rather let themselves down on the information front today - and it can't help having the company named after the destination. The question "Is the the Hull train?" being followed up with "Well why is it only going to Doncaster then?".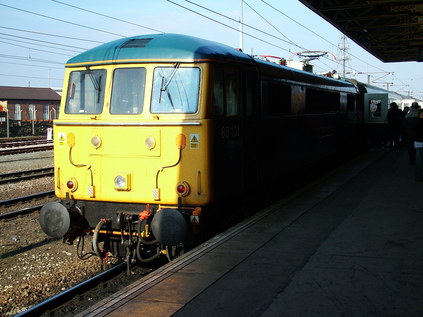 Soon off, about 30 down and proceeding well until a further stop just outside Kings Cross. We plodded on along the Up Fast until we came to a halt south of New Barnet. A failed train was blocking the line and we'd need to reverse. Quite how we'd managed to get signalled behind the troubled service when other National Express service were diverted onto the slow lines and whizzing past at a fair whack was beyond me. Must say, the reversal to Wood Green South and the run past the stricken 91128 and her glum looking passengers was accomplished quickly and without undue delay. However we now found ourselves just over an hour down. From here though, running was very swift and we had a really fine trip through bright sunshine towards Doncaster.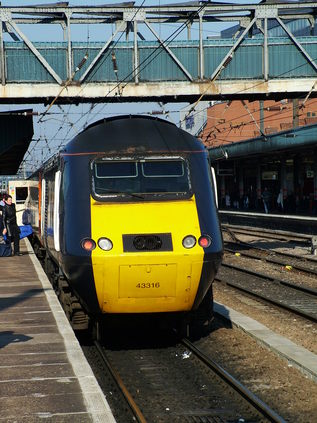 Spent a frustrating time at Doncaster. Despite the cold, the weather was wonderful and it was pleasant to wander the platforms watching goings on with our set moving to the yard to lay over and a mostly HST service working on the East Coast. However, photography was near impossible due to the low winter sun - but if it had gone in, it would have been far too dark. I suppose it's difficult to win in the British winter. Settled on a chance to wander, eat and drink coffee while the world went by. All too soon it was time to head for the platform for our Crosscountry service back to Bristol.
Amazingly, the service was on time and we had a quiet run back in First Class via Sheffield and Birmingham. I wasn't alone in noting that a complicated day out which could have fallen at the first hurdle had actually worked out rather well despite Hull Trains and Network Rail's best efforts to cock things up spectacularly. Another early arrival at Bristol and a short wait for the unit home. Lots of miles, some very unusual crossovers and a morning spent with 86101. A good old fashioned day out.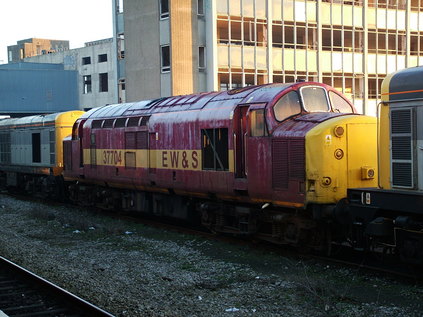 Posted in Railways on Saturday 9th February 2008 at 10:36pm
---
I've been looking forward to a trip to Ebbw Vale for a long time. I've considered a number of tours over the years which took in the branch during its time as a freight-only line, but they never seemed worthwhile, since the destination was fairly local. In any event, the long-standing Welsh Assembly aim of reopening the line has been on the cards for years. Sure enough, at the end of 2007 publicity started, and the line's reopening - albeit to Cardiff only despite it's proximity to Newport - was scheduled for the end of the year. Then it wasn't. Then no-one knew quite when it would open.
So it was something of a surprise to hear it would open on Wednesday 6th January 2008, with little fanfare and a couple of the initial set of stations still incomplete. It may have been because of the major Wales rugby match at the Millenium Stadium today, or perhaps it genuinely was the earliest that the remaining concerns and temporary speed restrictions could be resolved in order to run the hourly timetable. The important thing was the branch was open, and that necessitated a rather unexpected trip today. Things started in a rather unlikely fashion too - much had been written about a pair of Class 20s lingering at Temple Meads for a while, but they'd been seen disappearing yesterday. Not having checked my mail much before this morning, we were pleased to see they'd returned - even more so when we saw what they'd extracted from Margam in the process of their jaunt to South Wales!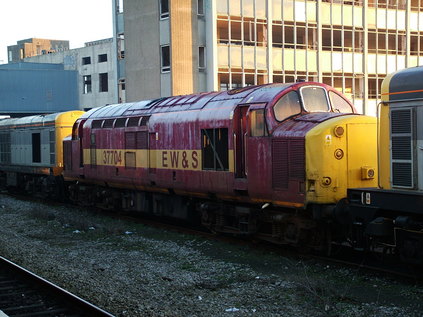 Onward to Cardiff on a busy diverted Swansea service, reversing at Bristol Parkway before arriving at a packed Cardiff complete with crowd control provided by a throng of attractive young women - presumably because they had more chance of actually convincing the rugby fans to head in the right direction! Noted the delayed 0935 service to Ebbw Vale Parkway still on the board and proceeded to the platform expectantly.
Here things started to go wrong. The 0935 was simply 'Delayed'. A couple of platform switches followed, including a move to Platform 0, inaccessible at the best of times but exceptionally so with barrier checks, crowd control and masses of people to negotiate. Eventually Arriva owned up and sent us to catch the 1035 instead, which was promptly platformed behind the 1100 Taunton! Much consternation followed among platform staff, and another change finally saw us onboard a pair of Class 150s and heading out along the mainline to Ebbw Junction. The guard indicated there had been a fatality earlier, but it was anyone's guess as to why the Ebbw line was so badly affected much later.
At Ebbw Junction we took the long curve to Park Junction, joining the single line to Newport trailing in from Gaer Junction. Looked longingly back, before concentrating on watching the Machen Quarry branch diverge to the west. Wonderful sunshine and warm weather made for a pleasant, rather drowsy trip up the branch enjoying the tight curves and challenging gradients. Couldn't help wishing I'd taken advantage of a loco up here on a tour now I'd seen the branch for myself. Soon ground to a halt at the site of Cross Keys station. In the unseasonable warmth three workers were apparently ineptly laying concrete. We waited. Finally heard that the 0935 had been sent up empty to ensure it collected the crowds of rugby fans which we'd seen waiting at Rogerstone and Risca on the way up. The unit finally passed us, and we pressed on up the valley. Rather unexpectedly after the long slow climb, we soon reached Ebbw Vale Parkway. A mile or two shy of the town (but with an extension tentatively planned) we arrived at a simple single platform roughly on the site of the town's former Victoria Station. Any plans for a wander around were scotched by the waiting crowds. We kept our seats and headed back to Cardiff, even sleepier than on the way out.
Arrived back at Cardiff having missed all the Rugby Special action due to the delay in getting up the branch. No sign of locos or coaches so we headed to Newport for a quick wander into town, before meeting a couple of other local reprobates and heading back to Bristol for more photos of 37704 which seemed to be attracting a fair bit of attention from staff and spotters alike. An interesting trip out - the first for ages, with some surprises and some new track. Looking forward to next week's exploits now...
Posted in Updates on Sunday 3rd February 2008 at 11:43pm
---
Another trip to Glasgow is over, and as ever I'm confused about my relationship to the city. It's not a case of being hooked by mythology - my usual entry point - as when I first turned up at Central Station well over a decade ago I had no preconception of the place. My earliest memory of knowing about Glasgow was in fact looking at my dad's discarded 1976 AA Road Atlas and marvelling at the swathe of urban motorway cutting through the city. Moving forward, as a rather underpaid railway enthusiast in the 1990s it became a target of sorts - to reach Glasgow and to tick it off the map, probably the furthest north I'd ever journeyed at that point. However, somehow I've never quite managed to tick Glasgow off, and I've continued to return year after year.
This trip was rather different. Organised as part of a birthday outing for a friend, the responsibility for finding constant entertainment and sustenance fell heavily on me. Add to this the need to fly to Glasgow rather than to arrive via the time-honoured processional route over the Clyde into central, and there was much which might have been unnerving. As I stepped onto the tarmac at Glasgow International on Friday evening however I knew things would be fine. A light flurry of snow around me, I marched purposefully ahead and instantly adopted my role. I knew though, that some of the wanderings I'd perhaps wish to undertake myself would not happen this weekend. An excuse for a further visit.
Our party was also made up of Real Ale fanatics, and it was also therefore my unenviable task to ensure that only the finest establishments were visited throughout the trip. This was no great hardship of course, and we managed to visit a fair number of venues over the weekend and sample a good few Scottish beers which are unlikely to make it over the border and home. For me though, the interesting part was the journeys between these watering holes - encouraging people to look up at the buildings, or to enjoy the spectacle of views along certain streets. I've remarked before that I'd make an appalling guide - too caught up in the place to see it through a strangers eyes.
The Open-top tour bus also served us well, despite the eye-wateringly cold climate and the threat of snow, we circled the city from empty brooding east to opulent west. Allowing someone else to be the guide gave me time to sit back and experience again the thrill of visiting the city from a newcomer's viewpoint. It was hard though to pass the less-travelled roads and not hop off and hurry away. This wasn't that kind of trip.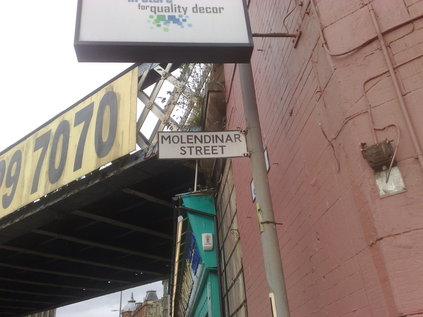 So as I boarded my flight home in driving rain, with heavy heart and leaden boots, I speculated on the success of the trip. Everyone seemed to appreciate the city as being somehow different - but I'm not sure how far my ramblings influenced this outcome. We drank a lot of beer, covered a lot of ground, and saw a great deal of the city. Perhaps for some of the party that is Glasgow 'ticked off' the list. For me, it's never quite that simple...