Posted in Travel on Monday 8th January 2018 at 11:01pm
---
The last few weeks of the year felt like a bit of an epic slog, and only the prospect of the long break we'd planned over the festive season kept things on an even keel. In recent times, we've fallen into a very pleasant pattern at this time of year - a quiet Christmas, a small gathering at home for New Year, then away on a road trip on the first day of the new year - a week when everyone else is unwillingly slogging back to work. It has worked remarkably well - hotels offer up rooms at ridiculously low rates in the post-festive slump, and if you don't mind short days and sometimes unpredictable weather, then it's a good time to be away - a brave attempt to stave off reality for another week perhaps?
Our trips also have a familiar pattern - up the west coast, the long straight arm of the M6 stretching into northern regions which still feel oddly exciting and wild to me, just like my earliest rail journeys along the remote and sometimes otherworldy main line. We pause on the journey north for a night - often somewhere in Lancashire - to maximise daylight driving, and to rest on what sometimes feels like an epic northern journey. This time our staging post was Liverpool - a city we've visited before, but this time we headed north out of the city in a sudden downpour, towards Stanley Dock. The grid of streets here hasn't seen much redevelopment - the sounds of the much diminished but still busy docks at Bootle shudder through the high walls which surround former smaller basins along the Mersey shore. The landscape is predominantly decaying industry with the occasional tile warehouse or shabby dockers' pub crumbling into the stones. Amidst all this is the Titanic Hotel - a vast, converted warehouse which squats on the northern edge of Stanley Dock. Inside the warm and spacious building a beautiful refurbishment built around the maritime history of the City had transformed the huge space into a comfortable and welcoming hotel. We were almost sorry to just be spending one night in the huge room with a view north across the docks to the mouth of the Mersey.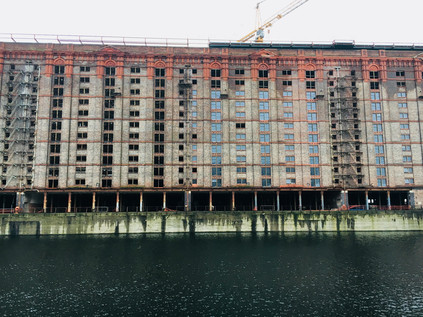 We set off in the morning and headed back onto the M6 for the journey north to Glasgow, breaking our trip at Abington where the flock of crows which has stalked the service area on two prior visits wasn't to be seen. We were staying for two nights - testament to the success of my gradual reintroduction to Glasgow following a despair-filled visit two years ago. Cruising into the city on the elevated carriageway of the M74 as it curved towards the Clyde, it was impossible not to feel lifted by a return to this place which has long served as a second, northern home to me. The glass towers sparkled in the damp afternoon and the trains shuttled along the bridge high above the river. It was good to be back, and after some confusing changes of room - handled impeccably by the hotel - we found ourselves in a wonderful spot overlooking the roof of Central Station, which reminded me of a visit long ago when the hotel was still a creaking, tired and menacing place with its long corridors stretching endlessly along the wings of the station. A return to Glasgow meant a chance to become tourists again, and we visited the People's Palace - a grave omission from my previous trips when I'd only stepped into the building to use the public facilities. The museum remains in the ownership of the city - an honest and frank appraisal of the rapid rise of the city and the problems that brought, and a celebration of the language, culture and political activism which are never far from any discussion of Glasgow. Afterwards we stepped into an old haunt, The 13th Note - but our quiet drink was disrupted by an ultimately harmless but persistent local who had turned up and seemed to be working the bar for a chat. His prodigious drunkeness though, lost it's charm and shortly after he was moved on - so did we. It was tough to leave the place again, especially in such strange circumstances.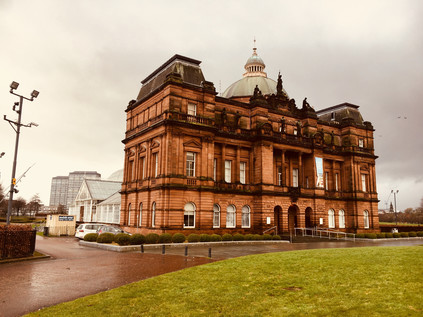 Still repeating our itinerary from previous trips, we next headed through to Edinburgh using the finally completed M8 to swiftly cross from city to city. We'd changed our routine a little for this visit by staying in the New Town opposite North Bridge, with views over Waverley Station and the Castle to the south. It seemed a little strange to abandon the Grassmarket and not to experience the bracing climb up to the Royal Mile each morning, but the new location was a surprising win - affordable and decent accommodation which looked directly into the unattainable windows of The Balmoral across the street! A persistent rain set in a little after we arrived and stuck around for much of our stay - but it was still good to be back in Edinburgh. We headed out to our favourite restaurants and wandered Princes Street, along with a trip to the Scottish National Portrait Gallery housed in a remarkable building and home to a surprisingly varied collection. Edinburgh once again proved to be a relaxing and interesting spot, my old prejudices challenged once again by the city as it sparkled in a light dusting of snow spied from our window over Princes Street. It wasn't easy to leave at all.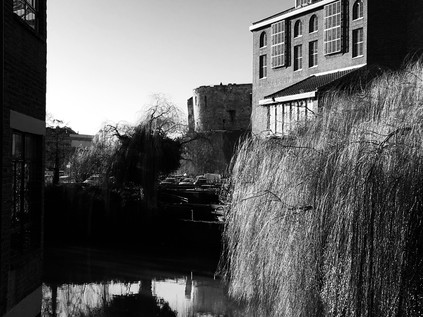 Our final destination, after a long haul down the coast on the A1, was York - and again while a favourite location, a new prospect for our accomodation. However, it was to prove an odd and frustrating place. It's fair to say that Hotel Indigo's rooms were beautiful, but getting into the room was a painful process. A parking set-up that defied logic and seemed to require quantum physics to obtain a spot, followed by a check-in process operated by a corporate robot which had less charm and more inflexibility than an automatic check-in terminal was our introduction. The restaurant was even more of a challenge - the concept of Yorkshire Tapas essentially meaning that it was impossible to tell what was a main course, what was a starter and when the dishes would arrive. The staff, young and inexperienced, dashed from one calamity to the next - finally presenting me with a blank sheet of paper to sign when the till crashed.
And so our trip ended on something of an odd note - a fine week of travel, of old haunts revisited and new ones discovered - but with something of a flat last day dealing with the hotel. At the very least we came away with a stock of anecdotes, and the room was truly very comfortable. We've been exceptionally lucky on our trips so this is to be perhaps marked up as a minor irritation and an opportunity to vent on Tripadvisor. We head into the new year, and hopefully new travels, thankful for this all too brief interlude. For a few days at least, when I close my eyes to sleep I see the white lines of the road stretching ahead. I always dreamed of road trips as a child, imagining cruising the idiosyncrasies of the British Motorway System. I'm finally getting to do just that.
There are a few pictures from the trip here.
Posted in Travel on Sunday 6th August 2017 at 8:08pm
---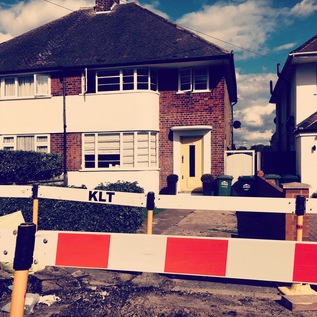 I'd never seen traffic like it - every road out of town was an unmoving snake of vehicles. Whichever instantly updated traffic map you referred to was a tangle of red ribbons centring on the motorway junction. Meanwhile, out on the road, an army of orange-jacketed men laboured on the removal and replacement of a road surface corroded by an oil-spill. As we crept home, inch by tiny inch, a man in a 'Thirst Patrol' t-shirt and his son walked along the queue, offering a kindness of bottled water through car windows. Some cars had been stuck for hours - and some would sit for longer than us as they edged out of town. Meanwhile, thousands of tiny aggressions exacerbated the fouled-up estate roads: drivers surged into chicanes designed to slow traffic, effectively blocking both lanes and causing even longer delays. In the midst of this I thought of the irony - we were going to take a road trip to Shepperton, the suburban home of J.G.Ballard. This kind of tyranny of the roads, this weaponisation of the motorcar, would have been entirely up his street - and so, soon would we.
A day later, an a world away from the scenes of a tense Friday night traffic snarl, we cruised easily along the motorway. It was busy for spells with holiday traffic heading west, but mostly we were able to progress effortlessly towards London. As we approached the nexus of Heathrow, the Ballardian reference points were directly evident: the huge metal and glass swoop of Terminal 5, the stacked access roads, the infrastructure of landing lights peppering the otherwise empty fields around the airport. We entered Shepperton via an unlikely rural route, the town suddenly appearing at a crossroads ahead of us. Left at the lights, and into an unremarkable development of 1930s homes ranged along a long, straight, dead-end street. Amidst this, at No.36, a familiar badly-repaired yellow door and the curve of a fine set of windows - this had been Ballard's home for forty years until his death in 2009. A place where this extraordinary man had led a deeply, almost deliberately ordinary life: raising his three children alone after the far-too-early death of his wife, writing on the clock between preparing meals and ironing school uniforms. Iain Sinclair writes about his encounters with Ballard here - and speculates that the suburbs fuelled his abstract urban dystopia, rather than distancing him from the city. Perhaps in fact his failure to engage personally with the modern city made him an almost weirdly accurate predictor of its function and dysfunction?
While the significance of place figures strongly in my own thinking and writing, I've never been given to personal pilgrimages. I'll track the route of a road or a river, seek out a deleted suburb or station, but rarely have I tried to deliberately locate the homes of writers I admire. It seems an intrusion too far, a breaking of the spell perhaps? But with Ballard it's different - his disconnection from the cities he documented and his oddly perceptive way of writing shopping malls, airport terminals and motorways mean that he is everywhere and everywhen in modern Britain. We knocked the door and met the happy soon-to-be-family who now inhabit Ballard's former home. They were charming, accommodating and keen to show us their new home. Much will change - but much will remain the same. The house will receive the updating which Ballard never quite got around to in his lifetime - it will be fitted to nurture a new generation. The new inhabitants know the history, and have gleaned a little knowledge of the former occupant, but they're not fans. They've seen people occasionally snapping pictures outside and they've been amazed at the interest. They've also oriented pictures of Ballard at work within the house and can place him in their new world. Ballard was by no means reclusive - but his life didn't permit great excursions away from Shepperton. Thus, many interviews and photo-shoots took place here. Those oft-seen jacket shots offering a glimpse of garden through a nearby window seem strangely familiar as we sip tea at a table in the room where he wrote and talk about holidays and plans for the house.
Soon we're doing business - lugging out the beautiful, tiled fireplace which has been removed from its original moorings on the wall upstairs. It takes three of us to manhandle it around the roadworks which line Old Charlton Road and into the back of our car. We bid our hosts, and Ballard's home goodbye and carefully reverse onto the quiet road in preparation for our return trip. The tiled mantle rests heavily in the car, a solid reminder of a curiously transient trip. A brief passage into the personal world of a much loved author, a view into a life lived on the periphery of the city. As I walked the edges of the docks and the quiet southern suburbs just a day before this trip, I'd thought often of Ballard - of his influence on me and on a generation of writers which I try desperately hard not to plagiarise. It's not easy - as Iain Sinclair once said:
When in doubt, quote Ballard

Iain Sinclair - Dining On Stones - 2004
The inevitable conversations about our weekends will occur in the office tomorrow. I'll tell people I went to Shepperton to buy J.G.Ballard's fireplace. I suspect most of my colleagues won't bat an eyelid...
Posted in Travel on Friday 21st July 2017 at 10:07pm
---
It was a much-needed break. The last week had, for both of us, been fraught with difficult moments at work and a complication of evening events - some of which we'd certainly not signed up for. This hastily planned week off felt well-earned and long awaited - and followed a well-tested template: we'd head off east, spend a night near Epping Forest and a favourite restaurant, then cross the river and head for Kent. Our target this time was Margate - somewhere which, since my last visit in 2011 had seen enviable regeneration. There was a sense of optimism about the writing about the place, and no doubt the opening of the Turner Contemporary Gallery had helped. Tracey Emin, former enfant terrible of the British art world turned maker of intricate and wonderful things, had not so much confessed to her upbringing here as reconnected with it. She was championing the place, much like Turner himself had centuries before. Margate was back on the map. However, I sensed I had some persuading to do of its merits. The last week had seen me getting out and about to a range of events which I'm sure were way more interesting to me than my wonderful and tolerant wife - and I was equally aware that a night on the edge of Essex was more self-indulgence in some senses. So Margate had to deliver for both of us. No small feat for a once-proud resort trying hard to rise up from the gloom of the late 20th century.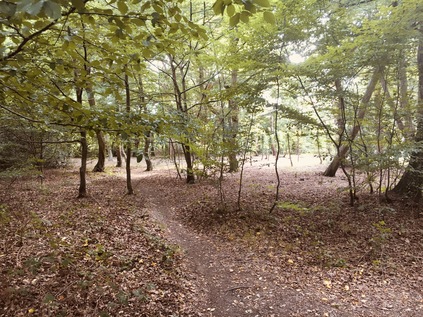 We arrived at the crazy, mock-tudor Premier Inn early in the afternoon after a trouble free drive. Once checked in and settled, I laced up my walking boots and headed out into the blazing sunshine. My target was to make a circuit around to Pole Hill and be back in time to prepare for our dinner reservation. I strode out onto Chingford Plain, all swishing grasses and insects, and headed for The Hawk Wood. I was soon beneath the trees, a cool but still humid breeze gently moving through them. Everyone I passed greeted me, from sweaty joggers to ultra-cool lycra wearing bikers who let me pass before swooping down into a bowl in the forest floor to gain momentum for their climb. I trudged on, hot but happy. The path turned east and south, starting to climb. I was tempted to head for other nearby new targets - but Pole Hill called. I climbed steadily, beginning to see paths I remembered from the spring, before finally bursting into the sunshine at the summit near the obelisk marking the Meridian Line. I rested awhile before heading down beside the golf club to enjoy another wonderful dinner at one of our favourite restaurants.
Overnight, something strange happened at the Premier Inn which left the entire building without water except for the restaurant. We'd realised during the early hours, but it wasn't fixed when I headed out early for a wander. I managed to have a disagreement with the staff too, who didn't think they could do anything but offered me a complaint card instead. I called customer services the moment they opened and had things resolved within minutes. Things don't often go wrong with my stays at these hotels, but when they do they've always been fixed on the spot, meaning that the attitude of the staff today was really something unusual. Undeterred we set off early for a gentle walk in the forest, starting out via the path I'd used last winter to find the River Ching. We ghosted the water, rarely out of earshot of it's trickling as we headed for Whitehall Plain, crossing the bridge and returning north via the still waters of Warren Pond. It was a warm but breezy morning, and this was the perfect way to shake of a slightly frustrating start to the day before our drive into Kent. We took the tried and tested route - onto the A406 spotting footpaths I'd walked just days before, then via the A13 over the marshes to the Dartford Crossing. The last few miles of the trip had the anticipatory sense of the seaside about them: big open skies and flat sandy land beside the road. I recovered memories of arriving at holidays as a child, and wished my father could experience this trip. I'm sure he'd say there were too many Londoners about, of course!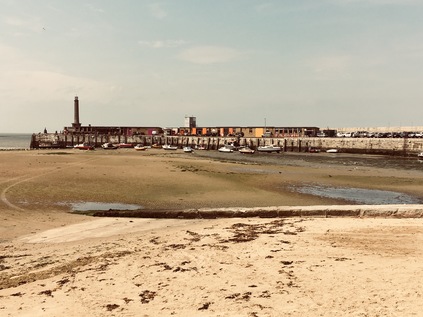 Our home for the next two days was the Sands Hotel. This rather grand seafront building is as much part of the story of the regeneration of Margate as the Turner. Purchased by an entrepreneur who thought he'd surf the wave of property prices as Margate resurfaced, he decided on a different plan. The two adjacent properties were knocked into a single, large building over five floors creating twenty rooms furnished and designed to a high specification. The rooms were stylish and beautiful, and incredibly comfortable. Breakfast and dinner was served in the impressive Bay Restaurant with a broad sweeping view of the skies and seas which had inspired JMW Turner. It was impossible not to love this place - and there's no doubt it did Margate's cause some good too. As of course did our first excursion into the Old Town with its maze of well-curated craft and vintage stores, and our visit to the Turner Contemporary - a remarkable space with an ever-changing roster of exhibitions and areas dedicated to using the arts to link young people to place. It was always going to be a winner for me. We met some fascinating people too - including the owner of a store who was branching out into manufacturing limited runs of clothing in vintage fabrics. Everyone was keen to talk about Margate, how it was changing, but how it was still offering a family holiday experience alongside it's changing identity. Not for the first time, I wished our local politicians could come and spend a few days here, just to get a sense of what was possible when a resort irons out the issue of what it's trying to be.
We realised somewhere on our first full day here that we'd like to stay away for an extra night - and a little research turned up the Abbey Hotel in Battle, East Sussex. Since my holiday had begun with a viewing of Edith Walks, the idea of heading for the south coast appealed and we made our booking. Saying goodbye to Dreamland, to the T.S.Eliot bandstand and the broad sweep of golden sands at Margate wasn't easy - but the journey through Kent and Sussex made up for it a little. The Abbey Hotel was well-named, as our room framed the perfect view of Battle Abbey across the street. We spent another evening in comfortable surroundings with some excellent food at The Chequers too, where we heard the rumour that our hotel had recently been filmed for a future episode of Channel 4's accommodation-based game show/bitch fest Four In A Bed, which was one of our guilty pleasure TV highlights. In the morning, over breakfast we tentatively broached this with the friendly manager. His observations on the show, the process and the kind of people who got involved were fascinating - and not far off our own!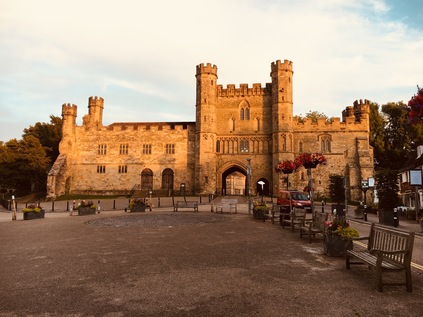 I'd made a special request for our trip home which took us a little out of our way, but would bookend the journey perfectly: that we headed for St. Leonards on Sea to find the statue of King Harold and Edith Swan-Neck. A short drive through the countryside and the hinterland of Hastings later, we swung onto the pretty, well-kept seafront at St. Leonards. The blue water of the English Channel lapped on the beach, and the distant view of high white cliffs and broad sands was rather special. My only visits here had been to pass through the curiously named 'Warrior Square' station by rail, so I was pleasantly surprised by the town. We stepped from the car across to the green and there, unremarked and surrounded by a freshly-trimmed lawn were Harold and Edith. As we looked on, an old chap wandered over and pointed with his stick: "So who is it then?". We told him the story of Harold and Edith's journey to find him on the battlefield. He was amazed and delighted - and wanted us to wait to tell his wife too. They'd been coming to St. Leonards for fifty years from their home on Shooters Hill in Greenwich and had always wondered. They'd come to rather love the statue and made it part of their morning walk - and now, after all these years they'd chanced upon us taking pictures at just the right moment to have their mystery solved.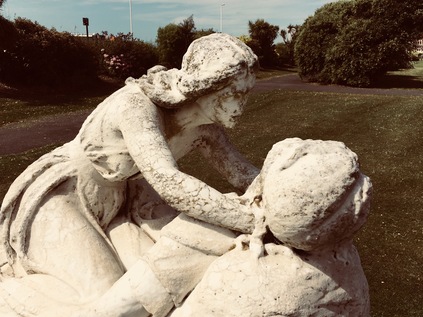 I took one more picture, capturing Edith's face as she gazed at the fallen King, before we headed back to the car for our long trip home. I've never been a proponent of the summer holiday - competing with the hordes for road-space, train seats or overpriced hotels - but our carefully-timed excursions have, in recent years converted me somewhat. This circle of Southern England had felt like a real break - a real chance to escape from things.
A gallery of images from our trip is here.
Posted in Travel on Friday 21st April 2017 at 11:04am
---
Bank Holidays are rarely my favourite times of year - and despite the extended Easter break being far more pleasant than I've often found it, I was eager to get moving. We set out, perhaps a little earlier than planned, heading for the Midlands via the M5. Traffic wasn't heavy and the weather had stayed remarkably good since the weekend. We were on the road again at last...
Our first target was Ironbridge. This was a late addition to the agenda, having debated whether we could squeeze another night away into our itinerary. I'd remembered this area as I scrolled aimlessly around the map looking for opportunities in Wales, and particularly recalled how aside from a railtour to the gates of the power station, it had been very tricky for me to get to this part of the world. Now of course, it was relatively easy, and we found ourselves in the village overlooking Abraham Darby III's bridge - the first such metal structure in the world. Its graceful curve to a summit in the middle of the deck emphasised the deep gorge in which the Severn runs here - already a wide and deep river. On the northern shore, the village gathers about the entrance to the bridge with the Tontine Hotel dominating the view as homes and churches step back up the steep green slopes. We walked south, over the bridge and by the Toll House to find the old Ironbridge and Broseley GWR station on the line which south of here has reopened as the Severn Valley Railway.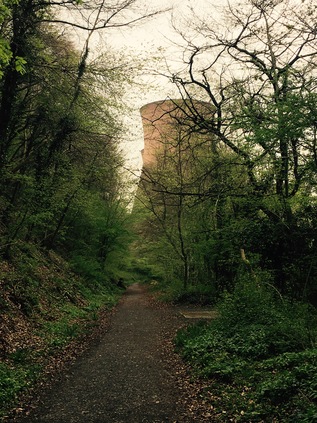 After a swift lunch and relocating the car to a longer-stay carpark south of the bridge, we followed the former railway line west along the gorge and into woodland. The path was quiet and the walk was a bonus since I'd been feeling cramped and restless since my last trek. As the path swung a little to the south to follow the broadening of the gorge, the terracotta red cooling towers of Ironbridge B Power Station were suddenly above us, dominating the view. The insistence on this unusual pigmented concrete in the construction is one of the impressively precise steps taken to ensure that the more modern of the two stations on the site fitted into its surrondings. The towers can barely be seen from Ironbridge, appearing slowly and ominously as the view west unravels, the gorge turning slightly south towards Buildwas. We walked to the fence where dire warnings were present about demolition - and while I'm sure the locals don't particularly value a decommissioned power station as a neighbour, I hope that these iconic and innovative towers will remain.
We set off to find our accommodation for the evening - a fine old Ironmaster's house in Jackfield, a little east along the gorge. It was undeniably a fine place, well-run and beautifully furnished with items which reflected its age and origins. However, beds were not made for larger and taller men it seems, and I found myself relegated to the hard, wooden floor of the room for the night. It wasn't a comfortable experience - and sleep was elusive it's fair to say. A little recompense was made in the form of a very, very good breakfast with generous amounts of black pudding. I was ready for the next leg of our trip. This time we headed south, via Broseley and towards Kidderminster. Passing into Worcestershire I felt a little pang of pride mixed with regret. It had been a difficult week for me remembering my mother - and somehow being here in our family's home county felt like a little pilgrimage. We paused briefly in Kidderminster to watch a steam-hauled train departing on the Severn Valley Line, before exploring the fine station a little.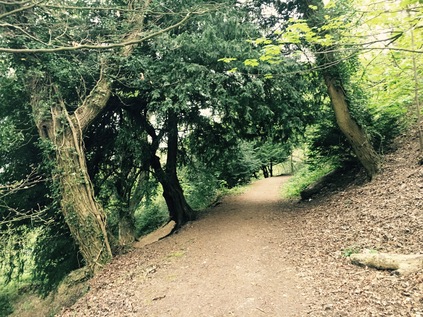 Arriving at our hotel in Great Malvern was, as previously, a pleasure - and we were soon enjoying the splendid views across Worcestershire from our room. This had been our original target - a night in the same spot we'd stayed last February. With even better weather, the views across the Vale of Evesham were longer, and the hazy evening sunshine allowed us to sit outside the hotel playing boardgames before heading indoors for dinner. The newly refurbished dining room was beautiful and the food was as ever fantastic. This felt like a real escape - and a welcome chance to reflect on my response to anniversaries. I was actually relaxing for the first time in a while. After a much better sleep, I rose early and headed onto the paths behind the hotel which lead onto the hills. I didn't walk far - it was chilly and I needed far more coffee before attempting an epic hike - but the bracing zig zag above the buildings below was surprisingly rewarding. I headed south to a break in the woodlands and found superb vistas to the north and east while standing surrounded by bluebells. This isn't bad country to call ones' own!
So we headed back, via a break in Worcester and a quick spin back along the motorway. It has been good to have a longer break - and refreshing to get away midweek. The restorative power of the Malverns was, once again, not lost on me.
A few more pictures from the trip are here.