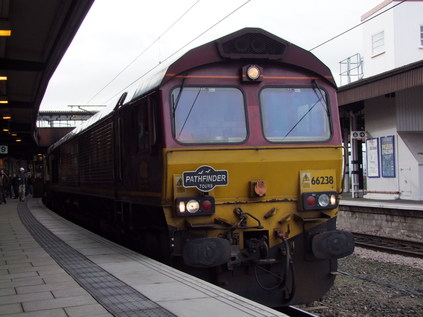 Posted in Railways on Saturday 25th February 2012 at 10:11pm
---
It's almost unprecedented to have managed three railtours by February, especially with one of the major promoters currently not actively promoting any trips, and it's even more surprising that all of them have involved significant sections of new track. So, having dallied in South Wales and West London, this trip too my track bashing northwards to a bit of line which many of us thought was lost. Last year in October there was an unenviable choice available - a one-off dispensation for Pathfinder to go to Gwaun-cae-Gurwen, or the unprecedented UK Railtours trip to Seal Sands. On grounds of economics alone in not wanting dining class, I settled for South Wales on that occasion. However, with the rare track market split and another option for the haulage types too, something had to give - and sadly it was the G-C-G trip. Lots of recriminations and arguments later though, that trip is rescheduled and today Pathfinder were heading for Seal Sands.
Having scoured cheap options on the route, I'd ended up in Sheffield for the night - no bad thing, and given the need for a decent sleep I didn't really see much of the city. A shame because it was a beautiful day - but a rather fraught trip up on an overstuffed voyager had sapped my will for society. It was however nice not to have to set out too early, and with blue skies and a cool sunny morning I wandered down to the station for a leisurely breakfast. The tour rolled in on time with required shed 66238 on the front. There was talk of 004 or 030 later - either fine by me. Noted the tour was quiet - obviously lots of people had covered the line with UKR, and the addition of the short bit of the Jarrow branch which could be traversed was a draw only for those of us who'd missed last time too perhaps? In any case, settled in and after a brief stop at York we pressed on for Tyne Yard.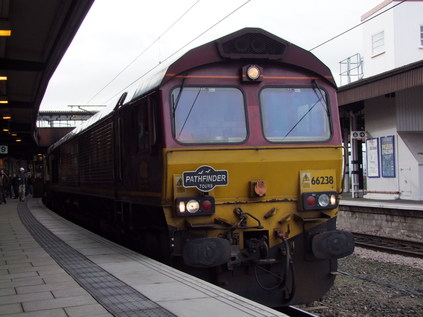 Here an unexpected bonus was achieved. We used the usual Transfer Line into the depot area where 66030 was attached to the rear. However, booked to leave via the 'U' Line we then reversed through the carriage washer and into the exchange sidings, before heading forward again to exit the depot. Cue much debate about which lines were still left in the now almost deserted depot, and which we'd used. All part of the fun on these trips. Skirting Newcastle and Gateshead, we were soon sharing tracks with the Tyne and Wear Metro, peeling off from the main line at Pelaw Junction and using the left hand track of a former two-track alignment, the Metro now taking the right hand line and fanning out into passing loops at stations. We stopped just short of the bridge which carries the line over the roundabout at the entrance to the Tyne Road Tunnel - mainly because there is no walking route over this bridge for the crew to change ends. While it felt like we didn't head far towards Jarrow, practically that was the limit, and most were happy I think.
Retracing our steps into County Durham, we took the Stillington Line, covering the fairly tricky to get, and required by me, third side of the Norton triangle, before curving away from the mainline at Billingham Junction. After Belasis Lane, the track narrowed to a single, fairly creak line through a blasted industrial landscape. Huge tracts of open land, abandoned buildings, and a view across the Tees to Middlesbrough, with splendid views of the Transporter Bridge and the curious Anish Kapoor designed "Temenos" - a huge butterfly net sculpture and one of potentially five along the Tees. This generated a bit of discussion among the locals on board too! Curving sharply north onto what was once the inexplicable Greatham Creek branch to nowhere, we reached the end of the line at Seal Sands Branch Junction.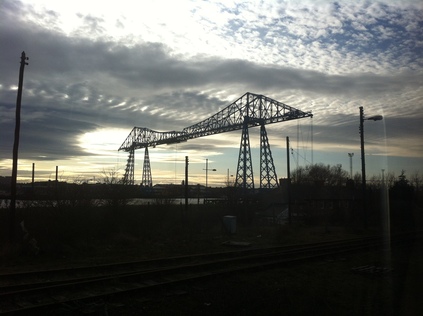 There had been much debate about what would happen next. The UKR trip had managed to take the branch and get to 2m 22ch - but it took three hours for the return trip, and necessitated manual working of the automatic crossings due to concerns about the infrastructure. This area hasn't seen regular use for nearly a decade, and there was understandable paranoia about safe methods of work and condition of track. However, early Peter Watts had shared the DBS view that the route was available, could potentially be required for revenue traffic, and should be traversable beyond Rohm Haas Crossing at 1m 42ch which was the advised reversal point. We crept around the rusty curve gingerly, but at the first crossing had only a short wait before proceeding. Slowly we crept on and on. At Rohm Haas we stopped for what seemed like ages - but then, carefully, we pressed on over the crossing. There was much excitement now. Occupying a vestibule with a couple of BLS faces we calculated distances and checked mile markers on crossings. Finally we stopped just short of the run-round loop and the crew headed back. We had at least equalled UKR's run, if not exceeded it by a chain or two. The bet on which tour to back last October hadn't gone quite as badly as it seemed.
The return run was equally careful, but with the sun dipping over Middlesbrough and the sense of achievement on board it didn't seem to take long. We dropped our tail loco at Eaglescliffe in the dusk, and unfortunately with no heat from the generated, shivered our way back south in the clear, cold evening. Today had been a huge success from a passenger perspective, if not the fullest train I'd travelled on. Again, with all the interesting stuff achieved in daylight, despite being late February, there were lots of happy punters.

Posted in SHOFT on Friday 24th February 2012 at 8:02pm
---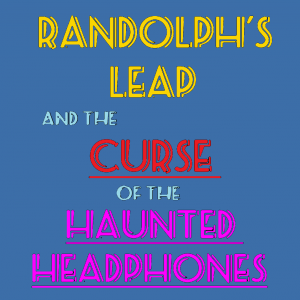 I can distinctly remember my first encounter with Randolph's Leap - tipped off that there was a band I might just like I stumbled across a bandcamp page packed with tunes, all illustrated with strange doodles apparently courtesy of Microsoft Paint. However, a brief listen confirmed that there was something special here - not least that rare realisation that taking everything too seriously isn't always the best option. After an excellent EP on Olive Grove Records and a single to coincide with an appearance at last years' Homegame, Adam Ross and his motley band of co-conspirators have been a little quiet of late. So this release, a limited edition of just thirty cassettes on Peenko Records - and happily a less unobtainable digital counterpart - collects together a bunch of recent recordings. There are some familiar tunes, lots of new favourites, and even a couple of demented computer game soundtrack pieces thrown in. Mostly, it's the work of songwriter, vocalist and guitarist Ross which appears here, supported by some selected guests and occasional bandmates. But drenched in the hiss of analogue reproduction, the clicks and crackles of home recording and the comfortingly old-school need to flip the tape half way, this is far more important than a mere stop-gap in the Randolph's Leap story.
Despite the relatively low-tech premise of this release, moments of genuine, poignant reflection abound which in typical style are swiftly flipped on their heads, coming face to face with sometimes slightly uncomfortable observations of the everyday. The whole thing is delivered via a stream of wordplay, punning and rhyming which ranges from the dazzling to the beautifully absurd. Opening gambit "Sunday Morning" is a distant cousin of the Velvet Underground track of the same name - an understated and gentle strum, a quietly pretty keyboard counter-melody and our first hearing of Adam Ross' affecting vocal. Stretching for impossible notes here, Ross sounds to be at the edge of his range which lends a strange and likeable vulnerability which complements the sometimes self-deprecating humour. There is an echo of gentle desperation too in "I Can't Dance To This Music Anymore" which tempers it's apparent finality with "I'll give it one last chance then I'm walking out the door". Ross manages to capture that difficult moment of knowing the right thing to do, but being utterly afraid of change. Set against a quietly lovely melody and with a choir of supporting voices joining later in the track, it becomes the perfect rallying cry for the silently frustrated among us.
Elsewhere "The Nonsense In My Head" picks up the threads abandoned by Belle and Sebastian somewhere around their third record when they finally made the leap to becoming a fully paid-up seventies cover band. Now accompanied by the full band, this sets off at a spirited shuffling pace, with plenty of twee-as-it-gets recorder accompaniment and a fiendishly addictive tune which lodges deep in the back of your skull, the addition of some solid drums and a skiffle-influenced mid section just make this all the more joyous a listen. "On That Fateful Day" seems to be performed almost entirely on woodblocks and those aforementioned recorders, giving it the strange flavour of a school music lesson until the euphoric burst of a chorus. Here we find an interesting twist in Ross's rhyming skills, in his habit of using place names. During the course of the cassette, firstly "Crossmyloof" and then "Cowdenbeath" feature in audaciously odd couplets which I won't reveal for fear of spoiling the surprise and delight when they land. Just prior to the release of "The Curse of the Haunted Headphones", a seemingly gloomy sounding tune called "Dying In My Sleep" surfaced as a taster. In fact the tune is an irrepressibly happy ode to complete irresponsibility, which had a chorus which sounds like Noel Coward, reincarnated to haunt the central belt. And just to ensure every niche is catered for, those who express concern at the preponderance of beards in Scottish music will be delighted by "The Will To Shave", a brief ditty in which the - admittedly smooth-chinned - Ross relates the tale of a character whose friends become increasingly concerned when an ungoverned growth of facial hair seems to signal some sort of moral decline. As he queries with the utmost sincerity "How could one find such a darkened state of mind/to let it grow so long?", it's hard not to laugh along with a tale which has just a hint of genuine pathos hidden in it's tangled beard.
Thinking back to those early impressions of Randolph's Leap and the ever present sense of playfulness around these tunes, it's surprising to detect a darker edge to the set of songs here - more than once Ross hints at reaching the edges of reason and sanity, of the fear of losing control or the exhausting nature of existing just on the edge of things. If you're one of those people who has found themselves feeling distinctly uncomfortable in a club you never wanted to enter in the first place, has realised that everyone else seems to have a proper adult life while you've not grown up a bit, or who perhaps wonders if laughing aloud is sometimes just the right response to music you love - then this tape is almost certainly perfect for you.
The limited edition cassette release of "The Curse of the Haunted Headphones" on Peenko Records is already sold out, but you can purchase the download from Bandcamp alongside a variety of other, previous Randolph's Leap releases.

Randolph's Leap - I Can't Dance To This Music Anymore

Posted in SHOFT on Saturday 18th February 2012 at 11:02pm
---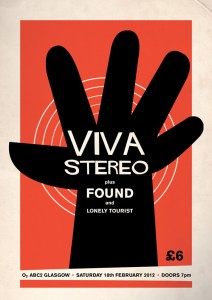 Having had a bit of an impatient and fractured week of wandering, and having also spent the previous evening at one of the single most depressingly bad shows I'd ever witnessed, one of the few fixed points in the week was tonight's entertainment. Having never been to the O2 before and hearing it was an early show, I arrived stupidly early and enjoyed the delights of a freezing Sauchiehall Street just waking up for the evening, which was at worst educational and at best fairly entertaining in some ways! It's a curious venue, a collision of an old art-deco cinema exterior and, after negotiating a maze of stairs and corridors, a strange padded 1990s vintage nightclub interior. Thankfully though, it had a warm corner for me to sit nursing a pint and regaining sensation in my fingers and toes while waiting for the entertainment to begin.
I'd last seen Lonely Tourist in Bristol, now his adopted home and as detailed here previously I'd been thoroughly impressed by his urgent, wordy compositions which he delivered in an unassuming and self-effacing way. Tonight though, having made almost the same journey I'd taken to get here, he was back in his native Glasgow and having had a long association with members of Viva Stereo found himself on tonight's bill. Taking to the stage in the same slightly apologetic manner as always, Paul Tierney launched directly into the urgent guitar strumming which begins "Watch For The Sharks". There's something particularly special about hearing these songs which detail the challenges faced by a grassroots musician in the context of a venue and a show like this one, and it was really fantastic to hear the response of the crowd which - whilst people were still drifting into the venue - was respectably large and had at least come forward to the stage to listen. As ever, Tierney conversed relatively little during his set, managing instead to pack as many songs as possible into his allotted half hour. After briefly thanking everyone for coming down early some local chancer shot back "I had to miss Harry Hill for this", to which the ever self-deprecating Lonely Tourist responded "aye, and now you've got some other joker up here". The songs came thick and fast, managing to fit nine tunes into the short set with the majority coming from 2011's "Sir, I Am A Good Man" album which made a respectable showing in our favourite records of the year. Things culminating with a triumphant take on "Patron Saint Procrastinate" which remains a rallying call for those of us who manage to find diversionary activity for virtually everything creative or important. The audience responded warmly, and Paul was clearly pleased with how things had gone. It was great to see Lonely Tourist on home turf, and a bit of a contrast to the usually reticent Bristol audiences.
Given the tight timescales, the turn around between bands was swift and FOUND were soon on the stage. The venue was now filling up and the noise from the excited Saturday night crowd was getting louder. The frustrating part though was that when faced with FOUND ripping into a rather fine rendition of "I Will Wake With A Seismic Head No More" they just talked louder to counter the music. Using a similar strategy to that which they'd deployed at Hooops! in Bristol, FOUND went for a short, tight set mostly constructed of "Factorycraft" songs, which lend themselves to this kind of show. A superbly choppy "Anti Climb Paint" followed, with the gloriously bleepy, wibbling electronics supplied by Kev Sim getting cranked up to counter the racket from the bar. It struck me around now that I was right in front of a speaker and just feet from the stage, but the chatter was overpowering the music even here. I don't think I was alone in getting irritated with this, and I began to wonder if the band weren't getting just a little frustrated on stage too. "Machine Age Dancing" followed with an amended introduction - slowed to a crawl and with it's pseudo-Motown, sparse opening beats echoing around the room very satisfyingly. Given the challenging conditions the band settled for the strategy of ripping through the set with minimal punctuation, building up to a splendid vicious take on "Blackette" before Ziggy Campbell announced "We're FOUND and we're done" before leaving the stage. Once again, FOUND played a blinder here in pretty difficult circumstances.
For Viva Stereo tonight was something of a triumphant homecoming. Having not played in Glasgow for three years, and with most recent album "Endure The Dark To See The Stars" having slipped out rather quietly in 2011 it was amazing to see the loyalty this band commanded in a usually fickle field. For me, having loved the weirdly incongruous collisions of classic pop, folk and dance music on the fantastically varied "Roar Lion Roar" album, the follow-up felt a bit straightforward - a competent rock record with tiny dashes of brilliance - and it was those more intricate songs which were selected to form the backbone of tonight's set. Kicking off with mesmerising drums and drones which would befit the most indulgent prog rock act, frontman Stuart Gray exuded an easy confidence as he stalked the stage, tambourine in hand while "Vultures" burst out of the churning noise with it's sharp-edged guitars and thundering beat completely intact. Seeing the full line-up of the band ranged across the stage of the O2 was impressive, and none of the potential was wasted as dashes of hammond and violin brightened the playful melody of "New Life" which leads the recent "Wanderlust EP". Now rapt, crowding the stage and in some cases dancing furiously, it's pretty clear what the audience were here for tonight. Challenged to recall if they'd been at an early but significant Viva Stereo gig across the street in Nice'n'Sleazy's a decade ago, a frankly improbable number claim attendance - but this heralds an older song given a new lease of life on the recent EP in the form of "Jesus Son". Tonight it's a spitting, stomping and swirling clash of old fashioned rock'n'roll and electronics. Throughout this, drummer and De-Fence Records main man Gav 'OnTheFly' Broon thunders out some remarkably solid beats which keep everything in check. As Viva Stereo shudder and rock their way towards the end of a short set with the venue's early curfew approaching, Gray remarks that "It's Saturday night, you should be dancing", and remarkably enough plenty are. If Viva Stereo set out to suggest that they're still here and indeed never really went away, then tonight represents a mission accomplished.
Tonight presented a set of challenges which could have made it a pretty frustrating event overall - not least a very early start, and a crowd so focused on the return of the headliners that they didn't afford the other acts a great deal of respect. However, with the dedication of Lonely Tourist, the persistence of FOUND and the strutting rockstar qualities of Viva Stereo as they proudly announced their return to playing live in Glasgow it was, in the event an amazing night of music. I'm pretty sure that the ABC isn't my favourite venue though, as I'm pretty sure it's weird layout and acoustics played a part in the frustrating racket from the bar during the bands. With Viva Stereo having invited the entire audience to an after party, I would be interested to see the wreckage on Sunday morning, but I had an early morning train to catch and used the opportunity to shuffle off home well before the usual hour. Perhaps, with this and my tetchy response to the talkers, I'm getting too old to rock'n'roll?
You can find Lonely Tourist's debut album on CD and as a download at Bandcamp. FOUND are signed to Chemikal Underground. Finally, the entire Viva Stereo back catalogue - along with the new EP which features a Lonely Tourist vocal and a FOUND remix are also at Bandcamp.

Posted in SHOFT on Thursday 16th February 2012 at 11:02pm
---
After one of the most curious evenings entertainment I've ever witnessed last night, I figured that trying to compete would be a bad thing. Thus, it was back to The 13th Note but with a very different proposition in hand - a couple of direct, noisy trios - and a bit of acoustic singer-songwriter stuff thrown in for good measure. There's something pretty special about turning up to see three acts you're either only tangentially aware of - or perhaps have never heard of - with an open mind and the safe knowledge you've only invested a few quid and might just have unearthed a gem or two. It's this kind of speculative, turn-up-on-the-night whimsy which has defined my Glasgow gig going in the past, and it's mostly been a pretty successful approach.
I'm certain there must be thousands of singer-songwriter types plying their trade around the country on any given Wednesday evening, and its equally certain that they'll be propping up the bill as some sort of support. Something gentle to play in the background while the band's mates drift in and chat excitedly. It's always going to be tricky to sort the wheat from the chaff in these situations, and there was every indication - with a crowd made up almost entirely of friends and family it seemed - that this would be one of those occthsions. However, they hadn't reckoned with Patrick Bullen and Emma Joyce who steadfastly refused to be the musical backdrop for meeting and greeting. In fact, from the start of their set they managed to command the audience's full attention - something that even managed to wrong-foot Patrick a little, as he genuinely wondered why everyone was being so quiet! The set consisted of mostly Bullen's own material, delivered confidently enough and with a whole heap of commitment which is often lacking in such acts. Bullen's voice has the ability to suitably soar into big choruses, but is perhaps most effective at its quietest and when duetting with Emma Joyce's equally powerful, clear and countrified tones. On these slower, quieter numbers it all fits together somehow and the audience are spellbound. While Bullen's own songs are perhaps a little too close to the edge of textbook 'regret' at times, a very well chosen closing cover of Ryan Adams "Oh My Sweet Carolina" sets the agenda they are striving for, and I'm fairly sure they'll get there with a little exposure. I couldn't find out much about this pair on line, but it seems that they're fairly present in the folk scene around Glasgow which no doubt provides them with the easy confidence they exuded here. Tonight though, they kept an excitable audience who'd come for noisy bands both interested and entranced. No mean feat at all.
There is something special about trios - about stripping back a band to it's absolute basic core, and still managing to make a heck of a racket. Whilst I'm sure readers will baulk at the comparison, I remember seing Buffalo Tom in a support slot in the early 90s. They wandered on stage carrying their own amps, plugged in and launched nonchalantly into a noisy, layered, emotionally charged set - before packing up and leaving with their kit. Something of this self-sufficient simplicity of the three-piece set up was captured by The Streetlight Conspiracy this evening, who sauntered on stage amiably and proceeded to blow away a probably already converted audience completely. This appears to be second time around for the band too - as they seem to have had a previous incarnation and some fairly positive press in the past. They've certainly been around long enough to have a MySpace page, but aren't quite quick enough off the blocks to have made the inevitable leap to Facebook or other social media. The three-piece stormed through a set which harked back to some of those earlier songs, as well as capturing where the band is right now - a more direct, pared-back approach which still manages to provide some wonderful spiralling highs and some menacing quieter spells. This is classy, confident Scottish pop music in the Ambulances or Attic Lights mould, but with a slightly tougher edge, in no small part due to some dizzyingly good guitar playing at times.
Finally, We Came From The Sea took to the stage - another trio, and a frighteningly youthful one at that. It was also pretty clear that they'd set up, promoted and managed tonight's show largely themselves, a DIY spirit which has to be admired. Starting with a quietly building post-rock meander, they escalated things to the inevitable explosion which, when it arrived was a pleasant surprise with squalls of hollow but explosive guitar noise not unlike the Steve Albini-era Wedding Present. In the quieter sections there was just a hint of the grace and simplicity of Codeine too, which perhaps indicates that these guys have thought a little beyond the increasingly dull quiet/loud/quiet post-rock dynamic and know their way around the construction of a song. Lyrically, the songs were at times a little unsubtle and simplistic - but considerable time and effort certainly appear to have been invested in the music where they create a suspense and menace which the words just don't quite capture yet. But then again, what do I know - the home crowd cleared loved them, and with the guts to go it alone and the support of a growing fanbase, there's not much that could stop these guys from getting a name for themselves.
Having spent the morning listening to a rather maudlin shopkeeper explaining why all young people were computer game, reality TV and social networking obsessed losers who never did anything or went anywhere, it was good to see enthusiasm both on the stage and in the audience tonight. I wondered at first if I'd picked a lean week for gigs up here in Glasgow, as there seemed to be little going on until the weekend - when as ever, things tumbled over each other for attention. It's true that arriving a week earlier or later would have presented me with a whole other set of priorities. But that would also have meant I'd miss this evening. It's just a shame the shopkeeper couldn't have been there too.