Posted in Railways on Saturday 31st October 2009 at 9:10pm
---
It felt strange to be waking up with a purpose today. Strangely, the shock of being woken early seemed to suspend the fairly creaky and painful process which getting up has been over the past week or so, and I just sort of got on with it. Found myself successfully at the station in time for the 05:50, throat a little sore and feeling almost nervous at a foray into the outside world! Being cooped up indoors isn't for me - and while I'll never be the consummate Countryside Alliance type, I've known for a long time that movement and travel are important elements of keeping myself sane! Made the usual change at Weston, onto the 06:24. No buffet until after Bath Spa, so resolved to enjoy a quiet journey and to breakfast later in London. After the last week, even this fairly routine jaunt through the slowly brightening morning was pure wonder to me. The sight of people going about their business at stations, mist over Berkshire fields and of trains beginning to move for their day of work was almost poetic. I know I've only been ill for a week, but it seemed like much longer! Finally pulled myself together on arrival in the suburbs, and made a fairly swift change onto the Hammersmith and City Line. Given the upcoming change from a 'Circle' to a 'tea cup' on the now rather incongruously named Circle Line, this will become a more frequently used move I suspect. In any case, all trains terminated at Kings Cross St Pancras today - perfect for me, but as a stubborn few remained seated on the train as I left the station, the message didn't seem to have made it to all parties.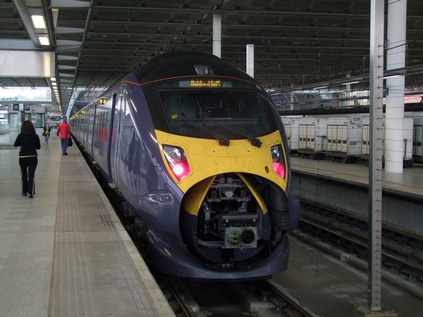 The plan for today had developed swiftly a couple of weekends back. As the Pathfinder Buxton trip had been postponed due to D1015's problems, I'd booked a further trip on HS1, this time to Ashford as the preview service is now running on a Saturday too. Arrived at St Pancras far too early, and contented myself with getting breakfast and coffee. It was comforting just to be part of 'society' again, and I sat pretending to read but really just watched and listened to people dashing around the station. Up to the Domestic High Speed platforms early to find the 10:38 waiting, and already surprisingly well loaded. Lots of enthusiasts about including a couple of familiar faces. Slightly embarrassed but really quite touched to have someone ask how I was feeling - obviously news travels in the crank community! Assured my co-traveller I was fine and had an interesting chat about the services which were planned here after December, and their effect on the traditional services from Charing Cross and Cannon Street. Grabbed a rare picture of 395004 with it's nose-cone open, before finding a seat and settling in for the ride.
As ever, an amazingly swift, smooth and quiet ride from the 395, and an interesting trip. Stratford International now looks a little more like a station instead of a concrete box, and we slowed for a call at a surprisingly busy Ebbsfleet too. On new track now, and soon absolutely flying through the Kent countryside. The only downside to this trip is that it's the very same Kent countryside which has always made journeys to Ashford a rather dull prospect. Much as I'm a convert to some aspects of Kent - not least the Medway valley and some of the northern reaches - I have never quite got to grips with this bit. By my calculation we covered the 56 miles to Ashford in 33 minutes - an average speed of around 102mph. For comparison my daily commute works out an average of 42mph! Had considered staying in Ashford for a while, especially given the presence of some locomotives and unusual units, but noting they were out of photographic range, and given I had other plans, decided to head back onto 395004 for the dash back to London at equally impressive speed.
Once back in London, I made my way to the bus stop to head for Liverpool Street. With the Circle Line closed, there were quite a few others doing this and a general sense of chaos around. It's odd that when most lines close, alternative routes are signposted and people are ferried about on replacement services, but the Circle Line always seems to leave folks to make their own way. Given the nature of the line, these are often some of the least seasoned London travellers too and those who've got the most luggage to hump around the city. Needless to say, the wait for a bus was entertaining and irritating in equal measure. Flagged a packed 214 and a 205 before squeezing on to a following 205. Wedged myself in for the trip east, which seemed to take ages. Not sorry to disembark and walk into Liverpool Street - refreshingly spacious after the bus! Found a convenient train heading for Stratford and spent a few minutes recovering whilst watching the Olympic site slip by.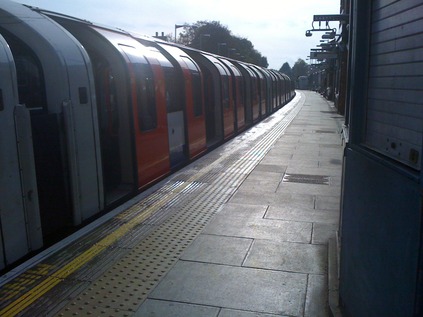 Stratford is one of the few places East of the city where I can easily access the Central Line without the use of the dreaded escalator! As the lines soar up to meet the mainline railway on the level, had only to cross the platform to catch the next train for Epping. The tube gauge train seemed absurdly small beside the full size vehicles at the adjacent platform - not a direct comparison one gets to make often. Found a quiet seat in a carriage near the front, and we were soon off, diving underground briefly before surfacing north and east of Stratford on lines which once connected to the mainline here too. My plan today was to cover all the bits of the Central Line I'd neglected years ago - and most importantly the branches east of the city which I'd learned a fair bit about on last week's trip. First, I headed to the line's current terminus at far-flung Epping. The train reached respectable speeds on the long stretches between suburban stations, and the ride is probably best described as 'lively' with my lower back taking a battering against the hard transverse seating in the 1992 stock. As urban Leytonstone slipped into the much leafier and suburban Woodford, noticed a marked change in the clientéle using the service. Soon found myself scudding along an embankment with a fairly impressive sweep of rural Essex outside. Had to pinch myself to remind me I was on a tube train! As the final few stations slipped by, prepared to disembark at Epping. This was formerly not the terminus - but in the 1990s the final section to Ongar was sold into preservation - an effort which has gone rather quiet. Found Epping to be equally silent - a pretty little country station, with a rather proud and old-fashioned stationmaster character pacing the platforms. The rusting tracks to Ongar rising and curving away beyond the buffers. Took advantage of the break in the rain to enjoy a quick wander in the sunshine before heading back to the platform. Civilisation seemed to be a good walk away from the station - and I noted that everyone who left the train with me either got into a car, hailed a cab or waited for a lift to arrive.
Next, I doubled back as far as Woodford in order to cover the loop via Hainault. Another former Great Eastern Railway branch, this leaves the Epping line just north of Woodford station. I had only the vaguest idea of how the services worked here, but by trial and near-error found myself on the right platform to catch a service which claimed to be terminating at Hainault. This headed back towards Epping, but curved east on a viaduct to Roding Valley - the said vale curving impressively south back towards the city, though the River Roding itself wasn't obvious. The stations on the branch were quiet and I began to wonder about arrangements at the terminus. No need however as the driver began over-riding the auto-announcer each time she spoke up to explain that this train was for Ealing Broadway. Stayed aboard through the terminus and extensive sidings at Hainault and noted with interest the way the tracks split at Newbury Park, which had once been a junction. The former centre lines here had continued south to a triangular junction now obliterated by Ilford Depot. Taking the only route now, curving west, we plunged into a long underground section with fine, 1940s style tiled stations. Began to doze a little in the dark, and realised that the train was filling up a little as we headed back into London. At Leytonstone we regained my outward route once again, and I prepared myself for the plunge underground at Stratford and a pass deep under the City of London.
As the train got busier and hotter in the deep level tube, I became more and more drowsy - and the whole journey became rather surreal. I remember getting a brief glimpse of the abandoned British Museum station before dozing, then the invasion of shoppers at Oxford Circus who seemed to detrain on mass at Notting Hill Gate. Soon out of the tunnel and rising beside the former GWR line to Birmingham, with Wormwood Scrubs and Old Oak Common shed on the horizon. Negotiated the strange tangle of lines at White City, where the tracks arrive in the wrong configuration and cross over each other to regain the traditional up/down formation - a vestige of the complicated history of this part of the network which once involved a moveable wooden platform extension! Soon at Ealing Broadway, and a chance to surface for coffee and a break. Noted the evening was drawing in, so hurried back down to do the final bit of the Central Line. I've actually done parts of this section before when out to cover the Greenford branch, but a closure meant buses on the day, which I dodged and thus didn't manage all the track. So, steps retraced to North Acton, I waited feeling fairly rough and a little miserable for a train to West Ruislip. The connections here are pretty dreadful, with trains from Ealing arriving just as Ruislip trains depart, but happily a decent 10 minute service was in operation, and I was soon scudding along above a rather fine North London sunset, with distant floodlights from a football ground standing out in the gloom. The train was full of well-to-do youngsters from the suburbs who were annoying in a tolerable sort of way. Noted the two borrowed Class 20s lurking on Ruislip Depot as we finally arrived at the terminus. The briefest walk out now on to Ickenham High Road to note that any trip to the shops would mean a complicated crossing of a dual-carriageway and a fair walk. Opted to get back on the train as far as Greenford, then to take a First Great Western service back to Ealing. I had a plan involving Hammersmith and a bit of uncompleted line there - but given that it was now fully dark, and the evening crowds were starting to appear, decided to shelve this for another visit. Instead, changed at Ealing for one of the Heathrow Connect EMUs back to Paddington, another first for the day. Spent a pleasant hour drinking coffee and watching station life pass me by - surely one of my favourite occupations - before heading directly home on the 1900, a useful train which I've always liked using because of the strange sense of stepping on board in Central London and next setting foot in tiny Highbridge station. A successful day out, during which I managed to stave off most of the lethargy and illness which have dogged the last week. Let's hope the end of October means a return to form in other respects too...

Posted in Updates on Thursday 29th October 2009 at 2:11pm
---
I've written in an only half mocking way about my "Octoberfear" here on many occasions. This all came about from the strange coincidence that bad stuff seemed to happen in my birth month. Not catastrophic stuff - nothing which affected other people unduly in fact - but things which just made me throw my hands up in despair and wonder what on earth would be thrown my way next. It's all a bit comic really, and to be honest it's generated it's own little routine which makes me come back with extra positivity to try to cheat the trend. Not something you'll find me doing often, but a useful exercise nonetheless.
This year, I thought I had it licked. A busy month of pre-planned and pre-booked events which would take me all over the place. A mixture of solitary trundles up obscure byways and more sociable trips in company. I genuinely thought I was in for a decent month - even the weather forecast seemed fairly benign. Then things began to unravel... As usual, not in a disastrous way - firstly a cancelled Pathfinder trip to Donnington and the Oldham Loop on it's last day. With another tour due to do Donnington soon, and with the loop covered in some style back in August, I let it slide. I came back with a trip to Glasgow and a curiously indecisive weekend - but I wasn't beaten. Then came the Severn Valley Gala - and just days before what promised to be the event of the year a steam engine spread the track at Highley. In the end it was a much smaller event with some frustrating aspects - but lots of Batham's Best and a philosophical approach made it feel better.
But then, things became really odd. During a very pleasant trip to York with Spitfire (which suffered it's own delays and curtailments sadly enough), I heard that the Western tour booked for 31st October was cancelled too! Western tours just don't get cancelled - bookings are always good, and D1015 is one of the most reliable machines out there. But sure enough, there was a letter waiting for me on the morning of my birthday telling me the new date next March. With a week off to avoid just the weltschmerz which was descending, I felt tired and stretched. Unable to do much except laze around the place, not bothered about getting all the useful jobs done I'd promised to use my week for.
And on the day I returned from the excellent Buffer Puffer tours, it all began to click into place. I felt a little weak and tired as I slogged over to Clapham Junction, and I found myself dreading the trek from the tube to the platform at Paddington. I had a little breakfast and soon settled into my comfortable seat for the usual snoozy trip back to Bristol. On arriving to my alarm I found walking painful and difficult, and it took me almost all the time I had to change trains. Another sleepy trip brought me home, and meeting someone to chat to took my mind off things. However, by 3pm it was confirmed - H1N1 was the source of my sore throat and sneezes over the weekend, and October had dealt me a cruel, painful and frustrating last trick.
And now? I feel weak, listless and frustrated. Staying indoors is the most tiresome bit, but I'm so aware of how at risk some of my family could be if they have contact with me. Tamiflu is a dreadful drug, which has given me the most vivid and disturbing dreams - but has, it seems put paid to the indescribable aches and pains in apparently random body parts which are perhaps the worst this nasty virus offers to those who suffer only the mildest symptoms. Oddly, as the flu departs I seem to be getting a cold - and strangest of all, I can't summon any interest in food at all. I can't recommend this to anyone - and I'll promise never to misuse the term 'flu' again. This ain't no common cold, that's for sure!
So, October passes once again and I'm almost amused at how a well-planned effort to stave off the 'fear' has ended up. Lets hope the decent weather lasts into November, even if the daylight won't.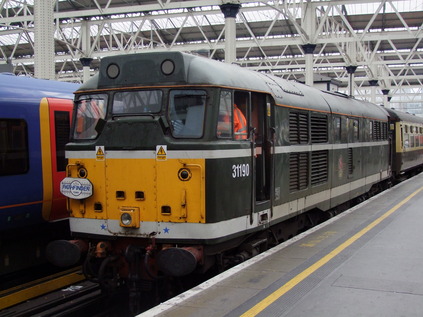 Posted in Railways on Saturday 24th October 2009 at 10:46pm
---
After a rather slow and dull week off, there was a slightly odd, unreal feeling as I set out mid-afternoon for London. Had a quiet and pleasant trip up on a complimentary First Class ticket - a boon, as it looks like the 16:30 is a fairly packed train on a Friday evening. Also rather absurdly pleased to find my pet power car 43130 (formerly 'Sulis Minerva') at the head of the train. The pleasant evening was fading into darkness as I arrived at a chaotic Paddington with plenty of time to get across the city. Possibly a good thing as the Circle Line was misbehaving and it took a fair while to get a suitable train to Liverpool Street. Time for some shopping on Bishopsgate and a coffee whilst watching the crowds - an odd mix of office folk going home and suburban kids coming in to enjoy the weekend. Fancy dress was in abundance too. However, as time advanced, another type was notable in growing numbers: the cranks were assembling. Odd to see these familiar faces at a little before 9pm in a London Terminus when they're most commonly spotted at 6am in Crewe or something! Exchanged a few quiet words, nods of acknowledgement and followed an unspoken instruction to pass through the gates onto platform 9. Just as we did so, a distant headlamp announced the arrival of our home for the next 24 hours.
So much has already been written about the traction change on this tour that I almost hesitate to add to it. In particular, it seems that Pathfinder struggled hard to come up with a number of suitable solutions in the last few days. Suffice to say that with one of Hanson Traction's pair of Class 31s still not ready for traffic, the other end of our train was to be operated by a GBRf Class 66 rather than a pair of 31s as planned. However, on the night this turned out to be not just any of the abundant type. With Advenza Freight now being formally wound up, a couple of it's fleet had transferred to GBRf operation just days ago. So it was a shiny 66844 which crawled up to the buffers at Liverpool Street, still in Advenza colours and having barely worked for the company in question at all. A celebrity of sorts, even though it wasn't a Class 31. At the other end of the train, 31190 made a reassuringly loud noise as it waited for departure time. Found my seat, and was soon chatting to the neigbours about the expected entertainment. In no time at all we were away, with 31190 positively roaring out of the station and up the bank, emerging in a clear, dark and very mild evening above East London.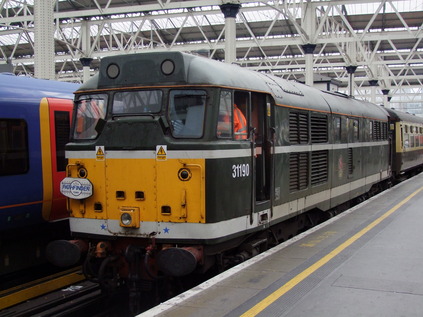 It's always difficult to know how to explain these tours which focus heavily on track coverage - there is a temptation to record every crossover for posterity, but that's perhaps not the easiest read for the casually interested. Suffice to say things started with some negatives - Network Rail had taken T4 possessions on a couple of bits of track we were due to cover tomorrow - at Lea Interchange and Tonbridge Yard. As we waited to access the new sidings at Orient Way, things felt rather bleak. It was late, we were tired, and the train had been stopped for a while. Was this another case of paperwork issues? Apparently not we learned eventually - all was in order, but no-one was at Orient Way to confirm the train's entry. Some rumblings of disquiet about some of the more intricate plans in the route from some of us who'd been burned this way before (Drem Loop anyone?!). Instead of the planned route, we eventually reversed at Temple Mills Loop and pressed on with our itinerary. It was hard not to doze given the quiet and warm train and the thought of a long night ahead, and with the lack of much to see outside staying awake was made even tougher. However, the itinerary had a good mix of short hops between locations and longer, fast runs on the mainline. In this way we managed to visit a number of Essex branches including Colchester Town, Braintree, Sudbury, Southend Victoria and Southmister. Along the way, a fair few interesting bits of line or loops were also covered - especially the goods lines through the yards at Colchester. At each of the branch termini we made the effort to get out and wander in the quiet, drizzly night marvelling at the surreal sight of a railtour crowd scurrying around Southend at 4am desperate for the shot! Surprisingly little action from local chavs really too, except for a couple of mooners at Bures. Such a sleepy little village too! These regular stops kept us awake a little, but the stagger up one or two of the branches cost us dearly in time. As the day began to break, we were speeding back west, desperately trying to get to Romford to reverse along the Upminster branch before the day's service began with the 06:12. Made it - some say by mere minutes - and traversed this tiny and rather odd survival of old-style railway competition before heading on to the North London Line and a reversal at Kilburn to arrive at Euston. Time for some pictures before finding much needed coffee and breakfast in preparation for the next leg of the trip.
We were all back on board in good time for the off from Euston, with a few new faces filling last nights empty seats. Noted that everyone seemed surprisingly fresh, and I can only imagine the strength and quantity of coffee consumed during the break to achieve this! Admittedly though, by now I felt beyond tiredness, and besides there were some fantastic little bits of track on this trip - a mixture of old favourites to revisit and some which I'd wanted to cover for ages. Firstly, after a storming start from 31190 once again we made a quick excursion to the west, and after a troubling delay, were allowed a very brief progress into the yard at Acton. Heading back east, via Dudding Hill and the Harringay Curve, we made a swift reversal at Hornsey, before setting off again via the Ferme Park Flyover - more much needed track. Another reversal at Kilburn and back onto the North London Line and finally a chance to cover the Graham Road Curve - a bit of a personal holy grail which I'd missed on service trains and which had surprisingly cropped up on recent walks in Hackney. From here we returned to Liverpool Street where we'd set out around 13 hours ago for a brief pause. Next the tour headed for the mysterious and tangled south - via the North London Line again and the currently abandoned Sheepcote Lane Chord which used to bring empty Eurostars into Waterloo prior to their move to St Pancras in 2007. We also made our way into Waterloo for a welcome lunch break. After refreshments had been taken, we made a Eurostar related departure too, staying on the Windsor lines then using the Linford Street flyover to turn south as international services used to. We then made good progress through the complex network around Tulse Hill and Herne Hill, before coming to a stand at Selhurst station. One of the highlights of this trip was a traversal of the depot here, and after a very long wait outside, we all began to fear the worst. After all, we were blocking a much needed platform in a busy location. They wouldn't keep us here forever whilst things were sorted out. With a sudden lurch we started edging forwards, and a further lurch to the left indicated that we were going into the depot. We crept around, train and depot staff clipping points before and behind the train as we crawled into the surprisingly large site, busy with Southern's fleet of units. Once out of the depot - and now very late - we headed north to London Bridge to reverse, unusually using one of the through platforms to do so. Once underway again we headed for Kent, including a personal highlight in the Beckenham Spur - another bit of long-needed track around here! Things finally got a little faster now, with a dash out to Tonbridge via the wonderfully named Bat & Ball. Most of the journey out was spent discussing just how to say Tonbridge, with particular reference to nearby Tunbridge Wells! With our brief diversion through the yard now off the cards, and with the next service train to Redhill not due to depart for around 10 minutes, there was an ideal opportunity to claw back some time here. The PA announced that we were looking for an early departure so not to leave the train - but eventually, as happens so often on these tours, the service train took priority no doubt because of the punishing compensation regime if things went wrong. Now later than ever, and approaching the legendary "railtour standard time" we finally made a slow trek along the arrow-straight line to Redhill cursing a missed opportunity.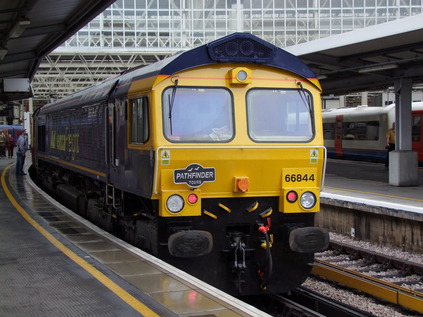 Once back on the mainline though, 66844 took off like a rocket. I'm not a huge fan of the class, but several times during the last couple of days this machine had made up time extremely well. We rolled into Victoria almost exactly 30 minutes late, and a horde of people dashed off in diverse directions for their trains home. However, the trip wasn't finished. We'd vowed to do the lot, and there was the small matter of a spin to Caterham to cover. Now it's not the most inspirational bit of railway - especially not in the dark, but there was something rather final about it. Given the issues with a second 31, would there be any more mainline 31 tours at all? This could be literally the last one. So, waited what seemed like ages for the right away, before hearing 31190 stir once again. Not ashamed to say I was at the window for this departure over the river. With the train almost empty we retraced our steps south, with a minor diversion via Crystal Palace, and onto the branch at Purley. A brief wait for a unit to leave the platform before we were allowed into Caterham. Hopped out to savour the mild evening air and chat for a while. The signaller had other ideas though, and we were soon off again for the return trip with 66844 leading - including a stowaway who looked rather bemused by his surroundings! I was flagging now, and the vague cold-like symptoms which had dogged my week off were catching up with me. When it was announced we'd be additionally calling at Clapham Junction, I admitted shamefully I'd be bailing out there rather than doubling back to get to my hotel. Much derision expressed about not doing the whole trip. I was truly withered, as the saying goes! Disembarked quickly at the Junction, much to the concern of staff who it seems hadn't been told we were stopping at all. Left them discussing it loudly with the stewards on the train and disappeared into the underpass - managing the walk to the Travelodge on autopilot in almost record time!
It's hard to summarise these past couple of days, especially feeling so absolutely and utterly exhausted just now. The trips have involved enough variety and scope of locations to keep things interesting, and we've covered routes with loco haulage which have probably not seen this since steam days. Whilst these trips have caused their own difficulties and concerns for the organisers too, I'd hope that these won't be the last they run. For me, this was almost the perfect way to spend 24 hours!

Buffer Puffer 7.0:

Movebook Entry

Buffer Puffer 8.0: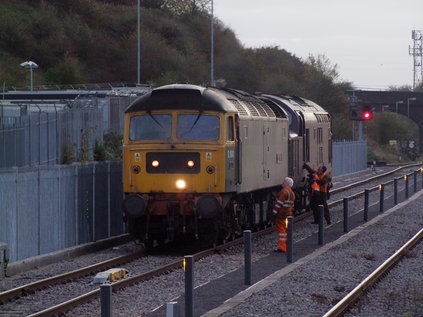 Posted in Railways on Saturday 17th October 2009 at 11:54pm
---
Mr Eliot was wrong - it is in fact October which is the cruellest month. For me at least, if something is going to go awry then it's around this time of year which it will happen. In the past this has ranged from the drastic to the embarrassing - but this year it has apparently decided to focus on railtour activities. As I was preparing to depart for this trip, a final check on the internet revealed that yet another Pathfinder trip had been cancelled - this time the 'Western Rocks' trip on 31st October. There was also a great deal of debate being generated by the Buffer Puffer trips next week, due to loco swaps. Noting the strange coincidence of hearing about other operators cancellations whilst waiting to head for a Spifire trip, I figured that today - and surely October - had thrown all the curveballs it could? I was to be somewhat misguided in this view!
The first, and I thought perhaps riskiest bit of the day went well. The booked transport to carry our small party to Weston-super-Mare ran exactly to plan, by virtue of picking a reliable firm when none of the locals could produce at 05:00 on a Saturday. A short and rather brisk wait for the train, which turned up just about on time with 37516 and 37676 at the front. The stock was a frankly bizarre concoction of Mk I and II stock in a variety of liveries and configurations. Our home for the day was a faded Intercity liveried Mk II FO, which we were soon settled into, and enjoying a liquid breakfast of bucks fizz into the bargain. This, for a seasoned railtour hack like myself, counted as untold luxury. Settled back and enjoyed the racket from up front, intending to snooze until daylight. However, our brief stop at Bristol Parkway seemed to drag on a bit, and eventually we got out to see what was happening. The end of the platform was busy, as a large crowd watched a complicated manoeuvre to swap engines around at the front. 37516 had failed with an electrical fault and 47851 - originally tagged on the back for heating only - was being pressed into service. This wasn't part of the plan, and there was some dissatisfaction voiced - but with the sun coming up and promising a decent day, and as the bacon rolls began to circulate from the kitchen car, things didn't seem quite so bad.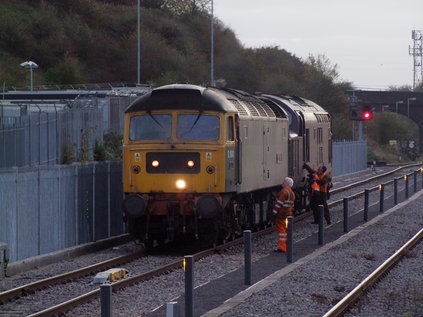 Back underway, but significantly late, we enjoyed a quick and interesting journey north. Taking the alternative route via Worcester and Kidderminster, we paused briefly at Birmingham New Street before pressing on towards Derby. As I had designated this trip my unofficial birthday celebration, enjoyed a few well chosen ales on the trip too - including an unlabelled bottle from RCH donated by Graham - I'm assured it was Steam Silver! After Chesterfield, took the old road and avoided Sheffield, noting an unidentified DRS Class 37 on the curve into Barrow Hill. A brief pause opposite Ron Hull's scrapyard, before heading north again via Ferrybridge and into York. With our 90 minute late arrival, the additional spin around the Harrogate Loop wasn't going to happen. Disappointed, but decided we'd reap the benefits with more time in York.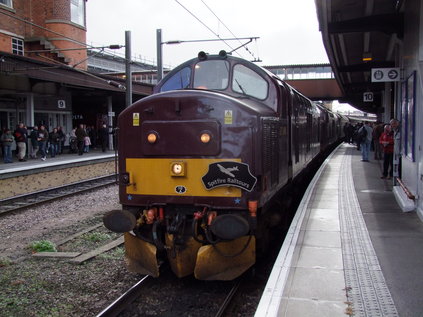 A very pleasant couple of hours spent wandering around the city, and sampling a few different pubs along with some street entertainment and sightseeing. We ended up on the river front, in blazing and unexpected October sunshine drinking outdoors and feeling a bit too hot in fact! Finally tore ourselves away from the scenery and beer, and stocked up on provisions for the return trip including a selection of York Brewery ales for the run back. Once back at the station, we awaited the stock with some suspense - which way around it would be and what would be hauling it? In the event, it arrived with 37676 pointing north and 47851 at the other end. We pondered whether we'd depart via Harrogate just for fun, but ended up heading south on departure with the Class 47 doing sterling work. After the delay in the morning, it was good to be a few minutes early at a number of the stops - despite being held until time on one or two occasions.
We finally arrived back in Weston a little before the booked time, and watched the train depart for it's final stop at Taunton. Today didn't go to plan, but despite that everyone seemed to have a good time and an interesting day. I note that the inevitable backlash has already begun on the web as I type this - and it's disappointing that Spitfire are copping the flak for a failure which could have occurred for any operator. As my strange October of cancelled and revised itineraries continues, I hope things will settle down a little for all concerned.