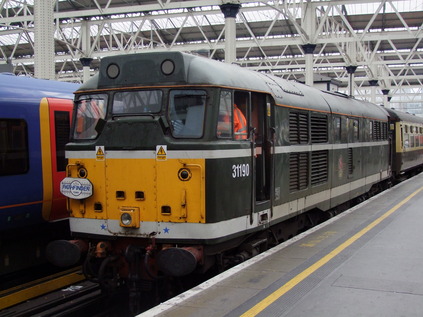 Posted in Railways on Saturday 24th October 2009 at 10:46pm
---
After a rather slow and dull week off, there was a slightly odd, unreal feeling as I set out mid-afternoon for London. Had a quiet and pleasant trip up on a complimentary First Class ticket - a boon, as it looks like the 16:30 is a fairly packed train on a Friday evening. Also rather absurdly pleased to find my pet power car 43130 (formerly 'Sulis Minerva') at the head of the train. The pleasant evening was fading into darkness as I arrived at a chaotic Paddington with plenty of time to get across the city. Possibly a good thing as the Circle Line was misbehaving and it took a fair while to get a suitable train to Liverpool Street. Time for some shopping on Bishopsgate and a coffee whilst watching the crowds - an odd mix of office folk going home and suburban kids coming in to enjoy the weekend. Fancy dress was in abundance too. However, as time advanced, another type was notable in growing numbers: the cranks were assembling. Odd to see these familiar faces at a little before 9pm in a London Terminus when they're most commonly spotted at 6am in Crewe or something! Exchanged a few quiet words, nods of acknowledgement and followed an unspoken instruction to pass through the gates onto platform 9. Just as we did so, a distant headlamp announced the arrival of our home for the next 24 hours.
So much has already been written about the traction change on this tour that I almost hesitate to add to it. In particular, it seems that Pathfinder struggled hard to come up with a number of suitable solutions in the last few days. Suffice to say that with one of Hanson Traction's pair of Class 31s still not ready for traffic, the other end of our train was to be operated by a GBRf Class 66 rather than a pair of 31s as planned. However, on the night this turned out to be not just any of the abundant type. With Advenza Freight now being formally wound up, a couple of it's fleet had transferred to GBRf operation just days ago. So it was a shiny 66844 which crawled up to the buffers at Liverpool Street, still in Advenza colours and having barely worked for the company in question at all. A celebrity of sorts, even though it wasn't a Class 31. At the other end of the train, 31190 made a reassuringly loud noise as it waited for departure time. Found my seat, and was soon chatting to the neigbours about the expected entertainment. In no time at all we were away, with 31190 positively roaring out of the station and up the bank, emerging in a clear, dark and very mild evening above East London.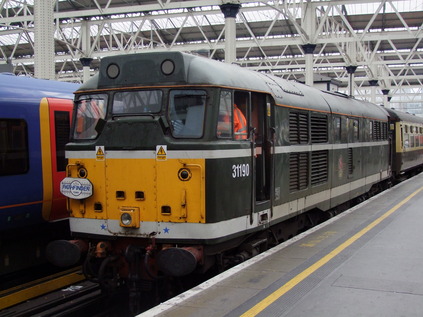 It's always difficult to know how to explain these tours which focus heavily on track coverage - there is a temptation to record every crossover for posterity, but that's perhaps not the easiest read for the casually interested. Suffice to say things started with some negatives - Network Rail had taken T4 possessions on a couple of bits of track we were due to cover tomorrow - at Lea Interchange and Tonbridge Yard. As we waited to access the new sidings at Orient Way, things felt rather bleak. It was late, we were tired, and the train had been stopped for a while. Was this another case of paperwork issues? Apparently not we learned eventually - all was in order, but no-one was at Orient Way to confirm the train's entry. Some rumblings of disquiet about some of the more intricate plans in the route from some of us who'd been burned this way before (Drem Loop anyone?!). Instead of the planned route, we eventually reversed at Temple Mills Loop and pressed on with our itinerary. It was hard not to doze given the quiet and warm train and the thought of a long night ahead, and with the lack of much to see outside staying awake was made even tougher. However, the itinerary had a good mix of short hops between locations and longer, fast runs on the mainline. In this way we managed to visit a number of Essex branches including Colchester Town, Braintree, Sudbury, Southend Victoria and Southmister. Along the way, a fair few interesting bits of line or loops were also covered - especially the goods lines through the yards at Colchester. At each of the branch termini we made the effort to get out and wander in the quiet, drizzly night marvelling at the surreal sight of a railtour crowd scurrying around Southend at 4am desperate for the shot! Surprisingly little action from local chavs really too, except for a couple of mooners at Bures. Such a sleepy little village too! These regular stops kept us awake a little, but the stagger up one or two of the branches cost us dearly in time. As the day began to break, we were speeding back west, desperately trying to get to Romford to reverse along the Upminster branch before the day's service began with the 06:12. Made it - some say by mere minutes - and traversed this tiny and rather odd survival of old-style railway competition before heading on to the North London Line and a reversal at Kilburn to arrive at Euston. Time for some pictures before finding much needed coffee and breakfast in preparation for the next leg of the trip.
We were all back on board in good time for the off from Euston, with a few new faces filling last nights empty seats. Noted that everyone seemed surprisingly fresh, and I can only imagine the strength and quantity of coffee consumed during the break to achieve this! Admittedly though, by now I felt beyond tiredness, and besides there were some fantastic little bits of track on this trip - a mixture of old favourites to revisit and some which I'd wanted to cover for ages. Firstly, after a storming start from 31190 once again we made a quick excursion to the west, and after a troubling delay, were allowed a very brief progress into the yard at Acton. Heading back east, via Dudding Hill and the Harringay Curve, we made a swift reversal at Hornsey, before setting off again via the Ferme Park Flyover - more much needed track. Another reversal at Kilburn and back onto the North London Line and finally a chance to cover the Graham Road Curve - a bit of a personal holy grail which I'd missed on service trains and which had surprisingly cropped up on recent walks in Hackney. From here we returned to Liverpool Street where we'd set out around 13 hours ago for a brief pause. Next the tour headed for the mysterious and tangled south - via the North London Line again and the currently abandoned Sheepcote Lane Chord which used to bring empty Eurostars into Waterloo prior to their move to St Pancras in 2007. We also made our way into Waterloo for a welcome lunch break. After refreshments had been taken, we made a Eurostar related departure too, staying on the Windsor lines then using the Linford Street flyover to turn south as international services used to. We then made good progress through the complex network around Tulse Hill and Herne Hill, before coming to a stand at Selhurst station. One of the highlights of this trip was a traversal of the depot here, and after a very long wait outside, we all began to fear the worst. After all, we were blocking a much needed platform in a busy location. They wouldn't keep us here forever whilst things were sorted out. With a sudden lurch we started edging forwards, and a further lurch to the left indicated that we were going into the depot. We crept around, train and depot staff clipping points before and behind the train as we crawled into the surprisingly large site, busy with Southern's fleet of units. Once out of the depot - and now very late - we headed north to London Bridge to reverse, unusually using one of the through platforms to do so. Once underway again we headed for Kent, including a personal highlight in the Beckenham Spur - another bit of long-needed track around here! Things finally got a little faster now, with a dash out to Tonbridge via the wonderfully named Bat & Ball. Most of the journey out was spent discussing just how to say Tonbridge, with particular reference to nearby Tunbridge Wells! With our brief diversion through the yard now off the cards, and with the next service train to Redhill not due to depart for around 10 minutes, there was an ideal opportunity to claw back some time here. The PA announced that we were looking for an early departure so not to leave the train - but eventually, as happens so often on these tours, the service train took priority no doubt because of the punishing compensation regime if things went wrong. Now later than ever, and approaching the legendary "railtour standard time" we finally made a slow trek along the arrow-straight line to Redhill cursing a missed opportunity.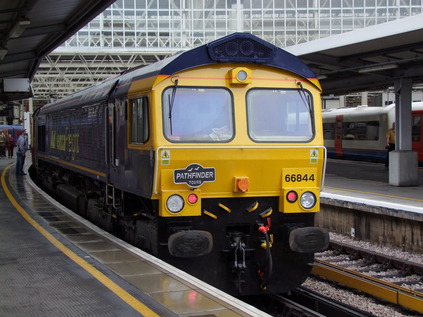 Once back on the mainline though, 66844 took off like a rocket. I'm not a huge fan of the class, but several times during the last couple of days this machine had made up time extremely well. We rolled into Victoria almost exactly 30 minutes late, and a horde of people dashed off in diverse directions for their trains home. However, the trip wasn't finished. We'd vowed to do the lot, and there was the small matter of a spin to Caterham to cover. Now it's not the most inspirational bit of railway - especially not in the dark, but there was something rather final about it. Given the issues with a second 31, would there be any more mainline 31 tours at all? This could be literally the last one. So, waited what seemed like ages for the right away, before hearing 31190 stir once again. Not ashamed to say I was at the window for this departure over the river. With the train almost empty we retraced our steps south, with a minor diversion via Crystal Palace, and onto the branch at Purley. A brief wait for a unit to leave the platform before we were allowed into Caterham. Hopped out to savour the mild evening air and chat for a while. The signaller had other ideas though, and we were soon off again for the return trip with 66844 leading - including a stowaway who looked rather bemused by his surroundings! I was flagging now, and the vague cold-like symptoms which had dogged my week off were catching up with me. When it was announced we'd be additionally calling at Clapham Junction, I admitted shamefully I'd be bailing out there rather than doubling back to get to my hotel. Much derision expressed about not doing the whole trip. I was truly withered, as the saying goes! Disembarked quickly at the Junction, much to the concern of staff who it seems hadn't been told we were stopping at all. Left them discussing it loudly with the stewards on the train and disappeared into the underpass - managing the walk to the Travelodge on autopilot in almost record time!
It's hard to summarise these past couple of days, especially feeling so absolutely and utterly exhausted just now. The trips have involved enough variety and scope of locations to keep things interesting, and we've covered routes with loco haulage which have probably not seen this since steam days. Whilst these trips have caused their own difficulties and concerns for the organisers too, I'd hope that these won't be the last they run. For me, this was almost the perfect way to spend 24 hours!

Buffer Puffer 7.0:

Movebook Entry

Buffer Puffer 8.0: