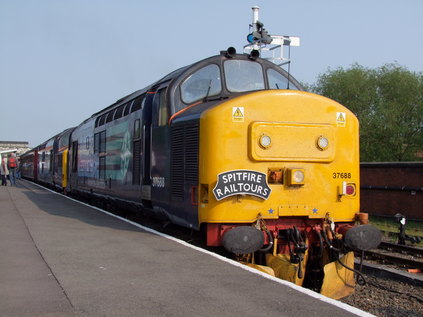 Posted in Railways on Saturday 30th April 2011 at 11:17pm
---
It's difficult to imagine anyone complaining about having too many holidays, but with this Royal Wedding weekend falling so soon after Easter, and with my own break up in Scotland looming, there are far too few days to accomplish what's needed at work just now. However, being able to escape on these weekends has been a pleasant change from watching static traffic outside my window as people head for the south west. However, I found myself in Crewe once again - the second time in mere days, and this time back at the old faithful Crewe Arms once again. I was here to pick up Spitfire's trip into South Wales which I'd learned only yesterday had changed it's destination considerably having originally been heading for Tenby but now being retimed for Carmarthen and Fishguard. I'd considered getting up early and heading north to pick the tour up at Preston, but the lack of a reasonably timed connection along with the lure of a comparatively late start, breakfast and coffee won. Thus, I found myself waiting for the train on a busy and confused platform 5 some time after 8am - almost unheard of these days! As a bonus it arrived with 37688 on the front - which I'd missed on an earlier tour - and Stratford liveried 47580 on the rear.
Once on board, a chat with the staff revealed the reason for the changes - with two West Coast Railway Company drivers qualified to take the train to Tenby, one had been allowed off on holiday. However, the other had broken his leg earlier in the week. Thus the swift retiming was a bit of a win in some ways - saving the trip for most passengers. There were a few gripes, mostly from the faces who'll chase a refund whatever happens, but generally people seemed happy enough. The 'normals' would have around three hours in Carmarthen, whilst the die-hard enthusiasts would press on for the end of the line at Fishguard Harbour. The first leg of the journey took us onto The Marches via Shrewsbury, where a short layover meant time to get pictures in what were shaping up to be sunny conditions. Under way again, we turned onto the Heart of Wales line. I've written many times before about how this line, though scenic and interesting at times, can be incredibly dull. As it goes, on a decent day in good weather it was pleasant enough. Better still was passing through Llandrindod Wells with only the briefest of stops, having long since exhausted my interest in this really strange little town!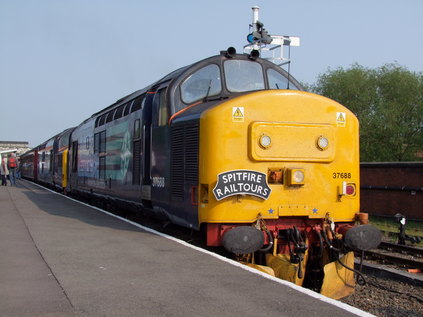 We made excellent progress as far as Morlais Junction, where we sat for some time. The train was getting warmer, and time was slipping by. Things were clearly not going to plan - and we soon found out why. Our long train, including no less than three locomotives, was longer than the signal section in Carmarthen Station. Whilst the powers-that-be decided what to do, we waited - and were witness to the unusual but welcome sight of a catering trolley on a Spitfire tour. Once moving again, we were very late - and it was unclear quite what would happen to the train. A swift set-down at Carmarthen followed, with the train shuffling up to the buffer stops in order to reverse. Now, with splendid looking 47580 leading we headed west towards the coast, arriving and departing Fishguard Harbour in record time - just pausing long enough to dash down onto the track for a snap. Again, there are few delights left to sample at Fishguard, but a leg stretch would have been welcome. Had to make do with a stroll up and down the train to chat to a few folks I hadn't seen for a while. The catering trolley resurfaced again, this time bearing real ale too - celebrated with a couple of pints, both of which I managed to spill in a remarkable display of clumsiness. We entered Carmarthen via a complicated sequence of moves, passing the junctions with the triangle serving the station, before 47580 led the train in - thus leaving the pair of 37s on the front for the ride home.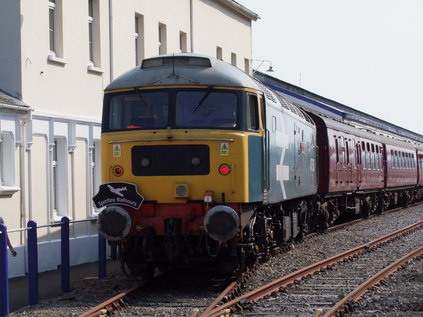 This was via the South Wales mainline as far as Maindee East Junction, passing through and briefly stopping at Newport. I could have alighted here and been home in just over an hour, but as the official timings hadn't included a stop I'd planned to head back to Crewe. Largely on time now given the savings via a quick turn around earlier, the route took us back to Shrewsbury via Abergavenny in a stunning hazy sunset. The day hadn't gone to plan in many ways - but with a couple of winning engines, great weather and a sociable trip as ever, I'd had a great time. I didn't hear many complaints from the rest of the customers either. Once again, despite the odds
Spitfire
seem to have turned a tricky situation to a good day out for a very busy trainload of people.

Posted in Railways on Sunday 24th April 2011 at 11:42pm
---
Day Two of the Branch Line Society's big weekend away started at a much more reasonable hour, and I was pleased to find that breakfast and coffee were available at Crewe despite it being Easter Sunday. This set the tone for a nice, easy day's travel which was again focused on points east of here. This train had suffered even more than yesterdays with changes, mostly due to late notification of possessions, or odd knock-on effects from issues elsewhere. Thus, our first target was Peterborough - travelling initially via the line to Stoke-on-Trent, taking in the very rarely used Alsager loop at the same time. With this under our belts we set off again in good spirits for the Midlands. The air-con had been fixed overnight, and things were looking pretty good for today. Then we stopped near Rugby....and waited. Waited for quite a while in fact. Our driver had realised that the route into the sidings at Peterborough wasn't set correctly. Credit to him, he reported this back along the train, with the message eventually reaching the Tour Organiser. Not all drivers are particularly attentive or bothered about the details, but this one clearly was. The instructions were clear - we were to traverse these sidings. And so a fifty minute stand-off ensued as the signaller insisted he knew nothing of our trip, but the rest of the world did it's utmost to convince him.
We finally proceeded into the sidings around fifty minutes late. It's testament to Gas Hill's persistence that this happened at all - because quite amazingly, given that we were blocking the flyover at Rugby on a day when a lot of services were diverted to use it, the signallers seemed content to let us sit there. So we covered the stub of the former Peterborough line as far as the link back into the Track Machine depot sidings, before reversing into the North Side sidings, not far from the alignment of other former branches in this once even more important junction station. Briefly back into the much remodelled station before setting off, very late but satisfied that justice had been done.
Our next reversal took place near Castle Bromwich Junction, again due to works elsewhere, but we were soon off and heading for Burton-on-Trent. Here things got very interesting, as at Barton South Junction we deviated into Bombardier's purpose built Central Rivers facility where the Voyager and Meridian units receive maintenance. Slowly passing through the site using Line 13 - usually reserved for tilt testing - we were quite a curiosity to the few workers on site on a Sunday afternoon. Quite an unusual bit of track, and again credit to the organiser for getting permission to do something so unique. After leaving the site, we took the Stenson to Sheet Stores Junction line to head into Nottinghamshire and the Toton area. I'd covered the Stanton Gate Branch on a trip some time back, surprisingly reaching the limit of the passable line - so it was pleasant to sit back and note the changes here. Surprisingly there were few in fact, with the area as desolate and abandoned as it had been on my last visit in fact. However, for some this was new track and it's always a good atmosphere on these trips when the excitement about rare track surfaces. My own excitement was somewhat tempered by the sight of the rows of redundant locos at Toton - an utter waste of usable assets which seems plainly criminal. Another chance to view them as we made slow progress back along the Mapperley Goods line into the sidings to reverse once again and head north to Sheffield.
Our business in the Sheffield area was with some fairly unusual sidings. Firstly though we passed through the station, entering on the through line before crossing to Platform 1 via the crossover between the 'a' and 'b' ends of the platform face. From here we turned east and passed through the former Brightside station on the Goods Lines before reaching Holmes Junction. Here the train reversed on the short stretch of line leading into C.F.Booth's scrapyard, otherwise known as Westgate Siding. It really wasn't a long piece of track, with the train barely clearing the mainline as we waited to reverse. Next, heading back towards the city, we curved away from the mainline once again into Attercliffe Sidings. This fairly lengthy branch has clearly received some attention lately, not least the installation of a new bridge span. What use it's destined for is as yet unknown, but it was good to see a survival in this area, given the evidence of long since removed lines around the Tinsley area. Reversing again we crossed over to the line tucked behind the now disused platforms at Brightside station, rendered unnecessary when Meadowhall Interchange opened nearby.
And so we began the long trek back towards Crewe, travelling via Heeley Loop - much to our organiser's very evident delight - and the Hope Valley, before skirting the southern suburbs of Manchester via the 'ghost train' route through Denton and Reddish South to Stockport. One last loop was traversed at Chelford - a veteran of previous railtours in fact - before we arrived at Crewe a few minutes early despite leaving Sheffield around 33 minutes behind time. It had been another successful day visiting the less travelled corners of the network - where the more prosaic bits of industrial line become our exotic destinations. Testament must once again go to Gas Hill for pulling off what other tour operators neither dare or desire to undertake. Lets hope for more of these trips soon.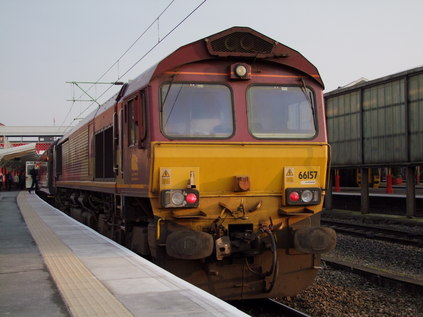 Posted in Railways on Saturday 23rd April 2011 at 9:51pm
---
The end of April is a confusing mess of Bank Holiday's this year, and to combat it I'd planned to spend most of them somewhere else. Last year, the presence of loco-hauled trains to Paignton meant that most of these breaks were spent in the fairly reliable pursuit of more mileage before the trains disappeared. This year however, a number of more ambitious plans have been made possible by railtours. Not least this weekend's BLS jaunt - two trips running out of Crewe and mostly focusing on the East Midlands and South Yorkshire. It's not been an easy passage for these two tours either - with frequent changes imposed by Network Rail who seemed to have abandoned the Possession Plan and made things up as they went along. Equally, the negotiations with third party owners for site access are never straightforward. Thus we had to bear a number of truncations, and a much earlier than usual start for BLS trips today. However, as the pair of Class 66's rolled into Platform 12 - both fairly desirable from a haulage point of view I'm informed - the air of anticipation which accompanies these always interesting runs was already apparent.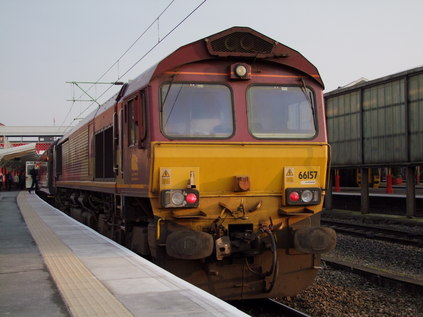 Things kicked off with a fairly straightforward run through Staffordshire to Derby, providing an opportunity to catch up with people I'd not seen for a while. Once in Derby things started to get interesting with a reversal in the middle section of Chaddesden Yard followed by a traversal of the Sinfin Branch. This latter bit of track is something I've been intrigued by for years. When I first started to think about track coverage in the mid 1990s it had just switched to become a taxi due to issues with lightweight units and track circuits. It was unclear if it would ever see another passenger train, and was indeed later closed. But not before I'd pored over each new timetable in the hope trains were back. We reached a point beyond Sinfin Central station - not quite the end of the branch, but further than a passenger train would ever have managed. Another one off the wish list then! From here we set off northwards again, taking a lazy route through loops at Bredsall, Treeton, Cadeby and Barlby to reach the Selby area. Here we deviated into the headshunt which provides a reversal into the Potter Group sidings. This logistics firm appears to specialise in using old railway installations for new purposes - hence this distribution depot on a former sugar processing plant site. A swift reversal and we heading back into the site - in fact the loco practically touched the doors of the warehouse. Another very curious bit of line managed without incident - this was shaping up to be a good trip.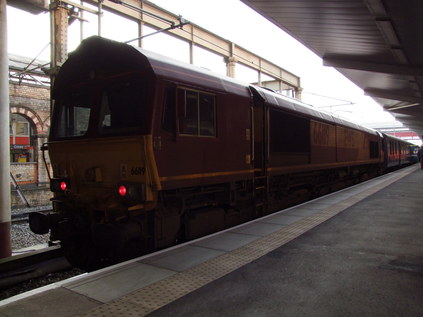 We proceeded next to the Scunthorpe area. The plans here had changed a lot over the weeks as bits of line became available, or we ruled out due to timings and possessions elsewhere. The bad news was that the Foreign Ore Branch was out, however we were able to cover nearly the entire length of the branch to Roxby Gullet. A swift reversal at Normanby Park, and we were also able to creep into the sidings at Dragonby. However, the branch to Flixborough Wharf was out of bounds, not least because of an absurdly tight curve which simply couldn't accommodate passenger trains in any way. Progress was a little slow here, and the afternoon was beginning to feel warm and lazy - in part because something had knocked the air-conditioning out in the otherwise very comfortable Tour Office FO. Vegetation strikes are a common mishap on these unusual and rarely used branches of course, and this one caused quite a sweat. However, we were soon on our way back towards Derby travelling via Lincoln and Newark. As ever, the conversation was pleasant and a constant supply of coffee kept me awake and alert, and as the afternoon cooled a little it was pleasant just to be out and about on what would otherwise for me have been a pretty dull Easter weekend.
It seems there has been a bit of criticism around this weekend's BLS extravaganza, in part because it's difficult for people to get away for two days at a time - especially during the family-unfriendly Easter Holiday time. However, from my perspective this has been an absolute boon. To escape the South West and it's influx of tourists by travelling in exactly the opposite direction is welcome. Alongside this, missing out entirely on any 'Easter' related goings on is another plus. I can see the point of those with families of course, but I hope that Gas Hill continues with these trips, even if only at less controversial times of the year.

Posted in SHOFT on Tuesday 19th April 2011 at 7:04am
---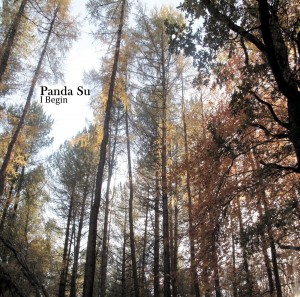 Living pretty remotely from where most of the music I enjoy emanates is no new thing for me. Having spent the early 1990s voraciously collecting North American 7" singles, the few trips I could make to the USA and Canada became very precious indeed. Even though I find myself in Scotland far, far more often these days, any attempt to time my visit to coincide with shows by bands I've appreciated from afar is usually pretty futile. One act I've desperately wanted to see for a long time now is Panda Su, not least because despite the lure of near-instant delivery of music to listeners which the internet offers, Su has been sparing in her releases - apparently preferring quality over quantity. The self released "Sticks and Bricks EP" providing a tantalisingly tiny glimpse into just what was possible in the world of Panda Su.
This new EP moves things on dramatically - and just as it's always easier to spot the new haircut of a friend you don't see everyday, the changes are at first very obvious. Firstly the songs appear to have grown in scope and stature - where the first EP seemed all about uncomfortable claustrophobia with just Su Shaw's haunting and laconic vocals to keep the listener from the ever encroaching edge, this record is about spaces and the wider world. But enough remains familiar to draw you deep into these four new songs, not least that wonderfully exotic, half-spoken and half-sung delivery which seems to allow sometimes dark, often challenging lyrics to be presented in a disarmingly simple and innocent way.
Opener "The Bee Song" perfectly illustrates this strange interplay of innocence and violence, with a lyric which is much more complex than the surface initially betrays. With a simple picked guitar melody and clockwork percussion, the song develops it's own lazy shuffle which creates an appropriately summery atmosphere. Droning organ notes and occasional multi-tracked vocal interludes change the atmosphere of the song, bringing it back onto a more personal scale as Su sings "I am lost in a world that fits inside the palm of your hand". Next up, "I Begin" marks a different approach to songcraft from Panda Su with a much more organised narrative form than previous efforts, which often feel like collected snippets of observation or thought. In its construction and phrasing it is strongly reminiscent of the work of I Build Collapsible Mountains which is absolutely no bad thing. However, the traditional singer-songwriter approach is augmented by skittering beats and a shimmer of keyboard sounds which lift the song from it's melancholy melody. Su's vocal here is defiant and strong - particularly on the half-chanted refrain of "I should try to remember, I should try to forget" - but still retains its effortlessly intoxicating quality - not unlike a luxurious yawn on first waking up.
The EP closes with a pair of songs which have been part of the Panda Su live set for some time, finally captured for posterity. "The Alphabet Song" sees Su reciting the alphabet and counting over a fragile guitar melody, against a building electronic backdrop. Letters are associated with apparently random thoughts and events, and often return later in new forms or orders. As she intones the letters - including a curiously alluring pronunciation of "J" which I find myself trying to mimic and utterly failing - the beats and bleeps shimmer and stutter. This simple concept shouldn't produce such an intriguing and enduringly fascinating song. "Facts and Figures" starts with a crunching static track and the now familiar drone of organ under the chiming guitar and glockenspiel. On this track in particular, Su's vocal soars above the music and shows what a remarkable instrument it is in itself - showing it's strength and purity while incongruously stating "...I'm finding out why I'm so weak". By far the loudest and the most overtly complex of the tracks here, this remains a highlight for me after endless listens.
The title of this EP suggests a reinvention of Panda Su and to an extent that's what it represents, however the links with the past - not least in some of the long-performed songs here - are strong. Throughout, Su's highly individual, but infectious delivery remains the trademark, and two EPs in I still feel like I'll never hear enough of this - and I remain desperate to see Panda Su perform. What is certain is that these four deceptively simple and utterly rewarding compositions show a remarkable ability to hit emotional highs and lows, and a truly incredibly talent for songwriting.

Panda Su - Facts and Figures