Posted in SHOFT on Monday 18th April 2011 at 6:04am
---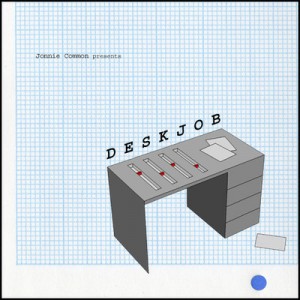 Early on in my appreciation of music, I developed a bit of a mistrust of electronic instruments. I remember owning an early Queen LP which proudly stated "No Synthesizers" as a sort of trademark of quality. I'm not sure quite how I squared this with them becoming one of the most over-produced studio acts of the last century as their career developed. There was however, something somehow less authentic about the synthesised sounds which were bouncing around the charts in the 80s, and some sort of half-inherited and half-affected punk ethic convinced me that only things you strummed or banged vigorously were really proper musical instruments. Years later, after my own rather tawdry experiments in musicianship my view has changed somewhat - but the art of the remixer or producer is still a bit of an arcane one to me. What trickery goes on behind those vast, complicated mixing desks? What dark arts are deployed to turn something familiar and loved into something which is sometimes unrecognisable?
Starting with a very familiar track from Panda Su is brave indeed. Su Shaw's near deadpan, carefully enunciated vocal is right at the front and demands attention. Meanwhile a delicately plucked banjo and swells of contextual noise weave around a decidedly baggy, 1990s beat. Common's recording of the track, despite filling out the spaces with texture, feels a little more raw and close to the nerve. It's a remarkable start to a record full of surprises in fact. One of those surprises is the artists which Jonnie has chosen to work with on DESKJOB - Adam Beattie is only vaguely familiar to me, but on the basis of his track here deserves my attention. A slight, fragile almost-country ballad is delivered in a disarmingly untouched recording - however, it becomes apparent as the track progresses that Jonnie's recording seems to foreground the squeak of strings, the tap of fingers on fretboard. Indeed all of the sounds which modern production values seems to screen out of the mix are here, adding depth and colour. As the track resolves into a chorus of sorts, there is a more traditional swell of electronica - but this too is entirely in context and doesn't overwhelm the sense of a live, intimate recording.
Meursault's contribution "And Butter Wouldn't Melt" is oddly sweetened by the Common treatment. A distant shimmer of noise and synthetic beats makes for a drunken, woozy backdrop in contrast to Meursault's usually spare and distinctly wintry arrangements. Neil Pennycook's trademark cracked vocal soars as a flourish of keyboards spirals into the proceedings. One verse in and a more robust clatter sets up, the song urged forward by a pulsing bass rhythm. As with most things which Meursault do this has the power to stop you in your tracks, and as Pennycook howls "...and god help you if you get lost" it becomes perhaps a little clearer how Jonnie Common has approached this project - as a collaboration and not a post-production exercise. This is particularly evident on "Nae Luck" contributed by Edinburgh DIY stalwart The Oates Field. From the outset found sounds chatter and skitter around the background, leaving ample space for Alan Oates affecting, damaged vocal. When Common's shimmering touches of organ arrive it bolsters the fragile composition. Never overwhelming what's essentially a slight, aching effort. Short and simple but perhaps the highlight of the record for me, because it sums up fairly completely the agenda of both the musician and the producer - and indicates how they fuse successfully.
It's important of course to remember that Jonnie Common is a musician himself, and has spent a fair bit of time on the other side of the mixing desk - often working alongside the artists featured here. As far as this compilation goes, this is represented by an alternate version of Inspector Tapehead's "Pherenzik Tear". Pared back to the organic instrumental sounds, we're treated to a deceptively simplified version of the track. Ingenious flicks of electronica underpin the beautiful interplay of piano and acoustic guitar. The eastern influences seemingly more apparent in this version with tabla style drums and percussion taking centre stage in the mix. Pulsing across the speakers, the vocal is more than ever a surreal rap, chanted over warbling electronics. It's both immense fun in it's own right, and an intriguing view into the development of the song as it later appeared on last year's "Duress Code" album. It also highlights the fact that Jonnie Common as composer and musician is as much part of this album as his persona of producer or remixer.
Indeed, Jonnie Common is keen to distance himself from the term 'remix' and that's an entirely fair comment. This collection of songs represent him working organically with a crop of remarkably talented musicians, often from the very conception of the song forwards. While these reworkings never strip away the core of the performer and their art like many remixes seem to, the recordings and the atmospheres in which the songs are captured are undeniably Jonnie's. The songs take on a new, revised life of their own which is more than the simple sum of these parts. But is it an album in it's own right? Ultimately yes - it certainly hangs together as an immensely enjoyable compilation, with Common's individual approach enough of a theme but never the dominant factor. Ultimately the remarkable roster of artists selected here is the key to this record, and we can add 'quality control' to Jonnie Common's already embarrassingly complete skill-set.

The Oates Field - Nae Luck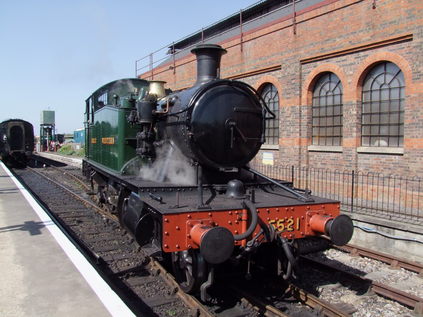 Posted in Railways on Saturday 9th April 2011 at 11:10pm
---
A couple of years back there was a flurry of activity on preserved lines, where tracks were extended or connections to the mainline remade. This meant trips to the North Norfolk, Weardale and Swanage Railways all became possible for railtours or special trains. Then of course everything went quiet - the preservationists were left to deal with the aftermath of a couple of pretty tough winters, and the recession began to bite despite more people staying in the UK for holidays. Times were tough, and I wondered if all of those interesting projects to squeeze a few more yards of line out of even the smallest railway had dried up? Happily it seems not - and today I had the choice of two railways running on extensions. I thought about a trip to the Ecclesbourne Valley Railway, now running from the junction platform at Duffield mainline station - but it was their opening weekend and seemed both busy and a bit pricey. So instead I elected to revisit an old friend - The Spa Valley Railway - now running into the disused down platform at Eridge.
This meant a run up to London on the first train of the day. It was a perfect morning - a little chilly and misty but with the promise of a fine day ahead. I changed trains at Weston-super-Mare to find no buffet on board until later in the journey, but didn't let that spoil what was a relaxing trip. Having not been this way for a few weeks it was interesting to see activity around Reading station where huge changes are beginning, and with headphones on I dozed and daydreamed my way west. At Paddington, I switched onto the Circle Line and headed for Monument, where I surfaced to find a really fine morning. The mist had evaporated, and I strode over London bridge, dodging tourists and feeling in surprisingly good spirits. I was surprising even myself today. Got a late breakfast and settled into the Class 171 which was bound for Eridge. Another fine journey, initially through the always interesting suburbs, then into rolling Kent countryside with surprising suddenness.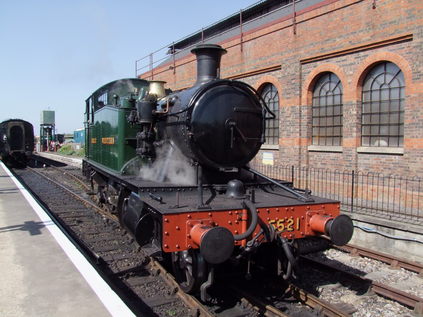 The connection at Eridge was pretty tight but I was reassured by a couple of other enthusiasts who seemed to be planning the same thing. In the event we arrived a little early, and I was able to dash over the footbridge to the ticket office very quickly. Noted 37254 sitting at the southern end of the train, about to be detached. A shame I couldn't have done this the other way around and caught one of only two diesel operated trips today. Instead, the train was to be hauled by 5521 - a Small Prairie way off it's Great Western territory. Found a seat in beautifully restored 1961 buffet car "Kate", ordered a coffee and sat back to watch the line roll by. Also got chatting to a local character who routinely walked the line prior to it's reopening and was heading South West shortly. Despite an extended wait for the diesel to be detached, the journey went surprisingly quickly - and it was good to see this fine little railway again. The extension should make it far more accessible, and indeed useful for local journeys - that holy grail of preservation which never quite seems to work out. At Tunbridge Wells West, sadly I couldn't get near to the yard to look at the diesel fleet, but managed to dodge the sizeable crowds gathered for a steam ride and have a poke around in the shed before heading across town to the mainline station.
Despite a lazy walk, I caught the slightly late running train I'd planned to, and made a quick run into London Bridge. Spent a little time on the platform here, enjoying the sunshine and chatting while I figured out my next move. The plan was to get a train out to New Cross Gate to gain the East London Line. This all worked surprisingly simply, and I was able to very quickly change trains there for a Highbury and Islington bound unit which would traverse the newly opened curve from Dalston Junction. Noted how busy the East London Line was becoming - which compared to its former rather downtrodden feel in Underground days, was quite a change. The Overground network seems to have become part of peoples travel habits very quickly, and these extensions can only help. As ever, an interesting and rather mysterious journey into Hackney and into the dark cavern of Dalston Junction. After a short wait we pressed onward, taking the fairly sharp West Curve with occasional flashes of daylight above as we emerged into the cutting at Canonbury. Highbury and Islington is transformed - a busy, multi-platform station with lots of transferring passengers even on a lazy and hot Saturday afternoon. A quick platform change got me onto a Richmond bound North London Line service heading for Willesden Junction. This set-up just works - no fuss, modern trains - a real success.
At Willesden I waited for a DC line train northwards in order to get to Harrow and Wealdstone. This move has become a staple - a chance to pass the depots at Willesden and Wembley, and easy access to services back into Euston. Lingered a while at Harrow in the quiet, very warm afternoon before I realised I was attracting the curiousity of a couple of BTP Officers. So, headed back into Euston and then by bus to Paddington. It's a rare privilege to be able to get two bits of new track on the same day nowadays - and that one is on a successful preserved railway and another a busy commuter route is all the more surprising. It's going to be a busy few weeks once a rather quiet April is out of the way, and I hope I can get to more of these opportunities during the summer.

Posted in SHOFT on Wednesday 6th April 2011 at 9:04pm
---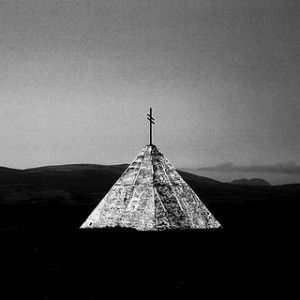 I'm not sure whether music has a way of finding its way to me at the right time, or whether I'm just unconsciously adapting to what I'm hearing - but this record landed on just the day it needed to for me. So, defeated and wondering quite why I bother trying to make any sense out of what happens in the world around me, I press play for the first time on Creep On Creepin' On. My initial thoughts were uncharitable - that it's a strangely bad title for starters, and the cover frankly unsettled me in it's weirdness - but I put this down to the ridiculous funk I'd found myself sinking into. Because from the first reverb-drenched note this is a dark delight of an album.
Timber Timbre's previous self-titled effort was initially recommended to me as 'folk music' - likely based on the previous couple of largely solo efforts - and while there is no doubt that Taylor Kirk's quieter and more traditional moments provide some of that records highlights, there's much more happening in Timber Timbre's world, in part on the back of the presence of Mika Posen and Simon Trottier as permanent band members. On this release the dizzying variety of styles and instruments gets free rein. However, despite the vast pallette available with the inclusion of wailing strings, punches of carnival organ and the trademark clipped and percussive piano, this album achieves the curious distinction of almost sounding less than the sum of it's parts. Never overblown, the sound is spare and fragile. The production bone dry, drums splintering and scratching while Kirk's voice echoes up from a freshly dug grave. The atmosphere provides the space for these songs to reverberate disconcertingly, with the continually reoccurring supernatural references given a forbidding tone by the strangely woozy, anachronistic and off-kilter music.
Opening track "Bad Ritual" begins with an odd staccato march as Kirk croons his way through a catalogue of superstitions and diversionary activities. The chorus arrives, ushered in on a surprisingly light swoon of strings while a baritone choir backs up the whole affair. As the songs builds to a climax, distant handclaps explode and echo around the song. This is strange music - there's a sense of the Deep South, mystery and black magic at work. Sliding in on the back of a splash of Hawaiian guitar. the record reaches surprisingly sunny climes in title track "Creep On Creepin' On", an organ driven swing adressed to "your dickless cousin/brother/father/pet/friend" with Kirk not for the first time coming on like a real 1950s rock'n'roll star. Again spiritualism, dark arts and redemption aren't far from the black heart of these songs, with levitating beds and ectoplasm all making their way into this ridiculously enjoyable song which could as easily be leaking through the tinny speakers of a mono radio in an empty diner for all it's pretence at modernity. The song ends with a deftly executed saxophone solo - now this can be a deal-breaker for me, and a badly judged sax intrusion can ruin whole records for me. However, Timber Timbre drop this in pretty much perfectly.
It's important to mention though that by no means is this an issue of style over content - while a huge amount of effort has been put into recording and producing a record with a conscious sense of landscape and a distinct atmosphere, Kirk's barbed lyrical twists are as important at the music here. The epic "Black Water" begs for release from the pervasive, dank gloom of the swamps and "...a thousand white fish floating belly-up" with a plaintive cry of "all I need is some sunshine..." as violins grate on a single note and a lonely trumpet takes the song to it's conclusion. Timber Timbre's Canadian origins seem miles away as the song shudders and howls through the swamps and everglades, the piano marking time insistently. But for my money, the record hinges on the superb "Too Old To Die Young" where Kirk insists he's "giving it all it up" over a driving beat. The song twists peculiarly about its axis however, and it reaches a climax with swooning strings backing Kirk's strange reincarnation of Elvis Presley, his half-spoken reiteration of his intention to quit backed by a choir of shrill-voiced backing angels - which might just be the band with voices played back at double speed in fact. This surprisingly effective vocal delivery resurfaces on the giddy southern waltz of "Woman", which could so easily be a lost rock'n'roll 45 from your dad's old collection, save for the blaring and discordant horns and spacey twangs of guitar which bookend the song.
The songs are punctuated by three odd, discordant instrumental pieces "Souvenirs", "Swamp Magic" and "Obelisk", the later perhaps a reference to the strange object which adorns the cover. Every bit the companion piece to the weird atmosphere created by the music, the cover is baleful and disquieting - almost Pagan perhaps. These instrumentals don't work so well for me - they're not poor in themselves, but they distract the otherwise impeccable flow of the album. However, even here there are high points, and the closing moments of "Souvenirs" with it's thunderous drums and screeching strings closes the album on a mysterious and epic note.
There's no doubt that this release is going to expose the band to a much wider audience than previously, and naturally I don't begrudge Timber Timbre excellent press - they've worked for it and deserve every word of praise. However, there is a risk that a band like this could end up pigeonholed by the Mojo Magazine reading brigade as some sort of authentic new Americana, and given the obligatory "five star review". It happened to the likes of Lambchop years back as they ploughed a not dissimilar furrow, and there are a host of other artists who veer dangerously close to being adopted as the darlings of that strange and bland movement. It's important to remember - and in my view impossible to forget that at the heart of this record is some absurdly good, timelessly crafted pop music. That it is delivered dripping with sarcasm, oozing with malevolence and via the medium of really fine musicianship only cements the important part this should play in everyone's record collection. However, listen to it and buy it because you think it sounds great - and you will I'm sure - not because someone somewhere is going to give it five stars. And perhaps I was uncharitable about the title too, as this slinking, crawling creature of the swamps will suck you under before you know what's happening.

Timber Timbre - Too Old to Die Young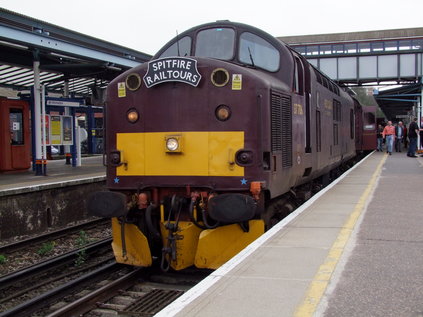 Posted in Railways on Saturday 2nd April 2011 at 9:54pm
---
Only weeks after my last jaunt, I find myself trudging London streets early in the morning. This weekend hadn't gone as planned, and with the overnight trip which would have meant saving a night's accomodation postponed, I'd wedged myself into a tiny Travelodge room near Kings Cross once again. No pacing the streets of Clerkenwell this time, as I was sick and tired, nursing an annoying cough which I suspect I picked up somewhere on last week's trip. Sleep had been pretty elusive too in this curious but huge hotel, and I had the joy of a different one tonight as I'd planned to be staying near the tour's set down at Clapham Junction. This meant that I had the entire world stuffed into my rucksack, and it was a pretty grim walk to Euston. However, as I crossed Pentonville Road and looked east, a flaming sunrise peeked over the brow of Penton Mound. Momentarily struck by this, I stood like an idiot on a traffic island appreciating London all over again. Top priority at Euston was to find coffee, and with a sensible margin before the tour started I was able to sit back and relax, waiting for my cough to subside before heading for our train. Bumped into the usual crew on route too.
The premise for the day was a 'Buffer Puffer' style dash around South London, taking a top-and-tailed pair of WCRC Class 37s to places they'd never normally go. We set off up Camden Bank before curving away to the West London Lines at Willesden. From here we turned south again for a second pick-up at Clapham Junction. It became clear here that there was a fair few spare seats on the train, and that our neighbour didn't appreciate the chatter and banter. So we moved back into the end of the next coach where some other reprobates were located. From Clapham, we pressed on through the South London suburbs to East Croydon and then to Caterham for a reversal. I had of course been here before with a loco-hauled train, and on that occasion I'd felt pretty unwell too as it turned out. Put the thought that history might be repeating itself out of my mind, and rejoined the train for the next leg. We retraced our steps into London taking subtly different tracks, and gained the South Western route at Wimbledon. From here we had a somewhat speedier run into Guildford via Effingham Junction. Time here for a photo stop, a round of coffees and a chance to briefly enjoy the pleasant sunshine before hopping back on board for the next leg.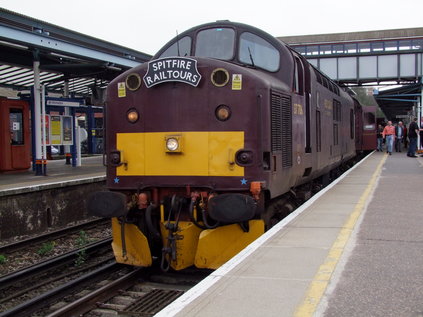 Once underway we had another uninterrupted run, this time into London Waterloo via Leatherhead. With the train covering all of the planned track, and taking in some pretty unusual lines and crossovers for the microgricers on board, spirits were high on arrival in the capital. Feeling pretty grim, and waiting for the medication to kick in, so stayed on board for a catch-up with friends until the whistle, when I took to a drop-light for the crossing of Linford Street Viaduct. I've done this bit of rare and disused Eurostar-related track fairly often in the last few years, but it remains and interesting ride over the mainlines. Once we'd descended onto the Chatham Lines we began to pick up pace on the run out to Tonbridge. With lots of unfamiliar Southern region units flying by, I was urged to stay awake and vigilant by the desperate northern crew! Managed to improve my usual record at least I think. A surprising amount of civil engineering activity in the yard at Tonbridge with a fair number of Class 73s stabled. A reversal here and we were soon headed along the straight and rather dull route to Redhill. We'd been carrying just a few minutes delay after the jaunt through Kent and we soon made it up here, with an early arrival for our next reversal. Time to wander on the platform for the first time in years, and to get some further shots of our train. The remaining legs of the trip weren't rare track as such, but they were extremely rare in terms of loco-hauled trains. Setting off via Three Bridges and Horsham, we were soon dashing through the Arun Valley towards the coast. It was warm and I was sleepy, so my unit spotting became erratic and I was forced to volunteer to buy more coffee, since alcohol was out of the question in my condition. After bemusing the locals waiting at Barnham station, we curved towards the sea and entered the once grand terminus at Bognor Regis. In fairness, the station platforms seem to have had a fair bit of attention and it was clean, tidy and very well-kept - certainly better than my last visit which I note was almost exactly seven years ago! Reversing that days moves, we next headed to Littlehampton where a forty minute break saw the passengers from our train scatter rapidly to chip shop, pub and cashpoint. Given that the town had already entered that post-5pm gloom which afflicts most seaside resorts, I suspect experiences were pretty varied.
Back on board with some provisions, and I was feeling much better than I had all day, but pretty sleepy. Settled down for a pleasant evening run back into London with a little bit of light still in the sky. I've written before about how much I love arriving over the rooftops and looking down into the city streets, and this was just about the perfect evening for this activity. Back on time, the Chesterfield contingent prepared to bail out with me at Clapham Junction to make the train back up north - a fairly tight connection. As we arrived at the bottom of the steps in the subway I sent them skittering off to the taxi rank, while I aimed for the much quieter Grant Road exit and the pleasant and familiar evening walk to the Travelodge at Battersea. Not much had changed there either, and just like before I wrote a mental letter of complaint about all the bits of my room that were broken, missing or unpleasant, before deciding I needed to sleep very badly. Despite my aches, pains and annoying coughing today had been a success - the route, complex and challenging to operate, had worked wonderfully and I'd spent the day catching up with a really decent bunch of people too. Settled down to sleep, safe in the knowledge that, this time at least, I hadn't developed swine flu into the bargain!