Posted in Railways on Saturday 29th November 2008 at 9:11pm
---
As I mop up the tiny bits of track left uncovered by just over a decade of travels, I'm often left with long journeys to reach tiny fragments of line. I've never approached this strange quest in any sort of order - travelling where I fancied, letting events and happenings around the country guide my travels rather than any sort of master plan. Constantly revisiting favourite haunts in preference to finishing the job. It's been a luxurious and stately jaunt which I'm happy continues in much the same vein. This leads me to this weekends' trip - a great circuit of central England, venturing out into the uncharted east before retracing old steps to get home.
Left for the station in freezing, billowing fog. Not sorry to get on board and trace a familiar path via a change at Weston and an early arrival at Paddington. The fog barely lifted as I sped east, but there were tiny breaks in the clouds and little hints of sunshine could be seen breaking through. However, despite managing unusually sensible amounts of sleep last night I managed to snooze happily for much of the way, perhaps due to the nice warm carriage in contrast to the chilly scenes outside. A quick transfer to Kings Cross which is now in the midst of it's own transformation following living in the shadow of mighty St. Pancras for a good few years now. Sadly, this meant incredibly long queues at anywhere which sold food or coffee and made for a congested and frustrating experience trying to move around the place. This set a sort of tone for the day. Finally gave up and boarded the pair of Class 365s bound for Cambridge and Kings Lynn. Soon away and flying north through the still foggy suburbs. We branched east at Hitchin before grinding to a halt behind an ailing stopper which limped it's way to Cambridge with us arriving late and getting later as London-bound shoppers mobbed the rear before staff had the opportunity to divide the train. Eventually away again, but having missed our path onto the single line beyond Ely, lost further minutes in approaching Kings Lynn. Knew we arriving from familiar sights beside the line as the branch from Middleton Towers slewed in from the south. Oddly, I'd done not only that branch, but much of the length of the sidings which curve towards the waterside here - but had never arrived into the station. Soon rectified this, drawing into a busy little terminus with an inviting looking buffet and a fair number of stabled units. For today at least, mission accomplished with a brief section of new track - perhaps only 20 chains or so - covered as planned.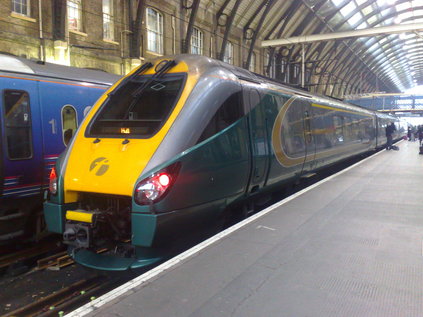 Once again I was defeated by queues here with the buffet looking busy. Late arrival meant no time to stray from the station, so I hoped that the little coffee stall at Ely, often staffed by mysterious eastern european girls, was still open for business. A short trip back down the Fen Line proved it was, and after a quick trip to the nearby Tesco for sustenance. Realised I'd missed a fairly interesting looking GBRf freight service seconds before arriving back into the station, and frustratingly could hear a loco idling in the mist somewhere for much of my stay too! Settled for enjoying a couple of welcome coffees from the aforementioned booth while I awaited the Crosscountry service to Birmingham. I'd worried about this train a bit - I remembered painfully full trains around here, and was convinced that was the order of the day. Despite Crosscountry introducing First Class on the route it seemed impossible to book this prior to the timetable change, and knowing the XC policy on upgrades for Advance ticket holders I didn't even chance it. As it is, found a quiet seat and settled in for a very foggy trip across the fens, retracing a diversion I'd taken in a panic on a Sunday many years back when something went wrong between Lincoln and Nottingham! Not much scenery for inspiration, so enjoyed a late lunch and a good read as I sped through the dreamy landscape. Peterborough stood out as an interesting sight with a fair few locos on shed. The train also managed to avoid being busy for much of the journey, but I was moved briefly across the carriage as I didn't realise I was opposite a wheelchair bay which was needed between Leicester and Nuneaton. Arrived rather more quickly than I expected in a chilly and dark New Street with the diverted train to Bristol due to arrive soon and wait for over twenty minutes before departing. Realised with some regret that the conditions today meant I'd barely taken a picture at all - an increasingly common situation with recent trips heading for the somewhat camera-unfriendly southeast. Consequently, no pictures at all in this entry.
Settled in to my seat for an extended trip home in the dark travelling via Smethwick, Worcester and back onto the mainline at Cheltenham. Despite the timetable showing correct times, a fair few people seemed to get quite excited by the diversion, so I tuned them out and read my way home. As I trundled back to Highbridge on a local unit which I'd needed to force my way onto in competition with a surprising number of punters, I realised I'd managed in excess of 500 miles today in pursuit of a fraction of a mile of track. Despite frustrating crowds, poor weather and feeling a little under par for much of the trip, a decent day out covering bits of the network I rarely visit.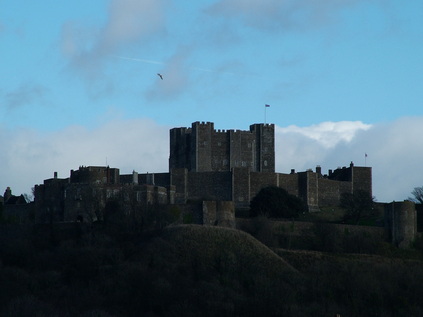 Posted in Railways on Saturday 22nd November 2008 at 9:30pm
---
Once again I decided to take advantage of the early connection to London this morning. The variety of diversions and bus substitutions dogging the routes north just made things awkward, and with tours to the north-west coming up in the near future, it made sense to focus my efforts elsewhere. Over the past couple of months I've been drawn again to the south eastern corner of the country. The various little corners and curves are slowly being inked in, and I get to explore the suburbs of London into the bargain. So today's route took me to Dover. I've been here before, once many years ago for a visit and several times passing through the station. However, I've never arrived from the Canterbury direction - and this was the goal. I also got to exercise my strange recent fascination with London bus routes too, as the Circle Line was once again out of action. So after doing the customary 2M06/1A06 route into Paddington before 09:00, I emerged onto Praed Street and made my way to the bus stop which I remembered from my trip in July 2005 in very different circumstances. Soon onboard a No. 436 heading for Victoria arriving in surprisingly good time and making my way to the platform for the 09:33 via the coffee stall - beating my planned schedule by an hour as I'd budgeted for a longer bus trip. Alone in the small First Class compartment, I speculated on my earliest trips to Dover and Canterbury which had been in slam-door units which seemed like they'd be around for ever. Progress of course has it's ups and downs, and I was content to zip over the south London rooftops and into the Kent countryside once again as far as Faversham, where the train divided with the front coaches heading for Ramsgate. We however turned inland and headed for Canterbury, continuing my own strange pilgrimage.
Once through Canterbury East I was on new track. A little winter sunshine and a long time without coffee had left me feeling a little sleepy, as we curved through the unseasonably green foliage and headed for the south coast. A series of tunnels, with strange gothic arched portals which I recalled from earlier trips signalled arrival into Dover Priory, the only remaining station in this town which once teemed with railway activity on account of the ferry port. Being early, I had options here, as my planned escape route was the fast service to Charing Cross which ran hourly. So with time to spare, I decided to walk into town and see what I remembered of the place. Strangely, it was very little at all - and I wonder if I'd spent less time here than I recalled, or whether a decade or so and the success of the Channel Tunnel had really changed the place beyond recognition? Trudged down the slope towards the town with a chill wind whipping around me. Oddly, the street was strewn with old pages from newspapers and magazines - all trimmed perfectly and kept flat, but now whirling around my ankles as I walked. A few I stepped over looked unusual - the typeface reminded me of how papers looked when I was younger. Sure enough they were dated 1987. As I walked and stomped over more of the debris I noted they were all from roughly the same time - at most a two-month window during 1987-88. I imagined some local library with a hole in the roof, archivists running around trying to catch the flying exhibits in a maelstrom of newsprint. Or perhaps some eccentric hoarder had thrown his collection out into the winter wind in some sort of financially motivated despair? I toyed with the idea of collecting some of the pages to study them for links or connections, but the reaction of the locals when I took out my camera to snap the brooding castle high on the cliffs convinced me that I'd probably be lynched for scrabbling around for litter in the street. Walked on, feeling unwelcome and bewildered.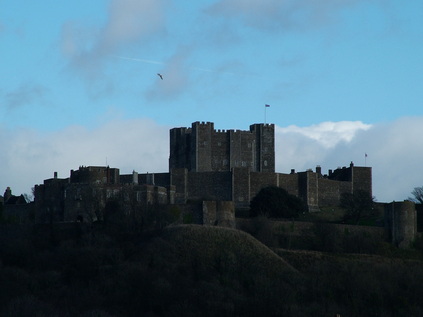 The town was to get stranger too. Once over the almost deserted ring road via a poorly timed pedestrian crossing and into the town, I recalled nothing of the place. Like many UK towns, the street could have been anywhere - the same stores in the same order. But there were no distinguishing features, no hooks to remind me of prior visits. I weaved through the small crowds moving along the street and found myself in a near deserted market square which had been regenerated to the point it was almost unrecognisable. The only life in the square was in the form of groups of howling teenagers, fighting and screaming as they ran back and forth between rival covens of black clad emo kids and sprawling, wide-trousered, spitting chavs. In fact, everyone in Dover seemed to be shouting. Friends saw each other across the street and yelled raucous, uncouth greeting, people screamed at others to move out of the way or bayed for service in queues. I made it to the point where a pedestrian underpass lead to the waterfront. The street had become a valley of decrepit shopfronts, empty except for the occasional discount emporium or amusement arcades. Feral, angry groups lined the railings and I'm ashamed to say I lost my nerve and stepped up my pace back to the station. Not even a nod to Matthew Arnold, though perhaps I heard enough of the "confused alarms of struggle and flight" in Dover's strange town centre.
Coffee and a bite to eat back at Priory Station soon revived me, and I watched trains until my express service arrived for a swift run back into London, arriving at Charing Cross - perhaps one of my least used termini. Still an hour ahead of schedule, I decided to return to the buses in the absence of the usual routes around the city. Set out into the city, dodging tourists and weaving through Theatreland in search of inspiration. I wanted to head east, into the territory which had been intriguing me recently. Eventually spotted a No. 38 which appeared to have come from Clapton Pond and set about finding it's counterpart heading back east. The buses were diverted however, and it took some walking to find a stop in use which found me not far from Bloomsbury Square and my old haunts. Hopped on board a thankfully warm bus after a short wait, and watched the city crawl by, turning north and passing The Angel and crossing into less familiar lands. Despite keeping one eye on my map, I lost track of the route as we zig-zagged towards Hackney, passing through ragged, overhung Dalston Junction and then bursting unexpectedly into busy Mare Street. Time was pressing now, as the tube back to Paddington was out and I needed to plot a way back to the station in time for my service home. So, having tried to figure out the various routes back into town via the buses we'd passed and having not really settling on a plan, I decided to unravel an earlier walk by alighting at Hackney Central station and stepping it out to Hackney Downs along Amhurst Road. Only a few minutes until the next train to Liverpool Street and then the 205 back to Paddington cresting Penton Mound in the early wintry darkness. Repeated my now regular route home on the 17:00 from Paddington with crowds of day trippers and Christmas shoppers dashing for the platform as I stumbled sleepily into the quiet coach for a thoughtful journey back to Bristol.
A long, varied and rather strange day which kept me guessing. I find myself drawn to London again, lately perhaps more than ever. Maybe it's seasonal - with the winter suiting the city with its pale sunshine and crisp, perfect walking weather?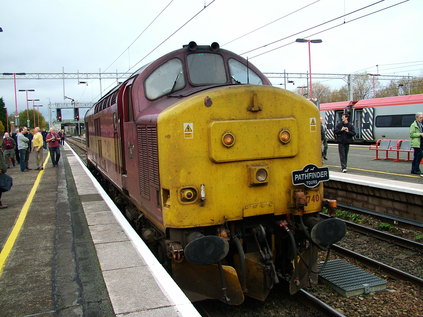 Posted in Railways on Saturday 15th November 2008 at 11:29pm
---
For the first time in a while, a nice sensible start to the day - early but not ridiculously so. Today's tour started at Banbury and wound its way up to Birmingham allowing ample time to get to New Street and get breakfast. Watched a fairly large group of familiar faces start to gather - with a larger representation for the Branch Line Society than has been usual on many Pathfinder tours for quite a while. Indeed, even our esteemed General Secretary was in attendance for what promised to be an interesting day. As I've slowly inked in more and more lines on my Baker atlas, this sort of tour has been indispensable - a fairly local cruise around freight lines which would never see a passenger train, with a firm emphasis on the odd chords and curves which elude us all as we wander about the network.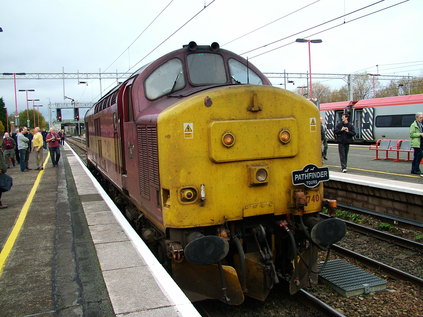 First up was a quick run down to Birmingham International to run our double-headed locos around, providing one engine at each end allowing reversal on the branches we were due to traverse. Even this wasn't simple though, as we departed via Soho, Perry Barr and Stechford, taking in an unusual chord early in the proceedings. Once our locos were position as planned we continued to Coventry for the first reversal of the day, which took us onto the branch to Nuneaton - and then via Three Spires Junction into Prologis Park. A vast, rail-served distribution centre on the site of the former Keresley Colliery, and home to an unexpected guest in the form of shunter 08375. Managed a quick snap as we passed on the lower level of the two banks of sidings. Considerable interest from photographers as we crawled to the very end of the branch with an understanding driver taking us almost all the way to the buffers. One photographer took a pretty spectacular tumble from a pile of earth beside the track - hope he was OK!
A further reversal took us back to Coventry, and we then set off northwards again. The original plan had been to travel via Moor Street, but instead we took our outward route back to Soho, using the northern curve to access Galton Junction and thence to Stourbridge Junction. One of the Class 139 Parry People Movers could be seen lurking in its rather spartan looking shed as we awaited a reversal onto the branch to Round Oak, forming the southern part of the former route to Dudley. Another bit of track which has long fascinated me, we proceeded slowly and carefully to Kingswinford Junction where the burnt-down signal box has been replaced with an extensive ground frame under a shelter. The fact that much of the line survives to Dudley, along with the frequent talk of revival as part of the Midland Metro meant I was glad to have done this bit of track at last. Watched the Pensnett branch trackbed curve away to the west as we slowly continued, coming to a halt a stone's throw from the vast Merry Hill shopping centre - somewhere which would surely benefit from being rail served?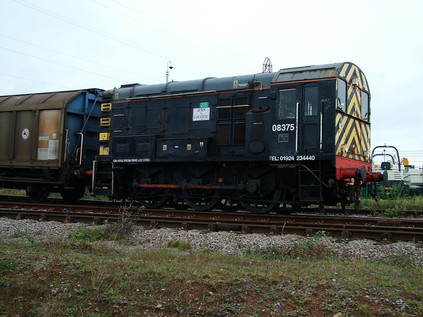 Another two reversals - first to Stourbridge Junction, and then retracing our steps once again to Galton Junction, Soho and Perry Barr. During the inevitable discussion of the route of this tour on the WNXX forum we'd been promised a surprise - to make up in part from the missed goods lines to Moor Street. As we approached Bescot Yard and slewed madly to the left, it became clear we were not taking the usual route through the complex! Much rifling of Quail maps and counting of lines to establish we were passing through on Up & Down Through Siding No.2 - the edge of the depot, tucked inside a line of hard-to-identify shunters which have been stabled here, largely out of sight for years. A real treat for the track bashers on board, more than making up for the missed goods lines. Credit to Pathfinder too, for not announcing this exciting addition in advance and potentially causing disappointment had it not worked out.
More familiar track took us north through Wolverhampton to Stafford, where we passed through the Royal Mail platform and took the short Salop Branch stub, now a siding. With brooding clouds overhead and rain starting to fall we once again reversed and headed south, taking a left fork at Bushbury Junction and then curving west onto the Oxley Chord - another bit of much needed track for me - where we gathered speed towards Madeley Junction on one of the few chances during the day for the pair of 37s to flex their muscles and gather some speed. After taking the Ironbridge branch at Madeley we slowed to a crawl and crept carefully along the line with huge branches cracking and whipping at the sides of the coaches. This route was well worth the wait, as we slowly snaked down the valley in a green tunnel of overhanging trees with occasional glimpses of fine looking houses and attractive villages. All too soon, the famous brown cooling towers of Ironbridge Powerstation slid into view. We crossed the River Severn on its bridge here and stopped at the Network Rail limit. A stunning bit of the rail network, hardly seen these days. Attempted a picture of the sublime power station sight, but failing light made it fairly shaky. Struck again by how green and comfortable the valley felt. Not difficult to imagine passenger trains working this rather quiet little branch line.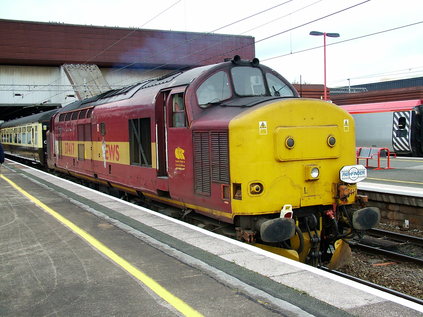 A final reversal took us via Wolverhampton back to New Street, where I watched 37401 and 37417 leave before heading for my train back, noting I'd also be arriving at a fairly respectable hour for a change. A remarkably interesting tour with a complex but entertaining route, some timely runnning and some interesting surprises. As someone remarked on our journey, the current crop of Pathfinder tours appear to acknowledge the wants and needs of us track types. Long may it continue!
Posted in Railways on Saturday 8th November 2008 at 7:35pm
---
Recently I was asked which of the many preserved railways around the country was my favourite. It wasn't an easy question to answer - I've by no means visited all of them, and each has its own merits. I'm often expected, as a Somerset man, to plump for the West Somerset Railway, and while I agree it is long, picturesque and well-organised the apparent policy on diesel traction and galas means there's not much for me to enjoy there on a regular basis. While mulling over the question I overlooked entirely the South Devon Railway. This stretch of the former GWR branch to Ashburton clocks in at just under seven miles, but manages to incorporate some fantastic scenery, some testing climbs for the locomotives and a loop at Bishops Bridge which adds operational interest. Best of all though, with two active diesel preservation groups and six locomotives based on the railway, there's plenty for the likes of me to enjoy.
With the blockade between Taunton and Exeter meaning buses, Mr Spinks kindly elected to drive. The solidly wedged rail replacement services we passed confirmed the trip wouldn't have been fun by rail. After a surprisingly quick and easy trip down we set about getting as much mileage as daylight would allow. Once booked and onto Buckfastleigh station we were treated to the sight of 20110 starting noisily and smokily in the yard, before D7612 detached from the line of locos and joined our train. This first, noisy trip down to Totnes with the Class 25 was a highlight for me as it's not a locomotive type I've experienced a great deal, and with surprisingly decent weather it was possible to open the windows and listen to the pleasant racket from the front. Somehow Mr Spinks managed to get injured by the buffet counter during this trip, but luckily there were no lasting effects!
A change of ends at the platform at Totnes Littlehempston which sits beside the mainline, and has a useful footpath link to the station for visitors coming by rail. We stayed with D7162 back to Staverton where after a brief wait for our train to clear the loop, an interesting lash up of two Class 20s and DMU stock arrived. Always good to see 20118 in its unusual Railfreight livery, and 20110 in classic blue was equally impressive in my view. Returned to Totnes, where 20118 headed to the front of the train and took us back up the line to Buckfastleigh with the relatively unusual sight of a 20 working nose-first in top and tain configuration! Lots of noise in the front coach too.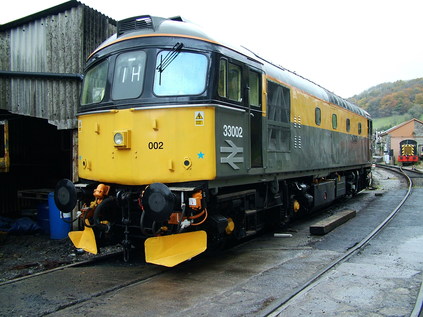 Alighted at Buckfastleigh to head for the excellent cafe facilities where a fine breakfast was enjoyed whilst sheltering from a sudden shower. Had a wander and spent some money in the huge on-site shop too, before heading back to the platform for the arrival of D6737 (otherwise known as 37037). I don't think that all-over green suits this loco at all - and I don't think it's ever looked better than when it appeared at the 2005 gala here. However the loco was in excellent condition and we enjoyed a spin all the way to Totnes and back in the hauled DMU once again. The trains were getting a little busier too, and it was good to see that even in November the railway could persuade a good few visitors to come out to support the restoration of 'gronk' 09002. On our arrival back at Buckfastleigh we had a quick wander around the yard to get some pictures of heavily restored 33002 which had unfortunately been put out of the running today by an air-leak. The resident Class 50 'Superb' was hidden in the shed for attention to it's bodywork - but these were minor disappointments.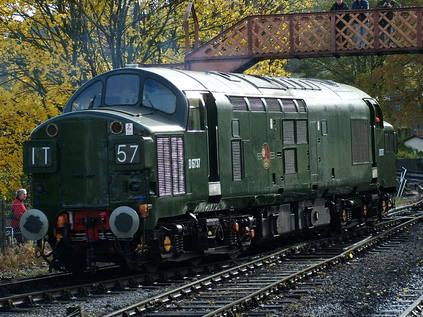 A final run down to Totnes and back with D7612 and with the crowds thinning and weather closing in, we decided to head home via a brief stop in the strangely quiet town of Buckfastleigh. The weather forecaster's prediction of rain coming on later in the afternoon was eerily spot-on and we just about managed to out run what appeared to be a fairly sizeable storm. Another excellent day out on the South Devon, which is certainly one of my favourite preserved lines.