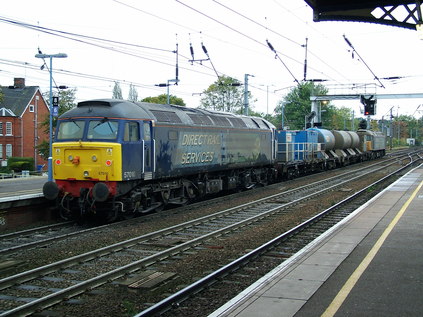 Posted in Railways on Saturday 1st November 2008 at 11:27pm
---
For a long time there were big areas of white space in my rail atlas in East Anglia. It was just somehow awkward to get there and back in a day from here in the west, and over the years it became a bit of uncharted territory which I rarely got to visit. A few All Line Rovers later, and I've largely rectified this in so far as the lines radiating out of Norwich are concerned, and even managed to go back to get the line from Lowestoft to Ipswich which had let me down on a few occasions. But there remain a fairly tricky bunch of stubs and branches in the south of Suffolk and east of Essex which I've yet to visit. So, taking advantage of reasonably priced through-tickets from First Great Western I set about covering a few of these today.
A customary early start, with a quick move to Weston-super-Mare followed by a doze on the first HST to Paddington. Nice, relaxing journey and just awake enough to note three Class 60s at various points along the Great Western Mainline, which is good to see given their reduced work in recent times. A quick connection on the Circle Line, and into Liverpool Street for a much needed coffee break. 90009 was doing the honours on the Norwich train which took me out, through the Olympic site once again, and to Ipswich. I've always found this station fascinating, as the presence of the neighbouring Freightliner facility means there are always plenty of locomotives and interesting activity. The train to Felixstowe involved a couple of Class 153s coupling together, so while awaiting the slightly delayed joining unit I had a wander around noting the fairly new batch of 66s and a fair showing of electric locos. Didn't wander far as I'd managed to somehow pop my ankle wandering home from the pub last night and I was walking like some sort of extra from a zombie movie - appropriate given the Halloween festivities last evening.
Finally off to Felixstowe on a fairly busy train. The line was familiar as far as Westerfield, where it divides for Lowestoft and Felixstowe. Took the southerly branch and noted how the line loops strangely back into urban Ipswich before turning east for the coast. Noted the extensive connections for the docks, with facilities hidden away from the branch - maybe railtour territory some day perhaps? Rather abruptly arrived at Felixstowe - a basic single-platform terminus, oddly within a few yards of the former Great Eastern Railway terminus which now serves as a small shopping complex. I'd build a possible stay here for an hour into my calculations, but given pretty grim weather, returned to Ipswich on the same train - just in time to see the Class 57 hauled Rail Head Treatment Train passing through, blasting the leaves and grease off the rails.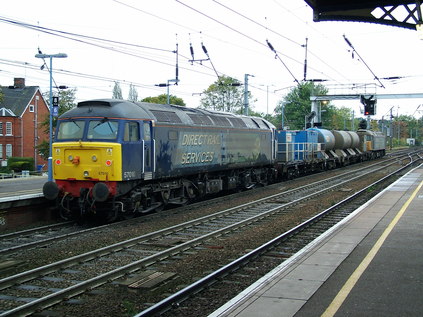 Time for another brief look around Ipswich. I hadn't been here for some time, and noted how recent developments had installed a range of small boutiques into the arched frontage of the station. A hairdresser, a wine shop and a delicatessen were all now to grace the platform, though all were in the early stages of setting up business. More coffee while watching passing freight and loco-hauled London workings. The plan was to get a London train as far as Manningtree where I could change for the Harwich branch. Flagged a couple to avoid too long a wait in the rain at the other end, and finally noted my chose train arriving, once again with 90009 at the helm. Boarded the last coach, noting the strange high-backed plastic seats which have been added to each end of the Standard Class Mk3 coaches here.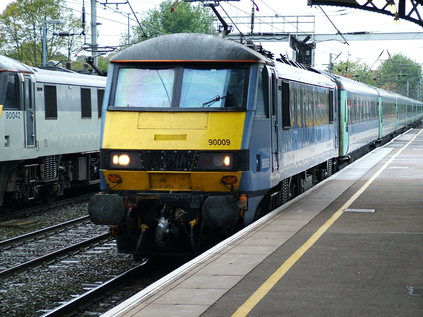 Arrived at a very wet Manningtree with a few minutes spare to cross to the other platform. Noted a service from Harwich arriving, with a fair number of Ipswich Town supporters alighting and crossing under the subway to get the next train to Ipswich. Whilst ruminating that once again I'd dodged a football crowd successfully, thought how I was about to end up just across the estuary from Felixstowe, despite having travelled miles to get there. The Class 360 unit hummed quietly in, with a few football fans almost boarding and accidentally retracing their steps down the branch! I've not travelled on a 360 before, but much was familiar from their closely related Desiro cousins in classes 185, 350, 450 and 444. A smooth and interesting journey down the branch, coming alongside the river and passing through the extensive port complex at Harwich International. Finally arrived at Harwich Town in driving rain, and ventured out to a rather forlorn and grim looking area of town. The interesting Old Lighthouse (now a museum I understand) loomed over the houses, but there seemed little else of interest. I knew from reading that there were extremely old streets and surviving medieval buildings to be found in Harwich, but I was put off the search by the rain, a leaky boot and a painful ankle which meant the lure of a warm dry train back to London won. I do owe Harwich another chance sometime though! For this visit though, back onto the 360, taking advantage of First Class and being the only passenger in the tiny little compartment at the front of the unit for the semi-fast run back to Liverpool Street.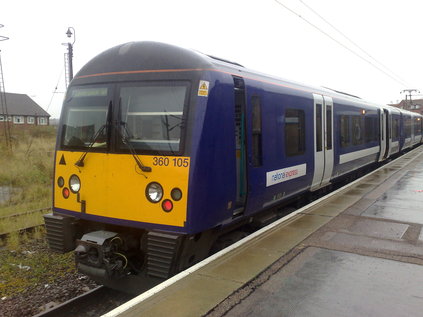 Another trip back through Essex and past the drowning Olympic site. Arrived in a wet and slippery Liverpool Street station and decided that having gained an hour on my original plans, I could afford to pursue my recent interest in taking London buses around the city. Pre-Oyster card, this was fraught with having the right change and knowing where you wanted to get to. Now it's as simple as tapping and settling down for the journey, and even the greenest traveller can nonchalantly hop on and off without betraying they've no idea where they're going. This time, having consulted the map, took a 205 back to Paddington. This involved a brief wait on the street outside a pub full of warm dry people who I'm sure thought my dampness was entertaining, but took me into Finsbury, Moorgate, along the boundary lands of Old Street and Pentonville before skirting Marylebone and descending to Paddington. Despite the rain and closing darkness, a fascinating trip. Almost dislocated my arm following a perfectly executed emergency stop by the driver near Paddington, before settling in for coffee while I awaited my HST home.
I'm not sure if it's a more frequent service or a more adventurous attitude to the timetable, but it felt relatively easy to access East Anglia today compared to early attempts. There is more track to do around the area, and I may yet try the original plan of another 'Lost Weekend' to cover this in daylight wherever possible soon. An easy, varied and interesting day which despite foul weather turned out to be productive. Can't help but feel a little concerned about my growing obsession with the Olympic site and it's strange border-territory feel though. Once again, London draws me into a mess of complications!