Posted in Railways on Monday 31st May 2010 at 3:11pm
---
It was never my intention to spend every Bank Holiday this year in Paignton. However, thinking about the progressing plans to replace the currently locomotive hauled services with cascaded units, and since the UK doesn't have another weekday holiday this side of August, I thought this could be the last chance I get! Add to this the chance to finally get a snap or two of 'celebrity' loco 67018 in it's DB colours, and it seemed a sensible way to spend the day. Fantastic weather also helped.
The issue of what to do once I got to Paignton was solved by the opening of a new Costa Coffee. I swear this branch wasn't here just under a month ago when I visited, and bemoaned the lack of decent coffee in the town. I queued up behind a long string of locals who hadn't quite figured out how to use the store yet. After stifling a chuckle at someone who complained that her latte was "too milky" I began to experience a degree of middle-class guilt, and sat quietly writing and sipping my coffee. Back to the station for a much more honest bacon sandwich from the excellent little cafe at the station, then a quick but rather warm dash back home on the loco-hauled service. Why don't they use the air-conditioning on these sets?
So, after a brief break at the seaside it's back to work - and the nail-biting wait for tour timings to come through for the rest of June's entertainments. As someone recently pointed out, this site seems to be obsessed with weather, food and trains. Guilty!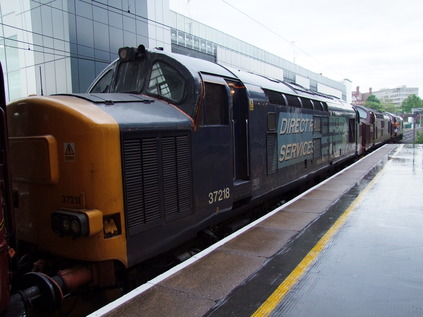 Posted in Railways on Saturday 29th May 2010 at 10:35pm
---
Things aren't going well at Network Rail's special train planning unit in Leeds at the moment. A new computer system, which was meant to revolutionise train planning has made the production of the May 2010 national timetable a painful, error-ridden process. As for short-term planning work, like charters - well, things are moving very slowly. Thus, today's trip has been dogged with timings (and thus tickets) arriving late, changes to the order of play and revision after revision of the times on the single lines west of Dovey Junction. But, most importantly, and in true Spitfire tradition, the tour ran almost as planned.
What wasn't in my original plan was the 05:57 from Crewe to Preston! The tour had originally offered a very lazy 08:55 start from Crewe - promising breakfast, a lie in and good light for the photographs! I could still have all that if I wanted, but as the change from WCRC to DRS Class 37s was now scheduled for Crewe, I'd miss the first pair of engines entirely. So, up at a more traditional time and onto a pair of Voyagers which were confused about where they were going. Reassured a number of passengers that this wasn't going to Llandudno via Nuneaton and settled in for a quick run north. Surprised to find nothing open at Preston station yet, so cursing a lack of caffeine I stumbled over the bridge to find the stock already at the platform, with no less than three locos attached! Leading the ensemble was recently refurbished 37685 along with WCRC sister 37706. Tucked in behind was DRS's 37218. Impossible to get a picture in the rather gloomy morning, and given that the train stretched almost two loco lengths off the platform!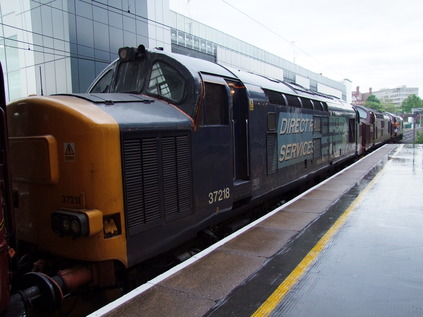 Found my seat, and relaxed - this should be a nice, easy trip. A simple out-and-back dash along the Cambrian Coast, finally doing a bit of line I'd left to last in terms of regularly operated passenger track in the UK. A big unhighlighted stretch of black in my Baker atlas should be inked in if all went to plan. As a bonus, we'd also cover some interesting rare sections I'd not covered for a while at Oxley and (since we now weren't visiting to change locomotives) avoiding Shrewsbury. After setting off it became clear that all wasn't well with the traction, and we lost a little time - however, some smart driving and the frankly bizarrely slack timings to Crewe made up for this. News soon reached us that 37685 had failed with a seized power unit. Not a good start for this loco's much anticipated return to service. At Crewe, I dashed over the the platform where I'd started the day three hours earlier to get coffee and food, whilst the WCRC locos were detached and 37069 from DRS was placed on the front of 37218. 37069 was a winner for me, and things began to feel a little better as we sped off south.
At Oxley, we took the chord avoiding Wolverhampton and providing access to the line to Telford and Shrewsbury, passing the depot and soon gathering speed once again. As we curved to the south at Abbey Foregate and passed the new Network Rail depot, the sickening sight of three of the Class 97s which were supposed to haul this tour became evident. Quite why they couldn't be used, given they clearly had no commitments for Network Rail today, was unclear. At Sutton Bridge, we joined the Cambrian Line and began to head west into darkening skies. The weather was supposed to improved out here during the afternoon, but there was little evidence of this! Had a pleasant, quiet and sleepy spell as we passed Newtown and headed over Talerddig. Woke from a snooze as we rounded the curve at Dovey Junction and began to head for the coast.
Found the vestibules packed for the shot of the train going over the Barmouth Bridge, so contented myself with the incredible views here as the line is hemmed in on one side by the Irish Sea and on the other by steep slate-grey cliffs, with tiny settlements creeping up the sides to seemingly impossible houses balanced near the top! The timings allowed a fair amount of time at some of the stops, either to pass units or due to the generally rather slack allowances provided. Had the weather been good, this would have been perfect, but instead it was a pretty damp experience. Got drenched at Porthmadog but enjoyed a leg-stretch and was amused to sea what appeared to be some sort of druid-vicar hybrid flailing at the train! It's rumoured that he then did a part-fare to Pwllheli and is a well-known crank and campaigner for local rail services. The weather deteriorated further as we turned west onto the Llyn Peninsula and headed for our destination. Poorly prepared with no coat, I wasn't looking forward to the couple of hours in Pwllheli at all.
Indeed, there isn't much to the town at all. I wandered only briefly, due to the rain, but aside from a few small shops it has the abandoned air of my own home town in some ways. There were plenty of people around, presumably a mixture of locals shopping and tourists here for a weekend at one of the camps further up the coast. With the undeniably amazing scenery of Snowdonia and Llyn nearby, it's easy to see why people stay in the neighbourhood - but the town itself, especially in the drizzle, wasn't inspiring. As I shopped for local beer - opting for several from the excellent Purple Moose Brewery - I thought about how my journey had begun about fifteen years ago with a desire to find out what Uttoxeter was like, and had ended in some senses here in Pwllheli. Quietly and ceremonially marked off the line, realising that I had a long way to go yet in terms of less easily used track. However, this was the last regularly served passenger line that I needed since I began keeping records and that deserved some thought!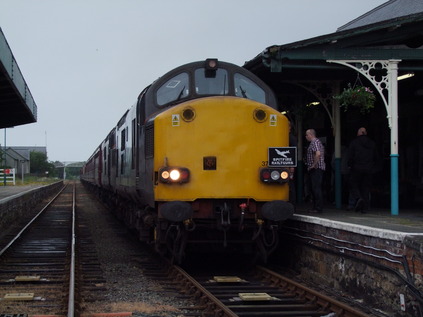 Watched the stock shunting in the rain, as the locos were reformed to provide the same pairing back to civilisation. Soon back on board, and watching the impressive coastal scenery slip by again. Another extended wait for a service train at Barmouth allowed the customary level-crossing shot at this location. As a bunch of grown men with cameras blocked the pavement clamouring for a shot a local voice was heard to say "it's a bloody train! I though it was the Queen or something!". Got my pictures and settled back in for the run back as far as Crewe. It was a sleepy return trip, a pleasant end to an easy and quiet day out in fact. Chatted whilst the WCRC locos rejoined the train at Crewe, then headed back to my hotel with another successful trip under my belt.
There are lots of things packed into the next few weeks, and there is a worrying sense that due to the Network Rail issues, some of them might fall by the wayside. After the impressive start to my 'UK tour' in May and June, I really hope this isn't the case - not just from my own selfish viewpoint, but also from the perspective of the people who've worked incredibly hard to bring trips like this to fruition. Some promoters are abandoning the crank market entirely - but as I discussed today, if you're prepared to put the work in, there are plenty of people who want to do this sort of excursion. Here's to many others I hope...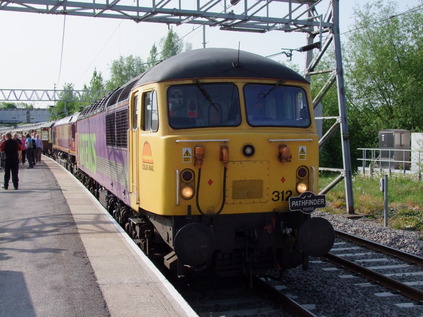 Posted in Railways on Saturday 22nd May 2010 at 11:58pm
---
Making the short walk over the bridge to Temple Meads this morning, I pondered on how different it would have been if this trip had taken place as planned in December. Thinking back to the day in question it didn't really get light at all - and the icy winds howling in from the west would have made Carlisle a very chilly pace to be. Today however, was already promising to be very warm indeed. With a hazy sun already up, we strolled around the platform waiting to figure out where the stock would arrive. Eventually, a distinctive engine note was heard over the waiting Voyager, and we decanted to platform 5 where 66148 was heading the train. On board, windows open and soon settled in for the long journey north. As we gathered passengers at various stops, it became clear that the centre bays of our coach had been reserved for cranks, whilst most of the train seemed to be full of normal folk on a pleasant day out. Across the bay, a desperate move involving fast cars and Blackpool footexes was developing - and sure enough, with 66148 underlined, two of our number left the train at Cam and Dursley to dash north! Sat tight for the frequent service of coffee and a decent breakfast. Soon found ourselves ascending the Lickey and slowing to a near-crawl - no surprise as the train was impressively formed of 13 coaches which bucked the recent trend of shorter charter sets no doubt due to lower bookings. A brief stop at Birmingham New Street then into the suburbs again, with the train drawing into the goods loop at Bescot Yard to change locos.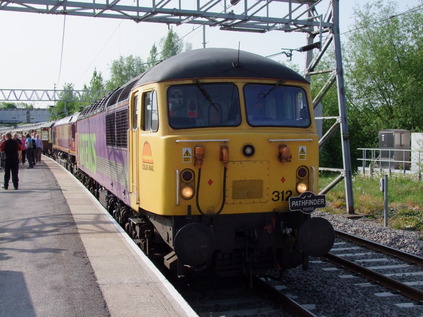 After rumours of 56311 or both of the Hanson machines being turned out, it was a little disappointing to see just 56312 "Artemis" arriving in all it's purple and green glory! Still, a 56 on a passenger train is never a bad thing, even if the 66 appeared to be staying on, tucked inside the train too. Soon off again, in the now pretty intense head, and heading back to the WCML via Bushbury Junction. A break at Stafford allowed a leg-stretch, and enabled the duo who had leapt at Cam and Dursley to rejoin the train, their move having turned out to be unworkable. Back on board, and finally the Grid on the front was able to stretch it's legs a little as we set off for Crewe - our final pick up. More quick running got us close to Preston, with our train taking the usually freight-only connection at Farrington Junction to gain the line to Blackburn and Clitheroe. I hadn't been this way for some years - but recalled running this tour route once before with D1015 at the helm. Climbing steadily, we traversed the section of non-passenger line to Hellifield, before passing on to the Settle and Carlisle line proper - for most of the passengers on board, the highlight of the day. From here until well after Ribblehead, the vestibules were full of people bickering over droplights in order to get a look at the viaduct. Gave up trying to explain I wanted a quick photograph, and settled for enjoying the amazing scenery from the window instead. The day was hotter than expected, and even the cooler mountain air wasn't making the train feel any less warm inside. A brief stop at Appleby to unload passengers for an Ullswater cruise turned into a longer stop - and a catalogue of injuries, disabled access disasters and staff left behind! As we finally curved towards Carlisle station at London Road Junction we noted Duchess of Sutherland waiting on the curve to Upperby. Lots of gasps from the assembled normals at the presence of a steam train - one or two seemed to think it had all been planned for them, and would be taking us home!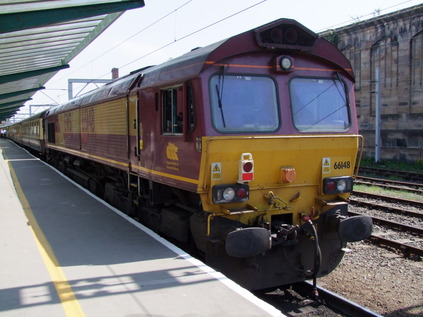 A quick dash out into a very busy, very hot Carlisle to shop. People seemed to be really enjoying the weather here, and the Cathedral Green was packed with people lounging in the sunshine, while others raided the stores for ice-cream and drinks. Back to the station to find 47245 had just hauled the steam service back into the platform. Snapped the 47 in battle-stained West Coast livery before finding a much needed decent coffee and crossing over the bridge made famous by Homebase for a shot of 6233 steaming gently among the crowds. However, the presence of two charters and the usual service trains seemed to be causing problems, as our stock rolled back in from Kingmoor with only minutes to spare, and we ended up leaving around 17 minutes down. The return run was via Shap and, for me, a route just a special and scenic as the one we used to get here. Frequent trips to the droplight to enjoy the cool air and the speedy running south followed, with a call at Penrith to collect those who'd opted for a boat trip. While briefly looped at Tebay, the next plan involving our intrepid neighbours was discussed. With one of them already en route to Stafford to retrieve the car, the plan was to meet at Warrington where we were booked an Operational Stop, and then to head to Preston for the returning footexes. A word in an ear at Control had been secured, and it all seemed to be going to plan. However, things soon unravelled as Control declined to be helpful with the positioning of the engines and in any case, we shot through Warrington at around 80mph with no operational stop at all! The plan was duly recalculated to account for any change in our loco at Bescot later...these people, though clearly desperate, are utterly indefatigable! In the meantime, I assumed my position at the window for a flying view of Carnforth, Hest Bank and Lancaster station - a favourite stretch of line for me that harks back to the earliest days of my obsession with rail travel, and never disappoints.
After an unexpected diversion via Wolverhampton and Crane Street Junction, we were soon back at Bescot as the sun started to go down. With the 56 detached and our original loco ready to head south we waited for a clear line before heading into Birmingham again, and down the Lickey under an amazing sunset. Despite some minor delays on the return, we rolled into the deeply inconvenient Platform 15 at Temple Meads just seven minutes later than planned, and 589 miles later. A fine trip, which despite breaking no new ground, seemed to be appreciated by everyone on board whatever their disposition. As I've tried to tell Pathfinder it is possible to 'mix the markets' and still have a successful day.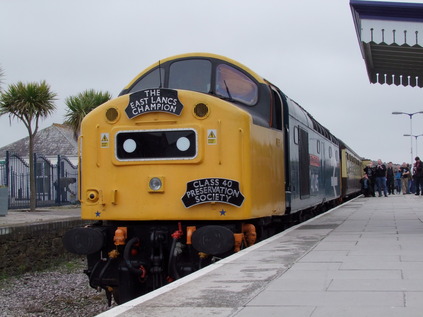 Posted in Railways on Sunday 16th May 2010 at 10:14pm
---
I checked out of the quiet and pleasant, but rather chaotic Union Hotel rather early. Not because of the hotel, but because I've grown to really appreciate seeing towns on Sunday mornings. Sadly, there was nowhere in Penzance at 8am to sit and watch the world go by with a decent coffee, so contented myself with shopping for provisions and wandering down to the station in a sudden burst of light rain. Found a few fellow passengers already lurking around - I'm not entirely sure if they were early birds too, or just hadn't gone to bed yet? The train finally pulled in just prior to the departure of the London service, and we resumed our seats for another day of entertainment. With D1015 leading, we made the short trip to St Erth, before curving north onto the St Ives branch. I can't recall a loco-hauled service on this branch at all, and there were plenty of people out and about early on the golf course, or at the windows of the expensive-looking homes we passed who seemed equally surprised to see us. Perhaps the best part of the journey along this branch is the moment that foliage and cutting gives way to a sudden view over the sea at Carbis Bay. The sun made a brief appearance too here, and the carriage which had been busy with conversations about last night's exploits was suddenly silenced as seemingly everyone regarded the blue water, yellow sand and picture-postcard view of St Ives. As we came to a halt at the buffers things returned to normal however, and people began to scramble through the train to get a photograph at such a rare spot. Used the opportunity to get a coffee and relax whilst enjoying the view. I'd forgotten how much I loved this trip in fact.
After a short break, we reversed with 40145 hauling the train all the way back into Penzance for late joiners. A situation had been developing during the trip however, where some people seemed to have lost items which they'd been assured would be secure on the train overnight. In most cases, it wasn't valuable stuff - mainly food bags and suchlike - but it was clearly pretty annoying. I remember being a little surprised when the stewards had suggested the train was secure - and not mentioned our 'own risk' at all. I have to say that the organiser dealt pretty well with what was a bizarre situation which I don't think I've ever come across before. Once everyone was onboard again the items began to be found, misplaced near the front of the train. A few theories followed - perhaps thieves had passed through the train, gathering what they wanted to steal and consolidating it at the end of the rake? Maybe overzealous cleaners had misunderstood why things were left on the racks? For a while this situation threatened to put a damper on festivities, but some swift action, the personal touch and some genuine apologies stopped it from becoming a major issue despite early internet reports.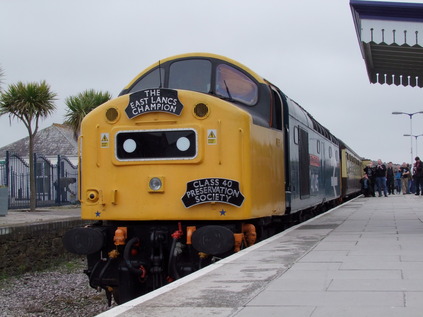 Underway again from Penzance, with D1015 one again leading, we made swifter progress along the mainline to Par. The village looked just as sleepy and closed on a Sunday morning as it did when I last visited on a Saturday afternoon! We came to a halt on the branch platform, and reversed again with 40145 leading us onto the Newquay branch. St Blazey was rather depressingly empty and looked almost abandoned as we passed by, before beginning the fearsome climb at Luxulyan. With the only serious burst of rain of the entire trip falling on the rails, the 40 began to slip and stutter. After a few attempts to keep us moving, the Western roared into life and gave a mighty shove from the rear. Whatever the traction preferences of those on board, the bank on wet rails with a heavy train and a dead loco on the rear was always going to be tough. Settled down to enjoy the contrast this branch offers - deep green cuttings and wild open moorland. I hadn't been to Newquay for many, many years - and not much had changed at the station. Got my picture, and wandered a bit before heading back to my seat for the trip home.
More fairly swift running on the mainline kept us close to time, as we headed for Plymouth. Here the locos were to manoeuvre once again to double head the train northwards, with D1015 leading 40145. Watched the operations and got some more shots of the locos, before heading onto the concourse for a decent cup of coffee and some late breakfast. Queued with a seemingly local chap who was perhaps the most irritating person I'd met all weekend - cutting into my transaction to share his thoughts with the cafe staff, chatting about his life rather loudly, and urging them to "cook quicker" because he wanted his coffee. As I paid the lady behind the counter confided "I've never seen the bloke before!". Wondered if this would be me in a few years, lurking at stations and trying to befriend the staff? A worrying prophecy indeed! Lazed in the sun a little, watching the other charter trains which had arrived alongside us, making Plymouth something of a gala, before heading back to the train for the final bit of my journey.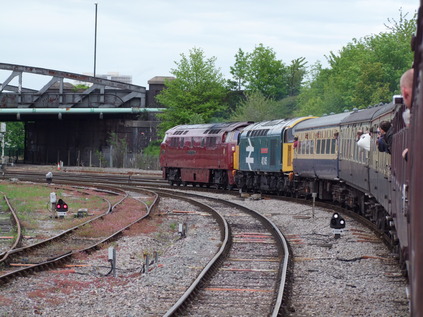 The mainline run back to Bristol was rather fantastic, with some sterling performances put in by both of the vintage locos at the front of the train. Again, the sea wall provided a highlight, with photographers lining the route in what were now pretty much perfect conditions. With few signal checks and a fairly clear passage through the stations at Exeter and Taunton, we were still almost on time as we slowed at Bedminster for the approach to Temple Meads. Gathered my possessions and had to accept a good-natured withering from two of the Spitfire crew for "only doing half the tour" as I headed for the platform. Dashed over to get some final shots of the train leaving a surprisingly busy Temple Meads, with D1015 emitting a huge black cloud as it accelerated away from the station and headed for points east and north.
Pondered the weekend on a strange, sprinter journey homewards which retraced some of the track I'd just covered. This tour was a huge gamble - and appeared at first just a pipe-dream. However, because about 400 of us had stuck with it, I'd just had almost a thousand miles of remarkable haulage and visited some of the finest countryside in Britain in some style. The trip started with me complaining that some operators were abandoning the crank market through lack of bookings or interest - but this trip shows that there will always be a bunch of people crazy enough to spend a whole weekend trundling around the country! The busy months of May and June this year are full of these excursions, and I hope they all work out as well as this one. And as one passenger said to a slightly worried looking John Stephens during the homeward run: "so where are we going next time then?".