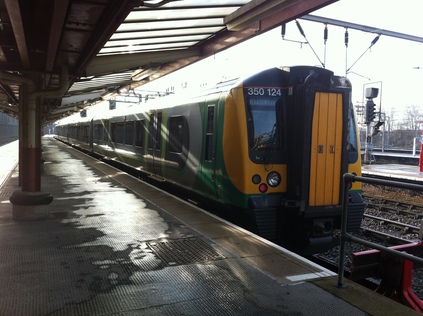 Posted in Railways on Saturday 28th January 2012 at 10:31pm
---
After a surprisingly but mercifully busy start to the year, these next few weeks are a bit of a hiatus. That's not to say there isn't plenty happening - but for a couple of weeks at least I'm back on service trains, making my own entertainment so to speak. I don't mind this at all, and the opportunities to revisit areas and see them changing subtly or just to people-watch and drink coffee all around the UK are never unwelcome. However, lately I've not had much time to plan these trips - so beyond saying "I think I'll do another West Midlands Day Ranger" I'd not thought in detail about today until this morning at about 5am! I'd used one of these tickets recently and found it to be very flexible, to cover a huge area and to be very good value indeed. Today though I was on my own - no bad thing in some ways after a difficult week, and had perhaps a little more freedom to wander as I wanted. The journey up to the Midlands passed sleepily and uneventfully as I'd hoped. I needed a lazy element to the day, as the week had been a bit fraught and stressful. The warm train sped through a frosty, pale sunrise before depositing me at Birmingham on time. Booked my rover ticket, grabbed breakfast and headed for the 09:01 to Crewe. Again this was a pleasant journey through the wintry morning scenery, with a few surprising locomotives moving around at Crewe just to keep things interesting from a railway perspective! It was clear though, that all was not well here - lots of delays, with some trains inexplicably showing twelve hours late, as a result of a fatality near Atherstone in the Trent Valley. I'd planned on the 10:33 Euston slow train, which would give me another long run - but this was now expected to terminate at Stafford. Given that it was leaving from the relatively unusual Platform 2 at Crewe meant I did it anyway. In the event, after a short delay at Stafford we were allowed to continue - one of the first stopping services to do so, though we omitted the call at Atherstone passing at speed on the Fast lines. At Rugby I alighted and explored the remodelled station a little. It is much improved in some ways - having extra platforms, a more pleasant subway and a sense of space around the rather quiet concourse. However, it has lost it's buffet with a small concession near the ticket office doubling up now, and inexplicably just closed for lunch when I arrived. Didn't hang around long here, not like the old days of hot tea clutched in cold hands watching passing freight trains. The next Birmingham local service was rather packed so I hopped only as far as Coventry before switching to a Pendolino service for the last few miles.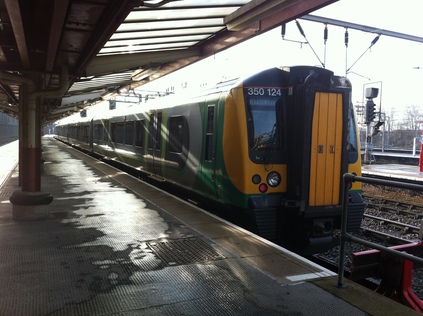 Out of new street and over to Moor Street for the rest of my travels today. The Chiltern Lines have figured large in recent times, not least because I'd neglected them for a while. Also, the arrival of the new Class 172s on London Midland local services has sparked a little interest in the area. Moor Street too, continues to be a welcoming and impressive terminus. There is space, a sense of being a 'real' station in it's historic buildings, and it feels practical and usable too. An excellent refurbishment job overall, and who would have thought when the Snow Hill tunnel was reopened in the early 90s that this station would return to it's former glory quite like this? Grabbed the first service heading north to Snow Hill, which took me as far as Kidderminster. I'd considered a run further on to Worcester or even Great Malvern, but options coming back weren't great. A quick change here for a service back as far as Tyseley. I hadn't been here since the Centenary Open Day in 2008, and I found a rather sleepy, cold station inhabited only by a couple of intrepid trainspotters. Noted a few more of the new units on the extensive depot beside the line, before heading back into Moor Street for much needed hot coffee.
For my final spin of the day, I decided on a run down to Leamington Spa, rather like the last time I used a rover ticket in the Midlands. I like the original features of the Great Western station, and it would be nice to do this in daylight this time. Hopped on a waiting Chiltern service and had a quick run down to Leamington, changing platforms before an equally speedy run back into Birmingham while watching an impressive sunset in the west. A quick, twilight walk back to New Street and a chance to relax with coffee and enjoy watching the busy station life before catching the usual 1V65 back towards home. Noted some problems at Reading delaying services out of Paddington, but the generous layover of my chosen service at Bristol meant that it arrived late but departed bang on time. The trip home was in good company too, with railway acquaintances and former colleagues on the train. So it had been the kind of day I set out to enjoy - lots of winter sunshine, coffee, people-watching and escapism - and when I added it up, surprisingly around 500 miles of travel.

Posted in SHOFT on Monday 23rd January 2012 at 7:01am
---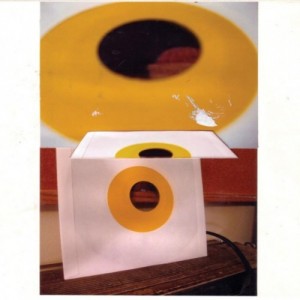 It's strange to be sitting here, in 2012, reviewing a Guided By Voices record - and it brings back all kinds of memories for me. To begin at the beginning, there's no reason that anyone reading should remember Revolver Records in Bristol. The shop was tucked away in a doorway which led to a long passageway adorned with gig posters, into a cramped windowless room. The room was full of treasures - and presided over by the man with the loudest voice in Bristol, booming out his disdain for music which didn't cut the mustard, or yelling praise for his latest and usually most experimentally unlistenable discoveries. It was here I first discovered GBV, clutching my copy of "Vampire on Titus" on the train home and not quite knowing what to expect. Then, almost ten years later and just before the turn of the century I'm stalking around Bristol again, but in a mess. My life as I'd planned it is collapsing around my ears, and my uncle and I - and he's hardly a lover of cutting edge music - find ourselves in the Fleece and Firkin drunkenly watching GBV. Robert Pollard is smoking, slugging beer and high-kicking from the stage, the songs last mere seconds each, the band just keep playing - loud and messy but drifting occasionally into focus. It's the perfect distraction from the chaos of real life. My uncle yells in my ear: "he's almost like a proper rock star".
So, just over twelve years after that fateful evening and nearly twenty years since GBV first pricked my consciousness, we have "Let's Go Eat The Factory". I confess I was a little apprehensive about making the purchase - just like I was when the shouty man at Revolver tried to make me do so all those years back. I'd not been a good fan - as the number of GBV releases multiplied and with a soap-opera of line-up changes, quality inevitably dipped and I'd lost track. Like all the best soaps it was possible to dip out for a number of releases and to return to find not much had changed. But I still found myself returning to the churning noise and buried tunes of those early purchases because, frankly, no-one quite did it like GBV on form. This release is marketed as being recorded by the "classic line-up", which refers to that 1993-1996 or so collision of Pollard, Tobin Sprout, Kevin Fennell, Greg Demos and Mitch Mitchell. A collective of musicians content not to let technology or fidelity stand in the way of a wonderful tune - and one which had a thorough grounding in the pop and rock of the sixties and seventies rather than an education in the 90's indie-rock scene with all its attendant posturing and eclectic referencing. Listen to the output of this GBV line up and you'll find T Rex in the crunchy guitar riffs, John Lennon in the surreal but downtrodden lyrical preoccupations and a vocal delivery which often pays tribute to David Bowie.
Perhaps the most reassuring element of any reunion is not how many of those original features which once hooked you in survive, but how real and unforced they feel when delivered twenty years later? I'm overjoyed to say that "Let's Go Eat The Factory" in all its ramshackle, chaotic glory, retains all of the incoherent brilliance which "Vampite on Titus" provided all those years back. It's just as inconsistent, frustratingly patchy but ultimately gloriously experimental as those early 90s records. There are cuts which deliver straight out, medium-fidelity garage rock - but with Pollard's cynical, nasally Bowie-like croon overlaid they become tiny epics with nonsense lyrics, "The Unsinkable Fats Domino" and "Chocolate Boy" being perfect examples. Elsewhere they stray into the more experimental territory which has always confounded and amused, with "Old Bones" being an oddly Caledonian effort which shares a buried melody with "Auld Lang Syne" delivered on a cheap keyboard. There are also further deliciously odd synth-pop treats such as "Hang Mr. Kite" which adds an unexpected layer of strings to the reverb laden vocals. Only on "Doughnut for a Snowman" do we get hints of the later-period Rik Ocasek moderated, radio friendly GBV which never quite delivered. It's a curiously gentle ballad, with an impenetrable lyric which is delivered with genuine feeling nonetheless. Compressed into a couple of minutes and shorn of any attempts at production, its a shimmery pop delight which makes you realise why they might once have thought a radio-friendly GBV could have worked. There are also a couple of acoustic tracks here, the like of which both Pollard and Sprout both toyed with in their more obscure solo efforts. These are fragmentary, brief and tantalising with "The Room Taking Shape" clocking in at under 45 seconds, tailing off just as it starts to get interesting. The only track to break the three minute barrier is "We Won't Apologise for the Human Race" which closes the album in strangely pensive style. By GBV standards it's an epic, with chugging glam rock guitars and stabs of strings which burst into an anthemic garage rock chorus. The relatively extended length is provided by a minute of so of squalling, tangling guitar fuzz.
The question I've seen raised repeatedly by reviewers elsewhere, who've had the benefit of advance hearing of "Let's Go Eat The Factory" is whether these 21 sprawlingly unrelated tracks really make an album? With few of them exceeding 180 seconds in length and many of them tailing off into oblivion early with a click of the portastudio, the album shifts along at a curiously stuttering pace I'd agree. However, it was always thus - and a listen to any of those "classic line-up" era records will deliver a similarly uneven, sometimes disconcerting experience. This is the great joy of this type of recording - the experiment is captured and delivered to the listener pretty much unmoderated. Sometimes it doesn't work, but on other occasions GBV seemingly accidentally capture a classic pop song buried in the murky recording. This approach isn't for everyone, but in my case it's probably one of the reasons I got involved in making music, and certainly relates to my decision to write about it all these years later.
With some of the reunion dates cancelled and the band reportedly on the verge of dissolving again, it's worth remembering that this line-up was never far from complete implosion. Conversely, there is more positive talk of another album in the can and more material to follow, and this work ethic always set GBV apart from the slacker mentality of the scene which they found fame within. Perhaps the trick is not to look at this as a reunion album, and to expose it to all the intense scrutiny and criticism that inevitably brings, but to consider GBV as something which has drifted in and out of existence for almost 30 years now, and shows no signs of disappearing while that 'almost proper' rock star in Pollard continues to stalk the stage. This line-up though, captures the sense of unbridled energy and no-stone-unturned inventiveness better than most, and as a result "Let's Go Eat The Factory" is full of tiny masterpieces.
"Let's Go Eat The Factory" is available now from all good record retailers on both vinyl and CD. You can also download via iTunes. A video of the band's recent performance of "The Unsinkable Fats Domino" on Letterman is also pretty essential viewing.

Guided By Voices - The Unsinkable Fats Domino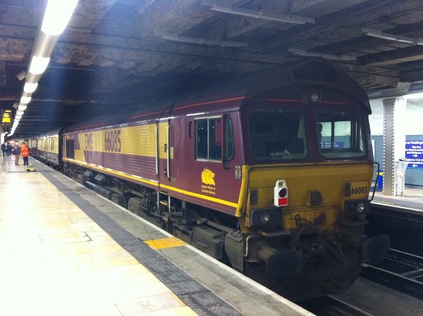 Posted in Railways on Saturday 21st January 2012 at 7:49pm
---
Less than a month into the year and I'm writing about my second railtour - this is far from the usual course which January takes. However, years back when I had a lot less ink in the atlas I used to see start the year by how many weeks I could keep up the practice of covering a new bit of track. For a while now, that's just not been possible given all the easy bits are covered, but this year would have been a pretty good one in those stakes by all accounts. I found myself in Watford once again this morning, with an early start ahead of me. Staying in Central London had proved pretty costly when I set things up for this tour in October, with a Travelodge sale being announced after the fact, but I had a comfortable Premier Inn bolthole in familiar surroundings. The only drawback was the long, dark DC lines slog into town first thing, but with headphones on I was soon coasting into Euston and heading for the bus across to Paddington where the tour started. Plenty of time to breakfast, watch the day start and witness an assembly of rather odd looking cranks descending on the Upper Crust concession the second it opened. It's times like this that appearing relatively 'normal' in the rail enthusiast world is a welcome choice. Instead settled down to coffee and wandered over to the stock which had arrived early.
I don't travel often with UK Railtours, but the increasing number of 'Forgotten Tracks' trips which they operate, and the recognition that not all First Class passengers want dining has opened a few more of their trips to my interest lately. This one was a winner from the outset, reflected in it being fully booked very quickly and a re-run programmed for next week - almost unheard of in these austere times! With a couple of winning locos - one which had reputedly never worked a passenger service before - and a realistic itinerary all reasonably comfortably achievable in the short winter daylight, this was going to be a good one. So, out of Paddington on time for the short run into Southall Yard where we reversed for the first of many times today. The branch to Brentford Goods curved behind the sheds and workshops of the preservation group, with a couple of the Class 08 shunters which had been involved in the production of The Railway Children at Waterloo International spotted on site. Then we pulled alongside the Grand Union Canal, passing under Windmill Bridge where three tiers of brickwork see the railway, canal and road stacked together in an impressive engineering feat. The lines began to fan into a range of sidings before the end of the branch in the West London Waste terminal.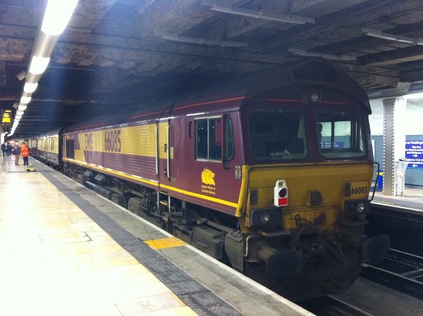 A swiftly accomplished reversal took us back to Southall, and a brief run along the main line to West Drayton, where we took the line at the far north of the station which would once have served Uxbridge trains. The line curved tightly to the south, with little trace of the former junction, passing under the mainline and heading towards the perimeter of Heathrow Airport. Progress was slow, with points being clipped ahead of us as we passed - but the operation was pretty efficient, with a single Network Rail operative managing the whole process on both of the branches so far. We were soon cutting along at a faster pace as we entered the curious section of line which passes through the M4/M25 interchange. The huge four-level stack junction was constructed with the two lowest level sliproads running along the fringes of the single line at ground level. This gives the weird sensation of having high speed traffic zipping past both sides of the train in the wrong directions! However, it's a tribute to the ingenuity of the engineers and planners that this freight branch was stitched into the complex road works rather than being closed or diverted from it's historic route. We slowly made our way to the terminus, this route being protected due to the Elf Oil depot. With the loco practically touching the gates to the facility, we turned and headed back towards the mainline.
We now made a circuit of north west London via the mass of lines which tangle around Willesden. This has always fascinated me, and no amount of coverage on numerous railtours and diversions has every quite led to a complete understanding of how it works. However, with Quail maps out and some eagle eyed companions, we plotted out course which took the lesser used connection from Acton Canal Wharf down to Willesden No.7 Junction. After a tiny burst of speed on the West Coast Mainline we crossed under the fasts and came to a rest near Wembley Depot. The tour was almost in two parts, with this marking a crew change and the start of the second half so to speak. Once underway again we headed north. It was now a remarkably bright afternoon, with the few tiny showers we'd had earlier soon dispelled. Thundering past the hotel I'd left about eight hours earlier at Watford, we made our way out into the Buckinghamshire countryside. Once through Milton Keynes Central we slowed, coming to a stop a little shy of the platforms at Wolverton. This is where things got complicated! The layout here is essentially the remains of a flying junction which connects the works to the mainline. However, the road allowing entry from the Down Slow has long gone - its alignment still apparent on waste land, before disappearing under new flats and a large Tesco. The connection to the up lines rises between the slewed pairs of tracks, but is connected only from the north - essentially the 'wrong' end. Thus we now reversed into the 'Incline' siding, before turning north again, and taking the steep grade which dips into a brick culvert and passes under the lines. Emerging to the west of the mainline, we passed the point where the lost 'down' connection would have trailed in and proceeded along a straight beside a road and much new development. Some warehousing here had been recently built - or perhaps rebuilt - in the style of the original and once vast carriage sheds. We finally entered open waste ground as the extended headshunt of Haversham Bank curved back in towards the mainline - of which is was once a much straighter and more direct part! The connection to the works trailed in from the left, still a vast site despite it's much reduced output and rather uncertain future. Parts of it lie derelict and are, it seems home to an unofficial BR museum of sorts!
So with today's rarest of track covered and the record set right after the cancellations which followed the unceremonious scrapping of the Wolverton Works Open Day a couple of years back, we headed back south via the reverse of the complicated manoeuvres we'd taken to access the works. For me the final part of the tour was less novel, having covered the flyover at Bletchley previously - but as the daylight was holding it was good to be seeing where we were heading this time. At Denbigh Hall Junction South we peeled away and climbed behind Bletchley station, curving west over the unloved but impressive concrete viaduct which stands as a folly to BR management - opened to keep the Oxford-Cambridge 'Varsity Line' traffic from crossing the WCML on the flat, it soon foundered - the 'modern' hump yard at Swanbourne sensibly knocked on the head as those at Tinsley and elsewhere were proving less useful than expected. Then the passenger trains ceased too, and now the line proceeds only to a run-around at Swanbourne where interested neighbours poked their heads out of windows and waved at us. The line doesn't end, but from here through to Claydon it is unused - and having frustratingly visited both ends, there is hope that the now funded East-West Rail project may join up the gap and provide Oxford-Milton Keynes services, with ambitions to restore the final but more complex link to Cambridge too.
Reversing once more we headed back over the viaduct with the sun beginning to set, then down the eastern arm which descends to join the line to Bletchley. At Fenny Stratford we reversed again, curving back to meet the mainline near the now almost abandoned Bletchley Depot, still kept remarkably tidy I noticed. Finally we had the fun of a fast run into Euston arriving a surprising ten minutes early - with the odd novelty of a railtour finishing before 6pm. However, it had been an incredibly successful day - mostly on time, all of the interesting stuff done in daylight and exactly as planned and described. I don't do many of Mr Farrow's trips - because they start in London most often, and have few non-dining options primarily - but the reawakened 'Forgotten Tracks' programme has provided some gems in recent times. Long may they continue to provide fantastic days out like this one.

Posted in SHOFT on Friday 20th January 2012 at 12:01am
---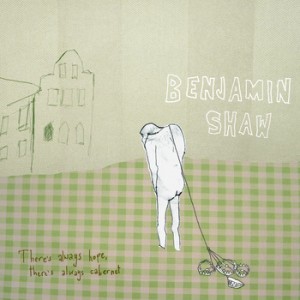 This blog doesn't generate huge amounts of feedback, at least not much that the spam filter doesn't happily discard for me because it involves enlarging at least one body part. However the two issues it does generate some occasional heat around are its unremitting praise for things, and its geographical focus. I've covered the former in bitter tirades before - I don't write about boring, dull or uninspiring things by choice. The second is tougher to explain, and is as much to do with personal circumstances as anything - but when I have defended the blog by mentioning the occasional forays south of the border, I realise that very rarely do I get further south than Lancashire. The county crops up again and again in my ramblings, and indeed it's the place of origin for the enigmatic Benjamin Shaw. He's now based in London, but this record is unmistakably something of the north. From it's grim humour and its stark, wide open but sometimes mist-obscured soundscapes to Shaw's warm but broken vocal style, it's never far from the challenging landscape of the county. You can take the musician out of the place, but perhaps you can't take the place out of the musician?
The scene here is set by "How To Test The Depth of a Well" which musically consists of a queasy, damaged waltz punctuated by scraping violins and rattling percussion, while Shaw intones a mournful but redemptive list of do's and don'ts culminating in the observation "You shouldn't make up stupid songs just to get applause". There's nothing stupid about this it's clear to see, and this quiet and almost distracted delivery is about as far from attention-seeking as it's possible to get. Sometimes almost drowning in pops, crackles and electronic buzzes the song reverberates with warm humour and turns its ramshackle origins to clear advantage. "Interview" opens with uncertain, quavering vocals and another compelling violin dirge of the type which pepper the record and give it a melancholy timbre. Meanwhile a lone guitar plucks a melody which isn't a million miles away from the Twin Peaks theme tune. The lyrics illustrate the curious talent Shaw has of taking a fairly mundane episode out of the context of everyday life, elevating the consequences and the apprehension to become the central drama in his songs. This particularly sorry tale ends just as abruptly as the protagonists job prospects appear to. When all of the elements of "There's Always Hope, There's Always Cabernet" drift into focus - like they do here and in countless other spots - it's simply and unnervingly lovely.
Linking directly back to its place of origin, "Somewhere Over The M6" is a minor epic. Drawn out over six minutes or so, and marching along at a funereal pace, Shaw sounds intoxicated and beaten here which makes it perhaps even more compellingly voyeuristic listening. I'm also struck here by a kinship with artists such as Thirty Pounds of Bone and Sweet Baboo who are ploughing similar furrows in a wholly different geography, and using music which sometimes sounds as old as the hills to express entirely modern sentiments. The addition of shattered, ill-governed intrusions of electric guitar build an uneasy drama here, and the extended squalls of noise which end the song blur into, and almost entirely make up the following instrumental interlude "An Exciting Opportunity". Unhinged laughter and an apparently untuned piano bring in "Hey, Where's My Deputy?". A slightly dizzy, rather uncharacteristically summery melody supports Shaw's quietly introspective half-spoken, half-sung observations. It's brief, perhaps even unfinished, but tells a complete enough story. In a curious way it's got hints of country and western in its DNA, like hearing Hank Williams through damaged speakers on a market stall. The song finally implodes and disappears into a haze of tape hiss and feedback. A lyrically graphic depiction of childbirth - and oddly enough a strong case for home birth - provide the opening images of "Home", a more traditionally constructed ballad built around a minimal melody and a distant, fractured vocal. A harmonium winds in to support the fragile guitar and adds a sense of timelessness - the themes and lyrical preoccupations are absolutely 21st century, but the music sounds like it could have been drafted in from a wax drum discovered in an attic somewhere. It's perhaps the furthest that Shaw's songwriting falls from the more evidently directly personal, drifting rather unusually into the third person, but it's no less bleakly funny and hard-edged for that. This all builds into a cacophonous, but satisfyingly dramatic ending.
While the title of "The Birds Chirp and The Sun Shines" displays a fair bit of irony, there is a sense of bitter triumph in this. Shaw's vocal is oddly confident, in contrast to his lyrics which are resigned and beaten-down. The track trots along with a little more pace than those which precede it, driven by a crazy shimmer of violin and a simple melody. Somewhere, mid song Shaw observes that he"...never wanted to stare into the abyss" before appropriating Kool and the Gang's exhortation to "celebrate good times, come on!" for his own purposes. This pretty much sums up "There's Always Hope, There's Always Cabernet" for me - yes, it's dark and it doesn't seem to hold onto any of the optimism it's title implies, but there's plenty of scope to enjoy the gloom while we still can perhaps. Finally, the sprawling and ambitious "HULK" arrives to close proceedings. Led by an echoing piano and a multi-tracked vocal which strains at the confines of the low-budget production, there is a hint of the damaged genius of Brian Wilson about this performance - the difference being that Shaw's feet are firmly on the ground without a surfboard in sight, his songs anchored in a particularly British strain of dark, bitter delight in misfortune - most notably our own.
It's always good to know that I can still be surprised, despite my advancing years and growing cynicism, and despite a sometimes pretty bleak musical landscape this early in a new year. So when I received the email introducing Benjamin Shaw full of self-deprecating northern humour, I was perhaps unprepared for just how this strange little recording was going to affect me. But from the outset this is clearly something pretty special which repays the effort of listening - and to fully appreciate how these songs are built from layers of found sound, recording artefacts and gently uncomplicated instrumentation it's necessary to don headphones and completely immerse yourself. But be warned it's also full of rough edges, sharp corners and exposed nails to snag your jumper on - all of the things in fact, which the health and safety experts warn you about.
You can purchase Benjamin Shaw's debut album right now from Audio Antihero as a physical CD or digital download.

Benjamin Shaw - How To Test The Depth Of A Well