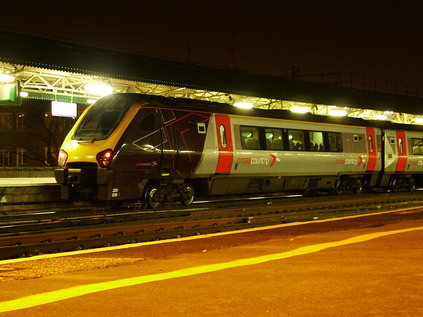 Posted in Railways on Saturday 31st January 2009 at 5:30pm
---
Despite dire warnings of Arctic conditions overnight, I woke to a cold dry morning. Yesterday's irritations at work had left me with a fuzzy head and strangely, with eyelids which felt like sandpaper. Creaked and groaned my way around the flat getting ready for today's trip. I'd planned and booked this excursion some time ago, and having had a fairly full week had barely had time to think about things, so there was something of an unreal and unprepared quality to things as I set out for the station. The routine here doesn't really need repetition, out on the 0550, change platforms at Weston and collapse into a nice warm carriage with the intention of snoozing my way to Paddington. Woke up often enough to determine we were heading eastwards via Bradford-on-Avon and Hawkeridge Junction, which meant even less reasons to stay awake as we negotiated the always fairly dull Berks and Hants route through startling, red skies. into the city. Surfaced in time to see DB Schencker liveried 59206 on Acton Depot. So wrong-footed by this novelty in fact that I missed a fair amount of other locos which were also in attendance. Gathered my wits for the cross-London journey - as a TfL bulletin earlier in the week had informed me of the partial closure of the Circle Line. Tumbled straight onto a Kings Cross bound train at Paddington, but was unceremoniously turfed off and sent over the footbridge at Edgeware Road to complete the journey on a different set. At Kings Cross, surfaced and waited for ages for a bus to Liverpool Street, in the end piling on to a 214 which took me right to the doors.
Here I had a choice of trains to Stansted Airport.So with an excellent regular service and no need to be there particularly early, I relaxed and had breakfast before catching the 1025. First Class on the 317 was grubby, but refreshments were offered and the service was good. The red glow in the sky had dissolved into a freezing but brilliant morning, and the sunlight through the scratched windows was oddly warm. Amazed at how cheering the weather was, settled in for a decent and quick ride to Bishops Stortford before taking the relatively recent curve into the tunnel which led almost all of the way to the airport. Airports should, of course, be magical places. Stations and airports have always fascinated me - and the conjunction of both here should have been particularly so. But it wasn't. Stansted is a functional station - the interior of a multistory carpark with dull, grey lighting and little but the distant whine of escalators to break the silence. The airport isn't much better - a vast empty hangar populated by low-rise plastic shop units and a warren of little walkways between them which end in unexpected security checkpoints. Thankfully, my choice of a later arrival meant less time here, so I chanced a coffee in the rather less depressing Arrivals area before heading back to the station, and the rather far-flung bay platform 2 where the Birmingham bound unit was waiting for departure.
Off on time, taking the single line chord returning us to the northbound Cambridge line. With today's new track complete I could settle in to the long run into Birmingham. This is an odd journey, but one I'm strangely fond of. Initially through empty, flat fen country before reaching Ely with its golden stone cathedral shining in the sunlight. More emptyness as we headed for March where a small depot has sprung up in recent years and a couple of locos were stabled. Next point of interest was Peterborough - always worth a look, and today was no exception as the unexpected presence of a freshly DB Schenker liveried 66152 was a surprise. I rather like the all-over red with simple white lettering which has transferred from over the channel, but I wonder how monotonous it will get when well over 250 locos are plodding around in these colours? As ever, no camera out when it counted of course! Some parallel running beside the East Coast Main Line for a while before curving away at Helpston and crossing the tiny County of Rutland. Having done this part of the trip relatively recently, relaxed and enjoyed the views and opportunity to people-watch as the train filled and emptied along the way. The three-hour long journey seemed to pass incredibly quickly and I snapped out of my fugue as we were passing Water Orton. Another chance to sit and enjoy a quiet coffee at New Street. Timings were slack today as I'd let cheap advance tickets guide my choice of trains. Had a wander around the busy station, being careful to avoid the heavy Police presence which was likely due to it being match day somewhere locally.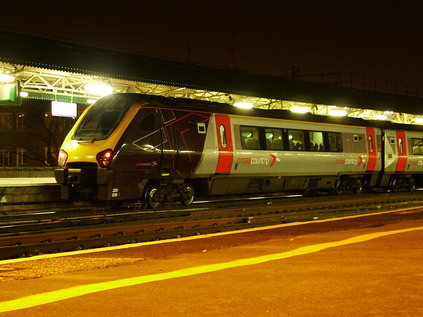 Over to platform 1A for the 1642 back to Bristol. This train arrives early and waits time at this far-flung extremity of the station in relative quiet. Boarded, found a seat, and settled in for the relaxing ride back in a reflective mood. Pondered the planned trip for next weekend during the run home, and tried to think through a couple of the work issues which had seemed too complicated to figure yesterday. Had a while to wait at Bristol Temple Meads, so spent some time playing with my camera settings and trying to get decent shots in the dark - something I've rarely got the patience to play around with. Sometimes it seems these trips have a purpose aside from the dash for track, desperate mileage accumulation or heading somewhere specific. While on paper it was a big circle with a break at the airport, this escape mission was very important!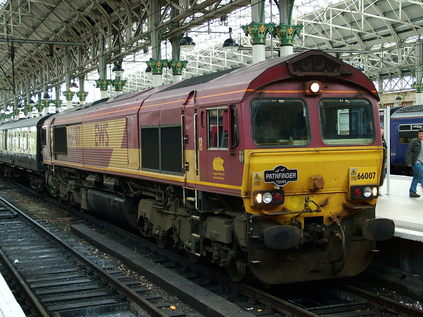 Posted in Railways on Saturday 24th January 2009 at 11:51pm
---
The first railtour of the year started practically on my doorstep, which meant I could follow my usual routine of getting the first train out. Met a couple of other locals on the train and set off for Bristol in high spirits. Much speculation about the first loco of the day, with 66006 having taken over from an ailing 67016 on yesterday's Taunton-Cardiff diagram and seemingly still in the area. Arrived at Temple Meads to find the stock just in from Alexandra Dock Junction with 66007 on the front - close enough, and a winner for all concerned! Got coffee and watched the loco run around the train before finding our seats and settling into the thankfully warm carriage. The tables were set for morning coffee, reflecting the standards which the new catering supplier on this trip hoped to provide. Right on time we set off for the familiar route north to Birmingham New Street, diverging slightly at Abbotswood Junction to head through Worcester Shrub Hill and return to the mainline at Stoke Works before curving into New Street via Camp Hill. From here we continued to Stafford for a short leg-stretch before pushing onward to Manchester Piccadilly. A leisurely trip with excellent at-seat service by familiar and attentive staff in itself. But for those of us who had come for the day's main event rather than a wander around Manchester, the fun was just about to begin!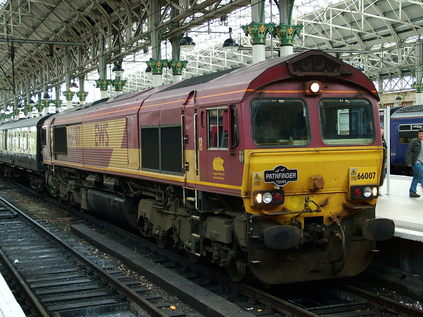 After around an hour to wander the station and it's impressive array of facilities we set off once more with Freightliner's 66596 on the front of the train. Through Stockport again, this time taking the line to Altrincham beside the Metrolink tracks. The morning's grey skies had given way to bright sunshine and it was good to be back out on unusual lines. Once past Northwich where we took the rarely used connection from Hartford CLC to LNW Junctions which saw us heading briefly along the West Coast Main Line, through the remodelled Weaver Junction which confused more than a few of us who were trying to track progress via Quail. At Walton Old Junction we took the lower level lines around the back of Arpley Yard, and curved away onto the remains of the former line to Manchester via Lymm. Little more than a run-round for coal trains now, we pressed on as far as possible towards the end of the line at Latchford. Reversing here, we passed under the station at Warrington Bank Quay and crawled through the vast Unilever complex with Fiddlers Ferry power station looming large on the horizon as we sped up, passing through the industrial fringe of Widnes. The ground seemed very damp, with the trackbed all but submerged in places, but this didn't seem to halt our progress west at all.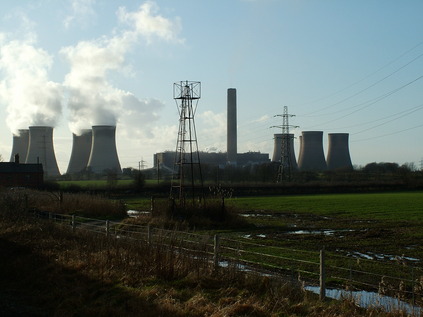 At Ditton Junction we regained the route of the mainline, travelling on the more southerly pair of slow lines which link with a variety of yards and freight facilities at Halewood and Speke. As we approached Edge Hill we began to descend away from the station to the south, following the line into Crown Street Tunnel No. 5 which once carried a route to the waterfront at Liverpool, part of a dense network of passenger and freight routes around the city of which very little remains. I'd assumed we would reverse at the earliest opportunity, but we continued to creep forward to the end of the line, with the front loco out of the tunnel's west portal. Pleased to have done this intriguing and fascinating bit of line rather unexpectedly. Once under way again we took the curve to the Bootle branch, and curved north and west again through the edge of the city. The landscape gave way first to fringe estates looking tired and a little menacing, before dissolving into abandoned industrial units. We plunged into a series of tunnels under Kirkdale before surfacing briefly to connect with Merseyrail's 'Northern Line' at Bootle Junction. Soon underground again, we slowed to a halt in Alexandra Dock Tunnel while we awaited permission to cross Regent's Road Level Crossing - the boundary where Network Rail hands over to the Mersey Docks and Harbour Company - and as far as we were permitted to travel towards Seaforth today.
We seemed to be in the tunnel for a long time before finally and rather gingerly moving off again deeper into the dock complex, not stopping until we had come alongside the end of the European Metal Recycling plant sidings. Well over the Network Rail limit we pulled forward to allow the train to clear the points we needed to traverse to escape. It was also necessary to completely clear the slewed road crossing which was protected on one side by huge metal gates, but on the landward side by nothing much at all! Noted that there was very little to differentiate road and railway here. Eventually under way again slowly, with the flashing lights of a police car protecting the road. It seems we should have had such an escort in both directions but the police had been late. We'd clearly caused a lot of trouble, as evidenced by a member of dock staff shouting "and don't come back!" as we passed by. As the last light began to fade from the clear sky, we curved around the newly relaid chord at Olive Mount Junction and waited for access to the St Helen's line. Unfortunately held for a stopper, we didn't begin to make up our delay yet. Fitful progress behind the local unit until we reached Ince Moss Junction and returned to the mainline at Bamfurlong Junction, completing a bit of track I'd partially done on 'The Yo Ho Ho' a few years back. Not much mainline running before we used the Golborne Junction to Parkside Junction connection (including another required curve left over from the same trip) to head back to Manchester Victoria. Somewhat late, but having done all of the advertised bits of fairly rare track, we set off homeward in good spirits, if a little sleepy following the early start.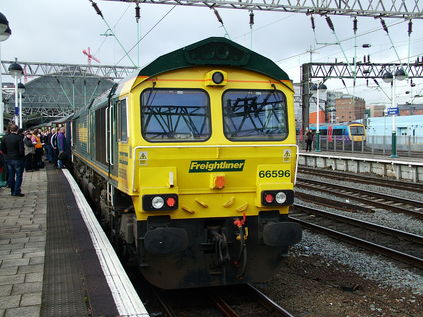 After negotiating Denton Junction to Stockport without any incidents, we headed via Wilmslow back to Crewe and then Stafford where we dropped off 66596 and headed south to Birmingham via Bushbury and Bescot in order to enter New Street heading in the right direction for a quick escape via Selly Oak. A storming run home to Bristol along with some generous timetabling saw us regaining all of our lost time and presenting ourselves at Temple Meads a little early. Naturally, as is tradition, we were held to enter the station just a few minutes late as the Panel reminded us who was in charge! This trip was a fine start to the year with lots of unusual track, a couple of winning locos and an excellent atmosphere and great service on board. Moreover, the tour managed to combine a day out for the 'normals' with a good old fashioned track bash for the enthusiasts. If this is the blueprint successful for future tours in these difficult times, then more of this would be most welcome.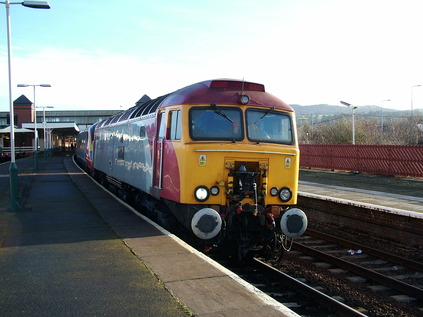 Posted in Railways on Saturday 17th January 2009 at 11:24pm
---
There are some journeys which I never tire of making. No matter that I don't get to some corners of the country from year to year, or that the cost or complexity of some trips makes them a less frequent pleasure, there are still some special parts of the railway network which remind me just why I started on these strange travels well over a decade ago. One of these is the North Wales Coast line. I first came here curious about one of the last bastions of locomotive haulage and ended up returning for weekend escapes in Holyhead, perhaps one of the more unlikely resorts for such relaxation! This weekend was a return for a little unfinished business - the short branch to Llandudno.
Having planned my day around cheaper tickets wherever possible, it meant another early start for Bristol, with a change onto the 07:00 to Birmingham - which for the record didn't go via Camp Hill again, leading me to suspect that perhaps this one just doesn't in the new timetable! Here I had time to get some breakfast and shelter from the rain which had dogged most of the journey so far while awaiting the arrival of the incoming Liverpool service on the remote and somewhat exposed platform 4C. It became clear that things weren't going well on the Stour Valley line, with services meeting delay at Sandwell & Dudley due to signalling problems. However, we set off just a little down and rather surprisingly took the line to Bescot at Soho, reaching Wolverhampton by an unusual route for a service train. Nothing much to see on Bescot, disappointingly but perhaps not unsurprisingly. Despite being a little late, I had plenty of margin at Crewe so I was able to settle back and enjoy the trip - and the weather which against all odds was getting a little brighter and dryer as I headed north. Arrival in Crewe was in bright sunshine, and I wandered out to the damp platform ends to try for a long shot of 37294 which had been moved out into the open at the diesel depot to accommodate a recent arrival of Class 60s. Grabbed a coffee and wandered over to platform 12 where the Pendolino from London had arrived, and 57310 was backing onto the train for the next leg of the journey.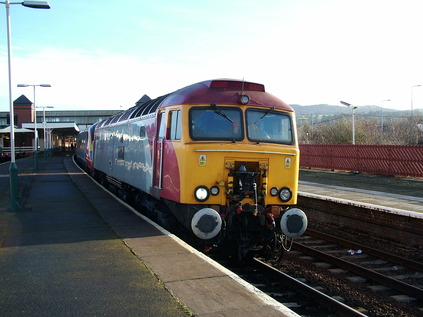 An inexplicable delay followed which allowed time to chat with a fellow enthusiast heading for Wrexham for the WSMR loco-hauled service. Soon moving, catching up time easily on route to Chester. Thinking back to earlier journeys, I found myself in a reflective mood as we zoomed effortlessly along the seawall in fantastic weather. A lot had changed in the intervening years - but this line remained just a little bit special. Curving into Llandudno Junction, I prepared to hit the ground running and get a shot of the locomotive as it headed west towards the end of the line at Holyhead. Half wished I was going along for the ride to my former hideout on the coast. However, there was unfinished business here, so I headed over to the bay platform to await the arrival of the unit which was shuttling back and forth to Llandudno. Surprised to see a three car 175 arriving, but figured that somehow these units fitted in an extra round trip between Manchester diagrams. The branch was short but scenic, running first along the coast and then curving inland to end in the Town Centre. I'd allowed a little time here to explore, and despite being January at the seaside, I found a busy town with a fair selection of stores. I was struck how similar towns in my own area could do so much better in this respect as I wandered, looking for a bite to eat and pricing accessories for my new 'phone. A good old fashioned wander around a new town - one I'd visited only briefly before by car. As I arrived back at the station, the sky was turning a little grey and sullen. Waited under the remains of the once proud station roof as the wind began to whip in from the coast.
Soon back at Llandudno Junction, where I sampled the coffee and cake at the fine little tea shop while awaiting the Holyhead to Birmingham train. Found a seat on the fairly busy train and spent some time people-watching and inadvertently tuning in to the rather sad recollections of a young couple in the seats behind me. I was one of the few people who seemed to be going almost all of the way on this service, as it served as a local stopper on the coast, reversed at Chester and headed into the borderlands to reach Wrexham and then on to Shrewsbury. As we headed south and west, the weather seemed to get a little wilder and wetter. Here we paused to couple to another unit which led us through Wolverhampton into Birmingham New Street. A same-platform interchange here, onto a rather quiet Voyager heading to Bristol via Gloucester - an unusual route now which I thought had finally disappeared from the timetable. Delayed for no apparent reason once again here and frequently checked once we'd left via Camp Hill. Crawled to a halt at Westerleigh and sat for some time before hearing that fallen trees had blocked the line to Bristol Parkway and we were queueing for a platform. Seems I'd outrun the weather in the west almost all day. Managed to make the connection at Bristol with a few minutes to spare, and endured a fairly wedged unit full of football fans back to Highbridge where the weather was just starting to turn ugly once again as I got into the house. A fine day out on a favourite route I very rarely get to visit, with the bonus of a little haulage along the coast.
Posted in Railways on Saturday 10th January 2009 at 9:46pm
---
I'm not sure if its the side-effects of planning ahead a little, or the knowledge of a fairly major weekend line closure looming, but the year seems to have opened with a surprising dash for mileage. I've been a little constrained by pre-Christmas engineering recently and it's good to get away to areas I haven't been to for a while. It's also interesting to play with some of the variations and new service which the new timetable brought with it. It's certainly one of the more dynamic shifts in service patterns for many years, and aside from some of the more high-profile additions (such as the Welsh Assembly Government bankrolled Cardiff-Holyhead service) there are some lower key but useful services appearing. One of these is the direct Northern Trains service from Nottingham to Leeds, with a variety of unusual routes and odd diversions on it's various runs to keep drivers' route knowledge up to date. Today's plan was to use one of these services end to end - the long wat around to Leeds.
Out on the usual early train, staying on as far as Temple Meads for the first time in what seemed like a while. Found much needed coffee and settled into the Voyager which soon arrived from Barton Hill. Spent much of the journey trying to get used to the various features of my new phone and enjoying heading north on what promised to be a fair but very chilly winter morning. Halted for some time outside Kings Norton before setting off via Selly Oak rather than the usual route through Camp Hill which these Manchester-bound services use to avoid a reversal at the congested Birmingham New Street. Frozen points maybe? A swift change here onto a busy CrossCountry 170 bound for Nottingham via Derby. Despite a few good-natured football fans, a quiet journey along routes I don't seem to travel much these days. Noted FastLine's 66305 waiting for a path at Lenton South Junction as we arrived into Nottingham. Here I had a couple of choices, and having looked at some of the known unusual routes operated by the Northern service, I'd opted for the 11:16 departure. This left an hour to wander into the city in freezing weather.
Back in good time to see the incoming Northern 158 arrive and find a seat. Whilst some of these services use routes around Toton Depot, this didn't seem to be the case with any of the Saturday services. Set out instead via Trowell and onto the Erewash Valley. A good few years since I came this way as I recall, and interesting with the foliage a little more seasonally sparse to see the remains of various freight locations and branch lines curving away from our route. A little new track for me, as we took the route avoiding the platforms at Chesterfield station - only recently redesignated as passenger lines. From here, we curved away from the main route into Sheffield, taking the 'old road' at Tapton Junction. Lost track of my bearings a little hear, but figured out where I was by the sighting of the stub of line at Westthorpe where our BLS tour reversed on route to Preston Docks. At Beighton we returned to passenger lines, arriving into the bay platforms at Sheffield for a reversal. Soon off again, via a bit of a meander through Barnsley, Wakefield Kirkgate and Methley Junction to Leeds.
After a quick wander around the freezing station, stepped out into the city and had a good wander around for the first time in years. Immediately on setting out I walked into a 'Free Palestine' demonstration of surprising size and volume. Ended up following the demo into the city centre, as did most of the youngsters out in the city. Perhaps they didn't understand the cause at issue, but they certainly swelled the ranks of the demonstration! I've always said that Leeds is a city where one should look up above shop-front height, and I remembered my own advice as I walked through street after street of remarkable and relatively unspoiled Victorian buildings. Also found myself furtively bus spotting, in search of my first Atheist Bus, a search which was finally rewarded through the filthy windows of a shopping centre bus stop!
Back to the station to stock up on coffee and board the 16:11 which took me all the way back to Bristol by a far more direct route. Settled in and relaxed for a comfortable and quiet ride, unfortunately mostly in the dark as the weather and evening closed in soon after leaving Leeds. A long and tiring day, but good to explore old route through new services patterns.