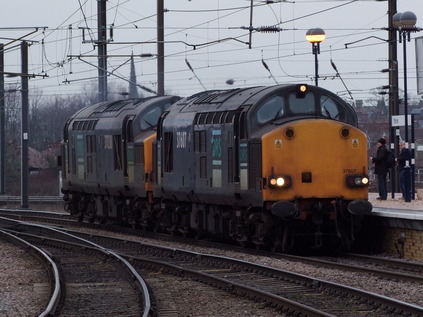 Posted in Railways on Saturday 27th February 2010 at 10:18pm
---
Remarkably, today's trip was the first railtour of the year as such. It's easy to postulate that the recession is biting, and that the tour operators are needing to be a little more careful in what they run - but given the poor weather and widespread possessions across the network at the start of the year, it's perhaps not quite that simple. Certainly, today's tour seemed to be balanced just right. An easy day out in York on offer for the 'normal' punter, a trip to the somewhat hard to access Locomotion extension of the National Railway Museum at Shildon for the enthusiast, and for the track bashers a trip over the recently reconnected Weardale Railway to Stanhope. It'll surprise no-one I'm sure that I opted for the latter. Another advantage of this jaunt, just to ease us in gently to the year's festivities, was a set of reasonably sensible timings. However, descending to platform level at Crewe at 06:00 to find the coffee shop still locked up was not a good start. However I soon fell in with a bunch of very familiar faces who were also awaiting refreshment - and discovered perhaps unsurprisingly that we were located in the same coach! In fact, with the market being starved of tours for quite a spell now, there were lots of familiar faces about as we finally made the coffee run and boarded for a right time departure.
The run to York was a gentle re-introduction to the madness which will fill a fair number of weekends in the coming months: a jaunt down the West Coast Main Line to Birmingham New Street, then the familiar route via Derby and the Old Road to York. Amazed to note that Freightliner are still insisting on hiding their new Class 70s from me behind rows of wagons - be it at Stoke Gifford or Lawley Street - but perhaps their relatively poor reliability to date is making them a little shy about their new acquisitions? As the sun came up in the Midlands, there was a hint of some possibly decent weather - but really it was good just to be out and about in daylight! Munched the ever excellent breakfast from the Kitchen Car as we whizzed past Kingsbury, taking in the solemn sight of a row of ex-Healey Mills 56's awaiting the cutters' torch. After a fine performance from 37038 and 37607, we arrived in York on time - with surprisingly few leaving the train here for the delights of the city, and a healthy number boarding for the mini-tour north to Stanhope.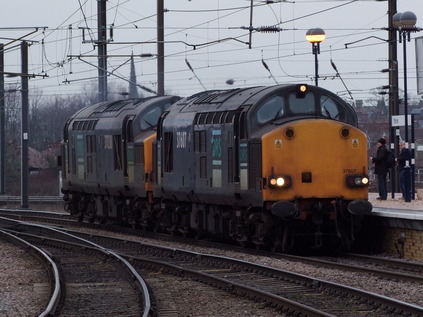 The next stage of the journey took us along the East Coast Main Line to Darlington. Not a particularly inspiring stretch of line in some ways, but over recent journey's I've grown to enjoy the trip a little more. It certainly made for some fast running, and with a low winter sun finally shining it was good to be racing north with the promise of new track. It was also great to note that West Coast Railway Co. had produced a pretty solid rake of Mk I stock for the trip. In particular, the lights and PA were working well, and the heating - although a little slow to get going - was just about right too. After an absolutely riotous thrash under the impressive roof of Darlington's fine station buildings we curved onto the Bishop Auckland branch and made more sedate progress along the line towards Weardale. A brief halt at Shildon to let Locomotion passengers disembark, before pressing on to Bishop Auckland and taking the recently reconnected stretch of line between Network Rail and the Weardale Railway's property. Although the Weardale line is fairly long, trains only usually operate between Stanhope and Wolsingham - making it all but impossible to access without road transport. So this trip was particularly welcome, both in traversing the currently unused stretch of line to Wolsingham as well as a rare chance to visit the preserved railway. The Weardale has had a difficult time with recent ownership changes, but as it's smartly turned out staff passed through the train with literature and one of their number gave a commentary on the line over the PA, it was easy to see the dedication which had kept it running through turbulent times. A slow, but pleasingly noisy journey up the branch, passing the depot at Wolsingham which is currently being redeveloped for future freight use of the line - and was also home to a lonely looking 56022! Crossed and re-crossed the River Wear, which here in the hills was fairly fast-flowing which made for some stunning views with a little snow still on the hill tops. Finally arrived at Stanhope a little later than planned due to hold ups down at Bishop Auckland. This meant only a few minutes here - which wasn't unexpected but was a little disappointing. Particularly as the railway had gone to the effort of producing their Class 73 and Pacer unit in apparently ex-works condition for the occasion. However, we dutifully retraced our steps on time down the branch with 47826 now leading to avoid missing a path on Network Rail metals. Definitely a railway which needs another visit - especially if the opportunity to push further to Eastgate is available!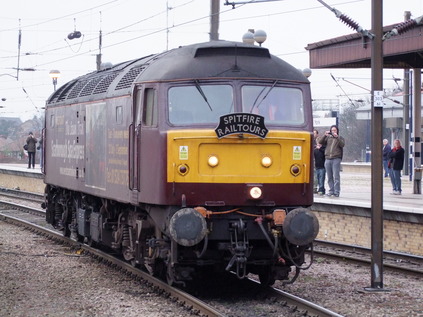 With a longer break in York, stepped out and directed a party to The Maltings before heading for the beer shop. Intended to pop in myself, but with time pressing and the sounds of our locos manoeuvring in the station, decided to slip back to get some shots of the running round. Soon back on board for another thunderous start from the pair of 37s. Our route home was largely a retracing of the earlier run north, aside from a deviation into Bescot. A pleasantly sociable and relaxing trip back with some of York Ales' finest, plenty of industry gossip and silliness! This reminded me exactly why I've enjoyed these trips so much over the last year or so. Plenty of talk also of forthcoming trips and some exciting new plans.
Back into Crewe a few minutes down, and at a respectable hour by recent standards. Another excellent Spitfire trip, and it was really pleasing to see WCRC ironing-out the stock problems which have unfairly been reflected on the operator in the past. Trudged off to my hotel for the night, pondering the best way to sort out a trip to Scotland this summer...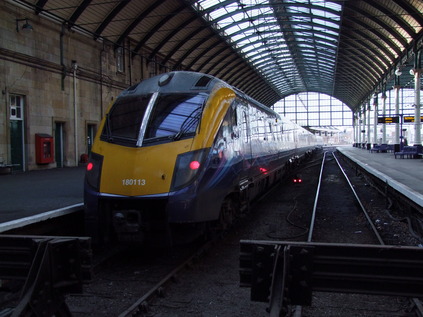 Posted in Railways on Saturday 20th February 2010 at 10:23pm
---
All over the country people seemed to have been talking about snow this week - however, aside from a lacklustre flurry which barely even touched the ground it's been mercifully free of the white stuff here. However, as thoughts turned to today's trip I wondered how far I'd get. I woke to a light dusting of sparkling frost but nothing to get too concerned about, and made it to the station without incident. It was, however, incredibly cold and I was pleased to see the early train to Bristol crawl in. Settled myself into a warm corner and began my trip feeling oddly placid and relaxed. It had been a very strange week - school holidays are always a bit quiet and uneventful, but spending the week tying up loose ends and preparing for new challenges had left me feeling a bit reflective and troubled. Today however, was all about travelling - putting distance between me and my thoughts and getting some mileage under my belt. Spent as little time as possible in the cold at Bristol, pausing long enough to get breakfast before finding my seat in the pleasantly warm Voyager and settling back for the trip north to Manchester. I've grown to really enjoy this useful train - it connects into a variety of things, and is generally reliable. Good to settle back and sleepily enjoy the amazing sunrise which broke somewhere in Gloucestershire with the snow-covered Malvern Hills just visible in the distance.
Snoozed just a little too comfortably as we headed north, and found myself missing plenty of interesting locations. Not concerned though - I come this way relatively often, and it was good to just be travelling. The sun was bright outside, reflecting back off the snow and warming the carriage pleasantly. Managed to doze off again, missing Birmingham New Street entirely which was quite a surprise - not entirely an unpleasant one in some ways! Having reversed there, we pressed on northward, and despite some slow running around Macclesfield due to an ailing unit, we made fairly good progress arriving only a few minutes late at Piccadilly. With no family members in attendance today, decided to stock up on provisions and make my way to the platform for the next train. A little concerned given the incredibly busy loadings I'd witnessed on Transpennine Express services from here previously. However, once the 170 had deposited the incoming passengers it was a fairly quiet train - especially in the little first class compartment. Again I found a corner and settled in for a quiet, comfortable ride east. The industrial landscape gave way to the bleak, wintry Pennines just before we disappeared underground at Standedge Tunnel. Still snowy when we emerged, but the sun was stronger and we passed Huddersfield and Leeds in glorious weather. I hadn't covered the line from here onwards for some time, and it was good to be visiting again and seeing the signs of increasing passenger numbers, some modernisation and more frequent services. After Selby we sped onward through the flat, empty lands beside the Humber. Somewhere around here I found myself feeling incredibly content - warm, untroubled and watching an impressively wide, open landscape in the winter sun. To cap it all, I was surprised by the remarkable music of Quickbeam in my headphones. A memorable journey indeed.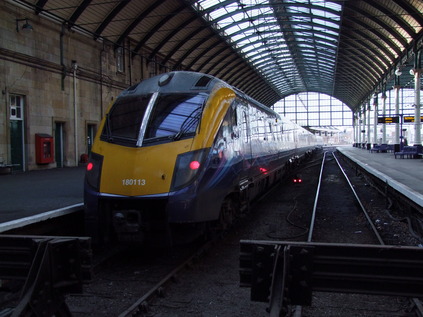 And so I arrived in Hull. A lot has been said about my trip this weekend - not least there have been many puns on the city's name and it's similarity to 'hell'. The wiser heads among my colleagues and acquaintances have noted that the 'h' is silent in local parlance and thus the puns don't work at all well. In any case, I arrived at 'Ull and the impressive Paragon Station to find things much changed since my last visit. Firstly, the northernmost spans of the overall roof now covered the city's bus station. The whole concourse was clean and tidy and the passenger information was improved and integrated with the bus services. There was still an incredible amount of space, but now with the building opened up and the area around the bus station filled with retail units, there was a buzz about the place which had always seemed missing. The impressive, tiled booking hall was now home to a community project providing a 'shopmobility' service - but the area was still public, allowing access to this wonderful example of 19th century railway architecture. Wandered around the station, and out onto the broad pavement which skirted the formerly busy and impossible-to-cross Ferensway. A large supermarket had opened up with a bunch of other stores next door, and people were walking by on their way to the shops. It struck me that I'd not really seen people walking along this street at all before! The station front was a little obscured by a modern covered area, but this didn't detract too much from the atmosphere which was, as ever, of an important and busy station. Hull hadn't quite been what I expected - and it's regeneration gave me plenty to think about. I've been hugely critical of similar projects in the past - but here was one working and delivering on promises. Bought a coffee from one of the new outlets and wandered back to the platform in a thoughtful frame of mind. I was feeling something of an object of ridicule among the relatively young, well turned out Hull folk around the station and its environs, which was a bit of a surprise. I wasn't in fact heading back a little earlier than planned for this reason however, but mainly because I couldn't resist a bit of platform-ending at Doncaster - the one place where it's never uncool to be a spotter! I wasn't disappointed either, with well over thirty unashamedly populating the choice spots at the south end of the station on my arrival. Others mingled, chatted and shared notes and photographs over tea, or popped into the waiting room for a warm. Wandered down myself and got the camera out for a happy few minutes just watching trains and enjoying it without fear of abuse or harassment. Given my experience when buying cakes for my team at work in Tesco yesterday, it was good to feel vaguely normal for a change, however briefly!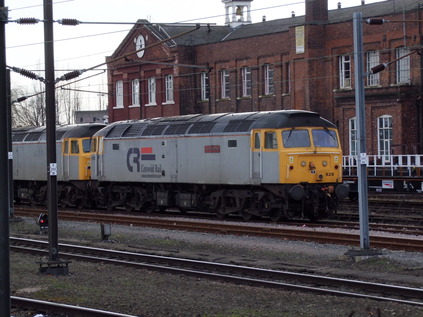 The Birmingham train arrived a little early and I was glad to get on board where it was warm. Noted the pair of former Cotswold Rail locomotives dumped in the sidings as we left, thinking what a waste it was given that these had put in a fine performance on a jaunt to Glasgow just a couple of years back. The train was again, fairly lightly loaded - but enjoyed people-watching and the pleasant weather as we headed south through Sheffield. Despite the coffee, managed to doze again - and also missed the first passing of Lawley Street in anything like daylight this year! Not a good day for getting numbers, but it's rare I'm ever this relaxed - so I resolved to just enjoy the trip. Out into the cold at Birmingham for a brief wait before boarding the 17:12. I'd booked a first class seat on this as it's often a busy train - and the crowds on the platform indicated this was wise. Found myself seated next to a few CrossCountry employees returning from a trip, who inadvertently provided some entertainment as far as Cheltenham Spa! Here we turned for Gloucester and set off along the banks of the Severn via Lydney to avoid engineering between Swindon and Bristol Parkway. Enjoyed the longer trip home, despite the deepening gloom which had descended into full darkness long before we made the Welsh border at Chepstow. A reversal at Newport, and then onwards to Bristol. No need even to change platforms, but once again a single carriage Class 153 appeared for the 19:53. This is a bit of terrible diagramming on the part of First Great Western and all the more amazing because continued overloading seems to be ignored completely. Squished in, finding a seat after Yatton, and didn't let the relative lack of comfort detract from my calm and quiet day.
Hull surprised and amazed me today, and even made me feel a little guilty for the jokes I'd shared at it's expense. Mostly though, today was an effortless zoom around the country taking in about 580 miles - but which does nothing to make this blog any more exciting of course! Next week, all being well, sees a return to the railtour circuit with a relatively late start to the season. It'll be good to be on the move again...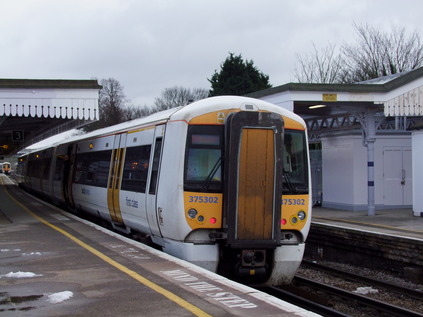 Posted in Railways on Saturday 13th February 2010 at 11:04pm
---
Having had a pretty turbulent week one way or another, I'd hardly given a thought to today's trip until last evening. So, still feeling fairly upbeat after yesterday's job news I set out for a relaxing and fairly simple trip by recent standards. The plan was to finally do some new track - indeed my first this year. It's always going to get harder as I travel more and more around the network I suppose, given that I only really record track at 'Baker' level. I know this will all sound very strange to the uninitiated, but I'm happy to cover stuff to 'Quail' level for some future project too, keeping detailed notes of course. The track in question was the flyover at Ebbsfleet International which takes a spur from High Speed 1 to the North Kent Line, allowing Javelin trains from St Pancras to provide a service to Gravesend and Faversham. This in itself wouldn't provide a day's entertainment, so I'd planned a bit of a circuit and was happy to wander as the mood took me in London. As we headed west towards the capital, the sun began to rise and it appeared to be a perfect day for such travels too. Feelings of uncharacteristic optimism aside, it was a fairly uneventful journey up to London.
With the Circle (or indeed 'tea cup') Line out of action, I headed straight for the bus stop and caught a 205 for St Pancras. London was chilly and the crowd of tourists who'd been bumped off the tube were milling around annoyingly. Burrowed down into my coat and enjoyed the journey east via Marylebone and Euston. Hopped off at the British Library for the short walk into the undercroft of St Pancras via the Underground ticket hall. Initially a bit confused, as my train - the 09:40 to Margate - wasn't shown on the slick new departure board (the only place Luton, Bedford and Paris rub shoulders perhaps?). Soon realised that as there was an Ebbsfleet train as the front six carriages in platform 11, the policy was not to show the rear train until it had gone. A bit odd, as this makes it appear that the train doesn't exist. Perhaps better to show the train without a platform? Time to visit the same excellent food outlet which had provided my first recuperative breakfast after my illness last October, then queue for Starbucks finest. Fully equipped I found a seat on the fairly quiet 395017 and settled in for the ride. After the customary crawl out of St Pancras and into the darkness of the tunnel, I felt the comforting lurch which propels the Javelin to it's top speed. Minutes later, after a brief call at Stratford International, we burst into brilliant Essex sunshine. Slightly concerned about the ticket check after all kinds of discussions about through tickets and routings. My First Advance from Weston-super-Mare to Ramsgate was marked "+AP SLOUGH" which seemed to satisfy the guard.
Once under the Thames and in Kent, noted a great deal of snow lying on the ground. Indeed, there seemed to be a thick carpet as we pressed on south eastwards. However the sun was still shining, and it brought a new interest to this bit of Kent which has always been a bit of a dull run for me. Into Ashford, busy with unfamiliar units, before leaving the High Speed line and continuing on what have become known as the 'Classic Lines'. This meant a switch from overhead to third-rail power too of course. The speed difference was surprisingly noticeable, and we seemed to crawl via Canterbury West into Ramsgate. I've changed trains at Ramsgate before but never strayed from the platform. Decided it was time to wander and emerged from the subway into a cavernous, brick ticket hall with huge Southern Railway crests laid into the end walls. Outdoors there was a layer of thick ice covering the pavements, and a cursory glance at a town map showed the station was some way from civilisation. Elected instead to continue my journey after a coffee and a quick read of the paper whilst secretly listening to two hilarious older ladies discussing the inoculations they'd need for a cruise they were planning.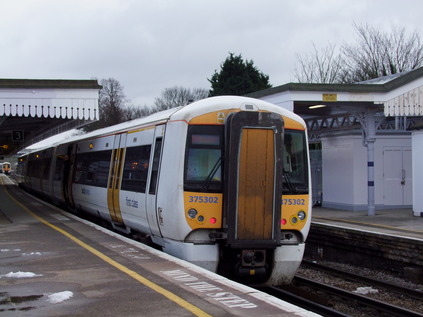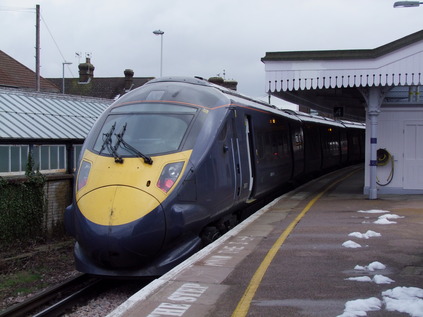 The next leg of my trip, by classic lines to Faversham took me through Margate and it's suburbs - where I'd originally intended to head in fact. The snow was still thick here, with only parts of the platforms uncovered. The journey felt slow and disjointed as we stopped everywhere along the route, but as we turned west again onto the North Kent coast the snow and ice miraculously disappeared. At Faversham, despite some traces on the platform where the cleared snow had been piled, there was almost none to be seen. Took advantage of my earlier than planned arrival to wander into this town - somewhere I knew only from the labels of Shepherd Neame beer bottles! It was surprisingly easy to find the main street here, and I made gradual progress along Preston Street towards the centre of town. However, something wasn't right here... I could cope with the tide of chavs with their trophy dogs - and even with the flat-capped and Barbour jacketed local dignitaries with their trophy cars and wives. What was troubling me was the singular lack of large chain stores. By the time I reached the end of Preston Street, with the impressive Guildhall to my left, there had been no Subway, no Starbucks, no Costa Coffee... In fact the most daringly 'multiple' Faversham had got so far was a Superdrug and an Iceland. Lots of small, local businesses somehow survived - tea shops, newsagents, bookmakers - and a particularly interesting stationer cum tobbaconist in a fine old overhanging beamed building. Oh - and even more incongruously in this place bereft of modern chain stores was the presence of an apparently thriving Wimpy Bar! I didn't dislike Faversham but it confused and unsettled me. This is testament not only to the town's individuality, but to the ubiquity of the major multinationals who we expect to see in all our town centres now. Still, if it had those stores it would have been uncomfortably like
Maidstone
- and that's certainly not a good thing!
Back to the station, and onto the next High Speed service along the coast via Chatham and Strood. This took the connection to HS1 at Springhead Junction, and thus the flyover at Ebbsfleet International, with it's separate pair of platforms. Mission accomplished, I headed back into London with time to spare and no plan. The instinct though, was to walk - and I set out from St Pancras eager to explore the lands behind the station where I'd wandered some years back. Then, they'd been a building site in connection with the works to construct HS1 and extend the station. Now, all was tidy and environmental projects filled the open spaces between here and the work to redevelop Kings Cross. Unable to find a decent vantage point for the railway, I took a curving tunnel under the line, emerging near the Coroners Court. A quick side-step here brought me into Old St Pancras Church Yard. Amazingly, this place seemed untouched from a previous visit despite the huge changes which had taken place just feet away. Toured the quiet gardens seeking out the familiar - especially the Soane family monument and always impressive Hardy Tree. Took the very same wrong turn I'd taken years before, and ended up retracing my steps to escape the churchyard. Walked back to the station at a leisurely place with the intention of getting the bus back west.
My next plan was to complete a section of track I'd genuinely no excuse not to have covered, except a lack of need to head that way. I'd used the Hammersmith and City Line west of Paddington once as far as Ladbroke Grove on a mission to find a record shop. It hadn't worked then, and I think I'd in fact walked back to explore the area further. Today I resolved to cover this route, now part of the Circle Line too, to it's terminus at Hammersmith. The route has seen something of an upgrade in status too with the Westfield shopping complex nearby, and the train was busy throughout. Skirting Television Centre, and passing over Portobello Road and Shepherd's Bush markets, the line curved over the western suburbs on a viaduct until a little before the end of the route where it dipped swiftly down into a substantial red brick train shed at Hammersmith. This place had a real old station feel to it, and I lingered a while before settling down for a warm coffee whilst watching the pretty young things of West London going about their business in the freezing afternoon air. Retraced my steps to Paddington feeling old and clumsy, but pleased to have had such a strangely contrasting day exploring. Time to watch the stragglers from the day's various sports fixtures 'interacting' with the Police before a lazy ride home on the 19:00. Having set out with not much of a plan at all, once again I'd let the city guide me and had a better day for it.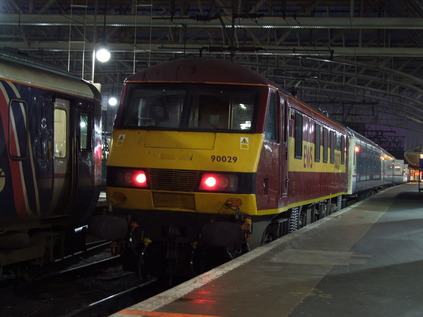 Posted in Railways on Saturday 6th February 2010 at 10:37pm
---
The second and final full day of my Winter retreat to Glasgow started with a promise of decent weather - but there wasn't much sunshine to be seen as I stumbled along George Street in order to get to Central Station for the 08:00 departure. The plan was to head west to the coast today - covering as much of the track as possible, though for me there was nothing new. However, I've always this journey and it did seem like too long since I'd covered some of it, so I was happy to tag along for most of the day at least. However, I also had an itch to be abroad in the city again - something that I hadn't really done this visit. I'd wandered a little on the first, practically wasted afternoon after arriving - but I needed to wear my boots out a bit on the pavements again. Time for breakfast at Central Station before snapping the recently arrived 90029 which had hauled the Lowland Sleeper. After stowing the camera away, boarded the Ayr train which was unusually a pair of 318s. Off on time, through Shields Junction and Paisley Gilmour Street, with the sun just coming up as we curved to head south onto the coast. There was just a hint of an orange glow over the Firth of Clyde as we pressed on, making good time into Ayr. Time for a coffee here before heading back the way we came, at least for a while.
I'd calculated we could arrive at Dalry with only a few minutes to wait for an Ardrossan Harbour service. Since the Harbour trains are perhaps the least easy to work into the schedule, felt this was a good idea even though it made getting to Largs difficult this morning. Consulted the fellow traveller who was keen to go with the plan, despite not sharing my romantic vision of railways to port towns, which he just saw as "run down dumps". With a little sun glancing onto the distant isles though, the visit to Ardrossan Harbour was a rather pleasing and quiet few minutes before once more heading back inland. This time as far as Paisley Gilmour Street, where a cross-platform change (via coffee emporium) left us with minutes before the next Gourock service. Managed to completely miss what should have been a fine shot of a freight working which sped past behind us however. Gourock has a decent service of semi-fast and stopping trains, which meant we could hop off at the once impressive terminus to wander around this rather strange corner of the coast. The rather hard-to-please fellow traveller actually rather liked this tumbledown corner of Inverclyde despite it's clear dereliction in places. Wandered briefly before heading back into the station to get the train back as far as Port Glasgow.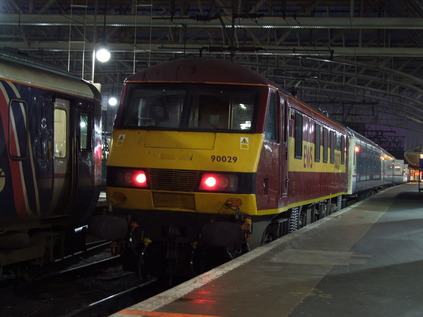 Port Glasgow was equally odd - almost a single street with a couple of cross streets. Lined with tired looking shops and sliding down the hillside to the inevitable waterfront where there was evidence of docks and shipyards. Times looked hard, and there couldn't have been much to do around here. From Paisley to Greenock we'd seen endless boarded up housing blocks - some being redeveloped but others just burned and abandoned. Not sorry to return to the station - particularly as the next trip took us to Weymss Bay, surely one of the most remarkable gems on this coast? First though, the unit made short work of the bank at Bogston as the Gourock line fell away steeply to the north. Remembered the fun of doing this with 37s a few years back very fondly. The run to the coast felt no less grim that the Gourock trip, with some genuinely horrible places to live in evidence near the stations we called at. Weymss Bay however was wholly different - the line curving through the platforms under the smooth winding glass roof which all swoops down into the ticket office. There are few more dramatic examples of railway architecture, and it would have been interesting to spend longer here - however, the city called. I left my former travelling companion here to explore as I headed back into Glasgow at last.
On arriving at Central I headed first to Avalanche Records, before going briefly back to the hotel to regroup a little. I felt pretty awful still, yesterday's unsettled stomach developing into a full dose of the bug which had been circulating before I left England. Finally decided that sitting around was something I could do anywhere and dragged my miserable self out into the city. The afternoon had turned a little gloomy and the sky was a grey sheet. I turn east and headed towards the High Street - and thus began a retracing of old steps - cobbled and tumbling Nicholas Street on the old College lands, then south to Saltmarket, before dodging through backstreets to get to Osborne Street and then a pleasant hour spent browsing in Monorail. After that, a somewhat feverish dash back up the High Street to the station, where I headed down into the brick trough to get the next Springburn service. The light was fading from the sky now, and I made a quck change to a Queen Street bound train here, disappearing into the tunnel in twilight and emerging in full darkness it seemed. I found food and headed back to the hotel. It had been a strange and rather bewildering trip, and it was now practically over. Felt a bit guilty for once again dragging someone along with me and abandoning them in favour of the city I can't ever explain properly, but oddly found myself looking forward to tomorrow's epic journey south.