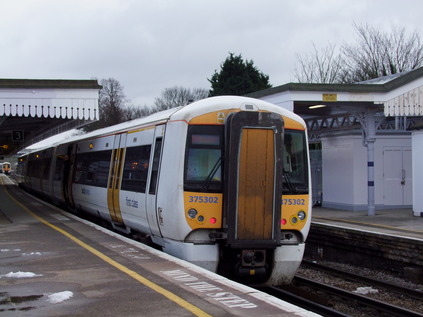 Posted in Railways on Saturday 13th February 2010 at 11:04pm
---
Having had a pretty turbulent week one way or another, I'd hardly given a thought to today's trip until last evening. So, still feeling fairly upbeat after yesterday's job news I set out for a relaxing and fairly simple trip by recent standards. The plan was to finally do some new track - indeed my first this year. It's always going to get harder as I travel more and more around the network I suppose, given that I only really record track at 'Baker' level. I know this will all sound very strange to the uninitiated, but I'm happy to cover stuff to 'Quail' level for some future project too, keeping detailed notes of course. The track in question was the flyover at Ebbsfleet International which takes a spur from High Speed 1 to the North Kent Line, allowing Javelin trains from St Pancras to provide a service to Gravesend and Faversham. This in itself wouldn't provide a day's entertainment, so I'd planned a bit of a circuit and was happy to wander as the mood took me in London. As we headed west towards the capital, the sun began to rise and it appeared to be a perfect day for such travels too. Feelings of uncharacteristic optimism aside, it was a fairly uneventful journey up to London.
With the Circle (or indeed 'tea cup') Line out of action, I headed straight for the bus stop and caught a 205 for St Pancras. London was chilly and the crowd of tourists who'd been bumped off the tube were milling around annoyingly. Burrowed down into my coat and enjoyed the journey east via Marylebone and Euston. Hopped off at the British Library for the short walk into the undercroft of St Pancras via the Underground ticket hall. Initially a bit confused, as my train - the 09:40 to Margate - wasn't shown on the slick new departure board (the only place Luton, Bedford and Paris rub shoulders perhaps?). Soon realised that as there was an Ebbsfleet train as the front six carriages in platform 11, the policy was not to show the rear train until it had gone. A bit odd, as this makes it appear that the train doesn't exist. Perhaps better to show the train without a platform? Time to visit the same excellent food outlet which had provided my first recuperative breakfast after my illness last October, then queue for Starbucks finest. Fully equipped I found a seat on the fairly quiet 395017 and settled in for the ride. After the customary crawl out of St Pancras and into the darkness of the tunnel, I felt the comforting lurch which propels the Javelin to it's top speed. Minutes later, after a brief call at Stratford International, we burst into brilliant Essex sunshine. Slightly concerned about the ticket check after all kinds of discussions about through tickets and routings. My First Advance from Weston-super-Mare to Ramsgate was marked "+AP SLOUGH" which seemed to satisfy the guard.
Once under the Thames and in Kent, noted a great deal of snow lying on the ground. Indeed, there seemed to be a thick carpet as we pressed on south eastwards. However the sun was still shining, and it brought a new interest to this bit of Kent which has always been a bit of a dull run for me. Into Ashford, busy with unfamiliar units, before leaving the High Speed line and continuing on what have become known as the 'Classic Lines'. This meant a switch from overhead to third-rail power too of course. The speed difference was surprisingly noticeable, and we seemed to crawl via Canterbury West into Ramsgate. I've changed trains at Ramsgate before but never strayed from the platform. Decided it was time to wander and emerged from the subway into a cavernous, brick ticket hall with huge Southern Railway crests laid into the end walls. Outdoors there was a layer of thick ice covering the pavements, and a cursory glance at a town map showed the station was some way from civilisation. Elected instead to continue my journey after a coffee and a quick read of the paper whilst secretly listening to two hilarious older ladies discussing the inoculations they'd need for a cruise they were planning.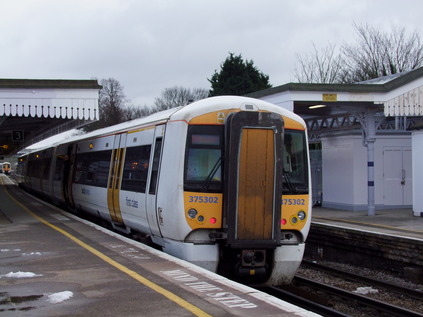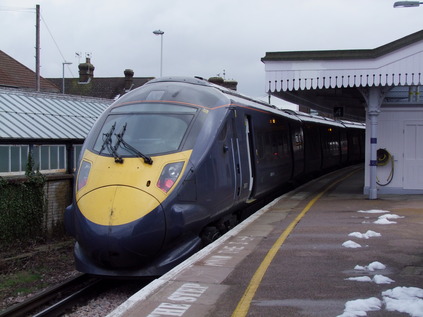 The next leg of my trip, by classic lines to Faversham took me through Margate and it's suburbs - where I'd originally intended to head in fact. The snow was still thick here, with only parts of the platforms uncovered. The journey felt slow and disjointed as we stopped everywhere along the route, but as we turned west again onto the North Kent coast the snow and ice miraculously disappeared. At Faversham, despite some traces on the platform where the cleared snow had been piled, there was almost none to be seen. Took advantage of my earlier than planned arrival to wander into this town - somewhere I knew only from the labels of Shepherd Neame beer bottles! It was surprisingly easy to find the main street here, and I made gradual progress along Preston Street towards the centre of town. However, something wasn't right here... I could cope with the tide of chavs with their trophy dogs - and even with the flat-capped and Barbour jacketed local dignitaries with their trophy cars and wives. What was troubling me was the singular lack of large chain stores. By the time I reached the end of Preston Street, with the impressive Guildhall to my left, there had been no Subway, no Starbucks, no Costa Coffee... In fact the most daringly 'multiple' Faversham had got so far was a Superdrug and an Iceland. Lots of small, local businesses somehow survived - tea shops, newsagents, bookmakers - and a particularly interesting stationer cum tobbaconist in a fine old overhanging beamed building. Oh - and even more incongruously in this place bereft of modern chain stores was the presence of an apparently thriving Wimpy Bar! I didn't dislike Faversham but it confused and unsettled me. This is testament not only to the town's individuality, but to the ubiquity of the major multinationals who we expect to see in all our town centres now. Still, if it had those stores it would have been uncomfortably like
Maidstone
- and that's certainly not a good thing!
Back to the station, and onto the next High Speed service along the coast via Chatham and Strood. This took the connection to HS1 at Springhead Junction, and thus the flyover at Ebbsfleet International, with it's separate pair of platforms. Mission accomplished, I headed back into London with time to spare and no plan. The instinct though, was to walk - and I set out from St Pancras eager to explore the lands behind the station where I'd wandered some years back. Then, they'd been a building site in connection with the works to construct HS1 and extend the station. Now, all was tidy and environmental projects filled the open spaces between here and the work to redevelop Kings Cross. Unable to find a decent vantage point for the railway, I took a curving tunnel under the line, emerging near the Coroners Court. A quick side-step here brought me into Old St Pancras Church Yard. Amazingly, this place seemed untouched from a previous visit despite the huge changes which had taken place just feet away. Toured the quiet gardens seeking out the familiar - especially the Soane family monument and always impressive Hardy Tree. Took the very same wrong turn I'd taken years before, and ended up retracing my steps to escape the churchyard. Walked back to the station at a leisurely place with the intention of getting the bus back west.
My next plan was to complete a section of track I'd genuinely no excuse not to have covered, except a lack of need to head that way. I'd used the Hammersmith and City Line west of Paddington once as far as Ladbroke Grove on a mission to find a record shop. It hadn't worked then, and I think I'd in fact walked back to explore the area further. Today I resolved to cover this route, now part of the Circle Line too, to it's terminus at Hammersmith. The route has seen something of an upgrade in status too with the Westfield shopping complex nearby, and the train was busy throughout. Skirting Television Centre, and passing over Portobello Road and Shepherd's Bush markets, the line curved over the western suburbs on a viaduct until a little before the end of the route where it dipped swiftly down into a substantial red brick train shed at Hammersmith. This place had a real old station feel to it, and I lingered a while before settling down for a warm coffee whilst watching the pretty young things of West London going about their business in the freezing afternoon air. Retraced my steps to Paddington feeling old and clumsy, but pleased to have had such a strangely contrasting day exploring. Time to watch the stragglers from the day's various sports fixtures 'interacting' with the Police before a lazy ride home on the 19:00. Having set out with not much of a plan at all, once again I'd let the city guide me and had a better day for it.