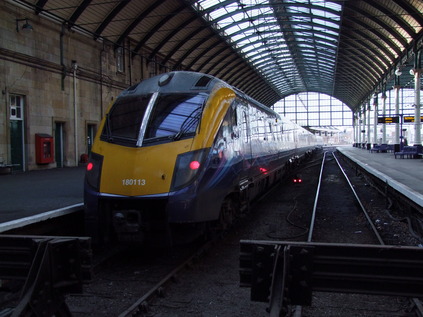 Posted in Railways on Saturday 20th February 2010 at 10:23pm
---
All over the country people seemed to have been talking about snow this week - however, aside from a lacklustre flurry which barely even touched the ground it's been mercifully free of the white stuff here. However, as thoughts turned to today's trip I wondered how far I'd get. I woke to a light dusting of sparkling frost but nothing to get too concerned about, and made it to the station without incident. It was, however, incredibly cold and I was pleased to see the early train to Bristol crawl in. Settled myself into a warm corner and began my trip feeling oddly placid and relaxed. It had been a very strange week - school holidays are always a bit quiet and uneventful, but spending the week tying up loose ends and preparing for new challenges had left me feeling a bit reflective and troubled. Today however, was all about travelling - putting distance between me and my thoughts and getting some mileage under my belt. Spent as little time as possible in the cold at Bristol, pausing long enough to get breakfast before finding my seat in the pleasantly warm Voyager and settling back for the trip north to Manchester. I've grown to really enjoy this useful train - it connects into a variety of things, and is generally reliable. Good to settle back and sleepily enjoy the amazing sunrise which broke somewhere in Gloucestershire with the snow-covered Malvern Hills just visible in the distance.
Snoozed just a little too comfortably as we headed north, and found myself missing plenty of interesting locations. Not concerned though - I come this way relatively often, and it was good to just be travelling. The sun was bright outside, reflecting back off the snow and warming the carriage pleasantly. Managed to doze off again, missing Birmingham New Street entirely which was quite a surprise - not entirely an unpleasant one in some ways! Having reversed there, we pressed on northward, and despite some slow running around Macclesfield due to an ailing unit, we made fairly good progress arriving only a few minutes late at Piccadilly. With no family members in attendance today, decided to stock up on provisions and make my way to the platform for the next train. A little concerned given the incredibly busy loadings I'd witnessed on Transpennine Express services from here previously. However, once the 170 had deposited the incoming passengers it was a fairly quiet train - especially in the little first class compartment. Again I found a corner and settled in for a quiet, comfortable ride east. The industrial landscape gave way to the bleak, wintry Pennines just before we disappeared underground at Standedge Tunnel. Still snowy when we emerged, but the sun was stronger and we passed Huddersfield and Leeds in glorious weather. I hadn't covered the line from here onwards for some time, and it was good to be visiting again and seeing the signs of increasing passenger numbers, some modernisation and more frequent services. After Selby we sped onward through the flat, empty lands beside the Humber. Somewhere around here I found myself feeling incredibly content - warm, untroubled and watching an impressively wide, open landscape in the winter sun. To cap it all, I was surprised by the remarkable music of Quickbeam in my headphones. A memorable journey indeed.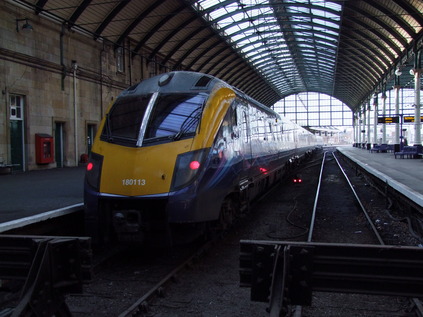 And so I arrived in Hull. A lot has been said about my trip this weekend - not least there have been many puns on the city's name and it's similarity to 'hell'. The wiser heads among my colleagues and acquaintances have noted that the 'h' is silent in local parlance and thus the puns don't work at all well. In any case, I arrived at 'Ull and the impressive Paragon Station to find things much changed since my last visit. Firstly, the northernmost spans of the overall roof now covered the city's bus station. The whole concourse was clean and tidy and the passenger information was improved and integrated with the bus services. There was still an incredible amount of space, but now with the building opened up and the area around the bus station filled with retail units, there was a buzz about the place which had always seemed missing. The impressive, tiled booking hall was now home to a community project providing a 'shopmobility' service - but the area was still public, allowing access to this wonderful example of 19th century railway architecture. Wandered around the station, and out onto the broad pavement which skirted the formerly busy and impossible-to-cross Ferensway. A large supermarket had opened up with a bunch of other stores next door, and people were walking by on their way to the shops. It struck me that I'd not really seen people walking along this street at all before! The station front was a little obscured by a modern covered area, but this didn't detract too much from the atmosphere which was, as ever, of an important and busy station. Hull hadn't quite been what I expected - and it's regeneration gave me plenty to think about. I've been hugely critical of similar projects in the past - but here was one working and delivering on promises. Bought a coffee from one of the new outlets and wandered back to the platform in a thoughtful frame of mind. I was feeling something of an object of ridicule among the relatively young, well turned out Hull folk around the station and its environs, which was a bit of a surprise. I wasn't in fact heading back a little earlier than planned for this reason however, but mainly because I couldn't resist a bit of platform-ending at Doncaster - the one place where it's never uncool to be a spotter! I wasn't disappointed either, with well over thirty unashamedly populating the choice spots at the south end of the station on my arrival. Others mingled, chatted and shared notes and photographs over tea, or popped into the waiting room for a warm. Wandered down myself and got the camera out for a happy few minutes just watching trains and enjoying it without fear of abuse or harassment. Given my experience when buying cakes for my team at work in Tesco yesterday, it was good to feel vaguely normal for a change, however briefly!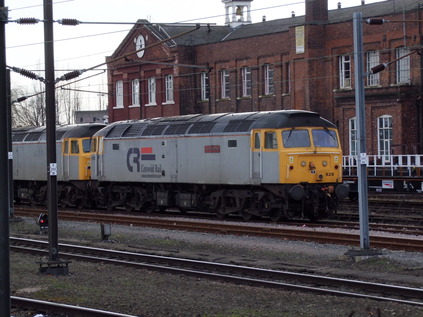 The Birmingham train arrived a little early and I was glad to get on board where it was warm. Noted the pair of former Cotswold Rail locomotives dumped in the sidings as we left, thinking what a waste it was given that these had put in a fine performance on a jaunt to Glasgow just a couple of years back. The train was again, fairly lightly loaded - but enjoyed people-watching and the pleasant weather as we headed south through Sheffield. Despite the coffee, managed to doze again - and also missed the first passing of Lawley Street in anything like daylight this year! Not a good day for getting numbers, but it's rare I'm ever this relaxed - so I resolved to just enjoy the trip. Out into the cold at Birmingham for a brief wait before boarding the 17:12. I'd booked a first class seat on this as it's often a busy train - and the crowds on the platform indicated this was wise. Found myself seated next to a few CrossCountry employees returning from a trip, who inadvertently provided some entertainment as far as Cheltenham Spa! Here we turned for Gloucester and set off along the banks of the Severn via Lydney to avoid engineering between Swindon and Bristol Parkway. Enjoyed the longer trip home, despite the deepening gloom which had descended into full darkness long before we made the Welsh border at Chepstow. A reversal at Newport, and then onwards to Bristol. No need even to change platforms, but once again a single carriage Class 153 appeared for the 19:53. This is a bit of terrible diagramming on the part of First Great Western and all the more amazing because continued overloading seems to be ignored completely. Squished in, finding a seat after Yatton, and didn't let the relative lack of comfort detract from my calm and quiet day.
Hull surprised and amazed me today, and even made me feel a little guilty for the jokes I'd shared at it's expense. Mostly though, today was an effortless zoom around the country taking in about 580 miles - but which does nothing to make this blog any more exciting of course! Next week, all being well, sees a return to the railtour circuit with a relatively late start to the season. It'll be good to be on the move again...