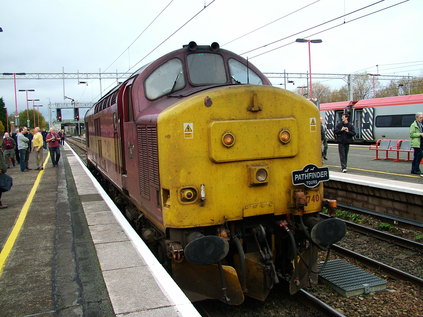 Posted in Railways on Saturday 15th November 2008 at 11:29pm
---
For the first time in a while, a nice sensible start to the day - early but not ridiculously so. Today's tour started at Banbury and wound its way up to Birmingham allowing ample time to get to New Street and get breakfast. Watched a fairly large group of familiar faces start to gather - with a larger representation for the Branch Line Society than has been usual on many Pathfinder tours for quite a while. Indeed, even our esteemed General Secretary was in attendance for what promised to be an interesting day. As I've slowly inked in more and more lines on my Baker atlas, this sort of tour has been indispensable - a fairly local cruise around freight lines which would never see a passenger train, with a firm emphasis on the odd chords and curves which elude us all as we wander about the network.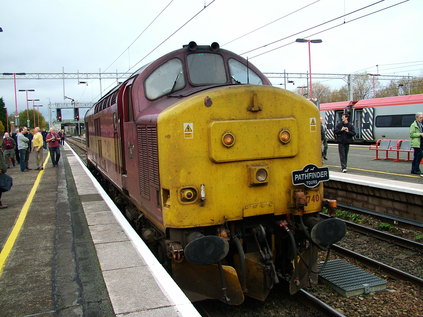 First up was a quick run down to Birmingham International to run our double-headed locos around, providing one engine at each end allowing reversal on the branches we were due to traverse. Even this wasn't simple though, as we departed via Soho, Perry Barr and Stechford, taking in an unusual chord early in the proceedings. Once our locos were position as planned we continued to Coventry for the first reversal of the day, which took us onto the branch to Nuneaton - and then via Three Spires Junction into Prologis Park. A vast, rail-served distribution centre on the site of the former Keresley Colliery, and home to an unexpected guest in the form of shunter 08375. Managed a quick snap as we passed on the lower level of the two banks of sidings. Considerable interest from photographers as we crawled to the very end of the branch with an understanding driver taking us almost all the way to the buffers. One photographer took a pretty spectacular tumble from a pile of earth beside the track - hope he was OK!
A further reversal took us back to Coventry, and we then set off northwards again. The original plan had been to travel via Moor Street, but instead we took our outward route back to Soho, using the northern curve to access Galton Junction and thence to Stourbridge Junction. One of the Class 139 Parry People Movers could be seen lurking in its rather spartan looking shed as we awaited a reversal onto the branch to Round Oak, forming the southern part of the former route to Dudley. Another bit of track which has long fascinated me, we proceeded slowly and carefully to Kingswinford Junction where the burnt-down signal box has been replaced with an extensive ground frame under a shelter. The fact that much of the line survives to Dudley, along with the frequent talk of revival as part of the Midland Metro meant I was glad to have done this bit of track at last. Watched the Pensnett branch trackbed curve away to the west as we slowly continued, coming to a halt a stone's throw from the vast Merry Hill shopping centre - somewhere which would surely benefit from being rail served?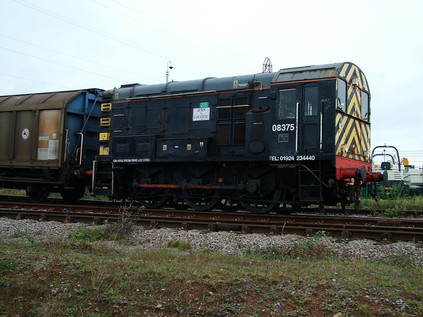 Another two reversals - first to Stourbridge Junction, and then retracing our steps once again to Galton Junction, Soho and Perry Barr. During the inevitable discussion of the route of this tour on the WNXX forum we'd been promised a surprise - to make up in part from the missed goods lines to Moor Street. As we approached Bescot Yard and slewed madly to the left, it became clear we were not taking the usual route through the complex! Much rifling of Quail maps and counting of lines to establish we were passing through on Up & Down Through Siding No.2 - the edge of the depot, tucked inside a line of hard-to-identify shunters which have been stabled here, largely out of sight for years. A real treat for the track bashers on board, more than making up for the missed goods lines. Credit to Pathfinder too, for not announcing this exciting addition in advance and potentially causing disappointment had it not worked out.
More familiar track took us north through Wolverhampton to Stafford, where we passed through the Royal Mail platform and took the short Salop Branch stub, now a siding. With brooding clouds overhead and rain starting to fall we once again reversed and headed south, taking a left fork at Bushbury Junction and then curving west onto the Oxley Chord - another bit of much needed track for me - where we gathered speed towards Madeley Junction on one of the few chances during the day for the pair of 37s to flex their muscles and gather some speed. After taking the Ironbridge branch at Madeley we slowed to a crawl and crept carefully along the line with huge branches cracking and whipping at the sides of the coaches. This route was well worth the wait, as we slowly snaked down the valley in a green tunnel of overhanging trees with occasional glimpses of fine looking houses and attractive villages. All too soon, the famous brown cooling towers of Ironbridge Powerstation slid into view. We crossed the River Severn on its bridge here and stopped at the Network Rail limit. A stunning bit of the rail network, hardly seen these days. Attempted a picture of the sublime power station sight, but failing light made it fairly shaky. Struck again by how green and comfortable the valley felt. Not difficult to imagine passenger trains working this rather quiet little branch line.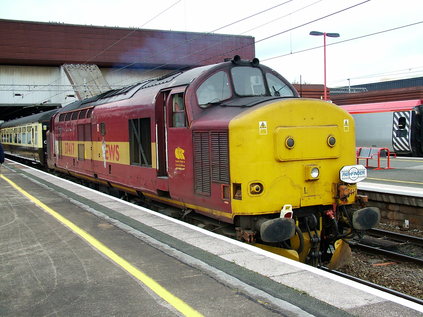 A final reversal took us via Wolverhampton back to New Street, where I watched 37401 and 37417 leave before heading for my train back, noting I'd also be arriving at a fairly respectable hour for a change. A remarkably interesting tour with a complex but entertaining route, some timely runnning and some interesting surprises. As someone remarked on our journey, the current crop of Pathfinder tours appear to acknowledge the wants and needs of us track types. Long may it continue!