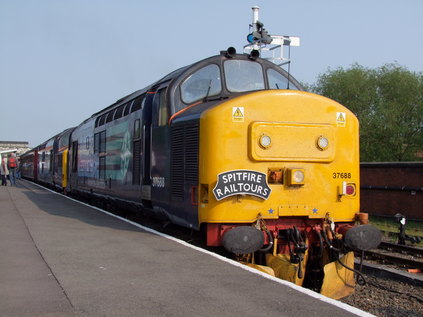 Posted in Railways on Saturday 30th April 2011 at 11:17pm
---
It's difficult to imagine anyone complaining about having too many holidays, but with this Royal Wedding weekend falling so soon after Easter, and with my own break up in Scotland looming, there are far too few days to accomplish what's needed at work just now. However, being able to escape on these weekends has been a pleasant change from watching static traffic outside my window as people head for the south west. However, I found myself in Crewe once again - the second time in mere days, and this time back at the old faithful Crewe Arms once again. I was here to pick up Spitfire's trip into South Wales which I'd learned only yesterday had changed it's destination considerably having originally been heading for Tenby but now being retimed for Carmarthen and Fishguard. I'd considered getting up early and heading north to pick the tour up at Preston, but the lack of a reasonably timed connection along with the lure of a comparatively late start, breakfast and coffee won. Thus, I found myself waiting for the train on a busy and confused platform 5 some time after 8am - almost unheard of these days! As a bonus it arrived with 37688 on the front - which I'd missed on an earlier tour - and Stratford liveried 47580 on the rear.
Once on board, a chat with the staff revealed the reason for the changes - with two West Coast Railway Company drivers qualified to take the train to Tenby, one had been allowed off on holiday. However, the other had broken his leg earlier in the week. Thus the swift retiming was a bit of a win in some ways - saving the trip for most passengers. There were a few gripes, mostly from the faces who'll chase a refund whatever happens, but generally people seemed happy enough. The 'normals' would have around three hours in Carmarthen, whilst the die-hard enthusiasts would press on for the end of the line at Fishguard Harbour. The first leg of the journey took us onto The Marches via Shrewsbury, where a short layover meant time to get pictures in what were shaping up to be sunny conditions. Under way again, we turned onto the Heart of Wales line. I've written many times before about how this line, though scenic and interesting at times, can be incredibly dull. As it goes, on a decent day in good weather it was pleasant enough. Better still was passing through Llandrindod Wells with only the briefest of stops, having long since exhausted my interest in this really strange little town!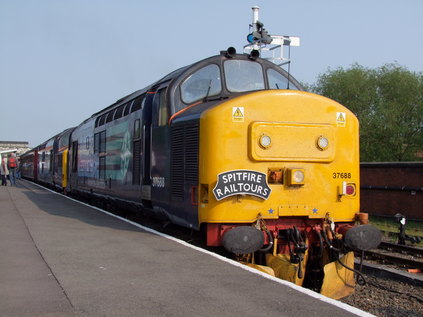 We made excellent progress as far as Morlais Junction, where we sat for some time. The train was getting warmer, and time was slipping by. Things were clearly not going to plan - and we soon found out why. Our long train, including no less than three locomotives, was longer than the signal section in Carmarthen Station. Whilst the powers-that-be decided what to do, we waited - and were witness to the unusual but welcome sight of a catering trolley on a Spitfire tour. Once moving again, we were very late - and it was unclear quite what would happen to the train. A swift set-down at Carmarthen followed, with the train shuffling up to the buffer stops in order to reverse. Now, with splendid looking 47580 leading we headed west towards the coast, arriving and departing Fishguard Harbour in record time - just pausing long enough to dash down onto the track for a snap. Again, there are few delights left to sample at Fishguard, but a leg stretch would have been welcome. Had to make do with a stroll up and down the train to chat to a few folks I hadn't seen for a while. The catering trolley resurfaced again, this time bearing real ale too - celebrated with a couple of pints, both of which I managed to spill in a remarkable display of clumsiness. We entered Carmarthen via a complicated sequence of moves, passing the junctions with the triangle serving the station, before 47580 led the train in - thus leaving the pair of 37s on the front for the ride home.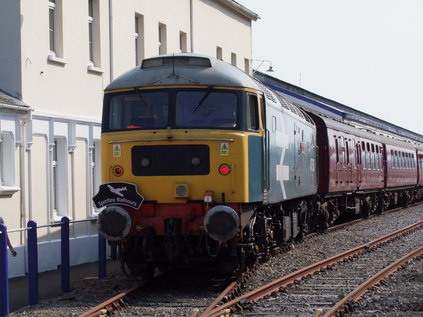 This was via the South Wales mainline as far as Maindee East Junction, passing through and briefly stopping at Newport. I could have alighted here and been home in just over an hour, but as the official timings hadn't included a stop I'd planned to head back to Crewe. Largely on time now given the savings via a quick turn around earlier, the route took us back to Shrewsbury via Abergavenny in a stunning hazy sunset. The day hadn't gone to plan in many ways - but with a couple of winning engines, great weather and a sociable trip as ever, I'd had a great time. I didn't hear many complaints from the rest of the customers either. Once again, despite the odds
Spitfire
seem to have turned a tricky situation to a good day out for a very busy trainload of people.