Posted in Railways on Saturday 31st October 2009 at 9:10pm
---
It felt strange to be waking up with a purpose today. Strangely, the shock of being woken early seemed to suspend the fairly creaky and painful process which getting up has been over the past week or so, and I just sort of got on with it. Found myself successfully at the station in time for the 05:50, throat a little sore and feeling almost nervous at a foray into the outside world! Being cooped up indoors isn't for me - and while I'll never be the consummate Countryside Alliance type, I've known for a long time that movement and travel are important elements of keeping myself sane! Made the usual change at Weston, onto the 06:24. No buffet until after Bath Spa, so resolved to enjoy a quiet journey and to breakfast later in London. After the last week, even this fairly routine jaunt through the slowly brightening morning was pure wonder to me. The sight of people going about their business at stations, mist over Berkshire fields and of trains beginning to move for their day of work was almost poetic. I know I've only been ill for a week, but it seemed like much longer! Finally pulled myself together on arrival in the suburbs, and made a fairly swift change onto the Hammersmith and City Line. Given the upcoming change from a 'Circle' to a 'tea cup' on the now rather incongruously named Circle Line, this will become a more frequently used move I suspect. In any case, all trains terminated at Kings Cross St Pancras today - perfect for me, but as a stubborn few remained seated on the train as I left the station, the message didn't seem to have made it to all parties.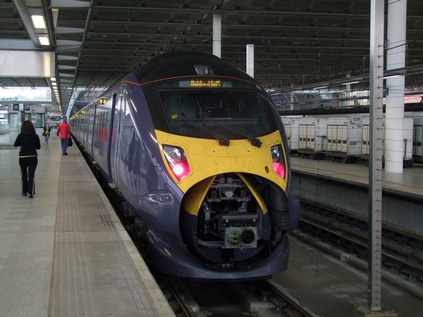 The plan for today had developed swiftly a couple of weekends back. As the Pathfinder Buxton trip had been postponed due to D1015's problems, I'd booked a further trip on HS1, this time to Ashford as the preview service is now running on a Saturday too. Arrived at St Pancras far too early, and contented myself with getting breakfast and coffee. It was comforting just to be part of 'society' again, and I sat pretending to read but really just watched and listened to people dashing around the station. Up to the Domestic High Speed platforms early to find the 10:38 waiting, and already surprisingly well loaded. Lots of enthusiasts about including a couple of familiar faces. Slightly embarrassed but really quite touched to have someone ask how I was feeling - obviously news travels in the crank community! Assured my co-traveller I was fine and had an interesting chat about the services which were planned here after December, and their effect on the traditional services from Charing Cross and Cannon Street. Grabbed a rare picture of 395004 with it's nose-cone open, before finding a seat and settling in for the ride.
As ever, an amazingly swift, smooth and quiet ride from the 395, and an interesting trip. Stratford International now looks a little more like a station instead of a concrete box, and we slowed for a call at a surprisingly busy Ebbsfleet too. On new track now, and soon absolutely flying through the Kent countryside. The only downside to this trip is that it's the very same Kent countryside which has always made journeys to Ashford a rather dull prospect. Much as I'm a convert to some aspects of Kent - not least the Medway valley and some of the northern reaches - I have never quite got to grips with this bit. By my calculation we covered the 56 miles to Ashford in 33 minutes - an average speed of around 102mph. For comparison my daily commute works out an average of 42mph! Had considered staying in Ashford for a while, especially given the presence of some locomotives and unusual units, but noting they were out of photographic range, and given I had other plans, decided to head back onto 395004 for the dash back to London at equally impressive speed.
Once back in London, I made my way to the bus stop to head for Liverpool Street. With the Circle Line closed, there were quite a few others doing this and a general sense of chaos around. It's odd that when most lines close, alternative routes are signposted and people are ferried about on replacement services, but the Circle Line always seems to leave folks to make their own way. Given the nature of the line, these are often some of the least seasoned London travellers too and those who've got the most luggage to hump around the city. Needless to say, the wait for a bus was entertaining and irritating in equal measure. Flagged a packed 214 and a 205 before squeezing on to a following 205. Wedged myself in for the trip east, which seemed to take ages. Not sorry to disembark and walk into Liverpool Street - refreshingly spacious after the bus! Found a convenient train heading for Stratford and spent a few minutes recovering whilst watching the Olympic site slip by.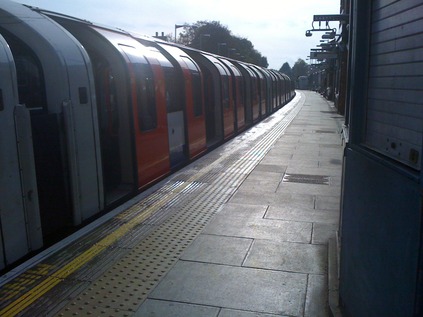 Stratford is one of the few places East of the city where I can easily access the Central Line without the use of the dreaded escalator! As the lines soar up to meet the mainline railway on the level, had only to cross the platform to catch the next train for Epping. The tube gauge train seemed absurdly small beside the full size vehicles at the adjacent platform - not a direct comparison one gets to make often. Found a quiet seat in a carriage near the front, and we were soon off, diving underground briefly before surfacing north and east of Stratford on lines which once connected to the mainline here too. My plan today was to cover all the bits of the Central Line I'd neglected years ago - and most importantly the branches east of the city which I'd learned a fair bit about on last week's trip. First, I headed to the line's current terminus at far-flung Epping. The train reached respectable speeds on the long stretches between suburban stations, and the ride is probably best described as 'lively' with my lower back taking a battering against the hard transverse seating in the 1992 stock. As urban Leytonstone slipped into the much leafier and suburban Woodford, noticed a marked change in the clientéle using the service. Soon found myself scudding along an embankment with a fairly impressive sweep of rural Essex outside. Had to pinch myself to remind me I was on a tube train! As the final few stations slipped by, prepared to disembark at Epping. This was formerly not the terminus - but in the 1990s the final section to Ongar was sold into preservation - an effort which has gone rather quiet. Found Epping to be equally silent - a pretty little country station, with a rather proud and old-fashioned stationmaster character pacing the platforms. The rusting tracks to Ongar rising and curving away beyond the buffers. Took advantage of the break in the rain to enjoy a quick wander in the sunshine before heading back to the platform. Civilisation seemed to be a good walk away from the station - and I noted that everyone who left the train with me either got into a car, hailed a cab or waited for a lift to arrive.
Next, I doubled back as far as Woodford in order to cover the loop via Hainault. Another former Great Eastern Railway branch, this leaves the Epping line just north of Woodford station. I had only the vaguest idea of how the services worked here, but by trial and near-error found myself on the right platform to catch a service which claimed to be terminating at Hainault. This headed back towards Epping, but curved east on a viaduct to Roding Valley - the said vale curving impressively south back towards the city, though the River Roding itself wasn't obvious. The stations on the branch were quiet and I began to wonder about arrangements at the terminus. No need however as the driver began over-riding the auto-announcer each time she spoke up to explain that this train was for Ealing Broadway. Stayed aboard through the terminus and extensive sidings at Hainault and noted with interest the way the tracks split at Newbury Park, which had once been a junction. The former centre lines here had continued south to a triangular junction now obliterated by Ilford Depot. Taking the only route now, curving west, we plunged into a long underground section with fine, 1940s style tiled stations. Began to doze a little in the dark, and realised that the train was filling up a little as we headed back into London. At Leytonstone we regained my outward route once again, and I prepared myself for the plunge underground at Stratford and a pass deep under the City of London.
As the train got busier and hotter in the deep level tube, I became more and more drowsy - and the whole journey became rather surreal. I remember getting a brief glimpse of the abandoned British Museum station before dozing, then the invasion of shoppers at Oxford Circus who seemed to detrain on mass at Notting Hill Gate. Soon out of the tunnel and rising beside the former GWR line to Birmingham, with Wormwood Scrubs and Old Oak Common shed on the horizon. Negotiated the strange tangle of lines at White City, where the tracks arrive in the wrong configuration and cross over each other to regain the traditional up/down formation - a vestige of the complicated history of this part of the network which once involved a moveable wooden platform extension! Soon at Ealing Broadway, and a chance to surface for coffee and a break. Noted the evening was drawing in, so hurried back down to do the final bit of the Central Line. I've actually done parts of this section before when out to cover the Greenford branch, but a closure meant buses on the day, which I dodged and thus didn't manage all the track. So, steps retraced to North Acton, I waited feeling fairly rough and a little miserable for a train to West Ruislip. The connections here are pretty dreadful, with trains from Ealing arriving just as Ruislip trains depart, but happily a decent 10 minute service was in operation, and I was soon scudding along above a rather fine North London sunset, with distant floodlights from a football ground standing out in the gloom. The train was full of well-to-do youngsters from the suburbs who were annoying in a tolerable sort of way. Noted the two borrowed Class 20s lurking on Ruislip Depot as we finally arrived at the terminus. The briefest walk out now on to Ickenham High Road to note that any trip to the shops would mean a complicated crossing of a dual-carriageway and a fair walk. Opted to get back on the train as far as Greenford, then to take a First Great Western service back to Ealing. I had a plan involving Hammersmith and a bit of uncompleted line there - but given that it was now fully dark, and the evening crowds were starting to appear, decided to shelve this for another visit. Instead, changed at Ealing for one of the Heathrow Connect EMUs back to Paddington, another first for the day. Spent a pleasant hour drinking coffee and watching station life pass me by - surely one of my favourite occupations - before heading directly home on the 1900, a useful train which I've always liked using because of the strange sense of stepping on board in Central London and next setting foot in tiny Highbridge station. A successful day out, during which I managed to stave off most of the lethargy and illness which have dogged the last week. Let's hope the end of October means a return to form in other respects too...