Posted in SHOFT on Friday 24th February 2012 at 8:02pm
---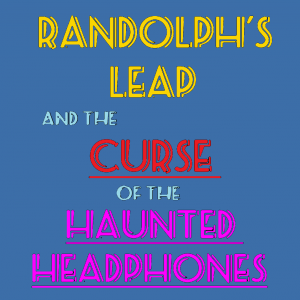 I can distinctly remember my first encounter with Randolph's Leap - tipped off that there was a band I might just like I stumbled across a bandcamp page packed with tunes, all illustrated with strange doodles apparently courtesy of Microsoft Paint. However, a brief listen confirmed that there was something special here - not least that rare realisation that taking everything too seriously isn't always the best option. After an excellent EP on Olive Grove Records and a single to coincide with an appearance at last years' Homegame, Adam Ross and his motley band of co-conspirators have been a little quiet of late. So this release, a limited edition of just thirty cassettes on Peenko Records - and happily a less unobtainable digital counterpart - collects together a bunch of recent recordings. There are some familiar tunes, lots of new favourites, and even a couple of demented computer game soundtrack pieces thrown in. Mostly, it's the work of songwriter, vocalist and guitarist Ross which appears here, supported by some selected guests and occasional bandmates. But drenched in the hiss of analogue reproduction, the clicks and crackles of home recording and the comfortingly old-school need to flip the tape half way, this is far more important than a mere stop-gap in the Randolph's Leap story.
Despite the relatively low-tech premise of this release, moments of genuine, poignant reflection abound which in typical style are swiftly flipped on their heads, coming face to face with sometimes slightly uncomfortable observations of the everyday. The whole thing is delivered via a stream of wordplay, punning and rhyming which ranges from the dazzling to the beautifully absurd. Opening gambit "Sunday Morning" is a distant cousin of the Velvet Underground track of the same name - an understated and gentle strum, a quietly pretty keyboard counter-melody and our first hearing of Adam Ross' affecting vocal. Stretching for impossible notes here, Ross sounds to be at the edge of his range which lends a strange and likeable vulnerability which complements the sometimes self-deprecating humour. There is an echo of gentle desperation too in "I Can't Dance To This Music Anymore" which tempers it's apparent finality with "I'll give it one last chance then I'm walking out the door". Ross manages to capture that difficult moment of knowing the right thing to do, but being utterly afraid of change. Set against a quietly lovely melody and with a choir of supporting voices joining later in the track, it becomes the perfect rallying cry for the silently frustrated among us.
Elsewhere "The Nonsense In My Head" picks up the threads abandoned by Belle and Sebastian somewhere around their third record when they finally made the leap to becoming a fully paid-up seventies cover band. Now accompanied by the full band, this sets off at a spirited shuffling pace, with plenty of twee-as-it-gets recorder accompaniment and a fiendishly addictive tune which lodges deep in the back of your skull, the addition of some solid drums and a skiffle-influenced mid section just make this all the more joyous a listen. "On That Fateful Day" seems to be performed almost entirely on woodblocks and those aforementioned recorders, giving it the strange flavour of a school music lesson until the euphoric burst of a chorus. Here we find an interesting twist in Ross's rhyming skills, in his habit of using place names. During the course of the cassette, firstly "Crossmyloof" and then "Cowdenbeath" feature in audaciously odd couplets which I won't reveal for fear of spoiling the surprise and delight when they land. Just prior to the release of "The Curse of the Haunted Headphones", a seemingly gloomy sounding tune called "Dying In My Sleep" surfaced as a taster. In fact the tune is an irrepressibly happy ode to complete irresponsibility, which had a chorus which sounds like Noel Coward, reincarnated to haunt the central belt. And just to ensure every niche is catered for, those who express concern at the preponderance of beards in Scottish music will be delighted by "The Will To Shave", a brief ditty in which the - admittedly smooth-chinned - Ross relates the tale of a character whose friends become increasingly concerned when an ungoverned growth of facial hair seems to signal some sort of moral decline. As he queries with the utmost sincerity "How could one find such a darkened state of mind/to let it grow so long?", it's hard not to laugh along with a tale which has just a hint of genuine pathos hidden in it's tangled beard.
Thinking back to those early impressions of Randolph's Leap and the ever present sense of playfulness around these tunes, it's surprising to detect a darker edge to the set of songs here - more than once Ross hints at reaching the edges of reason and sanity, of the fear of losing control or the exhausting nature of existing just on the edge of things. If you're one of those people who has found themselves feeling distinctly uncomfortable in a club you never wanted to enter in the first place, has realised that everyone else seems to have a proper adult life while you've not grown up a bit, or who perhaps wonders if laughing aloud is sometimes just the right response to music you love - then this tape is almost certainly perfect for you.
The limited edition cassette release of "The Curse of the Haunted Headphones" on Peenko Records is already sold out, but you can purchase the download from Bandcamp alongside a variety of other, previous Randolph's Leap releases.

Randolph's Leap - I Can't Dance To This Music Anymore